Zero tolerance against racism in Brazilian football: points deductions and stadium closures | International
Even the great Pelé had to endure the toxic scourge of racism from the time he was a teenager and starting out at Santos. Before he became a global icon, he was derogatorily nicknamed "Gasoline" because of the color of his skin. "If they had stopped every game where someone called me a 'macaco [monkey],' they would've had to stop every game I played," he used to say. At the turn of the 20th century, soccer in Brazil was a fledgling elitist practice, forbidden to Black people. It would be some time before "the people suddenly realized that soccer should be for all colors, a classless soccer, all mixed, very Brazilian," in the words of the distinguished journalist Mario Filho, whose 1947 book, The Black Man in Brazilian Soccer, was a classic of national literature.
Thousands of Black players from different generations found in soccer a means of social ascent, if not of survival, always menaced by the plague of racism. Racial prejudice lingers on in a country where more than half of the population identifies itself as Black or mixed race, with enormous levels of inequality. Brazil has seen its political and ideological polarization hit alarming heights in recent years following the rise to power of the ultra-right-wing leader, Jair Bolsonaro. When Lula Da Silva reclaimed the presidency of Brazil in January, he passed a law equating racial insulting to the crime of racism, which is imprescriptible, non-bailable and is punishable with harsh prison sentences. The Brazilian Football Confederation (CBF) was then reviewing its measures against racism and it worked closely with the Observatory on Racial Discrimination in Football. This entity has been tracking all acts of racism, homophobia, misogyny and xenophobia in stadiums since 2014, providing detailed annual reports that demonstrate the enormity of the problem.
Marcelo Carvalho, director and founder of the Observatory, estimated the number of racist incidents in Brazilian football at 90 in 2022 and claims that these increased numbers are the result of more denunciations than in previous years. "The pact of silence has broken. And this is also the result of increased awareness among fans, players and the press." The number of sanctions against clubs for incidents of racism was minimal until very recently. Only one club, Grêmio of Porto Alegre, had been kicked out of the Brazilian Cup in 2014 following racist abuse directed at Santos goalkeeper Aranha by a large group of supporters.
Ednaldo Rodrigues, the first Black president of the CBF, who has driven the new regulations that came into force in February, stressed that "racial discrimination is a crime." "Our job is to shed some light on the issue. We sincerely hope to obtain the support of the clubs, of the fans, of all segments of society, of all the press, to ensure that this is not just decorative," he added. Rodrigues kept an ace up his sleeve: he did not submit the new sanctioning framework to a vote among the professional clubs and directly incorporated it into the new 2023 Competition Regulations, which are valid for all divisions and must be adhered to.
As such, the CBF has implemented a new sanctioning mechanism for racist behavior, whether carried out by members of the public or by any individual at a club. It involves financial sanctions for clubs (whether home or away, and even if only one fan hurls a racist insult) and heavy sporting sanctions for players, coaches, referees, employees or managers involved in an act of racist abuse. In the event of repeated serious offenses (such as a sizeable group of people abusing a player), the stadium will be closed. In addition, a points deduction in the competition is also included, something that is not stipulated in the regulations of any European federation. Punishments will be handed out administratively by the CBF. Cases will be referred to the STJD (Superior Court of Sports Justice), which will rule on the application of a fine, closure of the stadium or a points deduction for the violating club.
Additionally, the game reports of the match referee, the CBF and the clubs will be submitted to the Public Prosecutor's Office and the Civil Police to ensure that the process transcends the sporting context. The new protocol is now in force. On May 7, during the match between Athletico Paranaense and Flamengo, a fan from the home club made simian gesticulations towards the visiting fans. The club, which encourages the reporting of racist acts or abuse in its stadium through QR codes visible in all the stands, identified the perpetrator and the STJD Court (based on a report from the CBF) has proposed a monetary sanction for the club and a minimum of a 720-day ban from the stadium for the fan in question. The approach is to expedite all instances and the trial will be held at the end of this month. Sports Minister Ana Moser, who has recently expressed the Brazilian government's solidarity with Vinícius Jr, publicly commended the CBF for its initiatives to tackle racial discrimination.
Sign up for our weekly newsletter to get more English-language news coverage from EL PAÍS USA Edition
India's deadly train crash renews questions over safety as government pushes railway upgrade | International
India's prime minister had been scheduled to inaugurate an electrical semi-high-speed train equipped with a safety feature — another step in the modernization of an antiquated railway that is the lifeline of the world's most populous nation.
Instead on Saturday, Narendra Modi traveled to eastern Odisha state to deal with one of the country's worst train disasters that left over 280 dead and hundreds injured. The massive derailment on Friday night involving two passenger trains is a stark reminder of safety issues that continue to challenge the vast railway system that transports nearly 22 million passengers each day.
India, a country of 1.42 billion people, has one of the world's most extensive and complicated railways built during the British colonial era: more than 40,000 miles (64,000 kilometers) of tracks, 14,000 passenger trains and 8,000 stations. Spread across the country from the Himalayas in the north to the beaches in the south, it is also a system that is weakened by decades of mismanagement and neglect. Despite efforts to improve safety, several hundred accidents happen every year.
From 2017 to 2021, there were more than 100,000 train-related deaths in India, according to a 2022 report published by the National Crime Records Bureau. That figure includes cases in which passengers fell from the trains, collisions, and people being mowed by speeding trains on the tracks.
Official data also suggests derailments are the most common form of rail accidents in India, but have been on a decline in recent years.
According to India's Comptroller and Auditor General, Indian Railways recorded 2,017 accidents from 2017 to 2021. Derailments accounted for 69% of the accidents, resulting in 293 deaths.
The report found multiple factors including track defects, maintenance issues, outdated signaling equipment, and human errors as main causes of the derailments. It also said lack of money or non-utilization of available funds for track restorations led to 26% of the accidents.
Even though the railway safety in India has improved compared to earlier years when serious crashes and accidents near unmanned crossings were more frequent, scores have still died and hundreds have been injured.
In 2016, a passenger train slid off the tracks between the cities of Indore and Patna, killing 146 people. A year later, a derailment in southern India killed at least 36 passengers.
The Modi government, in power for nine years, has invested tens of billions of dollars in the railways. The money has been spent on renovating or replacing the old tracks laid by the British in the 19th century, introducing new trains and removing thousands of unmanned railway crossings.
The train Modi was supposed to inaugurate Saturday was India's 19th Vande Bharat Express, connecting the western city of Mumbai and the southern state of Goa.
The modern trains are designed to help reduce the risk of crashes and derailments. They will be paired with a countrywide automatic train collision protection system, a technology that will make travel safe, according to Railway Minister Ashwini Vaishnaw.
But the system was not yet installed on the track where Friday's crash took place. It wasn't clear what caused the trains to derail and an investigation has started.
Experts suggest that the country's railway system needs to prioritize safe tracks and collision protection.
"India has achieved some success in making train journeys safer over the years, but a lot more needs to be done. The entire system needs a realignment and distributed development. We can't just focus on modern trains and have tracks that aren't safe," said Swapnil Garg, a former officer of the Indian Railway Service of Mechanical Engineers.
Garg said the crash should "shake up the whole railway system" and prompt authorities to look at the "lax safety culture."
"I don't expect authorities to turn the key and fix things quickly. The Indian railway system is huge and it will take time to make it more safer. But there needs to be a will," he said.
Sign up for our weekly newsletter to get more English-language news coverage from EL PAÍS USA Edition
'You're looking to die': the Brazil river where illegal fishing threatens lives | Brazil
José Maria Batista Damasceno weeps as he describes his decades dodging death in the Brazilian Amazon.
There was the time, along the Japurá River, that an illegal fisherman threatened to butcher him if he didn't get out of town. "You'd better leave or we'll harpoon you," Damasceno remembers being told.
A few years later he narrowly escaped being ambushed and murdered in another remote corner of the rainforest – just as Bruno Pereira and Dom Phillips were last year.
"It was really, really heavy," Damasceno says, breaking down as he describes how the failure of his boat's engine saved him from running into a group of heavily armed assassins who were lying in wait.
Damasceno isn't an Indigenous activist or journalist, like Pereira and Phillips, whose killings exposed the environmental battle raging deep in South America's rainforests.
He is a fishing engineer who has dedicated his life to convincing small riverside communities that sustainable fishing programs will benefit them more than the quick, short-term profits offered by the illegal fishing mafias that pillage the region's rivers and Indigenous lands.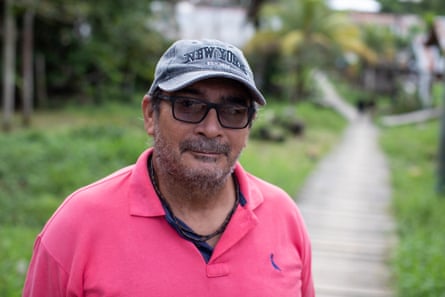 Those efforts to encourage green living have put Damasceno on the wrong side of environmental criminals, yet he insists on fighting on.
"I've always relied on God to protect me from evil – and here I am carrying on with my mission," says the softly spoken sustainable fishing evangelist, who recently travelled to the region where Pereira and Phillips were killed hoping to promote sustainable fishing there.
The world in which Damasceno operates is one of hidden dangers, cut-throat rules and huge illegal profits, where highly organized gangs of poachers with suspected ties to international drug trafficking groups prey on endangered Amazon species such as the pirarucu.
In the wake of last year's killings, members of Jair Bolsonaro's far-right government portrayed the crime as the fruit of a local conflict unconnected to the devastation inflicted on the Amazon by his anti-environmental policies and dismantling of Indigenous protections.
But the killings exposed a far uglier reality: the rampant and highly lucrative illegal trade in fish and wildlife that plagues Brazil's isolated and lawless tri-border with Colombia and Peru.
At the centre of that trade is Atalaia do Norte, the shabby, poverty-stricken river town where Pereira and Phillips began their final journey on 2 June last year.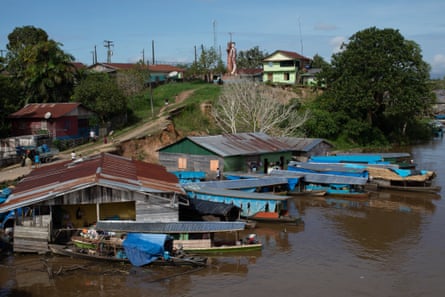 As the nearest town to the entrance of the Javari valley territory, Brazil's second largest Indigenous reserve, Atalaia serves as a base for the Indigenous activists on whose work Phillips was reporting when he was killed. Its potholed streets offer an astonishing snapshot of the cultural and linguistic diversity of a region which is home to six Indigenous peoples, including the Matis and the Marubo, as well as 16 groups with little or no contact with the outside world.
But in recent years Atalaia has also become a key part of a transnational poaching network with suspected links to the drug factions who move vast quantities of Peruvian cocaine through what police now consider Brazil's second most important drug smuggling route.
After visiting Atalaia last year, congressional investigators concluded that "heavily armed and wealthy criminal associations" and "highly dangerous criminals" had set up camp in the region, bankrolling groups of illegal fishermen who plunder the protected waters and forests of the Indigenous reserve where wildlife is more abundant.
"We are certain that illegal fishing in the Javari valley region isn't about river-dwellers trying to make a living but actually much larger organizations, making sizable investments and outrageous profits," the investigators wrote.
Bruno Pereira's attempts to fight that illegal trade by organizing Indigenous patrol teams put him on a collision course with such criminals. "It's because of this that Dom Phillips and Bruno Pereira were killed," a friend and former colleague, Armando Soares, told Forbidden Stories, the Paris-based non-profit coordinating the Bruno and Dom project. Earlier this year police named an alleged local illegal fishing boss as the mastermind behind the crime.
The Javari valley's most prized asset is the arapaima, a giant air-breathing fish which Brazilians call the pirarucu and Peruvians know as paiche. One of the world's largest freshwater fish, the arapaima can grow up to three metres (10ft) in length and often weighs about 90kg (200lb). It is considered a delicacy in major Latin American cities such as Lima, São Paulo and Bogotá.
Years of unregulated overfishing have pummeled arapaima stocks in the waters outside the Javari's protected Indigenous lands – which outsiders are forbidden from entering without permission and where commercial fishing is banned. As a result poachers have increasingly taken to invading the territory to extract huge boat-fulls of the fish, as well as a river turtle called the tracajá.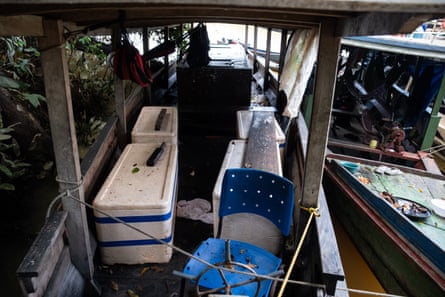 "They use small boats and travel in small groups," said Orlando Possuelo, an Indigenous expert who is continuing Pereira's work with the patrol groups battling to thwart such invaders. "They are specialists in the area. Many of them were born in there [before the territory was officially created in 2001] so it's not easy to find them."
After being smuggled out of the Indigenous territory in wooden barges packed with ice, the fish are sold in a constellation of border towns including Leticia in Colombia, Islandia in Peru and Benjamin Constant, an edgy river town near Atalaia named after one of the founders of the Brazilian republic.
A year-long investigation by Forbidden Stories found that the illegal trade continues to flourish in the tri-border region between Brazil, Colombia and Peru, despite government pledges to stamp out environmental crime following last year's killings. None of the three countries there have rigid controls over the origin of the arapaima being sold.
Brazil has yet to reopen the offices of its environmental agency, Ibama, in Tabatinga, the city nearest to the Javari, after it was shut down in 2019. Peru's regional production department has no fishing inspectors in Santa Rosa de Yavarí, the Peruvian town across the river from Tabatinga. And Colombian authorities do not control the quantity of fish being caught by the 40 companies registered to operate in Leticia, on the Colombian side of the border.
Outside scrutiny is unwelcome. "There's nothing here. You're looking to fucking die," one man warned a reporter from Peru's OjoPúblico, one of 16 media outlets involved in the Bruno and Dom project, when he visited a riverside fishing warehouse in the Colombian border town looking for illegal fish.
Activists say the almost complete lack of controls means the illegal fishing trade continues to thrive despite the international scandal caused by the killings of Pereira and Phillips.
"I don't think anything has changed," said Possuelo, remembering how Indigenous activists received reports of illegal poachers operating within the Javari territory even in the days after the two men vanished on 5 June last year.
Despite the risks, Damasceno said he was determined to continue with his crusade to bring sustainable fishing to some of the most isolated and dangerous corners of the Brazilian Amazon, where he was born and raised.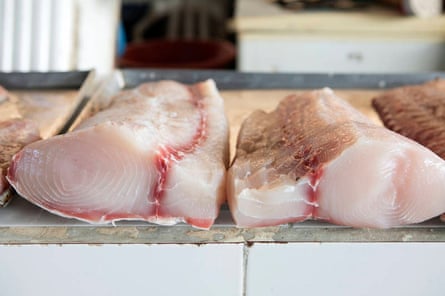 Now 65, the fishing engineer plans to retire after what will be his last – and perhaps most difficult – assignment: implementing such projects in São Rafael, São Gabriel and Ladário, the three fishing communities from which the alleged killers of Pereira and Phillips came.
Doing so involves helping those communities set up three different kinds of lakes that will help local pirarucu stocks recover and, hopefully, stop fishermen invading Indigenous lands: "permanent protection lakes" where fishing is forbidden, "maintenance lakes" which local families can fish to feed themselves, and "management lakes" where a quota of up to 30% of adult fish can be legally extracted after their numbers have reached certain levels. "So if there are 100 fish you can take 30, so stocks can recover," Damasceno said.
The fishing engineer argued sustainable fishing was the only way to avoid further violence along the Itaquaí River and help deprived local families resist the temptation of supplying fish for organized crime. As proof that it was possible, he remembered how the fisherman who once threatened to harpoon him had since embraced sustainable fishing and become a close friend.
"I always say that sustainable fishing is the way out of this kind of conflict. It unites people. It raises awareness. It opens the door to equality, rights and acceptance," insisted Damasceno, who hopes to retire to write a book about the pirarucu once his mission is complete. He plans to call it: "The union of people and sustainability in the Amazon."
On a recent trip to the fishing villages near where Pereira and Phillips were killed, Damasceno urged locals to embrace the idea of legal, long-term survival rather than short-term, illegal gain.
"Lift up your heads. You must carry on," he told them. "Think of your kids."
Additional reporting by Ana Ionova (The Guardian), Rodrigo Pedroso (OjoPúblico) and Cécile Andrzejewski and Mariana Abreu (Forbidden Stories)
---
Prof Saurabh Bagchi from Purdue University explains the purpose of AI black boxes and why researchers are moving towards 'explainable AI'.
For some people, the term 'black box' brings to mind the recording devices in airplanes that are valuable for postmortem analyses if the unthinkable happens. For others, it evokes small, minimally outfitted theatres. But 'black box' is also an important term in the world of artificial intelligence.
AI black boxes refer to AI systems with internal workings that are invisible to the user. You can feed them input and get output, but you cannot examine the system's code or the logic that produced the output.
Machine learning is the dominant subset of artificial intelligence. It underlies generative AI systems like ChatGPT and DALL-E 2. There are three components to machine learning: an algorithm or a set of algorithms, training data and a model.
An algorithm is a set of procedures. In machine learning, an algorithm learns to identify patterns after being trained on a large set of examples – the training data. Once a machine-learning algorithm has been trained, the result is a machine-learning model. The model is what people use.
For example, a machine-learning algorithm could be designed to identify patterns in images and the training data could be images of dogs. The resulting machine-learning model would be a dog spotter. You would feed it an image as input and get as output whether and where in the image a set of pixels represents a dog.
Any of the three components of a machine-learning system can be hidden, or in a black box. As is often the case, the algorithm is publicly known, which makes putting it in a black box less effective. So, to protect their intellectual property, AI developers often put the model in a black box. Another approach software developers take is to obscure the data used to train the model – in other words, put the training data in a black box.
The opposite of a black box is sometimes referred to as a glass box. An AI glass box is a system whose algorithms, training data and model are all available for anyone to see. But researchers sometimes characterise aspects of even these as black box.
That's because researchers don't fully understand how machine-learning algorithms, particularly deep-learning algorithms, operate. The field of explainable AI is working to develop algorithms that, while not necessarily glass box, can be better understood by humans.
Thinking Outside The Black Box
In many cases, there is good reason to be wary of black box machine-learning algorithms and models. Suppose a machine-learning model has made a diagnosis about your health. Would you want the model to be black box or glass box? What about the physician prescribing your course of treatment? Perhaps she would like to know how the model arrived at its decision.
What if a machine-learning model that determines whether you qualify for a business loan from a bank turns you down? Wouldn't you like to know why? If you did, you could more effectively appeal the decision, or change your situation to increase your chances of getting a loan the next time.
Black boxes also have important implications for software system security. For years, many people in the computing field thought that keeping software in a black box would prevent hackers from examining it and therefore it would be secure. This assumption has largely been proven wrong because hackers can reverse engineer software – that is, build a facsimile by closely observing how a piece of software works – and discover vulnerabilities to exploit.
If software is in a glass box, software testers and well-intentioned hackers can examine it and inform the creators of weaknesses, thereby minimising cyberattacks.
---
Saurabh Bagchi is professor of electrical and computer engineering and director of corporate partnerships in the School of Electrical and Computer Engineering at Purdue University in the US. His research interests include dependable computing and distributed systems.
---