Writers under 35: British magazine 'Granta' celebrates the diversity of Spanish-language literature | USA
Vladimir Nabokov used to say that Russian is spoken with a "broad and constant smile," because Russian vowels are like oranges and English ones are like lemons. In line with that analogy. Valerie Miles, the co-director of UK-based literary magazine Granta, says Spanish vowels remind her of grenadine seeds or machine-gun bullets: "Short and very fast." After Japanese, Spanish is the fastest language in the world, with the highest number of syllables pronounced per second and with a vast and exuberant vocabulary, thanks in no small part to speakers in Latin America. Granta has emphasized this richness of language in its latest list of the best 25 Spanish-language novelists under the age of 35, compiled 11 years after its first and which includes writers from four continents. The list was presented by Miles at Madrid's Cervantes Institute on Wednesday.
"One of the main differences in this selection is that many of these young writers pay particular attention to the sonorous qualities of the written word," says Miles. "They have a keen ear for capturing the intonation and the subtle idiomatic twists of different geographical areas. And that applies not only to dialogue but in terms of incorporating a narrative voice."
Miles also drew a distinction between the generation of writers included on the first list in 2010 and this one, the first dedicated to young Spanish-language writers by the Barcelona edition of Granta, which is published quarterly. As on the 2010 list, there are veteran prize-winning writers included such as Ecuador's Mónica Ojeda, the Cuban Carlos Manuel Álvarez, Costa Rican Carlos Fonseca and Spain's Cristina Morales, as well as debut novelists like 26-year-old Tenerife-born Andrea Abreu.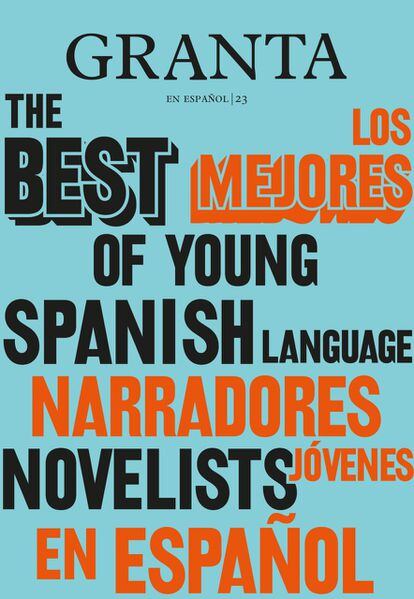 The predominant profile on Granta's 2010 list was that of the urban, cosmopolitan writer and in the case of those Latin Americans included, a stint in Europe was practically obligatory. Among them were Santiago Roncagliolo, Andrés Neuman, Alejandro Zambra and Patricio Pron. A pattern of linear continuity in the biographies of the pillars of a boom that is now falling silent. "This canon is making a break with that generation, perhaps because of the greater democratization of editorial access," says Miles. "Today they are writing from completely different places and don't feel the need to employ urban language. They have lost the complex that dictated to write well in Spanish was to write in that way."
"The internet has also helped to break that hegemony of having to go to the big cities to read other things," says Diego Zúñiga, one of the 25 writers on the list who sets his novels in his hometown of Iquique, in the north of Chile. His story Una Historia de Mar (or, A Story of the Sea) is a homage to a city forgotten by Chilean literature where a world champion spearfisherman, Chungungo Martínez, resides. "I'm not afraid to use words that people maybe won't understand. The word Chungungo, for example, is one that not every reader needs to know, but it has a sound that I wanted to include in the text," Zúñiga says.
The range of stories produced by each of the 25 authors on the list is evidence of a geographic and linguistic paradigm shift. José Ardila writes from a small village in the rural depths of Antioquia, Colombia. Miluska Benavides is based on Peru's mineral-producing coast. Martín Felipe Castagne works from an Argentinean mountainside. Musicality and the desire to capture sound are also present in Abreu's "Canarian pizzicato," as Miles describes it, and in the declamatory tone of Morales' ode to female karate fighters. Speaking to EL PAÍS, Morales states her preference for consigning neutral Spanish to the past. "I give thanks to God if my colleagues and I have overcome this canonical requirement. Hopefully, that is the case and hopefully, texts published in 2021 can be wildly provincialist, oral and follow the glorious path of illegibility."
The days when female writers were associated with a single genre, or with themes like family, domesticity or intimacy, are behind us

Mexican author Aniela Rodríguez
Ojeda, whose new work, featured on the list, is a tale based on an Incan ceremony, describes the written word as "sensorial, musical, rhythmic, atmospheric… when you write you are composing a specific cadence that you feel with your whole body. That is literature: the word that, as in a magic trick, transforms matter because it passes through it. To not place faith in this dimension of writing would be to waste its potential."
The 2021 Granta list also underscores that there are many female authors like Ojeda leading these changes in Spanish-language literature. The introduction in the Spanish edition of the magazine reads: "It is to a large degree women who are leading formal preoccupations along a new path. We have received more nominations for women than for men in countries like Spain and Argentina, and an even split in Chile." On the 2010 list, there were 17 men and five women, with Spain and Argentina the most-represented countries. In the latest selection, the balance is 14 men and 11 women with Spain (six) and Mexico (four) providing the highest number of writers per nation and Cuba (three) enjoying greater representation.
Aniela Rodríguez believes that many of these authors are trying to experiment with language as Fernanda Melchor did, or with genres like Samanta Schweblin or María Fernanda Ampuero. Rodríguez, born in Chihuahua in 1992, is one of the youngest authors on the list and her tale of a fisherman carrying a dead child is a modern incarnation of the oral style of Mexican writer Juan Rulfo. "The days when female writers were associated with a single genre, or with themes like family, domesticity or intimacy, are behind us," she says.
Although Chilean writer Roberto Bolaño remains one of the key reference points for many of these authors, one of the writers most often mentioned among those selected by Granta is Sylvia Plath. "Despite not being a figure of reference for me, it really caught my attention and I think it's very exciting that the writer most cited as a model is a woman, a poet on a list of novelists, and one who wrote in English," says Andrea Chapela, another of the selected writers. "It says a lot about things like putting more emphasis on affection at the heart of the work, of care with language and a more embodied style of writing."
One of the main differences in this selection is that many of these young writers pay particular attention to the sonorous qualities of the written word

Valerie Miles, co-director of 'Granta'
However, Plath's presence can also be interpreted as a reflection of current concerns in Spanish-language literature about shining a light on gender violence. Aura García-Junco was surprised to learn of Plath's popularity among the authors on the list "although it makes perfect sense because she was very much in the shadow of her husband, something that we have re-evaluated, and also there is that vein of a violent situation running through all of her work." García-Junco is one of three female Mexican writers on the list and her novel Mar de Piedra (or Sea of Stone), an extract of which is published in Granta's Spanish edition, speaks precisely about femicide in Mexico, in a world somewhere between fantasy and dystopia in which women who have disappeared can end up as statues on Mexico City's Avenida Madero. "I wanted to reflect how missing people in Mexico become part of the land again, despite being unaccounted for," she says. "They leave traces that transcend their own existence, in the social fabric; they are a reminder that nobody is safe."
For the 25 writers on the Granta list, being chosen among the best Spanish-language authors of their generation is a calling card for the English-speaking editorial world of the United States and the United Kingdom. Founded 132 years ago, Granta earned its mythical status when it began publishing its lists of up-and-coming writers in the second half of the 20th century. In 1983, the magazine tipped a group of thirty-somethings including Ian McEwan, Martin Amis, Julian Barnes and Kazuo Ishiguro for greatness. Every story and extract for this latest edition has been translated by some of the most recognizable names in the business – Esther Allen, Sarah Booker, Sophie Hughes and Daniel Hahn, among others – as well as Valerie Miles.
Among the jury for the 2021 list were the co-founder of Granta's Spanish edition Aurelio Major, the literary director of the Booker Prize Foundation Gaby Wood and the writers Horacio Castellanos Moya, Rodrigo Fresán and Chloe Aridjis.
The complete list of writers selected by Granta as the 25 best Spanish-language authors under the age of 35
– Irene Reyes-Noguerol, Spain, 1997
– Andrea Abreu, Spain, 1995
– Munir Hachemi, Spain, 1989
– David Aliaga, Spain, 1989
– Cristina Morales, Spain, 1985
– Alejandro Morellón, Spain, 1985
– Aniela Rodríguez, Mexico, 1992
– Andrea Chapela, Mexico, 1990
– Aura García-Junco, Mexico, 1989
– Mateo García Elizondo, Mexico, 1987
– Camila Fabbri, Argentina, 1989
– Michel Nieva, Argentina, 1988
– Martín Felipe Castagnet, Argentina, 1986
– Carlos Manuel Álvarez, Cuba, 1989
– Dainerys Machado Vento, Cuba, 1986
– Eudris Planche Savón, Cuba, 1985
– Paulina Flores, Chile, 1988
– Diego Zúñiga, Chile, 1987
– Estanislao Medina Huesca, Equatorial Guinea, 1990
– Mónica Ojeda, Ecuador, 1988
– Carlos Fonseca, Costa Rica, 1987
– José Adiak Montoya, Nicaragua, 1987
– Miluska Benavides, Peru, 1986
– José Ardila, Colombia, 1985
– Gonzalo Baz, Uruguay, 1985
Wife of detained Richard O'Halloran wants Coveney to travel to China
The wife of a Dublin businessman detained in China for almost three years has called on Minister for Foreign Affairs Simon Coveney to travel to Beijing to plead directly for his release.
Richard O'Halloran, a 46-year-old father of four, has been blocked from leaving China since February 2019 over a legal dispute involving a Dublin-based aircraft leasing firm he works for.
His wife Tara said she had not received contact from anyone in Government or the Department of Foreign Affairs since November and she is concerned about the lack of progress in efforts to find a solution to the commercial dispute and secure Mr O'Halloran's release.
She told The Irish Times that her children had to endure "third Christmas on FaceTime" with their father and his parents, who are in their 80s, "fear they are never going to see him".
"We are very much at a place where we don't know what else to do. We are really now pulling on the Government to try and do something immediately. It is nearly three years," she said.
"We need some action. We are just asking that Simon Coveney go to China and meet face-to-face with the foreign minister or whoever it needs to be. Nothing is working that they have done in the past. We are in a place where we are really desperate."
Last May, Mr Coveney met Chinese foreign minister Wang Yi in Guiyang, China as part of Ireland's two-year membership of the UN Security Council and used the opportunity to raise the case of the businessman.
Mr O'Halloran travelled to Shanghai almost three years ago in an attempt to resolve a commercial dispute involving the Chinese owner of China International Aviation Leasing Service (CALS), the aircraft leasing company he works for.
The dispute centres over Min Jindong, the chairman and main shareholder of CALS, and his raising of funds from Chinese investors to buy an Airbus aircraft that predates Mr O'Halloran's employment with the company. The airplane has been leased to a Finnish airline.
Mr O'Halloran testified as a witness in the prosecution of Min for fraud. The Dubliner is not suspected of any wrongdoing, nor has been charged with any crime.
The Chinese authorities are demanding the money used to buy the plane be returned to Chinese investors and Mr O'Halloran has been prohibited from leaving the country.
CALS is not in a position to repay the money. A proposal made by Irish businessman Ulick McEvaddy, who became a director of the company to try to secure Mr O'Halloran's release, offered to make monthly payment's to the Chinese authorities from the aircraft's lease income.
Mr O'Halloran's brother David wrote to Mr Coveney and other politicians last week calling for the the Government to "forcefully" demand his release through Irish, EU and UN channels.
"David came over at Christmas time to visit the family and he was just so upset by the effect that this has had on everybody," said Tara O'Halloran.
Echoing her brother-in-law's plea in his letter, she said her husband's situation was "not a commercial matter or legal matter anymore – it is a human rights matter".
Her husband was in "a very low place" and felt "abandoned," while her children are "absolutely devastated" as they had hoped their father might have been home before Christmas.
A spokesman for the department said it was "very actively engaged" on Mr O'Halloran's case and continued to provider consular advice, support and assistance to him.
"The department remains fully committed to this case and will remains until Mr O'Halloran is permitted to return to Ireland," he said.
"As with all consular cases, it would not be appropriate to discuss the specific details of the case."
gardaí search houses in Dublin and Offaly
Gardaí investigating the murder of national school teacher Ashling Murphy have carried out searches of properties in Dublin and Co Offaly.
Both properties are understood to be linked to a man believed to be the chief suspect in the 23-year-old's murder.
Ms Murphy was killed by strangulation as she was jogging along a stretch of canal near Tullamore on Wednesday afternoon.
The man attended a Dublin hospital on Thursday in the company of a family member where he received treatment for what doctors initially believed were self-inflicted wounds.
He remains in hospital under Garda supervision while detectives await medical clearance to interview him.
It is not clear when he will be physically and mentally assessed for interview but gardaí were hopeful this will happen imminently.
The Irish Times understands this suspect has lived in south Dublin and in the midlands, where he has family members.
His family members have told gardaí they do not believe he is capable of committing such a crime.
One property in Co Offaly, near Tullamore, has been searched. Gardaí in Dublin have also searched another house in south Dublin.
Gardaí are confident they are nearing a breakthrough in the investigation and that DNA evidence will prove crucial in their inquiries.
Gardaí believe Ms Murphy, a talented musician from the townland of Blueball just outside Tullamore, tried to fight off her attacker, resulting in the man who killed her leaving forensic evidence at the scene.
Forensic evidence was used to exonerate a man arrested on Wednesday in Tullamore and he was released without charge late on Thursday night.
Gardaí have examined the crime scene, a Falcon Storm mountain bike they suspect was used by the killer, Ms Murphy's remains and the clothes she was wearing when she was killed.
They believe when the forensic results yielded from those examinations are cross-checked with any suspects it will prove instrumental in catching the killer.
The Falcon Storm bike they believe was used by the killer on their way to the scene was recovered after and is now a crucial piece of evidence in the case.
The killer was also seen by a number of people at the scene and statements have been taken from those eyewitnesses.
Gardaí are investigating a complaint from another woman who has told them she was followed on the canal tow path where Ms Murphy was killed about two hours before the murder.
Gardaí are also examining CCTV footage recorded around Tullamore on Wednesday looking for images of anyone riding the Falcon mountain bike.
Sources expressed satisfaction with how that part of the investigation was progressing. Gardaí have appealed to anyone who travelled between Tullamore town centre and the wider approach roads to Grand Canal Way around Cappincur on Wednesday to come forward.
They are especially keen to speak to anyone with footage of road users, including CCTV, dashcam, GoPro or mobile phone images.
Thousands of people attended vigils for Ms Murphy on Friday and over the weekend across the country. There was also a vigil held at the London Irish Centre in Camden on Saturday afternoon.
Michael Tormey remembered as 'gentle giant' at Funeral Mass
Michael Tormey, a father-of-three who was shot dead outside his home in Ballyfermot, Dublin, last Sunday, was remembered as a "gentle giant" during his Funeral Mass.
Mr Tormey, who had no known links to crime, was shot outside his home on Thomond Road in the early hours of the morning. The 49-year-old had worked as a security doorman and salesman.
Family, friends and other mourners gathered for his Funeral Mass in Our Lady of Assumption Church in Ballyfermot on Saturday.
Speaking at the Mass, his brother Brian described Mr Tormey as a "big teddy bear," who was always generous. He recalled growing up how his brother had bought him his first Manchester United jersey. "I wore it to threads, I'll always remember that," he said.
Mick, as he was known, "loved belting out the tunes" on karaoke, his brother said. "He was nice, and he had nothing but laughter, I can't understand why this was done," he told those gathered.
Shauna, his daughter, also spoke about how her father loved to sing, and remembered how he "would sing Phil Collins with me until we had no voice left".
She told mourners of memories of her father teaching her how to ride a bicycle, and roller blade in Marley Park, and of their favourite snacks.
"There was nobody else in the world who enjoyed a Meanies sandwich or a Burger Bites sandwich with me, and you'd always have room for more than one, I will always miss you, I will always love you," she said.
Kaitlyn, his step-daughter, said when Mick came into her mother Amy's life six years ago, he "changed our lives for the better".
Fr Adrian Egan, who delivered the Funeral Mass, said Mr Tormey was a "gentle giant," who did not have "a bad bone in him". His life was "brutally" taken outside his own front door, he said.
He was known to be able to "talk for Ireland," with a trip down to the shop taking upwards of two hours, on account of him stopping to chat with people along the way, he said.
The family had been "overwhelmed" by the support of the local community in Ballyfermot in the days after the killing, Fr Egan said.