Why it took just days for the Red Hot Chili Peppers to sell out their first mega-concert in Spain | USA
In October, the Red Hot Chili Peppers announced the dates for their Global Stadium Tour, which will see them visit some of the biggest venues the world over and will get going in Spain. The first date will be in the Estadio de La Cartuja, in Seville, on June 4, 2022, and the second in the Estadi Olímpic, in Barcelona, three days later. This will be the first time that the Californian group will be playing in major stadiums in Spain, and that fact could be surprising to some. Are they still a big enough band to fill up so many seats at prices that are not exactly affordable? For example, a general ticket is priced between €55 and €150, while the VIP option costs as much as €600. The answer came just a week after the gigs went on sale, with the Seville date completely selling out. How did this happen? We analyze the never-ending success of the veteran band.
Celebrating survival
Red Hot Chili Peppers have been active since 1983, having survived addictions to hard drugs, lost old members, had internal battles and many creative and emotional lows. In some ways, announcing a stadium tour right now is like making a bet by which they are putting their power to resist on display and presenting themselves as a supergroup that is ready to celebrate itself to the maximum. In the United States, their support acts will include greats such as Beck, The Strokes, Haim and St. Vincent, among others. In Europe, meanwhile, they will be backed by rapper A$AP Rocky and the unclassifiable Thundercat.
What's more, as editor of Spanish music magazine Mondosonoro Joan S. Luna points out, this is the first major tour that has been announced since the coronavirus pandemic hit. Covid-19 ruined the group's plans in 2020, both in terms of the live shows they had planned and the recording of a new album. Their next release will be characterized by the return of the most-emblematic line-up: John Frusciante (51) will be returning as guitarist and Rick Rubin (58) as producer, accompanying founders Anthony Kiedis (59) on vocals and Flea (59) on bass, and long-term drummer Chad Smith (60).
For fans of the group, who have bought tickets from all corners of Spain, the Seville date is doubly symbolic: it will see the start of the band's world tour and will also be the first major rock music party in the wake of the pandemic.
Like the Rolling Stones, Bruce Springsteen and U2, the Chili Peppers are a classic rock band who manage to turn every one of their concerts into an unmissable event, independent of the interest that their latest albums have sparked. For the general public, all they need are a few dozen singles that they recognize and can sing along to, even if they never bought one of their albums in their lives.
"It's been many, many years now since they've released a masterwork," explains Joan S. Luna. "I think that Californication, which came out in 1999, is their last great record, but then they have released singles that have worked very well commercially and have turned them into a band for the whole public, having done endless mid-tempo and more accessible songs. They've lost a lot of what made them an exciting group to offer instead an effective formula and cover that quota of rock tastes for a lot of people."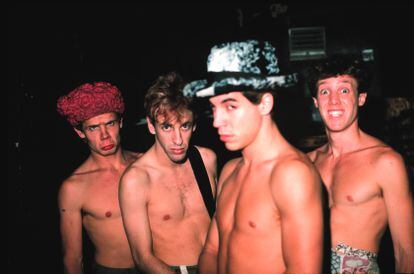 A multi-generational band
Related to the previous factor is the group's capacity to create songs that endure in the collective memory, meaning that nostalgia is playing a large part here too. "The Chili Peppers have been the soundtrack to my life," explains Fran Belda, a 44-year-old from the Canary Island of Tenerife, who snapped up tickets for the Seville concert for him, his partner, and a group of friends he hasn't seen for years. "For a time I would play Blood Sugar Sex Magik every evening, and play the bass along to all the songs from start to end. I will, without a doubt, continue to listen to them, because not only have they conveyed their love of funk and rock to me, but also listening to them transports me to incredible times in my life."
"Being such a legendary band, one I grew up with, I couldn't miss the party," adds Belda's partner, Susana Lasvignes, a 45-year-old from Madrid. "I'm going to have a great time with my friends, singing all of their hits, and I'm sure I'll cry and laugh," adds Cristina Bendala, better known as Tinatha. This multidisciplinary artist – who creates rap music, as well as graffiti, illustrations and design – discovered the band thanks to some skaters from Huelva in southern Spain when she was 11 or 12.
"The Chili Peppers were like my cool cousins, people who gave me the power to grow," she explains. "I wanted to draw, to add color to everything, paint t-shirts and tie-dye them, be in the group, skate, be wild and natural. And to be strong like Anthony too," she says between laughs. "Their attitude was really important for me," she continues. "To see these really crazy guys, who were free and wild, really fun and with a wonderful spirit. Nearly naked on the stage with those socks strategically placed over their genitals, like on that poster I hung in my room in 1996. That was so cool!" Which brings us to…
They created a unique (and very attractive) look
No one could doubt that one of the major secrets of their success has been the personal way in which they brought together the bravado of hip hop and the carnality of funk, with the electric intensity of metal and punk. In the second stage of their career, they also mixed in the melodic accessibility of pop and alternative rock, as well as a light-hearted and zany image. This can be seen in the video they released to announce their tour, in which each member is instantly recognizable thanks to their own charisma and sense of humor. They could almost be cartoon characters, but when they're together they ascend to another dimension.
The way that the band members interact on the stage releases a huge amount of entertainment, but also physical energy. They are a muscular group in both the literal and metaphorical senses. "You only have to see how Flea still convulses while he plays, at nearly the age of 60, and how Anthony moves across the stage, although it is true that the singer has lost a lot in recent years," explains Fran Belda. "I also like the twists and different ways of playing some songs. That moment when John Frusciante, Flea and Chad Smith stretch out a song and make you wish it would never end. Above all, they transmit a lot of positive energy." For Tinatha, their best values on the stage are "the combination of savagery and sensitivity, entertainment and sadness, explosivity and ease."
Four reputed and influential musicians
All of the band members of the Red Hot Chili Peppers, past and present, are considered to be among the best musicians in the world with their respective instruments. Anthony Kiedis has been characterized by an unmistakable voice in different registers, which evolved and peaked with the release of Californication. Chad Smith joined the band in 1989, following in the footsteps of prestigious drummers such as Jack Irons, who subsequently joined Pearl Jam, and Cliff Martinez, who was to become one of the most sought-after soundtrack composers.
John Frusciante has been in and out of the band over the years, but is a fixture on the most important Chili Peppers' releases: Mother's Milk (1989), Blood Sugar Sex Magik (1991) and Californication (1999). "Among the most-recognizable elements of his style is how clean it is, and the space he leaves between the notes and the chords – he's not an invasive guitarist," explains a well-known Spanish rock guitarist. "He's never pedestrian, predictable or obvious. And he has something else that's fascinating, which is the physical sensation that he imprints on his instrument. You can feel the contact between the pick and the string – it's like seeing a painting by [Jackson] Pollock, you feel the gesture, the active sensation of the body carrying out an action."
And of course there is Flea, considered by many to be the best bassist of all time. "He's my biggest musical reference," states Fran Belda, who currently plays with a group called Cachorro. "What impressed me the most was how he slapped the bass, turning it into a percussion instrument. He also opened the doors for me to funk, allowing me to discover amazing groups like Parliament, Funkadelic and Sly and the Family Stone."
Susana Lasvignes, who plays drums for Cachorro and used to do the same in a duo called Diecisiete, has just as much admiration for Flea as she does for drummer Chad Smith. "As well as having an immediately recognizable style, for me Flea is a completely crazy man who gets so much enjoyment out of his instrument in spite of his years, in spite of his virtuosity and in spite of his success," she explains. "That, to me, is tremendously admirable and enviable."
All you need to know on getting the Moderna vaccine as a booster
People due to receive their Covid-19 booster vaccine in coming weeks will primarily be offered the Moderna dose at HSE vaccination centres.
The HSE is reported to have large supplies of Moderna due to expire next month, so that will be the main vaccine administered over coming weeks to the over-60s, over-50s, healthcare workers, and younger people in vulnerable groups – though it will be restricted to people over 30.
Anecdotally there are indications some people may be reluctant to take the Moderna vaccine. This may be due to Irish stocks about to expire shortly and/or confusion about its efficacy. This follows the company's chief executive Stéphane Bancel warning last week the Moderna jab may not be as effective against Omicron as it had been with the Delta variant.
The HSE has confirmed recipients will have no choice on what vaccine they are given.
What type of coronavirus vaccine is the Moderna jab?
It is a new kind of synthetic "mRNA vaccine" – the Pfizer/BioNTech vaccine is from the same stable. They provide excellent protection against severe illness and hospitalisation – and have played a critical role in reducing Covid-19 deaths since being approved. A downside, however, is that the Moderna version must be kept at -20 degrees.
Should people be worried about receiving a soon to be out-of-date vaccine?
| Total doses distributed to Ireland | Total doses administered in Ireland |
| --- | --- |
| 10,093,390 | 8,193,802 |
In short no, as they retain the ability to boost antibody production within currently approved time spans – though inevitably potency wanes over time. The Pfizer, Moderna, AstraZeneca, and Janssen (Johnson&Johnson) vaccines were put on the market with emergency use authorisation of up to six months.
This compares with a shelf life of two to three years for most vaccines and other medicines. This is an "inevitable consequence of getting the vaccines out of the door as quickly as possible", chief scientist at the Royal Pharmaceutical Society Gino Martini told the journal BMJ.
Months later, these "emergency" expiry dates remain in force for these vaccines. For approved Covid-19 vaccines, the initial shelf lives were based on data available at the time of submission for regulatory approval.
The long-term shelf life has not been extended for any of the vaccines. A shelf life extension would require supporting evidence from relevant stability studies. Vaccine manufacturers are monitoring batches of vaccines with the aim of providing a longer shelf life; probably the usual two years.
What about the Omicron threat?
While Moderna said existing vaccines including its mRNA version will probably be less effective against the Omicron variant, most experts believe they will continue to provide significant protection against severe disease and hospitalisation. It should be stressed, however, definitive indication has yet to emerge. That will be a matter of weeks, if not days.
Moderna has confirmed it is developing an Omicron-specific booster though manufacturing the new vaccine would take time. Tens of millions of doses could be available in the first quarter of 2022, but scale-up would not happen until the second quarter – provided it is shown such boosters are required.
What is the latest indication on the benefits of mixing vaccines?
Evidence supporting a mixing of vaccine doses has hardened over recent months. A study this week shows combining a first dose of the AstraZeneca Covid-19 vaccine with a second dose of either the Moderna or the Novavax jabs results in far higher levels of neutralising antibodies and T-cells compared with two doses of the AstraZeneca jab.
This finding also has important implications for lower-income countries that have not yet completed their primary vaccination campaigns as it suggests you do not need access to mRNA vaccines – and therefore ultra-cold storage facilities – to trigger an extremely potent Covid-19 vaccine response.
The study also bolsters confidence that using the Moderna vaccine as a booster dose in people who have previously received the AstraZeneca jab should result in high levels of neutralising antibodies and T-cells.
It follows separate data published last week suggesting the Pfizer and Moderna booster jabs can dramatically strengthen the body's immune defences.
Woman (90s) dies following single-vehicle crash in Co Clare
A woman in her 90s has died following a single-vehicle crash in Co Clare in the early hours of Tuesday.
The incident occurred at about 12.30am at Annagh, Miltown Malbay. The woman, who was the driver and sole occupant of the car involved in the crash, was pronounced dead at the scene.
Her body was removed to Limerick University Hospital, where gardaí say a postmortem will take place at a later date.
The road has been closed to facilitate an exam by Garda forensic collision investigators, and local diversions are in place.
Gardaí have appealed for witnesses – particularly road users who may have camera footage – to come forward. Anyone with information can contact Kilrush Garda station (065 908 0550), the confidential line (1800 666 111), or any Garda station.
What areas will be worst hit and what is closing?
Just how serious is Storm Barra?
Storm Barra is set to hit Ireland fully on Tuesday morning, with Met Éireann warning that the severe weather could pose a threat to life.
The storm will rapidly deepen over the west and south coast on Monday evening, bringing very strong winds and heavy rain on Tuesday and into Wednesday.
Met Éireann have also warned that there is a risk of snow, as well as coastal flooding, due to the combination of high waves, storm surges and high tide.
Southwesterly winds, which will later veer northwesterly, will reach mean speeds in excess of 80 km/h.
Severe or damaging gusts may reach speeds in excess of 130km/h.
Power and travel may be disrupted across the country.
What are the areas most affected?
There is a status red wind warning in place for counties Cork, Kerry and Clare. Cork and Kerry's warning starts at 6am on Tuesday and lasts until 9pm that evening.
Clare will be under a red alert from 4pm on Tuesday until 1am on Wednesday.
Limerick, Waterford, Galway, Mayo, Wexford, Dublin, Louth, Wicklow and Meath are also under an orange wind warning.
However, Met Éireann have advised that there is a strong possibility that the status orange alerts will escalate to status red.
A red marine storm warning will also be in effect for Irish coastal waters from north Mayo to Cork city.
The rest of the country will be under a status yellow wind and rain warning, with Met Éireann saying that heavy rain may result in surface flooding.
There is also a risk of snow over the entire country, and flooding in coastal areas.
Is it okay to go out in the storm?
People in the affected areas are being advised to avoid all unnecessary journeys, meaning you should stay indoors if possible.
People on motorbikes, cyclists, and pedestrians should take extra care if they have to travel, and they should avoid coastal areas.
Motorists are also advised to be more wary while driving, and to look out for fallen trees and debris on the road.
The charity Alone urged older people to take extra care and called on members of the public to "check in with their older neighbours and relatives and assist them if they need to travel to the local shop, post office or medical appointments during the bad weather".
What has been cancelled or closed?
The Department of Education, which oversees primary and secondary schools, has advised schools in red and orange alert counties to close.
The Department of Higher Education, which governs colleges, universities and further education institutes, has issued a similar statement, saying education institutions in red and orange alert counties should close also.
Creches, early learning and school-age childcare services in the 12 counties should not open tomorrow, according to the Department of Children. Services that close will receive Force Majeure funding, according to the department.
Bus Éireann services in Co Cork and Co Kerry will be suspended for the full day. Services in Co Clare will be suspended from 4pm on Tuesday until 1am on Wednesday. This cancellation will also apply to all routes operating into or out of the status red warning area including Expressway Route 51.
Some hospital appointments have been cancelled, and Covid-19 testing and vaccination centres in status red and orange counties have also been forced to close due to the storm. A list of the affected health services can be found here. The National Ambulance Service will prioritise emergency calls during this weather event but is urging the general public to think carefully before calling 999/112.
The Courts Service has also confirmed that all sittings in red alert counties have been cancelled.
The Department of Local Government said a large number of national parks and reserves including Killarney National Park and Muckross House would close on Tuesday and Wednesday. Powerscourt Estate in Co Wicklow will close from 8am until 1pm on Tuesday.
Aldi has also said its stores in Cork and Kerry will be closed all day Tuesday, and their Clare stores will shut at 3pm on Tuesday.
Lidl and Tesco stores in Cork and Kerry will also be closed all day.
How long is the storm expected to last?
According to Met Éireann, Storm Barra will gradually clear Ireland later on Wednesday and winds will slowly ease, with a more settled few days to end the week.