Why have Cuba's simmering tensions boiled over on to the streets? | Global development
Liuba Álvarez leaves her house three times a week at 3.45am to queue outside her local supermarket for basic goods like meat, oil and detergent. Her last queue was "relatively short": after eight hours she came home with some minced meat in time for lunch. Other days she doesn't get back until 5pm.
"It's exhausting," says Álvarez, 47. "Getting up early gives me migraines, but it's the only way I can get these products to feed my children."
Cubans are used to queues. But since the pandemic, endless lines,squeezed salaries and power cuts have become a grinding reality for millions. And on Sunday tensions boiled over in the largest anti-government protests for decades. Social media, the pandemic, and beefed-up US sanctions combined with a younger generation hungry for higher living standards have made for a dangerous cocktail the ruling Communist party is struggling to contend with.
"Cubans need cigarettes, coffee and food to be happy," said Rey Alonso, 41, in central Havana on Tuesday. "Four years ago we had all that – you could go out and buy a can of cola. Now everything's gone. Of course people took to the street!"
Covid surge
Cuba has one of the lowest Covid mortality rates in the region, with fewer than 2,000 dying from the disease since the pandemic began. But the island, which hospitalises everybody who tests positive for the virus, has been hit hard by new variants: on Saturday Cuba registered a record 6,923 new infections. #SOSCuba was trending on Facebook after hospitals in the western city of Matanzas were so overwhelmed they put beds with patients in corridors. Rising case numbers have increased anxiety in the population.
Developing its own Covid vaccines has been the state's number one priority, and 17% of Cubans have so far been vaccinated. But ploughing money into vaccine production has left the cash-strapped state with scant funds to import other essential medicines, and pharmacy shelves are barren.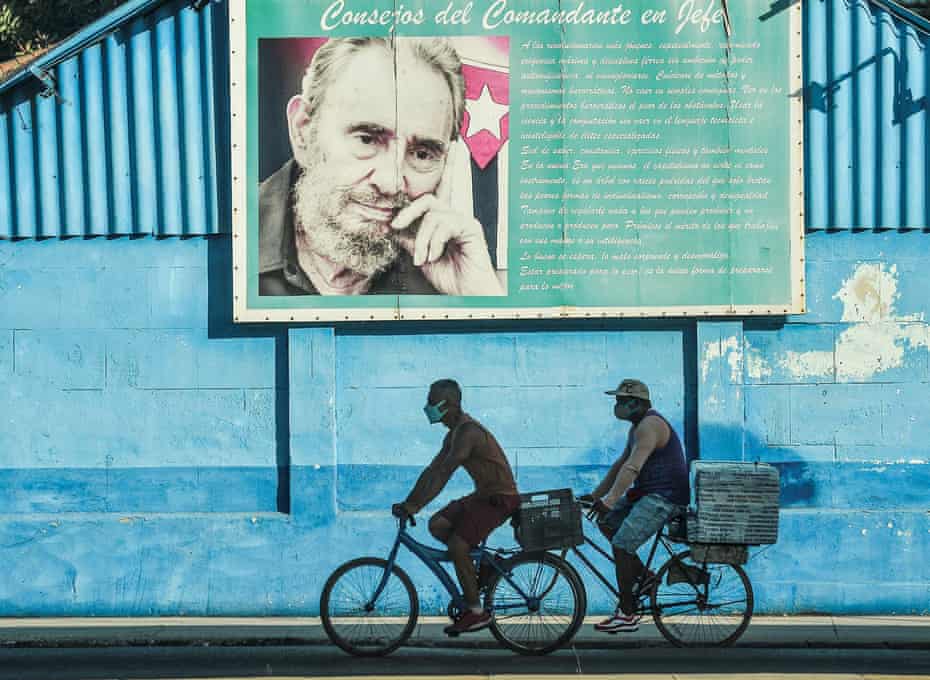 Trump sanctions still in place
The US secretary of state, Anthony Blinken, on Monday criticized the Cuban regime for "failing to meet people's most basic needs, including food and medicine". Yet for decades, US policies have explicitly been designed to create such shortfalls. (When first contemplating sanctions, President Dwight Eisenhower surmised that "If they [the Cuban people] are hungry, they will throw Castro out.")
Donald Trump's "maximum pressure" campaign against the island curtailed foreign exchange inflows: flights to the island were cut back, cruise ships were banned, remittances were cancelled and US firms were allowed to sue multinationals investing in Cuba. The objective, the then secretary of state, Mike Pompeo, reportedly told diplomats, was to "starve" the country.
Then the pandemic hit, which gutted tourism – one of Cuba's last sources of foreign revenue.
The state's response to shrinking revenue was to grudgingly open dollar stores – a move which proved deeply unpopular as it vividly embodied the divide between the haves with access to foreign currency and the have-nots. On Sunday, dollar stores across the country were ransacked.
Although he was vice-president during Barack Obama's rapprochement with Havana, Joe Biden has not rescinded any of the Trump sanctions. After losing Florida in 2020 – in part because more than 60% of Cuban Americans in south Florida voted Trump – the Biden administration is cautious about doing anything that will alienate this voting bloc.
Online activism
Cuba launched mobile internet late, in 2018, but more than 4 million people now access the web via their phones.
The internet – and particularly social media – has altered the power balance between citizens and state. After hundreds of people came out in the western town of San Antonio de los Baños on Sunday morning, videos were viewed by people in Havana within minutes.
The approximately $20m a year of US federal funds spent on "democracy promotion" factors into the way Cubans experience the internet.
Anti-Castro news websites funded by US tax dollars advertise heavily on Facebook and YouTube . VPNs are needed to make purchases with credit cards in Cuba, and to download many apps. When using the popular VPN Psiphon, for example, adverts for Cubanet, ADN Cuba and Diario de Cuba – all financed by the state department – pop up as paid content.
Articles from these outlets are overwhelmingly negative, adding to the sense of doom, gloom and hopelessness which formed the backdrop to Sunday's protests.
In recent years internet access to dissident blogs and US government-funded news websites was blocked in Cuba, but major international news websites were available. Since Sunday evening the internet has been cut across the island.
Hunger for change
Politically, Cuba is marked by a stark generational divide: older generations – who lived through an era in which healthcare, literacy and access to culture improved greatly – tend to support the government; but those born after the fall of the Soviet Union have grown up amid scarcity and privation – and are more likely to oppose it.
This younger, less pliant generation is often uninterested in the external causes of the island's plight (many are riled by mention of the "US blockade" which they see as an excuse and, sometimes, a sham). Blame for a system failing to provide for their needs is put squarely on the government.
This generational cleavage was clear on Sunday: anti-regime protesters were overwhelmingly young; pro-government protesters tended to be older.
Claudia Genlui Hidalgo, a 30-year-old member of the Movimiento San Isidro, a collective of artists opposed to curbs on artistic freedoms, said that the fact that the protests were spontaneous rather than organised indicated the level of discontent in Cuban society.
"Cubans need a change for the better," she said "I'd like to live in a democratic society where power is not so centralised."
'They see it in corridors, in bathrooms, on the bus': UK schools' porn crisis | Pornography
Barnardo's works directly with children who are victims of abuse or display signs of harmful or risky sexual behaviour. In 2020-21, they worked with 382,872 children, young people, parents and carers.
In a recent survey of their frontline workers across England and Wales, staff reported a rise in the number of children participating in acts they have seen in pornographic videos, despite feeling uncomfortable or scared. They describe porn as having a "corrosive" effect on child wellbeing.
Child sexual abuse expert Sarah works with children who are displaying signs of inappropriate sexual behaviour. She also trains other professionals who work with children
"I started out as a primary school teacher eight years ago, and I've been worried about children seeing porn ever since. Children don't have to be able to type to see porn – it can be sent to them or shown to them on someone else's phone. They see it at school, in the corridors, in the bathrooms, on the bus. There is just no censor on any of it – one video leads to another. If you can imagine it, it exists as porn, and children are seeing it.
"I am working with a teenager who was sexually abused by a family member. This young person had been exposed to porn and it was perpetuating what the abuser told them – that this is normal, that it's not abuse."
She is particularly concerned, as are her colleagues, about the increasingly extreme nature of the porn freely available on mainstream sites.
"A common role play theme on porn sites is intra-familial abuse – on mainstream sites you will see fetishisation of grandad and granddaughter sex, or stepfathers and stepdaughters. This may lead to a young person not disclosing or getting the support they need. From both angles it is dangerous; it puts the child at risk and encourages the perpetrator.
"The impact of porn shows in children harming others or themselves because they either don't understand or are so ashamed of sexual urges. Shame is very prevalent and is often hidden.
"We are working with a seven-year-old who has been exposed to porn and is now displaying sexualised behaviour. They had free rein on a device, and someone hadn't deleted a browser history. Once a young person sees porn, they may feel a need to come back again and again – porn is designed to meet a need. That is a form of sexual abuse against that child."
Brian* is a senior social worker who has worked with children for over 30 years
"Unfortunately, porn is a feature for the majority of the children who come into our service. The children we support are very damaged. They would be likely to have experienced multiple forms of abuse – sexual, physical and domestic. Porn in and of itself is not the cause of their behaviour but it becomes a compounding factor when it hits that history of vulnerability.
Adult sex offenders can give children a distorted rationalisation for their behaviour, and the messages that are given through porn then fit with that distortion.
Lucy* has worked within the field of child sexual abuse for 16 years.
"We know children find porn distressing – they are telling us that themselves. We have done research with children in schools so that we have a cohort to compare our vulnerable children to, and they are saying the same thing.
"This is not what could be described as erotic or soft porn. They may start on porn sites and quickly begin to see very hardcore material. Or [extreme material] lands in their social media feeds, and they can then feel compelled to go back and look again.
"Children are less able to manage sexual arousal, and this material is designed to be arousing. Lots of children can feel guilty and distressed by what they see. We have 14-year-olds telling us they have to watch it as soon as they wake up. They describe being preoccupied with accessing porn to an extent that impacts upon their day-to-day life.
"We also regularly work with children with learning disabilities, another group vulnerable to the harm of porn. They may be shielded from sexual information and then reach 13 or 14 and take away the wrong learning from porn. They may learn that no means yes, that if you persist, women will enjoy forced sex. These messages are harmful for any child but for children with learning needs or who have developed unhealthy beliefs around sex as a result of abuse, it's particularly bad.
"After lockdown, we began to get more calls from parents where there is no other obvious trauma, just the exposure to porn. I've been doing this 16 years, and children have far more access to porn now."
* Names and some details have been changed to protect identities
French centre-right tilts toward Pécresse
Valérie Pécresse, a moderate conservative who has likened herself to former British and German leaders Margaret Thatcher and Angela Merkel, has emerged as a front-runner in primaries in France's centre-right Les Républicains party, Reuters reports. "I won't flinch. I have a project for a clean break, a project for the unashamed right," she said Thursday, ahead of elections against liberal incumbent Emmanuel Macron and far-right contenders in spring.
Poland plans to set up register of pregnancies to report miscarriages | Poland
Poland is planning to introduce a centralised register of pregnancies that would oblige doctors to report all pregnancies and miscarriages to the government.
The proposed register would come into effect in January 2022, a year after Poland introduced a near-total ban on abortion.
This has raised serious concerns among women's rights activists, who believe that in light of the abortion ban, the register could be used to cause legal difficulties for women who have self-administered abortions.
The draft legislation is part of a wide-ranging project to update the medical information system in Poland.
"It's about control, it's about making sure that pregnancies end with birth," Natalia Broniarczyk, an activist from Aborcyjny Dream Team told the Polish weekly Gazeta Wyborcza.
The plan prompted online protests. A social media initiative titled "I'd like to politely report that I am not pregnant" encouraged Polish women to email photos of their used sanitary pads, tampons and underwear to the Polish ministry of health.
The ministry has strongly denied the project amounts to a centralised pregnancy register, with a spokesperson saying the changes are simply part of wide-ranging digitalisation project that will update the way data about a multitude of conditions, including allergies, is stored.
The spokesperson said doctors always had information on pregnancies, but before it was stored on paper by hospitals, rather than centrally by the government.
The concerns of activists about the register grew considerably after a bill proposed by the government that would establish an "institute of family and demographics" passed first reading in the Polish parliament by one vote on Thursday.
The institute would aim to monitor family policy, pass opinion on legislation and educate citizens on the "vital role of family to the social order" and the importance of "cultural-social reproduction" in the context of marriage. The institute would have access to citizens' personal data and prosecutorial powers in the realm of family law, prompting worries it could be used to enforce the country's strict abortion law.
The project has drawn widespread criticism from Polish academics and civil rights advocates.
"Maybe just call it the 'Red Center of Rachel and Leah'," a feminist organisation from Łódź said in an Instagram post, referencing Margaret Atwood's dystopian novel The Handmaid's Tale. In the novel the Rachel and Leah Center is a training facility for women designated to be "breeders" by the authoritarian regime.
The committee of demographic researchers at the Polish Academy of Sciences has issued a statement expressing concerns that the "pro-natalist propaganda" would take precedent over scientific research at the institute.
"The project aims exclusively to promote traditional model of family," Adam Bodnar, Poland's former ombudsman for citizen rights, told the Polish news website Oko.press. "It could also become a tool against those who fall outside this model, for example those who do not conform to heteronormative norms."