'Western Laws Now Clash With Moral Nature of Man' – Russian Orthodox Patriarch Kirill (Video)
In an exclusive interview with RT, the head of the Russian Orthodox Church, Patriarch Kirill, shared his ideas on the difficult situations of Christians in the Middle East, the US presidential election, and European multiculturalism.
RT: Your Holiness, first of all, let me congratulate you on your upcoming birthday. Thank you for taking the time to discuss these important –even global ­–issues with us. Let us talk about Christian affairs outside of Russia – specifically, about the Middle East and Northern Africa. As everyone knows, the dramatic events associated with the armed conflicts raging in the Middle East, especially in Syria, pose a threat not only to government leaders, individuals, secular regimes, etc., but to the Christian faith itself.Several months ago, you had a historic meeting with Pope Francis, during which you called upon the international community to stop the extermination and expulsion of Christians from these regions. Do you believe that enough is being done to stop this? Have you noticed any improvement since the time you made that statement? Or do you believe the situation has deteriorated?
Patriarch Kirill: I have on many occasions been forced to raise my voice – on behalf of the Russian Orthodox Church – in defense of those whom I would call the persecuted Christians of the Middle East. Of all the minorities in the region, it is Christians who have been suffering the most. The statistics show an appalling dynamic: there used to be 1.5 million Christians in Iraq – now there is less than 150,000. There used to be half-a-million Christians in Syria, and now they have vanished without a trace, whether they were killed or fled the country. But the Middle East is the birthplace of Christianity, and of Christian culture. Which is why killing Christians or driving them out of the region isn't just a crime against religion and against human rights and freedoms: it is a civilizational disaster. Because once Christian communities vanish from those countries, life there will change in every respect. Prior to the current crisis, the governments in those countries, including secular governments, had to reckon with the presence of Christians and devise their policies in a way that would ensure some kind of sectarian balance. Now there's no need to maintain a balance. And who knows what may happen to the remaining Christian population in those countries.
So you could say our meeting with the Pope was centered on our shared concerns regarding the situation in the Middle East. We were genuinely concerned, and we were both convinced that decisive action must be taken to save the Christians in those countries. Not only Christians, of course – it is important to end bloodshed as such, and I want to make it clear that we care for all those who are suffering. But while Islamic communities are not about to go extinct in those countries, Christians actually are.
So our joint declaration included a statement to this effect. Unfortunately, the subsequent developments have not brought about a political solution for this issue, although we now coordinate our Middle East efforts more extensively with the Pope. We know that the expulsion of Christians continues in those countries, among other things, and that civilians in general suffer because of what's going on in Syria and Iraq.
It is perfectly clear that, if the nations currently engaged in the interventions in Syria and Iraq are truly committed to eradicating terrorism, and if that stated objective is their only true goal and there's no hidden agenda, then it shouldn't be a problem for us to join efforts and work together. After all, what is ISIS [Islamic State, formerly ISIL]? We once defeated the Nazi powers through collective efforts, and they had half of Europe enslaved. So it seems to me it should be fairly easy to do away with ISIS, and thereby resolve the refugee crisis and all the other disasters and tragedies that are rooted in this conflict. But we are not seeing that happen. So all that is left to us as Christians is to pray and, of course, work together with everyone, so that all the nations involved realize that collaboration is instrumental. We keep hearing that the coalition has its own approach, and Russia has a different stance. Well, now is the time when we can't have two conflicting positions any longer; we need to align ourselves with each other.
That's why I was glad to hear what US President-elect Mr. Trump said in this regard. He clearly underlined the necessity to tackle Islamist radicalism and terrorism. Hopefully that's the objective we will move towards, in terms of Russia-US relations as well. Terrorism poses a real threat for the entire world, including Russia, the Middle East, Western Europe, and the US, which was hit hard in the early 21st century. It's high time we pool ideas, join forces and co-operate to solve this problem that many countries and peoples are facing.
RT: We'll get back to Western politicians in a minute, but let's talk about Donald Trump. You said you hoped that his administration would be able to make progress with this problem. However, quite a few people believe Donald Trump is a bigot. He's a controversial figure in the US and the world, let's put it that way. So do you believe that once he assumes office that US-Russia relations will get better and we'll be able move forward and resolve the situation in the Middle East, like you said? 
PK: Based on what Mr. Trump said in the course of the election campaign, we can see that he does have the intention to establish a dialogue with Russia, including first and foremost when it comes to combating terrorism. That's good; it opens up new opportunities for cooperation, which is what I hope we're going to have in Russia-US relations in order to tackle this. I can't really say anything about Mr. Trump beyond that. I don't know him personally, and I don't know much about his life, so I can only judge based on his statements, which were in stark contrast to other politicians' stances. There was no hope in what others were saying, while Mr. Trump's words give us hope. It's very important for leaders of key global powers to instill hope for a better future with their policies.
RT: About that contrast between Trump's statements and other Western leaders' statements. Many say that Trump doesn't hesitate to openly speak his mind and call a spade a spade. You've spoken on many occasions about the persecution of Christians in this region, but Western politicians shy away from the subject. The reason could be that they don't want to hurt anyone's feelings, or maybe it's because of the Muslim communities in their countries or political correctness in general. Why do you think it's not a widely discussed issue in the West? There is political correctness in Russia, too – take the legislation concerning insulting religious feelings – but to what extent do you think it prevents Western politicians from speaking about this freely?
PK: Of course, it's in the way. It seems as if political correctness is meant to limit Christians' freedom to practice their faith. For example, why should we use 'X-mas' instead of 'Christmas'? The answer we got to this question is that we shouldn't hurt the feelings of non-Christians. So we asked Muslims if they were offended by the word 'Christmas', and they said "no." We asked if they were offended by decorated Christmas trees in the streets, and they said "no." So if Muslims are okay with that, whose feelings are we hurting here? It's likely it's no one's. In fact. Europe is a continent whose culture and even political culture is rooted in the tenets of Christianity. We are told that Europe was also influenced by Ancient Greece and Ancient Rome, and that's true, but, in terms of scale, this influence can in no way compare to the importance that Christian moral values, and the laws based on them, held for many centuries. So if Europe is now cutting itself off from its roots, it raises the question of whether this is motivated by political correctness or something else. That's the question we, the people who lived through religious persecution in the USSR, ask. Back then it was also supposedly done in the name of human rights and liberties and a better tomorrow. But it was only the believers who the state had pressured up until perestroika. The capitalists, the bourgeoisie, the rich land owners – Soviet leaders stopped fighting them all and even the Soviet economy half-resembled a market economy, not to mention the New Economic Policy of the 1920s, but they fought the Church to the very end. There is no understanding why that was. So we're very wary when, under the guise of political correctness and universal rights and liberties, we glimpse signs of discrimination against the people who want to be open about their Christian convictions. 
RT: Why is it so hard to achieve peace and harmony between Christians and Muslims in Western Europe? Some say the reason behind this is what we call a clash of civilizations. Considering the recent migrant crisis and the problem of terrorism, do you think these cultures can co-exist peacefully, in the long term? Or should we face the truth and admit – like many politicians such as Marine Le Pen and Nigel Farage do – that the policy of multiculturalism has failed?
PK: Multiculturalism has no future, because it implies different cultures mixing, different cultures and religions poured together and shaken vigorously to create a kind of cocktail. That would be impossible because of deep-rooted traditions. If multiculturalism implies weakening people's connection to their religion and traditions, it automatically makes them victims of discrimination and forces them to be defensive; so this very approach contains a dangerous source of division, and I mean the fundamental division of the brother-against-brother kind.
There are other ways. Russia is a multiethnic country, but the idea of multiculturalism has never been promoted, not even back in the USSR. It was declared that we would have a new national identity as Soviet people, but everyone knew that Turkmens would stay Turkmens, Tajiks would stay Tajiks, Uzbeks would stay Uzbeks, Russians would stay Russians, and Jews would stay Jews.
This approach, which allows people to express their ethnic and religious identity freely, has especially flourished recently, in modern Russia. We're not talking about any mixture or cocktail – we say that every person should stay who they are. But we all live in the same country, so all of us must observe the law and be nice to each other. And policies regarding this have to be aimed, not at erasing the lines between cultures and religions and making one cocktail out of it, but at ensuring support, rights and liberties are given to all – to each their own – so that a person of any faith can feel at home in their country, not among strangers. Implementing this model in the West could have paved the way for peaceful co-existence, but I fear that it might be too late now. It should have been done before Europe had to deal with this huge influx of migrants who represent different cultural and religious views, and who are opposed to the culture of the countries they've ended up in. A great deal of people have this internal resistance to Western values, and one of the reasons is this radical – I would even say aggressive – secularization. A religious person feels deeply uncomfortable living in an aggressively-secular society, same as we in the USSR felt uncomfortable living in an aggressively-atheistic society. When the aggression disappears, people start feeling affinity towards the society and country they're living in.
RT: I'd like to hear your opinion on the current state of social institutions that the Church has traditionally upheld, such as marriage and family. Today, many of the historically Christian countries in the West are legalizing same-sex marriage. Some of them have even appointed special envoys for LGBT rights. Many in the West see it as progress and liken it to the situation with interracial marriages in the US, which used to be frowned upon and now are a part of life. So, many believe this is a step forward. What do you think of this trend?
PK: I'm deeply wary of it. What's happening in the Western countries is that, for the first time in human history, legislation is at odds with the moral nature of human beings. What's good and evil? Sin and righteousness? These could be defined in both religious terms and non-religious terms. If you take a good character from English, American, or Russian fiction, you will see that all of them possess the same qualities. Why? We have different cultures and different political systems, but for all of us good is good, and evil is evil, and everyone understands who the good guys are, and who the bad guys are. So how do we distinguish? With our heart, with our moral nature. This moral nature, created by God, served as a foundation for the legislation which is designed. Laws defined moral values in legal terms, telling us what's good and what's bad. We know that stealing is bad and helping people is good, and laws define what stealing is and what the suitable punishment for it is.
Now, for the first time in human history, the law allows something that doesn't correspond to our moral nature. The law contradicts it. It's not the same thing, of course, but we could compare this to an extent to the apartheid in Africa or Nazi laws – when the law went against inherent moral values, people rebelled. They knew it wasn't right; it was artificial; it was part of some ideology and not in sync with their moral nature. So the Church can never approve of this. We say that the Church can never redefine good and evil, sin and righteousness, but we don't condemn people who have different sexual preferences. It's on their conscience and it's their business, but they shouldn't be discriminated against or punished, as used to be common practice in some states. However, under no circumstances should this be accepted as a social norm no different from the social norm that stems from our moral nature, meaning marriage between a man and wife who create a family and have children. That's why we believe this new trend poses a significant threat for the existence of the human race. The Church has to address this and say it's a bad thing, but we've seen that authorities in some countries have been trying to silence clergymen. One Protestant pastor went to jail for calling same-sex marriage a sin in his sermon. Again, this is very reminiscent of what was happening under Soviet totalitarianism. In the countries that declare their commitment to freedom of speech, you can get punished for expressing your opinion. That's a dangerous trend, and I hope it will peter out and the natural order of things will prevail. I don't even want to think about what might happen to us otherwise. Our prayers and our work are so that humanity lives on and follows the principles dictated by our moral nature.
RT: Speaking of Protestants… During your meeting with the Archbishop of Canterbury, you expressed your concerns over the Church of England's recent liberalization, namely its decision to ordain women and its rather modernist stance on marriage and morality. But how can you make Christian values appeal to modern-day youth that keeps turning away from the Church, especially in the West. How can we bring them back?
PK: I don't think that the tendency of young people rejecting Christian values is a natural process. It is the result of their minds being influenced in a certain way, and we are not talking just about youth here. Just look at what's out there – movies, television, literature. There is a clear ideological paradigm aimed at dismantling religious and moral values. And it is not always a direct confrontation. They just paint this happy, full life – without God and without the moral obligation to weigh your actions listening to the voice of conscience. It means that God is being purposefully forced out of a person's life. It is not just some accidental trend. But it's actually turning out this way. We know that history can unfold in different directions. When evil in this world reaches a certain point, it begins to prevail. In those cases good appears to lose. Today Christians are a minority. The values we preach are either dismissed or ignored. Why? Because we encourage people to move upwards, walk uphill, while popular culture asks people to go in the opposite direction, move down. If a person is guided by his instincts, if civilization is built on this foundation, then of course the majority will follow this road, because it is so much easier, it doesn't require effort or work. People want this easy life. But the Bible says that "narrow is the way that leads to life." And this narrow way to salvation requires bravery. But if this way disappears, humanity will fall into a pit. Jesus did not convince everybody with His preaching. In fact, His earthly life ended on the Cross where He was crucified. Of course, He then rose from the dead… But some might see Him as a failure. If you don't believe in Christ's resurrection, then the end of His life doesn't seem very impressive – he was executed. The same with all the apostles, except for St. John. They were all executed. So basically they seemed like a bunch of losers, they lost everything. But the message of Christ and His apostles has survived for 2,000 years – it keeps inspiring people. It has often inspired artists and writers who created their works despite this external pressure. But what's more important is that Christ enters the hearts of many people. We see how people in Russia are starting to believe, this phenomenon is truly historic. The Church is being restored, young people are being converted. When people choose this narrow way, it will most definitely lead them to the stars. It is the road to heaven, to the very top. It is always difficult but it is the way of salvation.
RT: Your Holiness, thank you very much!
Sonny Barger, founder of Hells Angels, dies at 83 | USA
Sonny Barger, the founding member of the Hells Angels Motorcycle Club, died on Thursday in California at the age of 83. Barger was the face of the biker gang that became one of the main counterculture movements in the United States in the 1960s. Barger's family confirmed his death in a message on Facebook. "Please know that I passed peacefully after a brief battle with cancer," the message stated.
Sonny Barger – whose real name was Ralph Hubert Barger – was born in northern California, and taught himself to ride a motorcycle when he was 11 years old. It was an American-made Cushman scooter. From that moment on, he tried to only assemble motorbikes with parts made in the US, a task that became increasingly difficult as the world became more open to international trade.
In 1957, he founded the Hells Angels chapter in Oakland, California. This chapter was founded nine years after the first one opened in Fontana, in the same state. Barger was the national president of the Hells Angels, a group that became notorious for its links to violent and organized crime. Barger was arrested more than 20 times and spent 13 years of his life in prison for different crimes. In November 1992, for example, he was released from federal prison after spending four years behind bars for organizing to kill members of the rival Outlaws Motorcycle Club. When his parole came to an end in 1994, 700 bikers came out to celebrate the news.
But the darkest chapter of the Hells Angels took place on December 6, 1969. That night, the biker members were hired as security guards at the Altamont Free Concert in California, where the Rolling Stones performed. Representatives of the band reportedly offered the Hells Angels $500 worth of beer in exchange for providing security. Members of the biker gang had worked without incident as security at concerts for bands such as The Grateful Dead and Jefferson Airplane. But at the Altamont Free Concert, which brought together 300,000 people, the situation became violent. During the Rolling Stones' performance, fights broke out in the audience. Meredith Hunter, an 18-year-old concertgoer, was stabbed to death by a member of the Hells Angels after approaching the stage. The incident was caught on camera and became a central scene in the Maysles Brothers documentary Gimme Shelter, in which Barger admitted the bikers did not have the training to do security work. A few days after the concert, in a call to a local radio station, he said: "I ain't no cop. I ain't never gonna police nothin.'"
The incident stained the image of the Hells Angels and Barger – who had the name Hell's Angels Oakland tattooed on his right shoulder – struggled for several years to change the gang's violent reputation. "Catholics probably commit more crimes than we ever thought of," he told the Los Angeles Times in 1994 after being released from prison on parole. "Probably politicians commit more crimes."
Writer Hunter S. Thompson compared the biker gang to the student protesters of the 1960s, who paved the way for civil rights in America. "The difference between the student radicals and the Hells Angels is that the students are rebelling against the past, while the Angels are fighting the future. Their only common ground is their disdain for the present, or the status quo," he wrote in his book Hell's Angels: The Strange and Terrible Saga of the Outlaw Motorcycle Gangs.
The Hells Angels were one of America's most striking subcultures, and their influence can be seen in many areas of society. In one of his books, Barger claims that Harley-Davidson – the motorcycle brand favored by the group – adopted the gang's ideas into its models. Barger played himself in the 1967 film Hells Angels on Wheels, where he appeared alongside Jack Nicholson. He also had a small role in the TV show Sons of Anarchy.
Barger was a difficult character to define. He got up at 4.30am to feed his dogs and horses, then worked out for three hours, doing weights and going jogging. By 8am, he was on his motorcycle and driving down an off-beaten track. Unlike the stereotypical biker, he wore a helmet that covered his entire face. This was due to the fact that he had his vocal cords removed in 1982 after suffering from throat cancer.
Art fakes: Disputed 'Basquiats' seized by FBI shake the US art world | Culture
While New York surrenders once again to the genius of Jean-Michel Basquiat with an exhibition of unpublished work curated by his family, in Orlando (Florida), there is considerably more controversy over the work of the artist who died at the age of 27. An exhibition at the Orlando Museum of Art dedicated to the former close friend of Andy Warhol, entitled Heroes & Monsters, has cost the head of that gallery his job, while the FBI investigates the authenticity of 25 of the works, not to mention the threats made by the director against an expert who had been commissioned to evaluate the authorship.
Although the scandal began to take shape in February, when the exhibition opened, the FBI raid took place last Friday with the seizure of the paintings with a contested attribution to Basquiat. Aaron De Groft, director and chief executive of the museum, has relentlessly defended that these are genuine works, while emphasizing that it is not a museum's role to certify the authenticity of the works it exhibits. "[The paintings] came to us authenticated by the best Basquiat specialists," he told the local NBC television station in February.
De Groft had for months championed the importance of the paintings, asserting that they are worth millions of dollars, until an expert showed up who'd been hired by the owners of the paintings and she began to question his version of events. The director was fired on Tuesday, just two business days after agents seized the 25 suspicious works. The museum's board of trustees met for hours that day, but not before warning employees that anyone who dared to discuss the matter with journalists would suffer the same fate as De Groft. Hence, it is impossible to know the version not only of the former director, but of any worker at the center. Nor can any information be gleaned at the New York exhibition, a mixture of unpublished work and memorabilia, where organizers are fearful of the devaluation caused by the Orlando scandal.
"It is important to note that there is still nothing that makes us think that the museum has been or is the subject of an investigation," Emilia Bourmas-Free told the local chain on behalf of the art gallery. Cynthia Brumback, chairwoman of the museum's board of trustees, expressed itself in similar terms in a statement, saying that the board of trustees is "extremely concerned about several issues related to the exhibition Heroes & Monsters," including "the recent revelation of an inappropriate e-mail correspondence sent to academia concerning the authentication of some of the artwork in the exhibition," as reported by The New York Times.
The statement refers to a disparaging message sent by De Groft to the specialist hired for the expert opinion, cited in the FBI investigation as "Expert 2″ but who the New York Times has confirmed is Jordana Moore Saggese, an associate professor of art at the University of Maryland. This expert, who received $60,000 for a written report, asked the museum not to have her name associated with the exhibition, according to the FBI affidavit. Angry, De Groft threatened to reveal the amount of the payment and share the details with her employer, the university.
"You want us to put out there you got $60,000 to write this?" wrote De Groft, according to the affidavit. "Ok then. Shut up. You took the money. Stop being holier than thou. Do your academic thing and stay in your limited lane." The board said it has launched an official process to address the matter. The scandal was precipitated a few hours after the closing of the exhibition, which had originally been meant to travel to Italy.
The mystery of the cardboard box
But how did the paintings get to the Orlando Museum? The museum and its owners maintain that the paintings were found in a Los Angeles storage unit in 2012. The New York Times reported that questions arose over one of the paintings, made on the back of a cardboard shipping box with FedEx lettering in a typeface that was not used until 1994, six years after Basquiat's death, according to a designer who worked for the company.
Both De Groft and the owners of the paintings maintain that they were made in 1982 and that Basquiat sold them for $5,000 to a famous television screenwriter, now deceased, who deposited them in a storage unit and forgot about them.
Ramón Estévez regrets his name change to Martin Sheen | Culture
At the beginning of the sixties, Ramón Estévez was desperate. His first steps as a television actor had gone well, but he felt stuck in that medium and wanted to get into theater and film. However, at the time, his name held him back: there were few successful Latinos in the United States. "Whenever I called for a position, whether for work or for an apartment, they answered me hesitantly when I gave my name, and when I arrived, I found the position already filled." He said in 2003. And so, Ramón decided to create an artistic name by merging the name of Robert Dale Martin, the CBS network's casting director, who had helped him in those essential appearances on the small screen, and that of Bishop Fulton J. Sheen, who, as Estévez's little sister Carmen recalls, "regularly appeared on TV."
This is how Martin Sheen came about, and owing to his great talent, he triumphed first in theater and, later as an actor in the movies, notably: Badlands, Apocalypse Now, The Departed, and Wall Street. However, the identity of Ramón Antonio Gerardo Estévez did not disappear: this name remains in all of Sheen's official documents (passport, driver's license and marriage license)… and in the actor's soul. Last week, in an interview with Closer magazine, he confessed that one of the great regrets of his life was his change of name. He speaks with pride of the obstinacy of his son Emilio, who kept it despite "his agent's advice to change it". In relation to his own decision, he reflects: "Sometimes they convince you, when you don't have enough insight or even enough courage to stand up for what you believe in, and you pay for it later."
Over time, Sheen recovered his Galician roots, the land where his father, Francisco Estévez Martínez, was born. His father was an immigrant who left Parderrubias, in Salceda de Caselas (Pontevedra), for Cuba at the age of 18 in 1916. He left with no Spanish, a language he learned on the Caribbean Island. In the early 1930s, he emigrated to the United States to a modest Irish neighborhood in Dayton (Ohio), where he married another immigrant, Mary-Ann Phelan.
Martin Sheen's life has been profoundly marked by his childhood. His father worked at NCR Corporation, an industrial conglomerate that began manufacturing cash registers. Shortly after his marriage, the company sent him to the Bermuda Islands where his first children were born. Sheen was the seventh of ten children (nine boys and one girl), and the first to be born in Dayton, in 1940, after the family moved to the US. His left arm was clasped by forceps during birth, leaving it three inches shorter than his right arm. As a result of this, the character that Sheen interprets in the series The West Wing of the White House, President Josiah Bartlet, puts on his jacket with a strange twist of the body. As a child, he suffered from polio which kept him bedridden for a year, and at the age of 11 his mother died. Thanks to the support of a catholic charity and his own father's efforts, the family remained united against the distribition of children to orphanages or foster homes, a common practice at the time.
He was the eccentric of the family: he decided to go into acting. Against his father's objections, Ramón, the most reserved son only enjoyed the theater and decided to study acting. "You don't know how to sing or dance!", his father told him, to which his son replied: "You love westerns and in those nobody sings or dances". "But you don't ride a horse either!" was his father's comeback. Despite this discouragement, he moved to New York, following in the footsteps of his idol, James Dean.
In the mythical episode Two Cathedrals of The West Wing, he explains how the character President Bartlet reflects the experiences of his own childhood and adolescence. Estévez/Sheen: a practicing Catholic and relentless campaigner against global warming, a man in favor of civil and immigrant rights, he was arrested several times during demonstrations outside the White House. His activism began when he was just 14 years old in a golf club where he worked. He led a strike of caddies, protesting against the club members' use of bad language in front of children.
And then there's the Spanish context. Francisco Estévez did not teach his children Spanish, but the Estévez family went back to their roots. Francisco was able to return to his hometown in Galicia in 1967 (just as Sheen landed his first big role in In the Custody of Strangers), where he began building a house, while making regular trips back to Dayton. He would never see this house finished. He died in Dayton in 1974, and was buried with his wife and son Manuel, who had died in 1968. His only daughter, Carmen, ended up working as an English teacher at a school in Madrid, where she married. For years people in Madrid have bumped into Sheen during his visits to his sister. Carmen finished building her father's house and inaugurated a river promenade dedicated to his memory. Indeed, she has kept the memory of the Estévez alive in Salceda de Caselas.
The Camino de Santiago, a dream come true
In the early years of the 2000s, Sheen, his son Emilio Estévez and his grandson, Taylor, walked the Camino de Santiago. In Burgos, the grandson met a girl, and at the end of the walk he decided not to return to Los Angeles, but to remain in the Castilian city, where he got married. Influenced by that experience, Sheen and Estévez made the film El camino (2010), in which both co-starred and the latter directed. A few months ago, Sheen spoke proudly of El camino, a great success, and a faithful portrayal of his spirituality. During filming, at a lunch under huge pergolas at the back of Burgos cathedral, Sheen explained: "I am a Catholic, and a lot of that spirituality is in this movie. I have had an extremely happy life, with the normal highs and lows of a career. I have survived disease and my family is wonderful [his four children, including Charlie Sheen, are actors]… I believe in a church that does incredible work in the Third World. Other things, like some of the pronouncements from the Pope [at that time, Benedict XVI], are more difficult for me. I live my faith, and it is between God and I." A few meters from Sheen and the journalist, at the long tables, was a strange group that didn't not look like actors: "That's my wife, that's my sister and her husband, that my best childhood friend… I've invited them to come and have a good time with Emilio, Taylor [who worked as an assistant] and me". Taylor Estévez currently works as a stunt coordinator in California.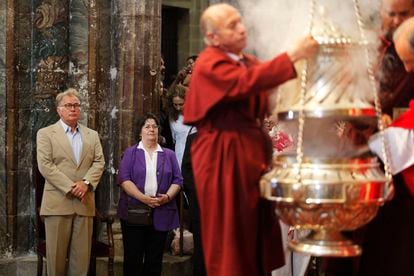 Carmen Estévez says that for decades the family did not understand their father's deeply Galician sense of humor, until they realized that for much of the time he was not being serious. This sarcasm was inherited by his son Ramón/Martin, and he made a display of this in Burgos. In response to a question about his career, he said: "With my resume full of bad movie titles, what can I say. I'm an actor and that's how I've supported my family. But I've been in about 10 films that I can be proud of…" at which point he dropped his cup of coffee and blurted out: "See? For gloating over my career. Divine punishment".