'We will start again': Afghan female MPs fight on from parliament in exile | Afghanistan
It is a Saturday morning in November, and Afghan MP Nazifa Yousufi Bek gathers up her notes and prepares to head for the office. But instead of jumping in an armoured car bound for the mahogany-lined parliament in Kabul, her journey is by bus from a Greek hotel to a migrants' organisation in the centre of Athens. There, taking her place on a folding chair, she inaugurates the Afghan women's parliament in – exile.
"Our people have nothing. Mothers are selling their children," she tells a room packed with her peers. "We must raise our voices, we must put a stop to this," says Yousufi Bek, 35, who fled Afghanistan with her husband and three young children after the Taliban swept to power in August. Some around her nod in agreement; others quietly weep.
Yousufi Bek, from the northern Takhar province, is one of 28 female MPs who have found refuge in Greece, a country most had never visited before. Until recently, these women made up more than 40% of Afghanistan's female MPs. Now they are confronted with an unrecognisable alphabet and an uncertain future.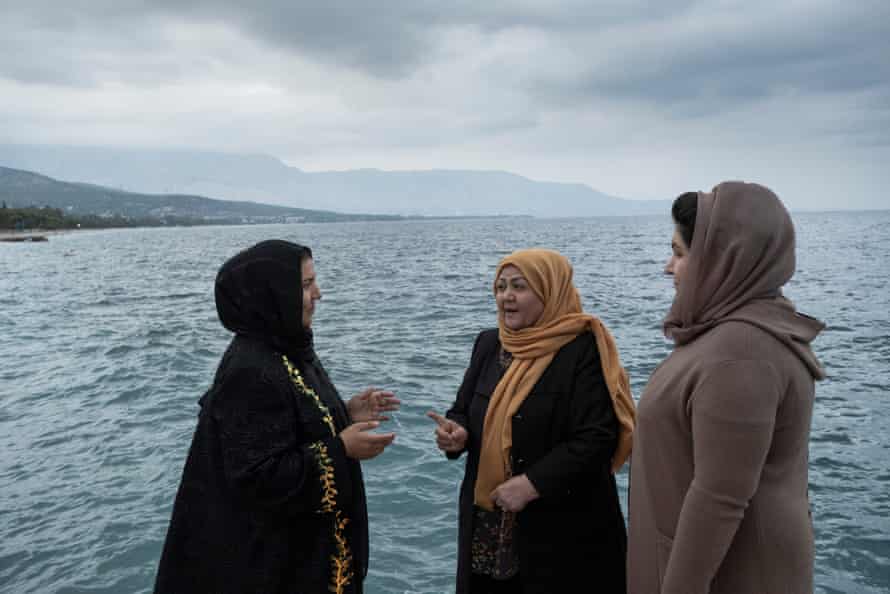 They want to combat an illegitimate regime that has stripped women of basic rights and plunged their country deeper into poverty and hunger amid an economic meltdown caused by the American withdrawal and sanctions.
November sunshine pours through the windows as the room buzzes with energy. The women take turns speaking, standing up to address their peers. They express opposition – to the Taliban, to what they described as Pakistan's outsized influence on recent events – as they would in parliamentary sessions in Kabul, by rhythmically drumming their fingers on the table.
During meetings with Greece's prime minister, Kyriakos Mitsotakis, and president, Katerina Sakellaropoulou, the MPs have pushed the country's authorities to advocate for Afghan women with other EU member states. They have also petitioned several ambassadors, including the US envoy, to pressure their governments to consider human rights when working with the Taliban.
Shagufa Noorzai came up with the idea for a parallel parliament in exile with Yousufi Bek. A teacher before becoming a legislator, while in office Noorzai focused on improving the financial status of women and set up a foundation aimed at supporting homeless children and widows in her native Helmand province. "I want women in Afghanistan to think, 'Shagufa didn't forget us. Shagufa wants to do something for us'," says Noorzai, who at 24 became the youngest member of parliament when she was elected in 2018. Many of the MPs have seen fierce opposition when seeking election; Yousafi Bek's campaign was the target of a deadly suicide bomber.
In the coming weeks, the MPs will hold virtual sessions with Joe Biden's administration, US Congress members and UN security council officials, which will be facilitated by Mina's List, a non-profit that supports women's political leadership and is working with the Afghan female lawmakers.
On the agenda: the women's rights crisis under Taliban rule, ensuring aid reaches the millions of starving Afghans facing a cruel winter and keeping pressure on western nations to provide safe passage for Afghan women who worked as judges, prosecutors and activists, as well as those who served in the security forces.
"Our intention is to really leverage all of those networks, to amplify the women's agenda, to amplify their platforms, to help them have opportunities," says Tanya Henderson, Mina List's founder and executive director.
Emotions were high when the women gathered for the first time at a community centre run by Melissa Network, a grassroots network for female migrants and refugees that played a role in their evacuation.
"You realise how much power lies with women," says Nadina Christopoulou, an anthropologist and director at Melissa Network. Thousands of women have come through her doors in recent years, but this is the most high-profile group.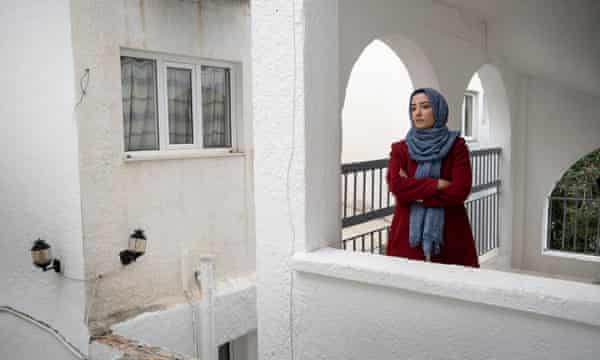 "Women are half of society, so we are very important. You can't hide us," says Noorzai, in the small hotel room she shares with her mother, brother and sister just outside of Athens. Flowering pink bougainvillaea trees climb the whitewashed walls of a holiday resort that has seen better days. The MPs and their families are its only guests, filtering in and out of a food hall serving chicken gyros and chips before strolling along the beach at dusk.
It has not been an easy adjustment: the basic lodgings are a far cry from the opulent houses of many Afghan politicians in Kabul and their home towns.
Wiping away tears with her headscarf, long-serving MP Homa Ahmadi shows a recent photo on her phone of Taliban MPs in Kabul. Where she once sat surrounded by female peers and men in suits, there are now only men wearing turbans and sporting long beards.
Ahmadi, 46, represented eastern Logar province for 15 years, winning a seat in all three of the country's elections.
No country has recognised the Taliban government, though senior officials from some, including the UK, have met the group's leadership in recent weeks, where they advocated for women's rights. But those delegations contained no women, sparking outcry from prominent Afghan women and causing German MEP Hannah Neumann last week to criticise such meetings as "counteracting the whole argument".
The parliament in exile wants to bring to safety the nine female MPs who remain behind in Afghanistan. They are in hiding, a traumatic predicament the women know all too well.
"[Since August], the Taliban have killed schoolgirls, policewomen and women in government. The family members are too afraid to speak up," says Fawzia Hamidi, 48, a lawmaker from northern Balkh province. Formerly a prosecutor for cases of violence against women, Hamidi describes recent murders in the region as the tip of the iceberg.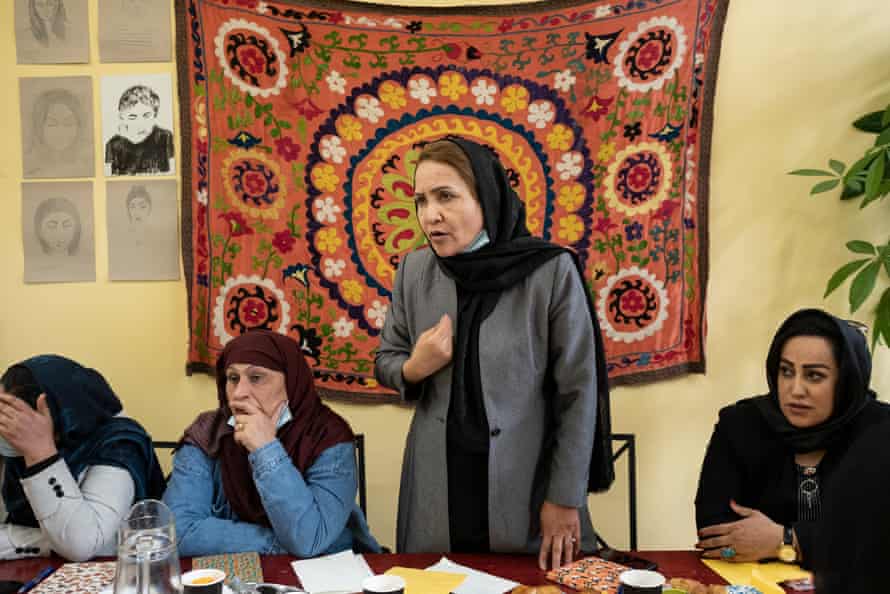 Fearful of reprisal killings or torture by the Taliban, the MPs who fled first went into hiding before escaping to Greece, often in disguise or behind the anonymity of a face mask. Some flew through Iran and Georgia before arriving in Athens, in a complicated rescue effort that involved New York-based philanthropist Amed Khan.
Others, such as Halima Askari from central Wardak province, crossed overland to Uzbekistan. In her second trimester of pregnancy, a doctor in Tashkent told her the baby's oxygen levels were severely depleted due to stress. Now in her third trimester, she will give birth in Greece.
Hamidi describes how she was separated from her five-year-old daughter, Hadia, as she entered Uzbekistan under the cover of darkness. "Hadia didn't have a passport. So I was on one side of the border, and she on the other," she says through muffled sobs. She is still waiting to be reunited with her daughter.
Most of the MPs in Greece are applying for asylum in other countries, such as Canada, the US and Britain.
The MPs have found unlikely protection in Greece, a country that recently extended a border wall with Turkey with radars and drones designed to deter Afghans from reaching Europe. They want to advocate on behalf of the thousands of Afghans in limbo in Greece, where they are the largest population of asylum seekers, with few job prospects and little opportunity for reintegration with society.
"Greece is only the beginning. We will start small, we will start again," Noorzai says.
Sign up for a different view with our Global Dispatch newsletter – a roundup of our top stories from around the world, recommended reads, and thoughts from our team on key development and human rights issues, delivered to your inbox every two weeks:
'We're next': Prisoner's secret filming appears to show torture in Cairo police station | Global development
A video obtained by the Guardian appearing to show Egyptian police torturing detainees in a Cairo police station confirms the extent to which officers appear able to inflict violence on civilians with near total impunity, according to human rights groups.
The video, covertly recorded by a detainee through a cell door, appears to show two inmates hung in stress positions. The detainees are naked from the waist up and suspended from a metal grate by their arms, which are fastened behind their backs.
"Watch how they are torturing us and our colleagues. They came and told us we're next," one detainee says. Addressing the Egyptian president, Abdel Fatah al-Sisi he says: "Mister president, we want to ask why the police in el-Salam First police station are doing this to us."
The video is one of two believed to have been recorded in November last year inside a police station in the working-class el-Salam neighbourhood of northern Cairo.
In the second, which the Guardian is not showing to protect detainees' identities, inmates in an overcrowded cell line up to display injuries they say were inflicted by police officials and investigators, including open wounds on their heads and bruises across their chests and backs. "They are hitting us with sticks," they say.
Humans rights groups said the videos are visual evidence of widespread abuses that they have been documenting in police stations and detention centres across Egypt for the past decade.
The Guardian has taken steps to verify the videos where possible, including requesting an assessment of the videos by a trusted expert. Detainees shown in the video also name multiple police officers who are listed in news reports as serving at el-Salam First police station.
The videos surfaced nearly 12 years after the death of Khaled Said, a 28-year-old civilian, in police custody in Alexandria in June 2010. Said's death proved to be a watershed, inciting public anger at the impunity of security forces and their treatment of Egyptian citizens, and sparking the protests that began on 25 January 2011, a national day traditionally honouring the police force. The 18 days of nationwide protests that followed ended the decades-long reign of autocrat Hosni Mubarak, where abuses by security bodies were widespread.
Yet 11 years after the uprising, testimonies and evidence collected by rights groups allege that abuses by Egypt's security services are once again out of control. Since coming to power after a military coup in 2013, Sisi has presided over a renewed era of impunity for security forces, down to the lowest ranks of the police.
Despite a clear prohibition on all forms of torture in Egypt's 2014 constitution, trials and convictions of security officials for torture or deaths in custody remain extremely rare, while abuses are regularly documented. Domestic organisations monitoring torture and abuse in detention now struggle to continue their work, amid a prolonged crackdown on civil society activity.
"Police stations are even worse than prisons," said Aly Hussin Mahdy, a former detainee and now exiled activist, describing his experience in detention. "The revolution happened because of this, and 11 years later we see it happening again."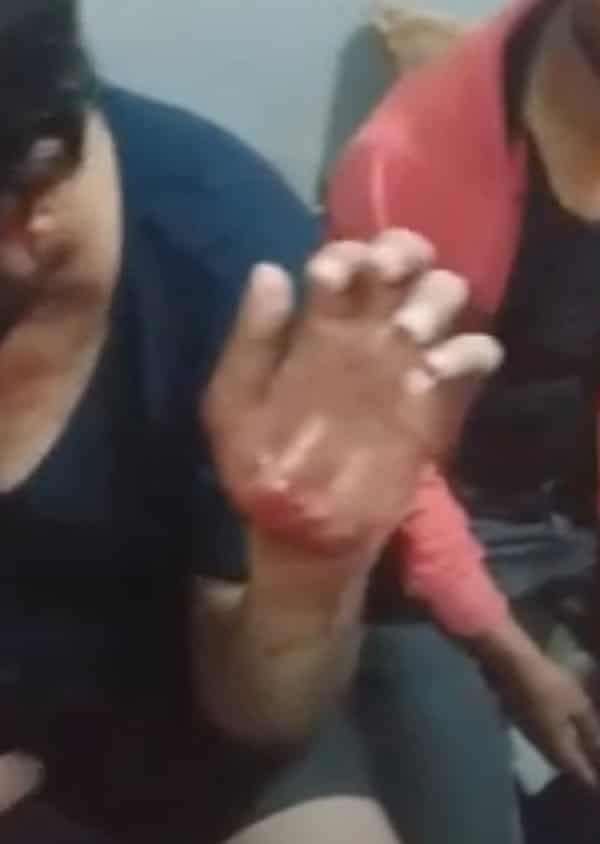 Amr Magdi, an expert on Egypt at Human Rights Watch who reviewed the videos for the Guardian, said that the detainees' injuries and the use of stress positions are consistent with documented examples of torture in detention centres. "They all show signs of severe beatings, and they mention batons and wooden sticks which are routine torture tools," he said. "These videos show the sad and horrifying reality of Egypt's detention system as the police enjoy near-absolute impunity."
Magdi said that abuse was common in police stations, where mistreatment can occur away from public view. "We know that most physical torture happens in police stations and secret NSA [National Security Agency] detention centres during the initial days or weeks after arrest, and before detainees are taken to larger prisons," he said.
Human Rights Watch detailed the use of stress positions and the systemic use of torture in police stations in a report in 2017, describing the issue as a potential crime against humanity. The report cites 19 individual cases where detainees "were tortured in police stations and national security offices across the country, including Alexandria, Aswan, and cities in the Nile delta". For some, torture occurred in multiple places of detention.
"The basic tools of torture were electrocution and stress positions, accompanied by beatings with fists, wooden sticks or metal bars," they said.
Police and NSA officers "handcuffed suspects' arms behind their back, pulled up their arms, placed their handcuffs over the top edge of a door, and hung them above the floor, an unnatural position that caused excruciating pain in the back and shoulders, sometimes dislocating them. Some officers pulled suspects' legs downward to increase the pain," they said. They added that detainees were often left in stress positions for long periods.
Rights groups have also documented frequent deaths among those detained. In 2015, Amnesty International provided evidence of at least nine deaths in custody in the Mattareya police station in Cairo. Three years later, it demanded an investigation after the suspicious death of 43-year-old Gamal Aweida in custody in the Mansheyet Nasir district of the city.
In rare cases of accountability, a small number of police officers have been sentenced for shooting civilians in public over the past decade. In 2016, Sisi publicly instructed the interior ministry to prevent abuses by police following an outcry after an officer shot dead a taxi driver. Last year, a police officer from the el-Salam Second police station was sentenced to three years in prison with hard labour for shooting a civilian in the chest and wounding another.
Yet convictions for deaths in custody are rare, even for low-ranking police officers. Four noncommissioned officers were imprisoned by prosecutors in 2020 for torturing a man to death at a police station in Giza. In December 2020, nine police officers were sentenced to three years in prison for beating a street vendor to death in custody in Cairo in 2016.
The Egypt State Information Service, interior ministry, and current and former officials at the interior ministry either declined to comment or did not respond to requests for comment when contacted by the Guardian to discuss video evidence of abuses and the issue of torture in police custody.
EU not evacuating staff from Kyiv
The EU will not evacuate its staff from Kyiv, the bloc's foreign affairs chief Josep Borrell said on Monday before the meeting of EU foreign affairs ministers, who will have a video conference with US secretary of state Anthony Blinken. "Blinken will explain the reasons for this announcement, we are not going to do the same thing, […], we don't have to dramatise, the negotiations are going on," Borrell said.
'I've already sold my daughters; now, my kidney': winter in Afghanistan's slums | Global development
The temperature is dropping to below zero in western Afghanistan and Delaram Rahmati is struggling to find food for her eight children.
Since leaving the family home in the country's Badghis province four years ago, the Rahmatis have been living in a mud hut with a plastic roof in one of Herat city's slums. Drought made their village unliveable and the land unworkable. Like an estimated 3.5 million Afghans who have been forced to leave their homes, the Rahmatis now live in a neighbourhood for internally displaced people (IDP).
There are no jobs. But the 50-year-old has hospital fees to pay for two of her sons, one of whom is paralysed and the other who has mental illness, as well as medicine for her husband.
"I was forced to sell two of my daughters, an eight- and six-year-old," she says. Rahmati says she sold her daughters a few months ago for 100,000 afghani each (roughly £700), to families she doesn't know. Her daughters will stay with her until they reach puberty and then be handed over to strangers.
It is not uncommon in Afghanistan to arrange the sale of a daughter into a future marriage but raise her at home until it is time for her to leave. However, as the country's economic crisis deepens, families are reporting that they are handing children over at an increasingly young age because they cannot afford to feed them.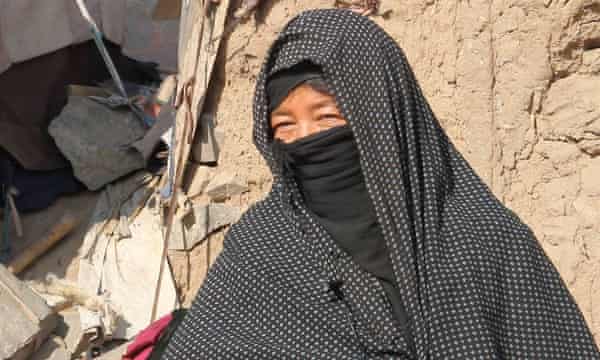 Yet, selling her daughters' future was not the only agonising decision Rahmati was forced to make. "Because of debt and hunger I was forced to sell my kidney," she tells Rukhshana Media from outside her home in the Herat slum.
Afghanistan is on the brink of "a humanitarian crisis and economic collapse", according to the UN. The agency's ambassador to Afghanistan has said it is "experiencing the worst humanitarian crisis of its contemporary history". Drought, Covid-19 and the economic sanctions imposed after the Taliban seized power in August 2021 have had catastrophic consequences on the economy. Dramatic rises in inflation have resulted in soaring food prices.
The kidney trade has been growing in Afghanistan for some time. But since the Taliban took power, the price and conditions under which the illegal organ trade takes place has changed. The price of a kidney, which once ranged from $3,500 to $4,000 (£2,600 to £3,000), has dropped to less than $1,500 (£1,100). But the number of volunteers keeps rising.
Rahmati sold her right kidney for 150,000 afghani (£1,000). But her recovery from the operation has not been good and now, like her husband, she is also sick, with no money left to visit a doctor.
More than half of the country's estimated 40 million population face "extreme levels of hunger, and nearly 9 million of them are at risk of famine", according to the UN refugee agency, UNHCR. For a growing number of Afghans, selling a kidney is their only way to get money to eat.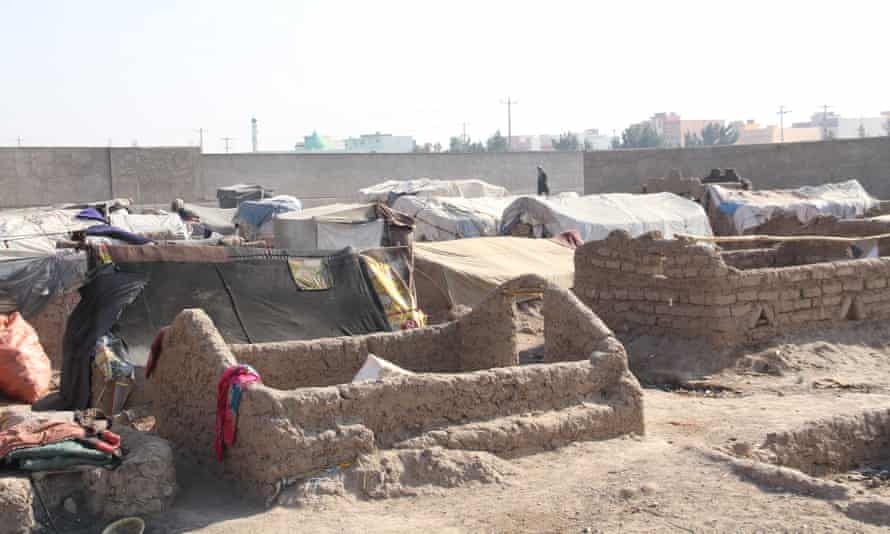 "It has been months since we last ate rice. We hardly find bread and tea. Three nights a week, we can't afford to eat dinner," says Salahuddin Taheri, who lives in the same slum as the Rahmati family.
Taheri, a 27-year-old father of four, who scrapes together enough money for five loaves of bread each day by collecting and selling recycled rubbish, is looking for a buyer for his kidney. "I have been asking private hospitals in Herat for many days if they need any kidney. I even told them if they need it urgently, I can sell it below the market price, but I haven't heard back," Taheri says. "I need to feed my children, I have no other choice."
In the past five years about 250 official kidney transplants have taken place in the hospitals in Herat province, with a very limited number being a family member donating their organ, says Asif Kabir, a public health official in the province. The cost of a kidney transplant is 400,000 afghani, plus the price of the kidney, according to Kabir.
But the true number of kidney operations may be far higher. A doctor working in one of the hospitals where most of the transplants take place, who spoke on the condition of anonymity, says: "Recently the number of people who want to sell their kidney has increased in Herat and most of them live in the displaced camps, in Herat's slums. The customers also go to the displaced camps to find a cheap kidney."
Sayed Ashraf Sadat, a civil society activist in Herat, was a member of a delegation assigned by president Ashraf Ghani to investigate the illegal kidney trade in May 2021.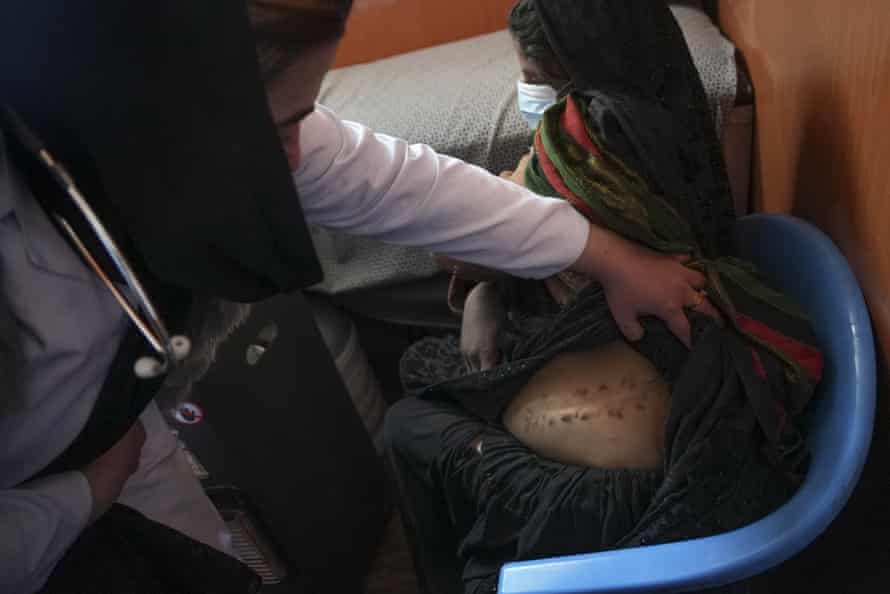 "We found that the hospitals were not working according to the law. People are working inside and outside the country to encourage people to sell their kidneys. These people get them visas and send them to the other side of the border. There is more demand for kidney transplants outside Afghanistan. Countries like Iran need kidneys, and poor Afghans are forced to sell them."
Sadat says the investigation he was part of identified two hospitals in Herat where kidney transplant operations take place; one of them said it had completed 194 operations and the other said 32, but more than 500 people were claiming to have sold their kidney, 100 from a single village in Herat. "This shows the kidneys were taken outside Afghanistan," says Sadat.
"For example, a kidney is purchased for 300,000 afghani (£2,100) inside Afghanistan, and it is sold for more than £7,500 to £11,000 outside the country," says Sadat.
"We found evidence that some are encouraged to sell their kidneys, taken outside the borders, and their kidneys are sold for 200,000 to 400,000 afghanis ," says Sadat. "It seems that the doctors are involved in the illegal trade. But unfortunately, our investigation was stopped due to a worsening security situation."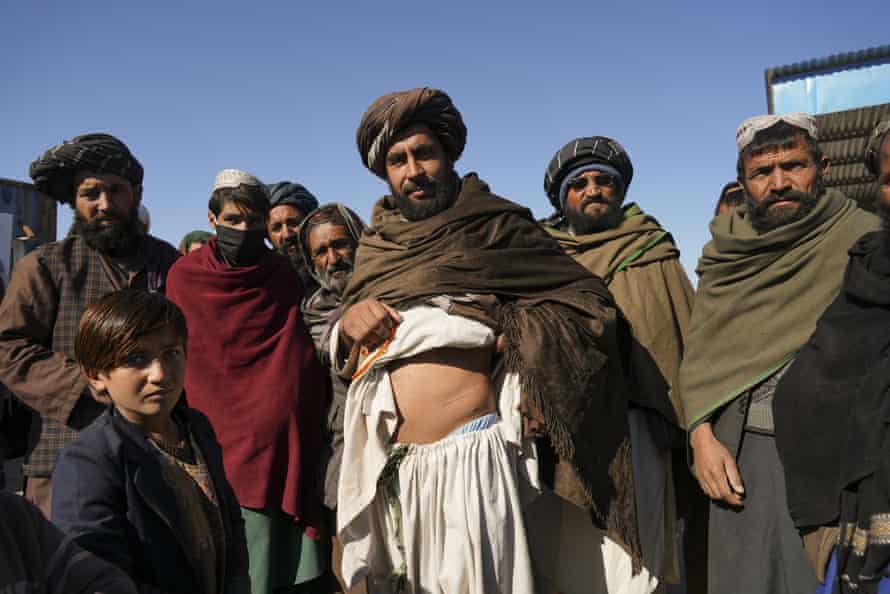 Two months have passed since Rahmati's kidney operation, and the money has already gone to pay off medical debt. Her recovery from the operation continues to go badly.
"I am so sick. I couldn't even walk because the wound has been infected. It is very painful," she says, adding that the recipient of her kidney only paid for the operation fee, two nights in hospital and her first medicine bill.
On the day of the transplant, Rahmati was sick and the doctors refused to operate. "I couldn't breathe properly, so the doctors took me down from the hospital bed, but I returned. I told them 'I am happy with my own death, but I can't tolerate seeing my children hungry and ill'," she says.
Sign up for a different view with our Global Dispatch newsletter – a roundup of our top stories from around the world, recommended reads, and thoughts from our team on key development and human rights issues, delivered to your inbox every two weeks: