'We were told we were doing it to save the country'
The rain beat down at the foot of Slieve Foy in the Cooley Peninsula as Matthew McGreehan's lambs and sheep were taken away on April 5th, 2001.
Distressed ewes gave birth as they were loaded on to trailers to be brought to the abattoir.
"It was traumatic, but we were told we were doing it to save the country," recalls Mr McGreehan, who lost more than 300 sheep in the cullings ordered to stop the spread foot-and-mouth disease.
The Co Louth peninsula saw the State's only confirmed case and Mr McGreehan remembers how the area's usual farm animal soundtrack was replaced by a "strange silence" during those months, interrupted occasionally by the whir of helicopter blades.
"There was not a sheep or a goat to be seen or heard. The Army helicopters would fly by carrying baskets of wild animals to be shot," the 48-year-old farmer recalls.
Fear about foot-and-mouth, which causes painful blisters inside the mouth and under the hooves of animals, had grown following the discovery of the first case during a routine inspection in an abattoir in Essex, England, on February 19th.
Within days of Britain's first reported case, a specialist disease task force was established by the government, meeting daily under chairman and taoiseach Bertie Ahern. The parallels with the ongoing pandemic are striking.
Border checkpoints
St Patrick's Day parades were called off; Ireland's Six Nations games were postponed and the Cheltenham horseracing festival was cancelled after a case was found near the Gloucestershire track.
Ports and airports were closely monitored. More than 1,000 soldiers and gardaí manned 141 Border checkpoints. Vehicles and footwear were manually disinfected, meat or milk products were confiscated and live animal imports were blocked.
In a world before social media, daily press briefings were led by the then minister for agriculture, the late Joe Walsh, who was praised for the sense of calm he showed throughout.
Dealing with a long-established and highly-researched animal disease is entirely different to an emerging virus that threatens humans, says Colm Gaynor, a former chief veterinary officer at the Department of Agriculture.
"In the world of animal health, foot-and-mouth is an ever-present risk. We would have had other diseases. We had trained for it and we always had contingency plans," he says.
Tom Parlon, former president of the Irish Farmers' Association (IFA), learned of the outbreak while in Brussels. He flew home via Belfast because of a snowstorm in Dublin. By then, Border checkpoints were already in place.
"The lockdown was called very quickly," he says.
Stormont and Dublin worked closely together, says former SDLP minister for agriculture Bríd Rodgers, who defied instructions from London and imposed an import ban on British animals and animal product imports into the North.
By then, however, a shipment of sheep had already arrived and moved through Armagh into the Republic. Ms Rodgers ordered another ship to turn around mid-sail, which she says was "really crucial".
Early hopes in Britain that the outbreak had been caused by a rogue batch of infected pigs were quickly dashed. Soon, television images showed huge pyres of carcasses burning, which kept those responding to the outbreak focused.
"We didn't know where this would go. In the UK they slaughtered over six million animals in the end. So it was a huge risk," Mr Gaynor says.
Agriculture officials in Dublin and Belfast traced imports back to February 1st.
"It was a huge operation," Mr Gaynor says. "Every day was a nightmare as we wondered whether we would find the animals, or not."
Unlike Britain, which was trying to chase an already-seeded virus, the Irish authorities were "already on the pitch" by the time the first case was found on a farm in Meigh, Co Armagh, just across the Border on February 28th.
A 10km exclusion zone was quickly established. From there, the majority of the seemingly-native sheep had been transported unlawfully into the State for slaughter, it emerged. A year later, a Wicklow-born livestock dealer was convicted.
Foot-and-mouth was confirmed in the State on March 22nd, when blood samples taken from sheep on the farm of Michael Rice in Proleek on the Cooley Peninsula, just 8km south of Meigh, proved positive.
Liam Woods (80) recalls the "eerie silence" around his farm in Castletowncooley in late March when hundreds of sheep were sent for slaughter. They were not infected but were inside the exclusion zone.
His and other animals owned by affected Cooley farmers were sent to a disused abattoir owned by meat processor Larry Goodman. In all, the area lost 48,744 sheep, 1,123 cattle, 2,908 pigs, 280 deer and 166 goats.
"There wasn't an animal about the place," Mr Woods says. "If you go out today the crows are going ballistic at this time of the day. Back then, it was dead silent."
Raymond O'Malley, then chairman of Co Louth IFA, remembers the emotions as lambing ewes were taken away.
"When you see grown men of 50 or 60 with tears streaming down their faces, that is something that never leaves you," he says.
Illegal trade
Commending the Border security put in place, the Ardee farmer says "many of us wish we could do that now with the Covid", but he concedes that it was "probably easier" to seal off the peninsula then than a 500km border today.
Even before the phrase was coined, the Department of Agriculture had contact tracers following sheep that had entered or left the State, "both legally and illegally", and not just in Cooley, says Mr Gaynor.
The illegal trade was part of a VAT fraud, where sheep brought in were presented as being from the State. It was, he adds, a "serious risk" and huge resources went into finding them.
Ireland had to prove to the world that it was free of foot-and-mouth. Samples were taken from more than 150,000 sheep from every county from May to July. Every test was negative bar one, and that was inconclusive. That sheep, nevertheless, was slaughtered.
On September 19th, the OIE-World Organisation for Animal Health restored Ireland's status as a country free from foot-and-mouth. Maintaining public support for months of restrictions was crucial, according to Martin Heraghty, a former adviser to Joe Walsh.
"At the time those months did feel like a very long time . . . No more than now there were various restrictions being placed on people and we needed people to co-operate. Equally, we wanted to maintain public confidence," Mr Heraghty says.
Clear communication was key. So, too, was an alert system that drew "live" information from veterinary offices across the State, while a 24/7 helpline heard the public's concerns.
"It was important we were fully up to speed. There was a lot happening rapidly . . . We didn't want to have a press briefing where somebody raised something happening around the country that you weren't aware of," Mr Heraghty says.
Remembering the goodwill shown by cross-Border travellers, retired garda Michael Clarke, then stationed at Carrigans on Derry/Donegal border, says people were "very understanding and actually appreciative of the fact we were there".
"We got to be on first-name terms with a lot of the farmers. At night they would be over and back to check on their livestock. We were just welcomed so much by the people there," he adds.
Ms Rodgers remembers a Stormont of a different age, where the SDLP and David Trimble's Ulster Unionist Party had a "vested interest" in making sure power-sharing worked because they had led the Belfast Agreement negotiations.
"Nationalist and unionist ministers worked together to the common good of everyone on the island, particularly farmers. There was never a time when anyone from the unionist side of the executive objected to what I was doing."
Following the crisis, Walsh was honoured by the French with the Legion d'Honneur and by the Spanish with the Grand Cross of the Agricultural Order of Merit for his leadership during a dark hour. Marking his retirement as minister in 2004, Mr Ahern said the crisis had been Walsh's "finest hour".
The public backed tough action because the government "decided quickly and implemented quickly," says Mr Parlon. Walsh never "lost the dressing room", though the former IFA chief concedes that the restrictions then were a pale shadow of the ones needed today.
'Sad time'
The costs in 2001 did not compare either. The exchequer funded €107 million of measures to prevent outbreaks, while the tourism sector suffered an estimated loss of €210 million during the first half of the year.
Later, many farmers, bar those who lost their herds, saw short-term price rises for animals because of a shortage of stock in Britain.
Mr Woods and his wife Irene never returned to shepherding, instead opting for suckler farming. Today, he prefers not to dwell too deeply on the past.
"It happened. We got on with our lives," he says, adding that sucklers are easier to manage than sheep.
"It was a sad time but there were a lot of positives as a result as well," he says.
"Some people became better friends but some people haven't spoken to one another since. It brought out the worst in people and it brought out the best. We have had much worse times since then."
However, Mr McGreehan says it took years for his new flock to get used to the Cooley's hilly commonages.
"The compensation was very unfair: £145 per sheep. It definitely wasn't enough," he says. "My sheep hadn't got foot-and-mouth. My neighbour's sheep hadn't got foot-and-mouth. We were asked to give them up for the greater good."
Spanish architecture: The story of Madrid's abandoned 'beach' for its working class | Culture
La Playa de Madrid was just 15 minutes from the Spanish capital's Puerta del Sol square when it was inaugurated. Nine decades later, the distance is the same, but the premises developed by the architect Manuel Muñoz Monasterio in 1932 to create a "beach" in the landlocked city are in a state of complete disrepair.
The great leisure project for Madrid's working class on the banks of the River Manzanares now houses fetid mattresses, crumpled beer cans, rank swimming pools, tattered tennis courts and facilities that are at risk of disappearing altogether.
Owned by the state agency Patrimonio Nacional, which manages Spain's national heritage, La Playa de Madrid has been closed for six years. Defaults in rent payments forced it to close, and it subsequently became the target of vandalism. "There is no longer even any security," says Juan García Vicente from the green group Ecologists in Action, who is upset by the state of dereliction of a site with social and architectural significance in the city's history.
The access point to the "beach," which borders La Zarzuela racetrack on one side and the Puerta de Hierro Sports Park (previously known as Parque Sindical) on the other, has not been opened since the authorities evicted staff and members at the end of October 2014. The company running the complex at that time, which belonged to the former president of the Spanish employers association CEOE, Arturo Fernández, received a court order to vacate the premises as it had failed to pay rent or any tax despite operating the five swimming pools, 11 tennis courts, four paddle courts, one roller-skating rink, four frontón courts, the cafeteria, the restaurant and the parking lot.
Arturo Fernández has left a hole in the National Heritage agency's accounts to the tune of €867,006, which will have to be paid as soon as his company's bankruptcy is resolved. The 3,000 Playa de Madrid members who had paid their fees were also denied access. Fernández's contract had been renewed in 2011, despite the fact that he was already €466,831 in arrears. It was a sum that, according to the Court of Auditors, "he paid a few days before signing the new contract."
To add insult to injury, EL PAÍS has learned that on July 30, National Heritage filed a complaint in court in a bid to evict the new company running the complex, Centro de Eventos Playa de Madrid, which is also behind on payments.
"It has not paid even one month's rent and has run up a debt of €530,523," says a National Heritage spokesperson. The new contract went into effect on October 17, 2017, after the president of National Heritage at the time, Alfredo Pérez de Armiñán, decided to lease the 184,800 square-meter property to a company that not only failed to pay rent, but also reneged on a commitment to invest €3.2 million to renovate the complex.
Meanwhile, under the National Heritage's current president, Llanos Castellanos, an initiative is underway to revamp the more than 22,000 hectares of green spaces owned by the institution throughout the country, including the Playa de Madrid complex, which will be finalized when the judicial process ends. "The aim is to turn it into a sustainable property that is financially self-sufficient, and to make sure that what has happened does not happen again," says Castellanos.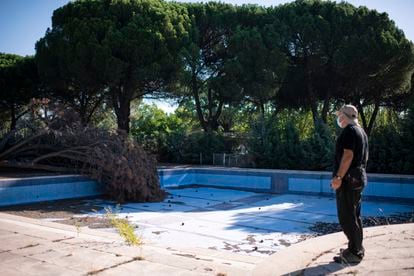 The phony beach was fashioned from a shallow river, from which "a beautiful arm of the sea" was created, to quote an ad from that period. But the dam that stored up the water to create a 300-meter shoreline was dismantled this January by the Tajo Water Confederation so that the river could follow its natural course unimpeded, according to García Vicente.
"It was a very interesting dam because it still allowed the water to flow and remain clean," says Alberto Tellería, a member of the Madrid Citizenship and Heritage Association, who still remembers the complex's dance floor and the announcement of a design competition for cheap evening dresses in 1934.
The "beach" was very popular among the working classes during the Second Republic, before Francisco Franco's air forces razed it. And it was there that the photojournalist Robert Capa constructed his iconic image of of two militiamen greeting each other under the lighthouse tower.
But unpaid dues and ignored commitments have proved the ruin of the site, which is these days trapped between two highways. "These are public facilities of extraordinary significance," says Juan García Vicente, who has been fighting for years for a path that will connect Madrid with El Pardo, on the left bank of the river.
This path should be ready in a couple of months and access to the "beach" will be reserved for pedestrians and cyclists. Meanwhile, the dignity of the complex is still to be restored, which according to Carlos Ripoll, a member of the Madrid Architects Association (COAM), has an "impeccable" language all of its own.
The simple and modern lines of the structures designed by the creator of the Las Ventas bullfighting ring and the Santiago Bernabeu soccer stadium are hidden behind pines, cork oak and poplars, and they are reminiscent of the international tone set by Swiss architect Le Corbusier. Muñoz Monasterio, who sided with the regime after the civil war (1936-1939), carried out the post-war reconstruction in 1948, refurbishing it according to Franco's taste, with slate roofs and spires. But the subsequent inauguration of the nearby Parque Sindical (now known as the Puerta de Hierro Sports Park) and water contamination ended Madrid's dream of having a beach.
English version by Heather Galloway.
Russians' Alcohol Consumption Drops 80% in 7 Years
Alcohol consumption has been reduced by 80% over the past 5-7 years in Russia, Minister of Health Veronika Skvortsova stated at a working breakfast during the Gaidar Forum today, reports RIA-Novosti.
The Gaidar Forum is an annual event in Moscow hosted by the Russian Presidential Academy of National Economy and Public Administration, which brings together economist, Nobel Prize winners, leading professors, and representatives of the Russian and foreign elite to discuss the most acute problems of the day, especially as concerns Russia's position and strategic role in the world.
"We have managed to reduce the consumption of alcoholic beverages by 80% per capita…" Skvortsova stated. Meanwhile, "the number actively engaged in sports has grown by more than 40%."
She also noted that smoking among adults has dropped 22%, and has been reduced thrice over among children and adolescents.
According to a 2012 report from the World Health Organization, the number of Russians who drink several times a week had by then declined to 5%, and the number who drink several times a month to 33%. Russian citizens were found to drink about as much as citizens of Denmark, Great Britain and Croatia.
The Russian Orthodox Church has played a key role in reducing the amount of alcohol consumption in the country. There are more than 500 active anti-alcoholism projects in Russia today under the auspices of the Church.
"One of the Church's most successful works in the sphere of temperance education is the celebration of the All-Russian Day of Sobriety on September 11," stated Valery Doronkin, head of the Coordinating Center for Combating Alcoholism and Endorsing Sobriety of the Synodal Charity Department.
Special prayers are added to the Litany of Peace and the Litany of Fervent Supplication on the Day of Sobriety. His Holiness Patriarch Kirill stated on this day in 2016:
By decision of the Holy Synod in 2014, the day of the Beheading of St. John the Prophet, Forerunner, and Baptist is deemed the Day of Sobriety, because precisely the mad state of Herod, drunk on wine at his banquet, was the cause of such a frightful order which he gave—to behead the holy prophet.
We know what terrible sufferings drunkenness has brought our people in the past, and which continue today: the destruction of families, the birth of sick children, people, losing the meaning of life and health, called to the fullness of existence, becoming invalids in youth only because they didn't have enough strength to turn from sinful attractions and stop drinking.
According to the primate, not only the health of the nation, but also "the very existence of our people and state" depends upon this question.
---
Source: Orthodox Christianity
G7 countries accused of prioritising military spending over climate action
G7 countries "are stuck in the 1970s and 1980s" and avoiding profound societal changes needed to address the climate crisis, while embracing "the ruse of net-zero" carbon emissions, according to leading climate scientist Prof Kevin Anderson.
Speaking at a briefing on climate issues at the summit of the Group of Seven leaders, comprising Canada, France, Germany, Italy, Japan, the UK and the United States, in Cornwall, Prof Anderson said: "Net zero is the latest ruse that we're using to avoid making profound social changes and to avoid the rapid and just phasing out of our existing oil, gas and coal industries."
The former director of the Tyndall Centre for Climate Change Research in the UK said this was also avoiding the adoption of challenging policies and the huge transformation of infrastructure required.
Net zero was "a way of passing the buck to future generations", he said at the event hosted by the COP26 Coalition – the campaign group seeking greater climate justice commitments at the United Nations climate conference in November.
"We need leaders now who are prepared to grasp the enormity of the climate challenge but also the wider ecological crisis – rather than the eloquent, simple greenwashing of 'business as usual'. And that's what we're seeing currently.
"Despite ramping up of good news stories in advance of COP26, the reality is that the gap between the necessary action and actual cuts in emissions for both 1.5 degrees and 2 degrees is just getting bigger. Playing into this ongoing failure is the ubiquitous language of 'net zero', under which almost any organisation, region or country can claim to be aligned with the Paris commitments," Prof Anderson said.
"But dig a little deeper and claims of net zero are often little more than a ruse whereby immediate cuts in actual emissions are substituted for future speculative 'negative emissions', offsetting and other forms of mitigation denial," he said.
Military spending
Niamh Ní Bhriain of the Transnational Institute's war and pacification programme said prioritisation of military spending, costing almost $2 trillion (€1.7 trillion) a year, was an issue that "must be brought into the room in discussing climate justice and global poverty".
A total of 57 per cent of that spend on military, security, intelligence and borders came from G7 countries, she added. "This is a political choice. This is a question of political will; that we're spending this much on the military."
Unprecedented spending on borders by rich countries of the global north to prevent migrants coming to their shores was part of a militarised response to migration, which she predicted would become even more prevalent when parts of the world became uninhabitable as the climate crisis deepened.
COP26 Coalition spokesman Asad Rehman of War on Want said G7 countries, who bear the greatest responsibility for fuelling crises that threaten the lives and livelihoods of billions, could no longer make empty statements or hollow promises to act. "Leaders must listen to the millions of people in every corner of the world who are demanding a justice transition."
As a first step the G7 must commit to doing their fair share of emissions reductions by 2030 to limit warming to well below 1.5 degrees, he said, and commit "to unlocking the trillions needed to build a sustainable economy of the future – one that guarantees universal public services, living wages and puts people before profit."
Rising sea levels
Meanwhile, Extinction Rebellion Ireland have been staging theatrical displays along the coast of Ireland calling on G7 leaders to take adequate action against sea level rise.
The UN estimates there could be anywhere between 25 million and 1 billion environmental migrants by 2050, with many of those on the move because of the effects of sea level rise, an Extinction Rebellion Ireland spokeswoman said. "These estimates envisage flooding of Irish coasts; meanwhile, other island nations around the world are already suffering," she said.
"Since signing the Paris Agreement in 2015 these nations have utterly failed to meet their commitments to reduce emissions and mitigate the worst effects of climate change. Greenwashing and empty promises won't stop the sea levels from rising; our crops from failing or the entire ecosystem on which our lives rely on from collapsing. 2021 is a critical year and the decisions made by the G7 are make or break," she added.
In Dublin, activists formed the Extinction Rebellion and G7 logos on the beach of Sandymount Strand, capturing the large-scale visual by drone camera.
In Cork, protestors used a tape measure to mark the rising sea levels and highlight the risk of flooding that coastal communities face. Off the Down coast Extinction Rebellion Northern Ireland members dressed as red rebels served tea at a table half submerged in the sea.