'We didn't stop': the Los Angeles abolitionist coalition that's racking up victories | Los Angeles
There was a moment in late 2016 when Los Angeles county was set to invest $2.2bn in rebuilding and revamping parts of its jail system, the largest in the world. The old Men's Central jail downtown would be replaced with a new "mental health jail" run by the sheriff's department, and the women's jail in south-east LA would be relocated to a former Immigration and Customs Enforcement (Ice) detention center in the high desert, more than 80 miles outside the city.
Taxpayers would fund the project, which activist groups claimed would ultimately cost at least $3.5bn. The contract had been awarded and money promised. Justice reform organizers' years-long efforts to halt construction and reallocate funds toward housing, education, and community-based services had failed.
But the battle wasn't over.
That year, grassroots activists regrouped and rebranded, forming a broad coalition based on six organizations they called JusticeLA. They devoted themselves to shutting down the jail construction plan. Then they held their first direct action, an art installation in front of an administrative building where the Los Angeles county board of supervisors had greenlit the jail project. Activists set up 100 homemade jail bed replicas, creating a simulated jail dormitory for the public. More than 200 supporters showed up wearing orange shirts that read "I am not the property of L.A. County jail." The action diverted traffic for more than six hours.
"Even when we lost, we still won," Ivette Alé said. "We didn't stop organizing, didn't stop putting pressure on the county." Alé, 35, is JusticeLA's coordinator, which continues to work for decarceration and to increase resources for communities most affected by incarceration.
At the coalition's core is a group of young abolitionists who grew up in Los Angeles in the "tough-on-crime" 90s, all of whom are the children of incarcerated people or were themselves incarcerated.
For two years following the jail bed action, JusticeLA employed protest, public education and policy recommendations to stop construction, and finally prevailed.
First, the county scrapped the new women's jail project. Then in August 2019, they dropped the mental health jail plan, deciding instead to invest in community services. Former state senator Holly Mitchell (as of January, she is a member of the Los Angeles county board of supervisors), described JusticeLA's success in shutting down the jail expansion plan as "miraculous".
"I give them full credit with bringing pressure to bear on a board [the county board of supervisors] that I'm not sure would have done it on their own," she said. The fact that the county was convinced to back out of a multimillion-dollar contract astonished her, Mitchell said.
Since then, they have been racking up victories by ignoring the conventional political wisdom of making compromises and "playing to the middle". Instead, they pursue their abolitionist goals and so far every campaign they have waged has succeeded.
---
Ivette Alé has been one of JusticeLA's key engineers since its inception, and an organizer since they were a student at UC Berkeley. As a young child, they and their family moved to southern California from Mexico City. Several years later, a close family member was incarcerated after battling substance use.
"If my [loved one] had received substance abuse treatment and mental health treatment instead of incarceration, my family would have been better off," Alé said. "So often the rhetoric around justifying incarceration uses the stories of survivors and victims to justify punitive systems … A lot of us [at JusticeLA] have been survivors of interpersonal violence and state violence and understand that the punitive responses didn't help us as survivors."
Alé and their colleagues are working to build alternatives to those responses, and have built their coalition on the foundation of a few central principles. The first, Alé said, is that when they advocate for a policy, they leave no one behind. Traditional justice reform efforts tend to advocate for one community – cis and trans women, for example – but will stipulate that their efforts don't apply to those who have committed violent crimes. JusticeLA does not make those distinctions.
"It's making sure we don't feed into a binary of who's deserving and who's undeserving," Alé said.
Second, Alé said, they try never to help build something they will have to dismantle in the future. Proposition 25, a measure on the state ballot in the November 2020 election, would have eliminated cash bail but replaced it with risk assessment software that some activists and scholars say perpetuates racism and the criminalization of poverty, and which would have expanded judicial power. JusticeLA supports ending cash bail, but didn't see the tradeoff as a real step toward reforming pretrial detention. (The state has since moved toward eliminating cash bail.)
JusticeLA's large base of individuals and organizations is due in part to an expansive approach. In early 2017, when it looked as though the jail construction plan was unstoppable, Black Lives Matter co-founder Patrisse Cullors and then leader of Californians United for a Responsible Budget Diana Zuñiga realized they needed a broader coalition than those who were explicitly abolitionist. Together they recruited some of their activist colleagues and created JusticeLA.
"We've got to … expand so that even organizations who don't articulate themselves as abolitionist are down and feel compelled to fight for an abolitionist demand," said Mark-Anthony Clayton-Johnson, a founding executive team member of JusticeLA, recalling the groups' decision to rework their approach.
Clayton-Johnson, Alé and their colleagues convinced reformist – though not explicitly abolitionist – groups like the Service Employees International Union and ACLU of Southern California to join the coalition in the common pursuit of justice reform.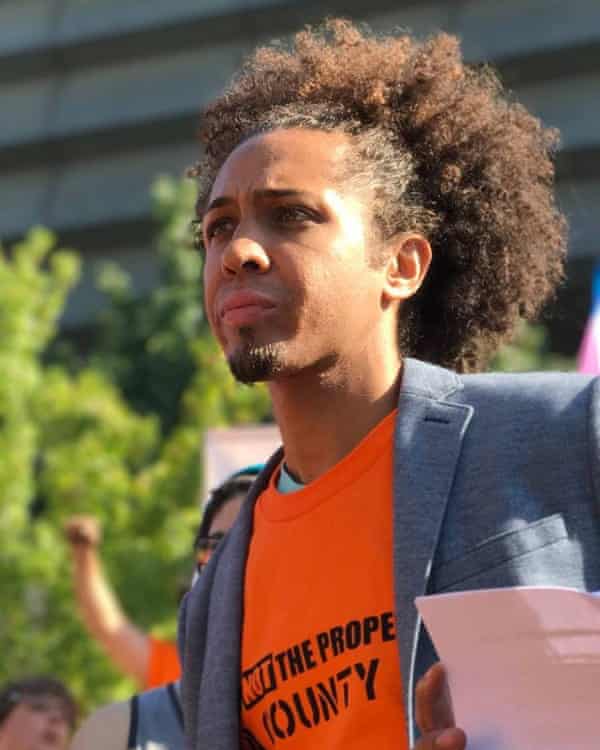 Decision-making power within the coalition, however, remains with the core group, which consists of members of established grassroots groups such as Dignity and Power Now and the Youth Justice Coalition, and rests only with formerly incarcerated and Black people and people of color.
"They've done a remarkable job of balancing the different elements of what social movement work requires to be successful," said Toussaint Losier, professor of Afro-American Studies at the University of Massachusetts Amherst. "And they've done it in a way that has distinguished them from what we find in other parts of the country, where you have organizations or even local coalitions that are good at doing one aspect of this … to the exclusion of others."
Indeed, JusticeLA has focused on a broad range of criminal justice policy issues. They fought successfully to get Measure J, which would allocate between $360m-$900m of county money to social services, on the ballot in the November 2020 election. Then they fought successfully to get the measure passed. They scored the surprise victory in November with the campaign to replace cash bail, which required voters to consider nuanced arguments against racist algorithms.
That was a case where JusticeLA wasn't aligned with some of their usual political supporters, including then state senator Holly Mitchell, who co-authored the original bill eliminating cash bail that Prop 25 would have upheld.
"In the process of policymaking, there is sometimes impatience with the notion of incrementalism," Mitchell said. "I think there's sometimes fear that if you start down a particular road around a policy shift, and if it is not ideal, then it's better to have not gone down that road at all."
It was a point of contention that didn't get resolved. "But we were able to have a conversation. I heard their perspective. They heard mine," Mitchell said.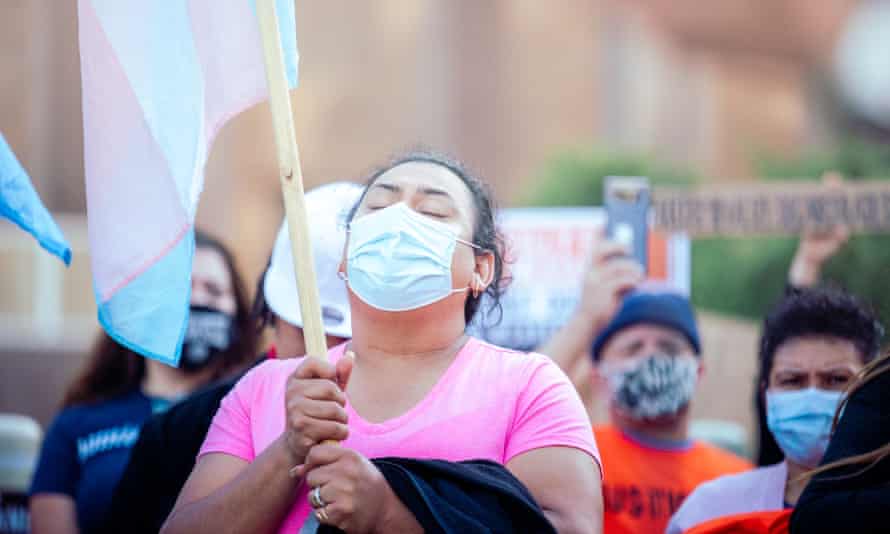 Still, JusticeLA is facing steep obstacles. The Gallup Center on Black Voices, created in response to last summer's uprisings, found that although the overwhelming majority of Black Americans and Hispanic Americans say law enforcement needs "major changes", only 22% of Black Americans and 20% of Hispanic Americans are in favor of abolition. In fact, a majority of Black and Hispanic Americans want to maintain current levels of law enforcement presence in their neighborhoods.
Burnout is also a constant peril in other organizing spaces he's worked in, said Clayton-Johnson. To prevent that, JusticeLA's leaders try to devote resources to mental health and creativity. Clayton-Johnson is an acupuncturist, Cullors is a multimedia artist, and Alé is a former fashion designer who moonlights as DJ IZLA.
Alé pointed out that engaging creatively with colleagues and allies relieves tension and strengthens relationships. It requires having your finger on the pulse of the community. "That's what being an artist is," they said. "Being able to reflect back your personal experiences and that of your community in ways that folks can identify with."
Their artistic events tend to be the most intimate type of activism. In June 2020, JusticeLA held an event inspired by Tupac Shakur's book of poetry The Rose That Grew from Concrete.
The group laid thousands of roses in front of the Hall of Justice as a tribute to those who have been killed at the hands of law enforcement in Los Angeles county. One of JusticeLA's founding groups, Dignity and Power Now, holds card-making events in front of county jails on Mothers' and Fathers' Day so that visiting family members can present artworks to those they're visiting.
"There's a long tradition of joy as a radical force in our work, particularly in the Black organizing tradition," Clayton-Johnson said. "Even in moments of conflict, or really tense political struggle, we still have a right to that.
"I mean, that's the world we're trying to build, right?"
Zebras, giraffes … and a cycle race through the Maasai Mara | Global development
In the world of long-distance running, east Africans have long been the dominant force, and soon they may also be setting the pace in the whitest of elite sports: cycling. This month, the Migration Gravel Race (MGR) brought together 100 of the world's top cyclists in a four-day showdown on the rocky, red dirt roads of Kenya's Maasai Mara. With a third of the entrants from east Africa, it was a rare opportunity for the region's riders to show they can rival the best.
"Cycling is a very Eurocentric sport," says Mikel Delagrange, the prime mover behind the event. "In over 100 years of the world championship, only three athletes outside of Europe have ever won, and they came from the US and Australia."
For 11 years, Delagrange, a human rights lawyer, worked mostly in central and east Africa, for the international criminal court in The Hague. He quit last year and now works with the UN in Palestine.
"The obstacle for east African riders is that they lack access to international competition," he says. "You might be the best in your neighbourhood but you won't progress if you're only beating people in your neighbourhood.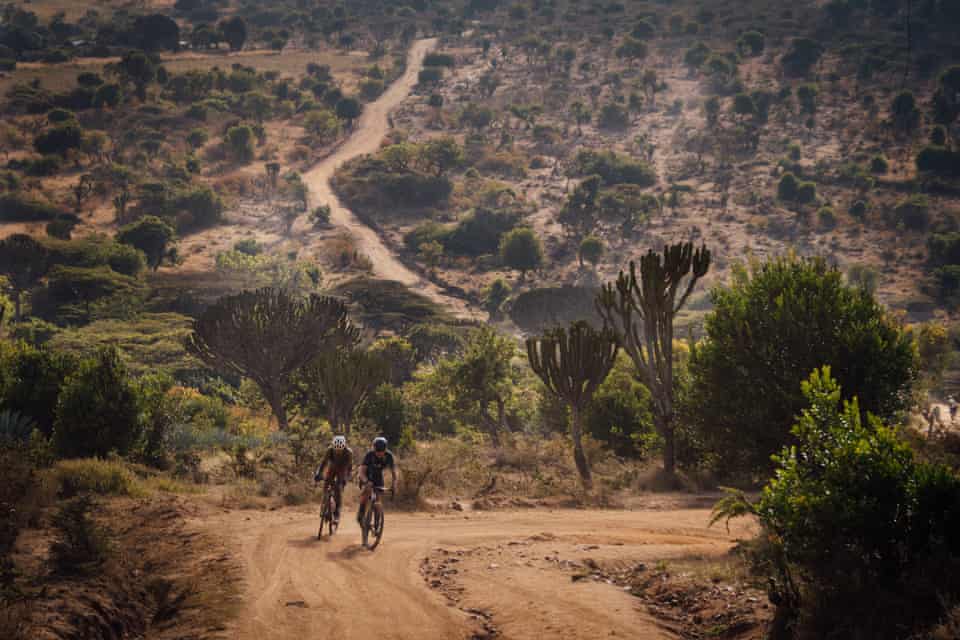 "But if we send an east African to an international race, we're spending an unbelievable amount of money on visas because everyone thinks they're a migrant, then on flights, plus staying in Europe is prohibitively expensive for most.
"After a lot of consultation, we thought: instead of clawing at the door, why don't we bring international competition here?"
Against a backdrop of acacias and euphorbia candelabra trees, amid the zebras, giraffes, impalas and wildebeest of the savannah, the four-day race takes riders along 650km of rough roads, climbing above 3,000 metres. Each day, before the course is cleared by Maasai motorcycle sweepers, dressed in their traditional red plaid blankets, a helicopter goes ahead to check for elephants and buffalo.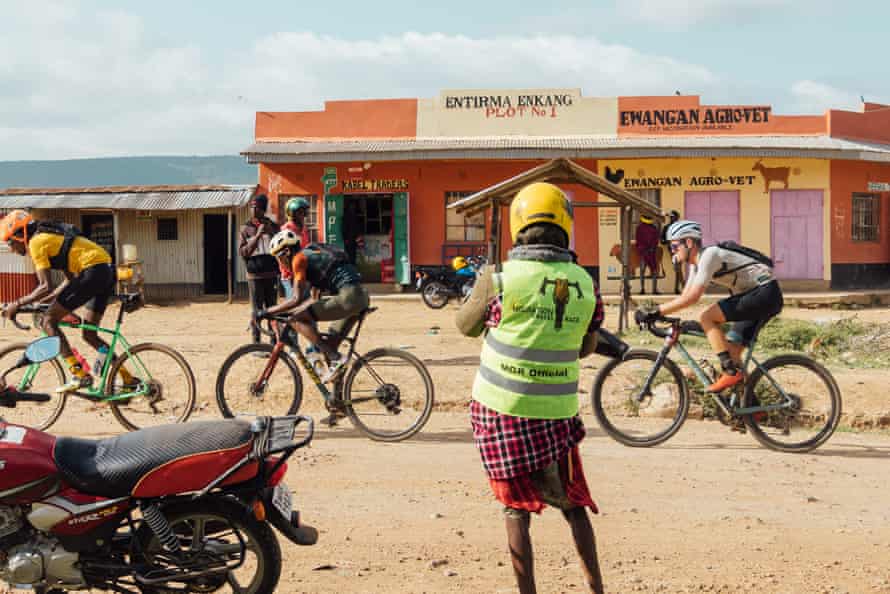 "What Mikel is doing is giving east African riders a home-based platform, not a European one," says Kenyan cyclist David Kinjah. "They get a chance to compete against the best, in their country."
Organising a travelling band of 100 cyclists in a region that lacks infrastructure is a challenge. All the logistics, from security to cooking to building the campsites, is done with support from local Maasai.
Last year, Delagrange set up the Amani team – eight men and four women from the top cycling clubs in Kenya, Uganda and Rwanda. "Amani has changed my life, but not just mine," says Suleiman Kangangi, 33, a Kenyan cyclist. "This is a big deal for east African riders. We selected the best for this race, and they know there's something to aim for."
Nancy Akinyi, 32, another Kenyan cyclist, says: "It's not just about bringing these people here to compete, it's to prepare these young riders for what could be their future if they excel. Thanks to Amani, we can send riders from east Africa and show we can do it. If you go to the world championship, you don't see black people there.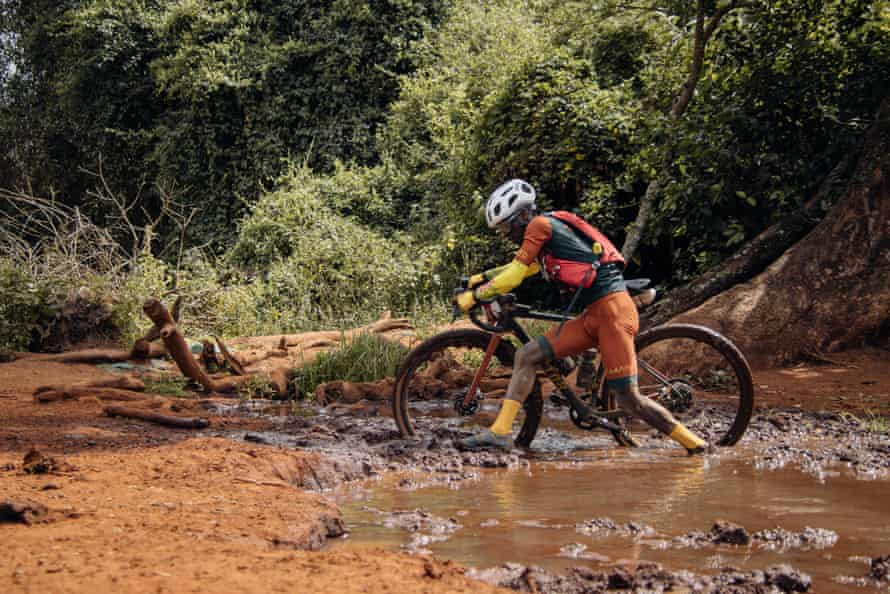 "Amani is special because now black people can see that we can be pros. It's unusual to see people from the northern part of Africa – I'm going to say black people – doing so well," she says.
"It started here in east Africa, but now I get emails from women in Congo, Tanzania and even Lesotho who say they want to join the team."
Non-African riders, who include big names such as Lachlan Morton from Australia, Italian cyclist Mattia de Marchi and Lael Wilcox from the US, paid €1,250 (£1,075) to enter, some of which goes towards funding the Amani team.
Everyone is racing for fun and glory; there is no prize money.
"The Europeans didn't expect the African riders would be so tough to beat," says Kinjah. "When we compete in Europe, everything is different: the food, the language, the roads. This affects your performance."
The home advantage changes the odds. On the eve of the first stage, Delagrange thanks the non-Africans for coming, then adds: "Just for a change, you're going to be the people who stand out and don't speak the language."
The fast-growing sport of gravel racing, essentially putting mountain bike tyres on high-end €10,000 road bikes, is more open and democratic than road racing. Like a marathon, anyone can line up with the best.
"What you have here – where you can sit around the campfire after a race and chat with people from all walks of life, make new friends and also hammer each other for five hours on the road every day – that doesn't exist in the majority of races," says Morton, who finished fifth overall, behind three Amani riders. "It's an experience that's so much more fulfilling. I'd come back in a heartbeat.
"In an event like this, the bullshit fades away. It's like, here's the start line, here's the finish, go for it. It doesn't matter where you're from, we're all going to sleep in tents and we're all going to eat the same food, so let's get on with it."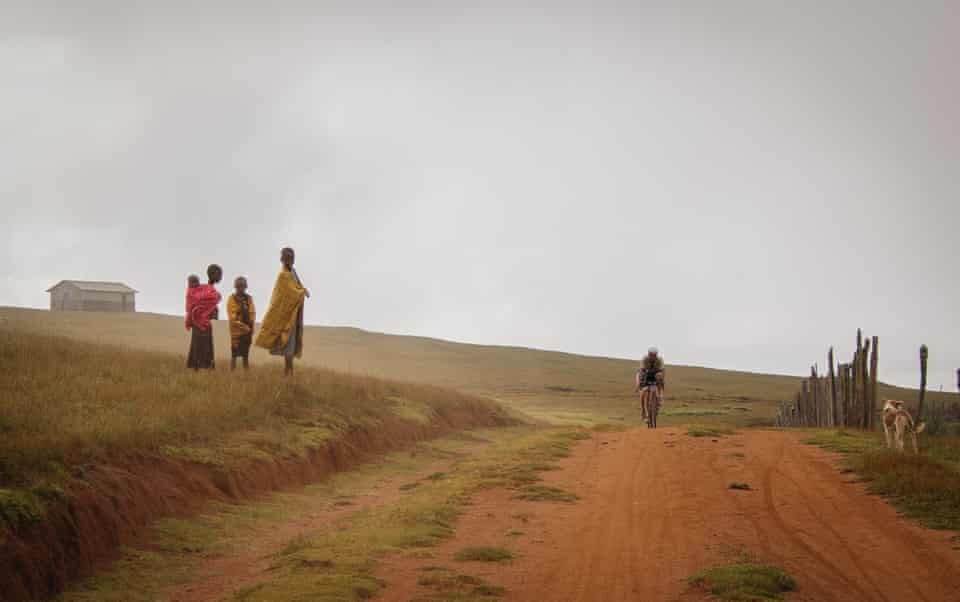 Wilcox, who once rode 3,000km from her home in Anchorage, Alaska, to reach the start line of the 4,500km Tour de Canada, and then broke the women's record by four days, is another fan: "It's cool that there's a really good women's field here. They've put a lot of effort into inviting women and making them feel like they belong. It's good to see."
Juliet Elliott, a 44-year-old cycling pro, says: "A race like this, where we all race together but there are separate podiums, that's pretty cool. If I'd had to do road races against guys, I probably wouldn't have bothered, but gravel is more open. In these long-distance disciplines, women tend to do better."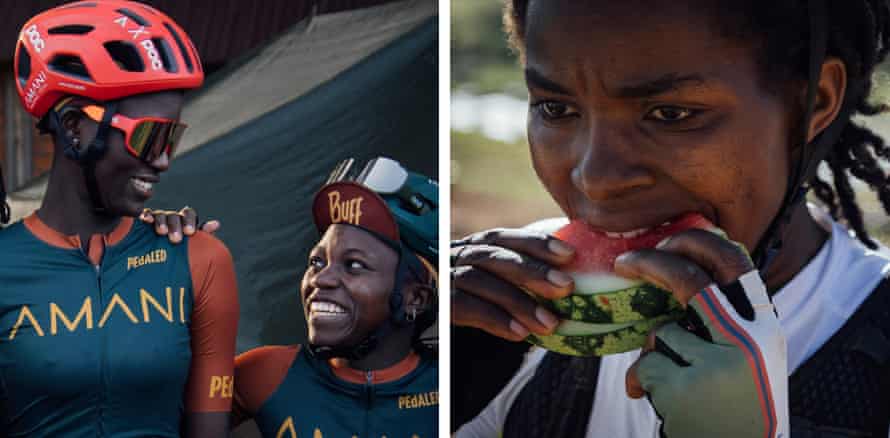 Delagrange says they had the good luck to be ready with a concrete proposal when the Black Lives Matter movement made some realise that "racial disparity is a thing, and continues to be". There was some overdue reflection in cycling, he says, and many "were looking for a fig leaf to cover how white the sport is. We acted as a hub for corporations to know where to direct their resources."
He believes the industry is beginning to understand that it's not diverse enough to be considered an international sport. "Imagine if running was still just Roger Bannister. We aren't pushing the limits of human capability. Without allowing the rest of the world to play this game, we still don't know what can be done on a bike."
The idea that east African cyclists can hold their own against the best was entirely vindicated. Amani's John Kariyuki was the overall winner over the four stages. Two of his teammates, Jordan Schleck Ssekanwagi and Kangangi, came third and fourth. Fifteen of the top 20 finishers were Africans.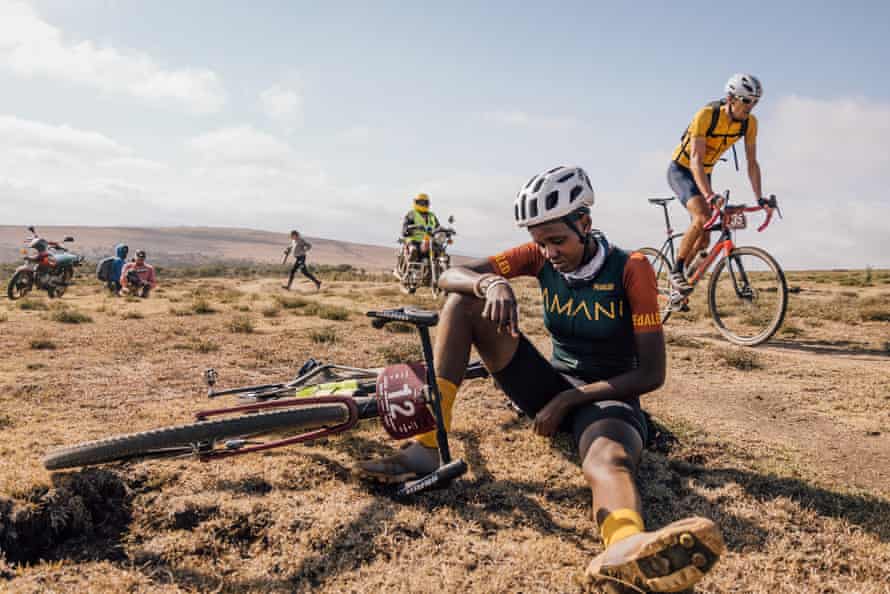 Distance rider Marin de Saint Exupéry, from Switzerland, says it's the first time he's raced against Africans. "I can't keep up with this pace," he says. "I was really attracted to the idea of this project, and met some of the team when they came to Switzerland last year. We shouldn't need a project like this, but we do."
Kinjah, 51, who finished 14th, believes many sporting projects in Africa fail because they have a European mentality and don't understand the culture. "This project is different because they take the best from several countries," he says. "They bring unity by putting these good riders in one team. Some of these guys have never been in the Maasai Mara or seen an elephant. Now they are having an adventure in their own country – and racing against the best in the world."
"The scale is small," Delagrange admits. "Right now, we have 12 athletes whose lives we'd like to improve through opportunities. We're trying to make it easier for those outside east Africa to invest in great human beings. Maybe we will have those breakout athletes who will change the face of cycling. You've got to start somewhere.
"I think many Europeans still cling to a LiveAid mentality. People saw a bunch of things in the 80s, and they're, like: OK, that's what Africa is like. If you always see people in a disempowered position, it will reinforce your subconscious view of them. But when people come and meet athletes who kick their ass, they don't see disempowered people, they see real competitors.
"Hopefully, after four days, they go home with a different view of what Africa is about."
Sign up for a different view with our Global Dispatch newsletter – a roundup of our top stories from around the world, recommended reads, and thoughts from our team on key development and human rights issues, delivered to your inbox every two weeks:
Amado Carrillo Fuentes: Mexico raffles off luxurious narco-mansion | International
It has been a hideout for crooks, a film set, and the headquarters of a foundation. In late June, a luxurious mansion once owned by Amado Carrillo Fuentes became the top prize in Mexico's national lottery. The former Juárez cartel boss known as the Lord of the Skies (El Señor de los Cielos) built this US$4.5 million home in Jardines del Pedregal, an exclusive neighborhood south of Mexico City. The two-story residence measures more than 10,000 square feet, and has an indoor pool, expansive gardens, and enough garage space for 30 cars. The enormous home boasts a bar with a wine cellar, nine bedrooms; six Jacuzzis, numerous closets and dressing rooms, a huge kitchen, a steam room, a library, and a life-size playhouse for children. And for the price of a US$10 cachito, as lottery tickets are called in Mexico, some lucky player had a chance to win the opulent mega-mansion.
Lottery administrators put three million numbers up for grabs, but the tepid response from the public meant that multiple numbers had to be picked before one came up a winner. Suspense built as losing numbers came up again and again. "That number isn't a winner, so we'll try again. Good luck!" said the announcer 16 times. Almost 25 minutes later, the winning number was picked on the 17th try.
"How would you like a house in Jardines del Pedregal?" tempted the commercials. "I can already picture myself living there!" a woman replies enthusiastically. "Or you could sell it," suggested the announcer. The property has long been a headache for the Mexican government. It was first auctioned in May 2020 by the "Instituto para Devolver al Pueblo Lo Robado", a government agency created by Mexican President Andres Manuel López Obrador to liquidate assets seized from criminal organizations and corrupt officials. The auction hoped to raise at least US$2.6 million pesos for the house, but the best offer was US$2.47 million, from a mysterious man in a gray suit who raised his paddle amid cheers from the attendees. "I want US$2.5 million! Who says yes?" asked the auctioneer, as he anxiously counted to three. In the end, no one wanted to pay more. Then, the auction winner never paid up.
Seized in January 1995 from Carrillo two years before his death, the mansion became a white elephant, a prize nobody wanted. The drug kingpin had amassed a fortune by transporting huge quantities of drugs with his fleet of airplanes. Although his main center of operations was in the border city of Ciudad Juárez (Mexico), the Lord of the Skies owned properties all over the country. Wanted by authorities in Argentina, Colombia, the United States, and Mexico, Carrillo underwent several cosmetic surgeries to change his appearance and evade his pursuers. He died during a botched procedure in 1997. A television series about his life has become an international hit on streaming platforms and is getting ready to film its eighth season.
The white elephant raffle came about when the Mexican government wearied of the expensive maintenance, which included US$25,000 for security services. Photos of the mansion used to promote the raffle show that Carrillo's palace has seen better days. "We're doing this to support the Mexican people and help our neighbors," said President López when he announced the raffle in early June. "There are a lot of abandoned public assets scattered around various government agencies," said the president, "and they will go to ruin if not maintained properly."
The narco-mansion is listed on the internet as the former headquarters of a foundation that trains unemployed and disabled people so they can find work. It was rented in 2003 for the filming of Man on Fire, a movie starring Denzel Washington, who plays a bodyguard trying to rescue a nine-year-old girl (Dakota Fanning), and destroys half of Mexico City in the process. When the movie came out, there were rumors in the press about underground tunnels connecting the property to other nearby houses in the area, but no mention of this was made in the promotional material for the raffle.
The raffle also included 200 lots of land in Playa Espiritu, a failed tourism development project in Sinaloa (Mexico) that cost more than US$100 million. The value of each lot ranges from US$40,000-US$65,000. "It was a fraud," admitted President López in October 2021. His lackluster sales pitch included statements like, "It isn't in a great location," and "Nobody wants to buy it." The highest praise the president could muster was, "It has a beach." The raffle also includes US$2.9 million in cash prizes.
After being seized, borrowed, and auctioned, the mansion that once belonged to the notorious Lord of the Skies will finally have a new owner–winning ticket number 339,357–but the ticketholder's identity will not be made public.
The female gaze: the developing art of women's photography
A World History of Women Photographers, edited by Luce Lebart and Marie Robert and translated by Ruth Taylor and Bethany Wright, showcases the work of 300 women from around the world, from the 19th century to the present day. The collection will be published in English for the first time by Thames & Hudson on 14 July