'We are the village's shining stars': hockey is giving India's rural women new status | Global development
In a small mud room, Elisaba Lakra hurriedly cooks lunch for her husband. It is 11am and she only has two hours before her eight-year-old twin girls return from school. As captain and coach of Khamarimunda village hockey team in India's Sundargarh district, she needs to fit in practice before they do.
Lakra, 27, first picked up a hockey stick aged five and by 13 was playing for the Odisha state junior team. She was selected for a place at a training academy in Rourkela, host to the recent Hockey World Cup, about 70 miles (112km) from her village.
But for her parents, their daughter leaving home would have led to an unacceptable delay in her getting married.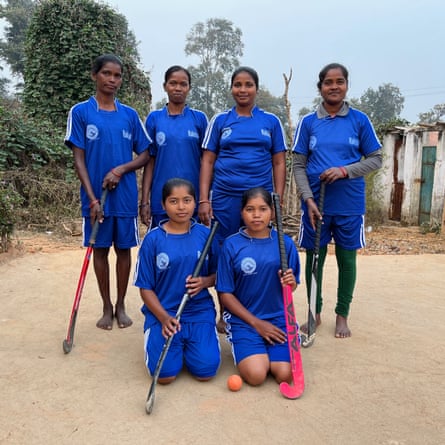 "I was the only daughter with five brothers. Everyone at home was protective and felt responsible for my timely marriage. Thus when I got selected, nobody encouraged me. Plus, the training and the documentation before that would have required several trips to Rourkela – none of my brothers or father wanted to do that," says Lakra.
So she was married at 16, to a local boy who knew her love for the sport and who himself played. For the next few years, Lakra raised her daughters, only playing the odd game with her husband in their back yard.
But in December 2018, Odisha hosted the Hockey World Cup for the first time. Holding an international event in the state, which the Indian government has been trying to convert into the country's sports capital, led to a new respect for hockey.
Parents started seeing it as a prestigious career option for their children. The state government promised jobs to those selected for state and national teams. There was a great surge in street hockey. Odisha committed to creating at least one hockey school club in each of its 30 districts and set up new academies.
"This push to turn Odisha into the hockey hub of India has shown results and is inspired by the fact that Sundargarh district alone has produced more than 60 national and international hockey players," says sports journalist Sandeep Mishra.
The increased interest changed Lakra's life. In two years, she has built a team of married women, her age and older, who practise daily despite their family commitments. The team came second in a recent inter-village tournament.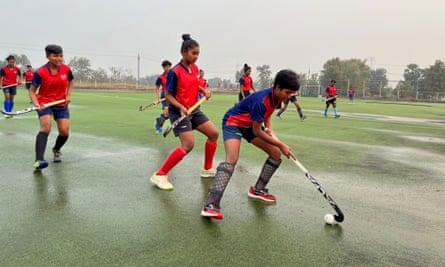 "I cannot play professionally any more, but I am glad that I still get to play. Since these two World Cups (2018 and 2023), the attitude towards the game has changed and we are seen as the shining stars of the village," says Lakra, who started her players off using bamboo sticks and a custard apple as a ball, before they got some proper equipment.
Lakra is not the only woman who has benefited from this change. Gayatri Kisan, 21, is one of 28 training at the Sports Authority of India academy in Sundargarh. She was selected six years ago from her village of Bamra.
"My parents were initially apprehensive but knowing the respect and fame that comes with the sport has changed their perception," she says. "After the 2018 World Cup, they have been really supportive of my decision. They now wish for me to play internationally too.
Tanisha Ekka, 13, the daughter of a rice farmer from Mohuljore, was selected by the academy in 2021 and now plays at national level. She is part of a fine tradition. The academy has trained such players as the India men's vice-captain Amit Rohidas and Deep Grace Ekka, a defender in the women's national side.
"We have seen an influx of players on the admission waiting list in the past few years. Parents are now encouraging their children to pick up hockey as they see the respect given to players representing their country. Another reason for the interest among tribal people, who come from a marginal background, is that selection promises a government job," says Pradeep Kumar Sarangi, women's coach at the academy. All that's needed now, she says, is an improvement in the academy's infrastructure.
Boris Johnson says 'partygate' untruths were an honest mistake | International
Former U.K. Prime Minister Boris Johnson acknowledged Tuesday that he misled Parliament about rule-breaking government parties during the coronavirus pandemic — but insisted he never intentionally lied. Johnson said it never occurred to him that the gatherings — which variously included cake, wine, cheese and a "secret Santa" festive gift exchange — broke the restrictions his own government had imposed on the country.
Britain's boisterous former leader is set to be grilled by lawmakers on Wednesday over whether he lied when he denied there had been parties in his Downing Street offices in violation of Covid-19 lockdown rules that barred socializing. If found to have lied deliberately, he could be suspended or even lose his seat in Parliament.
In a dossier of written evidence to the House of Commons Committee of Privileges, Johnson acknowledged that "my statements to Parliament that the Rules and Guidance had been followed at all times did not turn out to be correct."
But he said his statements "were made in good faith and on the basis of what I honestly knew and believed at the time. I did not intentionally or recklessly mislead the House."
The committee will quiz Johnson in person on Wednesday afternoon about "partygate," the scandal over a string of gatherings in government offices in 2020 and 2021. Police eventually issued 126 fines over the late-night soirees, boozy parties and "wine time Fridays," including one to Johnson, and the scandal helped hasten the end of his three years in office.
Revelations about the gatherings sparked anger among Britons who had followed rules imposed to curb the spread of the coronavirus, unable to visit friends and family or even say goodbye to dying relatives in hospitals.
Becky Kummer, spokesperson for the group Covid-19 Bereaved Families for Justice, said Johnson's claim to have acted in good faith was "sickening."
"He isn't fit for public office," Kummer said.
When reports of the parties first emerged in late 2021, Johnson initially said that no rules had been broken. He later apologized and said there had been "misjudgments."
But in the 52-page dossier he said he "honestly believed" the five events he attended, including a sendoff for a staffer and his own surprise birthday party, were "lawful work gatherings."
"No cake was eaten, and no one even sang 'Happy Birthday,'" he said of the June 19, 2020, celebration, for which he received a police fine. "The primary topic of conversation was the response to Covid-19."
Johnson said suggestions that people in government considered themselves to be "in a guidance-free bubble where the requirements we imposed on the rest of the country did not apply" could not be further from the truth.
"Drinking wine or exchanging gifts at work and whilst working did not, in my view, turn an otherwise lawful workplace gathering into an unlawful one," he said.
Johnson said he was assured by "trusted advisers" that no rules had been broken — assurances that turned out to be wrong. He said he was later "genuinely shocked" by the rule-breaking uncovered by police and by senior civil servant Sue Gray, who led an investigation into partygate.
Johnson and his supporters have also questioned the impartiality of Gray because she has now accepted a job as chief of staff to the leader of the opposition Labour Party.
If the committee finds Johnson in contempt, it could recommend punishments ranging from an oral apology to suspension or even expulsion from Parliament, or it could recommend no sanction at all. Any punishment would have to be approved by the House of Commons.
Johnson was forced to resign in July after a slew of scandals over money and ethics finally proved too much for Conservative colleagues, dozens of whom quit the government.
For Prime Minister Rishi Sunak, Wednesday's televised hearing will be an unwelcome reminder of the turmoil that engulfed the Conservative government under Johnson — just as the party's poll ratings are starting to edge upward.
Sunak took office in October, replacing Liz Truss, who stepped down within weeks of becoming prime minister after her tax-cutting budget plans caused turmoil on financial markets.
Johnson, once considered a secret weapon with voters, is now a liability, said Robert Hayward, a polling expert and Conservative member of the House of Lords.
"He is a serious negative for most people," Hayward said. "Boris's polling is far worse than is the case for Rishi (Sunak)."
Sign up for our weekly newsletter to get more English-language news coverage from EL PAÍS USA Edition
Drought caused 43,000 'excess deaths' in Somalia last year, half of them young children | Global development
A new report released by the Somalian government suggests that far more children died in the country last year due to the ongoing drought than previously realised.
The study estimates that there were 43,000 excess deaths in 2022 in Somalia due to the deepening drought compared with similar droughts in 2017 and 2018.
Half of the deaths are likely to have been children under five. Up to 34,000 further deaths have been forecast for the first six months of this year.
Released on Monday by Somalia's federal health ministry together with Unicef and the World Health Organization, the report was compiled by researchers at the London School of Hygiene and Tropical Medicine and Imperial College London, who looked at retrospective estimates of mortality across Somalia from January to December 2022.
Accurate statistics are difficult to compile from a population spread across remote areas, and with about three million people displaced from their homes. The highest death rates are thought to be in the regions of south-central Somalia, including Bay, Bakool and Banadir, that are the worst hit by drought.
Somalia's health minister, Dr Ali Hadji Adam Abubakar, found cause for optimism that famine had so far been averted.
"We continue to be concerned about the level and scale of the public health impact of this deepening and protracted food crisis in Somalia," he said.
"At the same time, we are optimistic that if we can sustain our ongoing and scaled-up health and nutrition actions, and humanitarian response to save lives and protect the health of our vulnerable, we can push back the risk of famine for ever."
If this did not happen, he said, "the vulnerable and marginalised will pay the price of this crisis with their lives."
"We therefore urge all our partners and donors to continue to support the health sector in building a resilient health system that works for everyone and not for the few," said Abubakar.
For the first time, a prediction model was developed from the study. A forecast from January to June 2023 estimates that 135 people a day might also die due to the crisis, with total deaths projected at being between 18,100 and 34,200 during this period.
The estimates suggest the crisis in Somalia is far from over and is already more severe than the 2017-18 drought.
Wafaa Saeed, Unicef's representative in Somalia, said he was saddened by the grim picture of the drought's impact on families, but added: "We know there could have been many more deaths had humanitarian assistance not been scaled up to reach affected communities.
"We must continue to save lives by preventing and treating malnutrition, providing safe and clean water, improving access to lifesaving health services, immunising children against deadly diseases such as measles, and providing critical protection services."
There have now been six consecutive failed rainy seasons in the climate crisis-induced drought, which coincides with global food price rises, intensified insecurity in some regions, and the aftermath of the pandemic.
The study is the first in a planned series and was funded by the UK's Foreign, Commonwealth and Development Office.
War crimes committed on all sides in Ethiopia's Tigray conflict, U.S. says | International
The Biden administration announced Monday that it has determined all sides in the brutal conflict in Ethiopia's northern Tigray region committed war crimes and crimes against humanity. The move carries no immediate U.S. policy implications but lends weight to calls for such allegations to be prosecuted.
Secretary of State Antony Blinken announced the determination less than a week after he returned from a visit to Ethiopia during which he met with Ethiopian government and Tigrayan officials as well as victims of the conflict, but said little about the U.S. view of prospects for accountability.
His determination covers members of the Ethiopian and Eritrean national armies as well as the Tigray People's Liberation Front and forces aligned with the Amhara region. Blinken said those responsible for atrocities must be held accountable.
He said after "careful review of the law and facts" he had determined that members of the Ethiopian National Defense Forces, Eritrean Defense Forces, Tigray People's Liberation Front forces and Amhara forces committed war crimes during the conflict in northern Ethiopia.
Members of the Ethiopian, Eritrean and Amhara forces also committed crimes against humanity, "including murder, rape and other forms of sexual violence, and persecution," Blinken said. "Members of the Amhara forces also committed the crime against humanity of deportation or forcible transfer and committed ethnic cleansing in western Tigray."
Blinken announced the determination as he rolled out the State Department's annual global human rights reports, which cover 2022 and also called out Afghanistan, China, Cuba, Iran, Myanmar and Nicaragua for abuses.
"I condemn the unspeakable violence against civilians and destruction that occurred in northern Ethiopia," he said. "Recognizing the atrocities committed by all parties is an essential step to achieving a sustainable peace.Those most responsible for atrocities, including those in positions of command, must be held accountable."
The formal determination is more measured than his assertion early in the two-year conflict that "ethnic cleansing" was taking place in parts of Tigray.
Last year, a United Nations commission of inquiry said it had turned up evidence of war crimes and crimes against humanity by Ethiopian government forces, Tigray forces and Eritrea's military. But the commission also said Ethiopian forces had resorted to "starvation of civilians" as a tool of war and that Ethiopian and Eritrean forces were found to be responsible for "sexual slavery" — while Tigray forces were not.
The conflict, which ended with a peace deal in November, killed an estimated half-million civilians in Tigray alone, according to Ghent University researchers, a death toll echoed by U.S. officials.
Blinken called on all sides to respect the agreement and follow through on pledges "to implement an inclusive and comprehensive transitional justice process."
He said Afghanistan's ruling Taliban, which took power after the U.S. withdrawal from the country two years ago, "relentlessly discriminates against and represses women and girls" and has taken action that threatens humanitarian assistance to all Afghans.
On China, Blinken said Beijing continues abuses, including genocide and crimes against humanity, against Uyghur Muslims in it western Xinjiang area. It also continues the repression of Tibetans and pro-democracy activists in Hong Kong, along with mainland Chinese citizens who have tried to exercise basic freedoms.
In Myanmar, also known as Burma, Blinken said human rights "have further eroded," and in Nicaragua, he said "the authoritarian government continues to detain political prisoners and hold them in appalling prison conditions."
Sign up for our weekly newsletter to get more English-language news coverage from EL PAÍS USA Edition