VAT: Spanish businesses seek to lure British tourists with tax-free shopping | Economy and Business
The United Kingdom's exit from the European Union has led to many challenges, but there is also some good news. Thanks to Brexit, UK nationals can now claim a value-added tax (VAT) refund on purchases made during trips to the EU – in other words, they have a permanent discount at any store they go to. This is already having an impact on sales in Spain. According to preliminary data from Global Blue, a company specializing in tax refunds, between January and the end of September, the average expenditure per British tourist in Spain was €1,337, much higher than the average for all nationalities in 2019 (€357). This figure is also higher than the average expenditure of €837 by Chinese visitors to Spain, whose annual average spend is greater than other nationalities.
In this way, the UK's exit from the EU has become an unprecedented opportunity for Spain, given that UK nationals can claim a VAT refund on their purchases. Before the coronavirus pandemic, British tourists made around 70 million trips to the EU every year, and around 18 million chose Spain as their destination. From this number, the six million who visited the Canary Islands have to be deducted, as it is not possible to claim back VAT on purchases in the Spanish archipelago.
We have to take advantage of this moment to change the inertia

Javier Fernández Andrino, director of international clients and luxury at El Corte Inglés
Annual spending on leisure trips to Europe is €40 billion, according to the UK's Office for National Statistics, and the continent is fighting for a piece of the pie. The battle is focusing on raising awareness. "The destination that puts this idea [of tax-free shopping] in the market first will be taking a huge step," says a senior executive from the sector.
A campaign to explain tax-free shopping is key, given that many UK nationals are unaware they have this option. "According to stores, only 10% of Britons who have made purchases in Spain have benefited from the refund. It's a very low percentage, given that for the rest of the nationalities, it is always over 50%," says Luis Llorca, the managing director of Global Blue Spain.
Both the private and the public sectors must address this, argues Llora. "Authorities have not made the necessary effort to make the possibility of shopping refunds known," he says.
"We have to promote it, raise awareness and make it stronger," adds a senior executive from the sector, in reference to tax-free shopping. "If it's done well, UK nationals will be the nationality that makes the most tax-free purchases in Spain."
With respect to the private sector, many Spanish stores are unaware of the change, some are collecting information on how it works, while others are already trying to benefit from it.
That's the case for Spanish department store El Corte Inglés, which launched a campaign last summer with Iberia airlines to promote tax-free shopping to British tourists. The initiative worked well, according to sources from the company, and the goal now is to bring even more visibility to the concept. "We are going to promote it in the World Travel Market at the beginning of November in London," says Javier Fernández Andrino, the director of international clients and luxury at El Corte Inglés. "We are going to tell the market and it is something that public institutions and big cities should do as well. We have to take advantage of this moment to change the inertia."
Permanent discount
Tax-free shopping is the equivalent of having a permanent discount at any store in Spain, but one that does not hurt businesses. The percentage of the discount varies depending on the amount of the purchase, but it can be applied to all types of products, from clothes and bags to electronics and jewelry.
Of all tax-free shopping by UK nationals in Spain last summer, 55% was in jewelry and watches and 40% on clothes and accessories, according to Global Blue. Most of this spending was in Málaga (27%), the Balearic Islands (26%), Barcelona (21%) and Madrid (18%).
Figures show that British visitors who claimed back VAT spent more in France than anywhere else: between January and September, the average expenditure per tourist was €2,337, which is €1,000 more than in Spain, according to Blue Global.
How to reclaim VAT
To claim a refund of VAT on purchases made in Spain, you need to fill in a tax-free form in the shops where you buy your purchases. This document lists all the items you want to claim a VAT refund on. 
This form needs to be validated at customs within three months of the purchase date. Some stores, including El Corte Inglés, offer an electronic VAT refund procedure (DIVA). These forms can be validated directly at automatic terminals installed in Spain's main ports and airports. If there is no DIVA terminal, the document needs to be validated by a Spanish customs officer.
As for paper forms, these must be validated by customs officials before you leave the EU. If your form is not validated, the goods will be considered as not having left the EU, and therefore, not eligible for a tax refund. 
If you are departing to another country in the EU, you will not be able to reclaim VAT in Spain. You will have to do this in the last customs point before leaving the EU.
Marlon Botas: Montserrat Bendimes: Why the young Mexican student's murder has gone unpunished | International
Her family says that during the time that Montserrat Bendimes was hospitalized with severe trauma, the 20-year-old engineering student uttered the following sentence before she died: "It was Marlon." The young woman had been admitted in April of last year after her partner allegedly gave her a brutal beating that kept her on life support until her body gave out. By then, the main suspect was already unaccounted for.
With his parents' help, according to the State Prosecutor's Office, Marlon Botas managed to flee while his girlfriend lay dying in a hospital. More than a year after what happened, only his parents are serving a sentence for aiding their son, but Botas is still a fugitive and Bendimes' crime remains unpunished. This Monday, her former partner sent a message from an undisclosed alleging that he and his parents are innocent.
Bendimes' murder triggered a wave of indignation in Veracruz, where the feminist groups that have provided support for her family organized marches and actions to seek justice. The capture of Botas' parents in Mexico City in November of last year set a precedent for aiding and abetting murderers, according to these organizations. And the state of Veracruz was papered with the face of Marlon Botas: graffiti on walls, wanted posters, videos and images on social media. The Prosecutor's Office announced that it had asked Interpol to issue a red notice (issued for fugitives who are wanted for prosecution or to serve a sentence) in almost 100 countries and offered a reward of 250,000 pesos (about $12,500) for any clue about his whereabouts.
The Bendimes case has since made no more progress, as often happens with most crimes in Mexico, where 95% of them are never solved. This is especially true in cases of sexist violence, compounded by a national security crisis that no government has managed to control and which claims the lives of 11 women a day. Despite the imprisonment of his parents, who had fled to the nation's capital, Botas has so far gotten away with it.
This Monday, the television network Imagen showed a video that the show's hosts said reached them anonymously, in which Botas can be seen against a white background. Botas says that what happened was an "unfortunate accident" and that his family had nothing to do with it. He also claimed there was a "hunt" against him and his family, and asked that his parents, Diana Fuentes and Jorge Botas, be released. Reaction on social media was intense. The women of Mexico are accustomed to hearing so many times and in so many cases that dead women committed suicide, fell, got themselves killed.
The Veracruz Prosecutor's Office, as well as Governor Cuitláhuac García, responded in a statement that the "procurement of justice is not negotiated." "In this case, as in all those in which a woman is attacked, there will be no impunity," said the message signed by the State Attorney General, Verónica Hernández. However, more than a year after the death, the main suspect is still at large and the fact he had the audacity to send a message to the authorities reveals the confidence he has that impunity will play in his favor.
Shouting "It was not an accident", hundreds of social media users have once again shown their outrage at a case that builds on a series of other unsolved murders. The most recent victims are María Fernanda Contreras, 27, Debanhi Escobar, 18 and Yolanda Martínez, 26, about whom the authorities still point to a suicide without having revealed details of how she died.
The Mexican feminist movement has been gaining traction in recent years. Each case of a murdered woman or a victim of sexist violence has triggered protests that were unthinkable just a decade ago.
Twenty-five ethnic Pamiris killed by security forces in Tajikistan protests | Global development
At least 25 people were killed on Wednesday by security forces in Tajikistan during a protest in the autonomous region of Gorno-Badakhshan (GBAO), where the Tajik regime has targeted the Pamiri ethnic minority.
The deaths mark an escalation of violence in the region. Conflict between the central government and the Pamiri has continued for decades, with the cultural and linguistic minority ethnic group suffering human rights abuses, as well as discrimination over jobs and housing.
The Pamir region has been the only place in Tajikstan where anti-government protesters still take to the streets, despite the authoritarian pro-Kremlin regime.
According to witnesses, several hundred residents of Khorog, the capital of GBAO, gathered at the weekend to call for the dismissal of the governor and the release of demonstrators arrested for participation in a protest in November, when three men were killed and 17 wounded by security forces.
Protests continued until Wednesday when, as people marched to the main square in Khorog, security forces blocked the road and allegedly started firing rubber bullets, stun grenades and teargas at the protesters, killing at least 25 people.
The Tajik government claimed "members of an organised criminal group" had blocked the highway "in order to destabilise the social and political situation".
In a statement on the state news agency, Khovar, the interior ministry said: "Law enforcement agencies have begun an anti-terror operation … in a restive region that borders Afghanistan and China and has long been a flashpoint of tensions."
The Tajik authorities claimed that arms and support from foreign "terrorist organisations" were coming in to the Pamiri region.
"The organised criminal groups did not comply with the lawful demands of law-enforcement officers to hand over their weapons and ammunition, and put up armed resistance," the interior ministry said.
But activists said their protests had been peaceful. "The government is branding and naming the peaceful protesters as 'terrorists', which is a complete fake, and then using that as an excuse to shoot at them," said one Pamiri activist who cannot be named for security reasons.
During the Tajikistan civil war from 1992 to 1997, thousands of Pamiris were killed in what some human rights activists have described as "ethnic cleansing".
In 2012, during clashes seen by many in GBAO as an attempt by the Tajik government to bring the autonomous region under its full control, at least 40 civilians were killed.
In February, parents of men killed by Tajik forces during a protest in November called on the international community to step in and protect ethnic minority groups.
Families have demanded that the soldiers responsible for killing their sons be brought to justice and urged the United Nations to intervene.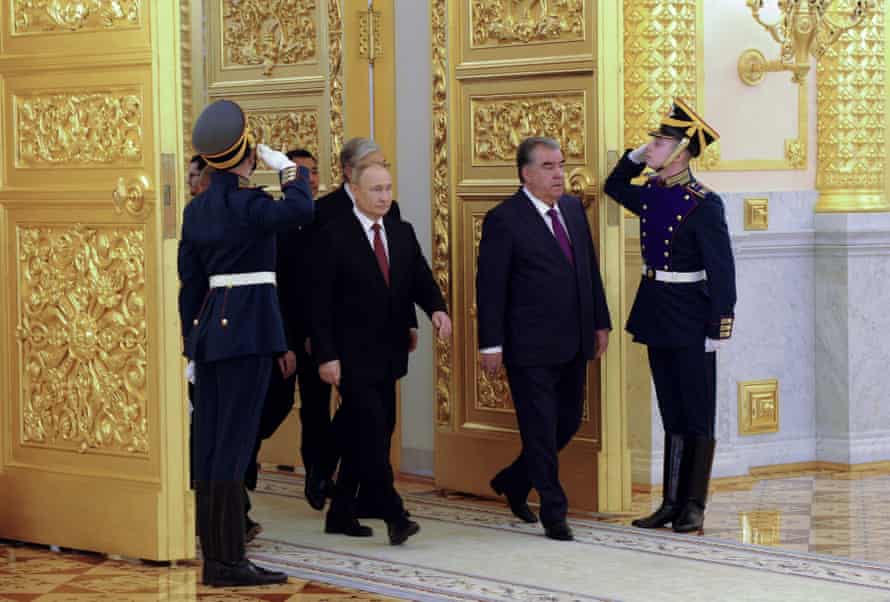 Tajikistan's president of 28 years, Emomali Rahmon, who met the Russian president, Vladimir Putin, on Monday, is seen by the Pamiri as wanting to take control of Gorno-Badakhshan.
Neil Clarke, head of the legal programme at Minority Rights Group International, told the Guardian: "The deteriorating human rights situation in the region is leaving the population, who are mainly Indigenous peoples and ethnic and linguistic minorities, at serious risk of harm.
"We now believe that without urgent measures, the situation could escalate towards increasing conflict," he said. "The widespread harassment of the population of GBAO by authorities including the police, security and military personnel appears increasingly systematic. These include wide-ranging forms of surveillance and invasions of privacy, arbitrary detention and the use of coercion to obtain signatures and/or public statements against the will of the individual."
Since November security checkpoints have been reinforced, and hundreds of people who took part in the demonstrations have been arrested or banned from leaving the region. Clarke said the latest deaths marked renewed efforts to suppress the Pamiri.
"Authorities have reinstated a blockade on internet connection in the region and have again begun to arrest and detain prominent civil society leaders and independent individuals under the alleged pretext of an 'anti-terror operation'," he said.
"Pamiri people are not the terrorists. We are calling for urgent measures by Tajikistan authorities to de-escalate the developing conflict, by restoring and ensuring the respect for human rights in GBAO and most urgently call on authorities to release the activist Ulfatkhonim Mamadshoeva and others who have been detained and interrogated by security forces, without due process, as part of efforts to silence the voice of Pamiri activists."
Since crackdowns on opposition groups in 2014 in Tajikistan, it is thought that 15 activists who left the country have disappeared in Russia or Turkey.
Anne Frank: who gave her up to the Nazis? | International
A book published in the Netherlands in January has caused a stir with it's claim that a local Jewish notary was the one who revealed the annex in which Anne Frank and her family were hiding to the Nazis, whosubsequently deported the young girl, her sister, and their parents, to a concentration camp.
The Betrayal of Anne Frank: A Cold Case Investigation, is authored by Canadian biographer and poet Rosemary Sullivan. The Betrayal recounts the work of a team made led by Dutch journalist Pieter van Twisk and including American Vince Pankoke, a former FBI agent It has been released throughout the world and encountered no problems, except for in the Netherlands where the publisher Ambo Anthos, withdrew it in February, apologizing "to anyone who was offended."
The group set out to address the fate of Anne Frank as a cold case — an unsolved crime — and have used artificial intelligence and data processing as well as consulting a behavioral psychologist. They considered why a respected Jewish notary might have informed the Nazis of the Frank family's hideout at 263 Prinsengracht in the Dutch capital. Over six years the team has ruled out about 30 suspects and scores of possibilities, attempting to fill gaps in information as time has elapsed.
Of the Frank family that had been hidden in the annex, only the father, Otto Frank, returned from the death camps. His daughter is a global icon, with her diary and her fate a symbol of innocence in tragedy.
Sullivan's book says it is "almost certain" that the Dutch Jewish Council had a list of locations where people were in hiding, on which the Frank family's may have been included.
The book notes that Arnold van den Bergh, a member of the Council, had contacts in high Nazi circles. So, "he could have given that list up at any time."
To approach a cold case, one begins by reviewing all previous investigations for new clues. Speaking to EL PAÍS by phone, Vince Pankoke says that in this process one might speculate on what happened, and analyze the personality and biography of the suspects.
Pankoke says that, "we are not 100% sure," the team found that van den Bergh was the most likely person to have triggered the raid in which Nazi police found the Franks.
"Although we cannot prove it beyond a reasonable doubt," continues Pankoke, the team felt compelled to share their conclusions, because "it could have been a time bomb if discovered by anti-Semitic or neo-Nazi groups," adding that the notary would have done so to save himself and his own family.
The speculation in the book has troubled several Dutch historians who specialize in the Holocaust and in the Dutch Jewish Council itself.
Bart van der Boom, a professor at the University of Leiden, says there is no evidence that the Council had the addresses of people in hiding.
Council members were respected people in the Jewish community, who "believed that opposing the Nazis would be much worse" than accepting the creation of the Council, a Nazi initiative.
"The idea that they would give a list to the Nazis is ridiculous," says van der Boom.
"Jewish leaders did not decide who would be deported and they did not take charge of gathering people for it." That suggestion, adds the professor, "is one of the numerous errors of the book."
Van der Boom goes on to say that the Dutch Jewish Council "was criticized by everyone after the war for collaborating with the occupier, and there were Nazis who tried to blame it to save themselves."
In the book, van der Boom says that the cold case team points to a German translator's statement that they had heard the Council had the lists, and "that information is not credible."
Indeed, in the historian's expert opinion, the book is "an amateur work; all smoke and mirrors."
Van der Boom has written to Rosemary Sullivan, in an appeal, he says, to her academic conscience. He tells EL PAÍS that Sullivan responded "that she trusts the research."
Both van der Boom and his colleague, Bart Wallet, Professor of Jewish History at the University of Amsterdam, are particularly appalled at a sentence by the author in the English version.
After stating that van den Berg, who died in 1950, "saved his family by giving the Nazis addresses, including 263 Prinsengracht," Sullivan writes: "Perhaps he also paid a price. He died of throat cancer. In a strange way, it was appropriate: he lost the ability to speak."
Wallet states firmly that an academic peer review process would not have permitted the book to be published in its current form.
Pieter van Twisk, the Dutch journalist, admits that the team expected criticism, especially in the Netherlands.
"I was not prepared, however, for the toxic atmosphere [that has been] created," says van Twisk.
"We were not [deliberately] looking for a Jewish traitor, as has been suggested, and we believe that Otto Frank knew or suspected who ratted them out, because he said he did not want his children to suffer for it."
"There are specialists who agree with us and do not dare to speak in order to preserve their reputation. It's ridiculous."
It also seems to van Twisk that the Dutch publisher Ambo Anthos has dropped the book for fear of a lawsuit by members of the van den Bergh family: "I didn't want to go to court with victims of the Holocaust."
Pankoke, for his part, indicates that the book "is Rosemary Sullivan's interpretation of the interviews she did with us and the reports of our work. There is a difference between what she interprets and the investigation itself."
At any rate, Pankoke notes, "collaboration with the Nazis and the fate of Anne Frank" is a highly sensitive topic in the Netherlands.
The other main piece of evidence presented in the work is an anonymous note about the betrayal, sent after the war to Otto Frank. The original has not been found, but a copy of the writing, known to academics, was among the documents of a Dutch police investigator, Arend van Helden, who investigated the matter between 1963 and 1964. The note says that Van den Bergh revealed the Franks' hideout to the Nazis, and that the department that received the tip-off "had a list of addresses (of Jewish people in hiding) also provided by him."
Forensic examination by Pankoke's team confirmed that the copy "had come off Otto Frank's typewriter a couple of years before 1959."
The team explored whether "the note was taken seriously in its day and if the lead was good."
After discovering "that due diligence, an adequate review, had not been applied to confirm the allegations," Pankoke's team deemed it a legitimate piece of evidence.
For Bart Wallet, the person who wrote it "misquotes the Nazi institutions, showing a lack of inside knowledge to make such a statement about the notary."
Such notes, Wallet continues, were frequently sent between people after the war "as gossip, or to settle scores."
In Wallet's opinion, if the list of hidden Jews had existed, "we would be facing one of the greatest traitors of the war and it would have been known, preventing his return to civilian life."
To all of the above, there are added doubts about the whereabouts of the notary after the beginning of 1944. Anne Frank and her family were found by the Nazis in August of that year. Pankoke points out that van den Bergh "was trying to go unnoticed or else he hid, because details are missing here."
However, another Dutch historian has just found a wartime diary with an entry that places the notary in the town of Laren, near Amsterdam. Van den Bergh obtained the necessary documentation to pass himself off as only partly Jewish, and thus had freedom of movement. But a Nazi colleague who wanted his office had gotten that declaration annulled.
Due to this, and with his three daughters hidden since the end of 1943, the two historians consulted believe that van den Bergh and his wife went into hiding at the beginning of 1944, according to reports from his descendants in the 1970s, as the family had survived.
Regarding the response of historians in the Netherlands to the book, Pankoke suspects a case of "academic arrogance."
"When historians don't like our findings, they reject them. That the notary went into hiding does not prove that he did not give the lists to the Nazis before, or later."
"In addition, academics state that he was a good person," but, "I know from experience that decent people can do terrible things," the former FBI agent concludes.