US bars rubber gloves from Malaysian firm due to 'evidence of forced labour' | Malaysia
Top Glove, the world's largest manufacturer of rubber gloves, has been banned from exporting its products from Malaysia to the United States after the US Customs and Border Protection (CBP) made a finding that its products are made using forced and indentured labour.
Rubber medical gloves from a Malaysian manufacturer will be seized if they enter the US due to "conclusive evidence" they are being made by workers under conditions of modern slavery, the CBP said.
Last year the Guardian found that gloves from Top Glove had been supplied to NHS hospitals, although the NHS Supply Chain, an organisation that manages the sourcing, delivery and supply of healthcare products for the NHS, stated that it no longer had a contract with the company.
"CBP will not tolerate foreign companies' exploitation of vulnerable workers to sell cheap, unethically-made goods to American consumers," Troy Miller, a senior CBP official, said in a statement. The ruling marks an escalation in measures against the company after the agency first imposed sanctions on it last July.
The majority of workers at Top Glove are migrants from Nepal and Bangladesh. Many were forced to pay high fees to recruitment agents to secure their jobs, leaving them vulnerable to debt bondage. Workers have alleged they are put to work for 12-hour shifts six days a week – with some earning as little as £7 a day – and live in squalid dormitories shared by more than 20 workers. Top Glove has denied all the allegations.
The shadow minister for international trade, Labour's Bill Esterson, expressed concern at the conditions Top Glove workers had been subjected to and called on the British government to "make sure commercial interests are not put above human suffering". He said the government should guarantee that no personal protective equipment was bought for the UK from companies that faced such allegations of exploitation.
In the last financial year, Top Glove's profits rose by 417% over the previous year, as demand soared for rubber medical gloves to combat the coronavirus pandemic.
Andy Hall, a British specialist in migrant workers' rights, said that some progress had been made at Top Glove, including repaying the recruitment fees incurred by the workers. However, he added: "Top Glove remains an unethical company which prioritises profits and production efficiency over the welfare and basic rights of its workers."
Top Glove said in a statement that it continues to improve its labour practices and is committed to "ensuring high-quality welfare, health, working conditions and living accommodation for our workforce".
Top Glove cited a report from Impactt, an ethical-trade consultancy appointed by the company to investigate its treatment of workers, which concluded that as of January 2021, the company's practices no longer "amount to systemic forced labour".
EU to propose universal phone-charger law
The EU plans to propose laws harmonising mobile-phone, tablet, and headphone chargers and ports on Thursday in a bid to make life easier for consumers, Reuters reports. But Apple, whose iPhones use a special 'Lightning cable' has said the move will lead to piles of waste and deter innovation. Rival Android-based devices use so-called 'USB-C' connectors, but 'USB micro-B' and Lightning connectors account for about a third each of market-share.
Brexit: British Embassy launches survey on key issues affecting UK nationals in Spain | Brexit | International
The British Embassy in Madrid has launched a survey aimed at finding out how UK nationals in Spain have been affected by key issues, in particular, the United Kingdom's exit from the European Union, a process commonly known as Brexit.
The poll is for Britons who are full-time residents in Spain (not those with second homes) and are covered by the Brexit Withdrawal Agreement, i.e. they were officially registered in the country before December 31, 2020, when the so-called Transition Period came to an end.
Questions in the survey address issues such as access to healthcare and the uptake of the TIE residency cards, which were introduced as a replacement for green residency cards (either the credit-card size or the A4 sheet version, officially known as the Certificado de Registro de Ciudadano de la Unión).
The aim of the poll is to gather vital information on the experience of UK nationals living in Spain that will help the British Embassy provide feedback to Spanish authorities. The survey takes around 10 minutes to complete, and all answers are confidential.
Have you heard our Spanish news podcast ¿Qué? Each week we try to explain the curious, the under-reported and sometimes simply bizarre news stories that are often in the headlines in Spain.
'The challenge for us now is drought, not war': livelihoods of millions of Afghans at risk | Global development
The war in Afghanistan might be over but farmers in Kandahar's Arghandab valley face a new enemy: drought.
It has hardly rained for two years, a drought so severe that some farmers are questioning how much longer they can live off the land.
Mohammed Rahim, 30, grew up working on a farm along with his father and grandfather in the Arghandab district of Afghanistan's southern province. Famous for its fruit and vegetables, the area is known as the bread basket of Kandahar.
Like most in the valley, Rahim's family relies solely on farming. "The fighting has just stopped. Peace has returned," Rahim says. "But now we face another war: drought.
"Now we have to dig deep to pump water out of the land. It has been two years, there has been little rain and we have a drought here. I don't know if our coming generations can rely on farming the way our ancestors used to do."
Pir Mohammed, 60, has been a farmer for more than four decades. "Not long ago, there were water channels flowing into the farm and we were providing the remaining water to other farmers," says Mohammed. "Before, the water was running after us, flowing everywhere – but now we are running after water."
The water used to come free from the river but now the daily diesel cost for the water pump is at least 2,500 Afghani (£21).
"We don't make any profit. We are in loss, rather. Instead, we are using our savings. But we don't have any other option as we do it for survival," says Mohammed. "However, the scarcity of water has affected the quality of crops as well."
About 70% of Afghans live in rural areas and are particularly vulnerable to the impacts of drought.
Last week, Rein Paulsen, director of the Food and Agriculture Organization's Office of Emergencies and Resilience, said severe drought was affecting 7.3 million people in 25 of the country's 34 provinces.
He warned: "If agriculture collapses further, it will drive up malnutrition, increase displacement and worsen the humanitarian situation."
Arghandab has been a favourite destination for farming because of the abundance of water and fertile lands. Neikh Mohammed, 40, left the Dand district of Kandahar to work in Arghandab in 2005. When he arrived he was amazed to see the greenery and pomegranate farms.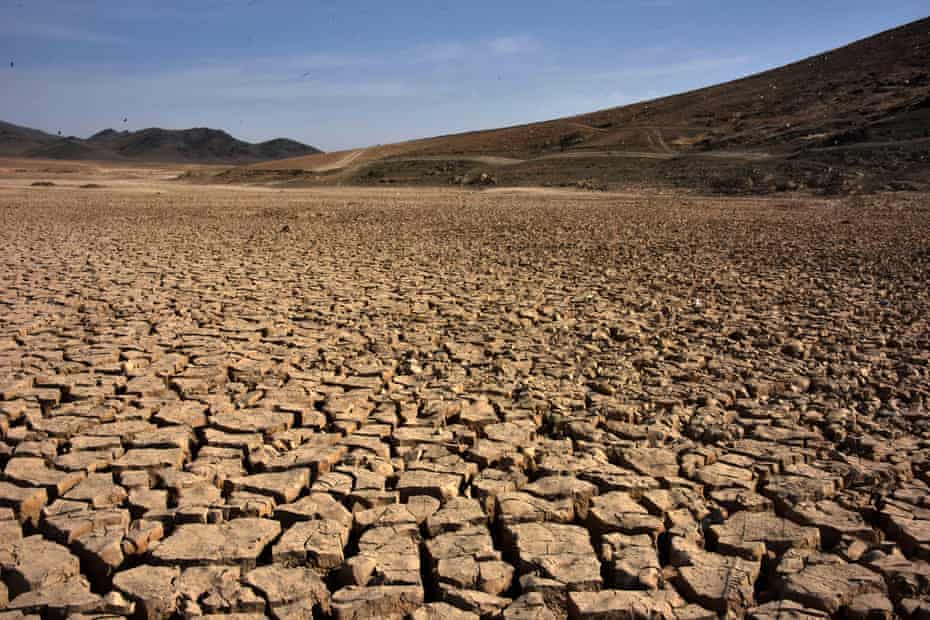 "It used to rain a lot here and we could not cross the river and come into our farms. We had a life with abundant water. But the past is another country now," he says.
According to a report by the UN mission in Afghanistan, many local farmers were caught in the crossfire between the Taliban and the Afghan security forces. The Taliban carried out attacks from thick foliage on the farms, which provided a hiding place, ideal for an ambush.
"For the past 20 years, we did not have peace and could not work after dark in our farms. But now we can stay as long as we want without any fear," says Neikh Mohammed. "Now the challenge is not just restoring peace but the drought and escalating cost of essential commodities."
Farmers say they want support from international aid agencies and assistance from the new government headed by the Taliban to help them survive.
Pir Mohammed says: "The real challenge for us now is drought, not war. We need food, water, dams and infrastructure in our country. The world should invest in us and save us."