Unvaccinated healthcare staff may be redeployed under new proposals
Healthcare staff who refuse to be vaccinated face redeployment under proposals being examined by the Health Service Executive.
Staff who fail to confirm they are vaccinated could be moved out of patient contact depending on the outcome of a risk assessment, under proposals being finalised.
Healthcare workers who are not vaccinated could escape being redeployed if they cannot be replaced due to staff shortages or specialised qualifications, but there are no plans to make Covid-19 vaccines mandatory for healthcare staff.
Last month, the Health Information and Quality Authority (Hiqa) proposed a phased approach to healthcare workers who opt not to take the Covid-19 vaccine, starting with the provision of information, one-to-one conversations, testing and additional PPE.
It comes as the State moves forward with the latest round of adjustments to the vaccine programme, approving investment of almost €191 million in vaccines for booster shots and subsequent campaigns in the future.
Cabinet approved plans to purchase 4.9 million doses of Pfizer's Covid-19 vaccine in 2022, and the same again in 2023. This would be enough to fully vaccinate 2.45 million people each year, and Ireland will have the option of buying an additional 9.8 million doses in the same period.
Boosters
The Government said it is likely boosters will be needed for a "very high proportion of the population" to combat variants and deal with waning immunity. Jabs will also likely be extended to under-16s. Cabinet was told there are currently 860 trained and available vaccinators, with 450 needed in May. Just over 1.6 million vaccines have been given out up to May 2nd, Ministers were told on Tuesday. Thirty of 38 vaccination centres are now up and running, with the remainder due to open by May 10th. Between 220,000 and 240,000 vaccines will be given this week.
Elsewhere, Minister for Health Stephen Donnelly is to consult the National Immunisation Advisory Committee (Niac) on the latest changes proposed to the vaccine programme. The HSE has proposed a plan that will stick to the age-based approach, but offer vaccines to younger people currently generally recommended only for the over-50s.
With vaccination an opt-in process, the HSE does not know how many staff have refused inoculation. It says over 90 per cent of frontline healthcare workers have taken up the offer of vaccination.
Some healthcare workers have said they wish to choose which vaccine they take, but the HSE had told unions this is not possible.
Patients are entitled to ask about the vaccination status of a healthcare worker, but there is no obligation on the member of staff to disclose what is regarded as sensitive personal health information.
Although cases of Covid-19 among healthcare workers have plummeted since mass vaccination started, 146 cases were reported in this cohort in the second half of April.
'After my generation, no one will speak Ladino' | Culture
Although the last publications in Ladino – or Judeo-Spanish – have been surviving in Turkey against all odds, this Romance language is about to disappear.
"We are the last generation of Sephardic Jews who speak Ladino… even my children barely understand it," warns Ivo Molinas, 60, director of the weekly Salom and the monthly El Amaneser. Both papers – founded 75 years ago – are published entirely in the language used by the Sephardic community in Turkey.
Molinas notes that he directs the only press in the world that has published uninterruptedly in Ladino. The reasons he gives for the decline in the language – which is in real danger of extinction – are both demographic and cultural. The Turkish Sephardic community has decreased over the last few decades from about 50,000 to only 16,000 members, with the vast majority concentrated in Istanbul. Meanwhile, the new generation prefers to speak Turkish, English… and now Spanish, since Spain granted Spanish nationality to the descendants of Jews expelled in 1492 by Queen Isabella and King Ferdinand. It makes more sense to use some of the world's major languages, rather than learning a minor one that's on life support.
"In fact, while 40% of the community understands it, we no longer speak Ladino like our parents did," Molinas explains. However, he believes that the use of the old language will survive through the newspapers: more than 3,000 copies of Salom are sold weekly, with even more readers checking out the online version. He thinks that there will always be someone to take care of these publications – even if it's just out of love.
Newspapers written entirely in Ladino were very popular in Turkey in the past. Since 1492 – when Jews were expelled from Spain – the language laid down roots in the area. In Izmir – where there was once a large Sephardic community – three newspapers with many readers were published at the end of the 19th century: La Buena Esperanza, El Novelista and El Meseret. In the first years of the 20th century, El Pregonero, La Boz de Izmir, La Boz del Pueblo and El Comercial joined the list, according to Dina Damon, professor of Judaic Studies at Binghamton University in New York.
The director of Salom points out that Spain does not show much interest in the preservation of Ladino… although he recognizes that the real problem is the disinterest of his own community. In fact, the Cervantes Institute in Istanbul had to cancel some free Judeo-Spanish courses last year due to a lack of students. The Sephardic Jews who come to the Institute are more interested in learning Spanish.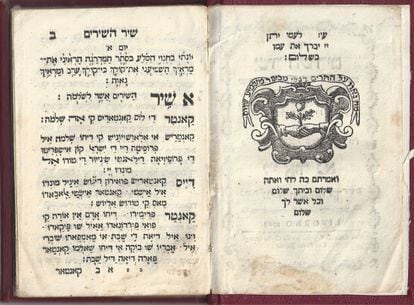 Gonzalo Manglano, director of the Cervantes Institute in Istanbul, argues that Spain does everything possible so that Ladino does not disappear: "Together, with the Saramago Foundation of Portugal and the Jewish community of Turkey, the Cervantes Institute has requested a tender within the EU Horizon Program for a €3-million project aimed at rescuing languages in danger of extinction."
If the funds for this project are obtained, the Cervantes Institute will lead the project, in coordination with the Casa Sefarad of Madrid and the Turkish Ministry of Culture. This initiative plans to renovate the Selaniko synagogue in Istanbul, which will host a cultural center that promotes – using modern technology – the preservation of Ladino… a language that any Spanish-speaker can understand.
Unity Day: How October 3rd became Germany's national holiday
Independence Day in the United States dates all the way back to 1776. Canada Day, celebrated on July 1st, goes back to 1867. France's Bastille Day on July 14th commemorates the storming of the Bastille in 1789.
Compared to those national holidays, Germany's October 3rd is fairly recent, having only been around since 1990.
October 3rd – or Tag der Deutschen Einheit – marks the date that the former West and East Germany officially became one country again, after being divided since the end of WWII. In 2022 it's celebrated on a Monday, meaning many people will get a long weekend. 
Between 1945 and 1949, the country was split into four occupation zones – held by the Americans, British, French, and the then Soviets. In 1949 the Soviet zone became the communist East Germany – or Deutsche Demokratische Republik (DDR), while the rest of the country became the West German Bundesrepublik Deutschland (BRD).
The Bundesrepublik continues today, but now with the five eastern federal states, plus East Berlin, that were formerly in the DDR.
Why October 3rd and not November 9th?
Less than a year before official reunification on October 3rd, 1990, the Berlin Wall fell on November 9th, 1989.
At first glance, November 9th might seem a better day to commemorate as a national day.
Growing up in Canada, my Gelsenkirchen-born Oma used to talk about the Berlin Wall falling with a slight waver in her voice – and sometimes even tears – decades after it crumbled before her eyes on her television screen.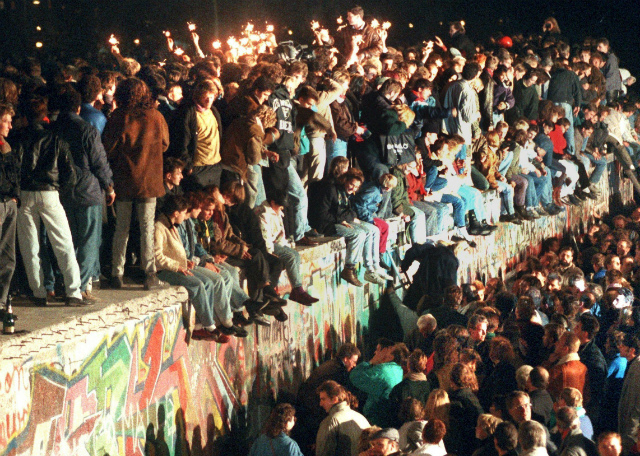 'It was the happiest day in German history,' she told me at the time. 'People were just so amazed at seeing that and no one really thought it would actually happen and guck mal – there it was. It was very emotional at the time and I guess I still am too,' she would say.
READ ALSO: 'There was a human tide moving': Berliner remembers crossing the Wall
For Oma and many other German-Canadians I grew up around, Unity Day felt a little less momentous than November 9th. To them, October 3rd was an important day to observe, but conjured up a few less emotions.
'November 9th suddenly made the dream of having a unified Germany again seem possible,' my teacher at Calgary's German-Canadian Club told me years ago. 'By the time it was actually official, it just seemed like the final step of something that had been going on for a while already.'
To my Oma, my teacher, and others I grew up around who remembered that time – German reunification seemed inevitable within days of the Wall falling. But it wasn't necessarily guaranteed. Even after the Wall fell, the DDR and BRD remained separate countries at first.
The months between November 9th, 1989 and October 3rd, 1990 were momentous – and saw several additional events that would pave the way for reunification.
On March 18th, 1990, the DDR would hold its first – and only – free and democratic elections. Won by the East German Christian Democrats, their leader Lothar de Maiziere served as GDR Premier until reunification on October 3rd.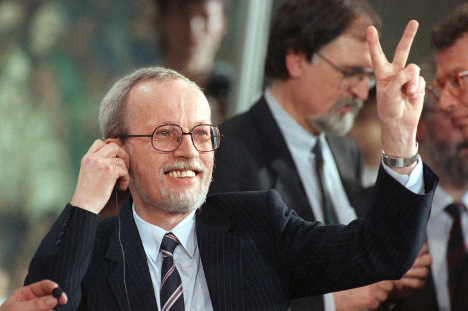 In Spring 1990, Bonn and Berlin agreed to convert the East German Ostmark – which was practically worthless at the time – to the West German Deutschmark on a largely 1 for 1 basis, with most salaries, prices, and savings being converted straight over.
Finally, the process for legal reunification took months, with the signing of an economic and currency union, the reconstituting of the five eastern federal states that had been abolished in communist times, the official reunification treaty, and the treaty that saw the WWII allies renounce all rights and responsibilities in Germany.
READ ALSO: What unity means to eastern Germans
At the stroke of midnight on October 3rd, 1990 – a reunified Germany became a fully sovereign state for the first time since WWII. That was thanks in large part to both political will and legal work in the months immediately following the Wall's fall.
Although it seems so normal now, reunification was never guaranteed, which is part of why October 3rd enjoys and deserves its own special commemoration.
November 9th – German history's double edge
The other major reason why October 3rd serves as Germany's national day instead of November 9th is that November 9th, while associated with the happy elation of witnessing the Berlin Wall crumble, is also linked to many other momentous – and often solemn – historical commemorations.
On November 9th, 1918, Kaiser Wilhelm II abdicated. Within hours, the Social Democrats and the Communist Party both declared the Weimar Republic and a 'free, socialist republic,' respectively. It would serve as the first sign of political instability that eventually allowed the Nazis to take power.
On November 9th, 1923, Adolf Hitler attempted a coup that started in a Munich beer hall. He was arrested and wrote Mein Kampf during his time in jail.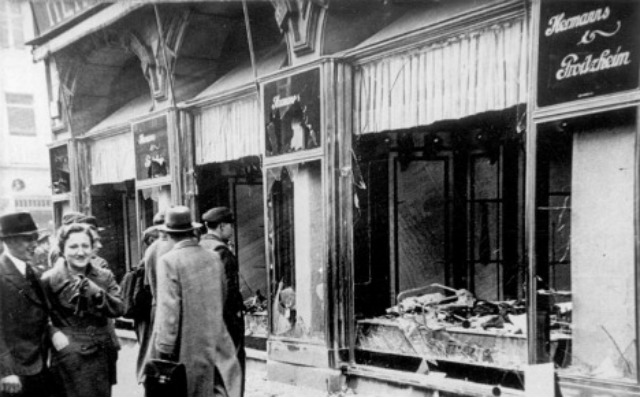 And on November 9th, 1938, Jewish businesses and synagogues were violently targeted during Kristallnacht, or the "Night of Broken Glass." At least 90 Jews were killed and 30,000 deported.
As happy as November 9th, 1989 was, commemorating it as Germany's national day would be problematic given the other solemn observances attached to it, which is also part of why October 3rd was chosen.
READ ALSO: Why November 9th is a fateful day in German history
What days does October 3rd replace?
Both East and West Germany had national holidays before reunification. The DDR observed 'Republic Day' on October 7th, the anniversary of its founding in 1949. Before 1990, the BDR commemorated June 17th, or the anniversary of the East German uprising in 1953.
October 3rd replaced both days as the national day of celebration. 
Where can you celebrate it?
Unity Day is a national holiday with celebrations readily found around the country.
In Bavaria, Oktoberfest remains open until October 3rd partly to mark the occasion. In Berlin, festivities are readily found around the Brandenburg Gate.
However, each year, a major city plays host to official celebrations and the Unity Day Bürgerfest, or 'Citizen's Festival.' The host city is in the federal state presiding over the Bundesrat – Germany's upper legislative chamber – that particular year.
For 2022, Erfurt – the state capital of Thuringia – is the host, and next year will see Hamburg take over hosting duties.
Netflix: 'Money Heist' spinoff: What we know so far about 'Berlin' | Culture
More details have been revealed about the TV show Berlin, the long-awaited prequel to the Netflix hit La Casa de Papel or Money Heist. The team behind the Spanish heist series announced Wednesday in Madrid that filming has already begun, and that the new show will be set in Paris and in Spain.
Pedro Alonso, will play the character role of Andrés "Berlin" de Fonollosa, and will be joined by actors Michelle Jenner, Tristán Ulloa and Begoña Vargas. It is not yet known whether other Money Heist characters will make an appearance. The new series delves into the backstory of Berlin in the years before he joined the gang that would go to carry out the biggest heist seen in Spain.
"It's a trip through the golden age of the character, when he robbed around Europe crazy in love," said Money Heist creator Álex Pina, at Tudum Festival, a pop culture event that covers Netflix's original films and TV series, on Saturday. Netflix describes it as a "series full of white-collar crimes, tension, travel, romance and, most interestingly, a sense of humor." Speaking on Saturday, Pina said that he wanted to create a story with more "romance and comedy."
"We wanted to do something brighter, with characters that people enjoy watching, after a pandemic and a war in Europe and an economic crisis," he explained.
Tristán Ulloa, the self-described veteran of the group, added that he was surprised by how much work went into Berlin. "I had never seen anything like that before," said Ulloa, commenting on the fact that Pina wrote dozens of versions of the same script. "The good thing is that people are going to give us a chance, because of the success of Money Heist. The bad part is there is a bigger risk of disappointing people," Pina admitted.
Berlin will have eight episodes, which will be directed by Albert Pintó, David Barrocal and Geoffrey Cowper.