Unity Day: How October 3rd became Germany's national holiday
Independence Day in the United States dates all the way back to 1776. Canada Day, celebrated on July 1st, goes back to 1867. France's Bastille Day on July 14th commemorates the storming of the Bastille in 1789.
Compared to those national holidays, Germany's October 3rd is fairly recent, having only been around since 1990.
October 3rd – or Tag der Deutschen Einheit – marks the date that the former West and East Germany officially became one country again, after being divided since the end of WWII. In 2022 it's celebrated on a Monday, meaning many people will get a long weekend. 
Between 1945 and 1949, the country was split into four occupation zones – held by the Americans, British, French, and the then Soviets. In 1949 the Soviet zone became the communist East Germany – or Deutsche Demokratische Republik (DDR), while the rest of the country became the West German Bundesrepublik Deutschland (BRD).
The Bundesrepublik continues today, but now with the five eastern federal states, plus East Berlin, that were formerly in the DDR.
Why October 3rd and not November 9th?
Less than a year before official reunification on October 3rd, 1990, the Berlin Wall fell on November 9th, 1989.
At first glance, November 9th might seem a better day to commemorate as a national day.
Growing up in Canada, my Gelsenkirchen-born Oma used to talk about the Berlin Wall falling with a slight waver in her voice – and sometimes even tears – decades after it crumbled before her eyes on her television screen.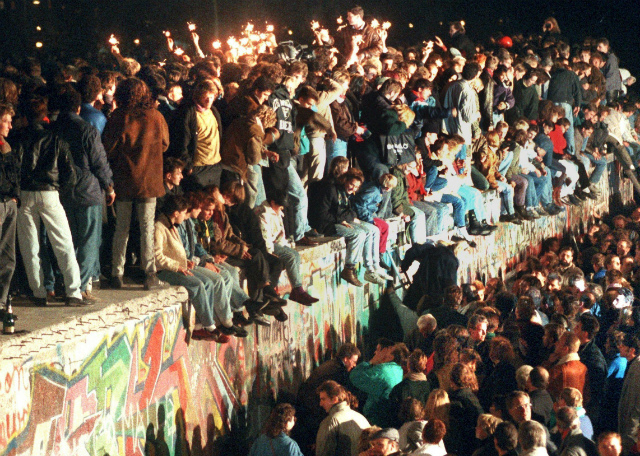 'It was the happiest day in German history,' she told me at the time. 'People were just so amazed at seeing that and no one really thought it would actually happen and guck mal – there it was. It was very emotional at the time and I guess I still am too,' she would say.
READ ALSO: 'There was a human tide moving': Berliner remembers crossing the Wall
For Oma and many other German-Canadians I grew up around, Unity Day felt a little less momentous than November 9th. To them, October 3rd was an important day to observe, but conjured up a few less emotions.
'November 9th suddenly made the dream of having a unified Germany again seem possible,' my teacher at Calgary's German-Canadian Club told me years ago. 'By the time it was actually official, it just seemed like the final step of something that had been going on for a while already.'
To my Oma, my teacher, and others I grew up around who remembered that time – German reunification seemed inevitable within days of the Wall falling. But it wasn't necessarily guaranteed. Even after the Wall fell, the DDR and BRD remained separate countries at first.
The months between November 9th, 1989 and October 3rd, 1990 were momentous – and saw several additional events that would pave the way for reunification.
On March 18th, 1990, the DDR would hold its first – and only – free and democratic elections. Won by the East German Christian Democrats, their leader Lothar de Maiziere served as GDR Premier until reunification on October 3rd.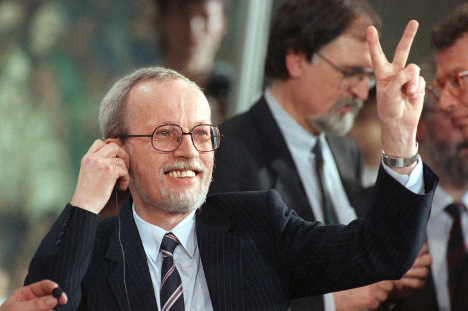 In Spring 1990, Bonn and Berlin agreed to convert the East German Ostmark – which was practically worthless at the time – to the West German Deutschmark on a largely 1 for 1 basis, with most salaries, prices, and savings being converted straight over.
Finally, the process for legal reunification took months, with the signing of an economic and currency union, the reconstituting of the five eastern federal states that had been abolished in communist times, the official reunification treaty, and the treaty that saw the WWII allies renounce all rights and responsibilities in Germany.
READ ALSO: What unity means to eastern Germans
At the stroke of midnight on October 3rd, 1990 – a reunified Germany became a fully sovereign state for the first time since WWII. That was thanks in large part to both political will and legal work in the months immediately following the Wall's fall.
Although it seems so normal now, reunification was never guaranteed, which is part of why October 3rd enjoys and deserves its own special commemoration.
November 9th – German history's double edge
The other major reason why October 3rd serves as Germany's national day instead of November 9th is that November 9th, while associated with the happy elation of witnessing the Berlin Wall crumble, is also linked to many other momentous – and often solemn – historical commemorations.
On November 9th, 1918, Kaiser Wilhelm II abdicated. Within hours, the Social Democrats and the Communist Party both declared the Weimar Republic and a 'free, socialist republic,' respectively. It would serve as the first sign of political instability that eventually allowed the Nazis to take power.
On November 9th, 1923, Adolf Hitler attempted a coup that started in a Munich beer hall. He was arrested and wrote Mein Kampf during his time in jail.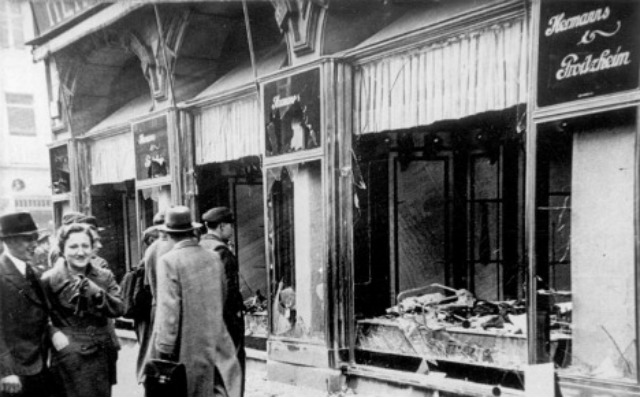 And on November 9th, 1938, Jewish businesses and synagogues were violently targeted during Kristallnacht, or the "Night of Broken Glass." At least 90 Jews were killed and 30,000 deported.
As happy as November 9th, 1989 was, commemorating it as Germany's national day would be problematic given the other solemn observances attached to it, which is also part of why October 3rd was chosen.
READ ALSO: Why November 9th is a fateful day in German history
What days does October 3rd replace?
Both East and West Germany had national holidays before reunification. The DDR observed 'Republic Day' on October 7th, the anniversary of its founding in 1949. Before 1990, the BDR commemorated June 17th, or the anniversary of the East German uprising in 1953.
October 3rd replaced both days as the national day of celebration. 
Where can you celebrate it?
Unity Day is a national holiday with celebrations readily found around the country.
In Bavaria, Oktoberfest remains open until October 3rd partly to mark the occasion. In Berlin, festivities are readily found around the Brandenburg Gate.
However, each year, a major city plays host to official celebrations and the Unity Day Bürgerfest, or 'Citizen's Festival.' The host city is in the federal state presiding over the Bundesrat – Germany's upper legislative chamber – that particular year.
For 2022, Erfurt – the state capital of Thuringia – is the host, and next year will see Hamburg take over hosting duties.
The discreet return of Will Smith after the Oscars slap | Culture
Eight months after slapping comedian Chris Rock during the Oscars ceremony, Will Smith is back. The performer, who that same night won the award for Best Actor for his role in King Richard, has been preparing his comeback for weeks. His return coincides with the release of his new film, Emancipation, Apple TV+'s big bet for the upcoming awards season. Before the scandal, Smith was the platform's strong asset to promote the movie, but his behavior that day changed everything. Even if he were nominated for an award, he would not be able to attend the Oscars, as the Academy has banned him from any of its events for a decade.
Set to be released on Friday, December 2 in selected theaters (a requirement to be eligible for the Oscars), Emancipation is Smith's first movie since the slap affair. The film, directed by Antoine Fuqua, is based on the true story of a slave who flees a plantation in 19th-century Louisiana to reunite with his family. Smith plays the lead, Gordon, who went down in history as Whipped Peter. The image of his whipped, wounded back was seen around the world in 1863 and helped illustrate the cruelty of slavery.
That same picture caused a controversy on the red carpet of the Los Angeles premiere when producer Joey McFarland took the original print of the famous photograph to the event. "I wanted a piece of Peter to be here tonight," McFarland explained. The gesture was not well received on social media, and some African-American activists were very critical. "I don't know, man, but bringing 'a piece of Peter' that you 'own' to the red carpet of a movie that's personally enriching you so that you can collect more slave memorabilia that you'll keep until your death…," said film producer Franklin Leonard in a message on Twitter. Later, McFarland apologized: "I hope my actions didn't distract from the film's message, Peter's story and just how much impact he had on the world," he wrote on Instagram.
Emancipation will be released on Apple TV+ on Friday, December 9. For months, the conversation in Hollywood had revolved around what the company would do with this film that cost more than $120 million. Many assumed that the release would be pushed back to 2023, by which time, the slap would have become old news. However, Apple decided to stay on course, in the hopes that the movie will follow in the footsteps of CODA, which became the first film released on a streaming service to win the Oscar for Best Picture.
In October, Smith held a private screening attended by some of the most powerful and influential African Americans in Hollywood, including Rihanna, rapper A$AP Rocky, comedian Dave Chappelle, filmmaker Tyler Perry and designer Fawn. Then, on November 29, he appeared on The Daily Show, hosted by his friend Trevor Noah on Comedy Central. On the show, he talked about all that went through his head during and after that "horrible night": how a long bottled up anger made him lose his temper when he heard Rock's joke about his wife, and how he has spent most of the year trying to forgive himself "for being human."
The actor is aware that there are some who have not forgiven him, and does not rule out the possibility that many people will not want to see his new film and may even call for a boycott. "I completely understand if someone is not ready, I would absolutely respect that and allow them their space to not be ready. My deepest hope is that my actions don't penalize my team," he expressed recently in a brief interview for Good Day DC.
James Cameron on filming 'Titanic': 'Kate Winslet came out a bit traumatized' | Culture
Kate Winslet began filming Titanic when she was 20 years old, and turned 21, during the 160 days the shoot lasted. In her first interviews after its release, the British actress shared her thoughts on the film's director, James Cameron. "He has a temper like you wouldn't believe," she told The Guardian. "You'd have to pay me a lot of money to work with Jim again."
However, 25 years later, Winslet has joined forces with Cameron again on Avatar: The Way of Water, the long-awaited sequel to the sci-fi epic released in 2009. And, now, it is Cameron who has discussed the experience of shooting Titanic. "I think Kate came out of Titanic a bit traumatized by the scale of the production and her responsibility within it," Cameron told Radio Times.
The 68-year-old director said that despite the rumors, there was never any hostility between them. "We've both been eager over time to work together again, to see what the other is about at this point in our lives and careers," Cameron said.
Titanic was a worldwide success. Until the release of Avatar, it was the highest grossing film in history. It became the first film ever to make more than $1 billion at the box office, a record it broke just four months after its release. It was nominated for 14 Oscars, and took home 11, including Best Picture and Best Director. But the movie, with a $200 million-budget, was also one of the most expensive ever made. With costs soaring, executives suggested some scenes be cut to save money, but were shut down by Cameron.
The film earned the director a reputation as "the scariest man in Hollywood." "He became known as an uncompromising, hard-charging perfectionist and 300- decibel screamer," wrote journalist Christopher Goodwin in a 2009 article in The Sunday Times. But Cameron has always denied these allegations, claiming that a strict methodology is needed when working with thousands of people.
Winslet spoke about the high-pressure environment on set in a 1997 interview with The Los Angeles Times. "The first day started at 5 am and went on to 1 am," she said. "Nothing could have prepared me for it. There were quite a few 20-hour days. And two-thirds of it was night shooting – because the Titanic sunk at night. It was every man for himself on the set – you had to ensure that you snatched some sleep during the day, with a black eye mask on. Sometimes you'd find yourself having lunch at 2 am or breakfast at 4 pm. It was very disorienting."
After the grueling experience on Titanic, Winslet said shooting Avatar: The War of Water was much more enjoyable. In an interview with The Telegraph, she described Cameron as a "genius," and said "he is much more calm now." She explained: "There were all those conversations about this huge film, Titanic. I can't imagine the pressure. As we get older, we learn how to say, 'I made a mistake.' We all get better at that, don't we?"
Sign up for our weekly newsletter to get more English-language news coverage from EL PAÍS USA Edition
The sacred drugs of antiquity: Fact and fiction | Science & Tech
One of the most fascinating aspects of ancient civilizations is the artistic and religious manifestation of their consumption of mind-bending natural substances. In the 1970s, historian Carl A. P. Ruck, mycologist R. Gordon Wasson and others coined a term to designate psychoactive substances used to produce visionary experiences in spiritual rituals – entheogens. The term is derived from two ancient Greek words: entheos, which translates as "full of the god, inspired, possessed," and genesthai, which means "to come into being." Together with Swiss chemist Albert Hofmann, the first to synthesize LSD, they wrote The Road to Eleusis, a controversial book that proposed the ritual use of ergot, a fungus with hallucinogenic properties, as a way of understanding the secretive Mysteries conducted at Eleusis in Greece for nearly two millennia. It wasn't a new idea – other anthropologists and religious historians from renowned universities in Cambridge, Vienna and Chicago had proposed consuming the so-called "plants of the gods" to probe the myths, images and ancestral stories of ancient peoples.
While it was generally accepted that prehistoric peoples used psychoactive substances to induce visions, trances and ecstatic experiences, scholars found it hard to acknowledge that the Roman and Greek founders of Western civilization also had myths and rites full of references to these sacred plants. But when it came to the classical world, perhaps a deep-rooted Eurocentric bias hampered the objective application of the historiographic and anthropological approaches used to study "other peoples." This bias seems to persist even today despite excellent books like Las drogas sagradas en la Antigüedad (or, The Sacred Drugs of Antiquity) by Carlos G. Wagner, which seek to dispel such outdated attitudes.
Wagner's book is the culmination of 40 years of research that began in Phoenicia (an ancient civilization in the Levant region of the eastern Mediterranean), extended to the Greco-Roman world, and then to Egypt and the Ancient Orient. It is a comprehensive historical and cultural journey through the ancient world, from the dawn of the river valley civilizations to the symbiosis of Christianity with Greco-Latin cultural structures. Wagner's book uses archaeobotanical accounts combined with literary and iconographic sources to examine entheogenic substance use in the art and religious rituals of various societies.
Wagner's methodical and objective study of entheogens in antiquity provides substantial evidence of their use. Readers should not expect a New Age treatise on drug-based religious naturalism, or an anachronistic apology, or an all-encompassing and simplistic explanation for every mystery of antiquity, which characterize many books about entheogens. However, he does not shy away from controversial issues such as shamanism and other anthropological labels like thaumaturges (miracle workers) and medicine-men. Nor does he discount the notion that drugs may have inspired artistic creation and religious intuition since prehistoric times.
Such a study requires geographical and historical comparisons: East versus West, prehistory versus antiquity. It is surprising to read in Wagner's book that great works like Gilgamesh and Homer's epic poems may allude to ethnobotany and the manifestation of sacred botanical, oracular, shamanic or visionary symbology in art. One begins to wonder about the entheogenic backdrop of the hero's battles with monsters like Medusa and Humbaba, or the references to magical herbs in Greek, Germanic and Celtic myths, not to mention the ones in Indo-Iranian religions. Wagner systematically tackles classic questions about Eleusis and Pythia, the Oracle of Delphi, and gives his readers a balanced assessment of what is known and what remains in the realm of hypothesis. He also includes a long discussion of Dionysian religion and its use of trance-inducing intoxicants, and compares it to the worship of other ancient nature gods of fruitfulness and vegetation.
Carlos Wagner has written an exciting book that synthesizes the current body of knowledge about the role of psychoactive substances, and also presents insights from neuroscience on how they affect the mind and body. The use of vision-inducing substances in spiritual rituals officiated by priestly elites enabled them to maintain their own power and prestige through stories, rituals and images. The myths, visions, sorceries, oracles and trances that persisted over four millennia can and should be viewed in the light of mythical plants like ambrosia, soma and haoma, and real ones like hellebore, dogbane, cannabis and poppy.
Sign up for our weekly newsletter to get more English-language news coverage from EL PAÍS USA Edition