UN quizzed over role in prison-like island camp for Rohingya refugees | Global development
The UN's refugee agency (UNHCR) is facing questions over whether it is helping to detain Rohingya refugees in prison-like conditions by providing services on a controversial island camp.
Over the past year, Bangladesh has relocated almost 20,000 refugees to Bhasan Char, an island formed of silt deposits in the Bay of Bengal thought to be vulnerable to cyclones, which the refugees are unable to leave.
About 700 refugees have reportedly attempted to flee the island but Bangladesh hopes that the UNHCR's cooperation will ensure better services for the refugees and is now planning to increase the island's population by 80,000 over the next three months.
Refugees International, a global advocacy organisation, said there were "serious questions" about whether it was safe and possible to move such numbers to the island from the Cox's Bazar refugee camps, which are the world's largest, hosting about 890,000 refugees.
"Most concerning is whether any relocations of Rohingya refugees to the island will be truly voluntary, evidenced by the fact that hundreds of refugees relocated there have already tried to flee," said Daniel Sullivan, Refugees International's senior advocate for human rights.
"As Refugees International has warned in the past, failure to properly assess conditions and inform refugees about the move will result in policies more akin to detention than refuge."
The Geneva-based Global Detention Project tweeted: "In signing a new memorandum of understanding with the Bangladesh government, is the UNHCR assisting in the detention of Rohingya refugees on Bhasan Char island? Are refugees free to move on and off the island? Are they moving there truly voluntarily?"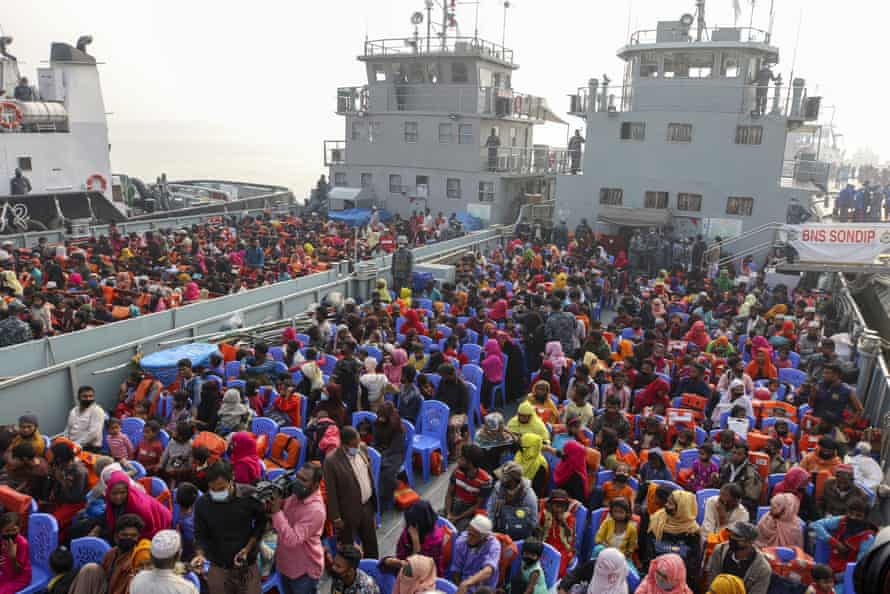 Human Rights Watch reported in June that the government had misled refugees about conditions on the island and that some had been relocated without informed consent. It also reported that, despite promises from the government of good living conditions, they did not have access to work or education and were unable to leave.
In May, during a visit by senior UNHCR officials to inspect the island, thousands of refugees defied orders to remain in their shelters to protest at the living conditions. The UNHCR later said it was "deeply concerned" that refugees were injured during the protest.
A Rohingya teacher living in the Cox's Bazar camps said they opposed the UNHCR's cooperation with the government because they did not believe the island was fit to live on.
"There is not any freedom for the Rohingya people in Bhasan Char. People who have gone there thought life would be comfortable for them, as the government said they would be provided with everything they need," said the teacher, who did not want to be named for fear of repercussions. "There is a lady in Bhasan Char – she sometimes talks with her mother and I heard from her mother that people in Bhasan Char are living as if in prison there.
"At least the government could consider free movement for the people who are in Bhasan Char, so they could travel to see their relatives."
A leaked copy of the agreement offers no guarantee that refugees will be able to move freely to the mainland, Reuters reported on Friday.
Bangladesh has justified relocating refugees to the island by arguing that conditions are better than the overcrowded camps in Cox's Bazar, which have witnessed devastating floods and fires this year.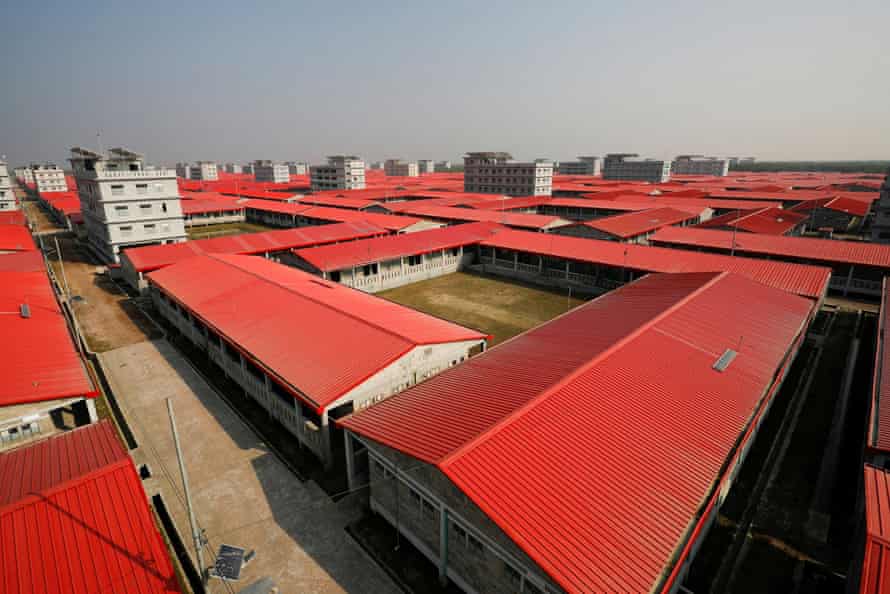 The UN said, after the agreement with the government was announced last weekend, that its presence on Bhasan Char would "help support the refugees to lead decent lives on the island" by ensuring protection, education, healthcare and livelihoods.
Former UNHCR official Jeff Crisp questioned why the agreement between Bangladesh and UNHCR had not been published and whether it failed to ensure freedom of movement for the refugees, which could amount to it becoming a prison island.
He also questioned what the long-term plan was for the island, as little progress had been made towards ensuring the Rohingya can return safely to Myanmar, which several generations of refugees have fled after repeated military operations.
"I don't know what strategy the Bangladeshi government is working on. What is the endgame? Do they assume people can live happily on Bhasan Char?" said Crisp. "They're talking about 80,000 moving in the next three months. Are that number of people going to volunteer to go and, if they do, can you move that many people and give proper attention to settling them properly?"
Lives lost at Europe's borders and Afghan MPs in exile: human rights this fortnight – in pictures
A roundup of the struggle for human rights and freedoms, from Mexico to Manila
Belgium tightens Covid rules as health system 'is cracking'
Belgium has introduced new measures to curb the surge of Covid-19 infections in the country, following the third emergency meeting of federal and regional governments in three weeks.
"The autumn wave is much heavier than was estimated," Belgian prime minister Alexander De Croo said on Friday (3 December).
"The infection rates are among the highest in Europe and the pressure in healthcare has become unsustainable," he also said, arguing that new measures are necessary because "the system is cracking".
One item on the agenda that proved to be divisive was the closure of schools – a move supported by experts and the federal government but opposed by regional governments.
Belgium's so-called concertation committee of federal and regional governments finally decided to keep schools open, but it impose a longer, three-week, Christmas holiday for primary and pre-primary education. The holiday will now run from 20 December to 10 January.
According to Flemish prime minister Jan Jambon, this extra week will be used to administer the booster shot to the teachers.
And until the school holiday, a class will go until quarantine after two cases of Covid-19 are detected (previously three cases). Additionally, all extracurricular activities will be barred.
Children from the age of six upwards will also have to wear a face mask at school and all other places where its use is compulsory. And parents have been advised to test their children regularly.
For this coming weekend, indoor events with more than 4,000 attendees will be cancelled. From Monday, this will apply to all with more than 200 attendees.
Events with fewer than 200 people inside will still be allowed under the current criteria – that everyone needs to have a corona pass, be seated and wear a face mask.
Museums and cinemas would remain open, but with a capacity limit of 200 people per room.
The committee also decided that restaurants and bars can continue to remain open until 11PM, as it is currently the case – although experts had asked to close them at 8PM.
This new package of measures has already been criticised by representatives of the cultural sector, who argued that the restrictions do not target the source of the problem.
"Instead of fighting the virus, we are fighting culture. Bars open, but culture [events] only 200 people. Who are we fooling?," said Michael De Cock, director of the Koninklijke Vlaamse Schouwburg [Royal Flemish Theatre].
There is also no restrictions for private social life in the so-called "contact bubbles" – despite this also being recommended it by experts. Nevertheless, there is a recommendation to limit contacts as much as possible.
At work, there are no new measures, as the committee previously announced that teleworking is mandatory at least four days a week.
Intensive-care cases expected to peak next week
An average of 318 Covid-19 patients were hospitalised each day in Belgium this week – which represents an increase of four percent compared with the previous week.
There are currently 3,707 people hospitalised in the country, of which 821 are in intensive care.
"Although the number of infections is very high, the number of deaths in our country is lower than in comparable countries, and that is due to the high vaccination coverage," said de Croo.
"Getting vaccinated is an act of solidarity," he added.
More than 75 percent of the Belgian population is fully-vaccinated, and over a million people have received a booster shot.
For his part, Belgian virologist Steven Van Gucht said on Friday that the number of Covid-19 patients on the intensive care units of the country's hospitals are expected to peak next week.
"It is unclear whether we can then expect a rapid fall or whether the figures will remain at that high level," he also said, according to VRT news.
The highest number of new Covid-19 infections (25,574) during this fourth wave was recorded on Monday 22 November.
But new measures will make coronavirus figures fall more quickly, relieving the pressure on the health care sector, Van Gucht said.
India's 'pencil village' counts the cost of Covid school closures | Global development
School closures in India during the pandemic have left their mark on more than the children who have seen delays to their learning. In one Kashmiri village the impact has been catastrophic on employment.
Pick up a pencil anywhere across India and it is likely to come from the poplar trees of Ukhoo.
This village, with an abundance of trees, about 10 miles south of Srinagar city in Kashmir's Pulwama district, supplies more than 90% of the wood used by India's pencil manufacturers, which export to more than 150 countries.
Before Covid, more than 2,500 people worked in the village's 17 pencil factories and the industry supported about 250 families.
But, after nearly two years of school closures and a dramatic drop in demand for the village's products, factory owners reduced their workforce by more than half.
Workers were dismissed without pay, while many of those who kept their jobs had migrated from other parts of India, and were cheaper to employ. Now the village and its workforce are waiting eagerly for the market to revive.
Rajesh Kumar, 26, from Bihar, has worked in Ukhoo for seven years. Like other migrant workers, he lives in a room on the factory premises and works 10- to 12-hour shifts. During lockdown last year, the factory owner provided food and accommodation when production shutdown for about three months. He is one of the luckier ones to be back working now.
"I hope the pencil demand increases and these factories are full of workers again, as many of our friends and people from our villages find work [here] and are able to make a living," says Kumar.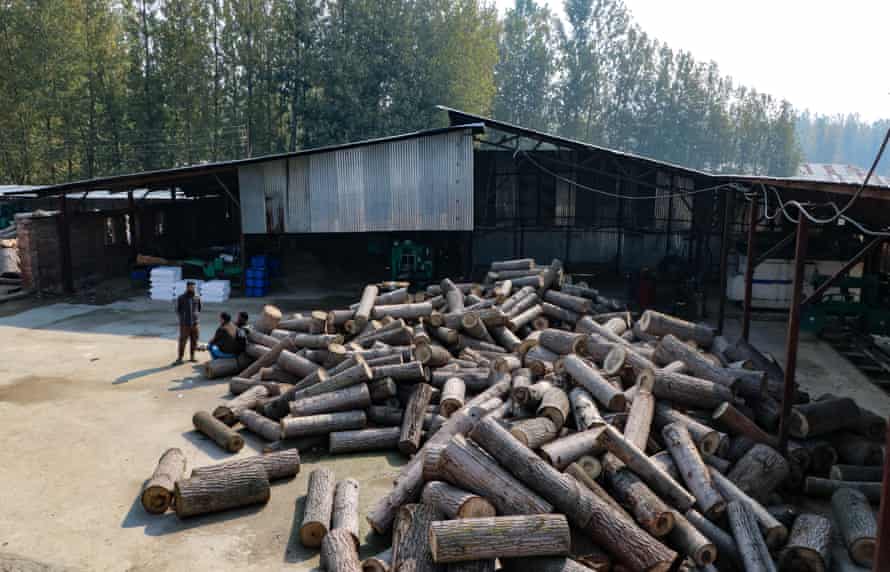 Farooq Ahmed Wani, 27, from the city of Jammu, has worked as a machine operator in Ukhoo for the past five years.
"We are hoping that schools reopen throughout the country so that there is more demand for pencils in the market," he says in an optimistic tone. "Then these factories can employ more young people and more migrants can also get some work here."
Pencil wala Gaon, or "pencil village", attracted the attention of India's prime minister, Narendra Modi. In his monthly radio programme, Mann Ki Baat, last year he said the district was an example of how to reduce the country's dependency on imports. "Once upon a time we used to import wood for pencils from abroad but now our Pulwama is making the country self-sufficient in the field of pencil making," Modi said.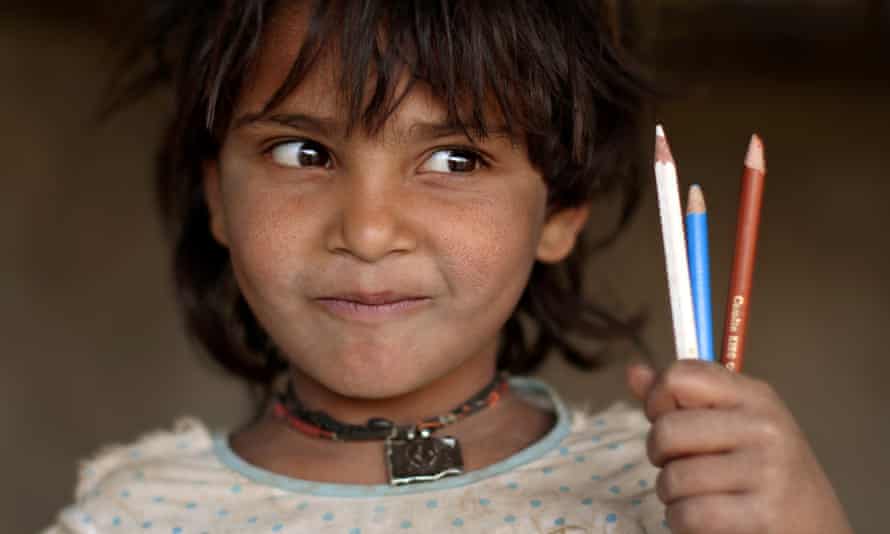 A recent ministry of home affairs report said that the village would be developed as a "special zone" for manufacturing. "Now the whole country would be supplied finished pencils, manufactured completely in Pulwama," the report noted. But the pandemic has shown how overreliance on one product in a region brings its own problems.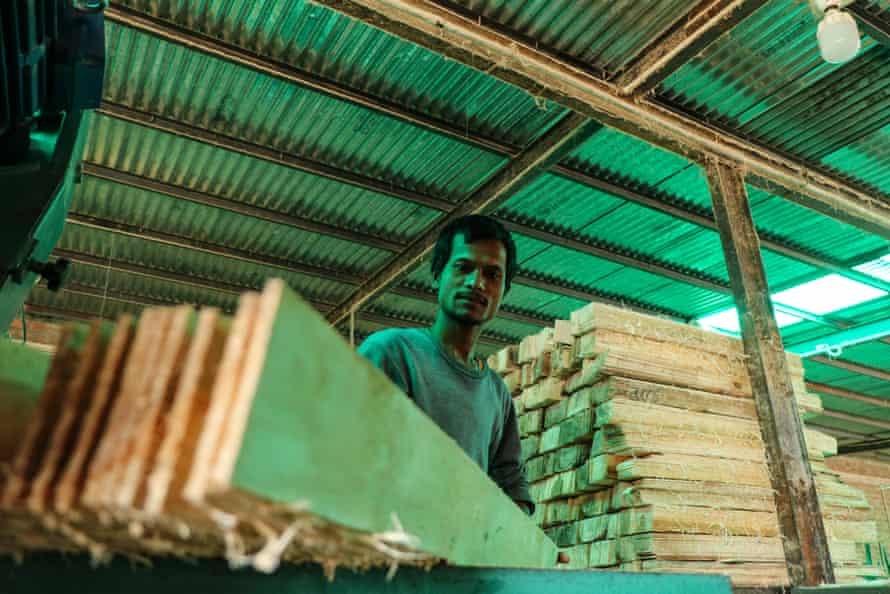 Abrar Ahmed, a unit supervisor at one of Ukhoo's factories, says everyone has suffered. "Even the sawdust from woodcutting machines is usually taken by the local villagers who then sell it to poultry farms and for other purposes in the village."
Manzoor Ahmad Allaie owns one of the biggest factories in Ukhoo.
"We are only doing about 30% to 40% [of normal levels of] business now because of the Covid lockdown impact from last year, which means we produce about only 80 bags of pencil slats a day," says Allaie. "Earlier we could produce about 300 pencil slat bags [a day] in the factory, which were transported out of Kashmir."
He is eagerly looking forward to India's schools fully reopening. It has been a hard two years for the pencil villagers, he says.
Sign up for a different view with our Global Dispatch newsletter – a roundup of our top stories from around the world, recommended reads, and thoughts from our team on key development and human rights issues, delivered to your inbox every two weeks: