UN put Rohingya 'at risk' by sharing data without consent, says rights group | Rohingya
The UN may have put hundreds of thousands of Rohingya refugees at risk of persecution or involuntary repatriation back to Myanmar after improperly collecting and sharing refugees' personal information with Bangladesh, according to Human Rights Watch (HRW), which is urging an investigation.
Over the past three years, the UN refugee agency (UNHCR) has registered more than 800,000 Rohingya refugees living in Bangladeshi camps in order to provide them with identity cards needed to access essential aid and services.
But the refugees were largely uninformed that their personal data, which included photographs, fingerprints and biographical information, would be passed by the Bangladeshi government on to authorities in Myanmar with a view to possible repatriation, said Lama Fakih, crisis and conflict director at Human Rights Watch.
"The UN refugee agency's data collection practices with Rohingya in Bangladesh were contrary to the agency's own policies and exposed refugees to further risk," said Fakih.
"[A] refugee has the right to control their data, who has access to it, and for what purposes, and UNHCR and other agencies should be accountable to those whose data they hold."
The UN denied any wrongdoing or policy violations, stating that it had explained all purposes of the data-gathering exercise and obtained consent, according to UNHCR spokesperson Andrej Mahecic.
Each Rohingya refugee family was "asked to consent to their data being shared with partners on the ground for the purpose of receiving assistance … [and] separately and expressly asked whether they gave their consent to have their data shared with the government of Myanmar by the government of Bangladesh" to establish right of return, said Mahecic.
But 24 Rohingya refugees interviewed by HRW between September 2020 and March 2021 about their experience registering with UNHCR tell a different story. Of the 24 refugees, 23 said they were never informed the data would be used for anything beyond establishing aid access.
They were given a receipt, in English, with a box ticked stating they had agreed to the data being shared with Myanmar, but only three of the 24 refugees could read English.
One of the three interviewees who could read English said he only realised what had happened after his interview.
"After they took my data, they printed out a receipt. I walked back to my tent, and then I looked at the paper, and noticed that on the top there was a tick box that the person at the centre had marked as 'yes' without ever asking me, that my data would be shared with Myanmar," he said.
"I was so angry when I saw that, but I had already given my data, and I needed services, so I didn't know what I could do about it."
Although the sample size of HRW's research is small, it is likely that their findings are echoed throughout the Rohingya refugee population, said senior HRW researcher Belkis Wille.
"Bangladesh shared the names and details of 830,000 Rohingya with Myanmar, which broadly speaking is the entire Rohingya refugee population that came to Bangladesh. So that would suggest that nobody had any objection to having their data shared with Myanmar, at least in terms of the checkbox on the form," said Wille.
"It is hard to imagine that not a single person had a concern and said no [to giving consent]. And that is one of the key reasons why we think what we saw in our individual interviews may be what you would see across the broader Rohingya population, which is that they weren't being asked this question or, if they were, it wasn't in a way that they understood or in a way that they felt comfortable saying no to."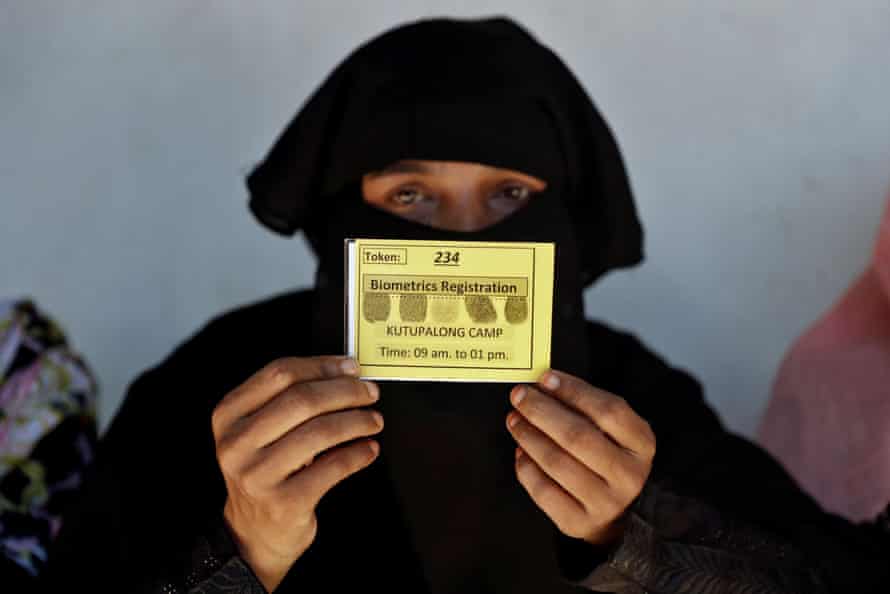 Of the 830,000 Rohingya whose data Bangladesh submitted to Myanmar, about 42,000 have been given right to return to their home country. They include 21 of the refugees interviewed by HRW, who said they only knew their data had been shared when they were informed they could return to Myanmar. All 21 have since gone into hiding out of fear of forced repatriation, HRW said.
Since 2016, nearly 900,000 Rohingya have fled what many have characterised as a genocide by crossing the border from Myanmar into Bangladesh. HRW has warned of the possibility that Rohingya refugees may be involuntarily repatriated to Myanmar, given a history of forced repatriations of Rohingya in the 1970s and 1990s. In those cases, UNHCR tacitly condoned Bangladesh's coerced returns, said HRW.
UNHCR said that "any return to Myanmar must be based on the individual and voluntary choice of refugees" and that the UN would assist returns when conditions are conducive to safe and sustainable return, "which is not currently the case".
Fresh violence at anti-vax protests in Brussels
Belgian police fired water cannon at violent anti-vaccination protesters outside EU buildings in Brussels for the second weekend in a row on Sunday. More than 40,000 people also protested against lockdowns in Vienna Saturday. Several thousand people also protested in Utrecht, in The Netherlands, as well as in Berlin and Frankfurt, where German police used batons and pepper spray after being attacked by a radical minority in the demonstration.
'They see it in corridors, in bathrooms, on the bus': UK schools' porn crisis | Pornography
Barnardo's works directly with children who are victims of abuse or display signs of harmful or risky sexual behaviour. In 2020-21, they worked with 382,872 children, young people, parents and carers.
In a recent survey of their frontline workers across England and Wales, staff reported a rise in the number of children participating in acts they have seen in pornographic videos, despite feeling uncomfortable or scared. They describe porn as having a "corrosive" effect on child wellbeing.
Child sexual abuse expert Sarah works with children who are displaying signs of inappropriate sexual behaviour. She also trains other professionals who work with children
"I started out as a primary school teacher eight years ago, and I've been worried about children seeing porn ever since. Children don't have to be able to type to see porn – it can be sent to them or shown to them on someone else's phone. They see it at school, in the corridors, in the bathrooms, on the bus. There is just no censor on any of it – one video leads to another. If you can imagine it, it exists as porn, and children are seeing it.
"I am working with a teenager who was sexually abused by a family member. This young person had been exposed to porn and it was perpetuating what the abuser told them – that this is normal, that it's not abuse."
She is particularly concerned, as are her colleagues, about the increasingly extreme nature of the porn freely available on mainstream sites.
"A common role play theme on porn sites is intra-familial abuse – on mainstream sites you will see fetishisation of grandad and granddaughter sex, or stepfathers and stepdaughters. This may lead to a young person not disclosing or getting the support they need. From both angles it is dangerous; it puts the child at risk and encourages the perpetrator.
"The impact of porn shows in children harming others or themselves because they either don't understand or are so ashamed of sexual urges. Shame is very prevalent and is often hidden.
"We are working with a seven-year-old who has been exposed to porn and is now displaying sexualised behaviour. They had free rein on a device, and someone hadn't deleted a browser history. Once a young person sees porn, they may feel a need to come back again and again – porn is designed to meet a need. That is a form of sexual abuse against that child."
Brian* is a senior social worker who has worked with children for over 30 years
"Unfortunately, porn is a feature for the majority of the children who come into our service. The children we support are very damaged. They would be likely to have experienced multiple forms of abuse – sexual, physical and domestic. Porn in and of itself is not the cause of their behaviour but it becomes a compounding factor when it hits that history of vulnerability.
Adult sex offenders can give children a distorted rationalisation for their behaviour, and the messages that are given through porn then fit with that distortion.
Lucy* has worked within the field of child sexual abuse for 16 years.
"We know children find porn distressing – they are telling us that themselves. We have done research with children in schools so that we have a cohort to compare our vulnerable children to, and they are saying the same thing.
"This is not what could be described as erotic or soft porn. They may start on porn sites and quickly begin to see very hardcore material. Or [extreme material] lands in their social media feeds, and they can then feel compelled to go back and look again.
"Children are less able to manage sexual arousal, and this material is designed to be arousing. Lots of children can feel guilty and distressed by what they see. We have 14-year-olds telling us they have to watch it as soon as they wake up. They describe being preoccupied with accessing porn to an extent that impacts upon their day-to-day life.
"We also regularly work with children with learning disabilities, another group vulnerable to the harm of porn. They may be shielded from sexual information and then reach 13 or 14 and take away the wrong learning from porn. They may learn that no means yes, that if you persist, women will enjoy forced sex. These messages are harmful for any child but for children with learning needs or who have developed unhealthy beliefs around sex as a result of abuse, it's particularly bad.
"After lockdown, we began to get more calls from parents where there is no other obvious trauma, just the exposure to porn. I've been doing this 16 years, and children have far more access to porn now."
* Names and some details have been changed to protect identities
French centre-right tilts toward Pécresse
Valérie Pécresse, a moderate conservative who has likened herself to former British and German leaders Margaret Thatcher and Angela Merkel, has emerged as a front-runner in primaries in France's centre-right Les Républicains party, Reuters reports. "I won't flinch. I have a project for a clean break, a project for the unashamed right," she said Thursday, ahead of elections against liberal incumbent Emmanuel Macron and far-right contenders in spring.