Ulster GAA will have its work cut out reaching across tribal lines
It has been a strange and extraordinary year for everyone, including the GAA and especially the association in Northern Ireland. This was a year that had been heralded by the uncertainty surrounding the final settlement of Britain's withdrawal from the EU.
The Northern Ireland protocol may be a matter of unhappiness for the DUP but, as things stand, the island of Ireland isn't going to be complicated with a major international border, which is good news for any 32-county organisation.
Notions, however, that the decent 2016 majority vote in the North in favour of continued EU membership might translate into inroads for the idea of a united Ireland have receded as the usual political divisions have re-emerged.
Such is the state of flux, though, that this year's Northern Ireland census has been flagged for a while as being possibly the first to indicate that the Roman Catholic population has become the largest faith group in the state.
It has been an academic point of view, which scrupulously explains that such a demographic shift isn't necessarily political, but there is no doubting its significance as a milestone.
Yet at this time of turbulence, the pandemic has created a more concrete border than has been seen for a while, allowing that the jittery but necessary measures to contain another plague, foot-and-mouth disease, didn't last too long.
Recent weeks have seen some debate in the Ulster GAA, which also administers three counties in the Republic. This has been triggered by the North doing conspicuously better in terms of dealing with Covid both in suppressing numbers and rolling out the vaccine.
With these advances, clubs in the six counties are scheduled to return to restricted activities on April 12th should the Northern Ireland executive confirm their relaxation schedule after Easter.
This has prompted two separate responses: one, as argued by Armagh and Crossmaglen All-Ireland medallist Oisín McConville, that local Gaelic games should return as soon as the public health environment allows; and the other, as countered by Tyrone chair Michael Kerr, that the association should move as a single, 32-county entity.
Realities
It's fair to say that the GAA's Covid Advisory Group were not snubbing Kerr's view of things when they rubber-stamped the potential return of clubs north of the Border. They were simply recognising realities.
There is a definite school of thought in Ulster that, if at all possible, the two jurisdictions should move in tandem – but that relies on there being no more than a couple of weeks in the difference. Unfortunately, clubs in the South are a fair degree off that trajectory.
Anyway, clubs will only have internal county competitions to occupy them, and there won't be any crossing of paths with other provinces until next winter at the earliest.
There is a potential issue concerning the intercounty game, which is regarded – albeit with increasing anxiety – as likely to return in early April, with training permitted to resume.
That call has been left up to the Dublin Government, whose determination is expected towards the end of next week. Should the Covid numbers be sufficiently alarming to postpone that green light, what will there be to stop counties in the North returning to train when their clubs get the go-ahead on April 12th?
Ulster GAA has kept an even keel through all of this. Provincial CEO Brian McAvoy is a model of solid, low-key administration.
Extra funding
Just this week, Ulster Council was able to announce a sizeable slice of extra funding from Sport NI of £5.93 million (€6.9 million), a reflection of both the previously noted GAA acumen for completing compelling grant applications and perhaps the now less-controversial place of the association in the public affairs.
When added to the first tranche, it brought to £7.38 million (€8.5 million) the total received under the Sports Sustainability Fund – or not far off half what Gaelic games received (€18.5 million) from the Irish Government to subvent the running of last year's All-Ireland championships.
So what is the GAA's place in Northern Ireland? Gaelic games were for many years one of the few means of everyday cultural expression for nationalists and often targeted for that reason. The resentments that boiled over for more than 25 murderous years have proved difficult to address.
Ulster GAA has a laudable track record of working on outreach projects. At last July's GAA Museum Summer School, there was a presentation on the role of sport in reconciliation in Northern Ireland from Armagh All-Ireland winner, Ulster GAA's Diarmuid Marsden.
It was striking how much effort goes into small-scale victories like the cross-community Cúchulainn Cup, but the faultlines are never far away.
Outreach
At a previous summer school in 2017, another well-known former Armagh footballer, Jarlath Burns – whose work in outreach as principal of St Paul's in Bessbrook has been widely praised – struck a gloomier note when saying that he didn't feel the GAA was ever going to turn around some unionist perceptions of, and associated disrespect for, the association.
Neither side, though, is blameless in the perceptions displayed to the other.
Last September there was trouble when public health directives were clearly ignored at the Tyrone football final. It was a canary in the coalmine in one sense, as similar disregard was pretty soon on show all over the country before Croke Park abruptly ended the club championship season.
Ulster Council released a statement in which it properly said, "we are living in a pandemic, and the post-match scenes did not portray the association in a positive light."
First Minister Arlene Foster quickly condemned it on Twitter and the battle lines were drawn for a social media pile-on in which there was virtually no deviation from tribal loyalties.
It underlined the extraordinary job the Ulster Council has done to maintain the primacy of the games throughout a history that runs longer than the current and problematic centenary of the Northern state.
smoran@irishtimes.com
Latina singers: From flamenco to Spanglish: Why Rosalía's latest album is causing a stir | USA
When Spanish singer Rosalía appeared live on Spain's Cadena SER radio network to present her album El mal querer in November 2018, everyone wanted to see what she had to say. Even the crew of the radio program La Ventana were eagerly awaiting the interview, something that, according to radio presenter Carles Francino, had never happened before, not even with such distinguished guests as Spanish prime ministers, Nobel prize winners or the actor Richard Gere. Rosalía was 25 years old at the time and had two albums to her name. Her responses captivated the interviewers who praised her in hyperbolic terms, comparing the Barcelona-born artist to legendary Spanish copla singer Miguel de Molina. Francino said she had triumphed because she was "very good and very different" – paraphrasing the iconic Spanish poet Jaime Gil de Biedma.
And Francino wasn't the only one to sing Rosalía's praises. In a pre-recording, Martín Guerrero, the managing director of Casa Patas, a seminal flamenco venue in Madrid, said that Rosalía was "electrifying, thrilling and unique." The comments section below the YouTube video of the interview, which has more than 500,000 views, is also filled with messages extolling the singer. "From her vocabulary and her way of thinking, I thought she was a very poised woman, who knows what she is saying when it comes to music and music history and knowledge. She is not your average girl. She is a genius," one YouTube user wrote.
Francino, perhaps sensing what was about to happen to the pop star, brought the interview to an end with a request: "We are just asking you one thing, Rosalía: don't change." He could not have asked anything more difficult of her.
A little over three years later, the public is eagerly awaiting her third album, Motomami, which will be released sometime in 2022. Rosalía has given a preview of what's to come, sharing snippets of songs such as Candy and Saoko on social media. But the single that has caught the most attention is Hentai, a slow ballad accompanied by piano whose lyrics have triggered bafflement and disbelief. The sexually explicit nature of the song and Rosalía's use of Spanglish quickly became fodder for internet memes and jokes. In the 20-second clip of the track, Rosalía sings "Te quiero ride como a mi bike" or "I want to ride you like my bike." The educated and cultured singer, who used to cite centuries-old poetry, sounded like someone completely different.
"It's as if the person who does the songs for [children's band] CantaJuegos had come home drunk and horny and had opened a notepad," wrote one Twitter user. "Rosalía is now making music by taking random words from the dictionary," read another message. The backlash was so great that, a few hours later, Rosalía herself even tweeted about it. "The people who are upset about the lyrics in Hentai, are you okay?"
It has not been a sudden change. Since her debut album Los ángeles, in which the singer made reference to flamenco singers La Niña de los Peines and Enrique Morente, as well as the poet Federico García Lorca, to the explicit and visceral Hentai, five years have passed. In that period, Rosalía has gone from being 24 to 28 years old, and she has experienced a global pandemic that kept her in Miami and away from her family for the first time. She has traveled across Latin America and rubbed elbows with the leading figures of the international music scene. A few months ago, she released a collaboration called Linda with the Dominican rapper Tokischa. The lyrics of the feminist tune – "nos besamos pero somos homies" or "we kiss but we're homies" – surprised her fans for its simplistic nature. "It's true that there wasn't a bad rhyme in her first two albums, her lyrics were excellent. In contrast, in her latest songs there are terrible rhymes," says Jorge Carrión, the coordinator of the book La Rosalía, ensayos sobre el buen querer (or, Rosalía, essays on 'el buen querer').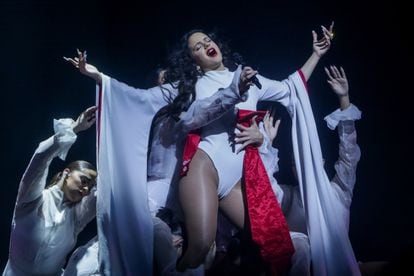 It's impossible to separate Rosalía's new music from her travels across the Americas, which she herself has documented in great detail. Like many other stars of today, she has opted to overshare on social media, where she uploads posts on every step she takes without any apparent communication strategy. Her surprising friendship with US personality Kylie Jenner and the rest of the Kardashian family, which appears to be very close, was one of the first shocks. We have seen her surrounded by entrepreneurs such as Dave Grutman and Jonathan Cheban, living an opulent lifestyle (Spain's far-right Vox party accused her of being a millionaire and having a private plane) and alongside celebrities such as Christina Aguilera, Drake, Naomi Campbell and Hunter Schafer from the US hit series Euphoria.
Living in Miami, Rosalía has started to express herself like other Spanish singers who emigrated to the US before her, such as Julio Iglesias and Alejandro Sanz. The Argentinian newspaper Clarín described her accent as "indecipherable, a mix of Spanish, Catalan, Andalusian and Caribbean, riddled with words in English." In an interview with a Dominican newspaper, Rosalía explained that her friendship with the Kardashians began when she started to hang out with Kendall in Los Angeles, which she named using the English acronym LA instead of the city's full name as you do in Spanish.
Rosalía's constant use of social media clashes with her previous image as an avant-garde artist who had released two albums exploring issues such as grief and gender violence. In her Instagram and TikTok accounts we see a cheerful, exhibitionist and sexual young woman, who often shares photos of herself half-naked and is seen with impossibly long fake nails and heavy makeup. She is obsessed with her pet chihuahua and loves cars and motorbikes – to such a degree that she bought a €60,000 pink-upholstered Ford Ranger Raptor with "La Rosalía" embossed in the headrests. Sometimes she takes on a certain childish attitude as if she were a character of one of the anime series she loves. On TikTok, she shared a photo with the message: "POV: When you steal Raul's phone and it has FaceID." The message, written in Spanish and containing spelling mistakes, was difficult to make sense of for those unaware of her relationship with singer Rauw Alejandro, which became public at the end of 2021.
This free-spirited image has left its mark on her music, both in her collaborations and what has been heard of Motomami. Even the name of the album appears to announce a new era that is lighter and fresher. In the video to announce the album launch, Rosalía can be seen covered in red glitter in a jeweled bikini, motorbike helmet and stilettos. The music in the clip is more reminiscent of other contemporary pop artists such as Charli XCX, SOPHIE, Arca or Grimes than of the flamenco which launched her career.
The debate around Rosalía's transformation is not new. The jump from Los ángeles to El mal querer had already raised questions about whether the move from music that paid homage to traditional flamenco to music that was an explosive mix of genres with global reach was part of a sincere and organic transformation, or whether it hid a premeditated and commercial strategy. Rosalía has behind her a team of women, including her sister Pili, who is the artist's stylist, her mother Pilar, the administrator of the company Motomami S.L., which manages the financial side of her career, and her manager Rebeca León, who is a superstar herself within the Latin music industry. But Rosalía has always defined herself as a controlling and detail-oriented artist who devises far-reaching projects. She even studied sound engineering in order to have greater control over the creative process. "I'm not doing it for mere strategic reasons, but rather taking into account the reason why I make music: to share it. The priority is to be connected to each moment that I am living and for this to be a means of communication, not a monologue," she said in an interview with Spanish magazine MondoSonoro in 2018.
Despite his reservations, book coordinator Carrión is still interested in Rosalía's latest project, which he describes as daring. "I sense that she has both discovered so many new popular genres in Latin America and what it means to be a global artist. She has begun to collaborate with the leading figures in reggaeton, trap and other urban music genres and that has led to a fusion [of styles]," he says. He agrees with Sara García, a comedian and the creator of the stand-up show Riot Comedy, who has been closely following Rosalía, her music and her relationship with Madrid-born singer C. Tangana for years. "She has pulled a 'Miley Cyrus' and is making songs that have nothing to do with the aesthetic, rhythms or soul of El mal querer. She is sending us signals that Motomami is not going to have anything to do with what we have seen before."
These signs were always there. Rosalía may be multifaceted and unable to be pigeon-holed, but if there is something that defines her it is the way she incorporates everything she knows into her music. Her first album was marked by her studies in flamenco, while the second mixed this knowledge with personal elements such as the R&B music she listened to as a teen and the sound of motorbikes, which her parents have always owned. When she reached success, she wrote Milionària in her native language, Catalan, and now she is writing about the volatility of fame and sexual pleasure with her partner. She also speaks of her own chameleon-like nature in Saoko ("A butterfly, I transform / Drag queen make-up, I transform").
It's likely that the reservations about her public image on social media, the people around her and the lyrics of her new songs are no more than a manifestation of prejudices, a generational gap and a certain amount of sexism. We are simply not used to seeing a genius being happy, naïve, sexual and exhibitionist and blowing kisses in photos next to Kylie Jenner. Rosalía's greatest talent is in breaking the mold.
Plan to cut hospital waiting lists as Covid eases being finalised by HSE
The Health Service Executive is finalising a multi-annual plan to cut hospital waiting lists, as Covid-19 pressures ease.
Chief executive Paul Reid said the plan will build on previous work done within the Slaintecare process and be ready "within weeks".
The lifting of most restrictions earlier this month had given a great lift to health staff and the situation in hospitals and other services was now much better, Mr Reid told a media briefing on Thursday.
There were 711 patients with Covid-19 in hospital on Thursday, including 74 in ICU.
Some 53 per cent of patients with the virus were there because of Covid, while 47 per cent had been admitted for a different illness but were subsequently diagnosed with Covid, he said.
While this group is asymptomatic, the patients are also infectious, Mr Reid pointed out, and so require infection control measures.
About 4,800 HSE staff are off work due to Covid-19 infection or being a close contact, down 3,000 on two weeks ago.
Chief operating officer Anne O'Connor said hospitals are very busy, with attendances up 41 per cent last week on the same week last year, and 14 per cent on two years ago.
The use of surge capacity has increased and there were 571 delayed transfers of care last week.
Mr Reid enumerated the "learnings" made by the HSE over the period of the pandemic, which can now be built on for the future of the health service. There is greater integration between different services in acute public hospitals, the community and among GPs, pharmacies and private hospitals, he said.
In addition, the key role of public health teams came to the fore during the pandemic. Much had also been learned through the agility demonstrated by the health service during the pandemic, and there is now greater clarity on the role of the centre within the HSE as well as greater access for GPs to diagnostics.
Mr Reid said his priorities for the future were to build capability within the pandemic workforce and to prioritise waiting lists.
The multi-annual plan to improve access to care and reduce waiting lists will go to Government and the HSE board shortly, he said.
Other priorities include the further enhancement of community health networks, the consolidation of a single health service that includes the private sector as waiting lists are being addressed, and improved cybersecurity.
More than 200,000 doses of Covid-19 vaccine have expired as demand dropped and many people were unable to receive them due to recent infection, the briefing heard.
Asked whether he thought the pandemic was at an end, Mr Reid said no-one in healthcare was saying it was over. Yet the need for people to get back to normality was recognised, and there was never a more appropriate time for this than now.
Covid-19 might yet force a "recalibration" in the future but for now there was every reason to celebrate the lifting of restrictions.
When Gabriel García Márquez was investigated over his links to communism | USA
The first book that Gabriel García Márquez gifted to Fidel Castro was Dracula. It was the mid-1970s and the Cuban leader, engaged in the war in Angola, had admitted to his friend that he barely had time to read. Like a kind of literary pusher, the author continued to provide Castro with bestsellers, easy reads to provide a little rest from the revolution. In exchange, Castro became a tough editor of García Márquez's early manuscripts. In Chronicle of a Death Foretold, inspired by a real event, he had the author change even the caliber of the weapons in the novel.
The friendship had begun earlier, the fruit of a dual fascination – of the journalist García Márquez for the trappings of power and Castro's for the great intellectuals – but it was always steeped in literature, to the extent that García Márquez signed over the copyright to Chronicle of a Death Foretold to the Cuban government, according to a document produced by the Mexican intelligence service and dated March 17, 1982. The informant quoted in the files concluded that "Gabriel García Márquez, as well as being pro-Cuban and pro-Soviet, is an agent of propaganda in the service of the Intelligence Directorate of that country."
The Nobel Prize-winning writer's familiarity with Cuba and the rest of Latin America's leftist governments and guerrillas seems to have been what most preoccupied the Federal Security Directorate (DFS), Mexico's political spying service during the monolithic regime of the Institutional Revolutionary Party (PRI), which held power in the country for over seven decades from 1929 to 2000. The dossier on García Márquez runs from the late 1960s, shortly after he took up residence in Mexico, to 1985, when the agency was dissolved.
EL PAÍS has had access to over 100 declassified files via a formal transparency request lodged with the Mexican General Archive of the Nation. The dossier contains details of how García Márquez was shadowed at public events and private meetings, of photographs taken at his door when he received guests and an exhaustive record of his trips to Cuba from 1975 onward, when the author was drawn more deeply into the bosom of Castroism after a period of estrangement.
García Márquez and Cuba
With no passport and no luggage, García Márquez arrived in Havana for the first time just days after the triumph of the revolution, in January 1959. Invited by Castro as a correspondent for Prensa Latina, the official Cuban state news agency recently co-founded by García Márquez himself, the then-journalist spent six months on the island. After the initial idyll, Communist Party control of the agency and Castro's definitive jump into the arms of Moscow led to a cooling of relations. That parenthesis coincided with the author's residence in Barcelona, alongside other leading figures of the Latin American literary boom who were disenchanted with the Cuban dream, such as Mario Vargas Llosa.
During his European years, García Márquez was shaken by another world event: the 1973 military coup against Salvador Allende in Chile. "It was a turning point and served to confirm a period of political radicalization that once again brought him back to Cuba and to militant journalism. He even went so far as to say he would write no more literature until [dictator Augusto] Pinochet had fallen," says Jaime Abello, a personal friend of the author and director of the Gabo Foundation. At that time, García Márquez had already written One Hundred Years of Solitude and his popularity was rising. However, in the midst of his militant turn, in 1975 he published a glowing report on Castro's Cuba in the Colombian magazine Alternativas, which he himself founded as a tool for political agitation.
This was the period when García Márquez featured most heavily in the archives of the Mexican Federal Security Directorate. In addition to monitoring his visits to Havana, the files record García Márquez's support for the Sandinistas in Nicaragua and his mediation, under the condition of anonymity, to get Mexican television to broadcast an interview with four military leaders of El Salvador's FMLN guerrilla movement. There are also records of his meetings with Régis Debray, a French revolutionary and comrade-in-arms of Che Guevara who went on to become an advisor to former French president François Mitterrand.
In the view of Mexican researcher Jacinto Rodríguez, who is writing a book on the DFS' spying activities against intellectuals during that time, García Márquez's file is evidence that he was under "a soft tailing, we could say a normal one. He was always regarded as a foreigner who could not involve himself in national issues and who furthermore always exercised great caution." Rodríguez gives the examples of the Mexican poet Octavio Paz, whose income and debts were monitored, and the Argentinean-French author Julio Cortázar, whose private correspondence was intercepted, as cases that were treated more thoroughly by the DFS. Money and privacy were two of the spy service's favored weapons for pressure, coercion and punishment.
The silent repression of the PRI
García Márquez's most politically radical years coincided with the most brutal era of repression in Mexico. From the 1970s, a criminal alliance between the army and the police gave rise to the murderous and systematic persecution of guerrillas and any other dissidents. It was an offensive embedded as state policy for iron-fisted PRI governments up to at least the end of the 1980s.
This era is still surrounded by impunity and oblivion, highlighting the sophisticated contradictions of the PRI regime: while it opened its arms to political refugees fleeing the dictatorships in Chile and Argentina, at home, it quietly liquidated any social opposition. García Márquez's declassified files make no mention of any criticism of these dark activities in Mexico, but experts have not ruled out that the material made available could be incomplete and that there may be more that remains, for the moment, wrapped in secrecy. "To what extent was he directly involved in matters that directly interested or affected Mexico? It is still a gray area in his biography," says Abello.
García Márquez arrived in Mexico in 1961 after leaving the Prensa Latina correspondent's office in New York. Disenchanted with political journalism, his objective was to try his luck in the world of cinema, another of his passions. The first DFS reports were not filed until 1968, the year of social protests and the Tlatelolco massacre in which over 200 unarmed students were killed by the army (although the figures were never precise).
In December of that tumultuous year, the DFS dossier recorded the creation of the Habeas Foundation, a personal project for García Márquez. It was an organization designed to defend human rights, above all in the case of political prisoners. The DFS informant summed up the foundation's objectives: "To protect and support, financially and legally, people with a Marxist-Leninist ideology who, because of their participation in guerrilla or terrorist organizations, are shielded under the concept of political persecution."
The Habeas Foundation took on dictatorships of various kinds, from Argentina to Chile and Panama, and even democracies such as his native Colombia, itself mired in a guerrilla war. The future Nobel winner threw himself into the foundation during its early years. "It's what I do the most, I think even more than I write," he said. The foundation faced criticism over the supposed soft handling of denunciations against the Cuban regime or the 1968 repression in Mexico. Octavio Paz's entourage, which had temporarily severed ties with the PRI, accused García Márquez derisively of having swapped "magical realism for socialist realism."
Jacinto Rodríguez also notes the extreme prudence exercised by García Márquez with regard to Mexican politics. "They were not so much concerned about him, who was seen as being on the right side, as about the doors that could be opened by keeping a close eye on someone who was so well-connected, with so many contacts." The majority of people who visited García Márquez at his Mexico home are blacked out in the files, but among them are the secretary general of the Chilean Communist Party and the political counselor at the Cuban Embassy.
The shadow of the CIA
Another pattern that shows up in the files with blacked-out portions corresponding to García Márquez's contacts is the repeated mention of the United States: "The American authorities are interested in this person…" The Mexican DFS was founded the same year as the Central Intelligence Agency (CIA), 1947, and the long working relationship between both has been noted often, laying bare another paradox of the PRI regime, which vented the anti-US rhetoric of the era while at the same time bowing to Washington's political police.
Rodríguez acknowledges that "the work of the DFS tends to be interpreted as a bridge with other agencies, but the Mexican service had its own interests very much in mind." In the case of organizations like Habeas, for example, the DFS carried out "preventive control of the extent of its activities to anticipate possible interference in Mexico." The Mexican Secretariat for Home Affairs, Rodríguez adds, had a registry of over 200 international human rights organizations.
The DFS dossier also made note of García Márquez's Nobel Prize, awarded on October 21, 1981. A few days later, the writer received the Order of the Aztec Eagle from the Mexican government. During his acceptance speech, García Márquez spoke of his "pride and gratitude" and underlined, speaking directly to "Mr President," that "this distinction from your government also honors all those exiles who have taken refuge in Mexico."
The "Mr President" in question was José López Portillo, who while receiving exiles escaping from Latin American dictatorships was also spying on García Márquez and overseeing the Dirty War in his own country.