Trudeau says Canadians 'horrified and ashamed' of forced assimilation | Justin Trudeau
Justin Trudeau has said that Canadians are "horrified and ashamed" by their government's longtime policy of forcing Indigenous children to attend boarding schools where nearly 1,000 unmarked graves have now been discovered – but stopped short of launching a national investigation.
An estimated 751 unmarked graves were recently discovered on the grounds of the former Marieval Indian residential school in Saskatchewan which operated from 1899 to 1997. Last month, 215 remains were reported at a similar school in British Columbia.
From the 19th century until the 1970s, more than 150,000 Indigenous children were forced to attend state-funded Christian schools – mostly run by Roman Catholic missionary congregations – in a campaign to assimilate them into Canadian society.
"This was an incredibly harmful government policy that was Canada's reality for many, many decades and Canadians today are horrified and ashamed of how our country behaved," Trudeau said. "It was a policy that ripped kids from their homes, from their communities, from their culture and their language and forced assimilation upon them."
The federal government has previously admitted that physical and sexual abuse was rampant in the schools, with students beaten for speaking their native languages. Thousands of children died of disease and neglect.
The recent discoveries have fanned growing calls across the country for an independent investigation into what happened at the residential schools. Speaking to reporters on Friday, however, Trudeau made no indication his government was considering a national investigation.
Trudeau's government has also come under fire from opposition parties and Indigenous advocates, who have called on him to end litigation against First Nations children who suffered in foster care, and residential school survivors.
The Liberal government has appealed against a 2019 Canadian Human Rights Tribunal ruling that ordered it to pay C$40,000 (US$32,500) to First Nations children taken from their on-reserve homes and communities. The compensation order follows a separate tribunal ruling in 2016, which determined that the federal government failed to provide the same funding to Indigenous children as welfare services elsewhere in the country, a move that amounted to discrimination.
Trudeau's government is also battling survivors of St Anne's residential school in Fort Albany, Ontario, over compensation.
"Should someone who went to a day school for a few months or a year be compensated to the exact same amount as someone who was in a traumatic situation over many, many years, where they were taken from their families and had a very, very different experience?" said the prime minister.
"Right now, the human rights tribunal says everyone should get exactly the same amount. We don't know that that's entirely fair."
Russia further tightens EU gas supplies
Russian firm Gazprom has booked just one third of offered additional gas-transit capacity via the Yamal-Europe pipeline via Poland for November and not booked any volumes via Ukraine, Reuters reports. The tightening of the supplies amid a crunch in world energy markets was "blackmailing Europe in order to obtain Nord-Stream 2 certification", Yuriy Vitrenko, the head of Ukraine gas firm Naftogaz said, referring to Russia's new pipeline to Germany.
Italy using anti-mafia laws to scapegoat migrant boat drivers, report finds | Global development
Italian police have arrested more than 2,500 migrants for smuggling or aiding illegal immigration since 2013, often using anti-mafia laws to bring charges, according to the first comprehensive analysis of official data on the criminalisation of refugees and asylum seekers in Italy.
The report by three migrant rights groups has collected police data and analysed more than 1,000 criminal cases brought by prosecutors against refugees accused of driving vessels carrying asylum seekers across the Mediterranean.
The report by Arci Porco Rosso, the NGO Alarm Phone, and the nonprofit Borderline Sicilia, found evidence of police officers offering immigration papers and other incentives to migrants to persuade them to testify against the suspected boat drivers, who, in some cases were asylum seekers forced at gunpoint by traffickers to navigate refugee boats.
The NGOs claim the new evidence in the report confirms that Italy has spent decades pursuing a policy of criminalising asylum seekers, alleging prosecutors have been filling its prisons with innocent men used as scapegoats.
"We have examined over 1,000 court cases, spoken to hundreds of people involved," the report stated. "We spoke to persons accused of boat driving, lawyers, judges and members of the police and coastguard, to reveal the full extent of Italy's process of criminalising migration."
Using police data and evidence presented in hundreds of court cases, the report revealed how refugees were targeted for prosecution.
Before sending a boat to Italy, from Libya, Tunisia, or Turkey, the report said smugglers often choose a migrant as a driver. This can be someone who does not have enough money to pay for the trip or with experience of navigation.
When the boat enters Italian waters, the authorities ask passengers to identify the driver, who is then arrested.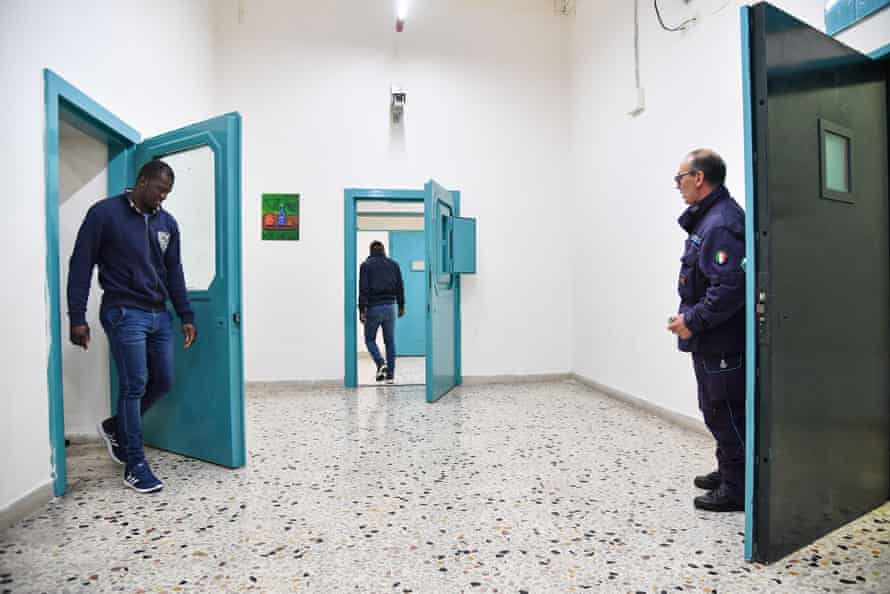 Boat drivers, who often come from war-torn countries, are accused of crimes, from illegally piloting migrant boats to the country, to trafficking in migrants, to criminal association. They can face sentences from 15 years to life in prison.
Although in several court cases judges have recognised the "state of necessity" – that the unlawful conduct is justified to protect the perpetrator or another person from imminent and serious danger – hundreds of cases are currently making their way through Italy's legal system.
Since 2013, at least 24 people have received sentences of more than 10 years, while six have been given life sentences, according to the report.
"This happens when, unfortunately, during the journey, some of the passengers die," said Maria Giulia Fava at Arci Porco Rosso. ''In that case, the boat driver is charged with murder. It is in those moments that justice is transformed into a terrible machine that risks destroying the lives of these people forever."
Four Libyan professional footballers were arrested in Sicily in 2015 and sentenced to 30 years after 49 people died during a sea crossing. The men's families and friends said they were refugees fleeing the civil war to continue their careers in Germany and were forced to pilot the boat. Last year, Libyan warlord Gen Khalifa Haftar reportedly refused to release 18 Italian fishers accused of illegally fishing in Libyan territorial waters until Italy had freed the footballers. But the move was unsuccessful.
Italian prosecutors' use of anti-mafia laws in the cases of migrant boat drivers, which the report said has been framed as a continuation of the country's prolonged battle against organised crime, has led to hundreds of boat drivers facing draconian charges, such as criminal association.
Evidence in the report appears to show that in some instances police have offered incentives to migrants to identify those driving the boat as being part of smuggling operations.
"In one case a Nigerian witness told us that the police officers promised him that, by providing an accusatory statement [against a boat driver], he would be allowed to go to school and have a bed in a hostel,", said the report. "Sometimes, the same thing happens with translators, who are asked by the authorities to find the boat drivers among the other passengers."
International monitors suspend Russia-Ukraine mission
International monitors in Russia-occupied east Ukraine have suspended operations to protect staff following protests in Donetsk over Ukraine's capture of Andrei Kosyak, who Ukraine said was a Russian national on a covert mission. "Because of safety concerns and because of our safety rules and considerations we suspended our operations," Yaşar Halit Çevik, the chief monitor of the Organisation for Security and Cooperation in Europe's 'special monitoring mission', told Reuters Sunday.