Travel in the EU: From Ryanair boarding passes to TIE residency cards: the latest Brexit updates for Brits in Spain | Trans Iberian | Spain
The coronavirus pandemic has led to widespread travel restrictions between Spain and the United Kingdom, with foreign trips all but banned by the British government until recently and Spanish authorities setting strict limits for entry. The disruption has had a side effect, meanwhile, which is to mask the changes that have also been brought into force thanks to Brexit, the UK's withdrawal from the European Union. In recent weeks, rumors have abounded on social media as to requirements for entry into Spain when traveling from the UK, as well as other aspects of the post-Brexit world. Below you will find a summary of recent advice from Spain, the British government, the UK embassy in Madrid and support groups assisting citizens post-Brexit.
Entering Spain from the UK
Since May 24, Spain has been allowing travelers from the United Kingdom to enter the country without the need to supply a negative test for coronavirus. Also gone are the restrictions that had been in place since Christmas time – when a more-contagious coronavirus variant was detected in England – that limited entry to Spanish nationals, those with residency, and a handful of other exceptions. Despite claims on social media to the contrary, there is currently no need to provide proof of vaccination against Covid-19 when traveling to Spain from the United Kingdom. According to the gov.uk official advice, "travelers from the UK should be prepared to present evidence of a negative test if they have traveled to a country on Spain's list of 'risk countries' in the 14 days prior to travel." The site adds that "in some parts of Spain, a negative test is required when checking into tourist accommodation or when traveling to the islands from mainland Spain." You can find the full information from the gov.uk website about travel from the UK to the EU, Switzerland, Norway, Iceland or Liechtenstein here.
Form filling for travelers
One thing that visitors will still have to do before reaching Spain is complete a health form, which can be found at this address. Spain remains on the UK's "amber list" of countries for now, meaning that people making the opposite journey, from Spain to the UK, will have to take a number of pre-travel steps. These include filling out a passenger locator form, taking a coronavirus test to present at the UK border, as well as booking two home PCR tests, which must be taken during an obligatory 10-day quarantine period once back in the UK. Only when these 10 days have passed and both tests come back negative can quarantine end, although there is an option to shorten the period slightly by paying extra to use the government's "test to release" scheme.
'Carta de invitación'
There has been a lot of speculation recently both on social media and in the press about whether UK visitors to Spain who are coming to stay with friends and family, and do not have tourist accommodation booked, have to complete and pay for a carta de invitación, an official form that specifies who you will be staying with while in Spain. The form includes a range of information, including the personal details of the invitee and the invited, the relationship between both parties, and the planned length of stay. According to the Citizens Advice Bureau Spain, "many visitors from third countries such as the USA or Australia to name a few, have not been asked for an invitation letter on arrival in Spain." And it would appear for now that it is not being requested of UK nationals arriving in the country either.
A British Embassy spokesperson told EL PAÍS: "British nationals visiting Spain should be prepared to show proof of return or onward journey, sufficient funds for their visit and proof of accommodation, such as a hotel booking confirmation, proof of address if visiting a second home or an invitation from a host, at the border. The Spanish government has clarified that the carta de invitation is one of the options available to demonstrate proof of accommodation if staying with a host in a private home.
"British nationals should check FCDO [Foreign, Commonwealth and Development Office] travel advice for details of entry requirements and travel restrictions that may be in place because of Covid-19."
The full advice on entry at the gov.uk website is very similar:
"At Spanish border control, you may need to use separate lanes from EU, European Economic Area and Swiss citizens when queueing. Your passport may be stamped on entry and exit. You may also need to:
show a return or onward ticket

show you have enough money for your stay

show proof of accommodation for your stay, for example, a hotel booking confirmation, proof of address if visiting your own property (e.g. second home), or an invitation from your host or proof of their address if staying with a third party, friends or family. The Spanish Government has clarified that the carta de invitation is one of the options available to prove that you have accommodation if staying with friends or family. More information is available from the Spanish Ministry of Interior."
Conclusions? The carta de invitación does not appear to be a requirement for UK nationals for now, but that could still change in the future. In the meantime, be prepared to supply the other aforementioned documents on arrival at the Spanish border.
TIE residency cards
One of the most persistent rumors that the Brexpats in Spain campaigning group has sought to address is that of a reported "deadline" for UK nationals resident in Spain to swap their green residency cards (either the credit-card size or the A4 sheet version, officially known as the Certificado de Registro de Ciudadano de la Unión) for the new TIE plastic identity card. While there is still no official deadline to do this, the British Embassy has just changed its advice on the issue, and now recommends that the TIE be obtained "for ease of identity and sturdiness," Anne Hernández from Brexpats in Spain reports in a Facebook post after meeting with the British Embassy in Madrid. Despite this advice, however, the green certificates will still remain valid.
As Sue Wilson points out in a Facebook post on the Bremain in Spain website, another benefit of the TIE card is that it carries a photo, and "your [Withdrawal Agreement] rights are visible, so hence easier for other EU countries to recognize/easier to travel in general." Wilson also addresses the high volume of requests for the application process for TIE cards, explaining that "resources have been put in place in some areas – notably in the Alicante province – to deal with the backlog." She continues: "It is not necessary, where you have the choice, to go to the nearest police station in your province, so if you are able to travel a bit further, you may find it easier to get an appointment. Your nearest office may have a backlog, but your second nearest may have nobody waiting at all."
The British ambassador in Spain, Hugh Elliot, has published the following video with his advice on the issue.
Passport stamping
Since Brexit came into force on January 1, 2021, and freedom of movement ended for UK nationals, British visitors to EU countries can expect to have their passports stamped when arriving and leaving. However, under the terms of the Brexit Withdrawal Agreement, this should not be happening for UK nationals with valid residency in Spain. A spokesperson for the British embassy recently told EL PAÍS: "UK nationals who hold a valid residence document (TIE or green EU residence certificate) will not need a visa, should not have their passport stamped or be subject to routine intentions questioning, nor be required to prove sufficient means of subsistence at the Schengen border. If you have had a stamp placed in your passport, this will be null and void once you are in Spain/the EU as your residence permit negates its effect. If you are a resident of Spain, you should always travel with your valid passport and residence document. Showing your residence document should negate any stamp in your passport when entering or exiting the external Schengen Border in the future."
When I traveled at Easter, however, my passport was stamped on my outgoing journey from Spain before I could ask the police officer not to do so. My personal recommendation, based on this experience, is that you present your residency card with your passport and request that your document not be stamped at the Spanish border. Whether the officer in question will comply is another story…
Driving licenses
Another issue being faced by UK nationals resident in Spain post-Brexit is the issue of exchanging driving licenses. Here is the latest information on this issue direct from the British Embassy.
Ryanair boarding passes
A recent rumor that appeared both on social media and in some online newspapers claimed that UK nationals would no longer be permitted to use online boarding passes when flying into the European Union, as per screenshots that were widely circulated of the budget airline's terms and conditions. I recently contacted Ryanair, however, who confirmed that this is not true and that mobile boarding passes are still available to British nationals. "Additional questions may need to be answered in the online check-in process but mobile passes will still be administered once this is complete," the Ryanair press office stated.
Voting rights for UK nationals resident in the EU
One piece of good news for UK nationals living abroad arrived this week: British citizens will be given "votes for life" as the government of Prime Minister Boris Johnson is scrapping the current 15-year limit on voting rights. The restriction has meant that until now anyone who has lived outside of the UK for more than that time period cannot vote in general elections or referendums – including the 2016 vote on Brexit. According to a statement from the British embassy in Spain, "decisions made in the UK Parliament on foreign policy, defense, immigration, pensions and trade deals affect British citizens who live overseas. It is therefore right that they have a say in UK Parliamentary General Elections.
"The changes, which will form part of the Elections Bill, will also include measures to enable overseas electors to stay registered to vote for longer, with an absent voting arrangement in place."
In a statement, UK ambassador to Spain Hugh Elliott said: "In an increasingly connected world, most British citizens living in Spain retain deep ties to the United Kingdom. Many still have family there, worked there for many years, and some have even fought for our country. They deserve to have their voices heard in Parliament, no matter where they live, and I am delighted that UK nationals living in Spain will now be able to participate in our democracy."
Weeding out the disinformation
If you are affected by the issues that have been discussed above and want to avoid rumors and disinformation, my advice is to sign up for updates from the UK government about living in Spain here, and start to follow the following groups and accounts on Facebook: Citizens Advice Bureau Spain, British Embassy in Madrid, Brexpats in Spain, and Bremain in Spain. The official travel advice from the UK government is here. You can find all of the English Edition stories about Brexit here, and can follow us on Facebook and Twitter for all the latest stories as we publish them.
For any updates or corrections to this story, please contact the author Simon Hunter via his Twitter account.
Russia to lose Swift access, pipeline if it invades Ukraine
"Work is already underway for … disconnection of Russia from the Swift banking system, sanctions on the Russian gas pipeline Nord Stream 2 [to Germany]," if it invades Ukraine, Latvian foreign minister Edgars Rinkēvičs said in The Guardian Tuesday. "If [Russian president] Vladimir Putin wants to see gas flow through that pipeline, he may not want to take the risk of invading Ukraine," US national-security adviser Jake Sullivan told Reuters.
Can artistic freedom survive in Sudan? The writing's on the wall… | Global development
In the new dawn of a heady post-revolutionary era, Suzannah Mirghani returned in 2019 to the country of her birth for the first time in years. Her mission was to shoot a short film on Sudanese soil. It proved unexpectedly straightforward.
"When the revolution happened, there was this exuberance," she says, from her Qatari home. "When we came to make our film, we were given the green light. We were told: 'Anything you want'.
"Nobody harassed us. Nobody told us what to do. Nobody asked us for the script. I call this time in the history of Sudan 'the honeymoon'," says Mirghani.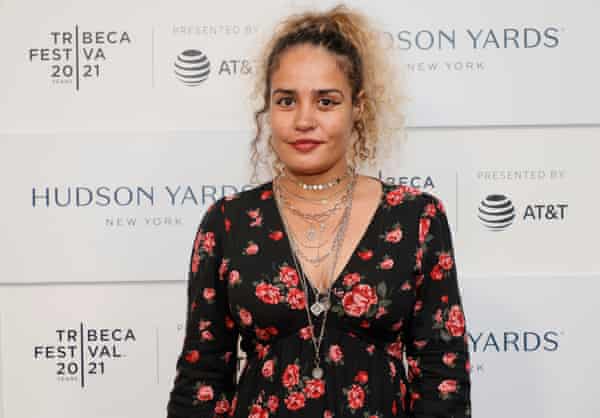 More than two and a half years after the toppling of the longtime dictator Omar al-Bashir, Mirghani fears the honeymoon is over, at least for her. The turmoil into which Sudan has again been plunged means she feels unable to return safely.
On 31 October, as her film, Al-Sit, won the latest of many awards, Mirghani had to give an acceptance speech that was anything but celebratory.
Six days before, the military had seized power in a coup, detaining the civilian prime minister and bringing the country's fragile transition to democracy to an abrupt halt.
In a video address from Qatar to the Africa in Motion film festival in Scotland, Mirghani said "the only reason" she and her crew had been able to make Al-Sit was the active encouragement given by the civilian-military partnership government. "Now," she added, "we're in very serious danger of going back to the bad old days of military rule and stifling creative expression."
Since the coup, a lot has happened: huge pro-democracy protests thronged through Khartoum and other cities, with at least 40 demonstrators killed.
After almost a month, the prime minister, Abdalla Hamdok, was released as part of a deal struck with the coup leader, Gen Abdel Fattah al-Burhan.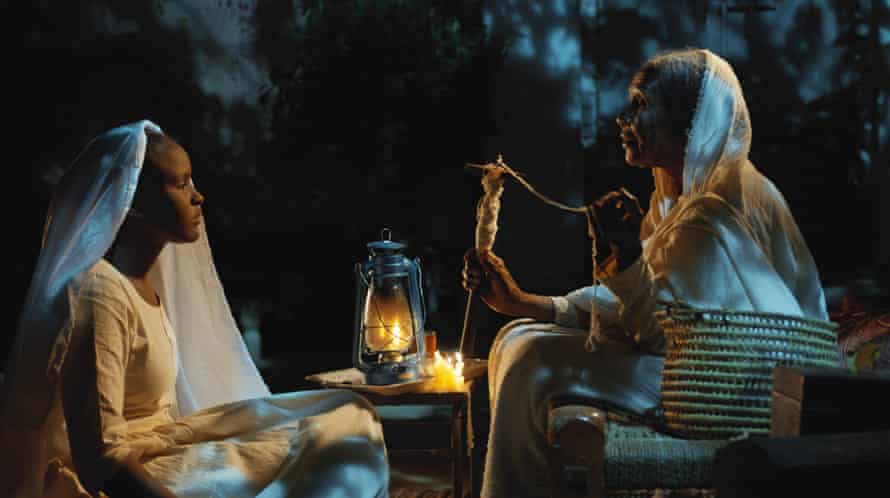 But the protesters, who want the military out of politics for good, are not convinced, and even less so as security forces fire teargas into the crowds that continue to gather despite Hamdok's return. With the creative gains made after the revolution now hanging in the balance, Sudanese artists feel they have to speak out.
"We artists will be the first to be targeted if the military government continues in power," writes Aamira*, a painter, in an email from Khartoum. "We are demonstrating in the streets, facing guns, unarmed. There is nothing to fear any more."
In an interview with the Financial Times last week, Hamdok defended his decision to strike a deal with the military, saying it was essential to stop the bloodshed and "preserve the achievements of the last few years".
It may not have been uppermost in his mind, but one of those achievements was the flowering of an artistic community that had long been harassed, censored and forced into the shadows. Assil Diab, a street artist, says: "I painted Omar al-Bashir as the [face of] coronavirus in a stadium in Bahri during the daytime, which would have been just impossible; my whole family could have been killed two years ago."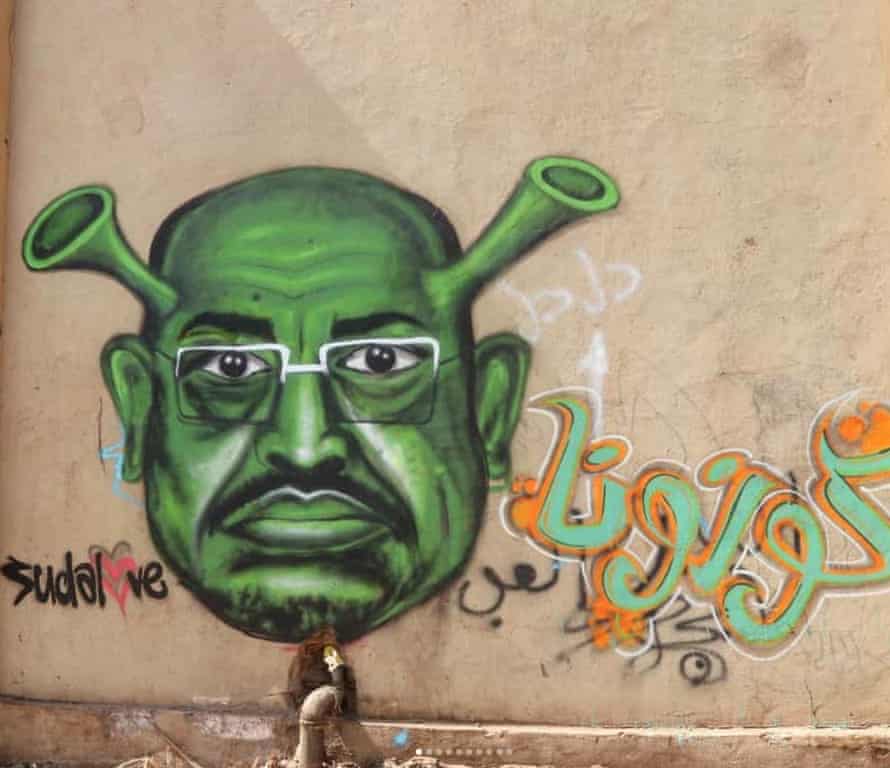 Feeling compelled to return amid the revolutionary fervour, Diab returned to Sudan in 2019 and made her name painting the faces of the revolution's "martyrs" on the outside of their families' homes, with a getaway car close by in case the notorious paramilitary Rapid Support Forces saw her.
For Mirghani, the "absolute elation" of the revolution yielded creative results. Al-Sit is the beautifully observed story of a Sudanese village girl whose parents want her to marry the sharp-suited son of a wealthy cotton trader in Qatar. "To finally be able to express yourself, to say what you had wanted to say to these people for 30 years: it's amazing.
"My film is about women's rights. It's social commentary on arranged marriage. I don't think we could have said that a few years ago," says Mirghani.
The "honeymoon" was not without its challenges. The dictator was gone, but social and religious conservatism – and a reluctance to champion the arts – remained. Artistic freedom was patchy: in 2020, the renowned film-maker Hajooj Kuka and several others were detained during a theatre workshop.
Asim*, a documentary film-maker in Khartoum, says that, although in the capital the "direct censorship" of the Bashir era has eased, the rest of Sudan is not as relaxed. "It's partially freedom and partially censorship," he says. "It is a battle about 10% won."
Khalid Albaih, a political cartoonist based in Qatar, returned after the revolution to launch the Sudan Artist Fund (SAF), to provide budding creatives with money and mentors, and with an ambitious plan to create a public art and design library. He says: "I thought: this is it. All doors were open and this is what we were going to do.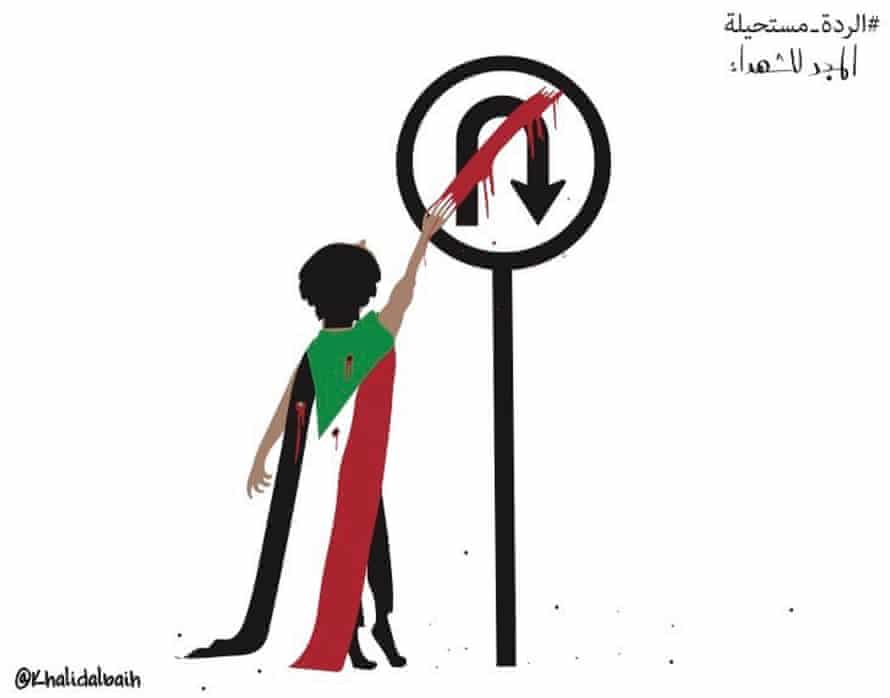 "I took all my papers, and for the first time in 10 years I'm in Sudan walking around, not scared of any police, or secret police, or anything. I went to every business owner in Sudan and everyone that can donate money to these causes. And I got nothing but rejection – for a library and for an artists' fund."
Finally, Albaih secured $7,000 (£5,300) from CultuRunners, a cultural exchange organisation, and the SAF awarded its first grant of $500 in October – just before the coup. "It was incredible because the internet cut out [after the coup leaders imposed a nationwide online blackout] so the artist didn't even know he had won. We had to call him. It took two or three weeks to send the money to him," says Albaih.
The cartoonist knows there will not be any more funding for a while. "Now everything is rocky. No one knows how things will go. It's going to be really hard for artists and these kinds of initiatives to move forward.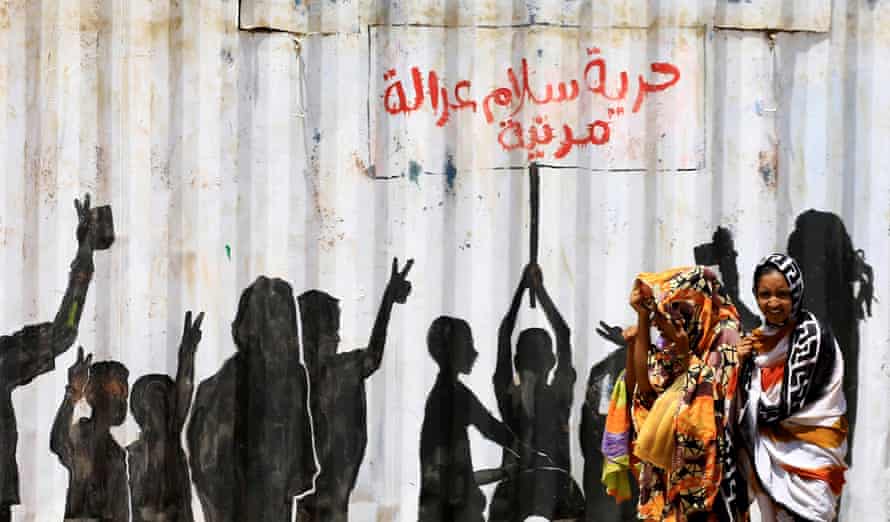 The coup, says Diab, left the creative community feeling "disappointed and just broken down … because we finally thought we were free and then this happened." She intends to apply for political asylum in the US, where she is studying, feeling she "can be of better use to Sudan" from overseas.
Those in the thick of it cannot afford to give up hope. Asim was at a protest in Khartoum against the post-coup deal last week and was "teargassed the entire afternoon" amid chants of "no partnership, no negotiation, no legitimacy". He is realistic about future challenges but knows that people have made up their minds.
"I feel like there is a grip on power and it will not end today; it will not end tomorrow. Whether those power-hungry authoritarians will roll with democratic transition and allow people to express their freedoms, allow journalists and film-makers to operate or not, that is something that is still [up in] the air, because you never know with the ever-changing dynamic of power in this country," he says.
The momentum towards democracy is undeniable, he says. "I believe that is possible and I believe there is hope. The people will not stop asking for what they really want. [Will] that future come tomorrow? The day after? In two years? In five? We never know. But it seems like the consensus is that people agree it has to happen."
*Names have been changed to protect their identity
Sign up for a different view with our Global Dispatch newsletter – a roundup of our top stories from around the world, recommended reads, and thoughts from our team on key development and human rights issues, delivered to your inbox every two weeks:
EU agrees to sanction Russian mercenaries
EU diplomats have provisionally agreed to blacklist three Russian nationals and one entity, the 'Wagner Group' mercenary outfit, on grounds of human rights abuses in Africa and the Middle East, diplomatic sources said. The decision will be formalised by foreign ministers next Monday. The move comes amid Wagner's increasing presence in Mali, threatening French interests in the region. Europe earlier sanctioned a Russian oligarch, Yevgeny Prigozhin, said to fund Wagner.