Top fashion brands face legal challenge over garment workers' rights in Asia | Human rights
Legal complaints are being filed against some of the world's largest fashion brands in major garment-producing countries across Asia in a groundbreaking attempt to hold the global fashion industry legally accountable for human rights violations in the countries where their clothing is made.
The Asia Floor Wage Alliance (AFWA), a pan-Asian labour rights group, says it is using legal challenges to argue that global clothing brands should be considered joint employers, along with their suppliers, under national laws and be held accountable for alleged wage violations during the Covid-19 pandemic.
Two of these complaints have already been filed with the authorities in India and Sri Lanka, with further complaints pending in Indonesia and Pakistan.
In India, AFWA and local labour unions have filed a legal complaint against H&M to the labour department in Bengaluru. The complaint asks that H&M be held jointly liable for alleged labour abuses that took place in 2020 at a supplier factory, where it claims the brand "has total economic control over the workers' subsistence, skill, and continued employment".
A similar legal complaint has been submitted to the labour commissioner in Sri Lanka against Levi Strauss, Columbia Sporting Company, Asics, DKNY and Tommy Hilfiger claiming they are acting as "shadow employers" at a supplier factory in Katunayake where workers lost their jobs and did not receive full pay.
The central claims and arguments of the legal complaints were based on extensive interviews and analysis that AFWA conducted for a new report it launched this week.
The report looked at the impact of "wage theft" in six garment-producing countries – in which it claimed that many of the world's largest fashion brands were jointly responsible for a fall or "gap" in wages, and the resulting poverty and destitution of millions of garment workers across Asia.
It argues that the actions of fashion brands during the pandemic in cancelling billions of dollars of clothing orders directly resulted in severe humanitarian consequences for workers in their supply chains.
Many workers lost their jobs, had their hours cut or were sent home without pay for months at a time. The pre-existing poverty-level wages of garment workers across Asia did not provide any form of safety blanket that would have allowed them to tide over loss of employment and wages during the pandemic.
The report also claims that even though workers' rights were protected under national laws, most garment workers did not have the access or power to seek redress for lost wages during the pandemic due to the need to find other work, the threat of destitution and low enforcement of labour laws by the authorities.
One worker from Sri Lanka, who wished to remain anonymous, said that she was unable to feed her children after her hours were cut in the summer of 2020.
"Our employer told us that the brands had cancelled orders so we were forced to take holidays and our hours were reduced," she said. "Already, I was struggling to survive on my wages and relied on overtime to cover costs, and so I found that I couldn't afford to buy enough food for the family. Every day I was afraid, wondering how we would survive."
Ashim Roy, an Indian trade unionist and AFWA member, said that legal action was the only way to ensure that brands were forced to put workers' rights over profit.
"After the carnage that was unleashed on workers last year we wanted to examine the possibility of holding brands legally accountable instead of only having the leverage or threat of reputational damage," he said.
"We are confident that in some countries there is very strong case law for joint liability, but it has never been tested for a brand and a supplier. Our core argument is that the reality of fashion supply chains is that brands do not just buy garments. They determine and control every step in the production process of that garment being made and so they should not be able to continue to argue that the workers who make their clothes do not work for them."
In a statement on the legal complaint, H&M said: "Although it is our suppliers who employ the garment workers, we as a large company have a responsibility to do our utmost to contribute to a good dialogue between trade unions and suppliers to help them come to an agreement if conflicts arise."
It also said that in the specific case referred to in the legal complaint, the workers were paid "in line with legal regulations".
Columbia Sportswear Company said that it had received no evidence of a complaint to the labour commissioner. It said it did not cancel orders or re-negotiate product costs for open orders, adding: "We believe that the strategies we enacted were able to reduce the impacts of the global pandemic on our supply chain partners and their employees."
Asics also said it had not received notice of the legal complaint, and said that it did not agree with the argument that it had a joint business relationship with its suppliers.
It said all workers at the supplier factory named in the lawsuit were fully compensated in line with local labour laws and it did not cancel any orders during the pandemic.
Levi Strauss declined to comment on the lawsuit, but said it had taken full responsibility for orders placed before the onset of the pandemic and had provided more than £1m in grants to organisations supporting garment workers.
DKNY and PVH, the owner of Tommy Hilfiger, did not respond to requests for comment.
By 2050, a quarter of the world's people will be African – this will shape our future | Edward Paice
In 2022 the world's population will pass 8 billion. It has increased by a third in just two decades. By 2050, there will be about 9.5 billion of us on the planet, according to respected demographers. This makes recent comments by Elon Musk baffling. According to him, "the low birthrate and the rapidly declining birthrate" is "one of the biggest risks to civilisation".
Fertility rates in Europe, North America and east Asia are generally below 2.1 births per woman, the level at which populations remain stable at constant mortality rates. The trajectory in some countries is particularly arresting. The birthrate in Italy is the lowest it has ever been in the country's history. South Korea's fertility rate has been stuck below one birth per woman for decades despite an estimated $120bn (£90bn) being spent on initiatives aimed at raising it. Japan started the century with 128 million citizens but is on course to have only 106 million by 2050. China's population will peak at 1.45 billion in 2030, but if it proves unable to raise its fertility rate, the world's most populous country could end the century with fewer than 600 million inhabitants. This is the "big risk" alluded to by Musk. The trouble is, his statement seems to imply that "civilisation" does not include Africa.
The populations of more than half of Africa's 54 nations will double – or more – by 2050, the product of sustained high fertility and improving mortality rates. The continent will then be home to at least 25% of the world's population, compared with less than 10% in 1950. Expansion on this scale is unprecedented: whereas the population of Asia will have multiplied by a factor of four in this timeframe, Africa's will have risen tenfold. "Chronic youthfulness", as demographer Richard Cincotta has termed it, is the result: 40% of all Africans are children under the age of 14 and in most African countries the median age is below 20.
African mothers will have about 450 million children in the 2020s. This is projected to rise to more than 550 million in the 2040s, about 40% of all children born worldwide in that decade. Overall, low or rapidly declining birthrates remain the exception rather than the rule in most of Africa. Globally, the number of births are at their highest level ever – 140 million a year – and are unlikely to fall by much in the course of the next two to three decades.
That is some bow wave underpinning future population growth, for good or ill (or both). With continuing high fertility in east, west and central Africa, the continent will contribute 1.3 billion of the 2 billion increase in the global population between 2019 and 2050. By then, the populations of east and west Africa will each exceed that of Europe. Thereafter, Africa's varied demography will be one of the principal determinants of whether the global population will peak in the second half of the 21st century or continue growing, a vexed and contested issue with added significance in the age of the climate crisis.
Elon Musk's population implosion narrative is not original. It echoes that of Dr HB McKlveen, warning of the "depopulation of civilised nations" in the Journal of the American Medical Association in 1895; and that of many western economists in the 1930s, John Maynard Keynes among them. More than 50 years after the publication of Paul Ehrlich's bestselling The Population Bomb, explosion narratives also burst forth at regular intervals. To date, human adaptability and resilience have overcome demographic crises (such as the Black Death in the 14th century), and periodic alarmism. This is not intended to sound complacent or Panglossian, merely to caution that alarmist narratives are invariably touted for ideological or some other specific reasons. Beyond two or three decades, demographic futurology is fraught with pitfalls, although not nearly as hazardous as medium- and long-term economic or weather forecasting.
The omission of African demography from Musk's pronouncement is symptomatic of colossal shortcomings in the understanding of Africa and its constituent countries in the west. African delegations are bit-part players at global gatherings like Cop26, despite the ramifications of the climate crisis for the continent (and its potential for countering deleterious effects). Western governments have been slow to cooperate with African counterparts in the battle to contain Covid-19, and have done woefully little by way of assistance. Africa remains fundamentally marginalised, including in stereotypical depictions in most western media and the imaginations of most western citizens. This lamentable state of affairs cannot – will not – endure.
Sheer weight of numbers must bring about a reimagining of African countries and their populations. This alone will impact geopolitics, global trade, technological development, the future of the world's dominant religions, patterns of migration – almost every aspect of life. More widespread familiarity with the continent's diverse demographic characteristics and trajectories is a good entry point to this reimagining. Oh, and it might also help to be ever-cognisant of the fact that the landmasses of China, the US, Europe, India and Japan can all fit inside this continent that will loom ever-larger in the lives of its neighbours and the world.
Sign up for a different view with our Global Dispatch newsletter – a roundup of our top stories from around the world, recommended reads, and thoughts from our team on key development and human rights issues, delivered to your inbox every two weeks:
MEPs keen to speed up green-transition fund for poor
The EU should start paying out its €72bn fund for helping poor households shift to green energy in 2024, instead of 2025 as previously planned, according to a European Parliament proposal seen by Reuters. "The green transition should be feasible for everyone," Dutch centre-right MEP Esther de Lange said. "The fund should not be used to buy Teslas …. but rather small- and medium-sizes cars for everyday families," she added.
Hope and pride: Zimbabweans put the country on the map in world of wine | Global development
Like many young Zimbabweans before and since, Tinashe Nyamudoka left the economic chaos of his country to find work and a better life for himself in neighbouring South Africa.
When he left in 2008, Nyamudoka had never tasted wine. Now, he ranks among southern Africa's top sommeliers and has his own wine label with international sales.
"We have a lot going against us as Zimbabweans, and you might think there is nothing good coming out of the country," says the 36-year-old. "So, for me to be recognised as the [top] sommeliers in the world, being African and Zimbabwean, instils a sense of hope and pride."
Nyamudoka began his career as a waiter in a Cape Town restaurant, where he learned about the different varieties and tastes of the wines his customers drank. He moved on to become a hotel wine waiter, working alongside some of the city's leading sommeliers.
After studying his trade, he won the best wine steward award in a competition for luxury hotels in the Western Cape in 2013.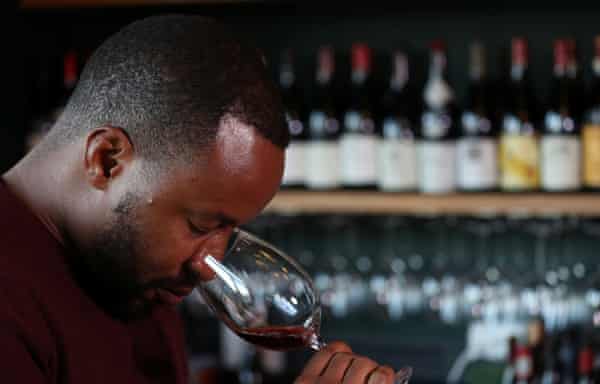 His talents received international attention when, in 2017, he and three other Zimbabwean sommeliers were selected to take part in the World Blind Tasting Championship in France. The team was the first from Zimbabwe to take part in the contest, in which competitors have to use just their palate to identify the variety of grape, country of origin, appellation, vintage and producer of the wines.
The Zimbabweans did not win – coming 23rd out of 24 teams – but their story became the subject of a documentary released last year, Blind Ambition, which Nyamudoka says brought him "a sense of pride". The team returned to the competition the next year and this time came 14th – beating the UK and the US teams.
His wine label, Kumusha – "home" or "roots" in Zimbabwe's Shona language – has benefited from his celebrity, producing 200,000 bottles a year, up from 1,200 when it was launched four years ago. "People started embracing it," he says.
"I conceptualised it [the label] around 2014," he adds. "Xenophobia was hitting home [in South Africa] and we were all missing kumusha."
The eight Kumusha wines – three reds, four whites and a rosé – are all produced in South Africa. They are sold in the US, the Netherlands, Kenya and Zimbabwe – "my exciting market", he says. This month, he is starting to export his wines to the UK.
"I started this brand from scratch with no aid or financial handouts. It has been pure grit, passion and dedication," he says. "I want people to understand that you can make it without prejudice."
But Nyamudoka says he has encountered racism on his way to the top of a white-dominated industry.
"There are instances where you get to a tasting, and it is all white [people], you kind of feel out of place. At work, you cannot get the position you want because you are black. It comes in different forms. It is not obvious, it is much more subtle," he says.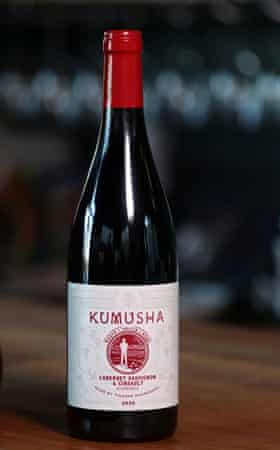 "When I was in my last days on the floor [in a restaurant], people would recognise your talent, but they would not give you your flowers [recognition] because you are not like them. It is like you must work twice as hard to prove yourself. It is always going to be there, I suppose."
Nyamudoka, who sits on the board of the recently established Sommeliers Association of Zimbabwe, hopes that his achievements will encourage other Zimbabweans to enter the wine industry.
"There's been an emergence of black sommeliers in the world as the industry becomes more diverse. We see the hospitality offering in Zimbabwe improving and there will be a need for sommeliers."
A fellow sommelier, Takura Makadzange, agrees. Also from Harare, Makdazange, 38, trained in Australia, working his way up from hotel porter to restaurant owner. Now, he is back in Zimbabwe.
"I came back home because there are plenty of opportunities. There is plenty of space in hospitality. Recently there has been more of an explosion in the food and drink sector in Zimbabwe, especially speciality wines that are being made now.
"The industry has grown, the fish industry has grown and we can have access to wildlife and game meat. Promoting the local food and beverage industry is a no-brainer. We have something that no one else does. National pride is important but also we have beautiful products," he says.
Makadzange qualified for last month's Ubuntu Sommelier Trophy in South Africa, but had to withdraw when he caught Covid-19.
"There are instances where a less-qualified white person is trusted with looking after the wine list over any person of colour, but you have to keep moving," he says.
"It is very unusual for a Zimbabwean to do well in this field. We want to continue that trajectory.
"I think it's time we have more women sommeliers from Zimbabwe so, hopefully, I will train someone to get to the standard of competing."
Sign up for a different view with our Global Dispatch newsletter – a roundup of our top stories from around the world, recommended reads, and thoughts from our team on key development and human rights issues, delivered to your inbox every two weeks: