Time is running out for Holocaust survivors | Society
Shimon Redlich, an 87-year-old Holocaust survivor and author of the book Together and Apart in Brzezany, said: "As long as the survivors are alive and can remember, their testimonies must be recorded. Every story is unique."
Edith Bruck is a 90-year-old Auschwitz survivor. Hungarian-born, she writes in Italian, and is the author of classics such as Who Loves You Like This? In a recent interview, she said: "Our lives do not belong to us. They belong to history."
The survivors of the Shoah have allowed us to look into the abyss of the incomprehensible. They have brought generations of readers closer to an experience that can be transmitted, but not shared. However, as the years go by, the era of the witnesses is coming to an end. With their passing, something irreplaceable will disappear.
Boris Pahor passed away last May at the age of 108. A Slovenian born in Trieste, Italy, Pahor was deported as an anti-fascist resistance fighter during World War II. He is the author of one of the most prominent books on the Nazi camps, Necropolis. "My every word [was] driven by the fear of slipping into banality," he writes.
The fear of banality and the impossibility of transmitting what was suffered has been a constant in Holocaust literature since the publication of the first great literary testimony of the camps, If This Is a Man by Primo Levi.
Another fear that many witnesses have conveyed is the empty space they will leave behind when the last of them disappears… the incommunicable experience they will take with them.
In an interview with EL PAÍS in 2000, the now-deceased Buchenwald survivor, Spanish writer and politician Jorge Semprún, reflected on the disappearance of those who witnessed the Holocaust: "Do you know what is the most important thing that happened in a concentration camp? Do you know the most terrible thing, the only thing that cannot be explained? The smell of burning meat. What do you do with the memory of the smell of burning meat? For those circumstances, there is, precisely, literature. But how do you talk about it? Do you compare? And what about the obscenity of the comparison? Do you say, for example, that it smells like burnt chicken? Or do you try to reconstruct the general circumstances of the memory, going around the smell, round and round, without facing it? I have inside my head, alive, the most important smell of a concentration camp. And I can't explain it. And that smell is going to go away with me, as it has already gone with others."
"We have been talking about the end of the survivors for almost three decades," says Alejandro Baer, professor of sociology and director of the Center for Holocaust and Genocide Studies at the University of Minnesota. "That concern has spurred memory in the form of the creation of archives of oral and audiovisual history of survivors, documentaries, even virtual reality projects. But whoever has had the opportunity to meet the witnesses knows that nothing will make up for their absence. Because it is not just about the information they provide, but about the nature of the encounter and the transformation it produces: becoming a witness of the witness. If we look for something that approaches that experience, we will not find it in technology, but in testimonial literature."
If This Is a Man was published in 1947. Levi himself explained that the publisher went bankrupt and that the book remained forgotten for more than a decade: the first printing of 2,500 copies went unnoticed. Society was not yet ready to read about those horrors, not only because the stories about the extermination confront us with the idea that anyone can be a victim, but because they force us to consider that we too could have been executioners. That same year, 75 years ago, The Diary of Anne Frank was published in the Netherlands under the title The secret annex. Its translation was rejected by various American publishers until Judith Jones of Knopf insisted on publishing it. The diary became an international success in the 1950s.
In the Federal Republic of Germany, Auschwitz did not become a household name for most of the population until the late-1970s, when the series Holocaust was released. That five-episode telefilm sparked a heated debate between those who saw it as a product of popular culture that trivialized the Holocaust by turning it into a family melodrama, and those who thought it did more than any eyewitness account to make Germans stand up to their dark past.
"It is an insult to those who survived. What appears on the screen has nothing to do with what happened," wrote Nobel Peace Prize winner and Auschwitz survivor Elie Wiesel, the author of Night. However, a survey published after its broadcast revealed that 70% of German young people between the ages of 14 and 19 said that they had learned more about Nazism from the series than at school.
This debate revealed another dimension to the horror of the camps: Is it legitimate to put yourself in the shoes of someone who has suffered something that cannot be explained? Is it possible to use the Holocaust to write fiction?
John Hersey wrote the first American Holocaust novel, The wall, between the 1940s and 1950s. It took place in the Warsaw ghetto; Hersey had met with survivors and visited the ruins of the Polish capital. However, his biographer, Jeremy Treglown, wrote that Hersey was faced with similar questions about authenticity: "Who owns the narrative? Can a young privileged white Anglo-Saxon from New England put himself in the shoes of the suffering of European Jewry under Nazism?"
Since the success of The boy in the striped pajamas, this debate has only grown. Novels with "Auschwitz" in the title have multiplied. The latest one is titled The dressmakers of Auschwitz. Some, such as The librarian of Auschwitz, by Antonio Iturbe, have sold hundreds of thousands of copies and received critical praise. Others, like The tattooist of Auschwitz, have been scrutinized by experts. The Auschwitz Memorial made a resounding statement about this best-seller by Heather Morris: "Because of the number of factual errors, it cannot be recommended as a valuable work for those who wish to understand the history of the camps."
"This popular literature, which is so successful, simplifies the history and reality that is so difficult for us to understand," says Yessica San Román, director of the Education and Holocaust department at Madrid's Centro Sefarad-Israel. "The result is a trivialization of the facts. What should concern us when we read books like these about the Holocaust is that they resort too much to stereotypes, both for the Jews and for the perpetrators. The perpetrators were not all monsters or psychopaths. They were much more normal than we like to admit. The Holocaust was committed by men and women."
"I haven't read The Tattooist of Auschwitz," explains Shimon Redlich. "I don't like kitsch books about the Holocaust. However, I believe that films like Claude Lanzmann's Shoah or Steven Spielberg's Schindler's List have had a significant effect on the dissemination and understanding of the Holocaust." Asked by email about the books he considers essential, the survivor and author cites four: the works of historian and survivor Saul Friedländer, The years of persecution (1933 -1939) and The years of the extermination (1939-1945); An interrupted life, the diaries of Etty Hillesum, who was murdered at Auschwitz; and Anatomy of a genocide: the life and death of a town called Buczacz, by Israeli historian Omer Bartov.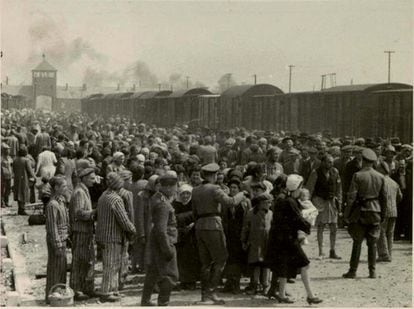 Bartov's book is part of a series of recent essays that are helping to deepen knowledge of the genocide. They mix detective-like investigations with the handling of thousands of documents. In the face of all-encompassing books like Raul Hilberg's The destruction of the European Jews, a new generation of authors is focusing on smaller-scale stories.
"Most of the witnesses have disappeared and the investigators must become indirect witnesses, with the material they handle," Dr. Wendy Lower, Director of the Mgrublian Center for Human Rights in Claremont, California, explains by phone. "We work with the material we have access to… [over] the last decades, we have been compiling documents, testimonies…. such massive archives have been amassed and so many testimonies have been recorded that no historian would be able to listen to them all. When there are no more witnesses, there will be a lot of material to work on: archaeology, forensics, documents, recordings…"
Eyewitness testimonies were not always considered such important material. "In the beginning, when researchers strove to establish the history of the Nazi genocide, they did not always welcome the voices of the survivors," says Dr. Sara R. Horowitz, a professor of literature at York University in Toronto and the author and editor of numerous books on the memory of the Holocaust, including Voicing the void: muteness and memory in Holocaust fiction and Shadows in the city of light. "Historians preferred to rely on documentary evidence and were reluctant to base historical accounts on memory: they saw it as unreliable, fallible, and limited in scope. But relying on documents also has its limitations. In the decades immediately following the war, many survivors expressed frustration that they had not been heard. And the historical record was impoverished by this exclusion."
"More than ever, it will be the power of literature– novels, poems, memoirs– that will preserve and continue to shape the memory of the Holocaust, in the different languages and the memory of each country. Writers like Aharon Appelfeld, Ida Fink, Elie Wiesel, Charlotte Delbo, Jorge Semprún, Sarah Kofman, Imre Kertesz and others," Horowitz notes.
"Literature is essential," advocates Marina Sanfilippo, a professor at Spain's National University of Distance Education. She specializes in female testimonies of the Shoah. "It has never been possible to understand the reason for the Holocaust, as Primo Levi narrated in that famous phrase in which a German guard at Auschwitz blurts out: here there is no why. It is something that only literature can answer."
Sanfilippo maintains that she has studied the literature written by surviving women "because the canon of the Shoah is above all masculine"– Primo Levi, Paul Celan, Kertesz, Elie Wiesel, Victor Klemperer, Viktor Frankl, and so on. She cites authors and works such as Liana Millu's Smoke over Birkenau, Ruth Klüger's Still alive, Charlotte Delbo's None of us will return, or Daniela Padoan's Like a frog in winter.
Padoan's book is a journalistic investigation that collects the testimony of three women – Liliana Segre, Goti Bauer and Giuliana Tedeschi – who survived Auschwitz-Birkenau. "The experience was very different for men and women, because in the camps, people suffered from the body and bodies are different. What did it mean to have your period in the camp? Or to stop having it, or to think that you would never be able to have children? What did it mean to be the subject of medical experiments? The survival strategies were also different," says Sanfilippo.
The survivors' voices are also kept alive through the stories of their relatives. The most famous of these cases remains the comic book Maus, now a classic, in which Art Spiegelman tells the story of his father, an Auschwitz survivor, and at the same time describes the relationship – not always an easy one – between the two. The librarian and author Javier Fernández Aparicio maintained a Holocaust literature reading club in Madrid for eight years with fellow librarian Javier Quevedo Arcos, from which the book The culture of the abyss arose. They assure their readers that no book was as interesting as Maus, perhaps because of its dialogue between the past and the present.
In the house where Primo Levi died in 1987 on a wide avenue in Turin – it will never be known whether he committed suicide or fell down the stairs – no plaque remembers the writer. However, his last name still appears on the intercom, as if he could be called and his voice could emerge from the past to remind us of some of the many lessons contained in his books.
Levi deeply mistrusted charismatic leaders– those who ask us to renounce reason: "Since it is difficult to distinguish true prophets from false, it is as well to regard all prophets with suspicion. It is better to renounce revealed truths, even if they exalt us by their splendor."
The voices of those survivors that are slowly dying out remain essential to understanding what happened… but also to warn us about what may happen.
Margot Robbie's self-confessed ambition has made her the highest paid actress of the year | Culture
Self-doubt is Margot Robbie's greatest motivator, and competes with ambition in the Australian actress's psyche. She couldn't believe her own eyes when she first saw herself on a giant ad for the Pan Am TV series in New York's Times Square. "I still have the photo," she told EL PAÍS a few years ago, somewhat wistful for the days when she was still a nobody. The script of The Wolf of Wall Street (2013), the Martin Scorsese film that put her on the map, touted her as "the most beautiful blonde in the world," but she didn't believe the hype. "I remember saying to a friend, 'I haven't worked in six weeks.' I'm sure there's nothing out there for me," laughed Robbie. But Hollywood didn't share her skepticism. In July, Variety magazine ranked Robbie as the highest paid actress of the year when her US$12.5 million salary for the upcoming Barbie movie was announced.
Margot Robbie may be this year's highest paid actress, but 17 men made even more money, led by Tom Cruise who was paid US$100 million for Top Gun: Maverick. Her Barbie love interest, Ryan Gosling, was paid the same as Robbie, even though she has the titular role, more evidence that pay parity in Hollywood is far from being a reality. Robbie ranked ahead of Millie Bobby Brown (US$10 million for the Enola Holmes sequel); Emily Blunt (US$4 million for Oppenheimer); Jamie Lee Curtis (US$3.5 million for Halloween Ends); and Anya Taylor-Joy (US$1.8 million for Furiosa).
Robbie's misgivings about her career aren't shared by other industry giants. Martin Scorsese compared her to Carole Lombard for her comedic genius, Joan Crawford for her toughness, and Ida Lupino for her emotional range. He described Robbie as having a surprising audacity, and recalls how she clinched her role in The Wolf of Wall Street by stunning everyone with a tremendous, improvised slap of Leonardo DiCaprio during her audition.
Robbie showed the same boldness when she lobbied director Quentin Tarantino for another role opposite DiCaprio in Once Upon a Time in… Hollywood (2019). She sent the director a letter telling him how much she admired his films, especially her all-time favorite, True Romance (1993). The letter probably wasn't necessary, as Tarantino already had the I, Tonya star in mind to play Sharon Tate in his new movie, describing her to EL PAÍS as an actress with a visual dynamism and personal qualities that you don't see every day.
Robbie has wanted to work in movies ever since her start in Neighbours, the long-running Australian TV series that is coming to an end after 9,000 episodes and 37 years on the air. "Of course I'm ambitious. My career motivates me. I came to the United States with a plan, and I'm always looking ahead," she told us. Even as a child growing up in Queensland (northeastern Australia), Margot Elise Robbie displayed her business smarts and drama queen chops when she decided to sell all her brother's old toys from the sidewalk in front of the family home.
She jokes about her childhood, but part of that little girl always comes out in the wide variety of characters she plays. She has had all kinds of roles in little-known films like Suite Française and Z for Zachariah, and also in box-office hits like Suicide Squad and Birds of Prey. She won Oscar nominations for playing driven women in I, Tonya (2018) and Bombshell (2020). "Yes, many of the women I've played share my ambition – this is a tough industry. But I'm full of doubt like anyone else. You never know how things will turn out," she said.
Seeking more control over her films, Robbie founded production company LuckyChap Entertainment in 2014 with her husband, British filmmaker Tom Ackerley, and some friends. She hopes to use LuckyChap as a vehicle for herself and other actresses, as she did with Promising Young Woman starring Carey Mulligan, a black comedy thriller film that won writer/director Emerald Fennell an Oscar for best original screenplay. "Margot is an extraordinary person," said Fennell. "That's why she's doing so well as a producer who is determined to try different things and give women a voice."
Robbie met British assistant director Tom Ackerley on the set of Suite Française in 2013. They began a romantic relationship the next year and moved in together right after attending their first Golden Globes gala for The Wolf of Wall Street. Married since 2016, the couple and co-workers in LuckyChap have a bright future ahead, judging by all the work that is piling up for Robbie. In addition to Barbie, she will appear in Amsterdam, directed by David O. Russell; as silent film star Clara Bow in Babylon, directed by Damien Chazelle; and has a role in Wes Anderson's Asteroid City. As if that wasn't enough to keep Robbie busy, a remake of Ocean's Eleven awaits her; she will play opposite Matthew Schoenaerts in the post WWII drama, Ruin; produce a remake of Tank Girl; and play a female Jack Sparrow in another installment of Pirates of the Caribbean. Surely Margot Robbie doesn't have any more doubts about her career.
Salem's last witch regains her honor | Culture
As statues of slave owners and slave traders continue to fall in the United States, the embers of the bonfires that burned women accused of committing spells and witchcraft are also being extinguished. In the umpteenth revision of history to try to exonerate the victims, the most recent episode concerns the last official Salem witch, Elizabeth Johnson Jr., from the massive 1692 and 1693 trials in the English colony of Massachusetts. Thanks to the initiative of a middle school teacher and her students in Andover, located in the same county as Salem, her spirit can now roam free. The enthusiastic students began the vindication process in 2020 and persuaded Massachusetts state senator Diana DiZoglio (D), who took up the cause and pushed for Johnson's pardon, which was announced last week.
It has taken 329 years for Elizabeth Johnson Jr.'s name to be cleared definitively. She was the last of the Salem witches to be exonerated. While Johnson was spared a death by hanging, she was stigmatized until she died at 77, an uncommonly long life for the time. Historians say that Johnson showed signs of mental instability and was single and childless, all of which were signs of witchcraft during that period. She pled guilty before the court of inquisitors. Almost 30 members of her extended family were also implicated, as if witchcraft were contagious, hereditary, or both. Johnson, her mother, several aunts and her grandfather, a church pastor, were tried as well. According to historian Emerson Baker, the author of a book about the Salem witch trials, her grandfather described Johnson to the judges as a "simplish person at best." Most likely, the judges would have equated "simplish" with different during that superstitious and pre-scientific period.
The fact that Johnson didn't have any descendants deprived her of anyone to vindicate her good name, as relatives of the other defendants did. The first attempt to do so happened at the beginning of the eighteenth century. Then, in the 1950s, Massachusetts passed a law exonerating those found guilty, but it failed to gather all the names. A 2001 attempt at justice excluded Johnson because, after her conviction in 1693, she was formally presumed to be dead (executed).
The social hysteria against everything that deviated from the norm, against the minimal exercise of free will, was implacable against women, as Arthur Miller's play The Crucible (the playwright adapted it for the big screen in 1996) and recent variations remind us. The theme lends itself very well to artistic creation, but in real life it amounted to opprobrium for those who suffered it and represented a cause for scorn among puritans.
Salem was more than a witch trial. According to historians, it was a collective exorcism fueled by a puritanical inquisition based on paranoia and xenophobia, a gratuitous auto de fe that unleashed people's worst instincts: fear and the human tendency to blame others for one's own misfortunes. At least 172 people were indicted in the 1692 trial. About 35% confessed their guilt and were spared the gallows; according to sources, around twenty insisted on claiming their innocence and did not escape that fate. The rest of the detainees were acquitted or sentenced to prison. The Salem witch trials represented a collective bogeyman through which one can foresee the later threat of the Ku Klux Klan. It is hard not to wonder what bonfires would have burned today on the pyre of social media and extreme polarization.
The great Salem witch hunt can be re-read through the prism of gender. As the adage goes, se non è vero è ben trovato (Even if it is not true, it is well conceived). Witches, like those in Salem and the woman in Nathaniel Hawthorne's novel The Scarlet Letter (made into a film in the 1950s), were demonized for going off the rails. The dominant society's puritanical stance against any kind of heterodoxy or freestyling, against rebels with or without a cause, led people to be targeted for dressing exotically by puritanical standards or for daring to drink at a tavern, a sacrilege for the morals of the day. It's not difficult to draw a straight line from the bonnet of a witch on the gallows to the handmaid's white bonnet in Margaret Atwood's novel: all were women who were demonized, objectified, and scapegoated for deeper ills.
Beyond gender, other historians emphasize the socioeconomic dimension of the Salem witch trials, which combined a deep-seated inequality with racism, the United States' original sin since well before the Declaration of Independence. The trials targeted colonial society's most vulnerable during a period of economic instability that unleashed fierce rivalry among Salem families. According to historian Edward Bever, society was permeated by interpersonal conflict, much of it stemming from competition over resources. People did whatever they could to survive, from physical aggression to threats, curses, and insults. One of the first women accused, Sarah Osborne, was a poor widow who dared to claim her husband's land for herself, defying the customary laws of nature, which granted the inheritance to sons. The accusation of witchcraft ended Osborne's claim. Tituba, an indigenous slave, was accused of being a witch because her racial origins differed from the norm. Sarah Good was also poor, but she defended herself against the humiliations of her neighbors, which led her to the gallows; her daughter, Dorothy Dorcas Good, was Salem's youngest victim: she was arrested at only four years old and spent eight months in prison.
Since then, history has not changed the fact that vulnerable women pay the price for circumstances beyond their control. That the Puritans of the time considered women—the evil heirs of Eve —prone to temptations such as the desire for material possessions or sexual gratification was only an added factor. Poor, homeless, and childless, these women in the shadow of society's dominant morality were fodder for the gallows. But Elizabeth Johnson Jr. didn't just manage to save her life; 329 years later she recovered her honor as well.
Meridian Brothers: A fake salsa band ignites the rebirth of an old New York record label | Culture
A new album will land on the salsa dance floor by the end of this week; one that fuses rhythms from the 1970s with the technological dystopias of the future. Behind it is Ansonia Records, a label that, after its creation in 1949 among Latino immigrants from New York, would produce several merengue, jibara, bomba, guaracha, mambo, and boogaloo albums, before stopping altogether in 1990. This Friday, after more than 30 years, Ansonia Records will return with a salsa album.
Hermano del futuro, vengo buscando iluminación; brother from the future, I come looking for enlightenment. So says one of the songs from the new album, called Metamorfosis, by the old salsa group Renacimiento. But there is a catch: Renacimiento does not exist. It never did. It is a fake group, and this is a fake cover, explains musician Eblis Álvarez, founder of the Colombian group Meridian Brothers, who had already experimented with various genres, from cumbia to vallenato. A group that practices "tropical cannibalism," says Álvarez. This year, Meridian Brothers decided to launch a group of salseros straight out of fiction: Renacimiento.
"Renacimiento [rebirth] is the typical name that musicians would give a salsa group in the 1970s," Álvarez tells EL PAÍS. "For example, in the Nueva Trova movement there was talk of a political rebirth, but at the same time they combined this with a spiritual factor: when one listens to groups like La Columna de Fuego [from Bogota] or Los Jaivas [from Chile], there was a common pattern: everyone was waiting for a rebirth of the soul, and of society."
Although on stage Renacimiento is made up of five artists — María Valencia, Alejandro Forero, César Quevedo and Mauricio Ramírez, besides Álvarez — when the album was recorded it was the founder who played all the instruments, besides doing the voice of the salsero that accompanies the songs. The album has nine tracks, some similar to the older, slower salsa, and others to the faster, contemporary style. Between the piano, the timbales and the percussion, we find verses with the concerns of the 21st century: love that "communicates by algorithm," or the threats of atomic bombs that "take us to the cemetery." Metamorfosis, the single that has already been released, begins with a man who wakes up turned into a robot and longs for a time "when nightclubs really had an atmosphere, not like now, full of cameras, full of drones."
"I wanted it to sound like salsa from the 1970s," says Álvarez. "There is no originality, or the originality of this lies in being able to replicate the music as best as possible, but in terms of the material there is nothing original, as it is made with the collective unconscious of Latin America, of Colombia, of Latinos. This is an extrapolation from the 1970s to today, and it speaks of transhumanism, like the matter of highest concern that everything, absolutely everything, is now packed inside the damn cell phone."
The rebirth includes both the album and the label, as this is the first recording in more than 30 years to be released by Ansonia Records, a company created in 1949 and later forgotten, despite having been one of the first labels founded by a Latin migrant in the United States. Puerto Rican Rafael Pérez, its founder, brought Dominican, Puerto Rican and Cuban musicians from Latin Harlem or the South Bronx, who had not found a home among American record companies, to several studios. He produced his records before the time of the powerful Fania, which made New York salsa famous.
To Liza Richardson, an American radio host who was also a music supervisor on series like Narcos or the movie Y tu mamá también, Ansonia Records is a gem. In the early 1990s, she found an Ansonia album in the station's archives and, fascinated by the label's production, became close to the heirs of Pérez. In 2020, she bought the record label with the intention of reactivating it. She, with the help of a small team, has begun to digitize more than 5,000 Ansonia-produced songs; an eighth of them can already be found on streaming platforms like Spotify.
Souraya Al-Alaoui, manager of Ansonia Records, explains that most of the artists chosen by the label were focused on the Latin American diaspora. That was their base; they valued the traditional sounds from islands like Cuba or Puerto Rico, and were not looking to become westernized.
"Johnny Pacheco, founder of La Fania, started with Ansonia Records, and Ansonia was an inspiration for what would later become La Fania," says Al-Alaoui. "Ansonia was also a pioneer as a label owned by a Latino, an independent label with a founding message: 'this is from us and for us.' That's why it was an inspiration for what came after."
Over the years, La Fania grew and the seed of Ansonia Records faded away. The label never managed to promote its musicians in concerts like La Fania did, and after the arrival of the digital world, they did not set up a website or try to upload their music to any streaming platforms. Thus, it became a label that was only known by a small group of music lovers, like Liza Richardson and Eblis Álvarez.
"Now, we are hoping to release a new record every year, and we are thrilled to start with this one by Meridian Brothers," says Richardson. "This is an album that looks to the past but tries to move towards the future, and that is exactly what we are trying to do: look to the past to, at some point, be able to grow again, to thrive."