This Is What 19th c. Russian Families Were Like Before the Devastation of Communism
The Nobility. Duty and Honor
As soon as he was born, the Russian nobleman already had a purpose and destiny. He was destined for service, specifically for government service. Moreover, this child had a particular lineage, and from the moment of his birth, he was embedded in a genealogical chain, making him not simply a private individual, but a continuation of his family. He had ancestors, whom he doubtlessly knew and honored, and his behavior had to maintain a standard that would not possibly stain the family's honor, but instead would increase it as much as possible.
Peter the Great reinforced the obligation of a nobleman to serve his monarch, while also essentially making the noble ranks accessible to non-nobles (through education or service). For the Russian nobleman—who was most often not very well-off—the very idea of nobility was tied to education, upbringing, and duty. "He who receives much may be asked of much"—such was the unwritten credo of the nobility.
An uneducated nobleman was a barbarian. One who rudely broke the code of conduct could lose note only the respect of those around him, but his very status as a nobleman.
Patriarchal noble families did not dispose one to sensitivity and tenderness. The father was considered a demigod and absolute ideal; he controlled everything in the house. Noble families generally did not spoil their children or bend to their wishes. Much the opposite: children were harshly disciplined. Parents took care of their education and upbringing, but they regarded them as little grown-ups, without making allowances. Emotions weren't regarded as a good reason for choosing a model of behavior—if anything they were seen as the opposite. The primary traits to be instilled were bravery, perseverance, having a place in the hierarchy, and the ability to control oneself with dignity in any situation.
From a very young age, noble children were obliged to learn how to control their impulses, bad moods, fears, and desires. They were expected to unwaveringly fulfill their duties. Thanks to their physical exertion—walks in all kinds of weather, exercise, and a Spartan way of life—a young nobleman developed not only bodily (which was necessary for military service), but also spiritually.
Hired specialists, who were usually foreigners, were in charge of their early home education. They taught languages, etiquette, and good manners. Music and dance were required subjects. Balls weren't simply evenings of dancing but one of the ways in which noble society was organized. For this reason, balls were considered to be less a form of entertainment than an obligation, and the nobility were taught to fulfill their obligations faithfully. Parents primarily played the role of moral examples for their children, and their authority was usually very great.
A nobleman's whole life was permeated by a network of written and (mostly) unwritten rules, which bore a high cost if broken. Children could internalize these rules by watching their elders; they would consciously or unconsciously adopt their manner of conduct—and with it, their worldview.
At a certain age, young men were sent to study in the institutions of higher education, and then they would enter into state service (which could be civil or military). After the "Decree of Noble Liberty" was enacted, noblemen had the right to refuse state service and tend to their estates—a task that also required extraordinary effort and substantial knowledge.
A young noblewoman was expected to marry; otherwise, she would be in the sad position of an old maid. It happened occasionally that one sister would remain unmarried in order to live with her aging parents and ease their old age. If a young woman had the honor to be a lady-in-waiting in the imperial court, she would fulfill these obligations until she was married, and then, as a rule, she would be let go.
Young women had no freedom before marriage. Their reputation and honor were vigilantly preserved. A young woman who cast doubt on her own reputation would bring shame not only upon herself, but also upon her family—and she wouldn't be the only one to lose a chance at family life, as her sisters would also fall under suspicion. After marriage, her status would change: she would be considered a grown woman and gain much greater freedom—although her husband would have no less authority over her than her father had before.
In contrast, the subjugation of sons to their fathers didn't end with marriage or the birth of children. The reason for this was simple: the noblewoman's sphere of service was the family, while the nobleman mainly served society. Incidentally, marriages (or at least, first marriages) were primarily arranged by the older generation. Widow and widowers were allowed to follow their hearts, but parents chose brides for their sons' first marriages, even if they were relatively mature.
In Russia, women enjoyed a certain amount of economic freedom in comparison with Europe. Thus, a bride maintained a right to her dowry without exception. If her husband was a spendthrift and conducted his affairs unreasonably, his wife could file a complaint against him to preserve her own and her children's interests. Divorce was very complicated: a marriage could be annulled under certain conditions, but the party judged to be guilty would lose the ability to marry again. The only exception was if one of the parties (in a childless marriage, or if the children had grown up) expressed the intention of entering a monastery. It was more common for couples to separate while formally remaining married. In this case, the husband was obligated to maintain his wife and pay alimony, assuming, of course, that the separation wasn't caused by inappropriate conduct on her part.
Naturally, it's not possible to idealize this whole social stratum—and there's no need to do so, since the Russian nobility, with its poetics of duty, service, and honor, has remained a unique phenomenon by Russian and global standards. Sadly, it can never be reinstated insofar as it's impossible to recreate the environment that nourished it. We only have memoirs and Russia's great literary tradition (which was for a long time written exclusively by nobility) to preserve for us the spirit of the Russian nobility.
The Merchant Class. Archaism and Pragmatism
Popular consciousness in Russia associates merchant families with the values recorded in the Domostroy and the plays of Alexander Ostrovsky. As a result, the lives of merchants are often thought to be behind the times and overly calculated. There is certainly some truth to this: However much the merchant class contributed to the development of Russian society, it always preferred stability and respectability as the guiding principle for its own affairs.
The lifestyles and habits of the nobles and intelligentsia changed with the times and fashions, but merchant families were able to maintain the order instituted by their ancestors—and they didn't tire of it.
Merchant wives and daughters were eager to keep up with fashions, especially since they had the money for it. Fancy dresses made from brilliant, finely knitted fabrics; expensive shawls (which would be valued by noblewomen about twenty years later), massive jewels—all of this was intended to show that the family's business was doing very well (making it a more or less necessary expense).
The merchants' way of life was guided by society, and their conduct needed to be approved by respected people—either representatives of the government or elite merchants. They needed to walk a fine line between chic and showing off (the latter being strictly looked down upon)—and only then they could count on having a certain amount of respect and honor within their class.
Merchants preferred to live in an insulated environment: the vast majority of merchants' wives were also the daughters of merchants, who had grown used to calculations and imbibed the spirit of commerce since a young age. They were able to stand in for their husbands if he needed to leave on business. A merchant's widow would have been entirely capable of conducting business on her own until her children were old enough to take over. Merchants had sons in order to continue the family business—and they didn't ask for the child's opinion in the matter.
As a rule, they taught their children management and bookkeeping right in the shop beginning at school age. Boys were then sent to a technical school, but merchants were reluctant to send their kids to preparatory schools for fear that they would be tempted to ditch the family business. Incidentally, the merchant class gradually accepted the idea that higher education was a virtue rather than a temptation: in the beginning of the 19th century the Moscow Commercial School and Moscow Commercial Academy both opened. A girl's education wasn't limited to sewing, weaving, worship, and keeping after the house. No one would be surprised to see a literate daughter keeping the books for her father. But of course, women in merchant families were also obligated to please their masters by keeping up the house in such a way that it would impress others.
Merchant dynasties brought many benefits to Russia. It was precisely the wealthy, God-fearing, and knowledgeable merchants who sponsored the construction of hospitals, conservatories, schools, and museums. They generously gave money for a variety of projects that didn't benefit them directly but were essential to society as a whole.
The Clergy. "Church-Tower Nobles"
The clergy has long been a respected part of Russian society. Family life and family ties were especially important in the lives of the clergy. (Naturally, we are talking about the married clergy; the monastic clergy isolated themselves from the world and could not have attachments such as familiar ties.) For the parish priest, the family was one of the most important parts of his life.
Just as the priest was supposed to be a moral compass for his parishioners, his wife was supposed to provide a model for women. Mistakes, bad habits, and personal failings transformed the priest's family into a shameful parable. Every aspect of the lives of a priest's family was attentively and scrupulously analyzed—in the country this was accompanied by envy (since the priests were generally better off and had more authority than the typical peasant), and in the cities it was accompanied by derision.
The family life of priests was strictly regulated by canonical rules. Divorce and remarriage were allowed to the layperson (although not without difficulties), but it was unthinkable for a priest. What's more, a second marriage was impossible, since a priest was considered a widower for his whole life. A priest could not marry outside his religion, just as his children could only unite themselves with other Orthodox Christians. The priest's house was to be a hearth for Orthodox culture. A priest could not marry a widow or an actress. If a priest's wife conducted herself in an inappropriate way, he was expected to leave her or become a monk.
Since the clergy were encouraged to have children, a priest's family, as a rule, would have several of them—and each would have to be educated, raised, and prepared for future service. It was entirely natural for a priest's son to proceed to a seminary and then to become a priest, while a daughter would eventually marry another priest. As a rule, a son would inherit his father's parish: when he had finished his education and was ordained, he would return home with a young wife and continue services in his home town.
Another way of acquiring a parish was to marry a priest's daughter. A priest-to-be only had the short period of time before taking vows to get married—and since these young men spent ten years in seminary, the search for a future companion was a serious problem. After all, they had to find not just wives, but companions, who thought the same way and could be trusted with their futures and those of their children—someone who would help build a "domestic church."
If the representatives of other social groups had plenty of time and opportunity to find and get to know a bride, the clergy were deprived of this possibility. Those future priests who couldn't bring themselves to take monastic vows, but also couldn't find a wife, could put off their consecration, though not for long. Meanwhile, they were helped out by special diocesan schools for priest's daughters, where young women not only received a general education, but also learned Old Church Slavonic, singing, and the rules and history of the Church. Most often, the priest's wife organized the parish's charitable efforts. Women came to her for advice and compassion. At the same time, she was obligated to run the household irreproachably in order to free her husband from all concerns and allow him to fully devote himself to his profession.
In general, there were fewer parishes than potential priests. Also, not all children of the clergy wanted to have the same fate as their fathers. Those who didn't go to seminary, or were expelled from there, were excluded from the clergy. So were those who stayed with their father until the age of 15 without receiving the required education. They could then enter the petit bourgeoisie, peasantry, or merchant class. If a priest's son didn't have any other prospects, he was sent into the army.
Upon joining the civil service, children of priests had the same rights as nobles. The children of clergy made up a large portion of the so-called raznochintsy, a social group that had a great influence on Russian history and culture, which was made up of educated individuals who lacked either nobility or sufficient material means from their families. They could depend only upon their hands and head.
The Peasantry. An Ancient World in a New Time
Among the peasantry, the concept of "family" extended beyond a married couple and their children. As a rule, their families were very large, with several generations living in a single hut: the elderly parents, their sons (both single and married), the sons' families, and any unmarried daughters. This meant that, discounting young children, there might be 12 to 20 people in a hut. This family was built on the principle of strict hierarchy and patriarchy. The domestic work in the house was directed by the "mistress"—usually the mother-in-law, who ordered about the women in the house, especially any young and inexperienced daughters-in-law. After the mother-in-law's death, her title and responsibilities would pass on to the wife of the eldest son.
This set-up led to a whole range of family conflicts, but it was very often impossible to leave and live on one's own for economic and administrative reasons. (Sometimes a landowner would directly forbid such moves. This made it easier to conduct a census and gather drafted soldiers, while also avoiding the need to divide the livestock.) No one gave a thought about the psychological problems that could result from this overcrowding, and peasants virtually spent their whole lives being watched by other people, including children. This meant that the adults' sexual lives, their arguments, and difficult moments were not hidden from the children.
A peasant's life depended on the yearly cycle of farm labor. Every family member, including the youngest, had household obligations, which they needed to perform to their fullest abilities. During harvest times, during times of sowing or reaping, only very young children or enfeebled old folks stayed home, even on the hottest days.
Children learned to work from a very early age. The Russian peasant household could not afford to feed someone who didn't work, so everyone labored. Little girls began to weave and spin at the age of six, and by the age of ten or twelve they were capable workers and began to amass a dowry of linen, towels, shirts, and dresses.
Young boys learned to control an axe, to work the land, and to handle horses. If a village was known for one industry or another, the children learned it from a young age: it never hurt for the household to have an extra kopeck.
Education in peasant families was primarily devoted to professional habits, to religious studies (the most widespread prayers and stories from Scripture), and to the ethical norms of peasant life.
Village life was based upon unwritten laws—a large number of customs and superstitions that were regarded seriously. Old men and women told their children fairy tales, local stories, interesting anecdotes, and various legends; they taught them how to act in the most varied situations. Virtually every event or activity in the lives of villagers was accompanied by a whole range of superstitions, folk sayings, and relevant stories—and in this way, the children took in the organic, half-Christian and half-pagan, worldview that characterized the Russian peasantry for centuries.
When bathing their children, feeding them, massaging their limbs, or rocking them to sleep, mothers, grandmothers, and older sisters always recited poems or sang songs and lullabies, and so they would have to remember and repeat rhymed lines. Literacy was not widespread in the villages, but all necessary information was communicated from generation to generation, so that it would be wrong to call peasant children uneducated.
Unfortunately, childhood mortality was extremely high in peasant families. Overcrowding, the lack of sanitation, the absence of proper medical help, and poor supervision of children—all these things contributed to the fact that on 3 or 4 out of the 8-13 children born to a peasant family would survive to adulthood. Death was not something at all unusual in peasant existence, and they mostly responded to it with total equanimity. Sudden or unnatural deaths frightened them, but they didn't perceive death from illness or old age as a tragedy.
Village women were married off at a young age—they could be betrothed at the age of 16. Grooms were generally a couple years older than the brides, but they could also be younger if the marriage were in the interest of the household (for instance, if it could make a tie to a rich family).
In comparison to noble daughters, young peasant women enjoyed unlimited freedom. Gatherings with young men, strolls, conversations—even premarital relations were not seen as especially sinful; they were even accepted in some areas on the condition that the traditional wedding "crown covers everything." But women, and only women, were punished harshly for marital affairs. Fathers and husbands had complete control over their wives and children; their word was law. Nonetheless, societal powers could interfere in family affairs if a man terribly abused his power or neglected his responsibilities as head of the family.
The well-balanced structure of the peasant world was based on deeply archaic principles: it would be very difficult for someone of today to understand how it was possible to live in a19th-century village, just as a peasant who made his way into a major city would have been at a total loss for how to live in this giant anthill. If the nobles and landowners knew the common people and could come to an understanding with them, many intellectuals and populists were completely unfamiliar with the real Russian peasantry.
Everything changed after the October Revolution. But that's a whole other story.
Sonny Barger, founder of Hells Angels, dies at 83 | USA
Sonny Barger, the founding member of the Hells Angels Motorcycle Club, died on Thursday in California at the age of 83. Barger was the face of the biker gang that became one of the main counterculture movements in the United States in the 1960s. Barger's family confirmed his death in a message on Facebook. "Please know that I passed peacefully after a brief battle with cancer," the message stated.
Sonny Barger – whose real name was Ralph Hubert Barger – was born in northern California, and taught himself to ride a motorcycle when he was 11 years old. It was an American-made Cushman scooter. From that moment on, he tried to only assemble motorbikes with parts made in the US, a task that became increasingly difficult as the world became more open to international trade.
In 1957, he founded the Hells Angels chapter in Oakland, California. This chapter was founded nine years after the first one opened in Fontana, in the same state. Barger was the national president of the Hells Angels, a group that became notorious for its links to violent and organized crime. Barger was arrested more than 20 times and spent 13 years of his life in prison for different crimes. In November 1992, for example, he was released from federal prison after spending four years behind bars for organizing to kill members of the rival Outlaws Motorcycle Club. When his parole came to an end in 1994, 700 bikers came out to celebrate the news.
But the darkest chapter of the Hells Angels took place on December 6, 1969. That night, the biker members were hired as security guards at the Altamont Free Concert in California, where the Rolling Stones performed. Representatives of the band reportedly offered the Hells Angels $500 worth of beer in exchange for providing security. Members of the biker gang had worked without incident as security at concerts for bands such as The Grateful Dead and Jefferson Airplane. But at the Altamont Free Concert, which brought together 300,000 people, the situation became violent. During the Rolling Stones' performance, fights broke out in the audience. Meredith Hunter, an 18-year-old concertgoer, was stabbed to death by a member of the Hells Angels after approaching the stage. The incident was caught on camera and became a central scene in the Maysles Brothers documentary Gimme Shelter, in which Barger admitted the bikers did not have the training to do security work. A few days after the concert, in a call to a local radio station, he said: "I ain't no cop. I ain't never gonna police nothin.'"
The incident stained the image of the Hells Angels and Barger – who had the name Hell's Angels Oakland tattooed on his right shoulder – struggled for several years to change the gang's violent reputation. "Catholics probably commit more crimes than we ever thought of," he told the Los Angeles Times in 1994 after being released from prison on parole. "Probably politicians commit more crimes."
Writer Hunter S. Thompson compared the biker gang to the student protesters of the 1960s, who paved the way for civil rights in America. "The difference between the student radicals and the Hells Angels is that the students are rebelling against the past, while the Angels are fighting the future. Their only common ground is their disdain for the present, or the status quo," he wrote in his book Hell's Angels: The Strange and Terrible Saga of the Outlaw Motorcycle Gangs.
The Hells Angels were one of America's most striking subcultures, and their influence can be seen in many areas of society. In one of his books, Barger claims that Harley-Davidson – the motorcycle brand favored by the group – adopted the gang's ideas into its models. Barger played himself in the 1967 film Hells Angels on Wheels, where he appeared alongside Jack Nicholson. He also had a small role in the TV show Sons of Anarchy.
Barger was a difficult character to define. He got up at 4.30am to feed his dogs and horses, then worked out for three hours, doing weights and going jogging. By 8am, he was on his motorcycle and driving down an off-beaten track. Unlike the stereotypical biker, he wore a helmet that covered his entire face. This was due to the fact that he had his vocal cords removed in 1982 after suffering from throat cancer.
Art fakes: Disputed 'Basquiats' seized by FBI shake the US art world | Culture
While New York surrenders once again to the genius of Jean-Michel Basquiat with an exhibition of unpublished work curated by his family, in Orlando (Florida), there is considerably more controversy over the work of the artist who died at the age of 27. An exhibition at the Orlando Museum of Art dedicated to the former close friend of Andy Warhol, entitled Heroes & Monsters, has cost the head of that gallery his job, while the FBI investigates the authenticity of 25 of the works, not to mention the threats made by the director against an expert who had been commissioned to evaluate the authorship.
Although the scandal began to take shape in February, when the exhibition opened, the FBI raid took place last Friday with the seizure of the paintings with a contested attribution to Basquiat. Aaron De Groft, director and chief executive of the museum, has relentlessly defended that these are genuine works, while emphasizing that it is not a museum's role to certify the authenticity of the works it exhibits. "[The paintings] came to us authenticated by the best Basquiat specialists," he told the local NBC television station in February.
De Groft had for months championed the importance of the paintings, asserting that they are worth millions of dollars, until an expert showed up who'd been hired by the owners of the paintings and she began to question his version of events. The director was fired on Tuesday, just two business days after agents seized the 25 suspicious works. The museum's board of trustees met for hours that day, but not before warning employees that anyone who dared to discuss the matter with journalists would suffer the same fate as De Groft. Hence, it is impossible to know the version not only of the former director, but of any worker at the center. Nor can any information be gleaned at the New York exhibition, a mixture of unpublished work and memorabilia, where organizers are fearful of the devaluation caused by the Orlando scandal.
"It is important to note that there is still nothing that makes us think that the museum has been or is the subject of an investigation," Emilia Bourmas-Free told the local chain on behalf of the art gallery. Cynthia Brumback, chairwoman of the museum's board of trustees, expressed itself in similar terms in a statement, saying that the board of trustees is "extremely concerned about several issues related to the exhibition Heroes & Monsters," including "the recent revelation of an inappropriate e-mail correspondence sent to academia concerning the authentication of some of the artwork in the exhibition," as reported by The New York Times.
The statement refers to a disparaging message sent by De Groft to the specialist hired for the expert opinion, cited in the FBI investigation as "Expert 2″ but who the New York Times has confirmed is Jordana Moore Saggese, an associate professor of art at the University of Maryland. This expert, who received $60,000 for a written report, asked the museum not to have her name associated with the exhibition, according to the FBI affidavit. Angry, De Groft threatened to reveal the amount of the payment and share the details with her employer, the university.
"You want us to put out there you got $60,000 to write this?" wrote De Groft, according to the affidavit. "Ok then. Shut up. You took the money. Stop being holier than thou. Do your academic thing and stay in your limited lane." The board said it has launched an official process to address the matter. The scandal was precipitated a few hours after the closing of the exhibition, which had originally been meant to travel to Italy.
The mystery of the cardboard box
But how did the paintings get to the Orlando Museum? The museum and its owners maintain that the paintings were found in a Los Angeles storage unit in 2012. The New York Times reported that questions arose over one of the paintings, made on the back of a cardboard shipping box with FedEx lettering in a typeface that was not used until 1994, six years after Basquiat's death, according to a designer who worked for the company.
Both De Groft and the owners of the paintings maintain that they were made in 1982 and that Basquiat sold them for $5,000 to a famous television screenwriter, now deceased, who deposited them in a storage unit and forgot about them.
Ramón Estévez regrets his name change to Martin Sheen | Culture
At the beginning of the sixties, Ramón Estévez was desperate. His first steps as a television actor had gone well, but he felt stuck in that medium and wanted to get into theater and film. However, at the time, his name held him back: there were few successful Latinos in the United States. "Whenever I called for a position, whether for work or for an apartment, they answered me hesitantly when I gave my name, and when I arrived, I found the position already filled." He said in 2003. And so, Ramón decided to create an artistic name by merging the name of Robert Dale Martin, the CBS network's casting director, who had helped him in those essential appearances on the small screen, and that of Bishop Fulton J. Sheen, who, as Estévez's little sister Carmen recalls, "regularly appeared on TV."
This is how Martin Sheen came about, and owing to his great talent, he triumphed first in theater and, later as an actor in the movies, notably: Badlands, Apocalypse Now, The Departed, and Wall Street. However, the identity of Ramón Antonio Gerardo Estévez did not disappear: this name remains in all of Sheen's official documents (passport, driver's license and marriage license)… and in the actor's soul. Last week, in an interview with Closer magazine, he confessed that one of the great regrets of his life was his change of name. He speaks with pride of the obstinacy of his son Emilio, who kept it despite "his agent's advice to change it". In relation to his own decision, he reflects: "Sometimes they convince you, when you don't have enough insight or even enough courage to stand up for what you believe in, and you pay for it later."
Over time, Sheen recovered his Galician roots, the land where his father, Francisco Estévez Martínez, was born. His father was an immigrant who left Parderrubias, in Salceda de Caselas (Pontevedra), for Cuba at the age of 18 in 1916. He left with no Spanish, a language he learned on the Caribbean Island. In the early 1930s, he emigrated to the United States to a modest Irish neighborhood in Dayton (Ohio), where he married another immigrant, Mary-Ann Phelan.
Martin Sheen's life has been profoundly marked by his childhood. His father worked at NCR Corporation, an industrial conglomerate that began manufacturing cash registers. Shortly after his marriage, the company sent him to the Bermuda Islands where his first children were born. Sheen was the seventh of ten children (nine boys and one girl), and the first to be born in Dayton, in 1940, after the family moved to the US. His left arm was clasped by forceps during birth, leaving it three inches shorter than his right arm. As a result of this, the character that Sheen interprets in the series The West Wing of the White House, President Josiah Bartlet, puts on his jacket with a strange twist of the body. As a child, he suffered from polio which kept him bedridden for a year, and at the age of 11 his mother died. Thanks to the support of a catholic charity and his own father's efforts, the family remained united against the distribition of children to orphanages or foster homes, a common practice at the time.
He was the eccentric of the family: he decided to go into acting. Against his father's objections, Ramón, the most reserved son only enjoyed the theater and decided to study acting. "You don't know how to sing or dance!", his father told him, to which his son replied: "You love westerns and in those nobody sings or dances". "But you don't ride a horse either!" was his father's comeback. Despite this discouragement, he moved to New York, following in the footsteps of his idol, James Dean.
In the mythical episode Two Cathedrals of The West Wing, he explains how the character President Bartlet reflects the experiences of his own childhood and adolescence. Estévez/Sheen: a practicing Catholic and relentless campaigner against global warming, a man in favor of civil and immigrant rights, he was arrested several times during demonstrations outside the White House. His activism began when he was just 14 years old in a golf club where he worked. He led a strike of caddies, protesting against the club members' use of bad language in front of children.
And then there's the Spanish context. Francisco Estévez did not teach his children Spanish, but the Estévez family went back to their roots. Francisco was able to return to his hometown in Galicia in 1967 (just as Sheen landed his first big role in In the Custody of Strangers), where he began building a house, while making regular trips back to Dayton. He would never see this house finished. He died in Dayton in 1974, and was buried with his wife and son Manuel, who had died in 1968. His only daughter, Carmen, ended up working as an English teacher at a school in Madrid, where she married. For years people in Madrid have bumped into Sheen during his visits to his sister. Carmen finished building her father's house and inaugurated a river promenade dedicated to his memory. Indeed, she has kept the memory of the Estévez alive in Salceda de Caselas.
The Camino de Santiago, a dream come true
In the early years of the 2000s, Sheen, his son Emilio Estévez and his grandson, Taylor, walked the Camino de Santiago. In Burgos, the grandson met a girl, and at the end of the walk he decided not to return to Los Angeles, but to remain in the Castilian city, where he got married. Influenced by that experience, Sheen and Estévez made the film El camino (2010), in which both co-starred and the latter directed. A few months ago, Sheen spoke proudly of El camino, a great success, and a faithful portrayal of his spirituality. During filming, at a lunch under huge pergolas at the back of Burgos cathedral, Sheen explained: "I am a Catholic, and a lot of that spirituality is in this movie. I have had an extremely happy life, with the normal highs and lows of a career. I have survived disease and my family is wonderful [his four children, including Charlie Sheen, are actors]… I believe in a church that does incredible work in the Third World. Other things, like some of the pronouncements from the Pope [at that time, Benedict XVI], are more difficult for me. I live my faith, and it is between God and I." A few meters from Sheen and the journalist, at the long tables, was a strange group that didn't not look like actors: "That's my wife, that's my sister and her husband, that my best childhood friend… I've invited them to come and have a good time with Emilio, Taylor [who worked as an assistant] and me". Taylor Estévez currently works as a stunt coordinator in California.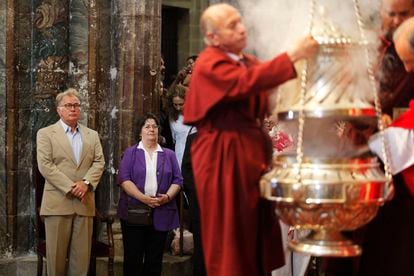 Carmen Estévez says that for decades the family did not understand their father's deeply Galician sense of humor, until they realized that for much of the time he was not being serious. This sarcasm was inherited by his son Ramón/Martin, and he made a display of this in Burgos. In response to a question about his career, he said: "With my resume full of bad movie titles, what can I say. I'm an actor and that's how I've supported my family. But I've been in about 10 films that I can be proud of…" at which point he dropped his cup of coffee and blurted out: "See? For gloating over my career. Divine punishment".