'They don't come for us': Haitians face agonising wait for help after quake | Global development
On the morning a catastrophic earthquake struck southern Haiti, Jackson Mason, a barber, was picking up water and other shopping from Cavaillon's bustling market.
"The earth below me started to shake – people were thrown into the air, others yelled, praying to Jesus to save them," Mason, 35, says. "Everything flew in the air, even the wallets in people's hands."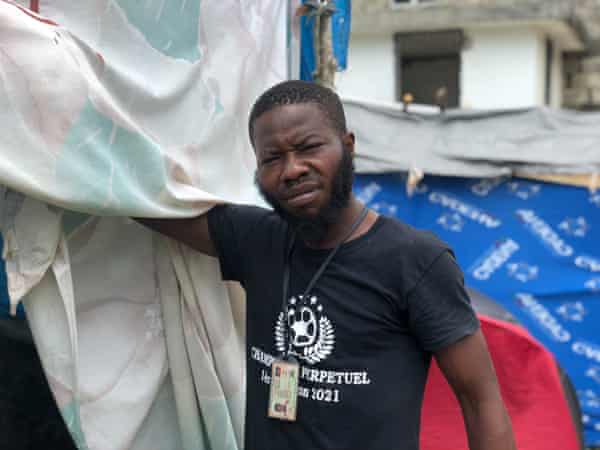 Nearly two weeks later, with aftershocks still being felt, Mason, his wife and two children – aged 13 and one – are in a makeshift shelter for survivors, just a few paces from his cracked home. The camp was set up on the perimeter of a football pitch by the local community. Support from the government has been nonexistent, with two charities providing the only help by installing a water tank.
Without food or medicine, the displaced community club together to buy supplies when they can, missing meals on most days. Without toilets, people rely on neighbours for access to bathrooms.
The magnitude-7.2 earthquake that rocked southern Haiti on the morning of 14 August has claimed more than 2,200 lives and made 30,000 families homeless. Many of those whose houses are still standing are terrified to stay in them, worried that they will be levelled by the persistent aftershocks. On most nights pelting rain drenches the shelters, built from gathered wood, tarpaulins and bedsheets, and turns the pitch to a quagmire.
Camps like this are in towns and cities across the island, with hundreds of public spaces – sports pitches, schools and squares – full of newly homeless families.
And just a stone's throw from the impromptu shelters is the wreckage of their communities.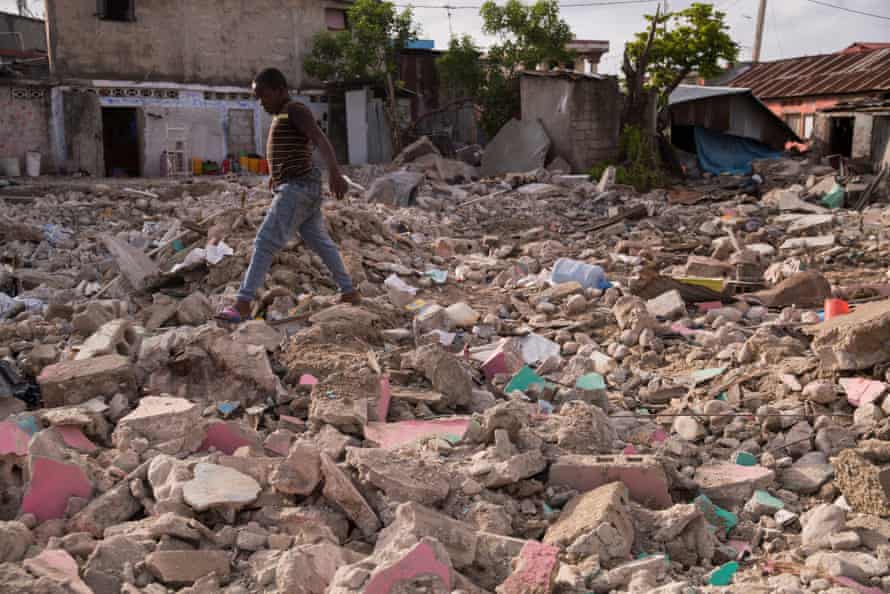 Twisted metal juts out from piles of rubble that were once homes and livelihoods. Churches, the bedrock of Haitian community life, are ruined; 25 health centres have been destroyed. In Les Cayes, patients at the hospital are still being treated outside, so scarce is space indoors.
Even so, doctors here say the priority is feeding and sheltering those sleeping rough. "To tell the truth, medication and emergency health aren't the most dire needs," says Sterens Yppolyte, a 26-year-old trainee doctor at Les Cayes' Immaculate Conception hospital, whose own home was damaged. "Across the region what people need most is water, bread and tarps."
The harrowing scenes are tragically familiar. In 2010, Port-au-Prince, the capital, was devastated by a magnitude-7 earthquake, killing an estimated 200,000 people and swiftly undoing what little gains towards stability the western hemisphere's poorest country had made in the preceding decade. Perhaps the only grace is that this one, though larger in magnitude, struck a less populated region.
Valerie Jacci, 32, was living in Port-au-Prince in 2010. She lost her aunt, who was buried under rubble, and moved to Cavaillon soon after, her family buying a plot of land that they have now opened up to survivors of the latest quake. The house she was living in was also levelled.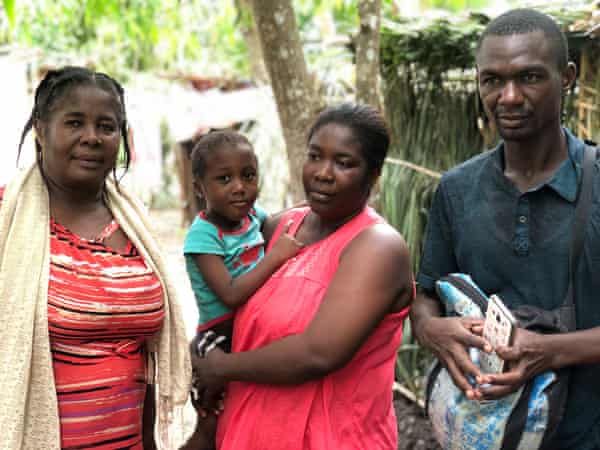 "That was the first thing I thought when the ground started to shake. 'Oh dear God, please don't let this happen again'," she says, as a young woman nearby moans in pain, clutching a broken arm in her improvised tent. "That's why we opened our land to survivors, because we know how this feels."
Meanwhile, Haiti is mired in myriad other crises. Two days after the earthquake, Tropical Storm Grace piled misery on survivors, while political violence and gang warfare have racked the country for more than two years. Roadblocks, fuel shortages and power cuts remain a daily reality. The brazen assassination of the president, Jovenel Moïse, last month, allegedly carried out by Colombian mercenaries, has added to the turmoil. Gangs have also complicated the aid response, sporadically blocking key roads and holding up deliveries of food and supplies.
While those stuck in shelters across the region are in urgent need of humanitarian aid, distribution has been further complicated by landslides, heavy rains and bad roads, long potholed and now fissured by the quake. Despite the hardship, Haitians are wary of nongovernmental agencies, who have sometimes complicated disaster responses.
Still, an international effort is under way. The US has delivered more than 60 tonnes of aid to quake-hit regions. Britain has pledged £1m of support, including shelter kits and solar-powered lanterns. But analysts say it could be six weeks before enough aid starts to reach communities.
At one shelter at a school – closed for summer – in Les Cayes, desperation occasionally boils over into anger. "We're hungry!" says Alexandra Esperance, 21, who holds her injured baby as an aid lorry drives by without stopping. Her baby sister was paralysed by falling rubble in the quake, and Esperance says she has not eaten in two days. "Every day is a battle!"
An elderly woman who joins Esperance is also frustrated. "It was the same after Matthew," she says, referring to the 2016 hurricane that battered Haiti's Tiburon peninsula, leaving at least 546 dead and causing $2.8bn (£2bn) of damage. "They don't come for us."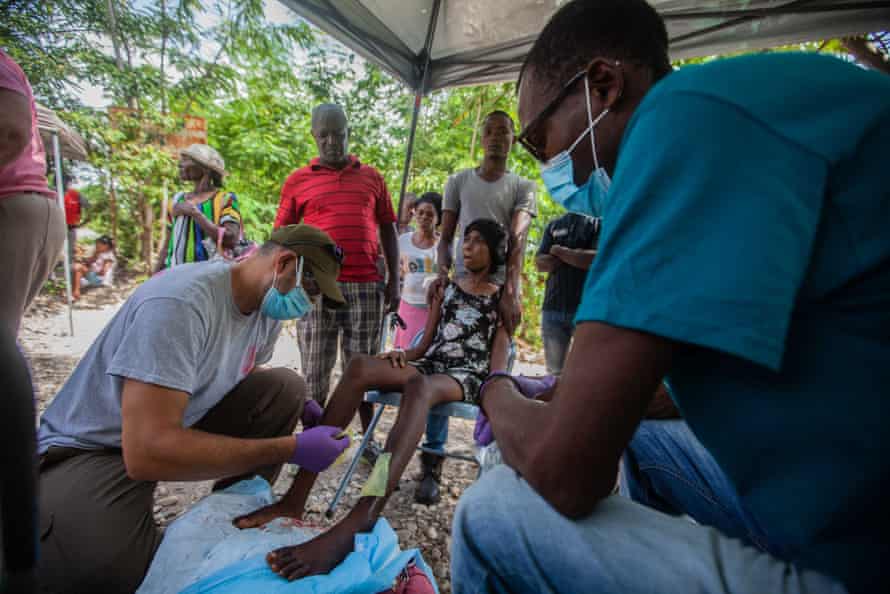 Preservil Wislin, 21, is infuriated by the slow arrival of rescuers. He worked with his neighbours for three days to bring survivors out of a collapsed hotel, using only a shovel, mallet and his bare hands.
"We pulled three people out alive, and two corpses," he says, adding that one of the dead was the hotel's owner, while the other is believed to be one of the late-president Moïse's advisers. "There were more bodies down there, but we couldn't get to them without heavy machinery," he says, eyeing a displaced child flying a homemade kite.
Despite the hellish outlook, Haitians' famous resilience is plain to see. In Les Cayes, civilian rescuers pile on to a tractor, heading to another collapsed building in search of bodies. Mothers bathe their children in muddy, polluted ravines; communities are still sending out search parties.
Back in Cavaillon, Mason goes around the camp collecting small change – both in Haitian gourdes and dollars – to buy food for his family and those in neighbouring tents.
"We don't know when help will come," he says, as a group of children plays football behind him and rain clouds gather overhead. "We just pray it will be soon."
[Ticker] US to lift Covid travel-ban on EU tourists
Fully vaccinated travellers from the EU and the UK will be let back into the US from "early November" onward, the White House said on Monday, ending an 18-month ban and prompting airline firms' shares to climb. "This new international travel system follows the science to keep Americans … safe," a US spokesman said. The EU recently recommended increased restrictions on US visitors, amid anger at lack of US reciprocity.

Source link
Ten women and girls killed every day in Mexico, Amnesty report says | Global development
At least 10 women and girls are murdered every day in Mexico, according to a new report that says victims' families are often left to carry out their own homicide investigations.
The scathing report, released on Monday by Amnesty International, documents both the scale of the violence and the disturbing lack of interest on the part of Mexican authorities to prevent or solve the murders.
"Mexico is continuing to fail to fulfil its duty to investigate and, therefore, its duty to guarantee the rights to life and personal integrity of the victims as well as to prevent violence against women," says the report, Justice on Trial.
"Feminicidal violence and the failings in investigation and prevention in northern Mexico are not anecdotal, but rather form part of a broader reality in the country," the report adds.
Femicide has been rife in Mexico for decades – most notoriously in an epidemic of murders which claimed the life of some 400 women in the border city Ciudad Juárez during the 1990s. In recent years, a growing feminist movement has held massive street protests against the violence, but authorities have proved unwilling to take action to stop the killing.
"It's always a question of political will," said Maricruz Ocampo, a women's activist in the state of Querétaro.
Ocampo has been part of teams lobbying state governors to issue an alert when femicides reach scandalously high levels – a move to raise awareness and mobilise resources. But officials often resist such moves, she said, as governors worry about their states' images and investment.
"They refuse to recognise there is a problem," she said.
The president, Andrés Manuel López Obrador, has also downplayed the problem. He branded the women protesting on 8 March, International Women's Day, as "conservatives" and alleged a dark hand manipulating the demonstrations.
When asked last year about rising violence against women, he responded, "Tell all the women of Mexico that they are protected and represented, that we're doing everything possible to guarantee peace and quiet and that I understand that our adversaries are looking for ways to confront us."
Mexico recorded the murders of 3,723 women in 2020. Some 940 of those murders were investigated as femicides.
The Amnesty report focused on Mexico state, a vast collection of gritty suburbs surrounding Mexico City on three sides. It has become notorious for femicides over the past decade – and for the way the former president, Enrique Peña Nieto, a former Mexico state governor, ignored the problem.
The report found cases of families carrying out their own detective work, which were ignored by investigators. In many cases, authorities contaminated crime scenes or mishandled evidence. They often did not even pursue leads such as geolocation information from victims' mobile phones.
In the case of Julia Sosa, whose children believe she was killed by her partner, two daughters found her body buried on the suspect's property – but had to wait hours for police to arrive and process the crime scene. One of her daughters recalled the subsequent interview process, in which "the police officer was falling asleep".
Sosa's partner hanged himself, prompting police to close the case, even though family members said there were more leads to pursue.
In states rife with drug cartel violence, activists say cases of femicides go uninvestigated as impunity is commonplace.
"The authorities say it's organised crime and that's it," said Yolotzin Jaimes, a women's rights campaigner in the southern state of Guerrero. "Many of these aggressors find protection under the excuse of organised crime."
The persistence of femicides is a stark contrast to recent gains by the women's movement in Mexico. The country's supreme court decriminalised abortion earlier this month. A new congress recently sworn in has gender parity and seven female governors will be installed by the end of year – up from just two before last June's election's
The decriminalisation of abortion "let off some steam" from the pressure driving the protests "because part of the demands was over the right to choose," Ocampo said. "But when it comes to violence, we still see it everywhere."
US official urges EU to speed up enlargement
Gabriel Escobar, the US' newly-appointed acting deputy secretary of state for South Central Europe, has urged Europe to speed up Western Balkans enlargement. "To return 20 years later and see that there hasn't been much progress on that front was a little disappointing," he told the RFE/RL news agency Friday, referring to his last post in Europe in 2001. "We would like to see a more rapid integration," he said.