'They call us bewitched': the DRC performers turning trash into art – photo essay | Global development
As a child, Shaka Fumu Kabaka witnessed the atrocities that took place during the six-day war between Ugandan and Rwandan forces in his home town of Kisangani in June 2000.
"It was not even our war, but a war between two foreign armies," he said.
The fighting led to more than 1,000 deaths and left many more wounded in the northern city of the Democratic Republic of the Congo. "I lost relatives," says Kabaka.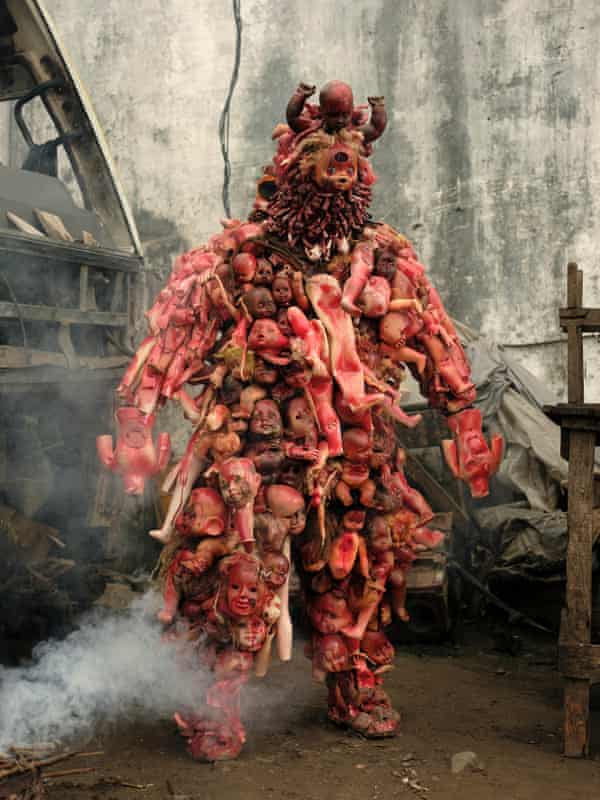 Kabaka, 33, is one of a small but growing band of multidisciplinary artists in the country's capital Kinshasa who create elaborate costumes from household rubbish found at dumps or on the streets. Matshozi 6 Jours (Six Days of Tears) is a surreal outfit he made from scavenged dolls to honour the victims of the six-day war.
"Every time I see a broken doll lying around somewhere in the street, it reminds me of what happened in Kisangani. They symbolise the victims I saw with my own eyes," says Kabaka.
It took a year to collect all the dolls. "The first time I wore the costume, it was a heavy burden. Not because of the weight, but because of the number of casualties it represents."
Kabaka can often be found at the collective Ndaku Ya La Vie Est Belle, a group of Kinshasa street performers who turn their bodies into living sculptures. The collective has found a home in the Matonge district, where the singer Papa Wemba formed his band Viva La Musica. About 20 artists turn rubbish into bizarre wearable artworks. Using their costumes as political commentary, Kabaka says his work also highlights the desperate need to recycle in a city overflowing with rubbish and plastic.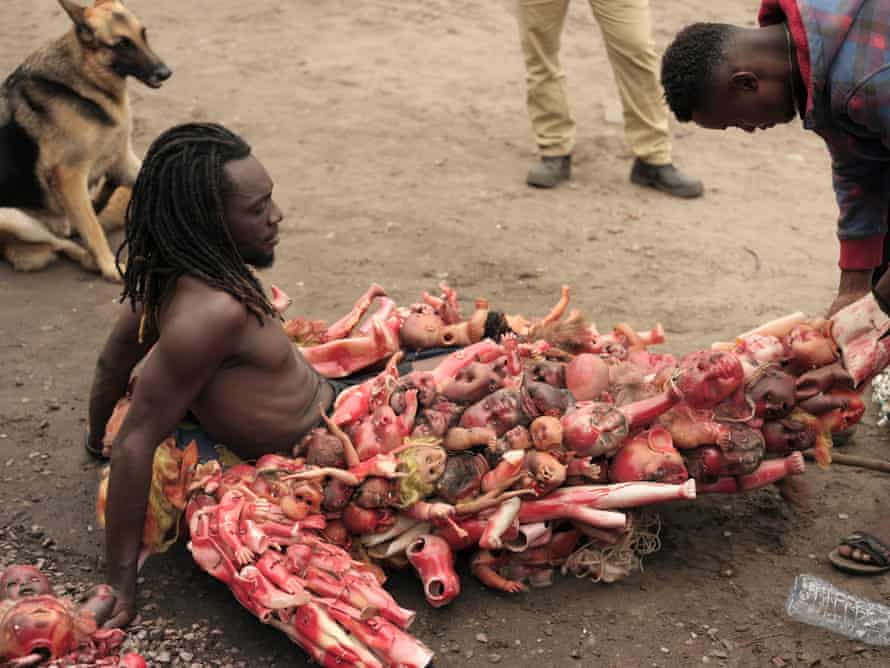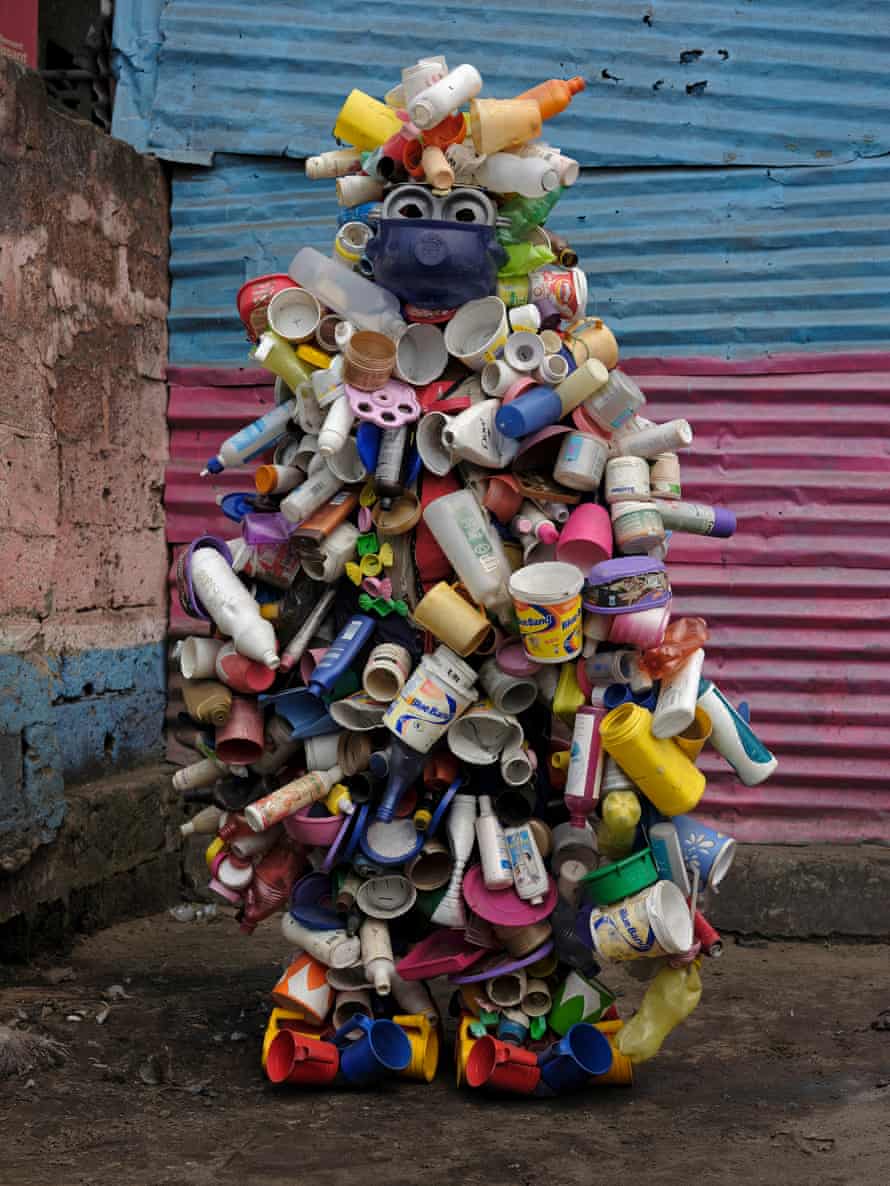 Despite their striking appearances, the artists say they are often ignored by the city's residents (known as Kinois) or dismissed as eccentrics. "They look at us strangely," says Kabaka.
"[I'm a] man with Rasta haircut who collects material at the rubbish dump – the inhabitants of Kinshasa call us crazy or bewitched."
This August, Kabaka and his fellow artists will take to Kinshasa's streets for KinAct, a week-long arts festival. Founded in 2015 by Eddy Ekete, who was born in Kinshasa, and Aude Bertrand from France, KinAct takes place in several of the capital's neighbourhoods. As well as street performances, the festival runs workshops to introduce children to different art forms, including theatre, sculpture, painting and poetry.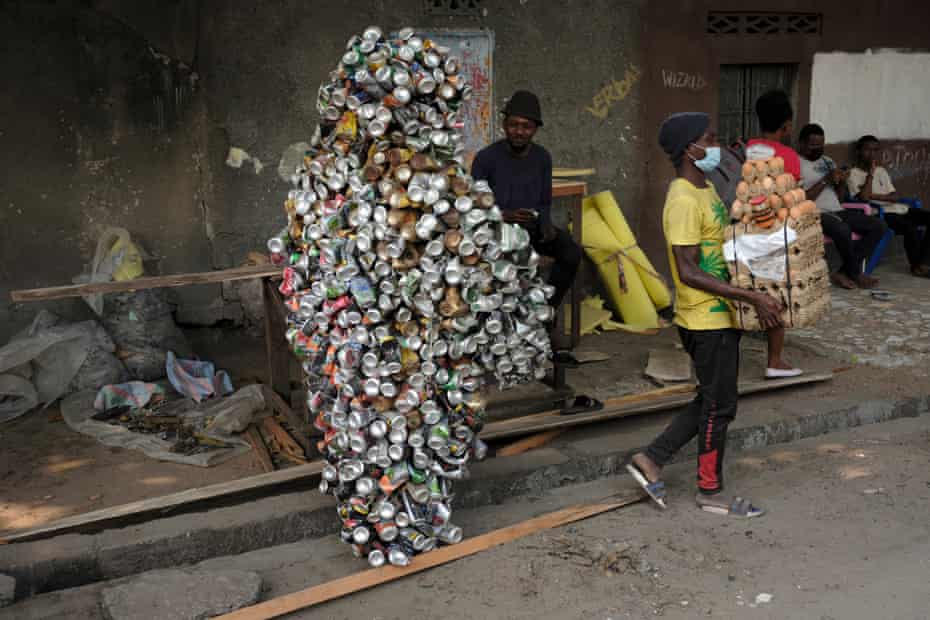 Dressed in a piece made from drinks cans, Ekete was one of the first artists to roam Kinshasa's streets in costume. The work, Homme Canette, was inspired by artists he had met in Brazil and west Africa.
Among the artists taking part in the festival is Kalenga Kabangu Jared, a student at Kinshasa art academy. Jared regularly takes to the streets dressed as Robot Annonce. The costume, made from broken radio parts, is designed to raise awareness of fake news. "People receive so much incorrect information and many inaccuracies are spread. I want to fight this," says Jared.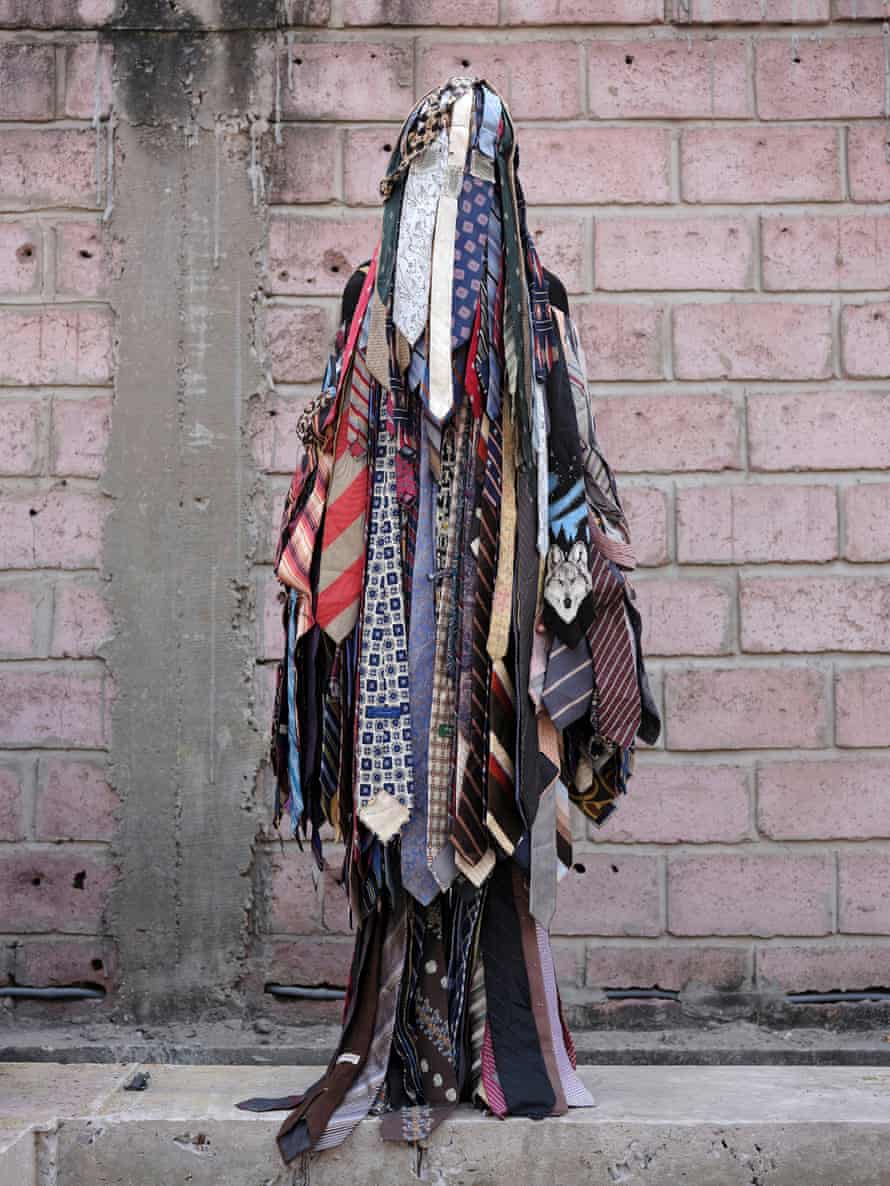 Another performer, Falonne Mambu, drew inspiration from her past when she created Femme Électrique (Electric Woman) out of electric wire. "I lived on the streets. I was homeless. But I discovered art and it has given me a voice," says the 30-year-old.
"In the dark, the residents dare not come out of their houses. If there were light, social control would be greater, more people would be on the street. What I experienced on the streets of Kinshasa as a homeless young woman and what many girls still experience today I address through my paintings and performances. I can talk about sexual violence through my work," says Mambu, who has worn her costume at protests against sexual violence and kidnappings.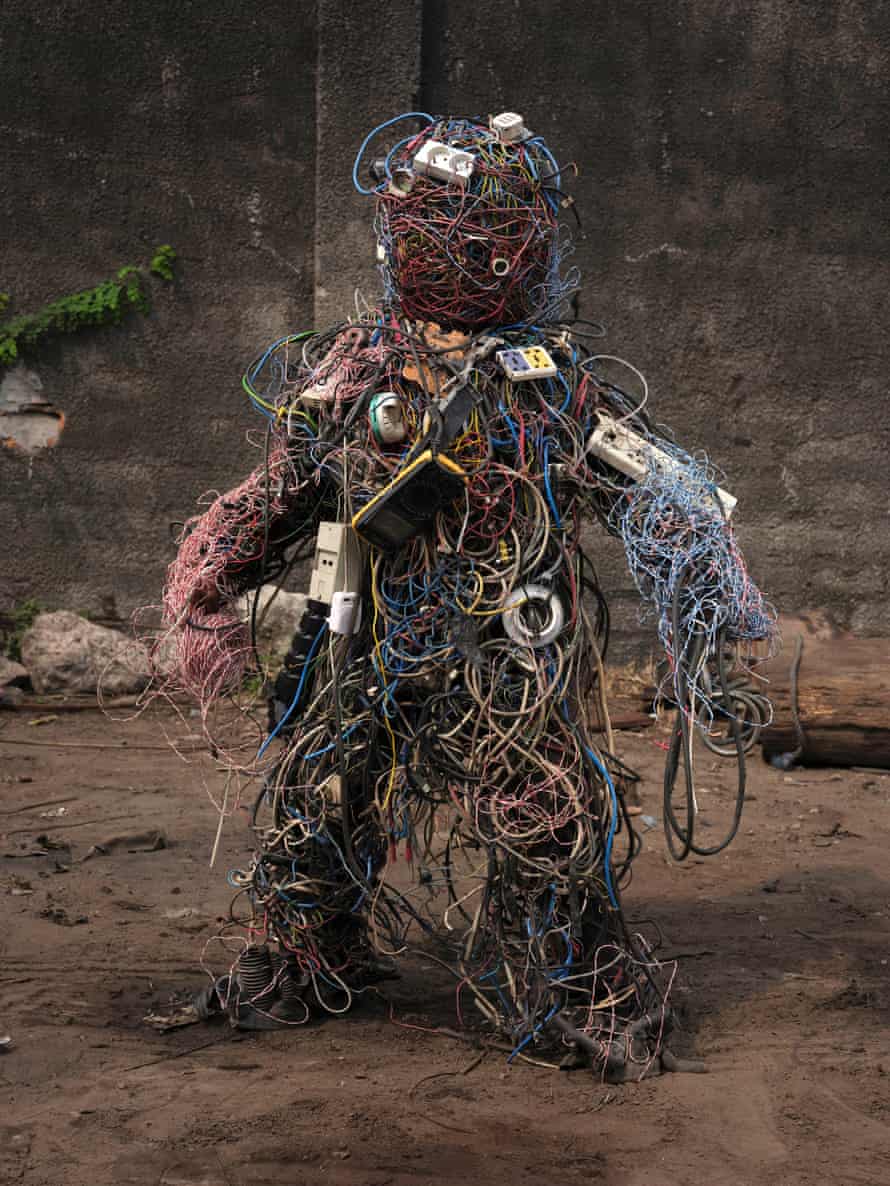 Flory Sinanduku, a member of art collective Farata, has made a name for himself in his neighbourhood – his courtyard is full of works of art. His costumes made of medicine packages and syringes are a statement about poor healthcare in the DRC, he says.
His friend Junior Nobiko opens a bag of plastic cable coatings. "You are the first to see it," says Nobiko proudly. "But I don't know yet if I'll wear it at the KinAct."
In the street, he asks some passersby to help him wriggle in and out of his costume.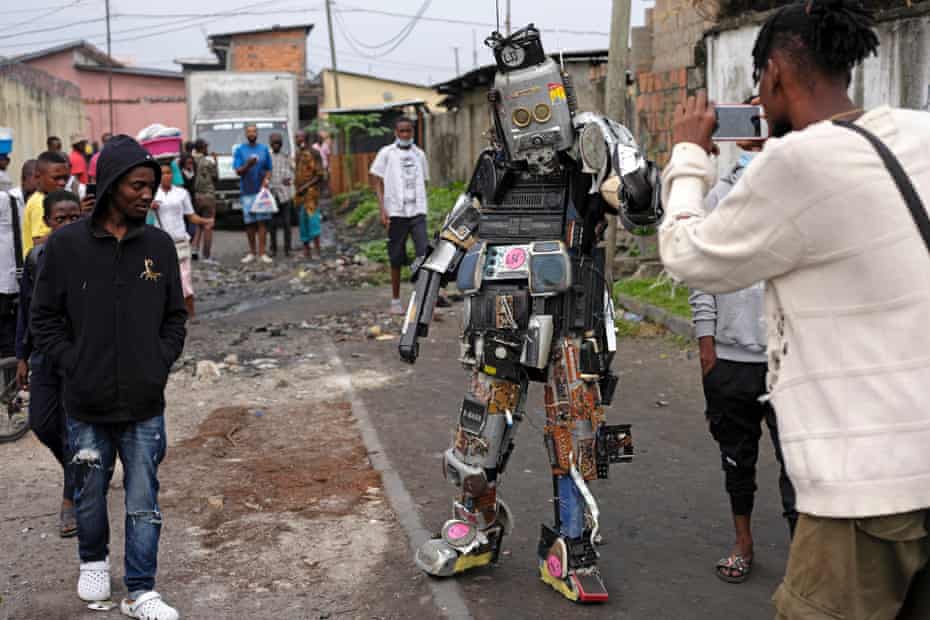 France attacks US over 'stab in back' submarine deal
France has called a US deal to develop nuclear-powered submarine technology with Australia and the UK, but not any EU countries, unveiled Thursday, a "stab in the back," in the words of French foreign minister Jean-Yves Le Drian. The move is to see France lose out on a multibillion-euro submarine-technology deal with Australia. "This is not over. We're going to need clarifications. We have contracts," Le Drian added.
'A forgotten disaster': earthquake-hit Haitians left to fend for themselves | Global development
David Nazaire, a 45-year-old coffee farmer from Beaumont, a small village in rural southern Haiti, was getting ready to harvest when an earthquake struck his home and livelihood. Much of the farming infrastructure – as well as nearby homes, schools and churches – was damaged or completely destroyed. A month later, he and thousands of rural Haitians – those most severely affected by the tremor – are still waiting for relief, and are not expecting it to arrive soon.
"The earthquake didn't destroy our crops, but it did take everything else," Nazaire says, outside a neighbour's house, now a pile of rubble beneath plastic roof tiles supported by the remnants of concrete walls. "We were just getting ready to harvest, but that's lost now."
The 7.2 magnitude earthquake that struck southern Haiti on 14 August killed more than 2,200 and left 30,000 homeless. But while foreign aid and builders have been trickling into urban centres such as Les Cayes, the capital of Sud province, and other quake-struck areas, many rural Haitians see an all too familiar abandonment.
"Haiti has always been divided between an urban professional class and the ignored rural communities," says Estève Ustache, 58, a researcher on rural development attached to a Methodist church outside Jeremie, another quake-struck town. "You have to ask yourself, why do leaders and aid workers only travel to these rural areas in a helicopter? Because they know it would be nearly impossible to go otherwise."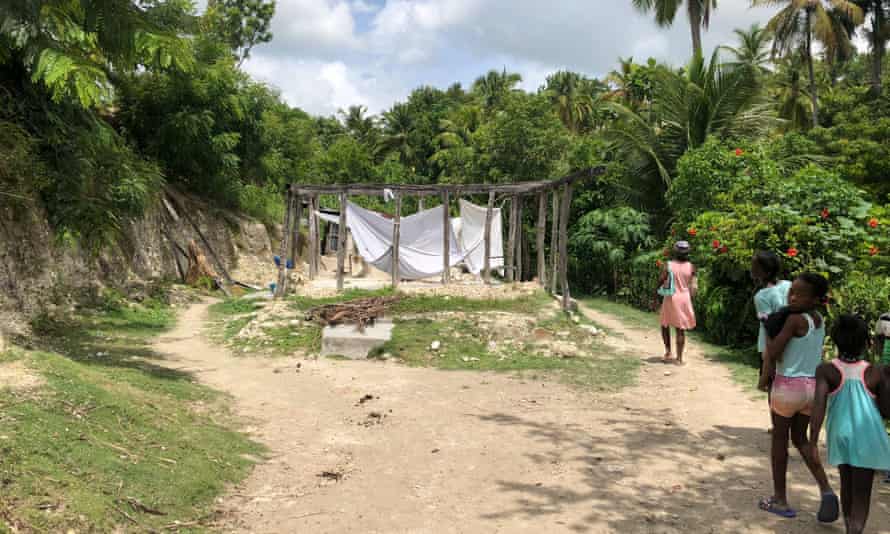 Haiti is the poorest country in the western hemisphere, where nearly half of the 11.4m population is food insecure. But the poverty in which rural Haitians – who make up two-thirds of the population – live is startling, even by the country's own abject standards.
The drive to Tricon, a rural hamlet just a few miles from Les Cayes – the regional capital – takes more than an hour. The road has never been paved and heavy rains can leave it impassable. Communities live in shacks built partly from material scavenged in the city. The phone signal is unreliable, and aside from a handful of community-built wells, there is no water supply.
"Everything we have, we built ourselves," says Moise Magaly, 49, who was tending to her bean crops when the earth beneath her began thrashing, throwing her to the ground and making her arm "go crack".
Most in the community are gaunt, after a dry spell that led to crops of cassava, beans and corn failing to yield their usual harvest. Vetiver, a cash crop often used to combat soil erosion, has been over-farmed in the area, further damaging the land.
Magaly's house was damaged in the earthquake, knocking out the walls but leaving the roof standing on top of wooden struts. Like almost everyone else in southern Haiti, the fear of aftershocks and another quake has kept her sleeping outside, vulnerable to the Atlantic hurricane season.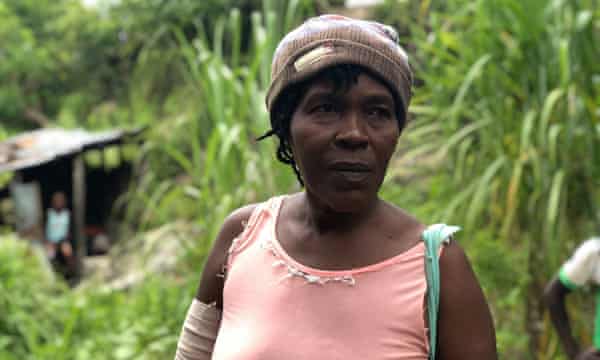 "I don't know why no one comes for us," Magaly says, clutching at her arm. "We've contacted the media and our representatives but we've heard nothing."
Aid has arrived in the country, with the US delivering more than 60 tonnes of aid to quake-hit regions, while Britain has pledged £1m of support, including shelter kits and solar-powered lanterns.
But some working on the relief effort worry that as international compassion wanes, so too will the funds from donors.
"It's a very poor area, where people don't have the resources or the funds for materials to build their houses well," says Kit Miyamoto, a structural engineer who runs a firm and foundation that works in Haiti and around the world to improve earthquake preparedness. "And this is a forgotten disaster because it happens out of the eyes of the world, which means there will be less funding."
Miyamoto adds that rural homes, churches and schools were more affected than those in cities because many of them were built before 2010, when improved building codes were adopted nationwide after a catastrophic earthquake struck the capital Port-au-Prince, killing more than 200,000.
"Construction is different now, and people are more conscious of how to build in a way that does the little things right, and makes the difference," Miyamoto says.
But despite growing awareness of resilient construction techniques, the relief effort remains hampered by the sheer isolation of the most affected communities, and some are giving up hope.
"No one has been here since the earthquake. Just like before, the only time we see an outsider round here is when they want our votes," says Altema Jean Joseph, a 52-year-old farmer who grows vetiver, an ingredient used in expensive perfumes which, despite costing $25,000 (£18,000) a barrel, makes farmers only $4 a week. "So why would we expect them here? We'll have to build back ourselves."
MEPs suspect Gazprom manipulating gas price
European gas prices have risen by more than 170 percent since the start of this year – raising concerns for worsening energy poverty.
On Friday [17 September], the European Commission said it "monitored" the situation in a press conference.
The commission said that a global increase in gas demand had caused prices to spike.
But 42 MEPs, ranging from the Greens, through the EPP, S&D and Renew Europe, to ID on the right, suspect that the Russian gas giant Gazprom is manipulating market prices and sent a letter on Thursday asking the commission to open an investigation.
According to the letter – seen by this website – Gazprom has refused to guarantee additional volumes of supply "despite available information that Gazprom has sufficient production capacity."
The signatories also raised suspicion that Gazprom is pressuring Europe to agree to an immediate launch of the Nord Stream 2 pipeline, despite its non-compliance with EU energy market regulations.
While speaking at an online conference, Alexei Miller, the head of Gazprom, warned that natural gas prices in Europe will in fact rise even further – but said that was due to low storage levels.
When quizzed on Friday, the commission said it had received the letter and would look into the matter. However, when pressured further, the representative did not want to go into detail.
The EU has, however, accused Gazprom of market manipulation in the past.
Lower renewable prices?
Meanwhile, higher prices are reverberating through other parts of the economy.
On Friday, Yara, the second-biggest producer of fertiliser globally, and with large production bases in the EU, announced it would reduce its ammonia production by 40 percent due to the current high gas prices. Ammonia is used to produce ammonium nitrate, which is a widely-used fertiliser.
Of 4.9m tonnes of ammonia produced in Europe, the company said it planned to reduce production by approximately 2m tonnes in the Netherlands, Italy, the United Kingdom and France – which in turn might affect food prices.
Household energy prices have also begun to rise.
In Spain, a megawatt-hour of electricity has increased from €46 to €154 in a year, prompting the Spanish government to intervene in the energy market and lower taxes on gas and electricity.
Commission vice president Frans Timmermans was critical of this plan: "You can't just do that," he said on Wednesday. "The free energy market is the basis on which we base our energy prices."
But according to the think tank Bruegel, major gas-price increases do pose a problem for European countries. Higher prices affect low-income households and member states disproportionately.
According to Eurostat, 30 percent of people in Bulgaria cannot afford to keep their house warm. In total, 34m people suffer from what is called 'energy poverty.'
Rising gas prices will exacerbate this.
While temporary measures like direct payments to citizens can help cushion the effects of the current high prices, Bruegel says that European leaders can avoid future prices hikes structurally – by committing to renewable energy.
EU energy commissioner Kadri Simson also mentioned renewable energy as a way to stabilise prices.
But Bruegel writes that governments have not yet committed enough to green energy: "Clearer commitments from governments will imply growing electricity demand. As a result, investors will not have to worry about over-investing in low-carbon power systems."