The West's Rejection of God Will End in Misery and Terror
This article originally appeared on a new site about the Christian renaissance in Russia, called Russian Faith. Their introductory video is at end of this article.
---
Introduction by Chris Banescu
As a survivor of the Communist Holocaust I am horrified to witness how my beloved America, my adopted country, is gradually being transformed into a secularist and atheistic utopia, where communist ideals are glorified and promoted, while Judeo-Christian values and morality are ridiculed and increasingly eradicated from the public and social consciousness of our nation.
Under the decades-long assault and militant radicalism of many so-called "liberal" and "progressive" elites, God has been progressively erased from our public and educational institutions, to be replaced with all manner of delusion, perversion, corruption, violence, decadence, and insanity.
It is no coincidence that as Marxist ideologies and secularist principles engulf the culture and pervert mainstream thinking, individual freedoms and liberties are rapidly disappearing. As a consequence, Americans feel increasingly more powerless and subjugated by some of the most radical and hypocritical, least democratic, and characterless individuals our society has ever produced.
Those of us who have experienced and witnesses first-hand the atrocities and terror of communism understand fully why such evil takes root, how it grows and deceives, and the kind of hell it will ultimately unleash on the innocent and the faithful. Godlessness is always the first step towards tyranny and oppression!
Nobel laureate, Orthodox Christian author, and Russian dissident, Alexander Solzhenitsyn, in his "Godlessness: the First Step to the Gulag" address, given when he received the Templeton Prize for Progress in Religion on May of 1983, explained how the Russian revolution and the communist takeover were facilitated by an atheistic mentality an a long process of secularization which alienated the people from God and traditional Christian morality and beliefs. He rightly concluded: "Men have forgotten God; that's why all this has happened."
The text of his Templeton Address is provided below. The parallels with the current crisis and moral decay in American society are striking and frightening. Those who have ears to hear, let them hear!
---
"Men Have Forgotten God" – The Templeton Address
by Aleksandr Solzhenitsyn
More than half a century ago, while I was still a child, I recall hearing a number of older people offer the following explanation for the great disasters that had befallen Russia: Men have forgotten God; that's why all this has happened.
Since then I have spent well-nigh fifty years working on the history of our Revolution; in the process I have read hundreds of books, collected hundreds of personal testimonies, and have already contributed eight volumes of my own toward the effort of clearing away the rubble left by that upheaval. But if I were asked today to formulate as concisely as possible the main cause of the ruinous Revolution that swallowed up some sixty million of our people, I could not put it more accurately than to repeat: Men have forgotten God; that's why all this has happened.
What is more, the events of the Russian Revolution can only be understood now, at the end of the century, against the background of what has since occurred in the rest of the world. What emerges here is a process of universal significance. And if I were called upon to identify briefly the principal trait of the entire twentieth century, here too, I would be unable to find anything more precise and pithy than to repeat once again: Men have forgotten God.
The failings of human consciousness, deprived of its divine dimension, have been a determining factor in all the major crimes of this century.
The failings of human consciousness, deprived of its divine dimension, have been a determining factor in all the major crimes of this century. The first of these was World War I, and much of our present predicament can be traced back to it. It was a war (the memory of which seems to be fading) when Europe, bursting with health and abundance, fell into a rage of self-mutilation which could not but sap its strength for a century or more, and perhaps forever. The only possible explanation for this war is a mental eclipse among the leaders of Europe due to their lost awareness of a Supreme Power above them. Only a godless embitterment could have moved ostensibly Christian states to employ poison gas, a weapon so obviously beyond the limits of humanity.
The same kind of defect, the flaw of a consciousness lacking all divine dimension, was manifested after World War II when the West yielded to the satanic temptation of the "nuclear umbrella." It was equivalent to saying: Let's cast off worries, let's free the younger generation from their duties and obligations, let's make no effort to defend ourselves, to say nothing of defending others-let's stop our ears to the groans emanating from the East, and let us live instead in the pursuit of happiness. If danger should threaten us, we shall be protected by the nuclear bomb; if not, then let the world burn in Hell for all we care. The pitifully helpless state to which the contemporary West has sunk is in large measure due to this fatal error: the belief that the defense of peace depends not on stout hearts and steadfast men, but solely on the nuclear bomb…
Today' s world has reached a stage which, if it had been described to preceding centuries, would have called forth the cry: "This is the Apocalypse!"
Yet we have grown used to this kind of world; we even feel at home in it.
Dostoevsky warned that "great events could come upon us and catch us intellectually unprepared." This is precisely what has happened. And he predicted that "the world will be saved only after it has been possessed by the demon of evil." Whether it really will be saved we shall have to wait and see: this will depend on our conscience, on our spiritual lucidity, on our individual and combined efforts in the face of catastrophic circumstances. But it has already come to pass that the demon of evil, like a whirlwind, triumphantly circles all five continents of the earth…
By the time of the Revolution, faith had virtually disappeared in Russian educated circles; and amongst the uneducated, its health was threatened.
In its past, Russia did know a time when the social ideal was not fame, or riches, or material success, but a pious way of life. Russia was then steeped in an Orthodox Christianity which remained true to the Church of the first centuries. The Orthodoxy of that time knew how to safeguard its people under the yoke of a foreign occupation that lasted more than two centuries, while at the same time fending off iniquitous blows from the swords of Western crusaders. During those centuries the Orthodox faith in our country became part of the very pattern of thought and the personality of our people, the forms of daily life, the work calendar, the priorities in every undertaking, the organization of the week and of the year. Faith was the shaping and unifying force of the nation.
But in the 17th century Russian Orthodoxy was gravely weakened by an internal schism. In the 18th, the country was shaken by Peter's forcibly imposed transformations, which favored the economy, the state, and the military at the expense of the religious spirit and national life. And along with this lopsided Petrine enlightenment, Russia felt the first whiff of secularism; its subtle poisons permeated the educated classes in the course of the 19th century and opened the path to Marxism. By the time of the Revolution, faith had virtually disappeared in Russian educated circles; and amongst the uneducated, its health was threatened.
It was Dostoevsky, once again, who drew from the French Revolution and its seeming hatred of the Church the lesson that "revolution must necessarily begin with atheism." That is absolutely true. But the world had never before known a godlessness as organized, militarized, and tenaciously malevolent as that practiced by Marxism. Within the philosophical system of Marx and Lenin, and at the heart of their psychology, hatred of God is the principal driving force, more fundamental than all their political and economic pretensions. Militant atheism is not merely incidental or marginal to Communist policy; it is not a side effect, but the central pivot.
The 1920's in the USSR witnessed an uninterrupted procession of victims and martyrs amongst the Orthodox clergy. Two metropolitans were shot, one of whom, Veniamin of Petrograd, had been elected by the popular vote of his diocese. Patriarch Tikhon himself passed through the hands of the Cheka-GPU and then died under suspicious circumstances. Scores of archbishops and bishops perished. Tens of thousands of priests, monks, and nuns, pressured by the Chekists to renounce the Word of God, were tortured, shot in cellars, sent to camps, exiled to the desolate tundra of the far North, or turned out into the streets in their old age without food or shelter. All these Christian martyrs went unswervingly to their deaths for the faith; instances of apostasy were few and far between. For tens of millions of laymen access to the Church was blocked, and they were forbidden to bring up their children in the Faith: religious parents were wrenched from their children and thrown into prison, while the children were turned from the faith by threats and lies…
For a short period of time, when he needed to gather strength for the struggle against Hitler, Stalin cynically adopted a friendly posture toward the Church. This deceptive game, continued in later years by Brezhnev with the help of showcase publications and other window dressing, has unfortunately tended to be taken at its face value in the West. Yet the tenacity with which hatred of religion is rooted in Communism may be judged by the example of their most liberal leader, Krushchev: for though he undertook a number of significant steps to extend freedom, Krushchev simultaneously rekindled the frenzied Leninist obsession with destroying religion.
But there is something they did not expect: that in a land where churches have been leveled, where a triumphant atheism has rampaged uncontrolled for two-thirds of a century, where the clergy is utterly humiliated and deprived of all independence, where what remains of the Church as an institution is tolerated only for the sake of propaganda directed at the West, where even today people are sent to the labor camps for their faith, and where, within the camps themselves, those who gather to pray at Easter are clapped in punishment cells–they could not suppose that beneath this Communist steamroller the Christian tradition would survive in Russia. It is true that millions of our countrymen have been corrupted and spiritually devastated by an officially imposed atheism, yet there remain many millions of believers: it is only external pressures that keep them from speaking out, but, as is always the case in times of persecution and suffering, the awareness of God in my country has attained great acuteness and profundity.
It is here that we see the dawn of hope: for no matter how formidably Communism bristles with tanks and rockets, no matter what successes it attains in seizing the planet, it is doomed never to vanquish Christianity.
The West has yet to experience a Communist invasion; religion here remains free. But the West's own historical evolution has been such that today it too is experiencing a drying up of religious consciousness. It too has witnessed racking schisms, bloody religious wars, and rancor, to say nothing of the tide of secularism that, from the late Middle Ages onward, has progressively inundated the West. This gradual sapping of strength from within is a threat to faith that is perhaps even more dangerous than any attempt to assault religion violently from without.
Imperceptibly, through decades of gradual erosion, the meaning of life in the West has ceased to be seen as anything more lofty than the "pursuit of happiness, "a goal that has even been solemnly guaranteed by constitutions. The concepts of good and evil have been ridiculed for several centuries; banished from common use, they have been replaced by political or class considerations of short lived value. It has become embarrassing to state that evil makes its home in the individual human heart before it enters a political system. Yet it is not considered shameful to make dally concessions to an integral evil. Judging by the continuing landslide of concessions made before the eyes of our very own generation, the West is ineluctably slipping toward the abyss. Western societies are losing more and more of their religious essence as they thoughtlessly yield up their younger generation to atheism. If a blasphemous film about Jesus is shown throughout the United States, reputedly one of the most religious countries in the world, or a major newspaper publishes a shameless caricature of the Virgin Mary, what further evidence of godlessness does one need? When external rights are completely unrestricted, why should one make an inner effort to restrain oneself from ignoble acts?
Or why should one refrain from burning hatred, whatever its basis–race, class, or ideology? Such hatred is in fact corroding many hearts today. Atheist teachers in the West are bringing up a younger generation in a spirit of hatred of their own society. Amid all the vituperation we forget that the defects of capitalism represent the basic flaws of human nature, allowed unlimited freedom together with the various human rights; we forget that under Communism (and Communism is breathing down the neck of all moderate forms of socialism, which are unstable) the identical flaws run riot in any person with the least degree of authority; while everyone else under that system does indeed attain "equality"–the equality of destitute slaves. This eager fanning of the flames of hatred is becoming the mark of today's free world. Indeed, the broader the personal freedoms are, the higher the level of prosperity or even of abundance–the more vehement, paradoxically, does this blind hatred become. The contemporary developed West thus demonstrates by its own example that human salvation can be found neither in the profusion of material goods nor in merely making money.
This deliberately nurtured hatred then spreads to all that is alive, to life itself, to the world with its colors, sounds, and shapes, to the human body. The embittered art of the twentieth century is perishing as a result of this ugly hate, for art is fruitless without love. In the East art has collapsed because it has been knocked down and trampled upon, but in the West the fall has been voluntary, a decline into a contrived and pretentious quest where the artist, instead of attempting to reveal the divine plan, tries to put himself in the place of God.
Here again we witness the single outcome of a worldwide process, with East and West yielding the same results, and once again for the same reason: Men have forgotten God.
With such global events looming over us like mountains, nay, like entire mountain ranges, it may seem incongruous and inappropriate to recall that the primary key to our being or non-being resides in each individual human heart, in the heart's preference for specific good or evil. Yet this remains true even today, and it is, in fact, the most reliable key we have. The social theories that promised so much have demonstrated their bankruptcy, leaving us at a dead end. The free people of the West could reasonably have been expected to realize that they are beset · by numerous freely nurtured falsehoods, and not to allow lies to be foisted upon them so easily. All attempts to find a way out of the plight of today's world are fruitless unless we redirect our consciousness, in repentance, to the Creator of all: without this, no exit will be illumined, and we shall seek it in vain. The resources we have set aside for ourselves are too impoverished for the task. We must first recognize the horror perpetrated not by some outside force, not by class or national enemies, but within each of us individually, and within every society. This is especially true of a free and highly developed society, for here in particular we have surely brought everything upon ourselves, of our own free will. We ourselves, in our daily unthinking selfishness, are pulling tight that noose…
Our life consists not in the pursuit of material success but in the quest for worthy spiritual growth. Our entire earthly existence is but a transitional stage in the movement toward something higher, and we must not stumble and fall, nor must we linger fruitlessly on one rung of the ladder. Material laws alone do not explain our life or give it direction. The laws of physics and physiology will never reveal the indisputable manner in which the Creator constantly, day in and day out, participates in the life of each of us, unfailingly granting us the energy of existence; when this assistance leaves us, we die. And in the life of our entire planet, the Divine Spirit surely moves with no less force: this we must grasp in our dark and terrible hour.
To the ill-considered hopes of the last two centuries, which have reduced us to insignificance and brought us to the brink of nuclear and non-nuclear death, we can propose only a determined quest for the warm hand of God, which we have so rashly and self-confidently spurned. Only in this way can our eyes be opened to the errors of this unfortunate twentieth century and our bands be directed to setting them right. There is nothing else to cling to in the landslide: the combined vision of all the thinkers of the Enlightenment amounts to nothing.
Our five continents are caught in a whirlwind. But it is during trials such as these that the highest gifts of the human spirit are manifested. If we perish and lose this world, the fault will be ours alone.
Aleksandr Solzhenitsyn, "Godlessness: the First Step to the Gulag". Templeton Prize Lecture, 10 May 1983 (London).
---
Source: The Voice Crying in the Wilderness
---
A video introducing Russian Faith
Halyna Hutchins: Alec Baldwin, an actor dogged by scandal | USA
Alec Baldwin once borrowed the words of one of the acting colleagues he admires the most – "the incredibly intelligent and wise Warren Beatty" – to explain his ongoing image problems. "Your problem is a very basic one, and it's very common to actors. And that's when we step in front of a camera, we feel the need to make it into a moment. This instinct, even unconsciously, is to make the exchange in front of the camera a dramatic one," Beatty said.
Last Thursday, on the set of the movie Rust, of which Baldwin is the star and a producer, that moment could not have been more dramatic. It was Baldwin who pulled the trigger on a prop firearm that killed the Ukrainian director of photography, 43-year-old Halyna Hutchins, and wounded the movie's director, 48-year-old Joel Souza. The tragic incident left Baldwin speechless for several hours until he expressed his "shock and sadness," offering his help and support to Hutchins' family and stating that he was "fully cooperating" with the police investigation into the accident. A social media post from a few days earlier in which he was kitted out in his cowboy gear and covered in blood in character for Rust was removed from his accounts.
Scandal seems to follow Alec Baldwin around, whether or not he is looking for that drama to which Beatty alluded. The eldest of six siblings of a middle-class Catholic family of Irish descent, the four Baldwin brothers are all involved in show business, although they couldn't be much different from one another. Daniel has had problems with drugs. Stephen is currently involved with an Evangelical church and his political views are inclined toward conservatism. The second-youngest, William described his brother as someone who always has something "to fucking whine about," according to The New Yorker. Alec is the eldest and the most disciplined, but also the one who protected the other brothers from bullies as he was the most combative. He went to school with the notion of becoming the president of the United States, but on recognizing he had little chance of achieving that goal he enrolled at the Lee Strasberg Theatre & Film Institute in New York, graduating many years later.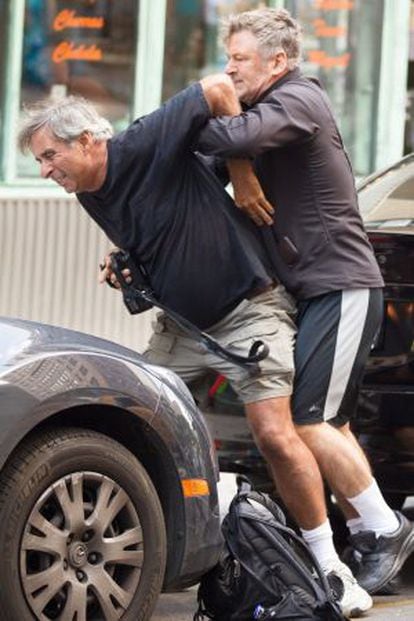 His career could have panned out like Al Pacino's or Jack Nicholson's, actors who he looked up to, but Baldwin's generation was not the same. Perhaps neither was his talent, and certainly, the world of movies had changed. In 1992, Baldwin ensured that he would be associated with his idols when he starred with Jessica Lange in a Broadway revival of A Streetcar Named Desire, which three years later would be turned into a television movie with Baldwin and Lange reprising their roles for the small screen. Not only did Baldwin receive a Tony nomination for his Broadway performance, he also drew favorable comparisons to legendary actor Marlon Brando, who starred in the stage production and the 1951 movie version. Around this time Baldwin was also landing meaty screen roles, including that of Jack Ryan opposite Sean Connery in The Hunt for Red October.
But as time progressed, Baldwin's name was more frequently heard in connection to his social life and scandals than for his stage or screen performances. His marriage to actor Kim Basinger, who he met in 1991 while filming The Marrying Man, ended acrimoniously, and Baldwin's relationship with the couple's daughter, Ireland, has often been fractious. In 2007, a voicemail message the actor left for Ireland, who was 11 at the time, caused a sensation due to Baldwin's use of not very fatherly language, during an ongoing spat with Basinger following their 2002 divorce.
Then there is the other Alec Baldwin, described by the actor himself as "bitter, defensive, and more misanthropic than I care to admit," in an open letter to Vulture magazine in 2014 titled Good-bye, Public Life. At that time Baldwin had forged a reputation as a violent, homophobic egocentric following several incidents aired in the media. And, of course, from his own mouth. Even so, he managed to resurrect his career in the most surprising way imaginable: by making fun of himself.
Baldwin's portrayal of the absurd and conceited television executive Jack Donaghy across seven seasons of 30 Rock (2006-13), a character inspired by Baldwin himself, earned back his public popularity and landed the actor back-to-back Primetime Emmy Awards in 2007 and 2008 and three Golden Globes. In 2011, he started a new chapter in his personal life with his current wife, Hilaria Baldwin, with whom he has six children. But as one of his closest friends, Lorne Michaels, producer of Saturday Night Live where Baldwin has received plaudits for his impersonations of former US president Donald Trump, once said: "Everything would be better if you were able to enjoy what you have."
Baldwin's altercations – mostly verbal, occasionally physical – with the paparazzi or anyone who in the actor's opinion has violated his privacy have been frequent, including on productions on which he has worked. In 2013, the actor Shia LaBeouf was fired from the Broadway theatre production of Orphans when Baldwin said: "Either he goes or I do." Years earlier an actress left another play Baldwin was working on by leaving a written note stating that she feared for her "physical, mental and artistic" safety.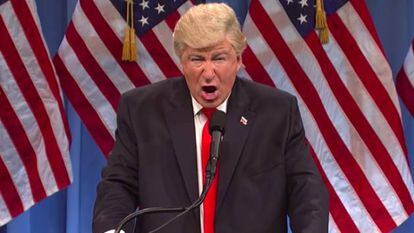 Every one of Baldwin's reinventions seems inexorably to be followed by another fall from grace. On the one hand, there is the Baldwin who has stated on several occasions that he intends to withdraw from public life, and on the other the Baldwin who is obsessed with social media, writing a tweet for every occasion. Many of these posts have cost the actor, such as in 2017 when he commented on a video of a suspect being fatally shot by police: "I wonder how it must feel to wrongfully kill someone…"
There are still unanswered questions surrounding the death of Halyna Hutchins. The investigation has not disclosed whether the firearm was discharged accidentally or if Baldwin was aiming it at the time, although the transcript of a call to the emergency services appears to indicate it happened during a rehearsal. As of yet, no charges have been filed against Baldwin but it is unknown if this may yet occur at a later date. A statement taken from the assistant director states that Baldwin was told by crew members that the gun was not loaded. Many observers are wondering if Rust will be completed, if the project will be abandoned. And many more are asking the same about Baldwin: will he be able to find a way back from this latest dramatic moment?
What If Everything We've Been Told About Recent History Is a Lie?
The author is a prominent American Christian conservative who was a presidential candidate for the paleoconservative Constitution Party in 2008, when he was endorsed by Ron Paul.  
He is the pastor of Liberty Fellowship, a non-denominational church in Montana, and he is a popular radio host and columnist. His weekly sermons are available on his YouTube channel.
He is a relentless foe of neoconservatism and frequently criticizes the neocon hostility towards Russia.  His views are representative of an influential and substantial part of Trump's popular support.
Here is an archive of his excellent articles which we have published on Russia Insider, when they were relevant to the debate over Russia.
---
What if everything we've been told about 9/11 is a lie? What if it wasn't 19 Muslim terrorist hijackers that flew those planes into the Twin Towers and Pentagon? What if the Muslims had nothing whatsoever to do with the attacks on 9/11? What if everything we've been told about the reasons we invaded two sovereign nations (Afghanistan and Iraq) is a lie?
What if the 17-year-old, never-ending "War on Terror" in the Middle East is a lie? What if our young soldiers, sailors, airmen and Marines who have given their lives in America's "War on Terror" died for a lie? What if G.W. Bush, Barack Obama and Donald Trump have been nothing but controlled toadies for an international global conspiracy that hatched the attacks of 9/11 as nothing more than a means to institute a perpetual "War on Terror" for purposes that have nothing to do with America's national security? Would the American people want to know? Would the truth even matter to them?
The sad reality is that the vast majority of Americans who would read the above paragraph would totally dismiss every question I raised as being unrealistic and impossible—or even nutty. Why is that? Have they studied and researched the questions? No. Have they given any serious thought to the questions? No. They have simply swallowed the government/mainstream media version of these events hook, line and sinker.
It is totally amazing to me that the same people who say they don't believe the mainstream media (MSM) and government (Deep State) versions of current events—which is why they voted for and love Donald Trump—have absolutely no reservations about accepting the official story that the 9/11 attacks were the work of jihadist Muslims and that America's "War on Terror" is completely legitimate.
These "always Trumpers" are dead set in their minds that America is at war with Islam; that Trump's bombings of Syria were because President Assad is an evil, maniacal monster who gassed his own people; and that Trump's expansion of the war in Afghanistan is totally in the interests of America's national security.
BUT WHAT IF ALL OF IT IS A BIG, FAT LIE?
What if the Muslims had NOTHING to do with 9/11?
What if Bashar al-Assad did NOT gas his own people?
What if America's "War on Terror" is a completely false, manufactured, made-up deception?
What if America's military forces are mostly fighting for foreign agendas and NOT for America's national security or even our national interests?
What if America's war in Afghanistan is a fraud?
What if the entire "War on Terror" is a fraud?
The Trump robots have bought into America's "War on Terror" as much as Obama's robots and Bush's robots did. Bush was elected twice, largely on the basis of America's "War on Terror." Obama campaigned against the "War on Terror" and then expanded it during his two terms in office. Trump campaigned against the "War on Terror" and then immediately expanded it beyond what Obama had done. In fact, Trump is on a pace to expand the "War on Terror" beyond the combined military aggressions of both Bush and Obama.
But who cares? Who even notices?
America is engaged in a global "War on Terror." Just ask G.W. Bush, Barack Obama, Donald Trump, ABC, CBS, NBC, CNN, FOX News, The Washington Post, the New York Times and the vast majority of America's pastors and preachers. They all tell us the same thing seven days a week, twenty-four hours a day. Liberals scream against Trump, and conservatives scream against Maxine Waters; but both sides come together to support America's never-ending "War on Terror."
But what if it's ALL a lie? What if Obama and Trump, the right and the left, the MSM and the conservative media are all reading from the same script? What if they are all (wittingly or unwittingly) in cahoots in perpetuating the biggest scam in world history? And why is almost everyone afraid to even broach the question?
Left or right, liberal or conservative, Democrat or Republican, secular or Christian, no one dares to question the official story about the 9/11 attacks or the "War on Terror."
And those who do question it are themselves attacked unmercifully by the right and the left, conservatives and liberals, Christians and secularists, Sean Hannity and Chris Matthews. Why is that? Why is it that FOX News and CNN, Donald Trump and Barack Obama, Chuck Schumer and Ted Cruz equally promote the same cockamamie story about 9/11 and the "War on Terror?"
Why? Why? Why?
Tell me again how Donald Trump is so different from Barack Obama. Tell me again how Ted Cruz is so different from Chuck Schumer. They all continue to perpetuate the lies about 9/11. They all continue to escalate America's never-ending "War on Terror." They are all puppets of a global conspiracy to advance the agenda of war profiteers and nation builders.
The left-right, conservative-liberal, Trump-Obama paradigm is one big giant SCAM. At the end of the day, the "War on Terror" goes on, bombs keep falling on people in the Middle East who had absolutely NOTHING to do with 9/11 and the money keeps flowing into the coffers of the international bankers and war merchants.
All of the above is why I am enthusiastically promoting Christopher Bollyn's new blockbuster book The War on Terror.
Of course, Bollyn is one of the world's foremost researchers and investigators into the attacks on 9/11. He has written extensively on the subject. But unlike most other 9/11 investigators, Bollyn continued to trace the tracks of the attacks on 9/11. And those tracks led him to discover that the 9/11 attacks were NOT "the event" but that they were merely the trigger for "the event." "What was the event?" you ask. America's perpetual "War on Terror."
As a result, Mr. Bollyn published his findings that the attacks on 9/11 were NOT perpetrated by Muslim extremists but by a very elaborate and well financed international conspiracy that had been in the planning for several decades. Bollyn's research names names, places and dates and exposes the truth behind not just 9/11 (many have done that) but behind America's "War on Terror" that resulted from the attacks on 9/11.
IT'S TIME FOR THE TRUTH TO COME OUT!
And Christopher Bollyn's investigative research brings out the truth like nothing I've read to date. His research connects the dots and destroys the myths.
Mr. Bollyn's research is published in a book entitled (full title): The War On Terror: The Plot To Rule The Middle East. I mean it when I say that if enough people read this book, it could change the course of history and save our republic.
This is written on the book's back cover:
The government and media have misled us about 9/11 in order to compel public opinion to support the War on Terror.

Why have we gone along with it? Do we accept endless war as normal? Are we numb to the suffering caused by our military interventions?

No. We have simply been propagandized into submission. We have been deceived into thinking that the War on Terror is a good thing, a valiant struggle against terrorists who intend to attack us as we were on 9/11.

Behind the War on Terror is a strategic plan crafted decades in advance to redraw the map of the Middle East. 9/11 was a false-flag operation blamed on Muslims in order to start the military operations for that strategic plan. Recognizing the origin of the plan is crucial to understanding the deception that has changed our world.
Folks, 9/11 was a deception. The "War on Terror" is a deception. The phony left-right paradigm is a deception. FOX News is as much a deception as CNN. The "always Trump" group is as much a deception as the "never Trump" group. America has been in the throes of a great deception since September 11, 2001. And this deception is being perpetrated by Republicans and Democrats and conservatives and liberals alike.
I do not know Christopher Bollyn. I've never met him. But I thank God he had the intellectual honesty and moral courage to write this book. I urge readers to get this explosive new book. If you don't read any other book this year, read Mr. Bollyn's investigative masterpiece: The War On Terror: The Plot To Rule The Middle East.
Again, I am enthusiastically recommending this book to my readers, and I make no apologies for doing so. The truth contained in this research MUST get out, and I am determined to do all I can to help make that possible.
Order Christopher Bollyn's blockbuster book The War On Terror: The Plot To Rule The Middle East here:
The War On Terror: The Plot To Rule The Middle East
I am confident that after you read this book, you will want to buy copies for your friends and relatives. The book is under 200 pages long and is not difficult reading. However, the facts and details Bollyn covers are profound and powerful. I have read the book three times so far and I'm not finished.
Frankly, Bollyn's book made so many things make sense for me. His book dovetails and tracks with much of my research on other topics. Truly, his book helped me get a much fuller understanding of the "big picture."
What if everything we've been told about 9/11 and the "War on Terror" is a lie? Well, Bollyn's book proves that indeed it is.
Again, here is where to find Christopher Bollyn's phenomenal new book The War On Terror: The Plot To Rule The Middle East:
Carbon budgets to require 'fundamental' changes to work and lifestyle
Forthcoming carbon budgets for every sector of the economy will "require fundamental changes" affecting how people live and work, Minister for Climate Eamon Ryan has said.
He was speaking after the publication of new proposed overall carbon budgets from the Climate Change Advisory Council as the country puts a statutory limit on greenhouse gas emissions for the first time.
The council's budgets outline a national ceiling for the total amount of emissions that can be released.
The first carbon budget, which will run from 2021 to 2025, will see emissions reduce by 4.8 per cent on average each year for five years.
The second budget, which will run from 2026 to 2030, will see emissions reduce by 8.3 per cent on average each year for five years.
"The proposed carbon budgets will require transformational changes for society and the economy which are necessary; failing to act on climate change would have grave consequences," the council said.
Its chair Marie Donnelly said "significant investment across the economy" would be required.
Individuals and communities "at risk of loss of employment or disproportionate costs need to be identified and assisted", the council stressed.
Mr Ryan said the Government would shortly outline the carbon limit for each sector individually, which he said would be "challenging".
Climate plan
Government sources have said that the most crucial phase lies ahead as it next week plans to unveil the landmark climate plan that will set out how each sector needs to respond including agriculture, transport, heating and power generation.
Rural TDs in both Fine Gael and Fianna Fáil have privately expressed fears about backlash on new carbon ceilings for the agricultural sector. It is understood the Green Party favours a reduction in the national herd but there is strong pushback from members of the other Coalition parties.
In its report, the council said there was a need "for a strong, rapid and sustained reduction in methane emissions".
Minister of State in the Department of Agriculture Martin Heydon said it was clear from the council's modelling what the consequences were for rural economies if climate action "is not handled responsibly".
"The potential job losses and damage to rural Ireland of crude measures like herd reduction are stark. That's why it's vitally important that we get the sectoral targets right for an area like agriculture. Policy decisions must be backed up by robust science – if farmers cannot see the sense in what they are being asked to do then it will be difficult to achieve anything," he said.
'Serious repercussions'
Irish Farmers' Association president Tim Cullinan said the emissions ceiling for agriculture in the budgets would have "serious repercussions for farming".
"Our most productive farmers simply cannot remain viable if agriculture has to reduce emissions by between 21 per cent and 30 per cent as has been reported," he said in a reference to estimates a Government source gave to The Irish Times last week.
"This will have profound implications for the rural economy," he said.
But Oisín Coghlan, director of Friends of the Earth, said: "The truth is, if we stick to budget this we will all be winners, with a cleaner, healthier, safer future."
Welcoming the budget targets, Mr Coghlan said the narrative around the plans had begun to pit sectors against each other. However, "if we fail we will all be losers, facing accelerating climate breakdown with all the costs and destruction that will bring".
It is expected that the Government's climate plan will be released on November 3rd and that Mr Ryan will bring the details of that to the COP26 conference in Glasgow.