The West Gets Russia Wrong Because the Media Are Peddling a Pack of Lies
Orlov is one of our favorite essayists on Russia and all sorts of other things. He moved to the US as a child, and lives in the Boston area.
He is one of the better-known thinkers The New Yorker has dubbed 'The Dystopians' in an excellent 2009 profile, along with James Howard Kunstler, another regular contributor to RI (archive). These theorists believe that modern society is headed for a jarring and painful crack-up.
He is best known for his 2011 book comparing Soviet and American collapse (he thinks America's will be worse). He is a prolific author on a wide array of subjects, and you can see his work by searching him on Amazon.
He has a large following on the web, and on Patreon, and we urge you to support him there, as Russia Insider does.
His current project is organizing the production of affordable house boats for living on. He lives on a boat himself.
If you haven't discovered his work yet, please take a look at his archive of articles on RI. They are a real treasure, full of invaluable insight into both the US and Russia and how they are related.
---
If you have visited Russia in recent years, Moscow and St. Petersburg especially, but also a lot of the up-and-coming provincial cities, you will have noticed that Russia these days is a pretty normal place.
It's a mundane bit of reality that the easier the travel, the more similar will be the place you arrive from to the one you left: trains or taxis to take you to and from airports, ATM machines that spit out local currency, hotels with shiny baubles in the lobby and hot and cold running water in the bathrooms, plenty of places to eat out, including McDonalds and Pizza Hut if you don't like the local cuisine, and free Wi-Fi all over the place.
There are lots of signs in English, the bus stops are announced in both Russian and English, and if you get lost Google Maps will tell you where you are and how to get back to your hotel. And if you fancy shopping or entertainment, there are scores of shopping and entertainment centers to choose from featuring all of the global brands.
There are still some Russia-specific oddities you might spot: border guards with machine guns on the tarmac as your plane taxis up to the terminal (the Russians take border security very seriously); people wearing lots of fur, the better dressed women especially (you can blame the mostly freezing weather). Some provincial facilities may still look a bit old-fashioned, but many of the big cities are now newer-looking and shinier than a lot of the ones in Europe or the US.
If you talk to the locals, you will find them quite willing to speak their minds and express a wide range of political opinions. Nobody will be looking over their shoulder and, no, you won't be assigned a minder to follow you around.
And if you have been visiting Russia periodically, every few years, as I have for many decades, you will have found that it has been changing at breakneck speed. It was a complete wreck of a place in the early to mid-nineties: dirty, seedy, disorganized, depressed, crime-ridden and generally dangerous. Service was rude or nonexistent and nothing moved without a bribe or two.
That Russia is now almost completely gone. Most of the cars on the streets are of foreign brands, although mostly built in Russian factories. A continuous building boom has transformed the built-up environment. But the people have also changed: they are, on the whole, much better behaved and polite, and many are very professional and enthusiastic about their jobs. In particular, the young people in Russia are distinctly proud of their country and are hopeful about its future. This raw dynamism is quite striking.
Thus, if you were to go and see for yourself, and took the time to keep track of developments over time and to judge the general trends, you would reach the inevitable conclusion that Russia is a normal country. Your experiences there would allow you to judge that it is quite rich, rather prosperous, and socially and politically stable.
And yet when you travel back to Europe, the US, Canada, or any of the other countries dominated by Western media companies and consortia, you will be told that Russia is strange, evil, ruled by a ruthless dictator and hell-bent on expanding its territory and threatening its neighbors. Why is there this disconnect, and what is the major impetus to demonize Russia? And why isn't there a parallel effort by Russia to demonize the West?
If you dig a bit deeper, you will find that this demonization relies on a set of lies:
You may have heard that Russia invaded Georgia in 2008—a blatant act of aggression. Well, no, on that occasion Georgian troops shelled Russian peacekeepers in neighboring South Ossetia, and Russian troops restored the peace, briefly rolling into Georgia in pursuit of retreating Georgian troops, and quickly withdrawing once the threat to Ossetia had been neutralized.

You may have heard that Russia had invaded the Ukraine in 2014. Well, again, no, what happened in the Ukraine was that the constitutional government was overthrown in a violent coup, and the newly installed nationalists threatened the rights of the Russian population living in the east of the country. It had been part of Russia for many centuries, up to less than a hundred years ago, when it was reassigned from Russia to the Ukraine by Vladimir Lenin. Russia did offer it help, both political and humanitarian, but well short of invading, and has withheld political recognition.

You may have heard that Russia had invaded and annexed Crimea. But Crimea had been part of Russia from 1783 and ended up as part of the Ukraine when the USSR fell apart (a transfer of questionable legality). After the unfortunate events of 2014 in Kiev, 97% of Crimea's residents voted in a referendum to rejoin Russia. Russian troops, already stationed in Crimea under an international agreement, successfully kept the peace during this transfer.

• You may have heard that Russian troops are in Syria to prop up a ruthless dictator, Bashar al Assad, who uses chemical weapons against his own people. But the reason Russian troops went into Syria was to fight ISIS (a.k.a. the Islamic State or the Caliphate). You see, there were hundreds of thousands of ISIS fighters in Syria. Something like half of them were from Russia or from former Soviet republics, and the Russian language was as common within ISIS as Arabic. The Russians wisely decided that it was safer and cheaper to stamp out this scourge in Syria, rather than wait for it to spread to countries further north and closer to Russia. Saving Syria from destruction was a welcome side-effect, but the self-interested goal was to be proactive in saving Russian lives.

As far as chemical weapons, I would again encourage you to do your own research, but my conclusion is that they were once fashionable for "exterminating the brutes." For instance, Winston Churchill was once determined to use them against the Russian Bolsheviks. But now such terminology is out of favor, and chemical weapons are only useful in provocations, to accuse one's enemies of committing atrocities, to serve as a fake casus belli. The Syrians in particular voluntarily gave up all of their chemical weapons, and the Americans removed them and destroyed them under an international inspections regime. The recent fake chemical attack in Syria's Ghouta looks like complete nonsense…
…as do all of the preceding propagandistic claims, but this does not deter Western governments and media sources from endlessly repeating them.
That is the essence of propaganda: pick some big lies, repeat them endlessly, and accuse anybody who is willing to contradict them with consorting with the enemy. Anybody who dares to challenge the propaganda narrative is automatically either a "Kremlin bot" or "Putin's stooge." This is, of course, a convenient dodge. When all sorts of things are going wrong, from lost wars to stolen elections to stolen retirements to stolen futures of one's children to weapons systems that don't work, it is easiest to find a single scapegoat. For such a huge set of problems, the scapegoat has to be a very large one, and Russia just happens to be the right size.
But what about counterpropaganda? Aren't the Russian government and media just as guilty of taking liberties with the truth? Once again, I would very much encourage you to do your own research (for which knowledge of Russian is, unfortunately, a requirement).
I have been a faithful student of Russian media for many years, and I have come to the conclusion that they are almost entirely reactive. That is, they do respond to the lies thrown in their faces, but they do so with facts and with evidence rather than with even more powerful lies of their own. You might imagine that perhaps the Russians just love the truth too much, or care too much about the salvation of their souls, but I am far too cynical for that. I am more comfortable with a rational explanation for this behavior, rather than an emotional or a spiritual one.
Luckily, there is an obvious one. As the United States is steadily losing its grip on its affairs, both foreign and domestic, other countries are starting to go their separate ways. This is both a positive and a potentially very dangerous development. The positive aspect is that as the US empire fades out, the dramatic financial and trade imbalances that have been allowed to build up over decades, protected by the threat of US sanctions and military aggression against anyone who dares to defy the primacy of the US dollar, will be allowed to correct themselves. The negative aspect is that the imperial discipline that has kept multiple international conflicts frozen will no longer be in effect, and things run the risk of becoming dangerously unstuck.
Russia has been in the forefront of the movement to shift the world order from US-dominated unipolarity to multipolarity, and it is interested in having this process proceed smoothly. What allows countries to resolve their differences peacefully is international law. In turn, international law does not have some sort of supranational enforcement mechanism—no country has a monopoly on violence, and countries that transgress do not get sent to jail. Instead, the entire mechanism relies on everyone's consent to abide by international agreements. And to reach consent all of the participants have to be able to participate in a single consensual reality—a single set of verifiable facts. This is why Russian counterpropaganda would be a nonstarter: it would endanger that consensual reality.
As long as you have a single madman, and his various remaining henchmen, bouncing around in their padded cell, spewing forth a torrent of lies (and a few delusional presidential tweets) the rest of the world can point and say that that is specifically not what they agree to talk about. Then they can turn their backs on the madman and hold their own discussions, agree to procedures for verifying facts, negotiate agreements and so on. But if the entire planet is overrun with lots of little madmen, each concocting their own distorted, delusional version of reality, then no such constructive dialogue becomes possible, and the world edges closer to war.
Thus, the safest course of action is to be careful with facts, refuse to repeat propagandistic falsehoods, and wait patiently until the madman in his padded cell runs out of steam, because time is definitely not on his side.
International Institute of Social History: Why Amsterdam is home to a trove of archives on Spanish anarchism and the anti-Franco resistance | Culture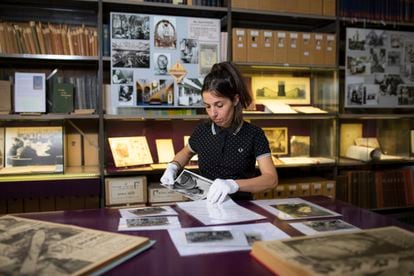 A significant part of historical memory regarding Spain's anarchist movement and the Spanish Civil War (1936-1939) can be found at the International Institute of Social History (IISH) in Amsterdam in the Netherlands.
Founded in 1935, the IISH is home to the historical archive of the National Confederation of Labor (CNT), an anarchist labor union, and the Iberian Anarchist Federation (FAI) – documents known in Spain as the so-called "Amsterdam boxes" – along with an extensive collection on workers' activism and social movements across the world.
Sneaked out of the country to preclude confiscation by the regime of dictator Francisco Franco, these 47 boxes take up a stretch of the institute's 20 kilometers of shelves and include the CNT-FAI's order to the León-born anarchist leader Buenaventura Durruti to travel to Madrid in 1936, where he would meet his end in uncertain circumstances. The IISH also houses the archives from the anti-Franco resistance and the Ruedo Ibérico publishing house founded in Paris in 1961 by five exiles from the Spanish Civil War with the aim of producing anti-fascist material to counter the dictatorship's propaganda. Adding to the cache are archives relating to the libertarian trade unionists and feminists, original letters from writer Pío Baroja, a member of the Generation of '98, and thousands of photos of the Civil War that were thought to have been lost, including images captured by Polish photographer, Margaret Michaelis and Hungarian photographer, Kati Horna. Altogether, it amounts to the legacy of a polarized period of history that is a mine of information for researchers.
The unsealed document containing the order to Durruti, signed by the regional committees of the CNT-FAI, was dated November 9, 1936, and stipulated that "comrade Durruti, without further delay, leave for Madrid […] to intervene decisively in the defense of the capital of Spain." According to Almudena Rubio, responsible for recovering the document, it is proof that "the leadership of the National Confederation of Labor and the Iberian Anarchist Federation was behind that decision, while Durruti himself wanted to take Zaragoza."
Rubio adds that it was not uncommon for orders from the CNT-FAI to be unsealed, and that, though there was a rift between the union and its rank and file, "it seems that Durruti was considered essential to the anti-fascist struggle in the capital." By ordering a change of plans for the anarchist, "the communists, who were already taking positions in Madrid, benefitted as did [Russian leader Joseph] Stalin, who was against the social revolution pursued by Durruti," she says.
Those signing the document mention "the enormous possibilities of success [of our comrades] if our help reaches them," and "the pleas of the people of Madrid, who are calling on us." The reality, however, was quite different. Durruti was shot dead days after arriving with no conclusive explanation for his death. His driver, Clemente Cuyás, said in 1993 that he had been the victim of an accidental shot from his own rifle and that the CNT-FAI demanded any witnesses remain silent. Other versions speak of his death in combat or from a traitor's bullet.
The arrival in the Netherlands of the CNT-FAI archive was not without its share of drama. "When it became clear in 1939 that the Republican side would not win the Civil War, union representatives took it to the Paris branch of the IISH," says Leo Lucassen, IISH research director. "They did it as private individuals, to avoid the new fascist state being able to claim it later as belonging to a Spanish organization."
Shortly before the outbreak of World War II, the archive was transferred from Paris to the United Kingdom and was taken to Amsterdam in 1947. Closed for three decades, until Franco's death, an inventory wasn't taken until the 1980s. Lucassen stresses that the Spanish Civil War generated ideas on an international scale that had an indisputable impact. "Proof of this is that among the International Brigades there were hundreds of Dutch people committed to what was presented as the ultimate struggle: the fight between good and evil," he says, adding that it was, however, difficult for them to return to the Netherlands. "Their passports were taken from them as they had fought with a foreign army. They were seen as traitors to their homeland, but also as liberating icons." The nationality of Dutch members of the International Brigades was reinstated in 1970, and Amsterdam dedicated a monument to them in 1986 in a square called Spanje (Spain) 1936-1939.
Baroja's letters
Among the Spanish correspondence preserved in the Archive of the Spanish Resistance, which collected documents up to 1974, are three original letters by the writer Pío Baroja. They are addressed to Concepción Martí Vall or Ada Martí, an anarchist writer and journalist who was an admirer of Baroja though she later distanced herself from him, feeling he had betrayed the social nature of his early works. Dated 1936, when Martí was 21 and Baroja 64, the letters' tone suggests an exchange between an idealized professor and his pupil. For example, Baroja confesses his passion to "live to write, write to live;" while also telling Martí things such as, "I no longer need a compass because I am anchored in the harbor. You are the one who should be attentive to the marking needle." The cultural center Ateneu Enciclopèdic de Barcelona has a photocopy of these missives and was unaware of the presence of the originals in Amsterdam until now.
Meanwhile, the archive of the Ruedo Ibérico publishing house contains the manuscript of Viaje al Sur (or, The Trip South) – a book the publishers commissioned Juan Marsé to write but which was assumed to have gone missing until it was realized that it has been renamed Andalucía, perdido amor (or, Andalusia, lost love) with Marsé writing under the pseudonym Manolo Reyes; it was published after the writer's death, in 2020, by Lumen publishing house.
An archive of archives
Founded in 1935 by Dutch professor of social and economic history, Nicolaas Posthumus (1880-1960), the IISH has become an archive of archives. Its treasures include papers by Karl Marx, Freidrich Engels, Mikhail Bakunin and the anarchist Emma Goldman, which are among one million books and publications, 5,400 collections and 1.5 million audiovisuals. "Posthumus was interested in the intellectual roots of ideas from anarchists, socialists, liberals and Christian democrats," says Lucassen. "Around 1930, when left-wing movements were threatened by fascism and National Socialism in Europe, he began to receive documents from social organizations, often taken under the radar from their countries of origin which enabled him to maintain the independence of the new center. Entire collections of left-wing publications from Latin American countries such as Argentina and Bolivia have been entrusted to us. It is a heritage that continues to be sent to the center from areas where similar conflicts persist."
Rubio hopes to present an exhibition in 2022 with the Civil War images taken by Kati Horna, and her colleague, Margaret Michaelis, recovered from 2015. They were commissioned by the CNT-FAI to provide a graphic testimony of the social revolution it intended; the photos were in the photographic archive of the CNT-FAI's foreign propaganda offices, included in the Amsterdam boxes.
English version by Heather Galloway.
US Anti-Immigration Website Vdare.com Raises $40K in 1 Day in Year-End Fund Drive
"Tuesday's kickoff of VDARE.com's year end fundraiser started with what I thought was a challenging goal: to bring in $5,000 in one day to meet a matching donation pledged by one of our standout donors. Little did I know what an enormous groundswell of support we would receive, ultimately breaking VDARE.com's 20 year record for donations in 24 hours.
We promoted the initial challenge in the usual ways across all social media platforms and via email. But I'm always on pins and needles in anticipation of a fundraiser. On Tuesday morning the donations started coming in early and generous – what was encouraging quickly became astonishing, and by noon eastern time we were mere dollars from meeting our $5,000 goal. It was still mid-morning on the west coast! So I started calling around to some of our most generous friends.
My first call was to South Carolina, to the donor who gave us the initial $5k, to see if he, like me, was high on the turnout and inspired to increase his gift. He was, indeed, delighted by the money coming in but was tapped out. Too many obligations to the tax man and a nagging lawsuit.
Next call was to Washington state, to a donor who first donated last December after finding us on Twitter. He's frequently in the wilderness, so I wasn't surprised to have to leave a voicemail.
Then I rang Oklahoma, to one of our most engaged donors, a man who has been funding VDARE.com – and other dissident right organizations — for more than twelve years. But he's already doubled his giving to VDARE.com this year and cheered me on to call upon someone else.
Finally, I called another Washington state donor (we have a very generous pocket of readers in the Pacific Northwest) who has been generously supporting VDARE.com for close to fifteen years. I hit voicemail with him, too.
Meanwhile the tally kept rising. As did the mood in the office, I can assure you! Noah on video support began putting together the intro and graphics for the evening's livestream while my assistant and I called out each time a new donation came in. It was wild, and at times wacky.
"$55 from Pennsylvania!"
"OH! $200 from Idaho!"
Suddenly the phone rang. Our friend had emerged from the wilderness. "This matching grant has really inspired people today, and I think a stretch goal would keep the momentum up," I told him, "we might even set a record for giving. What do you think about pledging $2,000?"
Without missing a beat, he said "I was thinking about $10,000."
And just like that, we had a stretch goal twice the size of our original. Even more amazing: it was met by individual small donations within two hours.
I ordered Chinese takeout for the team – John Derbyshire, Noah the video tech, my assistant, Peter and myself – as we switched gears heading into the livestream slated for my living room. My kids were all excited to have so many guests for dinner, and it turns out John never has Chinese takeout, presumably because he has a Chinese wife, so I like to think it was exciting for him too! As we negotiated with the children about their appearance on camera to say "Merry Christmas," the phone rang again.
As soon as I picked up the phone, almost without saying hello, my fifteen-years-loyal donor announced, "I'm pledging $5,000, how much do you have in so far?"
At this point, we had only barely met the first stretch goal and the night was closing in on the east coast. Sure, we had the livestream coming up, but I worried that maybe we had captured everything there was to capture. But why not give it a try? We'd already broken the record for one day of mass giving – but we may as well SHATTER IT! As Buzz Lightyear said, to infinite and beyond!
I shouldn't have doubted. This community always comes through when we need you.
Two hours later, as we closed out the livestream, we were only $387 short of the super stretch goal. That amount – and more – came in within minutes of turning off the mics. By midnight we surpassed the super stretch matching by over $1,000, bringing our 24 hour total, including the fully matched pledges, to $42, 574!
That's almost a quarter of the way to our final goal of $200,000 that we need to reach by January 1.
In one day.
Thank you. Thank you. THANK YOU!
We have a lot more in store for you during this Year End Appeal, and I'm so looking forward to amplifying different voices from our staff and supporters as they ruminate on VDARE.com's 20 years of patriotic immigration reform. But ultimately, this is about you, our readers, America's patriots.
VDARE.com may be the voice of the historic American nation, but we are only the voice. The community is the body. And we're getting stronger every day.
Help us reach our final goal – let's keep up this incredible momentum. Please, give your most generous donation now!
Domestic air routes to be restored by mid July, says Minister
Regional flights to Donegal and Kerry should resume by the middle of July, Minister for Transport Eamon Ryan has said.
The Green Party leader said the Government has been in contact with a number of different airlines about restoring routes linking the counties with Dublin after the collapse of Stobart Air.
Both routes are subsidised by the State under Public Service Obligation (PSO) contracts.
Under EU rules, the Government is allowed to make arrangements to continue axed services for seven months before renegotiating a four year PSO contract, Mr Ryan told RTÉ radio.
Airlines interested in taking over the two routes are to be approached next week before a "judgment call" is made on the most suitable operators.
Mr Ryan said he expects them to be in place by "mid-July".