The TV series that got us through lockdown
What was the series that you binged during lockdown? From zombies to racing cars to robots battling monsters; our writers reveal their pandemic bingeing
KINGDOM
Kingdom was my household's escape from Covid for a while last year. The visually stunning Korean zombie series from writer Kim Eun-hee and director Kim Seong-hun tells the story of an infectious outbreak during the Joseon Dynasty. Unlike the Covid pandemic, this is one in which frustrations with a virus can be relieved by stabbing someone through the head with a sword.
Dawn of the Dead was about consumerism; Zombie by the Cranberries was about Northern Ireland; The Walking Dead was about unrelenting boredom (I assume). Like all good zombie art, Kingdom has a potent metaphor at its core. Its zombie plague has its origins in a zombified ruler puppetted by a family of power-hungry lackeys. This sickness at the top of society spreads through the land alongside a pre-existing plague of corruption and famine that appal our virtuous heroes – a noble prince (Ju Ji-hoon) and a lowly physician (Bae Doona).
But Kingdom also comes with more optimism than is usual in this genre. Unlike almost all of the more westerly zombie apocalypses, it focuses less on individualistic survival against a backdrop of societal anarchy (which is the main US mode for zombie stories) and more on logical plague containment and a concern with the collective good. It ultimately pans out more like a tense adventure story than a nihilistic gorefest (thought it's also a bit of a gorefest) as its likeable heroes battle both zombie armies and malevolent courtiers while trying to find a cure.
They never quite institute a functioning test-and-trace system, largely relying on the old-fashioned "stick a sword through the zombie's head" method of disease repression. But, quite frankly, there's a lot to be said for that too.
– Patrick Freyne
Kingdom is available on Netflix
THE BOLD TYPE
The New York-located Scarlet magazine of The Bold Type is based on the glossy flagship Cosmopolitan. Its editor, Jacqueline Carlyle, is based on Cosmo's former editor Joanna Coles (notice the initials?), who is the show's executive producer. Carlyle is pretty bold, as are the three twentysomething employees who are best pals – Jane, Sutton and Kat.
Jane is a writer favouring telling stories through her personal experiences. Sutton is a fashion assistant aspiring to be a stylist. Kat, who is biracial, is Scarlet's social media director, and at one point scolds her two white friends for misappropriating the word "woke".
Between what's happening in their own lives and what's being covered in the magazine, the show sharply covers subjects ranging from gender and identity, the Me Too movement, workplace power dynamics, body image, sexuality, ambition and social media difficulties. Scarlet also goes digital along the way, and there are the inevitable media tussles between editorial and advertising.
There's a lot of terrible CGI throughout, but the material about an evolving media industry, and the zeitgeist for young women, is robust and relevant.
However, at core, The Bold Type is about female friendship. Jane, Sutton and Kat meet up to decompress during work hours, not in the women's toilets, but in the magazine's glamorous fashion closet. Outside work, they are the tightest of trios, always challenging and supporting each other. It's refreshing to see a show that celebrates female friendship in all its messiness, without ever resorting to reductive bitchy animosity. – Rosita Boland
Available on Netflix; fifth and final season coming later this year.
FORMULA 1: DRIVE TO SURVIVE
There are many unexpected personal revelations within lockdown, but becoming fully immersed in a sport I didn't give a damn about until a month ago is definitely a twist. The catalyst for my newfound fandom of Formula 1 is the amazing soap-opera/reality/documentary series Drive To Survive. The Netflix series (there are three seasons, and I've gone through them at Lewis Hamilton-level pace) is a masterclass in editing and conflict.
The races are high drama, of course, but so is the jostling within and between teams coloured by immaturity, backstabbing, territorial rage, emotional meltdowns, insecurity, jealousy, arrogance, favouritism, vindictiveness, resilience, joy and egomania, in a ludicrous but brilliant sport that makes a virtue of its inequities, running on the fuel of warped capitalism, toxic brand pressure, and self-loathing billionaires. Brilliant.
Then there's the strange, comforting parallels with the pandemic. Drivers' dreams are crushed frequently. When an engine explodes, or a car spins off track, these arbitrarily cruel moments remind us that no matter how prepared and focused we are, no matter what ambitions or plans we have, s*** happens.
Finding myself leaping off the couch at the 2020 Italian Grand Prix result, screaming "He's done it! He f***ing did it! I don't believe it!" or turning to my girlfriend after another particularly poignant result, tears streaming down my face, saying, "No matter what happens, no one can take this away from him," may be part of a broader existential crisis, or it could just be that Drive to Survive presents an opportunity to feel something – adrenaline – in the emotionally flat desert of the pandemic. Box, box, box! – Una Mullally
Available on Netflix
THE ASCENT OF MAN
The sequence of "authored" documentary series made by the BBC from the late 1960s to the late 1970s are among the imperishable jewels of the medium. Kenneth Clark walked us through the history of art in Civilisation. Alistair Cooke's America made sense of that nation as it prepared for a bicentennial. Best of all, perhaps, was Jacob Bronowski's still-gripping The Ascent of Man. Now available in a reasonably priced boxed set, the series, first broadcast in 1973, attempted an overview of science from the first plough to the Manhattan Project. Bronowski is the ideal companion for such a daunting journey. A mathematician whose Jewish family moved from Poland to Britain in the 1920s, he was as happy quoting William Blake as talking us through the principles of special relativity. As he reaches the 20th century, he is able to relate personal anecdotes about interactions with distinguished geniuses. ("You wake me up early in the morning to tell me that I'm right?" the late-sleeping mathematician John "Johnny" von Neuman once berated someone who dared to call before lunch. "Please wait until I'm wrong.")
Most importantly, Bronowski had a gift for turning his teaching into stories. None ends so powerfully as the episode on quantum mechanics. He wades into the swampy land that absorbed the ashes of so many humans outside Auschwitz and grabs a handful of damp mud. "We have to cure ourselves of the itch for absolute knowledge and power," he says, standing amid the remains of his own relatives. "We have to close the distance between the push-button order and the human act. We have to touch people."
Among the most powerful moments in television history. – Donald Clarke
Available on YouTube
NEON GENESIS EVANGELION
One of the first things I did in lockdown was order a short-story anthology about kaiju – those huge, city-ravaging monsters that are a long-time staple of Japanese cinema. If this wasn't the moment to curl up with tales of Godzilla-like terrors plunging humanity into dystopia, when was?
The book was fine – but I wanted more. Pacific Rim, Guillermo Del Toro's take on the genre, is one of my favourites. Alas, I've watched it to death and can quote whole chunks of dialogue ("Today we are cancelling the apocalypse!", as I shouted at the postman the other morning).
And so I finally went down the rabbit hole. That is to say, I developed an obsession with Neon Genesis Evangelion, the 1995 anime series credited with pioneering the concept of kaiju battling huge robots.
It's great, though the gender politics are "of their time". The story, however, holds up wonderfully. The year is 2015 and across the Earth, massive, destructive beings called "Angels" have awakened. The only line of defence are titanic robots – "Evangelions".
In Dublin they'd probably be outlawed for detracting from the historic skyline. But in the city of "Tokyo-3" Evas are exactly what is required. Enter hero Shinji Ikari, a teenager who reluctantly becomes the pilot of "Eva-01".
Episode by episode, we see Shinji conquer his fears, and turn tables on the Angels. A crowning touch is the complicated lore, with the origins of the Angels drawing on Christian mysticism and the Jewish Kaballah tradition.
In short it delivers more excitement than you can shake a giant robot arm at. Across the world the recent Godzilla v Kong has whetted appetites for monster apocalypses. If that includes you, then you owe it to yourself to dive off the deep end and into Neon Genesis Evangelion. – Ed Power
Available on Netflix
International Institute of Social History: Why Amsterdam is home to a trove of archives on Spanish anarchism and the anti-Franco resistance | Culture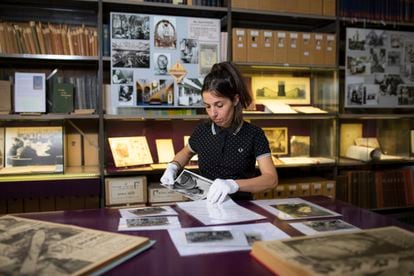 A significant part of historical memory regarding Spain's anarchist movement and the Spanish Civil War (1936-1939) can be found at the International Institute of Social History (IISH) in Amsterdam in the Netherlands.
Founded in 1935, the IISH is home to the historical archive of the National Confederation of Labor (CNT), an anarchist labor union, and the Iberian Anarchist Federation (FAI) – documents known in Spain as the so-called "Amsterdam boxes" – along with an extensive collection on workers' activism and social movements across the world.
Sneaked out of the country to preclude confiscation by the regime of dictator Francisco Franco, these 47 boxes take up a stretch of the institute's 20 kilometers of shelves and include the CNT-FAI's order to the León-born anarchist leader Buenaventura Durruti to travel to Madrid in 1936, where he would meet his end in uncertain circumstances. The IISH also houses the archives from the anti-Franco resistance and the Ruedo Ibérico publishing house founded in Paris in 1961 by five exiles from the Spanish Civil War with the aim of producing anti-fascist material to counter the dictatorship's propaganda. Adding to the cache are archives relating to the libertarian trade unionists and feminists, original letters from writer Pío Baroja, a member of the Generation of '98, and thousands of photos of the Civil War that were thought to have been lost, including images captured by Polish photographer, Margaret Michaelis and Hungarian photographer, Kati Horna. Altogether, it amounts to the legacy of a polarized period of history that is a mine of information for researchers.
The unsealed document containing the order to Durruti, signed by the regional committees of the CNT-FAI, was dated November 9, 1936, and stipulated that "comrade Durruti, without further delay, leave for Madrid […] to intervene decisively in the defense of the capital of Spain." According to Almudena Rubio, responsible for recovering the document, it is proof that "the leadership of the National Confederation of Labor and the Iberian Anarchist Federation was behind that decision, while Durruti himself wanted to take Zaragoza."
Rubio adds that it was not uncommon for orders from the CNT-FAI to be unsealed, and that, though there was a rift between the union and its rank and file, "it seems that Durruti was considered essential to the anti-fascist struggle in the capital." By ordering a change of plans for the anarchist, "the communists, who were already taking positions in Madrid, benefitted as did [Russian leader Joseph] Stalin, who was against the social revolution pursued by Durruti," she says.
Those signing the document mention "the enormous possibilities of success [of our comrades] if our help reaches them," and "the pleas of the people of Madrid, who are calling on us." The reality, however, was quite different. Durruti was shot dead days after arriving with no conclusive explanation for his death. His driver, Clemente Cuyás, said in 1993 that he had been the victim of an accidental shot from his own rifle and that the CNT-FAI demanded any witnesses remain silent. Other versions speak of his death in combat or from a traitor's bullet.
The arrival in the Netherlands of the CNT-FAI archive was not without its share of drama. "When it became clear in 1939 that the Republican side would not win the Civil War, union representatives took it to the Paris branch of the IISH," says Leo Lucassen, IISH research director. "They did it as private individuals, to avoid the new fascist state being able to claim it later as belonging to a Spanish organization."
Shortly before the outbreak of World War II, the archive was transferred from Paris to the United Kingdom and was taken to Amsterdam in 1947. Closed for three decades, until Franco's death, an inventory wasn't taken until the 1980s. Lucassen stresses that the Spanish Civil War generated ideas on an international scale that had an indisputable impact. "Proof of this is that among the International Brigades there were hundreds of Dutch people committed to what was presented as the ultimate struggle: the fight between good and evil," he says, adding that it was, however, difficult for them to return to the Netherlands. "Their passports were taken from them as they had fought with a foreign army. They were seen as traitors to their homeland, but also as liberating icons." The nationality of Dutch members of the International Brigades was reinstated in 1970, and Amsterdam dedicated a monument to them in 1986 in a square called Spanje (Spain) 1936-1939.
Baroja's letters
Among the Spanish correspondence preserved in the Archive of the Spanish Resistance, which collected documents up to 1974, are three original letters by the writer Pío Baroja. They are addressed to Concepción Martí Vall or Ada Martí, an anarchist writer and journalist who was an admirer of Baroja though she later distanced herself from him, feeling he had betrayed the social nature of his early works. Dated 1936, when Martí was 21 and Baroja 64, the letters' tone suggests an exchange between an idealized professor and his pupil. For example, Baroja confesses his passion to "live to write, write to live;" while also telling Martí things such as, "I no longer need a compass because I am anchored in the harbor. You are the one who should be attentive to the marking needle." The cultural center Ateneu Enciclopèdic de Barcelona has a photocopy of these missives and was unaware of the presence of the originals in Amsterdam until now.
Meanwhile, the archive of the Ruedo Ibérico publishing house contains the manuscript of Viaje al Sur (or, The Trip South) – a book the publishers commissioned Juan Marsé to write but which was assumed to have gone missing until it was realized that it has been renamed Andalucía, perdido amor (or, Andalusia, lost love) with Marsé writing under the pseudonym Manolo Reyes; it was published after the writer's death, in 2020, by Lumen publishing house.
An archive of archives
Founded in 1935 by Dutch professor of social and economic history, Nicolaas Posthumus (1880-1960), the IISH has become an archive of archives. Its treasures include papers by Karl Marx, Freidrich Engels, Mikhail Bakunin and the anarchist Emma Goldman, which are among one million books and publications, 5,400 collections and 1.5 million audiovisuals. "Posthumus was interested in the intellectual roots of ideas from anarchists, socialists, liberals and Christian democrats," says Lucassen. "Around 1930, when left-wing movements were threatened by fascism and National Socialism in Europe, he began to receive documents from social organizations, often taken under the radar from their countries of origin which enabled him to maintain the independence of the new center. Entire collections of left-wing publications from Latin American countries such as Argentina and Bolivia have been entrusted to us. It is a heritage that continues to be sent to the center from areas where similar conflicts persist."
Rubio hopes to present an exhibition in 2022 with the Civil War images taken by Kati Horna, and her colleague, Margaret Michaelis, recovered from 2015. They were commissioned by the CNT-FAI to provide a graphic testimony of the social revolution it intended; the photos were in the photographic archive of the CNT-FAI's foreign propaganda offices, included in the Amsterdam boxes.
English version by Heather Galloway.
US Anti-Immigration Website Vdare.com Raises $40K in 1 Day in Year-End Fund Drive
"Tuesday's kickoff of VDARE.com's year end fundraiser started with what I thought was a challenging goal: to bring in $5,000 in one day to meet a matching donation pledged by one of our standout donors. Little did I know what an enormous groundswell of support we would receive, ultimately breaking VDARE.com's 20 year record for donations in 24 hours.
We promoted the initial challenge in the usual ways across all social media platforms and via email. But I'm always on pins and needles in anticipation of a fundraiser. On Tuesday morning the donations started coming in early and generous – what was encouraging quickly became astonishing, and by noon eastern time we were mere dollars from meeting our $5,000 goal. It was still mid-morning on the west coast! So I started calling around to some of our most generous friends.
My first call was to South Carolina, to the donor who gave us the initial $5k, to see if he, like me, was high on the turnout and inspired to increase his gift. He was, indeed, delighted by the money coming in but was tapped out. Too many obligations to the tax man and a nagging lawsuit.
Next call was to Washington state, to a donor who first donated last December after finding us on Twitter. He's frequently in the wilderness, so I wasn't surprised to have to leave a voicemail.
Then I rang Oklahoma, to one of our most engaged donors, a man who has been funding VDARE.com – and other dissident right organizations — for more than twelve years. But he's already doubled his giving to VDARE.com this year and cheered me on to call upon someone else.
Finally, I called another Washington state donor (we have a very generous pocket of readers in the Pacific Northwest) who has been generously supporting VDARE.com for close to fifteen years. I hit voicemail with him, too.
Meanwhile the tally kept rising. As did the mood in the office, I can assure you! Noah on video support began putting together the intro and graphics for the evening's livestream while my assistant and I called out each time a new donation came in. It was wild, and at times wacky.
"$55 from Pennsylvania!"
"OH! $200 from Idaho!"
Suddenly the phone rang. Our friend had emerged from the wilderness. "This matching grant has really inspired people today, and I think a stretch goal would keep the momentum up," I told him, "we might even set a record for giving. What do you think about pledging $2,000?"
Without missing a beat, he said "I was thinking about $10,000."
And just like that, we had a stretch goal twice the size of our original. Even more amazing: it was met by individual small donations within two hours.
I ordered Chinese takeout for the team – John Derbyshire, Noah the video tech, my assistant, Peter and myself – as we switched gears heading into the livestream slated for my living room. My kids were all excited to have so many guests for dinner, and it turns out John never has Chinese takeout, presumably because he has a Chinese wife, so I like to think it was exciting for him too! As we negotiated with the children about their appearance on camera to say "Merry Christmas," the phone rang again.
As soon as I picked up the phone, almost without saying hello, my fifteen-years-loyal donor announced, "I'm pledging $5,000, how much do you have in so far?"
At this point, we had only barely met the first stretch goal and the night was closing in on the east coast. Sure, we had the livestream coming up, but I worried that maybe we had captured everything there was to capture. But why not give it a try? We'd already broken the record for one day of mass giving – but we may as well SHATTER IT! As Buzz Lightyear said, to infinite and beyond!
I shouldn't have doubted. This community always comes through when we need you.
Two hours later, as we closed out the livestream, we were only $387 short of the super stretch goal. That amount – and more – came in within minutes of turning off the mics. By midnight we surpassed the super stretch matching by over $1,000, bringing our 24 hour total, including the fully matched pledges, to $42, 574!
That's almost a quarter of the way to our final goal of $200,000 that we need to reach by January 1.
In one day.
Thank you. Thank you. THANK YOU!
We have a lot more in store for you during this Year End Appeal, and I'm so looking forward to amplifying different voices from our staff and supporters as they ruminate on VDARE.com's 20 years of patriotic immigration reform. But ultimately, this is about you, our readers, America's patriots.
VDARE.com may be the voice of the historic American nation, but we are only the voice. The community is the body. And we're getting stronger every day.
Help us reach our final goal – let's keep up this incredible momentum. Please, give your most generous donation now!
Domestic air routes to be restored by mid July, says Minister
Regional flights to Donegal and Kerry should resume by the middle of July, Minister for Transport Eamon Ryan has said.
The Green Party leader said the Government has been in contact with a number of different airlines about restoring routes linking the counties with Dublin after the collapse of Stobart Air.
Both routes are subsidised by the State under Public Service Obligation (PSO) contracts.
Under EU rules, the Government is allowed to make arrangements to continue axed services for seven months before renegotiating a four year PSO contract, Mr Ryan told RTÉ radio.
Airlines interested in taking over the two routes are to be approached next week before a "judgment call" is made on the most suitable operators.
Mr Ryan said he expects them to be in place by "mid-July".