The Spanish Expulsion of the Jews to WW1
We can't recommend this charming article enough, partly because it is so well-written, but also because of the light it sheds on important world events. If the information age we are living through is anything, it is the re-writing of history – and this re-writing will change the world beyond recognition.
---
On hearing the word 'revisionism,' suspicion lurks in the mind of some, and alarms sound in the mind of others. Suspicion is the elder sister of twins, credulity and incredulity. And of all kinds of credulity, the most obstinate and wonderful is that of zealots; of men who resign the use of their eyes and ears, and resolve to believe nothing that does not favor those whom they profess to follow.
Hence the law of truth, which most would accept in principle, is broken without penalty, without censure, and in compliance with inveterate prejudice and prevailing passions. Men are willing to credit what they wish, and encourage rather those who gratify them with pleasure, than those who provide them with fidelity, (or at least try to.)
Still, revisionism implies nothing else but an effort to seek historical truth and to discredit myths that are a barrier to peace and general goodwill among nations. There is nothing upon which more writers, in all ages, have laid out their abilities, than revisionism. And it affords no pleasing reflection to discover that a subject so controversial is anything but exhausted.
It may surprise some that the first undisputed revisionist was a relatively little known Renaissance scholar named Lorenzo Valla (1407-1457). He used his knowledge of classical Latin to prove that an important text written by Emperor Constantine, one thousand years before, was actually a forgery. To the skeptic who understandably asks, "So what?" the answer may surprise him.
That discovery destroyed the historical justification for the Catholic Church to have a judicial right to the possession (essentially at will), of earthly lands and geographical domains.
The forged document titled "The Donation of Constantine," stated, "I, Constantine, donated the whole of the Western Roman Empire to the Roman Catholic Church, as an act of gratitude for having been miraculously cured of leprosy by Pope Sylvester I."
Lorenzo Valla proved that the vernacular Latin of the forged 'donation' was in use only in the 8th century AD, rather than the 4,th when the document had allegedly been written.
The incentive for Valla's research was a land dispute between his patron Alfonso V of Aragon and the Pope of the time. Understandably the Church rejected the conclusion, but rather than been pilloried, insulted, derided, ostracized, banned or burned, Valla actually even enjoyed the patronage of Pope Callixtus III. Perhaps the spirit of the Renaissance inspired indulgence and forbearance, instead of hatred and revenge. Which is more than can be said about what happened to recent revisionists of more recent events.
To step back a little, let's take the American Revolution for example. Patriotic historians have hailed the dumping of English-imported tea into Boston harbor as evidence of an unsullied love of freedom and of courageous revolting by idealistic patriots against a tyrannical enemy and extortionist import taxes.
But revisionists have shown that the first financier of the Revolution was John Hancock, a wealthy merchant from a family that made its fortune from smuggling. Tea happened to be a major item, generously drunk by colonists and locals.
It just so happened that England had a large overstock of stored and unsold tea from the East Indian Company. To dispose of it they sold it in America at a price that, even with the import tax, was less than the cost of the tea smuggled in America from Holland. This substantially cut into the profit of the Hancock business. Hancock but caught the stream in the torrent of occasion
In 1812 America wanted to conquer Canada to bring freedom thither, as pompously declared by Gen. William Hull in his annexation proclamation, before being defeated at Detroit. Two years later, during the peace negotiations with the British, the Americans denied of ever having intended to annex Canada. "But how about Gen. Hull's declaration in Detroit?" asked the British. "That was not really government-sanctioned policy," was the reply, as documented in the records.
And when the British requested some territorial exchanges and concessions that would have preserved independence for some American Indians, the Americans flatly refused. In a report to his boss in London, Lord Bathurst, the British negotiator Henry Goulburn wrote "…till I came here I had no idea of the fixed determination which there is, in the heart of every American, to extirpate (sic) the Indians and appropriate their territory."
Yet, in the non-revisionist annals of history, the war of 1812 was "The War That Forged A Nation."
To the Civil War (1861-1865), the term 'revisionism' has not generally been applied – though, to be pedantic about it, in the South the same war was called "War for Southern Independence." Yet unofficial revisionists have focused on the causes of the Civil War far more than on the causes of either World War. Nevertheless, it is no longer impolitic to say that the war had little and only tangentially to do with slavery emancipation.
Revisionists have equally shown that, at the time of the Spanish American war in 1898, President McKinley, with the full Spanish concessions to his demands in his pocket, concealed the Spanish capitulation from Congress and demanded war. Which in turn required an excuse ("casus belli" is the technical term). The sinking of the Maine did nicely, with 268 dead American sailors. Blowing up the Maine was the 9/11 of the Spanish-American War.
Today it is acceptable to tell the truth about the Maine, partly or mostly because 120 years have worn out the print of remembrance, and much greater horrors have shown the immense power of immense evil.
Besides, the relatively recently published "Operation Northwood" papers show a detailed plan for a false flag operation that included the killing of an unspecified number of Americans, to justify the invasion of Cuba during Kennedy's time. And, as universally acknowledged, the false North Vietnamese attack on an American frigate in the Gulf of Tonkin was the notorious excuse for the Vietnam War.
It is somewhat disheartening to agree with Oscar Wilde that "truth is a matter of style." And if use almost can change the stamp of nature, habituation to mass media bombardment using the same story can make the story appear true and quell the power of independent thought.
Furthermore, insensibly and by degrees, the popular media, controlled by a state-within-the state, has cleverly assuaged the mesmerized audience to believe and accept that astuteness redeems any evil. Actual cases have literally shown that with lots of money even a moderately unintelligent criminal can get away with murder.
As for 9/11, I will not repeat what has been said, written, debated or demonstrated by thousands of others. In my mind there remains printed the expression of Larry Silverstein, either owner, or renter, or lessee of the towers, depending on intricate legal arguments and definitions. When he claimed on television that he did not go to his office on 9/11, because he had an appointment with a dermatologist, and his wife insisted that he keep it. Physiognomy, however, is a justly debatable science, immune to revisionism.
It was WW1 that actually brought the term "revisionism" into general use, and for good reasons. For the revisionists counted on an accurate assessment of the causes of the War for a review and re-write of the Treaty of Versailles. The treaty assigned to Germany and Austria the sole responsibility for the conflict.
The Germans were 'Huns' (sic), suggesting wild hordes of horse-mounted barbarians who brought havoc to the Roman Empire. That the German 'Huns,' in 1914, had the most socially advanced measures and safety-net for workers in Europe, including the equivalent of social security, was deemed irrelevant.
But at the onset of the war new methods of communication, mass journalism and propaganda could whip up popular opinion and mass hatred as never before in the history of warfare. By then propaganda, especially of the Edward Bernay's type, was the arbiter of good and evil, as discussed in the article "The Fraud of Freud." Propaganda, then and now, is ever ready to surprise the unawareness of the thoughtless, prone to be misled by meteors mistaken for stars.
Media-whipped-up hysteria made Germany entirely responsible not only for the outbreak of war in 1914 but also for the American entry in April 1917.
President Wilson, who decided to join the war to make the world safe for democracy, even imprisoned union leader Eugene Debs for having said that profit, not democracy was the only motive for that decision.
Other revisionists connected the entry of America in WW1 to the quid-pro-quo worked-out in England by certain bankers, in exchange for the Balfour declaration and the consequent eventual ethnic cleansing of the Palestinians.
At Versailles, the victors alleged that, on July 5, 1914, the Kaiser had called a Crown Council of leading German government officials, ambassadors, and financiers. Where he told them to ready themselves for the war he would shortly declare. Whereupon the financiers asked for a two weeks delay, to sort out loans and securities. The Kaiser agreed and then left for his habitual summer North Sea vacation on his yacht. All this was, allegedly, concocted to give the enemy a false sense of security.
An American revisionist proved from available documents that the Crown Council legend was a complete myth. Some of the alleged participants were not in Berlin at the time. And the Kaiser's actual attitude, on that 5th of July, was 180 degrees opposite to the official narrative, while the two-week time requested by the bankers was imaginative fabrication.
What actually happened has a tinge of Clintonian-style scandal. The secretary to the German Ambassador in Constantinople, Baron Hans von Wangenheim, revealed the facts.
Von Wangenheim had a mistress in Berlin and, in the early days of the crisis of 1914, she demanded that he return at once to Berlin to settle some critical matters with her. He complied and, to conceal from his wife the real reason for the trip, he told her that the Kaiser had suddenly summoned him to Berlin.
On his return, he told his wife about the fanciful Crown Council he had dreamed up. Shortly later, with his wife by his side, von Wangenheim met Morgenthau, then the American Ambassador at Constantinople, at a diplomatic reception.
Morgenthau had heard about von Wangenheim's trip to Berlin and pressed him to say something about it. Under the circumstances, von Wangenheim could only repeat the myth he had told his wife. To what extent liquor may have lessened his restraint, and how much Morgenthau elaborated on what von Wangenheim actually said will be forever buried several fathoms in the earth, or sunk into the bottomless sea of things unknown.
Still, that preposterous tale demonstrates the value of revisionism and how momentous and tragic events hang on the most palpable fabrications. For on its basis, the then British Prime Minister Lloyd George advocated the hanging of the German Kaiser (which the Dutch refused to do, for the Kaiser was in exile in Holland).
More recently, Colin Powell's vial full of milk, paraded as antrax at the United Nations, was the excuse to wage a war on behalf of Israel that netted the destruction of a country, the death of over thousands of American soldiers and a million plus Iraqis.
What caused WW2 would demand an equal or greater volume of revisionism, if free speech were not equated to heresy. To name just one, mostly-buried and poorly-answered question – England declared war on Poland because Germany had invaded part of it, to recover lands lost in WW1. Why did not England declare war on the USSR, who invaded Poland from the East to recover land lost under the terms of the Brest-Litovsk peace treaty in WW1? Here the revisionists hit a lexical wall. England and France did not declare war on the USSR because the USSR was "in a state of neutrality."
One current hot topic for revisionism is the so-called "Russia-gate." In the US – according to statistics – less than 10% can even locate Ukraine on a map, as fascination for sports alone dramatically outweighs any potential interest in foreign things, let alone foreign history or the policies of foreign governments.
But even for millions in business or business related occupations, concern in foreign matters yields no physical, tangible residue, in the way of durable goods or profit. Consequently, such interests are deemed imbecile and distasteful to men whose habitual occupation is with the acquisition of wealth or the thought of it.
Therefore to suggest that Russia influenced the American electorate to vote for Trump, brings sublimity to the ridiculous. Yet even the "The New York Times," which usually exhibits a shrewd eye to the limits within which dishonesty is the best policy, has succumbed to the temptation of promoting a legless fabrication. While the insupportably disagreeable lackeys of the information industry continue to lie without being belied, deceive without being unmasked, and wear the medals of their own crimes.
I will conclude this scant and thoroughly incomplete anthology of revisionism by referring to the Spanish Inquisition, which, more than from history books, is remembered thanks to the related satirical sketches of Monty Python.
Telegraphically compressed, the history goes as follows. In 1391 various rulers of Spain banned the Jews from their respective kingdoms. Or rather, the Jews were told to convert (to Christianity), or leave. Those who could leave left, those who didn't and did not convert suffered persecution. Of those who converted, henceforth called "conversos", many maintained their important and lucrative positions inside what today we call the establishment.
As an instance – and the related documentation is ample – take the case of Alonso de Cartagena. When 4 or 5-year old, he was baptized by his father Shlomo ha-Levi. Ha-Levi, in turn, had converted to Christianity just before the anti-Jewish pogroms of 1391, and later was elected bishop of Cartagena and Burgos, while his wife remained faithful to her original faith.
Anyway, the perception at large that the conversion to Christianity was just a front, led to two important developments. In 1492 King Ferdinand, who now ruled Castile and Aragon, banned from Spain the unconverted Jews with no exception, while the Inquisition (a kind of National Security Agency), set itself to determine if the conversion was sincere or not.
This decision to expel had been brewing for some time. In the meantime Pope Eugenius IV had nominated Cartagena Junior as Bishop of Burgos. Cartagena was a very learned man who translated Cicero and the books of Seneca in Castilian. And he also set himself to combat the view that Jews could not really be Christian, in his treatise titled "Defensorium."
According to his (we can call it revisionist) view, the idea of the Jews being the "chosen people" was a misinterpretation. Abram's circumcision – he wrote – was just a mark of an alliance, not a result of his merits. This is why "(God) generously decided to give his people the law, so that the distinction among peoples be perceived not only in the flesh by cutting off the foreskin, but also in the customs by cutting off vices." [Dios] se dignó darle generosamente la ley para que la diferencia no fuese percibida sólo en la carne, por el corte del prepucio, sino en las costumbres, por el corte de los vicios" (Cartagena, Defensorium).
But this was not enough. Unsubstantiated historical rumor says that Ferdinand was reluctant to pass the expulsion measure, considering that he had received a very generous offer from prosperous members of the Spanish AIPAC of the time. At which Torquemada allegedly threw a cross at the feet of Ferdinand and said, "Christ was betrayed for 30 pieces of silver. Would you betray him, just because the reward is higher?"
Even so, the debate did not end, after the Jews' expulsion of 1482. For in 1539 Ignatius of Loyola along with four other conversos and one established Christian, founded the Jesuit order. Bitter fights between the parties of "Jesuits-conversos-in" and "Jesuits-conversos-out," lasted well into the 17th century.
In the overall context, it is interesting to consider the views of Benzion Netaniahou, father of Benjamin Netan-you-know-who.
Benzion died in 2012 aged 102, and in 1995 published his book titled, "The Origins of the Inquisition."
According to a commentary by a critic, B. Netaniahou's intent was ,
"to dissect the consequences of Jewish naiveté. His fascination with medieval Spain wasn't based only on the behavior of the victimizers but of the victims.

He not only drew a line connecting what he defined as the racial anti-Semitism of the Inquisition with Nazism, but implicitly drew a line between the Jews who saw medieval Spain as their golden land and the Jews who saw modern Germany as their new Zion.

It is precisely that dread of Jewish self-deception that has defined the politics of Benzion's son."
Other revisionist critics have disputed that B. Netaniahou wished to portrays Jews as naive, by quoting the following passage from his book,
"It was primarily because of the functions of the Jews as the king's revenue gatherers in the urban areas that the cities saw the Jews as the monarch's agents, who treated them as objects of massive exploitation.

By serving as they did the interests of the kings, the Jews seemed to be working against the interests of the cities; and thus we touch again on the phenomenon we have referred to: the fundamental conflict between the kings and their people—a conflict not limited to financial matters, but one that embraced all spheres of government that had a bearing on the people's life. It was in part thanks to this conflict of interests that the Jews could survive the harsh climate of the Middle Ages, and it is hard to believe that they did not discern it when they came to resettle in Christian Europe.

Indeed, their requests, since the days of the Carolingians, for assurances of protection before they settled in a place show (a) that they realized that the kings' positions on many issues differed from those of the common people and (b) that the kings were prepared, for the sake of their interests, to make common cause with the "alien" Jews against the clear wishes of their Christian subjects.

In a sense, therefore, the Jews' agreements with the kings in the Middle Ages resembled the understandings they had reached with foreign conquerors in the ancient world."
Conclusion? The resentment against the Jews was the fault of the kings. Or rather, Jews were not naive, as one of the book reviewers suggested. Instead they realized that in allying themselves with exploiting ruling elites, they would incur the wrath of the people and thus require princely assurances of protection.
The Jewish alliance with local exploitative elites is a constant among alleged causes of anti-Jewish resentment, in Europe and elsewhere. Whether this set of affairs can be observed in the current Zeitgeist of American history, I do not feel qualified to determine. Considering that the purpose here is/was to review revisionism, not to draw, declare or dismiss sundry articles of truth.
Furthermore, of things that revolve around human life, the world is the proper judge. To despise its sentence, if it were possible, is not just; and if it were just, is not possible. For in the end, as it was said, and not by me, "Nothing is good or bad, but thinking makes it so."
---
Source The Saker
Music: From Beyoncé to Rosalía, what's behind the eccentric use of capital letters in pop music? | Culture
If you go to your favorite music streaming platform and play either of this summer's two most played albums—Beyoncé's Renaissance and Rosalía's Motomami—you'll notice a significant detail: the titles of all the songs are written in capital letters. The chart's aesthetics have mutated over the years. The official listings maintain their own writing and capitalization rules, but the titles on Spotify's global top 50 are enough to make the eyes spin in orbit. The titles are as varied as the world's people. Neither song titles nor artist names follow the strict stylization rules of institutions or record companies.
Historically, Spanish and English have used capital letters in contrasting ways. In Spanish, the first letter of song titles is capitalized, but the rest of the letters are lowercase. English, meanwhile, capitalizes the first letter of every word, especially nouns, adjectives and verbs, a practice that apparently comes from the first version of the US Constitution. That is, where the Anglos write "Don't Cry For Me Argentina," Spanish uses "No llores por mi Argentina." In Spain, the Anglo-Saxon style is sometimes emulated, as with "Santos Que Yo Te Pinté" by Los Planetas. But it is visually exaggerated and looks artificial. The music industry has almost always followed rules and conventions of writing names and titles, whether for the physical versions of albums –CDs and vinyls– or in their digital versions.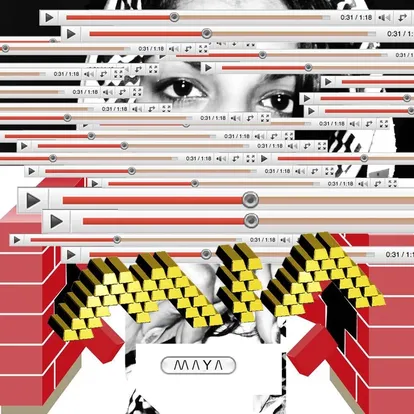 In the context of streaming platforms, however, those rules no longer dominate. On illegal download programs, such as Soulseek, users write as they please. On iTunes, where each person can modify an album's content, adding and deleting songs and titling them however you want. Most significantly, though, the platforms that allow artists to upload their own music, have changed the way artists present their songs to the world. Rappers like Travis Scott have made themselves known by uploading mixtapes to Soundcloud, a streaming platform that, unlike Spotify, has the option of being able to upload songs directly, without the need for external distributors. There, the usual capitalization conventions no longer have any relevance: the music is usually amateur work created at home without the help of record labels or professionals. Francisco Nixon, musician and content editor for the streaming platform Deezer, associates the use of capital letters specifically "with the subculture of hip hop and mixtapes. I mean CDs burnt at home, with crappy Photoshop typography and all. Its current use, I think, comes from that subculture."
That amateurism, detached from any formal convention, as often the artist does not know if their work will reach an audience, is also reflected in the writing of titles. It is often done in a hurry, without attention to grammar, spelling or aesthetics, because what counts is immediacy: the more spontaneous, the more authentic.
What was once a spontaneous practice has now become an industry standard, a marketing strategy that allows musicians to display their personality on the market. Artists like the aforementioned Rosalía (or ROSALÍA on Spotify), Beyoncé, Bad Bunny and Lil Nas X, present the titles of their songs in capital letters ("DESPECHÁ," "BREAK MY SOUL"), while others like Billie Eilish, Olivia Rodrigo, FKA twigs and, in Spain, Alba Reche or daniel sabater (as written) opt for lowercase. Sometimes these same artists use capital letters to title their albums but lowercase to name the songs, as with Billie Eilish's debut. Others choose both options at the same time, like Belén Aguilera. On his SUPERPOP, album, each track written in uppercase is followed by another written in lowercase. And British rapper Slowthai divides his double album TYRON into two halves, the first of which features titles in uppercase, the second in lowercase. The first represents, in his words, the "mask" that he puts on in front of others, while the second denotes his "true self."
Some artists choose an even more experimental method. All the songs in DAMN., by Kendrick Lamar are titled in capital letters followed by a period. However, others by J. Cole or Willow (daughter of Will Smith) are not only written entirely in lowercase but also with spaces between letters, such as "m y l i f e" or "t r a n s p a r e n t s o u l." The method seems to gesture towards something so transcendent that it doesn't fit within a song, much less within its title. (Special mention should be made of the use of emojis by groups such as Axolotes Mexicanos and even Coldplay.)
Uppercase and lowercase letters have become one more form of expression for artists, in addition to lyrics, melodies or graphic art. These artists have grown up with the Internet, sending and receiving text messages via mobile phones or computers. Playing with forms of writing has become natural to them. It is also no coincidence that artists who are presumed to be more "extroverted," flashy or explosive, such as Rosalía or Lil Nas X, use capital letters to stand out (the titles of MOTOMAMI and MONTERO are almost hysterical). Others like girl in red or mori, who create more introspective music, opt for lowercase to create a sense of intimacy, a space where you can listen carefully to all their secrets. All of them send a clear message of what they want to convey with their art and how they want the public to perceive them. Their use of writing conventions allows them to do so. Graphic designer and art director André Gianzo believes that "on Spotify, where most of the lyrics are written in lowercase, using uppercase can be a way to attract attention, to break with the establishment. Historically, the capital letter means shouting," so the use of lower case means the exact opposite. However, Gianzo points out that the standardization of this practice in the industry means that using capital letters "is no longer going to be a factor that is taken into account to attract attention" because the "eye gets used to absolutely everything."
Precedents for this phenomenon go beyond rap mixtapes published on platforms like Soundcloud. In 2010, M.I.A. released the album Maya, whose title is actually written with forward slashes, // / Y /, and which can only exist thanks to a modern keyboard. (Interestingly, one of the album's tracks is titled "CAPS LOCK.") Long before, Japanese pop artists such as Capsule and Ayumi Hamasaki were already messing around with uppercase and lowercase letters in song titles. It was then a purely aesthetic practice that denoted a desire to play with the norm or even transgress it. Nowadays it is common for Japanese or Korean artists to alternate between different alphabets in their song titles. This is the case of Utada Hikaru and her 2021 single "BADモード." Further back we find the precedent of e.e. cummings, the 1940s poet who wrote in lowercase for reasons of poetic expression. In her recent folk-music stage, Taylor Swift has titled all her compositions in lowercase, presumably with the intention of projecting a sense of intimacy.
Even more curious is the so-called lowercase genre, minimalist ambient music composed of practically imperceptible sounds and noises are amplified in the recording. One of its inventors, Steve Roden, released a record featuring different ways of manipulating sheets of paper. He stated that lowercase music "carries a certain sense of calm and humility, doesn't demand attention, must be discovered. It's the complete opposite of capital letters, which are loud and draw attention to themselves"– a good summary of what the strategic use of upper and lowercase means today in the world of pop music.
Academy Awards apologizes to Sacheen Littlefeather for 1973 Oscars abuse | Culture
The Academy of Motion Picture Arts and Sciences (Ampas), the body that oversees the Oscars, has apologized to Sacheen Littlefeather for the abuse she suffered at the 1973 Academy Awards. The Native American actress appeared at the ceremony on the request of actor Marlon Brando, who was awarded Best Actor for his role in The Godfather. When Brando's name was announced, Littlefeather, who was 26 years old at the time, took to the stage to say that owing to the "poor treatment of Native Americans in the film industry," as well as the recent events at Wounded Knee, a conflict which led to the death of two Native Americans, Brando would not accept the award.
Her speech was met with boos (and some applause) from the audience, and the actress had to be escorted by security guards. According to Littlefeather, that night some people used the "Tomahawk chop" – seen as a demeaning gesture to Native Americans – as she was walking by. Her Indian heritage was questioned, and she was accused of being in a relationship with Brando. Decades later, in 2020, Littlefeather said that actor John Wayne nearly assaulted her.
Nearly 50 years after the ceremony, the Academy has issued a formal apology for what happened. "The abuse you endured because of this statement was unwarranted and unjustified. The emotional burden you have lived through and the cost to your own career in our industry are irreparable. For too long the courage you showed has been unacknowledged. For this, we offer both our deepest apologies and our sincere admiration," reads the letter signed by its former president, David Rubin.
Littlefeather, who is now 75, has responded with humor to the Academy's apology. "We Indians are very patient people – it's only been 50 years!" she said in an interview with The Hollywood Reporter. "I never thought I'd live to see the day I would be hearing this."
The Academy Museum of Motion Pictures will also host a special event on September 17, in which Littlefeather will discuss her appearance at the 1973 Oscars and the representation of Native Americans on screen.
Music: Madonna has been scandalizing people for 40 years, and nobody's going to stop her | Culture
Madonna's Instagram account has a reputation as a playground for digital voyeurs. It doesn't disappoint, featuring Madonna crying; Madonna drunk; Madonna twerking with Maluma; Madonna filming her family performing a dance while cooking; Madonna kissing Britney Spears at Spears's wedding; Madonna flashing a boob; Madonna posing spread-eagle with the caption, "I have something for you."
The singer has relatively few followers (18.4 million) compared to stars from later generations like Beyoncé (273 million), but she offers better stimuli: the chance to see a pop star who has done everything – going above and beyond both morally and artistically – struggle not to become just another sympathetic character. Madonna has been part of the music world for 40 years and still no other pop star has proven to be more subversive and provocative than she is. Now, she's releasing a remix album summarizing her career, Finally Enough Love: 50 Number Ones (on sale August 19), turning 64 (August 16) and moving up the production of a film that tells her life story, the real one.
The singer's frenzied use of her Instagram perfectly symbolizes her career, which has been scrutinized around the world since she started in the music industry in 1982, at the age of 25. Surely, Madonna has suffered every type of harassment that a pop star can endure: sexual harassment, body criticism, machismo, classism; accusations of cultural appropriation and of being anti-religious, sacrilegious, unpatriotic, youth-obsessed; and claims that she's a heretic, an imposter for using playback in concerts, the financier of an alleged sect (Kabbalah)… Yes, she's always gone too far in everything; as a woman from the suburbs of Detroit, that has not been tolerated. In the 1980s, she burned crucifixes in her music video for Like a Prayer; in the 1990s, she published a book, Sex, that had the most explicit images of homosexuality and fetishism that a star had ever shown; in the 2000s, she passionately kissed Britney Spears at an awards gala with millions of people watching on television; and just recently on June 23, at a New York Pride celebration, she made out with her new friend, Tokisha, the 26-year-old Dominican woman we know from the songs she performs with Rosalía like "Linda" and "La Combi de Versace."
For a person who is so continually obsessed with attention, it must be frustrating for Madonna that she doesn't resonate with today's young people. Hence, her display with Tokisha and her desire to work with Kendrick Lamar, hip hop's biggest talent today, as she confessed a week ago on Jimmy Fallon's show. Madonna has one consolation: many teenagers today will also ignore the Beatles' significance entirely, although Paul McCartney probably doesn't care much about that anymore.
For 40 years, Madonna has been a thoughtful provocateur. Between provocations, she has recorded good albums with a limited voice. She herself has confessed that the biggest challenge of her career was preparing for the musical film Evita (1996); she had to work hard with the best singing coaches to bring her vocal abilities up to snuff. In four decades, she has released 14 albums, and at least five of them are essential listening. The first two (Madonna, 1983, and Like A Virgin, 1984) are full of gems that define 1980s dance pop. Songs like Holiday, Everybody, Lucky Star, Material Girl, Like a Virgin and Dress You Up are still exciting today, and they hold up equally well at the gym and in the club. Of course, Like a Prayer (1989), surely Madonna's best work, transcends the context of the 1980s to retain its appeal in
subsequent decades. In terms of lyrics, Ray of Light (1998) was one of her career's best. Her great avant-garde electronica work with producer William Orbit is both relaxed and festive. Finally, her reinvention with Confessions on a Dance Floor (2005) – done in collaboration with Stuart Price – gave 1970s/early 1980s disco music a facelift by updating it and making it more sophisticated. Through the present day, Madonna has been enormously influential; her imprint on Dua Lipa is the clearest example. She always knew that fame comes through a musical pastiche: taking a bit from here and a bit from there without being too obvious and then embellishing it with her own contributions.
Madonna has sold 250 million records and is the best-selling female artist in history, not bad for a girl who was born in a Detroit suburb, and whose world was shattered when she lost her mother at 6 years old. At the age of 20, she left for New York to do the opposite of what her strict father told her: she
became a model and was soon performing nude at punk joints like CBGB's. When she began to break through in music, she found herself in the spotlight and surrounded by male achievers, including Prince, Michael Jackson, Bruce Springsteen, Phil Collins, George Michael and U2. Of the 25 best-selling albums in the 1980s, when she began her career, only two women's work made the cut : Madonna (with Like a Virgin and True Blue) and Whitney Houston.
In this male-dominated context, Madonna used her own sexualization to craft her image and exert control. She was not a sexual amusement for the male audience; she was a powerful and defiant woman. Madonna grew up listening to Stevie Wonder, Diana Ross and other Motown artists, learned to play the drums with Elvis Costello's New Wave records, saw David Bowie as the first concert she attended, and had her first drink at the age of 30, following her divorce from actor Sean Penn. Restless and curious, she always sought the company of daring artists like Keith Haring and Jean-Michel Basquiat.
Soon, Madonna realized that she was living in a hostile environment that was not ready to tolerate an emancipated woman's success. In 1985, Playboy and Penthouse magazines published nude photographs that had been taken of her in 1979, when the singer was not yet famous and made her living posing naked for photographers. The publications took advantage of the singer's fame in the mid-1980s and sold the old images. Madonna took the incident as a warning. "That was the first time I was aware of saying 'Fuck you' with my attitude. You're trying to put me down because of this? I'm not going to let public opinion dictate my own feelings about myself. I'm not going to apologize for anything I've done," she told Rolling Stone magazine. In 2016, when Billboard magazine named her Woman of the Year, Madonna delivered a legendary speech against sexism, machismo, and misogyny: "If you're a girl, you have to play the game. You're allowed to be pretty and cute and sexy. But don't act too smart. Don't have an opinion that's out of line with the status quo. You are allowed to be objectified by men and dress like a slut, but don't own your sluttiness." She defiantly added that those who diminished her had made her tougher: "To the doubters
and naysayers and everyone who gave me hell and said I could not, that I would not or I must not — your resistance made me stronger, made me push harder, made me the fighter that I am today. It made me the woman that I am today. So thank you."
More than a pop star, Madonna is a concept. She stands for rebelliousness, indiscipline and fighting against the odds. That's why she is an LGTBI muse and a point of reference for those who came after her: Britney Spears, Katy Perry, Christina Aguilera, Rihanna, Miley Cyrus, Taylor Swift, Pink… and the current pop goddess, Beyoncé, who recently released a version of her single "Break My Soul" fused with Madonna's 1990 hit "Vogue." Beyonce thanked Madonna for her example in a note that the latter shared on social media: "I'm so grateful for you. You have opened so many doors for so many women. You are a masterpiece genius."
Emerging Spanish-language urban musicians also express their appreciation for Madonna. As the Argentine Ms Nina, who lives in Spain, put it: "She's an inspirational empowered woman. Now, our lyrics scandalize people, but she was much more radical in the 1980s. People criticize her now because she has surgery, because she is old…. Let's see how her critics are doing when they're 60 years old. They're never happy. But they're not going to intimidate her. I love her."
Indeed, no matter how many haters visit her Instagram, Madonna is not going to give up. In 2019, she released an album that passed muster with harsh critics. Madame X did not thrill people but she did convince them. "Oh, you're not allowed to make youthful, fun, sexy music if you're a certain age? That's a load of bollocks, to speak your language," she said in a 2019 interview with The Guardian about her recently released album. True to her commitment to the queer community, a few days ago she released Material Gworrllllllllllllll!, a collaboration with gay rapper Saucy Santana in which they remix her 1980s hit Material Girl.
Three weeks ago, the singer gave an interview to Variety, announcing that she will direct a movie about her life (Julia Garner will play her). She explained it this way: "It was also a preemptive strike because a lot of people were trying to make movies about me. Mostly misogynistic men. So I put my foot in the door and said, 'No one's going to tell my story, but me.'" As always, that's just Madonna being Madonna.