'The heaven of film-making': how a Dalit orphan got to tell her own story | Women's rights and gender equality
Belmaya Nepali's life changed for ever when, at 14, she was given a camera.
The British film-maker Sue Carpenter had come to Pokhara, a tourist city in central Nepal, to run a photography project with disadvantaged girls living in an institution. One of those girls was Belmaya.
"When I touched the camera for the first time I was like, 'what is this box?' I was so curious," she says. "Sue taught me how to click pictures. I took hundreds of pictures. I loved it. I thought, I will have better life."
Fifteen years later, the 29-year-old single mother is an award-winning film-maker, with a documentary she co-directed about her life released in cinemas and on-demand from Friday. I am Belmaya charts the past 14 years of Nepali's life. It's a story of poverty and struggle – but also second chances.
Nepali was born into a poor Dalit family (the lowest caste, formerly known as "untouchables") in a remote village in western Nepal. As a Dalit girl, in a patriarchal country facing caste-based and sex discrimination, the odds were already stacked against her. But then both her parents died, when she was nine years old.
"We did not have enough food at home, and no money to buy books, so my brothers sent me to a girls' home in Pokhara," says Nepali.
It was there, in 2006, that she met Carpenter, who co-directed and produced I am Belmaya.
"Belmaya was 14 when we first met. She was one of 20 girls who participated in my photo project and absolutely loved taking photos," says Carpenter. "She was different from the other girls, so feisty and vocal about injustice."
But when Carpenter left the orphanage, Nepali's life fell apart again.
"The behaviour of the orphanage owners was not good. They used to beat us and they did not let us use the camera after Sue left," says Nepali.
When she was 18, with little education and very few job prospects, Nepali says she had no choice but to get married. She gave birth to a daughter a year later.
She discovered her husband was an abusive alcoholic. The family struggled for money and food.
"I had to clean and wash dishes, home to home, while coping as a new mother, just for survival," she says. "Every night he used to come home drunk and beat me, then accused me, saying that my daughter is not from him. That hurt me a lot.
"Those days I often used to think what if I had not got married, and had been given a chance to learn more about cameras?"
Nepali says she felt hopeless.
Then, in 2014, Carpenter met Nepali again. Carpenter, by now a successful film-maker, had co-founded Asha Nepal, an organisation that supports trafficked girls and women in the country.
Carpenter began teaching Nepali about documentary film-making. The pair decided to capture Nepali's life in front of, and behind, the camera. Their footage depicts her struggles for independence in a violent home, while also showing her growing love of film-making.
But her husband did not approve. "The journey to learning film-making was not easy for me. My husband used to accuse me of sleeping with another guy when I was out for training or shooting.
"One night my drunk husband started beating me, saying I am not allowed to use my camera and make films. I could have died that night if I had not called the police," she says.
"However, I did not stop. I kept learning, I kept filming." She left her husband three years ago.
Her perseverance resulted in her first short film, Educate Our Daughters, released in 2017, which highlighted the importance of girls' education. The film won several awards and was selected for seven international film festivals.
"I could not say a word while receiving the award in London but back in my mind I was thinking of thousands of Nepali women like me who do not have any formal education, who got married early and were forced to give birth, then suffered domestic violence, inequality and discrimination," says Nepali. "I wanted to tell this loudly."
I Am Belmaya won best documentary at the UK Asian film festival, an award of excellence at the WRPN Women's International film festival and was nominated for a One World Media award.
"This is not my last film and I'm not going to stop now. I will be making more films on the inequality, injustice and discrimination faced by Nepali women, I will be making more movies on the importance of education on empowerment," says Nepali, who now lives with her nine-year-old daughter.
"My daughter studies in grade 3 now and I feel more proud seeing her going to school, where I did not get a chance, and I'm more proud being able to send her to school.
"My biggest achievement is I feel I've succeeded in making it to the heaven of film-making from the hell of poverty and abusive marriage."
Lives lost at Europe's borders and Afghan MPs in exile: human rights this fortnight – in pictures
A roundup of the struggle for human rights and freedoms, from Mexico to Manila
Belgium tightens Covid rules as health system 'is cracking'
Belgium has introduced new measures to curb the surge of Covid-19 infections in the country, following the third emergency meeting of federal and regional governments in three weeks.
"The autumn wave is much heavier than was estimated," Belgian prime minister Alexander De Croo said on Friday (3 December).
"The infection rates are among the highest in Europe and the pressure in healthcare has become unsustainable," he also said, arguing that new measures are necessary because "the system is cracking".
One item on the agenda that proved to be divisive was the closure of schools – a move supported by experts and the federal government but opposed by regional governments.
Belgium's so-called concertation committee of federal and regional governments finally decided to keep schools open, but it impose a longer, three-week, Christmas holiday for primary and pre-primary education. The holiday will now run from 20 December to 10 January.
According to Flemish prime minister Jan Jambon, this extra week will be used to administer the booster shot to the teachers.
And until the school holiday, a class will go until quarantine after two cases of Covid-19 are detected (previously three cases). Additionally, all extracurricular activities will be barred.
Children from the age of six upwards will also have to wear a face mask at school and all other places where its use is compulsory. And parents have been advised to test their children regularly.
For this coming weekend, indoor events with more than 4,000 attendees will be cancelled. From Monday, this will apply to all with more than 200 attendees.
Events with fewer than 200 people inside will still be allowed under the current criteria – that everyone needs to have a corona pass, be seated and wear a face mask.
Museums and cinemas would remain open, but with a capacity limit of 200 people per room.
The committee also decided that restaurants and bars can continue to remain open until 11PM, as it is currently the case – although experts had asked to close them at 8PM.
This new package of measures has already been criticised by representatives of the cultural sector, who argued that the restrictions do not target the source of the problem.
"Instead of fighting the virus, we are fighting culture. Bars open, but culture [events] only 200 people. Who are we fooling?," said Michael De Cock, director of the Koninklijke Vlaamse Schouwburg [Royal Flemish Theatre].
There is also no restrictions for private social life in the so-called "contact bubbles" – despite this also being recommended it by experts. Nevertheless, there is a recommendation to limit contacts as much as possible.
At work, there are no new measures, as the committee previously announced that teleworking is mandatory at least four days a week.
Intensive-care cases expected to peak next week
An average of 318 Covid-19 patients were hospitalised each day in Belgium this week – which represents an increase of four percent compared with the previous week.
There are currently 3,707 people hospitalised in the country, of which 821 are in intensive care.
"Although the number of infections is very high, the number of deaths in our country is lower than in comparable countries, and that is due to the high vaccination coverage," said de Croo.
"Getting vaccinated is an act of solidarity," he added.
More than 75 percent of the Belgian population is fully-vaccinated, and over a million people have received a booster shot.
For his part, Belgian virologist Steven Van Gucht said on Friday that the number of Covid-19 patients on the intensive care units of the country's hospitals are expected to peak next week.
"It is unclear whether we can then expect a rapid fall or whether the figures will remain at that high level," he also said, according to VRT news.
The highest number of new Covid-19 infections (25,574) during this fourth wave was recorded on Monday 22 November.
But new measures will make coronavirus figures fall more quickly, relieving the pressure on the health care sector, Van Gucht said.
India's 'pencil village' counts the cost of Covid school closures | Global development
School closures in India during the pandemic have left their mark on more than the children who have seen delays to their learning. In one Kashmiri village the impact has been catastrophic on employment.
Pick up a pencil anywhere across India and it is likely to come from the poplar trees of Ukhoo.
This village, with an abundance of trees, about 10 miles south of Srinagar city in Kashmir's Pulwama district, supplies more than 90% of the wood used by India's pencil manufacturers, which export to more than 150 countries.
Before Covid, more than 2,500 people worked in the village's 17 pencil factories and the industry supported about 250 families.
But, after nearly two years of school closures and a dramatic drop in demand for the village's products, factory owners reduced their workforce by more than half.
Workers were dismissed without pay, while many of those who kept their jobs had migrated from other parts of India, and were cheaper to employ. Now the village and its workforce are waiting eagerly for the market to revive.
Rajesh Kumar, 26, from Bihar, has worked in Ukhoo for seven years. Like other migrant workers, he lives in a room on the factory premises and works 10- to 12-hour shifts. During lockdown last year, the factory owner provided food and accommodation when production shutdown for about three months. He is one of the luckier ones to be back working now.
"I hope the pencil demand increases and these factories are full of workers again, as many of our friends and people from our villages find work [here] and are able to make a living," says Kumar.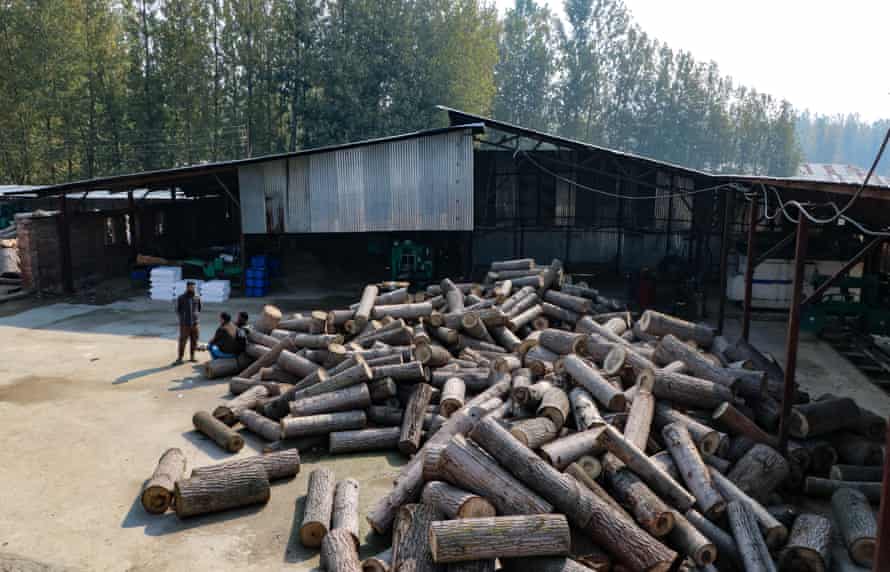 Farooq Ahmed Wani, 27, from the city of Jammu, has worked as a machine operator in Ukhoo for the past five years.
"We are hoping that schools reopen throughout the country so that there is more demand for pencils in the market," he says in an optimistic tone. "Then these factories can employ more young people and more migrants can also get some work here."
Pencil wala Gaon, or "pencil village", attracted the attention of India's prime minister, Narendra Modi. In his monthly radio programme, Mann Ki Baat, last year he said the district was an example of how to reduce the country's dependency on imports. "Once upon a time we used to import wood for pencils from abroad but now our Pulwama is making the country self-sufficient in the field of pencil making," Modi said.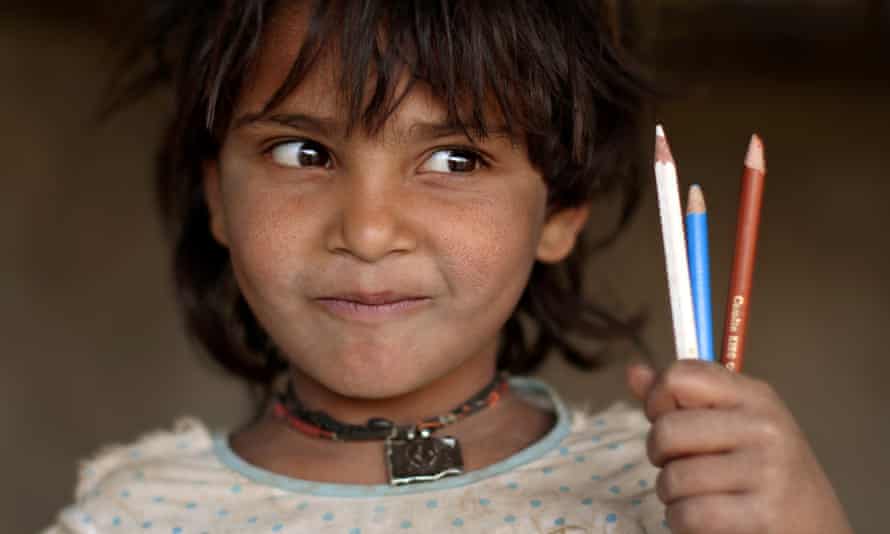 A recent ministry of home affairs report said that the village would be developed as a "special zone" for manufacturing. "Now the whole country would be supplied finished pencils, manufactured completely in Pulwama," the report noted. But the pandemic has shown how overreliance on one product in a region brings its own problems.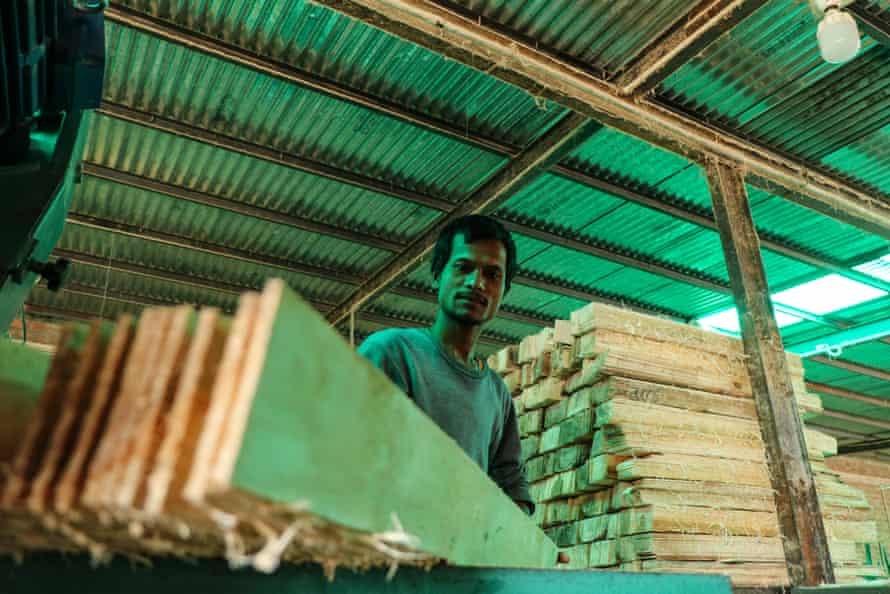 Abrar Ahmed, a unit supervisor at one of Ukhoo's factories, says everyone has suffered. "Even the sawdust from woodcutting machines is usually taken by the local villagers who then sell it to poultry farms and for other purposes in the village."
Manzoor Ahmad Allaie owns one of the biggest factories in Ukhoo.
"We are only doing about 30% to 40% [of normal levels of] business now because of the Covid lockdown impact from last year, which means we produce about only 80 bags of pencil slats a day," says Allaie. "Earlier we could produce about 300 pencil slat bags [a day] in the factory, which were transported out of Kashmir."
He is eagerly looking forward to India's schools fully reopening. It has been a hard two years for the pencil villagers, he says.
Sign up for a different view with our Global Dispatch newsletter – a roundup of our top stories from around the world, recommended reads, and thoughts from our team on key development and human rights issues, delivered to your inbox every two weeks: