The conquest of Mexico under question, 500 years on | USA
In his iconic 1995 book on the Haitian revolution, Silencing the Past, historian Michel-Rolph Trouillot wrote something that may appear obvious, but bears repeating: "Human beings participate in history both as actors, and as narrators." History is not only what happened, but what we are told happened.
Of course, that does not mean that history is subjective, because some facts are undeniable: explorer Christopher Columbus arrived in America in 1492, and Spanish conquistador Hernán Cortés reached the shores of Veracruz, Mexico in 1519. But to understand the conquest of Mexico, we need to look at who was narrating it, as the angle or the sources they choose can tell us more about that moment than the facts themselves. "History is a consequence of power," wrote Trouillot. "The most important task is not to determine what history is, but how it works."
This year, August 13 marks the commemoration of 500 years since the ultimate fall of the Aztec Empire in modern-day Mexico. In the last two years, publishing houses in the country have produced dozens of new volumes questioning the credibility of the powerful storytellers who saw 1521 as a set victory of the Spanish over the Mesoamerican Indians. The full story of that battle, they say, was more complex.
"Every source is first and foremost a fact within its social, spatial and temporal context," writes Luis Fernando Granados, a historian at Mexico's Universidad Veracruzana, in his new book Relación de 1520 (or Record of 1520). He is critical of Hernán Cortés, considered the master storyteller of his time. In the book, Granados questions the credibility of the letters that the conquistador sent to the Spanish crown between 1519 and 1526, and that for centuries were taken as official accounts. Granados points out that there is no original manuscript from Cortés, but rather a transcription made years later by a scribe. There were letters written by several people, but these were political documents to the queen rather than a careful historical account. "If we stop considering them as the master version of Mexico's past, that could have as refreshing an effect on the historiographical as on the purely historical," he said. (Granados died in July of this year.)
One of the most interesting books on Cortés' lack of credibility is entitled: ¿Quién conquistó México? (or Who Conquered Mexico?), by historian Federico Navarrete, and published by Debate books in 2019. This book poses different answers to the question of who conquered Mexico, and states: "It was La Malinche [Cortés' consort], it was the indigenous conquerors." Cortés, in reality, had a minuscule army when the Aztec Empire fell, and the real victors in August 1521 were his allies – the Mesoamerican enemies of the Aztec Empire, made up of indigenous warriors from Cempoala, Tlaxcala, Cholula, Texcoco and Chalco. "The idea of the absolute victory of the Spaniards in 1521 is nothing more than a partial and self-serving version, invented by Hernán Cortés himself, to extol and exaggerate his own role in the events," the book adds.
Another narrator whose words were taken as gospel was Bernal Díaz del Castillo, conquistador and author of La Historia verdadera de la conquista de la Nueva España (or The True History of the Conquest of Nueva España"), whom Mexican writer Carlos Fuentes called Mexico's "first novelist." In 2019, the Taurus publishing house translated into Spanish When Montezuma Met Cortés: The True Story of the Meeting that Changed History, a work by US historian Matthew Restall dissecting official narratives, which begins by casting doubt on Díaz del Castillo's credibility regarding Aztecan emperor Moctezuma and Cortés. The Aztec leader was neither cowardly nor naive, and Hernán Cortés was not a brilliant Spanish strategist, the book asserts. The victory of 1521 was, Restall insists, that of the conquering indigenous allies. He argues that what we now call "conquest" was a later and much more complex process.
"We have abandoned the term conquest, in the singular, and instead prefer the term conquests plural, in order to emphasize that the defeat of [the capital of the Aztec Empire] Tenochtitlan was only the beginning of a historical step," writes historian Martín Ríos Saloma of the National Autonomous University of Mexico (UNAM). He has compiled essays by the best researchers in Mexico and Spain in his work Conquistas (or Conquests) released this year. His book makes an effort to search for the narrators whose past has been silenced, including "the voices of indigenous actors, of women, of the army captains, of the Castilian soldiers." To ignore them, he believes, is to offer "a simplistic, Manichean and isolated vision of the historical processes happening in the world at that time."
One of these silenced voices opens El quinto sol (or The Fifth Sun) by Camilla Townsend, translated into Spanish by the Grano de Sal publishing house this year. Chimalpahin, an indigenous historian who worked in a church, wrote in the evenings during his spare time to try and save the memory of his ancestors. To revisit writings like his, set down a century after 1521, is to deconstruct false narratives, Townsend says, offering the example of the exaggerated myth of Aztec human sacrifice. "The Aztecs were conquered, but they also saved themselves," the author notes, "by writing down everything they could remember of their peoples' history so that it would not be lost forever."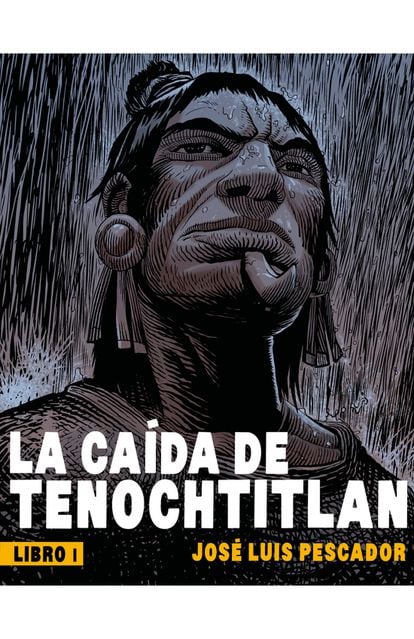 The list of new publications in this year of commemoration can seem endless. Mexican historian Pedro Salmerón rejects the term conquest in La batalla por Tenochtitlan (or The Battle for Tenochtitlan). "The war was much more prolonged, the resistance was far greater and long-lasting and, in fact, it has not ended," he stresses. Enrique Semo, in La conquista, catástrofe de los pueblos originarios (or The Conquest, Catastrophe of the Original Peoples) is more interested in the history of a new capitalist system present in Mesoamerica than in the date of 1521 itself. "Instead of eliminating or displacing the indigenous people in order to make use of empty spaces, the imperative was to reduce them to manageable groups," he says.
Novelists and graphic novelists have also done their part as the anniversary approaches. The Planeta group published several novels this year focused on women. Montezuma's daughter features in La otra Isabel (or The Other Isabel) by Laura Martínez-Belli, while Montezuma's sex slave Malintzin appears in Amor y conquista (or Love and Conquest) by Marisol Martín del Campo. Meanwhile in El camino del fuego (or The Way of Fire), by Celia del Palacio, a Totanaca priestess allies herself with the Spaniards. Illustrator José Luis Pescador uses a comic book approach to tell the story of the war in La caída de Tenochtitlan (or The Fall of Tenochtitlan). They are all new narrators of what happened in 1521 – some more powerful than others – and they have created new accounts of the conquest, or conquests, that we are unsure how to name in the 21st century.
Census 2022 – what difference does it make?
Next Sunday, April 3rd, is Census night. Millions of people in homes countrywide will fill in page after page of questions, some of which are deeply personal and many of which might be unfamiliar.
But what it is it all about?
At a basic level, Census 2022 will be used to inform planning of public policy and services in the years ahead, according to the Central Statistics Office.
The questions will cover a range of environmental, employment and lifestyle issues, including the use of renewable energy sources in homes.
The questions will help inform policy development in the areas of energy and climate action, and the prevalence of internet access, to understand the availability of and need for internet connections and range of devices used to access the internet.
Questions also focus on changes in work patterns and will include the trend of working from home and childcare issues, while questions are also asked about the times individuals usually leave work, education or childcare, to help identify and plan for transport pattern needs locally and nationally.
Other topics covered include volunteering and the type of organisations volunteers choose to support, tobacco usage and the prevalence of smoke alarms in the home.
And of course there is a time capsule – the chance to write something which will be sealed for the next 100 years.
In this episode of In The News, the head of census administration Eileen Murphy and statistician Kevin Cunningham about what it all means for us.
Oscars 2022: Will Smith makes Oscar history after slapping Chris Rock over joke about wife Jada Pinkett Smith | Culture
Will Smith took the Oscar for Best Actor at last night's 94th Academy Awards, but he also became the protagonist of the ceremony for other reasons. The night was following the script, until Smith slapped comedian Chris Rock on the stage after the latter made a joke about the shaved head of the former's wife, Jada Pinkett Smith. Rock had quipped that he was "looking forward to GI Jane 2," in reference to her look. Pinkett Smith has revealed publicly that she has alopecia. It looked as if the moment had been planned, until Smith went back to his seat and shouted: "Get my wife's name out of your fucking mouth."
The moment, which immediately became Oscar history but for all the wrong reasons, left the attendees with frozen smiles, and asking themselves whether it was possible that a veteran such as Smith could have lost his cool in front of tens of millions of people. After taking the prize for Best Actor, the superstar actor made a tearful apology, saying that he hoped the Academy "will invite me back." Later on, actor Anthony Hopkins called for "peace and love," but it was already too late. The incident overshadowed the success of CODA, which took the Oscar for Best Picture. Just like the time when Warren Beatty mistakenly named La La Land as the big winner of the night, no one will speak about anything else from last night's awards.
At first sight, Smith's actions looked as if they were scripted. When he first heard Rock's joke, he laughed. But his wife was seen on camera rolling her eyes, and it was then that the actor got up onto the stage and hit Rock. When he returned to his seat he raised his voice twice to shout "Get my wife's name out of your fucking mouth," sending a wave of unease and shock through the attending audience. The fact that he used the f-word, which is prohibited on US television, set alarm bells ringing that this was real and not a planned moment. In fact, the curse word was censored by the broadcaster, ABC, in the United States.
During a break, Smith's PR manager approached him to speak. In the press room, which the actor skipped after collecting his prize, instructions were given to the journalists not to ask questions about the incident, Luis Pablo Beauregard reports. The next presenter, Sean "Diddy" Combs, tried to calm the situation. "Will and Chris, we're going to solve this – but right now we're moving on with love," the rapper said.
When Smith took to the stage to collect his Best Actor award for his role as Richard Williams – the father of tennis stars Venus and Serena – in King Richard, he referred to the character as "a fierce defender of his family." He continued: "I'm being called on in my life to love people and to protect people and to be a river to my people. I know to do what we do you've got to be able to take abuse, and have people talk crazy about you and have people disrespecting you and you've got to smile and pretend it's OK."
He explained that fellow actor Denzel Washington, who also spoke to Smith during a break, had told him: "At your highest moment, be careful, that's when the devil comes for you."
"I want to be a vessel for love," Smith continued. "I want to be an ambassador of that kind of love and care and concern. I want to apologize to the Academy and all my fellow nominees. […] I look like the crazy father just like they said about Richard Williams, but love will make you do crazy things," he said. He then joked about his mother, who had not wanted to come to the ceremony because she had a date with her crochet group.
During the commercial break, Will Smith is pulled aside and comforted by Denzel Washington and Tyler Perry, who motion for him to brush it off. Will appears to wipe tears from his eyes as he sits back down with Jada, with Denzel comforting Jada and Will's rep by his side. pic.twitter.com/uDGVnWrSS2

— Scott Feinberg (@ScottFeinberg) March 28, 2022
The Los Angeles Police Department released a statement last night saying that Chris Rock would not be filing any charges for assault against Smith. "LAPD investigative entities are aware of an incident between two individuals during the Academy Awards program," the statement read. "The incident involved one individual slapping another. The individual involved has declined to file a police report. If the involved party desires a police report at a later date, LAPD will be available to complete an investigative report."
On December 28, Pinkett Smith spoke on social media about her problems with alopecia. She stated that she would be keeping her head shaved and would be dealing with the condition with humor. "Me and this alopecia are going to be friends… Period!" she wrote on Instagram.
House-price inflation set to stay double digit for much of 2022
House-price inflation is expected to remain at double-digit levels for much of 2022 as the mismatch between what is for sale and what buyers want continues.
Two new reports on the housing market paint a picture of a sector under strain due to a lack of supply and increased demand driven by Covid-related factors such as remote working.
The two quarterly reports, one each from rival property websites myhome.ie and daft.ie, suggest asking prices accelerated again in the first quarter of 2022 as the stock of homes available for sale slumped to a new record low.
Myhome, which is owned by The Irish Times, said annual asking-price inflation was now running at 12.3 per cent.
Price
This put the median or typical asking price for a home nationally at €295,000, and at €385,000 in Dublin.
MyHome said the number of available properties for sale on its website fell to a record low of 11,200 in March, down from a pre-pandemic level of 19,000. The squeeze on supply, it said, was most acute outside Dublin, with the number of properties listed for sale down almost 50 per cent compared with pre-pandemic levels.
It said impaired supply and robust demand meant double-digit inflation is likely until at least mid-2022.
"Housing market conditions have continued to tighten," said author of the myhome report, Davy chief economist Conall Mac Coille.
"The broad picture of the market in early 2022 remains similar to last year: impaired supply coupled with robust demand due to Ireland's strong labour market," he said.
"One chink of light is that new instructions to sell of 7,500 in the first 11 weeks of 2022 are well up from 4,800 in 2021, albeit still below the 9,250 in 2019. The flow of new properties therefore remains impaired," said Mr Mac Coille.
"Whatever new supply is emerging is being met by more than ample demand. Hence, transaction volumes in January and February were up 13 per cent on the year but pushed the market into ever tighter territory," he said.
He said Davy was now predicting property-price inflation to average 7 per cent this year, up from a previous forecast of 4.5 per cent, buoyed strong employment growth.
Homes
Daft, meanwhile, said house asking prices indicated the average listed price nationwide in the first quarter of 2022 was €299,093, up 8.4 per cent on the same period in 2021 and and just 19 per cent below the Celtic Tiger peak, while noting increases remain smaller in urban areas, compared to rural.
Just 10,000 homes were listed for sale on its website as of March 1st, an all-time low. In Dublin, Cork and Galway cities, prices in the first quarter of 2022 were roughly 4 per cent higher on average than a year previously, while in Limerick and Waterford cities the increases were 7.6 per cent and 9.3 per cent respectively.
The report's author, Trinity College Dublin economist Ronan Lyons, said: "Inflation in housing prices remains stubbornly high – with Covid-19 disturbing an equilibrium of sorts that had emerged, with prices largely stable in 2019 but increasing since.
"As has been the case consistently over the last decade, increasing prices – initially in Dublin and then elsewhere – reflect a combination of strong demand and very weak supply."