The battle for Mekelle: Ethiopia's civil war over Tigray goes on – in pictures | Global development
An estimated 2.2 million people have been forced from their homes and thousands have been killed in the civil war that broke out in Ethiopia last November when government troops entered Mekelle, capital of the Tigray region. Witnessed by photographer Sergio Ramazzotti, the city was retaken by the Tigray Defence Forces in June, but peace in the region seems a long way off
All photographs by Sergio Ramazzotti/Parallelozero
Navalny to get EU human-rights prize
The European Parliament has formally nominated Russian dissident Alexei Navalny for this year's 'Sakharov' human-rights prize. "It is vital that we in the European Parliament confirm our relentless support for Navalny and stress that his wellbeing is the responsibility of [Russian President Vladimir] Putin," Peter van Dalen, a Dutch centre-right MEP said in plenary Monday. Putin tried to kill Navalny with poison then jailed him in a remote penal colony.
Texas: The dramatic situation of Haitians trapped on US-Mexico border: 'Why don't they come help us here?' | USA
The border the separates Ciudad Acuña in Mexico from Del Río in the United States has become an open-air prison. Thousands of migrants, the vast majority of them from Haiti, have been surrounded by the authorities on either side of the frontier. On the US side, the Border Patrol is keeping those who have arrived there after crossing the Latin American continent in check: they are packed together under the International Bridge border crossing in a camp that lacks water, food, sanitation or shade. In Coahuila, on the Mexican side, security forces have begun to pressure migrants to accept "voluntary" detention and transfer to Tapachula, in the south of the country. In the middle of a stand-off between both governments for control over the arrival of migrants, thousands of people have become trapped in limbo.
A rope linking the two the banks of the Rio Grande was cut last Thursday, leaving nothing to hold on to when trying to cross. Despite now being fully aware of what awaits them on the other side, many people have been biding their time on the muddy slope that leads down to the water. They are still trying to make the crossing because they are scared and because Mexico will offer them no guarantees over the papers, protection and opportunities they are seeking. At 8pm the river is high, making it even more dangerous to attempt the crossing, but the Haitians clutch their bags tighter, gather up their children in their arms and throw themselves into the river. They are hardly assured a warm welcome on the other side. The administration of Joe Biden has already started an operation to deport thousands of irregular migrants, a practice described as "inhumane" by the US special envoy for Haiti, Daniel Foote, who tendered his resignation to the State Department on September 23.
Dozens of police officers arrived at the makeshift camp on the Mexican side of the border at night and cut off access. Later, border guards joined the deployment and toured the area in an effort to convince Haitian migrants to surrender to "voluntary" detention. In exchange, they offered what until this point neither the US nor Mexican governments have done: water, food, restrooms, medical attention and legal assistance. "Why don't they come and help us right here?" a woman asked the agents when they offered transportation to Tapachula in order to access these services.
In their scouring of the zone, where migrants make do in tents, tarpaulins fashioned from plastic bags or simply with cardboard to lie on, employees of the National Institute of Migration have been abundantly clear. The migrants have been informed that anyone "who is happy" where they are now is welcome to stay, while warning of the pending arrival of "extremely cold weather." The area is awash with different police branches, alongside the Criminal Investigation Agency. The National Guard and the Coahuila State Organized Crime Action and Reaction unit are also on hand, with several buses.
"They come here to scare us. They only come to deceive people," says Jonas Basel, a 31-year-old Haitian who is traveling with his wife and two daughters. Basel passed through Tapachula on his journey north from Chile, where the majority of migrants who have reached this point started out. He sees little point in accepting an invitation to go back to the border with Guatemala. "It's full of people and the Comar [the Mexican Refugee Aid Commission] has collapsed. I'm not going to get a visa in less than three or more months, and nobody has any money." Basel has $300 left from the $10,000 he set aside for the journey. "We spent everything to get this far."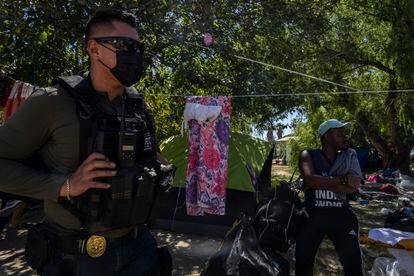 The makeshift camp on the Mexican side was thrown up on federal land controlled by the state government of Coahuila. There, there is a place known as Comedor del Migrante (Migrant's Diner), which has now been repurposed by its temporary residents as crowded rooms or restrooms in the absence of proper facilities. As of a week ago, the camp had started to take on the appearance of an organized space, with an improvised hair salon, prayer service in the evening, water and food provided by NGOs and private benefactors, as well as tents and a scattering of mattresses. But by Thursday, September 23, the mood had changed. "People are depressed. It's very stressful," said a pregnant woman.
The river had already started to swell by the afternoon when two women and a boy around eight years old entered the water. On the far bank, another migrant jumped in to help them because halfway across the child and the small toy truck he was carrying under an arm had almost disappeared under the water level. Also on the US side were a unit of US Border Patrol agents, powerless to assist but a "wall of steel" in the words of Texas Governor Greg Abbott, designed to prevent people from crossing the frontier. Later, another large group of families started to cross. Many carried a bag under one arm and a child in the other. From the far bank, the Border Patrol agents shouted from a launch that "only the children" could climb aboard. The parents handed over their sons and daughters and pleaded for help as the water rose above their chests.
The International Committee of the Red Cross (CICR) has stated that these migrants are living in conditions of "extreme vulnerability" after months spent traversing Latin America and living rough in the temporary camps set up by the US and Mexican governments in both countries. The CICR has also noted that the situation in Haiti is "complicated" and has called on the authorities to "exercise practices that include humanitarian exceptions to protect people."
"One way to do this," says Lorena Guzmán, director of the regional CICR delegation for Mexico and Central America, "could be to provide them with immigration documentation to facilitate a legitimate stay in Mexico, minimizing the risks they face and granting them full access to rights on a temporary or permanent basis."
The majority of people being held on both sides of the border are Haitians fleeing political and economic instability in their country. The poorest nation in the Western hemisphere suffered a devastating earthquake in 2010 that forced an exodus of thousands of people to countries in Latin America. The humanitarian crisis that unfolded over the past decade in the wake of that disaster has recently been exacerbated by the assassination of President Jovenel Moïse in June and another earthquake in August, measuring 7.2 on the Richter scale, that left more than 2,000 people dead and thousands injured.
Having left Haiti years ago, these migrants now face one of two choices: either they will be deported by the United States back to the country they fled from or they will be sent back to Tapachula by Mexican authorities. Almost 15,000 Haitian migrants had gathered under the International Bridge that separates Ciudad Acuña and Del Rio, a number that had fallen to fewer than 5,000 by last Friday, according to the US authorities. Many have opted to retrace their steps and cross the Rio Grande once again into the United States, in what will perhaps be their final attempt and the exact reverse of a journey they made just a week ago.
English version by Rob Train.
Fears for Afghan psychiatrist abducted by armed men | Global development
One of Afghanistan's most prominent psychiatrists has been abducted on his way home from work by a group of armed men.
Dr Nader Alemi, 66, who opened the country's first private psychiatric hospital in the northern city of Mazar-i-Sharif, was stopped by seven men in a white car last week, said his family.
Alemi, whose hospital was featured in the Guardian in 2016, has treated thousands of Afghans, including Taliban fighters, since it opened in 2004. He is believed to be the only Pashto speaking psychiatrist in the north. It's the language most commonly spoken by the Taliban in the region.
His family said Alemi had received several threatening calls and messages in the months before he was abducted. One chilling message, sent on 21 June and seen by the Guardian, said: "You will be killed soon."
Alemi is a prominent figure in Mazar-i-Sharif, Afghanistan's fourth-largest city. As well as opening the hospital, he has also built a secondary school in the city, equipped with a library and laboratory.
His daughter, Manizheh Abreen, said her father was being driven home last Monday when the men stopped the vehicle and ordered the driver, Basir, out of the car. They told Alemi to get out of the car and go with them to answer questions at a local police station. "They forcefully pushed him into their car and fled away. They stopped him where there were no CCTV cameras installed and they knew it already," said Abreen.
The family said they do not know who was responsible for the kidnapping and have not received a ransom note.
Alemi's son, Dr Fardeen Alemi, said: "Our main concern is that my father is suffering from diabetes and he needs to take regular insulin. We are extremely devastated about this situation. My father has only done sincere service towards the community and he is a brilliant psychiatrist and helped people in need.
"He has always held this idea that I have to serve the people and that's why he never left his country," he said.
The family said there is no active, formal government presence in Mazar-i-Sharif, and fear Alemi's abduction will not be properly investigated.
Dr Khan Murad Muradi, one of the doctors in Alemi's neuro-psychiatric hospital, said: "We are all shocked and saddened by this horrible incident. He was a kind-hearted man and I don't think any doctor could treat patients in a situation like this. No one feels safe here in Mazar-i-Sharif."
Patricia Gossman, associate Asia director for Human Rights Watch called on Afghan authorities to investigate the whereabouts of Alemi.
"If he has been abducted then those responsible should be held accountable. The Taliban claim to be able to bring security, so they should properly investigate what happened and bring those responsible to justice, while also protecting the rights of those accused of any wrongdoing."
On Saturday, the Taliban killed four alleged kidnappers in Herat, hanging their bodies in public as a deterrent to others.