The 1915 Armenian Genocide and its Russophobic Origins
Johann von Bernstorff (German ambassador); "The way the Armenian problem was solved was hair-raising. I can still see in front of me Talaat's cynical expression, when he emphasized that the Armenian question was solved."1
Einar af Wirsén (Swedish Diplomat) "When I kept on pestering him about the Armenian question, he once said with a smile: 'What on earth do you want? The question is settled, there are no more Armenians'".2
Henry Morgenthau (American Ambassador (He was Jewish)); "Whatever crimes the most perverted instincts of the human mind can devise, and whatever refinements of persecution and injustice the most debased imagination can conceive, became the daily misfortunes of this devoted people. I am confident that the whole history of the human race contains no such horrible episode as this. The great massacres and persecutions of the past seem almost insignificant when compared with the sufferings of the Armenian race in 1915."3
On May 30th 1915 Talaat Pasha issued the Tehcir Act, which on paper was a security measure the Turks put forth to prevent a Russian-Armenian revolt by forcibly relocating the nationals of Armenia to Mesopotamia and Syria.4 This was the story the Young Turks told the world to avoid and minimize any public disapproval or foreign resistance. The relocations involved disarmed Armenians being forcibly marched to camps in the inner deserts of Anatolia and Syria, and these camps were not stocked with necessary supplies for survival.5 The properties of these people were confiscated and sold to new arrivals, the men were often singled out to be killed first, and the women were often enslaved and raped en masse.
The accusation of Russian-aligned rebellion was used as justification and cover. American Ambassador Henry Morgenthau frantically remarked;
"Have you received my 841? Deportation of and excesses against peaceful Armenians is increasing and from harrowing reports of eye witnesses it appears that a campaign of race extermination is in progress under a pretext of reprisal against rebellion.

Protests as well as threats are unavailing and probably incite the Ottoman government to more drastic measures as they are determined to disclaim responsibility for their absolute disregard of capitulations and I believe nothing short of actual force which obviously United States are not in a position to exert would adequately meet the situation."6
A confession is considered as valuable only if it contains some true and verifiable details of the crime the investigator did not know of. This rule of criminal investigation was observed in the controversial telegram transcriptions written in The memoirs of Naim Bey.7
On March 25, 1915, Talaat states: "It is the duty of all of us to effect on the broadest lines the realisation of the noble project of wiping out the existence of the Armenians who have for centuries been constituting a barrier to the Empire's progress in civilization."8
What events led to these horrific genocide and near destruction of the Armenian people, and why are the Armenian people important for European history?
Armenians are an ethno-linguistic-religious group distinct from their surrounding neighbors. They have their own church, the Armenian Apostolic Church, which was founded in the 1st century CE, and became in 301 CE the first branch of Christianity to become a state religion. They have also their own alphabet and language which is classified as an independent branch of the Indo-European language family. The historical homeland of the Armenians sits north of the Fertile Crescent, a region of substantial importance to modern human evolution. Genetic and archaeological data suggest farmers expanding from this region during the Neolithic populated Europe and interacted/admixed with pre-existing hunter-gatherer populations.

Furthermore, Armenia's location may have been important for the spread of Indo-European languages, since it is believed to encompass or be close to the Proto-Indo-European homeland (Anatolia or Pontic Steppe) from which the Indo-Europeans and their culture spread to Western Europe, Central Asia and India. 9
The Holocaust of the Armenian people wasn't simply stopped at the borders of Turkey; Ottoman troops by the Young Turks insistence had also invaded Persia. During this invasion Christian Armenians and Assyrians alike were slaughtered. In fact, approximately half of Persia's Christian Assyrians alongside about four-fifths of the Christian Assyrian leadership were killing during this time by Turkish and Kurdish invaders.10
Two months after the (largely Jewish led) Bolshevik revolution the new Russian government began withdrawing Russian troops from the Caucasus. This withdrew the only ally the Armenians had and put their remaining people at risk of extinction. At this time the last refuge for these people was the small remaining unconquered land of historic Armenia centered around Mount Ararat.11
Mount Ararat is traditionally the Christian-accepted location of Noah's Ark in the Book of Genesis. Armenia was the first Christian country in the world. The Armenian language is the most ancestral, oldest Indo-European Language left since the extinctions of its Indo-European predecessors Anatolian and Tocharian. It's hard to overstate the ethnocultural significance in this event threatening complete extermination of the most ancestral Indo-European speakers and also the most ancestral Christians. Much of the Armenian highlands were lost; Western Armenia was renamed "Eastern Anatolia" by the invaders. With the survivors and refugees concentrated in Caucausia the impending invasion threatened complete annihilation.
The Christian leader Catholicos Gevorg V ordered Church Bells to peal for six days as all classes of Armenian people were called to take up arms with the women and children readying supplies and the entire survivors of the nation prepared for total war.12 The President of the Armenian assembly stated "If we are to perish, let us perish with honor."13
In the battles of Sardarabad, alongside Abaran and Karakilisa, the outnumbered Armenians managed to defy the odds and fight off the Turkish invaders. Historian Christopher Walker remarked that with a loss at Sardarabad "it is perfectly possible that the word Armenia would have henceforth denoted only an antique geographical term."14
The Destruction of Armenians in the Ottoman Empire resulted by most estimates with 1.5 million of the 2 million Ottoman Armenians being exterminated.
The history of Armenia is intertwined with that of Europe and Russia especially. Russia had generally had an Armenian presence through its history but after the Russo-Persian wars in 1828 Russia annexed parts of the historical Armenian nation. Since that time Russia has generally defended the rights of Christian minorities in the Ottoman lands. Russian foreign minister Sergey Lavrov is perhaps the most visible example of a Russian Armenian given that he was born to an Armenian father.
But the Armenians had, for the most part, been very well integrated in the empire as well. Armenians were formerly dubbed the "loyal millet".15 The Armenians opportunities in the region arguably increased with the transition from Greek Byzantine rule to Ottoman rule. Armenian villages traditionally had a high degree of autonomy as well. Any sort of separatist nationalism would seem unviable, and the main Armenian conflicts with the Ottoman Muslims were based about regional autonomy and protection from bandits. The primary Armenian political organizations with public protests were advocates pushing for autonomy such as the 1890's Kum Kapu demonstration.16 These requests were quite reasonable as the Armenians had suffered various attacks and murders from Muslim Kurds and other bandits who, by the Ottoman empires laws, held legal superiority in court.
During this time the Sultan Abdul Hamid II attempted to shed the "sick man of Europe" label his failing Ottoman Empire had by encouraging a modernization of the Empire, which required a stronger and more centralized government role in citizens affairs. Abdul Hamid II was attacked in the British press as the "Red Sultan" for various atrocities committed against minorities such as Armenians and for all intents and purposes was the perfect archetype of a Tyrant.17
The Young Turks who sought to overthrow him by contrast were revolutionaries. They shouted their slogans of "Hürriyet, Musavat , Uhuvvet" inspired from the French "Liberté, égalité, fraternité" meaning "Liberty, Equality, Fraternity". Turkish ethnicity is often described as a "melting pot" of all Anatolian people ranging from the gene pools of the Balkans, Anatolia, and parts of Asia."18 The Young Turks were also rationalists following a materialist ideologies like positivism which they prioritized over religion; The Islamic authorities the Ulama even denounced them as "trying to change Islam into another form and create a new religion while calling it Islam".19
The Ottoman Empire was historically a place where Jews could live without fear of persecution according to one of the Erdogan aligned newspaper the Daily Sabah.20 Indeed this tolerance extended into the post-Sultan era of the Young Turks, as the Encyclopedia Judaica noted that various Zionist groups were hopeful in 1908 for opportunities to press their interests; "the absence of antisemitism in Turkey made the idea [Jewish settlement in Palestine] possible".21 Talaat specifically was very open to these ideas;
"Four years later Talaat even propagated the fantastic idea of a 'Muslim-Jewish Alliance.' The Balkan wars had plunged the Ottoman Empire into financial ruin and Talaat, who became a key member of the CUP's ruling triumvirate following the military coup of January 1913, expected the Zionists to link the empire with the fabulous wealth of 'world Jewry.'"22
Knowing this background of the states historical pluralism, alongside the progressive and secular motto of the new government and its noted tolerance of Jewish minorities, one has to ask how a genocide could have even been possible. How could such a progressive government proceed to horrifically genocide many of the states indigenous Christian populations?
If we take a closer look at the killings we come across many disturbing disparities in the treatment of these minority groups. After all in the Great fire of Smyrna catastrophe of 1922 the Christian Armenian and Christian Greek sections of the city were destroyed while the Jewish and Turkish sections were not.23 In 1918, three years after the passing of the Tehcir law, Talaat Pasha made a Turkish Balfour declaration equivalent expressing support for the establishment of Jewish Palestine.24 Clearly it is a strange sort of nationalism the Western world is unfamiliar with when the Jewish minorities are spared.
The Armenian Holocaust was not only unexpected by the victims but in fact it is still to this day denied by the perpetrator state Turkey. And until recently, the execution of the genocide itself was only known by third party observers, with the state of Turkey claiming the genocide was really just a civil war. The only direct evidence of intentional genocide were in translated telegrams written in the 1921 published The Memoirs of Naim Bey which lost much of the source material telegrams.
In October 2016 however Prof. Taner Akçam found archived Ottoman telegrams confirming the legitimacy of various events from The Memoirs of Naim Bey and confirming that they were not mere fabrications for propaganda.25
This legitimacy was confirmed further when the "smoking gun" of April 2017 was discovered, an original telegram directly inquiring over the murder of Armenians. The official Young Turks government telegram asks directly if the deported Armenians are being killed or "merely sent off and deported".
"Are the Armenians who were deported from there being liquidated? Are the troublesome individuals whom you have reported as having been exiled and expelled been eliminated or merely sent off and deported? Please report honestly."26
This is a telegram with an Ottoman letterhead and with the Ottoman coding system acquired by an Armenian Catholic priest, Krikor Guerguerian. He held the evidence in a private archive wherein it was secured by his nephew. The issue being re-raised has re-opened conflicts between Turkey and the international community. During the Western progressive-leftist worlds drama over President Donald Trumps Holocaust remembrance statement of "11 million", an angry and emotional response from the Jewish Telegraph Agency made some very interesting admissions on the Jewish Holocausts history.27
The "5 million" has driven Holocaust historians to distraction ever since Wiesenthal started to peddle it in the 1970s. Wiesenthal told the Washington Post in 1979, "I have sought with Jewish leaders not to talk about 6 million Jewish dead, but rather about 11 million civilians dead, including 6 million Jews…"
"I said to him, 'Simon, you are telling a lie,'" Bauer recalled in an interview Tuesday. "He said, 'Sometimes you need to do that to get the results for things you think are essential.'"
Bauer and other historians who knew Wiesenthal said the Nazi hunter told them that he chose the 5 million number carefully: He wanted a number large enough to attract the attention of non-Jews who might not otherwise care about Jewish suffering, but not larger than the actual number of Jews who were murdered in the Holocaust, 6 million.
With the newly opened international drama of the Armenian Holocaust denying Turkish government, we can find some interesting admissions of the origins of the Young Turks revolution. The Young Turks Revolution broke out in Salonica. Salonica was the largest Jewish city in the world at this time with Jewish people constituting over half the population. According to a prominent Turkish Newspaper in a very recent article on October 13th 2017; 28
"The most prominent financier and mentor of the Committee of Union and Progress (CUP), which seized the government in 1908, was a Jewish banker of Italian origin from Salonica, Emmanuel Carasso. When Greeks, who had held a privileged status up until then, fell into disfavor after the Constantinople massacre of 1821 targeting Greeks, Jews were hoping for a second chance.

However, with their art facilities scattered around Anatolia, Armenians came in first thanks to their capital surplus. As a result of the Jewish lobby's recommendations, the Young Turks government removed Armenians from Anatolia in 1915. Hence, the economy of the country was left in the hands of Jewish capital.

Carasso, who was a part of the committee that informed Abdülhamid II of his dethronement, was the closest confidant of Talat Pasha, the figure responsible for the deportation law. In fact, when Talat Pasha escaped abroad in 1918, he entrusted his entire estate to Carasso. To take an active role in the foundation of the Ankara government, Carasso returned to his homeland before his death."
The allegations of the Armenian Holocaust denying Erdogan-aligned newspaper are very important and need to be explored in depth, as these allegations may help to uncover background historical interactions between Jewish groups and European/Christian groups in a multicultural environment.
In his book Banality of Indifference, Yair Auron alleges that the Jewish citizens of Turkey during this time were apathetic to the murdered Armenians. Regarding the attitude of the Jews towards the Armenians, he wrote:
"A slight grimace on their lips, a short heartfelt sigh, and nothing more. The Armenians are not Jews, and according to folk tradition the Armenians are nothing more than Amaleks! Amaleks? We would give them help? To whom? To Amaleks? Heaven forbid!"29
During the 1922 great fire of Smyrna, in which the Greek and Armenian portions of the city were burned down while the Turkish and Jewish sections were spared, the accounts of Jewish teachers alleged that either the Greeks or Armenians started the fire themselves.30
This apathetic and dismissive attitude has even been shown in the Jewish "Anti-defamation league" which as recently as 2007 campaigned against the American governments recognition of the Armenian Holocaust.
"Foxman finally acknowledged the Armenian Genocide in his remarks. It was an encouraging development given that ADL's only formal statement on the genocide is worded in such a way as to actually circumvent the intent required for a finding of genocide by the UN Genocide Convention."31
"That statement, issued in 2007, said that the "consequences" of the Turkish massacres of Armenians were "tantamount" to genocide, implying it was not a planned extermination. This statement was widely censured, but calls for an unambiguous confirmation were rebuffed by ADL."
It needs to be noted here that the American ambassador to Turkey Henry Morgenthau was himself a Jew, and quickly became of the fiercest advocates for recognition of this genocide, and even demanded American intervention to protect the Armenian victims. But of course exceptions don't break the rule.
The post-WW2 world has served to served to center all discussions of prejudice on nomadic minority ethnic groups. The topic is very well studied with any and all possible ethnic and political roots examined. By contrast, prejudice and oppression of Indo-European nationalities and their culture or religious practices are not widely discussed. While these events are minimized in the social/academic spheres of the Western world, Christophobia and Europhobia have not only happened historically but continue to happen today.
This lack of study for this sort of prejudice is very problematic for the modern "multicultural world" especially as anti-European/Christian prejudices are increasingly apparent and ignored by the mainstream media/academia.
This lack of study needs to be adequately addressed. The future and survival of European Christendom is depending on it.
---
1   A., Bernstorff (2011). Memoirs of Count Bernstorff. Kessinger Publishing. ISBN 1-169-93525-7.
2   Avedian, Vahagn (21 May 2008). "The Armenian Genocide 1915: From a Neutral Small State's Perspective: Sweden" (PDF). Uppsala University. Retrieved 17 June 2016.
3   Henry Morgenthau, Ambassador Morgenthau's Story, Page 119, Blackmask Online
4   Akçam, Taner (2006). A Shameful Act. New York: Holt & Co. pp. 165, 186–187.
5   Mikaberidze, Alexander (2015). "Tehcir Law". In Whitehorn, Alan. The Armenian Genocide: The Essential Reference Guide. ABC-CLIO. ISBN 1610696883.
6   http://origins.osu.edu/milestones/april-2015-armenian-genocide
7   https://er.anca.org/akcam-the-authenticity-of-the-naim-efendi-memoirs-and-talat-pasha-telegrams-2/
8   Naim Bey., . (1920). The memoirs of Naim Bey: Turkish official documents relating to the deportations and massacres of Armenians. London: Hodder and Stoughton.
9    http://www.armradio.am/en/2015/02/26/armenians-have-a-high-genetic-affinity-to-ancient-europeans-new-study-reveals/
10   Baumer, Church of the East, at 263. The Church of the East: An Illustrated History of Assyrian Christianity, Christoph Baumer, I.B. Tauris, 2006.
11   http://www.panarmenian.net/eng/details/179324/
12   Bobelian, Michael (2009). Children of Armenia: A Forgotten Genocide and the Century-long Struggle for Justice. New York: Simon & Schuster. p. 34. ISBN 1-4165-5725-3.
13   Akçam, T. (2006). A shameful act: The Armenian genocide and the question of Turkish responsibility. Macmillan.
14   Walker, Christopher J. (1990). Armenia The Survival of a Nation, 2nd ed. New York: St. Martin's Press. pp. 254–255. ISBN 0-7099-0210-7.
15   Dadrian, Vahakn N. The History of the Armenian Genocide: Ethnic Conflict from the Balkans to Anatolia to the Caucasus. Oxford: Berghahn Books, 1995, p. 192. ISBN 1-57181-666-6
16   "Fighting In Constantinople.; The Armenian Patriarch Mobbed – Soldiers And Rioters Killed". New York Times. 29 July 1890.
17  "Abdulhamid II | biography – Ottoman sultan". Retrieved 2015-09-29.
18   The Ottoman Peoples and The End of Empire by Justin McCarthy (2007), p. 200-205
19   Hanioğlu, M. Şükrü, The Political Ideas of the Young Turks.
20   http://archive.is/LHJkH
21   Roth, C. (Ed.). (1972). Encyclopaedia Judaica (Vol. 15). Encyclopaedia Judaica. P. 544
22   E. Karsh, Empires of the Sand: The Struggle for Mastery in the Middle East, 1789-1923.
23   Clogg, p. 98.
24   https://mosaicmagazine.com/picks/2017/12/the-ottoman-balfour-declaration/
25   http://archive.is/8gpWZ
26   http://archive.is/dzIvs
27   http://archive.is/ZINFw
28   http://archive.is/LHJkH
29   Ya'ir Oron, The Banality of Indifference:Zionism and the Armenian Genocide, Transaction Publishers, London, 2002, p.126.
30   The Post Magazine and Insurance Monitor, Volume 85, Issue 2 (1924), Buckley Press, [2] p. 2153
31   https://archive.is/WS7eA
Two fans sue Universal for $5 million for cutting Ana de Armas out of 'Yesterday' | USA
There are risks to being an actor. A common one is what's known in the industry as "winding up on the cutting room floor." You get hired for a project, and based on the script you've read and the time that you spend on the set, you assume that you are one of the characters; that is, until the day the movie is released and you realize that your scenes have been cut out entirely.
In the case of the Cuban-Spanish actress Ana de Armas, who featured in the latest James Bond movie No Time to Die and is on an unstoppable path towards Hollywood stardom, it went further than that: she actually appeared in movie trailers advertising Yesterday, a 2019 film by the British director Danny Boyle in which actor Himesh Patel plays Jack Malik, a struggling singer-songwriter who wakes up after an accident into a world where nobody has heard of the Beatles or knows any of their songs, except himself.
Almost three years after Yesterday's release, two fans of de Armas are suing Universal Pictures for cutting her scenes out of the final version, claiming the studio engaged in "false, deceptive and misleading advertising."
Conor Woulfe, a 38-year-old resident of Maryland, and Peter Michael Rosza, 44, from California, rented Yesterday on Amazon Prime Video for $3.99 (€3,52). In their federal class action lawsuit, they claimed that they only rented it because they thought De Armas would be in the movie after watching the trailer. In the promotional material, she is depicted as Roxane, a character who becomes a love interest for Malik – that is, until the movie creators realized that this would draw attention away from the main love story between the songwriter and a character played by Lily James.
It is unclear whether the plaintiffs are as interested in De Armas as they may be in the $5 million (€4.5 million) they could take home if a court rules in their favor. The lawsuit states that the case is being brought "individually and on behalf of all others similarly situated." It also claims that "by paying to view the falsely advertised movie," the plaintiffs "suffered injury-in-fact and lost money."
Regardless of the case's chances, the story illustrates a US penchant for resolving disputes in court with astronomical figures in the balance, as a first step in the conversation.
The entertainment news website Variety, which first reported on the case, noted the resemblance with a 2011 case brought in Michigan by a movie viewer who was disappointed with Drive, by Nicolas Winding Refn, which she expected to be a "high-speed action driving film" but turned out to be a tortured drama about a solitary driver who finally finds the right girl.
Cutting actors out of final versions is nothing unusual. Terrence Malick, the director of Badlands and The Tree of Life, has a habit of hiring more stars than he will later need on the screen. Adrien Brody, for example, showed up for the premiere of the 1998 The Thin Red Line, convinced that he would be one of the main attractions – in the end, he only showed up in a few scenes. But the prize probably goes to To The Wonder, also by Malick: Rachel Weisz, Jessica Chastain, Michael Sheen, Amanda Peet, Barry Pepper and Michael Shannon all wound up on the cutting room floor.
Beattie faces long road to redemption after offensive tweets emerge
In The Strange Case of Dr Jekyll and Mr Hyde, Robert Louis Stevenson's Gothic tale, the civilised Jekyll, fascinated by the duality of his personality, manages to embody his evil side in the depraved Hyde, then finds he cannot control the transition between the two. Hyde runs amok. That's Doug Beattie's twitter account, firing out messages full of attitudes and prejudices that the Jekyll side of Beattie, the man attempting to modernise the Ulster Unionist Party, claims he never had.
Last Saturday, Beattie was all over the front pages with a beaming photo, the only party leader to get a good rating in the new opinion poll. He was in soaring form. "They couldn't have picked a smugger picture," he tweeted, with laugh-till-you-cry emojis. That night, still buoyant, he tweeted the now infamous joke that has led to him being sued by the Democratic Unionist Party's former leader, Edwin Poots. It involved the wives of unionist party leaders, brothels and bodily odours, and many who read it recoiled, then told him it was awful.
Jekyll Beattie responded: 'Awful, just awful… I'm ashamed… I can't justify that… horrendous, horrific… I've no excuse…'
Beattie took it down, apologised, said he had not meant to cause offence. But the truffle hunters of twitter had a scent. Soon they had snuffled out a haul of Beattie tweets that paraded every offensive stereotype in the charge book. Most dated back to the years 2011-2014, when he was a British army captain in his 40s.
Most were meant to be funny but could only have amused sexists, racists or those indifferent to people not exactly like them. Some were salacious, though more 1960s Benny Hill creepy than 2018 Belfast rape trial nasty. They featured schoolgirls' skirts, "hookers", randy, drunken Gurkhas, and humourless feminists with hairy chins. Other tweets held forth on the inability of women, foreigners and people from minority ethnic groups to do things properly. Leave it to the white man.
The next photos of Beattie to appear were of a man humiliated and almost broken. In a statement, now pinned to his twitter feed, he acknowledged and apologised for misogyny, said he was ashamed and embarrassed, and vowed to do better. He embarked on a series of media interviews. He was alone. No press officers, no advisors. He told BBC Northern Ireland's Stephen Nolan, "My confidence is gone." But there was something strange about his penance. He was contrite, though he did keep trying to consign Hyde Beattie to history, even though he had sallied forth just last weekend. Nolan read out the tweets. Jekyll Beattie responded: "Awful, just awful… I'm ashamed… I can't justify that… horrendous, horrific… I've no excuse…" But he also professed bewilderment: "I am not the person who was portrayed in those tweets… it's not me… even ten years ago it is not who I was." He was adamant that he was "no racist".
Offence is not the worst outcome of misogyny and racism. These prejudices inform behaviours that cause real and profound harm
When Nolan offered his distraught interviewee the option of pleading post-traumatic stress given his military postings to war zones in Afghanistan and elsewhere, Beattie allowed that on returning from environments in which there was "toxic testosterone", "you decompress, you desensitise". He spoke of using "dark humour" which was not, he said, meant to cause offence. But offence is not the worst outcome of misogyny and racism. These prejudices inform behaviours that cause real and profound harm. A climate is created, and denied. It is disempowering. People have to waste energy fighting it, energy that others use to thrive.
Put Captain Beattie's jokes in context. In 2009 a young black man joined the British army. He was awarded best recruit in his year and had high ambitions. But in 2013, after serving four years in Afghanistan, he quit. He had put up with a lot of "dark humour", he said, but what started as banter had intensified into outright racism. Raising it with a superior officer made matters worse. "If you talked," he said, "your career was screwed." He was persuaded not to cite racial discrimination as his reason for leaving, and put down health reasons instead. In 2015 a young woman in the British navy reported a more senior officer for repeatedly groping her. She was ostracised and nothing was done. Another discovered in the course of leadership training that a male armoured commander would not take orders from her on the radio, "because I am a girl". Women and black and minority ethnic personnel are under-represented in the British forces, and are repeatedly found to have been subjected to more bullying and harassment at work than white men.
On a BBC NI discussion last week the People Before Profit MLA Fiona Ferguson said that misogyny was institutionalised in Northern Ireland. It was rampant and faced by women on a daily basis. She mentioned bodily autonomy – the Ulster Unionist Party's health minister continues to thwart implementation of the abortion law. She asked why women were consistently responsible for most caring roles, why they received lower pay than men. UUP veteran Chris McGimpsey said she was exaggerating. She accused him of mansplaining.
With 90 per cent of its MLAs men, it is no exaggeration to say the UUP is a male-dominated party. Beattie pointed to the work he has done to bring in progressive young women. In truth, he needs them to grow his party among those unionists who reject the hopelessly sexist and homophobic fundamentalism of the DUP. These women stood by him last week with more than the grim, stoical smiles of wives of public men who have done them wrong and been found out. But Beattie's commitment to equality is also undermined on another front. He claims he supports the Belfast Agreement but refuses to declare whether or not he would work in an executive with a Sinn Féin first minister. Dr Jekyll has a lot of work to do.
Latina singers: From flamenco to Spanglish: Why Rosalía's latest album is causing a stir | USA
When Spanish singer Rosalía appeared live on Spain's Cadena SER radio network to present her album El mal querer in November 2018, everyone wanted to see what she had to say. Even the crew of the radio program La Ventana were eagerly awaiting the interview, something that, according to radio presenter Carles Francino, had never happened before, not even with such distinguished guests as Spanish prime ministers, Nobel prize winners or the actor Richard Gere. Rosalía was 25 years old at the time and had two albums to her name. Her responses captivated the interviewers who praised her in hyperbolic terms, comparing the Barcelona-born artist to legendary Spanish copla singer Miguel de Molina. Francino said she had triumphed because she was "very good and very different" – paraphrasing the iconic Spanish poet Jaime Gil de Biedma.
And Francino wasn't the only one to sing Rosalía's praises. In a pre-recording, Martín Guerrero, the managing director of Casa Patas, a seminal flamenco venue in Madrid, said that Rosalía was "electrifying, thrilling and unique." The comments section below the YouTube video of the interview, which has more than 500,000 views, is also filled with messages extolling the singer. "From her vocabulary and her way of thinking, I thought she was a very poised woman, who knows what she is saying when it comes to music and music history and knowledge. She is not your average girl. She is a genius," one YouTube user wrote.
Francino, perhaps sensing what was about to happen to the pop star, brought the interview to an end with a request: "We are just asking you one thing, Rosalía: don't change." He could not have asked anything more difficult of her.
A little over three years later, the public is eagerly awaiting her third album, Motomami, which will be released sometime in 2022. Rosalía has given a preview of what's to come, sharing snippets of songs such as Candy and Saoko on social media. But the single that has caught the most attention is Hentai, a slow ballad accompanied by piano whose lyrics have triggered bafflement and disbelief. The sexually explicit nature of the song and Rosalía's use of Spanglish quickly became fodder for internet memes and jokes. In the 20-second clip of the track, Rosalía sings "Te quiero ride como a mi bike" or "I want to ride you like my bike." The educated and cultured singer, who used to cite centuries-old poetry, sounded like someone completely different.
"It's as if the person who does the songs for [children's band] CantaJuegos had come home drunk and horny and had opened a notepad," wrote one Twitter user. "Rosalía is now making music by taking random words from the dictionary," read another message. The backlash was so great that, a few hours later, Rosalía herself even tweeted about it. "The people who are upset about the lyrics in Hentai, are you okay?"
It has not been a sudden change. Since her debut album Los ángeles, in which the singer made reference to flamenco singers La Niña de los Peines and Enrique Morente, as well as the poet Federico García Lorca, to the explicit and visceral Hentai, five years have passed. In that period, Rosalía has gone from being 24 to 28 years old, and she has experienced a global pandemic that kept her in Miami and away from her family for the first time. She has traveled across Latin America and rubbed elbows with the leading figures of the international music scene. A few months ago, she released a collaboration called Linda with the Dominican rapper Tokischa. The lyrics of the feminist tune – "nos besamos pero somos homies" or "we kiss but we're homies" – surprised her fans for its simplistic nature. "It's true that there wasn't a bad rhyme in her first two albums, her lyrics were excellent. In contrast, in her latest songs there are terrible rhymes," says Jorge Carrión, the coordinator of the book La Rosalía, ensayos sobre el buen querer (or, Rosalía, essays on 'el buen querer').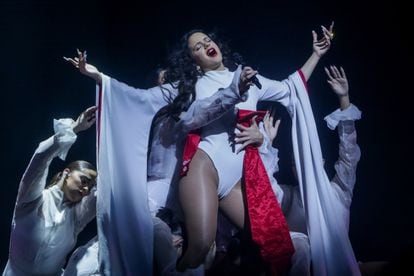 It's impossible to separate Rosalía's new music from her travels across the Americas, which she herself has documented in great detail. Like many other stars of today, she has opted to overshare on social media, where she uploads posts on every step she takes without any apparent communication strategy. Her surprising friendship with US personality Kylie Jenner and the rest of the Kardashian family, which appears to be very close, was one of the first shocks. We have seen her surrounded by entrepreneurs such as Dave Grutman and Jonathan Cheban, living an opulent lifestyle (Spain's far-right Vox party accused her of being a millionaire and having a private plane) and alongside celebrities such as Christina Aguilera, Drake, Naomi Campbell and Hunter Schafer from the US hit series Euphoria.
Living in Miami, Rosalía has started to express herself like other Spanish singers who emigrated to the US before her, such as Julio Iglesias and Alejandro Sanz. The Argentinian newspaper Clarín described her accent as "indecipherable, a mix of Spanish, Catalan, Andalusian and Caribbean, riddled with words in English." In an interview with a Dominican newspaper, Rosalía explained that her friendship with the Kardashians began when she started to hang out with Kendall in Los Angeles, which she named using the English acronym LA instead of the city's full name as you do in Spanish.
Rosalía's constant use of social media clashes with her previous image as an avant-garde artist who had released two albums exploring issues such as grief and gender violence. In her Instagram and TikTok accounts we see a cheerful, exhibitionist and sexual young woman, who often shares photos of herself half-naked and is seen with impossibly long fake nails and heavy makeup. She is obsessed with her pet chihuahua and loves cars and motorbikes – to such a degree that she bought a €60,000 pink-upholstered Ford Ranger Raptor with "La Rosalía" embossed in the headrests. Sometimes she takes on a certain childish attitude as if she were a character of one of the anime series she loves. On TikTok, she shared a photo with the message: "POV: When you steal Raul's phone and it has FaceID." The message, written in Spanish and containing spelling mistakes, was difficult to make sense of for those unaware of her relationship with singer Rauw Alejandro, which became public at the end of 2021.
This free-spirited image has left its mark on her music, both in her collaborations and what has been heard of Motomami. Even the name of the album appears to announce a new era that is lighter and fresher. In the video to announce the album launch, Rosalía can be seen covered in red glitter in a jeweled bikini, motorbike helmet and stilettos. The music in the clip is more reminiscent of other contemporary pop artists such as Charli XCX, SOPHIE, Arca or Grimes than of the flamenco which launched her career.
The debate around Rosalía's transformation is not new. The jump from Los ángeles to El mal querer had already raised questions about whether the move from music that paid homage to traditional flamenco to music that was an explosive mix of genres with global reach was part of a sincere and organic transformation, or whether it hid a premeditated and commercial strategy. Rosalía has behind her a team of women, including her sister Pili, who is the artist's stylist, her mother Pilar, the administrator of the company Motomami S.L., which manages the financial side of her career, and her manager Rebeca León, who is a superstar herself within the Latin music industry. But Rosalía has always defined herself as a controlling and detail-oriented artist who devises far-reaching projects. She even studied sound engineering in order to have greater control over the creative process. "I'm not doing it for mere strategic reasons, but rather taking into account the reason why I make music: to share it. The priority is to be connected to each moment that I am living and for this to be a means of communication, not a monologue," she said in an interview with Spanish magazine MondoSonoro in 2018.
Despite his reservations, book coordinator Carrión is still interested in Rosalía's latest project, which he describes as daring. "I sense that she has both discovered so many new popular genres in Latin America and what it means to be a global artist. She has begun to collaborate with the leading figures in reggaeton, trap and other urban music genres and that has led to a fusion [of styles]," he says. He agrees with Sara García, a comedian and the creator of the stand-up show Riot Comedy, who has been closely following Rosalía, her music and her relationship with Madrid-born singer C. Tangana for years. "She has pulled a 'Miley Cyrus' and is making songs that have nothing to do with the aesthetic, rhythms or soul of El mal querer. She is sending us signals that Motomami is not going to have anything to do with what we have seen before."
These signs were always there. Rosalía may be multifaceted and unable to be pigeon-holed, but if there is something that defines her it is the way she incorporates everything she knows into her music. Her first album was marked by her studies in flamenco, while the second mixed this knowledge with personal elements such as the R&B music she listened to as a teen and the sound of motorbikes, which her parents have always owned. When she reached success, she wrote Milionària in her native language, Catalan, and now she is writing about the volatility of fame and sexual pleasure with her partner. She also speaks of her own chameleon-like nature in Saoko ("A butterfly, I transform / Drag queen make-up, I transform").
It's likely that the reservations about her public image on social media, the people around her and the lyrics of her new songs are no more than a manifestation of prejudices, a generational gap and a certain amount of sexism. We are simply not used to seeing a genius being happy, naïve, sexual and exhibitionist and blowing kisses in photos next to Kylie Jenner. Rosalía's greatest talent is in breaking the mold.