Taliban's return 'a catastrophe' for journalism in Afghanistan | Press freedom
Journalism in Afghanistan is in danger of disappearing, according to the head of the International Federation of Journalists, who said that reporters trying to continue working under the Taliban have been subjected to beatings and imprisonment.
"The Taliban don't want to make too many waves right now, but they will want to take control of everything, including the foreign press in Afghanistan," Anthony Bellanger, the IFJ secretary general, told the Guardian. "And as often happens in such situations, foreign journalists will be considered agents of foreign governments.
"I believe what we will see emerge is an official media – a Taliban media – and no women. All other journalists will just disappear. It wasn't easy before – and even before the Taliban took power, journalists were killed – but it is very bleak now.
Bellanger believes there is currently a "grace" period before the Taliban cracks down on international and Afghan journalists.
"It's a question of weeks before it changes. I am pessimistic – I will be glad to be proved wrong, but the Taliban is still the Taliban. They announced an inclusive government and what did we get – no women. It's a catastrophe."
IFJ representatives are in close contact with colleagues in Afghanistan and believe about 1,300 journalists remain in the country, of which about 220 are women, most of them in Kabul. The IFJ is affiliated with Afghanistan's National Journalists' Union and the Afghan Independent Journalists' Association.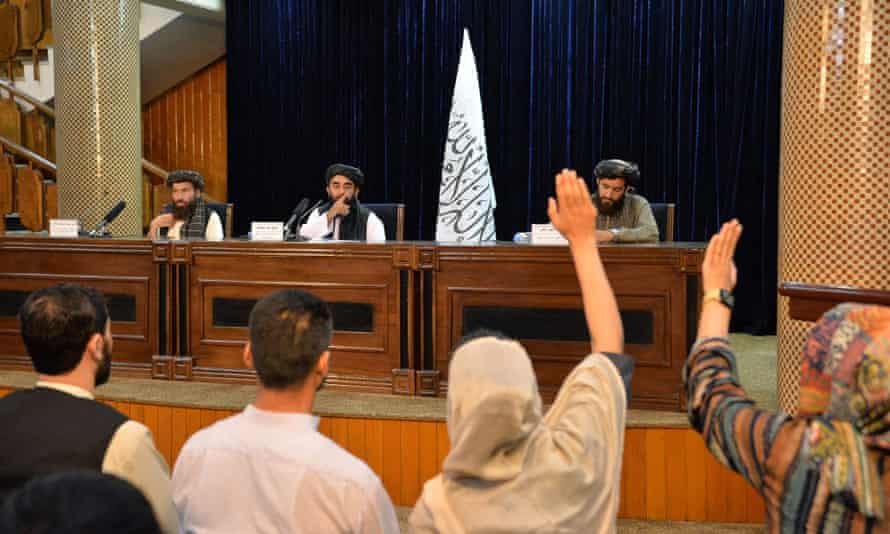 "It is now completely impossible for female journalists to work. The rest are doing a very difficult job and are doing what they can. We have photographs of journalists who have been imprisoned and beaten, so the situation for them is very difficult and dangerous," he said.
The United Nations human rights body, the UN high commissioner for human rights, warned last week of a 'growing resort by the Taliban to force against those involved in or reporting on' demonstrations.
The IFJ, representing 600,000 journalists worldwide, said it was still trying to evacuate journalists from Kabul.
But Bellanger said: "It's not about getting all journalists out. We cannot do that and we wouldn't want to, because if nobody is reporting on what is happening then it happens in the dark. There will be journalists who want to stay and do their job, but the future is black for them."
Bellanger said the IFJ had already collected €40,000 (£35,000) in donations from affiliated media unions, many of them in the UK, to help Afghan colleagues.
"We raised this in just three weeks, so I would like to thank people for their generosity. There has been a unique wave of solidarity on this. We are continuing the international campaign for donations.
"The most pressing problem is how to help our colleagues there. Some have lost their homes, others their jobs. Some have been injured and most of the doctors have left. Most people in the higher, professional echelons of society have left the country.
"On Monday we will begin sending money to journalists in Kabul who need it. Every euro will be accounted for and we will be verifying that it is going to journalists and their families.
"Now we are asking governments to offer a new humanitarian visa for journalists whose lives are in danger and who need to leave."
He said Afghan journalists had already been evacuated to Qatar, North Macedonia, France, the UK, Canada, the US, Australia and Belgium, but some countries, including Greece and the Netherlands, had not issued emergency visas.
"My worry is that in a few days, a few weeks, the news agenda will have moved on and the media will forget Afghanistan," Bellanger said. "For the journalists who remain, I fear they will find either they can choose not to do journalism – or to do journalism for the Taliban."
He added: "It is stupid and naive to think we can talk to the Taliban about this. There are journalists who want to stay because their life is in Afghanistan.
"We will try to take out those in great danger and those who have already had death threats, but we want to leave as many as possible on the ground so we can have information. It's these kind of moments when people realise how much we need journalists."
'Narco-tunnels' become a factor in US-Mexico relations | International
More than 300 meters long, 10 meters deep and fully illuminated: so is the latest narco-tunnel that authorities have found in Tijuana, on the border between Mexico and the United States. The underground corridor was used to traffic drugs to San Diego, California, and has since been closed. The discovery was not an accident: US Ambassador Ken Salazar had warned last week of the presence of over 200 tunnels during a visit to the border city.
The tunnel was discovered last weekend after a joint operation by the Mexican Army, the Tijuana Police and the Attorney General's Office. The entrance is located under a house in the Nueva Tijuana neighborhood, a few meters from the Otay border crossing where Salazar made those statements. The passageway, reinforced with metal beams, remains under police protection. Authorities have not identified which criminal group used it, nor have any arrests been made.
Mexican authorities emphasized that communication with their US counterparts had been "close" and that bilateral collaboration had been key to finding the tunnel. Less than 48 hours earlier, Salazar had made the same points. "Working with the Mexican government, we have a very good collaboration in trying to eradicate these tunnels, which should not be here, because this is where a lot of crime happens, a lot of suffering," said the ambassador in statements collected by the weekly newspaper Zeta. "This must stop," he added.
Salazar's visit to Tijuana included a tour of a narco-tunnel discovered in 2009. The passageway, which also crosses the border wall, is known as Gálvez and is 270 meters long and 30 meters deep. The structure's construction was attributed to the Arellano Félix cartel, a criminal organization created in the 1980s, which dominated the movement of drugs to the United States in that area for decades.
After the tour, Salazar, senior US anti-narcotics officials and Mexican Foreign Minister Marcelo Ebrard held a press conference announcing a $4.2 billion investment to reinforce the border. Ebrard exhorteed the authorities of both countries to "be more effective at the border against fentanyl, drugs and weapons that come and go on both sides."
"[We intend] to ensure that this border is a place where people can walk from one place to another safely and where trade continues in a better way than now," Salazar said. Last month, Texas governor Greg Abbott imposed tough security checks that virtually paralyzed cross-border trade. (More than 2,000 of the 3,000 kilometers between the two countries pass through Abbott's state.)
After the White House's urging to stop drug trafficking from Mexico, the government of Andrés Manuel López Obrador has urged the United States to do the same with the smuggling of firearms. More than 500,000 US weapons arrive in the Latin American country each year, according to Mexican authorities, who began working to prosecute the US arms industry last year.
Less than a week ago, another tunnel made headlines in Culiacán, the stronghold of the Sinaloa Cartel, the organization historically led by Joaquín "El Chapo" Guzmán. A young man who was sleeping on the sofa in his house fell after a hole opened in the ground. The hole in the floor was attributed to the existence of the underground passageway, found in 2011.
El Chapo had escaped in July 2015 from the Altiplano prison, a high-security prison in central Mexico, through a tunnel that took members of his criminal organization more than a year to build. In the videos broadcast from his cell, the criminal leader is seen disappearing from one moment to another after climbing into a hole in the floor. Guzmán traveled more than a kilometer underground on a motorcycle. The capo was captured in early 2016 and extradited to the United States a year later. Guzmán had previously managed to evade several capture operations through underground networks of passages. The first tunnel attributed to him dates from 1989.
The longest known narco-tunnel measured more than two kilometers, and its discovery was announced in January 2020. It had tracks, air conditioning, an elevator and electricity. The entrance was in Tijuana and the exit in San Diego. "The sophistication of this tunnel demonstrates the determination and monetary resources of the cartels," the US border patrol said at the time. Despite the spectacular announcement, the news came with no information about arrests, as with the last tunnel discovered last weekend.
Migrant workers 'exploited and beaten' on UK fishing boats | Workers' rights
A third of migrant workers on UK fishing vessels who responded to a research survey work 20-hour shifts, and 35% reported regular physical violence, according to a new study that concludes there is rampant exploitation and abuse on British ships.
"Leaving is not possible because I'm not allowed off the vessel to ask for help," one migrant worker told researchers at the University of Nottingham Rights Lab, which focuses on modern slavery. They found fishers reported working excessive hours, with few breaks, on an average salary of £3.51 an hour.
Interviews with migrant workers on fishing boats across the UK revealed experiences of racism and many accounts of "extreme violence", including two reported incidents of graphic and sexually violent acts, it said.
Workers from the Philippines, Indonesia, Ghana, Sri Lanka and India are recruited into the UK fishing industry on "transit visas", a loophole that "legalises their exploitation", according to the report, Letting Exploitation Off the Hook. Seafarers' transit visas are intended to allow crew to join ships leaving UK ports for international waters, such as a container ship to China, for example.
These visas tie workers to a single employer. This leaves them dependent on the ship's captains for their working and living conditions, such as access to food and other essentials, and prevents them changing jobs. Workers can then potentially be abused and controlled by rogue shipowners.
The research could not be generalised across the industry, the report said, due to the self-selection of fishermen involved in the survey, the data for which was collected via an anonymous questionnaire distributed online by NGOs, charities and other communities trusted by migrant workers.
In a separate briefing published this week, the International Transport Workers' Federation (ITF) outlined its own findings on the use of transit visas, suggesting it was leading to "systematic" labour exploitation of migrants on UK vessels. It called for the closure of the loophole that allows the visas to be used on fishing vessels.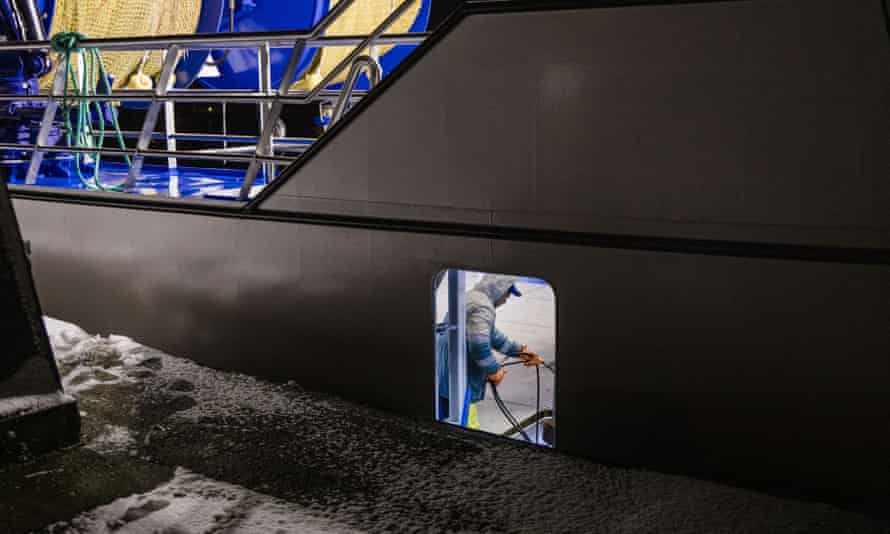 Dr Jessica Sparks, associate director of the Rights Lab and author of the report, said: "Exploitative practices are widespread and endemic on vessels. Long hours for poor wages are endemic. It is well known that you can pay migrants less."
Interviews with the migrant workers revealed "traumatic" experiences of physical violence and racism, she said. "There were very traumatic reports of being physically beaten by captains. Most of the migrants reported being discriminated against, especially Ghanaians, [and] racial slurs while being beaten by captains. The amount of physical violence was surprising to me."
The report also found evidence of forced or compulsory labour among migrant workers in the UK fishing industry.
One worker told researchers that "leaving is not possible because I'm not allowed off the vessel to ask for help", adding: "There is no way to contact anyone. The captain keeps my phone, and when he gives it to me he supervises my calls."
Sparks interviewed 16 migrant workers, and conducted surveys with 108 crew members of vessels registered in England, Northern Ireland, Scotland and Wales.
More than 60% of migrant fishers interviewed reported hearing about or seeing their fellow workers being threatened or actually abused, whether physically, sexually or psychologically. About 75% said they felt discriminated against by their captain. One in three said they would be unlikely to leave their job because of debts.
The report found that the migrant workers did not know who to trust, with more than 60% saying they would never report a grievance out of fear of reprisals – either against themselves or their families being blacklisted. Many owed debts to recruitment agencies.
The report also contrasted the situation of migrant workers, who were poorly paid on a fixed wage, to local crews, who were paid a "crew share" – a percentage of the value of the fish landed or of the profit.
The UK relies on fishers from non-EU countries including the Philippines, Ghana and Indonesia but people from these countries have no automatic legal entitlement to work in the UK. Fishing boat owners apply for transit visas on the basis that their vessel operates "wholly or mainly" outside UK territorial waters, defined as more than 12 nautical miles from shore.
Migrant fishers using those visas are required to work a "majority" of their time beyond territorial waters, and have no legal authority to "enter" the UK when returning to port. As a result, they are forced to live onboard the vessels for up to a year, despite accommodation on fishing boats usually being unsuitable for long-term stays.
The ITF said the current transit visa scheme created a "two-tier" labour system onboard UK boats and that the misuse of the visa scheme had become a tool to traffic Ghanaians and Filipinos from the UK to the Republic of Ireland.
In response to the findings, the Fishermen's Welfare Alliance, made up of national fishing federations in the UK, welcomed the ITF's conclusions that the transit worker visa was unfit for purpose and said it did not meet the requirements of a modern fishing industry. The parts of the industry that employed non-UK fishermen through the transit visa system had long lobbied the government for improvements, including having fishermen recognised as skilled workers, it said.
The FWA said it was still studying the University of Nottingham report but added: "At first reading, it contains much that fishing industry representatives don't recognise and is not representative of the situation across the UK, as the report itself states.
"As industry representatives, we deplore and condemn bad practice and crew members being badly or unfairly treated, regardless of their nationality or immigration status."
Aoife Martin, director of operations at Seafish, a non-departmental government body supporting the seafood industry, said the findings were "concerning" and showed there was still "work to do", though she disagreed with the suggestion that the UK industry had made use of the transit visa system to exploit non-UK workers.
Martin said: "We are aware of previous issues with poor treatment of crew amongst certain vessel operators, but we also know that the industry as a collective has made inroads in identifying and addressing the factors that lead to this type of behaviour."
John Cheng: California shooting: Good and evil meet face to face in Laguna Woods | International
The crime scene revealed the terror and chaos experienced on Sunday afternoon in Laguna Woods. Inside the multipurpose room of the Geneva Presbyterian Church, 80 kilometers south of Los Angeles, there were a dozen tables decorated with long tablecloths. On these were red plastic cups. On the floor, plates and leftover popcorn. The large space, decorated with a huge black curtain and biblical phrases, was this past weekend the scene of a clash between good and evil. A group of parishioners who immigrated to the US from Taiwan were targeted by David Chou, a 68-year-old naturalized American of Chinese origin. One man was there to stop it, John Cheng, a 52-year-old doctor who took on the attacker and prevented further tragedy. That heroic act was his last: Dr. Cheng has so far been the only victim of the latest case of gun violence in the country. "He is a hero in this incident… he saved dozens of people's lives," Orange County Sheriff Don Barnes said on Monday.
The congregation was gathered Sunday afternoon to welcome back Billy Chang, a beloved pastor who had been in charge of the church before leaving for a mission in Taiwan. About 50 people, mostly older parishioners, were attending the banquet in his honor. Among these was a stranger who did not look familiar to any of the worshipers. He hadn't been there for the 10.30am Mass, but now he was trying to mix and mingle with the churchgoers. He was a wolf among the sheep. David Chou, 68, pulled out two semiautomatic weapons and began shooting.
"Dr. Cheng, knowing that the room was full of elderly people, crossed the room to try to disarm the shooter," explained Todd Spitzer, the district attorney for Orange County, where Laguna Woods is located, on Monday. After the first shot was fired, Cheng, a sports medicine doctor who was not a regular member of the congregation but had taken his mother to the special event, tackled the gunman and was shot. The shooter's pistol jammed as he tried to finish him off. Cheng, one of the youngest people in the room, died shortly from his injury, but his gesture was enough to buy time for other members of the congregation to subdue the attacker. The pastor hit him on the head with a chair and a group of people hogtied him with extension cords. Police officers arrived on the scene minutes later.
"[Cheng] sacrificed himself so that others might live. That irony, in a church, is not lost on me," added Spitzer, who toured the crime scene on Sunday night to prepare the indictment against Chou, who faces one count of murder and five more counts of attempted murder, in addition to unlawful possession of explosives. The room, as Spitzer described it, was decorated with phrases from the New Testament about how we should treat others. Walkers and canes had been left behind, abandoned by the congregants in their panicked flight. The five injured individuals, who are being treated at local hospitals, range in age from 66 to 92, according to authorities. Among these is a married couple in their 80s.
It was hate that allegedly motivated Chou to carry out the crime. The man, a security guard based in Las Vegas, drove four and a half hours from the Nevada city to this peaceful community full of retirement homes in California. His goal was to do as much damage as possible. Police recovered two bags from the church. One was loaded with ammunition for the semiautomatic weapons, and the other had four Molotov-type bombs. Chou chained the doors from the inside and glued the locks to render them useless and thus prevent the elderly from leaving the premises. Only one revolving door was working when the police arrived.
"This was a politically motivated hate incident, a grievance that this individual had between himself and the Taiwanese community," said Orange County Sheriff Don Barnes at a news conference. "It is believed the suspect was upset about political tensions between China and Taiwan." Among the evidence that has been recovered is Chou's cellphone, which the FBI is analyzing, and notes found in the assailant's vehicle. These reveal the political positions of the attacker, who was born in China but emigrated "several years ago" to the United States, where he acquired citizenship.
The sheriff said it is believed that Chou, who lived in Taiwan at one point, was not "well received" there and that this may have developed his hatred of the community. Federal agents from the Bureau of Alcohol, Tobacco, Firearms and Explosives stated on Monday that the security guard had legally bought the two semiautomatic weapons used in the shooting, one in 2015 and the second in 2017. Due to the nature of his work, it is believed that Chou had a permit to carry guns, valid exclusively in the state of Nevada.
Hate crimes against Asians in the United States have risen sharply in recent years in the wake of the coronavirus pandemic. A report published at the beginning of 2022 by California State University in San Bernardino indicates that these types of attacks grew by 339% between 2020 and 2021. Racist incidents have grown by 11% nationally, with Asians the second most affected behind African-Americans.