Spanish fan of 'Gone with the Wind' star Vivien Leigh to auction off rare memorabilia | Culture
When she was 15, Elvira Clara Bonet went to the movies in Barcelona to see Gone with the Wind, the 1939 box office hit starring Clark Gable and Vivien Leigh, which was not released in Spain until 1950. After watching the movie, Bonet became enthralled by the actress who played the vain, capricious and determined southern belle, Scarlett O'Hara. She began to buy the magazines in which Leigh appeared with her second husband, actor Laurence Olivier. After reading in a 1957 issue of Sábado Gráfico magazine that the A-list couple were spending a few days in Torremolinos in Málaga, Bonet decided to write Leigh a postcard telling her of her admiration.
It was the first of more than 40 letters exchanged between the actress and Bonet – now 80 – over the course of a decade until Vivien Leigh's death in 1967. But the relationship was not confined to written correspondence. Bonet was received on two occasions in Leigh's London home: the first with a friend who spoke better English than she did; the second, in November 1965, shortly after Bonet sent Leigh a medallion with the initials GWTW (Gone with the Wind) – a movie which won the actress the first of her two Oscars – on the 25th anniversary of its premiere. Leigh had long called Bonet "my Spanish friend," and the bond resulted in Bonet's collection of personal possessions, 50 of which will go under the hammer, along with the letters, at an online auction by the Setdart auction house on May 26.
When the actress died from tuberculosis at the age of 53, Bonet was invited to her funeral, where she rubbed shoulders with actors such as Alec Guinness, Michael Redgrave and John Gielgud. Despite Leigh's death, Bonet maintained a relationship with the actress's daughter Suzanne, with her mother Gertrude, with her last partner, John Merivale, and even with her Spanish maid, Domitila Martínez.
It was after the funeral that the family began to send Bonet personal items that had belonged to Leigh, who also played the unforgettable Blanche Dubois in A Streetcar Named Desire, a role that earned her a second Academy Award in 1951. Among the items was a silver and gold cigarette case with Leigh's initials VL containing some of her last cigarettes, two pairs of size 37 shoes, a handbag, a cup from which she drank tea, one of her nightgowns, her nail polish, one of her hats, the diary she used the year of her death with entries such as "mom's birthday" or "dinner with Bill," the gloves she used in The Roman Spring of Mrs. Stone (1961), the monocle she wore in her last film, Ship of Fools (1965), and a parasol she used in Gone with the Wind. In total, Bonet amassed around 70 of the actress's personal possessions, including 45 letters, all in English, that Leigh wrote to her from different parts of the world – the last of which she received the day before her death. Now, almost everything is for sale.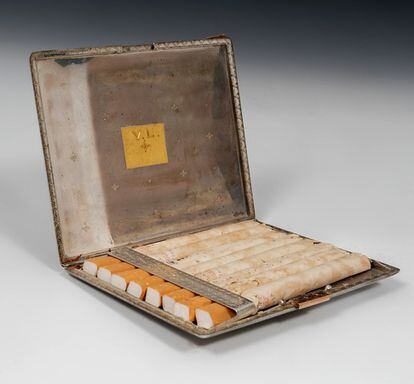 For years Bonet had a small private museum showcasing these objects, as well as photos, in one of the rooms of her home in the Barcelona neighborhood of Horta. Anyone who asked was invited in for a viewing. But now the museum's doors are closed. "I am selling because of my age and because of financial issues, though it pains me dreadfully," she says. "I hope that whoever buys them will pamper them as I have done all these years."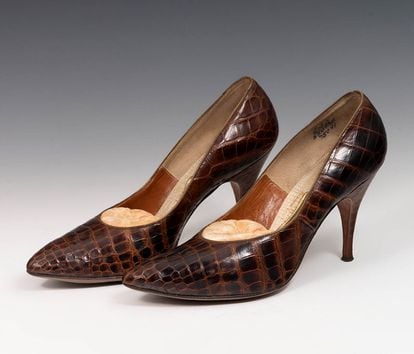 "I never asked Vivien for anything," says Bonet. "I am not a collector; the objects I have collected are gifts given to me by her family. I have known five generations of Leighs."
Bonet recalls how she felt almost disappointed the first time she met the actress. "She was not the actress of 1939," she says. "By then she was already 51; her voice was hoarse from smoking and she looked older because she was affected by her illness. But she was still a very elegant woman and had beautiful green eyes. She was a unique actress, there has been no one like her," adds Bonet, who says she has seen her 19 films thousands of times, and Gone with the Wind more than 2,000, "but not in a row!"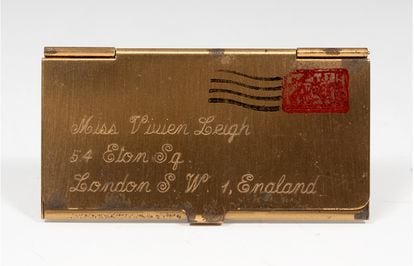 Many of the lots have a starting price of between €2,500 and €3,000, such as the cigarette case, the glasses and the parasol, but there are also cheaper lots, such as the shoes, whose starting price is between €600 and €700. There are also 23 unpublished photographs from Leigh's personal album, including five photographs of herself and Olivier on their honeymoon in 1940 in which the couple appears naked before bathing in a river. "I hope they don't get a lot of attention and I'm sorry they're coming to light," says Bonet. "I never exhibited them."
But it is precisely these photos that have the highest price tag – between €7,200 and €7,500 – and promise to be one of the highlights of the auction. Meanwhile, Bonet says that she is keeping back a handful of items, such as a cushion Leigh rested her feet on and some of the actress's ashes. "They were given to me by her mother," says Bonet. "After throwing the ashes into a lake, these remained on top of some leaves that she picked up and kept."
Any items linked to Vivien Leigh are typically a big deal for auction houses. In 2017, Sotheby's of London raised €2.5 million from the sale of items belonging to the actress. "All lots are usually sold, 100% – something that does not happen with other auctions," explains a spokesperson from Setdart.
English version by Heather Galloway.
Way too early for housing starts to engender feelgood factor

Analysis: Strong indicators for construction tempered by affordability, supply chain and targets

Source link
College Park to remain in full use for Trinity sports clubs
The board of Trinity College has agreed to pursue an alternative site for the building of a temporary exhibition pavilion during the renovation period of its Old Library, saving College Park from what several affected sports clubs said would have proven "hugely detrimental" to their training and competition needs.
Concerns had been raised over the timing and level of consultation with regard to College Park being named the preferred site last November, three of Trinity's largest and oldest sporting clubs – athletics, football and cricket – already raising considerable objections over the proposal.
A Trinity communications press statement on Wednesday afternoon said that, subject to statutory constraints, "the Board of Trinity has today (Wednesday) approved a proposal to renovate the Printing House building, which would house the Book of Kells during the period of renovation, and also create a temporary exhibition in New Square, at the centre of campus".
The alternative proposal of the Printing House, coupled with New Square, "follows consultation within the Trinity community"; Trinity students have four representatives on the 27-strong board, three from the Students' Union (SU), and one from the Graduate Students' Union (GSU), their president Gisèle Scanlon, and all four had already expressed their dissent at the College Park proposal.
"A process of careful consultation across College has led to today's agreement on how to proceed with this plan," said Trinity provost Linda Doyle. "I want to thank those involved for their engagement. We believe this choice of location offers the best possible solution for our staff, students and future visitors to College."
Trinity's bursar Eleanor Denny added: "We are extremely grateful to everyone in Trinity who helped us arrive at this crucial decision. This innovative plan allows us to preserve public access to the Book of Kells, one of Ireland's foremost cultural attractions as well as restoring one of the oldest landmark buildings on campus, the Printing House."
A Trinity email first sent to affected clubs in October said: "Based on early discussions Trinity has had with Dublin City Council, the location with the best opportunity to secure planning permission is College Park."
A feasibility study outlining the scale of the project allowed for the continuation of some sport at College Park; however, according to the three clubs, this would have effectively rendered College Park useless as a competition and match facility, while also depriving the wider college community the sort of green space it increasingly craves.
The Old Library renovation is expected to take between three to five years, costing around €120 million, which meant it could have been 2028 before the space was restored. The temporary exhibition project is still subject to planning permission.
"We were very worried about this, for a very long time, and spent a lot of time lobbying against this," said Scanlon, the GSU president also starting a petition to Save College Park. "All other options weren't properly considered, and I think there should be lessons learnt on this. And whatever happens with the planning from this point, College Park should not be on the agenda, and should never have been on the agenda."
Ray O'Malley, president of Dublin University Association Football Club (DUAFC), founded in 1883, also welcomed the outcome of Wednesday's board meeting: "I think they [the board] misjudged the feelings towards College Park, from the general student base, and the clubs that use it," he said. "Thankfully they appear to have belatedly realised that, and somewhere down the line the correct decision has been made, perhaps not following in the correct procedure.
"It's our unique selling point, and the reason why we were fighting so hard for this. Even if it was only on a temporary basis, it's too important for us. We all recognise the importance and value of the Book of Kells, but sport is a very importance part of college life too, and we're extremely grateful for the role that people like Gisèle played in this, some of the club members, and that the powers that be accepted somewhere down the line that College Park simply wasn't the right place for this proposal."
Pandemic need for flexibility not reflected in draft laws
Draft laws on remote working mark an attempt by Tánaiste Leo Varadkar to formalise radical work practice changes that were suddenly introduced when Covid-19 struck two years ago.
Back then, the force of the pandemic was such that procedural and legal niceties were swept aside in the rush to protect public health and keep the economy turning. Many tricky questions were avoided at that time but they can be avoided no longer now that most restrictions have been lifted.
"We've worked through for two years basically turning a blind eye to the whole thing but that will stop," said Richard Grogan, an employment law solicitor in Dublin.
"We've been working through an emergency which is slightly different. The emergency is now finishing."
The new regime is supposed to open more choice for workers if they wish to work from home, giving them a right to seek such arrangements after six months. But in-built flexibilities for employers open scope for them to refuse permission to work remotely on 13 grounds.
Conflict appears inevitable. With key details still to be worked out, legal experts, employers and unions foresee many potential pitfalls and practical challenges when it comes to implementing the new arrangements in real time.
Many say the pandemic changed the world of work forever. A recent Central Statistics Office survey suggests that 80 per cent of workers worked remotely at some point since coronavirus struck, compared with 23 per cent before it. Two years later, with all signs suggesting the most acute phase of the health crisis has passed, these practices have bedded down to an extent that few might have expected at the outset.
Traffic and transport
Of those in employment who can work remotely, CSO data suggests 88 per cent want to continue after restrictions were removed: 28 per cent of them all the time; and 60 per cent some of the time. The proportion expressing that preference was highest at 93 per cent among respondents in counties Kildare, Louth, Meath and Wicklow in the Dublin commuter belt, where workers often encounter long traffic delays and overcrowded public transport.
If all of that points to high demand to avail of new laws, considerable hurdles remain to be overcome. To name but a few, these centre on domestic health and safety legislation, insurance issues, European data-protection law and on the Workplace Relations Commission's new role in determining appeals to decisions against remote working.
"A lot of the issues that are going to go to the WRC where there isn't agreement will relate to things like health and safety of a premises or [General Data Protection Regulation] compliance or whether somebody can actually do their work remotely. The [WRC] adjudication officers aren't trained in any of those areas," said Grogan.
"They are not there to look at a work station and say: 'Does it comply with health and safety? Is it possible to put a work station into this bedroom safely?' So that's a huge issue."
Asked whether the WRC had enough resources, the Department of Enterprise, Trade and Employment said it would "work closely" with the institution to ensure it did. "Adjudication officers will receive appropriate information on the content of the legislation and the WRC was consulted on the heads of the Bill," the department said.
Grogan suggested the Safety, Health and Welfare at Work Act might have to be "dumbed down" for remote work. "The only change you could bring in is if you're working from home and you have an accident it's your problem."
Employer 'nervousness'
He added that changes might also be required to the Civil Liability Act, which governs personal injuries. "There's going to be a bit of nervousness overall about this," he said, referring to employers.
But while the Government always has the option of amending Irish law, it can't do anything on its own with European GDPR rules that impose stringent restrictions on how business uses sensitive personal data.
Neil McDonnell, chief executive of the Irish Small and Medium Enterprises business representative group, pointed to potential difficulties with remote-working where staff deal with such data. These include companies in the area of external payroll support – dealing with gross and net pay and issues like payments under maintenance agreements – and human resources support.
"There's a few business that have been able to function remotely but reluctantly and with a lot of concern around what they're doing," McDonnell said.
"They basically have the innards of the company sitting on laptops. You could have someone doing HR support on their laptop in the kitchen – a bullying complaint, a harassment complaint or something of a sexual nature – and you have people who are third parties with no involvement in the companies walking past looking at that stuff."
Employers were also concerned about the potential for claims for personal injury while working at home, McDonnell added. "We're waiting to see something coming to court, or the Personal Injuries Assessment Board or the Health and Safety Authority."
The plan has also come in for criticism from Fórsa, the largest public sector union, which said the "business grounds" for refusing remote working were too broad.
The union said the inclusion of grounds such as "potential negative impact on quality", "potential negative impact on performance" and "planned structural change" would create loopholes that could allow employers turn down requests for no objective or proven reason.
"Employers must not have the option of simply turning down requests on spurious or vague grounds. Instead, they must be required to demonstrate, in a concrete way, that remote or blended arrangements are unworkable before they can turn down a request," said Kevin Callinan, Fórsa general secretary.
Further questions are certain to arise as the law works its way through the Dáil and Seanad. The pandemic was all about ad hoc moves. Permanent arrangements are another matter entirely.