Spanish architecture: The story of Madrid's abandoned 'beach' for its working class | Culture
La Playa de Madrid was just 15 minutes from the Spanish capital's Puerta del Sol square when it was inaugurated. Nine decades later, the distance is the same, but the premises developed by the architect Manuel Muñoz Monasterio in 1932 to create a "beach" in the landlocked city are in a state of complete disrepair.
The great leisure project for Madrid's working class on the banks of the River Manzanares now houses fetid mattresses, crumpled beer cans, rank swimming pools, tattered tennis courts and facilities that are at risk of disappearing altogether.
Owned by the state agency Patrimonio Nacional, which manages Spain's national heritage, La Playa de Madrid has been closed for six years. Defaults in rent payments forced it to close, and it subsequently became the target of vandalism. "There is no longer even any security," says Juan García Vicente from the green group Ecologists in Action, who is upset by the state of dereliction of a site with social and architectural significance in the city's history.
The access point to the "beach," which borders La Zarzuela racetrack on one side and the Puerta de Hierro Sports Park (previously known as Parque Sindical) on the other, has not been opened since the authorities evicted staff and members at the end of October 2014. The company running the complex at that time, which belonged to the former president of the Spanish employers association CEOE, Arturo Fernández, received a court order to vacate the premises as it had failed to pay rent or any tax despite operating the five swimming pools, 11 tennis courts, four paddle courts, one roller-skating rink, four frontón courts, the cafeteria, the restaurant and the parking lot.
Arturo Fernández has left a hole in the National Heritage agency's accounts to the tune of €867,006, which will have to be paid as soon as his company's bankruptcy is resolved. The 3,000 Playa de Madrid members who had paid their fees were also denied access. Fernández's contract had been renewed in 2011, despite the fact that he was already €466,831 in arrears. It was a sum that, according to the Court of Auditors, "he paid a few days before signing the new contract."
To add insult to injury, EL PAÍS has learned that on July 30, National Heritage filed a complaint in court in a bid to evict the new company running the complex, Centro de Eventos Playa de Madrid, which is also behind on payments.
"It has not paid even one month's rent and has run up a debt of €530,523," says a National Heritage spokesperson. The new contract went into effect on October 17, 2017, after the president of National Heritage at the time, Alfredo Pérez de Armiñán, decided to lease the 184,800 square-meter property to a company that not only failed to pay rent, but also reneged on a commitment to invest €3.2 million to renovate the complex.
Meanwhile, under the National Heritage's current president, Llanos Castellanos, an initiative is underway to revamp the more than 22,000 hectares of green spaces owned by the institution throughout the country, including the Playa de Madrid complex, which will be finalized when the judicial process ends. "The aim is to turn it into a sustainable property that is financially self-sufficient, and to make sure that what has happened does not happen again," says Castellanos.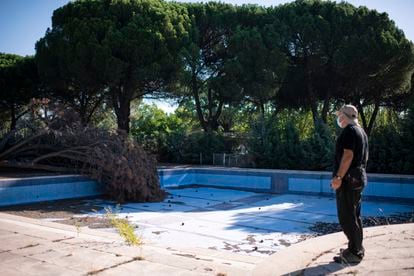 The phony beach was fashioned from a shallow river, from which "a beautiful arm of the sea" was created, to quote an ad from that period. But the dam that stored up the water to create a 300-meter shoreline was dismantled this January by the Tajo Water Confederation so that the river could follow its natural course unimpeded, according to García Vicente.
"It was a very interesting dam because it still allowed the water to flow and remain clean," says Alberto Tellería, a member of the Madrid Citizenship and Heritage Association, who still remembers the complex's dance floor and the announcement of a design competition for cheap evening dresses in 1934.
The "beach" was very popular among the working classes during the Second Republic, before Francisco Franco's air forces razed it. And it was there that the photojournalist Robert Capa constructed his iconic image of of two militiamen greeting each other under the lighthouse tower.
But unpaid dues and ignored commitments have proved the ruin of the site, which is these days trapped between two highways. "These are public facilities of extraordinary significance," says Juan García Vicente, who has been fighting for years for a path that will connect Madrid with El Pardo, on the left bank of the river.
This path should be ready in a couple of months and access to the "beach" will be reserved for pedestrians and cyclists. Meanwhile, the dignity of the complex is still to be restored, which according to Carlos Ripoll, a member of the Madrid Architects Association (COAM), has an "impeccable" language all of its own.
The simple and modern lines of the structures designed by the creator of the Las Ventas bullfighting ring and the Santiago Bernabeu soccer stadium are hidden behind pines, cork oak and poplars, and they are reminiscent of the international tone set by Swiss architect Le Corbusier. Muñoz Monasterio, who sided with the regime after the civil war (1936-1939), carried out the post-war reconstruction in 1948, refurbishing it according to Franco's taste, with slate roofs and spires. But the subsequent inauguration of the nearby Parque Sindical (now known as the Puerta de Hierro Sports Park) and water contamination ended Madrid's dream of having a beach.
English version by Heather Galloway.
HSE working to amend booster system as people receive multiple appointments
The Health Service Executive (HSE) is working to amend the coronavirus vaccine system, as multiple channels offering third jabs has caused challenges for the booster campaign, HSE chief operations officer Anne O'Connor has said.
Speaking on RTÉ radio's Morning Ireland, Ms O'Connor explained that the booster vaccine was available through vaccination centres, general practitioners and pharmacies.
Some people had gone to their local pharmacy to get their booster vaccine and then had received an appointment at a vaccination centre, she said. She called on people to cancel their vaccination centre appointment if they had received their booster through their GP or pharmacy.
Ms O'Connor's comments come after Taoiseach Micheál Martin said on Tuesday that there were 87,000 no-shows for boosters last week, and the chairman of the Irish Medical Organisation's GP committee, Dr Denis McCauley, described the non-attendances as "very disrespectful".
Ms O'Connor said the priority for the HSE was to get as many people fully vaccinated as possible.
When asked about the lower levels of people in the 60-69 age cohort who have received their booster vaccine, Ms O'Connor said that not everyone in that age group would have had their second vaccine more than five months ago. That was "a natural limiter".
Ms O'Connor said people possibly were apprehensive or busier, now that many were back at work or were preparing for Christmas, but the vaccine was important as was the booster.
To date more than a million people have received their booster vaccine, she added, and appointments will be offered to people aged between 50 and 59 from Thursday.
"We will also have walk-in centres open to people to get their vaccine and as ever we encourage everybody to avail of the vaccine. It's really important, especially with a new variant, that we try to protect as many people as possible," Ms O'Connor said.
'Be respectful'
Meanwhile, Dr McAuley told Newstalk Breakfast that there were very few no-shows to booster appointments at GP surgeries, because people know their GP personally.
Now was not the time for "messing", he said in relation to people failing to attend their appointments at vaccine centres.
"If you get a vaccine appointment, make sure that you go there rather than getting your hair done or going shopping – or if it is a work thing, stay on the helpline to get a new appointment.
"Be respectful of the mass vaccination centres. These are people who are working very hard and it is very disrespectful to have over 80,000 people not turn up in one week. It is not appropriate. You wouldn't do it to your GP so why are you doing it to these healthcare workers."
There was also a concern that some people were waiting to see what happens with the Omicron variant before getting their booster. Dr McCauley said that the booster would greatly reduce the chances of picking up the virus or having to go into hospital
Dr McCauley said there needed to be "a call to arms" for people to get vaccinated and he warned that when more information about Omicron emerged, booster appointments could be harder to come by.
All you need to know on getting the Moderna vaccine as a booster
People due to receive their Covid-19 booster vaccine in coming weeks will primarily be offered the Moderna dose at HSE vaccination centres.
The HSE is reported to have large supplies of Moderna due to expire next month, so that will be the main vaccine administered over coming weeks to the over-60s, over-50s, healthcare workers, and younger people in vulnerable groups – though it will be restricted to people over 30.
Anecdotally there are indications some people may be reluctant to take the Moderna vaccine. This may be due to Irish stocks about to expire shortly and/or confusion about its efficacy. This follows the company's chief executive Stéphane Bancel warning last week the Moderna jab may not be as effective against Omicron as it had been with the Delta variant.
The HSE has confirmed recipients will have no choice on what vaccine they are given.
What type of coronavirus vaccine is the Moderna jab?
It is a new kind of synthetic "mRNA vaccine" – the Pfizer/BioNTech vaccine is from the same stable. They provide excellent protection against severe illness and hospitalisation – and have played a critical role in reducing Covid-19 deaths since being approved. A downside, however, is that the Moderna version must be kept at -20 degrees.
Should people be worried about receiving a soon to be out-of-date vaccine?
| Total doses distributed to Ireland | Total doses administered in Ireland |
| --- | --- |
| 10,093,390 | 8,193,802 |
In short no, as they retain the ability to boost antibody production within currently approved time spans – though inevitably potency wanes over time. The Pfizer, Moderna, AstraZeneca, and Janssen (Johnson&Johnson) vaccines were put on the market with emergency use authorisation of up to six months.
This compares with a shelf life of two to three years for most vaccines and other medicines. This is an "inevitable consequence of getting the vaccines out of the door as quickly as possible", chief scientist at the Royal Pharmaceutical Society Gino Martini told the journal BMJ.
Months later, these "emergency" expiry dates remain in force for these vaccines. For approved Covid-19 vaccines, the initial shelf lives were based on data available at the time of submission for regulatory approval.
The long-term shelf life has not been extended for any of the vaccines. A shelf life extension would require supporting evidence from relevant stability studies. Vaccine manufacturers are monitoring batches of vaccines with the aim of providing a longer shelf life; probably the usual two years.
What about the Omicron threat?
While Moderna said existing vaccines including its mRNA version will probably be less effective against the Omicron variant, most experts believe they will continue to provide significant protection against severe disease and hospitalisation. It should be stressed, however, definitive indication has yet to emerge. That will be a matter of weeks, if not days.
Moderna has confirmed it is developing an Omicron-specific booster though manufacturing the new vaccine would take time. Tens of millions of doses could be available in the first quarter of 2022, but scale-up would not happen until the second quarter – provided it is shown such boosters are required.
What is the latest indication on the benefits of mixing vaccines?
Evidence supporting a mixing of vaccine doses has hardened over recent months. A study this week shows combining a first dose of the AstraZeneca Covid-19 vaccine with a second dose of either the Moderna or the Novavax jabs results in far higher levels of neutralising antibodies and T-cells compared with two doses of the AstraZeneca jab.
This finding also has important implications for lower-income countries that have not yet completed their primary vaccination campaigns as it suggests you do not need access to mRNA vaccines – and therefore ultra-cold storage facilities – to trigger an extremely potent Covid-19 vaccine response.
The study also bolsters confidence that using the Moderna vaccine as a booster dose in people who have previously received the AstraZeneca jab should result in high levels of neutralising antibodies and T-cells.
It follows separate data published last week suggesting the Pfizer and Moderna booster jabs can dramatically strengthen the body's immune defences.
Woman (90s) dies following single-vehicle crash in Co Clare
A woman in her 90s has died following a single-vehicle crash in Co Clare in the early hours of Tuesday.
The incident occurred at about 12.30am at Annagh, Miltown Malbay. The woman, who was the driver and sole occupant of the car involved in the crash, was pronounced dead at the scene.
Her body was removed to Limerick University Hospital, where gardaí say a postmortem will take place at a later date.
The road has been closed to facilitate an exam by Garda forensic collision investigators, and local diversions are in place.
Gardaí have appealed for witnesses – particularly road users who may have camera footage – to come forward. Anyone with information can contact Kilrush Garda station (065 908 0550), the confidential line (1800 666 111), or any Garda station.