Spain's place in the European Union: In EU's post-Brexit reshuffle, Spain drops out of race to replace Britain | Brexit | International
Spain is not willing to compete to replace Britain as one of the three driving forces of the European Union, together with France and Germany.
Instead of trying to fulfill the role of the United Kingdom, which officially left the EU on January 31 in a process known as Brexit, the government of Prime Minister Pedro Sánchez is opting for ad hoc alliances with different member states depending on the issue at hand and Spain's own interests, said diplomatic sources.
"We could be with Germany or Italy on issues like immigration, and with France with matters such as a digital tax," said sources familiar with the matter.
The new strategy represents a dramatic change to Spain's former ambition of beating candidates such as Italy or Poland to join the traditional French-German bloc. While Britain's departure from the EU has triggered a movement to reshape political alliances, Spain's current administration is dropping out of the race to fill the void left by London.
We could be with Germany or Italy on issues like immigration, and with France with matters such as a digital tax

Unnamed source
This diplomatic shift fits in well within the new EU, where a growing number of ad hoc alliances are being crafted by member states to deal with specific issues, as the old Franco-German axis starts to wane.
The new model also seems to meet the needs of Spain's first coalition government since the democratic transition of the late 1970s. Formed by the pro-European Spanish Socialist Party (PSOE) and the Euro-skeptics of the leftist Unidas Podemos, the newly formed Spanish government will find it easier to accommodate its own differing views about the European project by refusing to adhere to any one specific bloc within the EU.
"The idea of a new directorate has become outdated," said Spanish diplomatic sources just 48 hours after French President Emmanuel Macron's visit to Poland, where he revived the idea that the so-called Weimar Triangle – a loose alliance between France, Germany and Poland – could take the reins of Europe following Britain's departure.
Spain is clearly on the side of deeper political and economic ties
Germany, meanwhile, has close ties to the Netherlands, another country that longs for a key spot in the EU club. Italy, as the third-largest economy in the bloc, seemed like the natural candidate to fill Britain's shoes, but its political instability, and above all the tremendous strength of the Euro-skeptics there (Matteo Salvini's right-wing League won the European elections last year with 34.2% of the vote, although more recently it lost out to the left at the regional elections in Emilia-Romagna) work against it, given Germany's and particularly Macron's clearly pro-European views.
The question marks hanging over Italy had made Spain the most likely candidate to become the third member of the European leaders' club. With a population of 46.6 million (eight million more than Poland), the bloc's fourth largest economy is also one of the most enthusiastic about Europe's political and economic integration.
But Spain's Foreign Ministry does not consider seeking out this position a priority. "There is a debate about replacing Britain, as though it could actually be replaced," said a diplomatic source ironically.
Britain has a population of 66 million and an economy twice the size of Spain's and five times that of Poland. It also has nuclear weapons, a permanent seat on the United Nations Security Council, and is home to the biggest financial center in the euro zone.
No other triple alliance could beat the combined weight of Berlin, Paris and London. And in fact, both France and Germany have made it clear that Britain will continue to be a privileged partner in defense and foreign affairs, even after Brexit.
As the EU prepares for a two-year "Conference for the Future of Europe," Spain is clearly on the side of deeper political and economic ties, even though it refuses to commit to backing France and Germany on all issues.
Diplomatic sources said that the Sánchez administration has been welcomed by the more pro-European member states, "since it could be an ally to push back against other tendencies that oppose integration."
The first post-Brexit test of political alliances will be the new Multiannual Financial Framework for 2021-2027. Spain is planning to attend the February 20 summit as part of a loose grouping that's been dubbed "Friends of Cohesion," which includes Poland and Hungary, which are led by right-wing governments, as well as Portugal, which is governed by the left.
English version by Susana Urra.
Norway killings 'appeared to be' Islamist 'terrorism'
Wednesday's murders "appeared … to be an act of terrorism" Norway's 'PST' intelligence service said Thursday, noting that the killer, Danish national Espen Andersen, had been a "known" threat. Andersen was a Muslim convert and extremist, but might also have had psychiatric problems, Norwegian police said. Norway's terrorism-threat level was "moderate", the PST added, while monitoring the risk of "follow-up actions, revenge actions" by either "extreme Islamists" or "right-wing extremists".
UN quizzed over role in prison-like island camp for Rohingya refugees | Global development
The UN's refugee agency (UNHCR) is facing questions over whether it is helping to detain Rohingya refugees in prison-like conditions by providing services on a controversial island camp.
Over the past year, Bangladesh has relocated almost 20,000 refugees to Bhasan Char, an island formed of silt deposits in the Bay of Bengal thought to be vulnerable to cyclones, which the refugees are unable to leave.
About 700 refugees have reportedly attempted to flee the island but Bangladesh hopes that the UNHCR's cooperation will ensure better services for the refugees and is now planning to increase the island's population by 80,000 over the next three months.
Refugees International, a global advocacy organisation, said there were "serious questions" about whether it was safe and possible to move such numbers to the island from the Cox's Bazar refugee camps, which are the world's largest, hosting about 890,000 refugees.
"Most concerning is whether any relocations of Rohingya refugees to the island will be truly voluntary, evidenced by the fact that hundreds of refugees relocated there have already tried to flee," said Daniel Sullivan, Refugees International's senior advocate for human rights.
"As Refugees International has warned in the past, failure to properly assess conditions and inform refugees about the move will result in policies more akin to detention than refuge."
The Geneva-based Global Detention Project tweeted: "In signing a new memorandum of understanding with the Bangladesh government, is the UNHCR assisting in the detention of Rohingya refugees on Bhasan Char island? Are refugees free to move on and off the island? Are they moving there truly voluntarily?"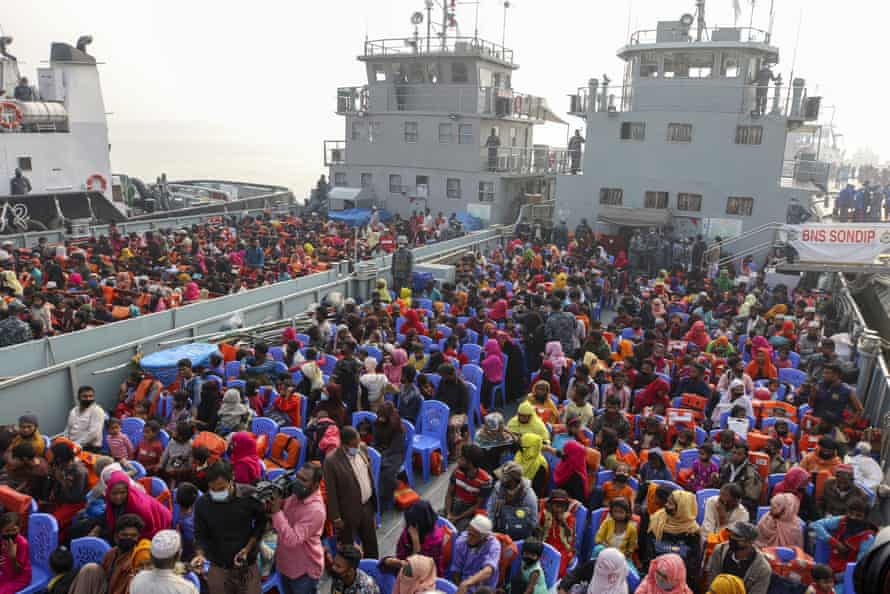 Human Rights Watch reported in June that the government had misled refugees about conditions on the island and that some had been relocated without informed consent. It also reported that, despite promises from the government of good living conditions, they did not have access to work or education and were unable to leave.
In May, during a visit by senior UNHCR officials to inspect the island, thousands of refugees defied orders to remain in their shelters to protest at the living conditions. The UNHCR later said it was "deeply concerned" that refugees were injured during the protest.
A Rohingya teacher living in the Cox's Bazar camps said they opposed the UNHCR's cooperation with the government because they did not believe the island was fit to live on.
"There is not any freedom for the Rohingya people in Bhasan Char. People who have gone there thought life would be comfortable for them, as the government said they would be provided with everything they need," said the teacher, who did not want to be named for fear of repercussions. "There is a lady in Bhasan Char – she sometimes talks with her mother and I heard from her mother that people in Bhasan Char are living as if in prison there.
"At least the government could consider free movement for the people who are in Bhasan Char, so they could travel to see their relatives."
A leaked copy of the agreement offers no guarantee that refugees will be able to move freely to the mainland, Reuters reported on Friday.
Bangladesh has justified relocating refugees to the island by arguing that conditions are better than the overcrowded camps in Cox's Bazar, which have witnessed devastating floods and fires this year.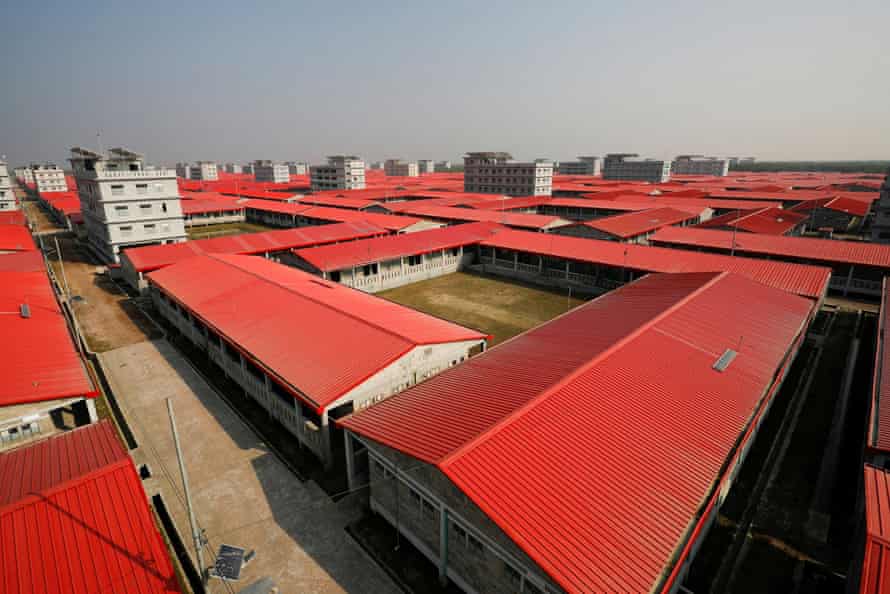 The UN said, after the agreement with the government was announced last weekend, that its presence on Bhasan Char would "help support the refugees to lead decent lives on the island" by ensuring protection, education, healthcare and livelihoods.
Former UNHCR official Jeff Crisp questioned why the agreement between Bangladesh and UNHCR had not been published and whether it failed to ensure freedom of movement for the refugees, which could amount to it becoming a prison island.
He also questioned what the long-term plan was for the island, as little progress had been made towards ensuring the Rohingya can return safely to Myanmar, which several generations of refugees have fled after repeated military operations.
"I don't know what strategy the Bangladeshi government is working on. What is the endgame? Do they assume people can live happily on Bhasan Char?" said Crisp. "They're talking about 80,000 moving in the next three months. Are that number of people going to volunteer to go and, if they do, can you move that many people and give proper attention to settling them properly?"
China's Xi to snub UK climate summit
Chinese prime minister Xi Jinping will not personally attend the 'COP26' climate summit in Scotland, UK prime minister Boris Johnson has been informed, British newspaper The Times reported Thursday. The no-show might mean China would not submit a 'nationally defined contribution' (NDC) on CO2-cuts either, British officials feared. Just half of the world's 'G20' wealthiest countries have filed NDCs so far, amid a supply crunch in oil and gas markets.