'Simple but effective': Colombia turns to algorithms to bolster mental health services | Global development
At the age of 70, Carmen Suárez* is finally coming to terms with an event that happened five decades ago. It was a trauma that changed the course of her life and left her with depression. "I used to cry uncontrollably," she says.
"I was told to seek help, but I had neither the time nor the money. I realise now that I was stuck reliving the incident."
Over the course of a year, the Diada project (detection and integrated care for depression and alcohol use), an innovative project aimed at identifying people with or at risk of developing a mental health or alcohol use disorder, helped her recover.
Suárez has several chronic ailments, including high blood pressure, and was regularly in and out of treatment. "Together with my church, the programme helped me begin processing the trauma I'd been living with and made me understand how my mental health was affecting my physical health. It was a huge help," she says.
Until 2018, the Javesalud medical centre in El Toberín, northern Bogotá, where Suárez is a patient, had no system of detection.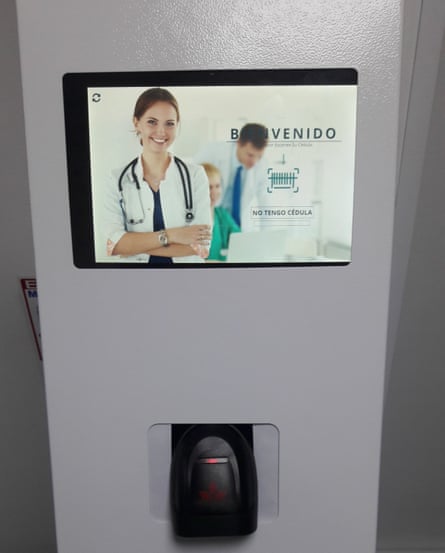 "Patient diagnostics of mental health were zero," says Dr Isabel Zapata, the centre manager. "That doesn't mean they didn't exist, we just didn't have any way of identifying them, so they'd fall through the system."
Working with the Pontifical Javierian University, the non-profit medical centre provides outpatient primary care to 10,000 patients monthly, out of a catchment area of 58,000 people. It has no psychiatrists. Between 2018 and 2020, 7,000 patients participated in Diada. One in ten were diagnosed with a mental illness and 1% with an alcohol abuse problem. To date, there have been 16,000 patients screened.
Diada works by directing people – typically visiting the medical centre for a different health matter – toward an interactive screen with a series of questions. Algorithms help identify at-risk patients. "It's a very simple but effective way of screening people," says Zapata.
After the two-minute survey, a ticket is issued, which is given to the doctor and those who register "positive" go to the next phase. Computer software helps guide clinicians towards possible interventions, depending on the patient's score which reflects the severity or likelihood of illness. Treatment can range from the loan of a smartphone with a therapy app that registers mood or alcohol consumption, to regular evaluations or medicines. Practitioners say symptoms significantly improve within three months of diagnosis.
Depression affects 4.7% of Colombians, making it secondonly to cardiovascular disease in prevelance in Colombia, according to the health ministry, and slightly above the global average. Most of those affected (80%) do not have access to specialist care. The rates of women with depression are 5.4% compared with 3.2% of men.
There are only 1,200 psychiatrists to serve a population of 51 million – equivalent to 2.5 psychiatrists for every 100,000 people, a quarter of the WHO recommended 10 for every 100,000. Alcohol is another leading contributor to the disease burden and the two are often linked.
Persistent underinvestment, followed by a global pandemic, has worsened the situation, leaving mental health problems to be a drain on the health system and, with many sufferers unable to work, an economic burden.
Dr Carlos Gómez-Restrepo, who oversaw the national mental health survey, was concerned that despite a significant proportion of the population reporting symptoms of depression, too few were being diagnosed, much less treated. "We realised that primary care doctors in Colombia weren't equipped to deal with this. Only the most severe cases of alcohol abuse or depression were being detected, by which time most people would find themselves in the emergency department," he says.
Diada results from a collaboration between the Pontifical Javerian University (where Gómez-Restrepo is the dean of medicine and the project's lead researcher), and Dartmouth College in the US. With funding from the National Institute of Mental Health, the pilot was launched in six locations across the country. There is a further planned launch in Leticia, the capital of Colombia's Amazonas , later this year.
"Diada has proved its efficacy and cost-effectiveness," says Dr José Miguel Uribe, co-researcher, and director of the department of psychiatry Pontifical Javerian University. For an estimated cost of $2 (£1.65) for each person treated, according to Uribe, Diada offers an economical model of mental health provision. More psychiatrists are not the solution, much less a quick fix, says Uribe. Instead, equipping primary care centres to enable early detection and prevention, such as with the Diada project, is the way forward.
Other Latin American countries, including Peru and Chile, have been watching the Diada project in Colombia and expect to adopt similar programmes. "It's a two-way process, where we all learn from each other," says Uribe. Scaling up will need long-term funding from the government, which last week presented its health reforms, claiming they will expand healthcare access. As part of these reforms, President Gustavo Petro has promised up to 20,000 new primary care teams.
"The pandemic laid bare the importance of our mental wellbeing," says Uribe. "There has never been more interest shown from as many different groups as there is now – not only governments and health authorities, but also schools, universities, families and communities. It is a golden opportunity. Mental health concerns us all."
*Name has been changed
Russian human rights activist Oleg Orlov: 'Putin's victory in Ukraine would mean preserving a fascist regime for years to come' | International
A year ago, Oleg Orlov warned that peace at any price could be catastrophic. "A victorious fascist Russia will inevitably become not only a serious threat to the security of its neighbors, but also to all of Europe," he concluded in his November 2022 column "They Wanted Fascism and They Got It," published in the French daily Mediapart. A year later, the veteran Russian activist was tried for that article by the same system — "half feudal, half corrupt state capitalism" — that he denounced: Vladimir Putin's regime.
The 70-year-old Moscow native is the co-president of the Memorial Center for the Defense of Rights, an organization created after the Kremlin destroyed its historic center for the defense of human rights in 2022. Orlov was fined 150,000 rubles, about $1,650 at the current impoverished exchange rate. The activist appealed, and so did the Prosecutor's Office, which is demanding that Orlov be sentenced to three years in prison on the grounds that he, "along with Memorial, is undermining social stability." Other dissidents — such as Alexei Gorinov, Ilia Yashin, Vladimir Kara-Murza and many other lesser-known dissidents — were imprisoned earlier.
Next to the entrance of his home, there's a threatening graffiti with the Russian army's "Z" and the phrase "war against them." Orlov, who has defended human rights for over 40 years, from the Soviet Union's death throes to the repression in the Caucasus, is calm about it: he says he never had any choice but to do what he thought was right.
Question. Memorial has worked for democracy in Russia over than 30 years. Has it helped?
Answer. I haven't had a choice. I thought it was right to oppose the coup plotters in 1991; I thought it was right to participate in drafting the laws for a new democratic Russia. Why would I seclude myself in my private life and do nothing?
Q. Do you think Europe understands the Russians?
A. Russia's future will largely be decided on the battlefields of Ukraine. And Putin's victory there means the preservation of this regime, which I consider fascist, for many years. Europeans find it very difficult to imagine that people are imprisoned for many years [just] for going out onto the street. Now, a private conversation is enough [for punishment]. Recently, a woman spoke positively of Zelenskiy in the dining room of a health spa. Someone denounced her and she was handed over to the Center for Combating Extremism. So, before claiming that Russian society does not protest, one should understand that there is a very harsh totalitarian regime here. This is completely different from protesting in Madrid, Paris or Berlin.
Q. In your article you compare the current Russian system with the dictatorships of Spain's Francisco Franco and Portugal's António de Oliveira Salazar. Do you expect to see changes in Russia?
A. I think the situation in Russia could be very similar to what happened in Spain and Portugal. When the dictator leaves power, he dies somehow. Often, there is a division among the elites, as was the case in Spain. Some of these elites realize that it is no longer possible to continue down the road being taken by the dictator, and there are people who are beginning to lead the country toward a certain freedom. Here, the role of the real opposition — not just the political one — is very important. The role of human rights activists, the real opposition and the trade unions is to pressure the government in order to take power after the dictator [is gone] to move toward a real… not fictitious democracy. As soon as the dictator disappears, the most unexpected people from his entourage will appear as reformers who want changes to save themselves and the system from collapsing.
Q. Salazar and Franco ran their countries for 40 years. Franco died in bed without a revolution rising up against him. And now Russians are being asked to protest against Putin while Europe imposes sanctions on them. Do they serve any purpose?
A. I don't have a clear answer as to whether they are right or wrong. It seems to me that Europe didn't think it through. It is naïve to believe that the sanctions will make the oligarchs overthrow Putin. They don't stand a chance. You want to divide the elites? Give them a chance to get off the sanctions list; it will slowly increase the division among them. I don't have a clear [answer] about general sanctions, either. Russian citizens find it difficult to travel and feel uncomfortable in Europe, do you want them to put their hands on their heads and try to overthrow Putin? With a totalitarian regime, that is naïve.
Q. Now they are not only arresting political opponents, but also members of the pro-war sector who have made some type of criticism. Do you notice a war weariness?
A. There have been many people in favor of the war since 2022, but the number has decreased. The fatigue is evident. If freedom of expression had not been destroyed, if we were not punished for speaking in [public], the mass discontent would be very visible. But many people are very afraid; they keep silent or don't want to think about it.
Q. In your article you cite the myth that Russians want an iron fist, a Stalin. Has this changed?
A. Repression has hardened. Almost all independent organizations have been shut down and there are more arrests and new sentences every week. I am surprised that I have been given so much freedom and can grant you this interview. I am prepared to talk to you openly, but 90% of Russians will refuse to deal with a Western correspondent. They think the authorities will find out tomorrow and lock them up in prison.
Q. You reiterate that it is impossible to hold a peaceful protest in Russia now. There was the Wagner riot in the summer. Maybe Putin doesn't have everything under control?
A. No, I don't think he does. If before Wagner's rebellion someone had said that there would be a military mutiny in Russia, nobody would have believed it. [Wagner's] rebellion revealed a lot: generals disappeared and were taken out. The plane exploded, everything seems to be back in order, but there is a clear fear of military pronouncements. On the other hand, the suppression of peaceful demonstration is dangerous not so much because of Wagner, but because the desire for non-peaceful protests will emerge. Terrorism occurs, an armed response occurs, and the authorities intensify repression, increasingly brutal terror. The authorities are pushing Russia into a vicious cycle.
Q. You have denounced the liquidation of the judicial system in Russia. In your trial, linguists confused the jedi (from Star Wars) with disco DJs in their sources. What is your assessment of your trial?
A. The accusations are stupid and senseless; they were very poorly prepared. In Russia, they don't even try to formalize the charges well; they think that any accusation will be translated into a guilty verdict. Anyway, in my case the judge has generally behaved decently. This charge would have been dismissed in a normal court, but our courts are not independent for political reasons, so they will do whatever they are told from above.
Q. How do you see the future of relations between Russians and Ukrainians?
A. I understand that a part of Ukrainian civil society does not want to talk to any Russians. It is painful for them. Relations will be very difficult, but the fact that there are links between part of Russian civil society and part of Ukrainian civil society is a kind of guarantee that normal relations will return in the future. But I understand that most Ukrainians curse Russians now.
Q. Ten years ago there was general ecstasy in Russia over the seizure of Crimea. Putin has said that some territories of other countries were Russian. If the Kremlin had won this war easily and the West had looked the other way, do you think Putin would have gone further?
A. Whatever happens, he has lost. He is pushing the world toward nuclear war, and I suspect he is insulated from reality. He is a dictator who, at the end of his dictatorship, has gone mad, not in the sense of mental illness, but in the sense of his disconnection from reality. Undoubtedly, he considers himself a historical figure, a man with the historical mission to revive the russki mir, the Russian empire, not the Soviet Union. He foolishly thought that he would defeat Ukraine in three days, that the Ukrainian generals would overthrow "the drug addicts" — as the Kremlin labels the Ukrainian government — and take power into their own hands. In that hypothetical scenario, a part of Russian society would have been inspired.
Q. In Spain, that happened over a century ago with Cuban independence.
A. There is a stereotype that our country is made up of three brotherly peoples: Ukrainians, Belarusians and Russians. Putin's imperialism is based on some kind of cultural code that needs to be overcome. I'm afraid it will take a generation to overcome that.
Sign up for our weekly newsletter to get more English-language news coverage from EL PAÍS USA Edition
Ukraine has a new way to get its grain to the world despite Russia's threat in the Black Sea | International
Grain thunders into rail cars and trucks zip around a storage facility in central Ukraine, a place that growing numbers of companies turned to as they struggled to export their food to people facing hunger around the world.
Now, more of the grain is getting unloaded from overcrammed silos and heading to ports on the Black Sea, set to traverse a fledgling shipping corridor launched after Russia pulled out of a U.N.-brokered agreement this summer that allowed food to flow safely from Ukraine during the war.
"It was tight, but we kept working … we sought how to accept every ton of products needed for our partners," facility general director Roman Andreikiv said about the end of the grain deal in July. Ukraine's new corridor, protected by the military, has now allowed him to "free up warehouse space and increase activity."
Growing numbers of ships are streaming toward Ukraine's Black Sea ports and heading out loaded with grain, metals and other cargo despite the threat of attack and floating explosive mines. It's giving a boost to Ukraine's agriculture-dependent economy and bringing back a key source of wheat, corn, barley, sunflower oil and other affordable food products for parts of Africa, the Middle East and Asia where local prices have risen and food insecurity is growing.
"We are seeing renewed confidence among commercial operators keen to take Ukrainian grain cargoes," said Munro Anderson, head of operations for Vessel Protect, which assesses war risks at sea and provides insurance with backing from Lloyd's, whose members make up the world's largest insurance marketplace.
Ihor Osmachko, general director of Agroprosperis Group, one of Ukraine's biggest agricultural producers and exporters, says he's feeling "more optimistic than two months ago." "At that time, it was completely unclear how to survive," he said.
Since the company's first vessel departed in mid-September, it says it has shipped more than 300,000 metric tons of grain to Egypt, Spain, China, Bangladesh, the Netherlands, Tunisia and Turkey.
After ending the agreement brokered by the U.N. and Turkey, Russia has attacked Ukraine's Black Sea ports — a vital connection to global trade — and grain infrastructure, destroying enough food to feed over 1 million people for a year, the U.K. government said.
The risk to vessels is the main hurdle for the new shipping corridor. Russia, whose officials haven't commented on the corridor, warned this summer that ships heading to Ukraine's Black Sea ports would be assumed to be carrying weapons.
Ukrainian President Volodymyr Zelenskiy said that allies had agreed to provide ships to help his country protect commercial vessels in the Black Sea but that more air defense systems were needed.
"Air defense is in short supply," he told reporters Saturday at an international food security summit in Kyiv. "But what's important is that we have agreements, we have a positive signal and the corridor is operational."
While a deadly missile strike on the port of Odesa hit a Liberian-flagged commercial ship this month, not long afterward, insurers, brokers and banks teamed up with the Ukrainian government to announce affordable coverage for Black Sea grain shipments, offering shippers peace of mind.
Despite such attacks, Ukraine has exported over 5.6 million metric tons of grain and other products through the new corridor, U.S. Ambassador to Ukraine Bridget Brink tweeted Friday. Before the war, it was nearly double that per month, Ukrainian Deputy Economy Minister Taras Kachka said.
"The way that they're transporting right now, it's certainly much more expensive and time consuming," said Kelly Goughary, a senior research analyst at agriculture data and analytics firm Gro Intelligence.
"But they are getting product out the door, which is better than I think many were anticipating with the grain initiative coming to an end," she said.
Farmers also are facing low prices for their grain, which makes sending trucks to Odesa's often-attacked port not worth the risk for one agricultural company near the front line.
Instead, Slavhorod, which farms near the border with Russia in the Sumy province that faces daily shelling, has chosen to store its peas, wheat, soybeans, sunflower and corn in warehouses.
There's risk in keeping the 3,500-hectare (8,650-acre) farm running at all: Signs warned of explosive mines near where workers were collecting corn in a field 3 kilometers (nearly 2 miles) from Russia.
But "who, if not us? It's the only industry that brings some income to the country," said Slavhorod's chief agronomist, Oleksandr Kubrakov, who survived driving over a mine last year.
But it's becoming increasingly challenging to maintain morale. "This year, there is less enthusiasm because grain prices are low, the product remains near the border and at any moment" it could be destroyed, he said. "It's a big risk."
Since the war started, Ukraine has struggled to get its food supplies to countries in need. Even during the yearlong U.N. deal, when Ukraine shipped nearly 33 million metric tons of food, Russia was accused of slowing down ship inspections required to be done by all sides.
"That corridor worked in an unpredictable way for us," said Mykola Horbachov, president of the Ukrainian Grain Association.
Now, the Ukrainian military decides when it's safe to sail. "This may incur additional costs, but it is still more predictable than it was before," Horbachov said.
Osmachko of Agroprosperis Group agrees. Before the invasion, the exporter paid $50 per metric ton to ship grain through the Black Sea. Alternatives since the war — including river routes through Europe — cost the company nearly three times more, Osmachko said. Under Ukraine's new corridor, the company pays $70 to 80 per metric ton.
"It's more efficient, more profitable," he said. Plus, Ukraine's shipping corridor allows vessels to travel less in dangerous areas compared with the grain deal and avoid those often-delayed inspections, said Anderson of Vessel Protect.
Agroprosperis Group no longer needs to pay for ships to wait around. Inspection delays cost the company $30 million in losses during the yearlong grain deal, Osmachko said.
While the delays are gone, there still "is military risk, safety risk, war risk. And not all of the insurance companies are ready to take this risk," Osmachko said.
To ease that hurdle, an insurance program launched this month to provide affordable coverage to shippers carrying food from Ukraine's Black Sea ports. The partnership between insurance broker Marsh McLennan, Lloyd's, two Ukrainian state banks and the government offers up to $50 million for each of two types of coverage protecting against damage and other losses.
In another boost, a humanitarian program was extended Saturday that donates Ukrainian grain to nations facing food shortages with support from countries worldwide. Next, it will bring enough grain to help nearly 400,000 people in Nigeria, Zelenskyy said.
The goal for the new shipping corridor is to export at least 6 million metric tons of grain a month, Ukrainian Agriculture Minister Mykola Solskyi said. It has a lot of work to do: Ukraine exported 4.3 million metric tons of grain in October through all routes, the ministry said.
"We maintain cautious optimism, based on the fact that we have been fighting before and will continue to fight further," he said.
Sign up for our weekly newsletter to get more English-language news coverage from EL PAÍS USA Edition
Germany's Real Estate Market Is Heading Towards Stagnation and Potential Reversal
By Cindy Porter
---
In a landscape marked by evolving economic forces, Germany's real estate sector has recently grappled with formidable challenges. Over the past year, surging interest rates, cautious lending practices, and soaring inflation have prompted prospective buyers to reconsider homeownership, contributing to a resurgence of interest in the rental market. This shift has led some to speculate that the era of booming real estate growth might be waning.
However, amid these headwinds, whispers of a potential reversal of fortunes have started to circulate. Despite another interest rate hike by the European Central Bank (ECB), German property prices demonstrated unexpected resilience in the second quarter of 2023, stagnating rather than declining.
Notably, sales prices for flats exhibited only a marginal decline of 0.3% from April to June, as per the Greix real estate price index published by the Kiel Institute for the World Economy (IfW). In contrast, prices for detached and semi-detached homes surged by 2.3% and 1.8%, respectively.
"The German real estate market showed itself to be quite robust in the second quarter," remarked IfW President Moritz Schularick. He highlighted the positive impact of the expectation that the ECB's interest rate hikes may be tapering off, following significant price corrections in preceding months.
EY, in a recent study, offered a more optimistic projection for the construction sector, anticipating a rebound from months of turmoil in 2024. Despite challenges stemming from rising material costs, supply bottlenecks, and expensive credit, EY's analysis suggests that the industry will find equilibrium as inflation recedes and policy interventions strive to meet housing construction targets. Consequently, construction prices, historically volatile, are expected to normalize, potentially setting the stage for a stabilization of construction volume.
WATCH: HOW MUCH MONEY DO I NEED TO AFFORD A PROPERTY IN GERMANY
In terms of property prices in the long run, a joint study by Postbank and the Hamburg Institute of International Economics (HWWI) predicts a mixed outlook for the German housing market. Approximately half of the surveyed districts and cities, comprising 400 regions, are anticipated to experience around a two percent decline in real terms by 2035. Conversely, 43% of districts are projected to witness price increases.
Leading the pack in rising real estate prices is Potsdam, situated on the outskirts of Berlin in Brandenburg. The city's property prices could soar by up to 2.71% annually by 2035, making it a growth frontrunner. Erding, near Munich, follows closely with projected annual growth of around 2.13%, while Leipzig in Saxony and Frankfurt am Main are also expected to experience healthy growth.
The map below offers insights into the projected property price development in Germany until 2035
The so-called 'big seven' cities are also poised for positive price trajectories. While Hamburg is predicted to experience the lowest growth at 0.29% per year, Munich is forecasted to lead the pack with an impressive 2.08% growth rate. Berlin is expected to achieve healthy growth at 1.24% per year.
Conversely, the Hamburg Institute of International Economics (HWWI) analysis suggests that properties in regions with inadequate infrastructure and declining populations, particularly in the eastern states, could witness value depreciation over the next decade. This scenario is likely to manifest in numerous areas across Saxony-Anhalt, Thuringia, Saxony, Mecklenburg-Western Pomerania, and Saarland.
Rural regions in eastern Germany, disconnected from major cities and outside the Berlin commuter belt, face the possibility of significant price declines, ranging from 1.5% to 4.3% annually.
---
We Can't Thank You Enough For Your Support!
— By Cindy Porter|'THE VOICE OF EU🇪🇺'
— For more information & news submissions: info@VoiceOfEU.com
— Anonymous news submissions: press@VoiceOfEU.com
---