'Simple but effective': Colombia turns to algorithms to bolster mental health services | Global development
At the age of 70, Carmen Suárez* is finally coming to terms with an event that happened five decades ago. It was a trauma that changed the course of her life and left her with depression. "I used to cry uncontrollably," she says.
"I was told to seek help, but I had neither the time nor the money. I realise now that I was stuck reliving the incident."
Over the course of a year, the Diada project (detection and integrated care for depression and alcohol use), an innovative project aimed at identifying people with or at risk of developing a mental health or alcohol use disorder, helped her recover.
Suárez has several chronic ailments, including high blood pressure, and was regularly in and out of treatment. "Together with my church, the programme helped me begin processing the trauma I'd been living with and made me understand how my mental health was affecting my physical health. It was a huge help," she says.
Until 2018, the Javesalud medical centre in El Toberín, northern Bogotá, where Suárez is a patient, had no system of detection.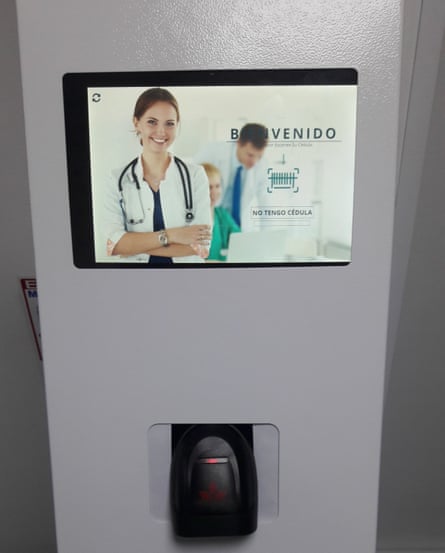 "Patient diagnostics of mental health were zero," says Dr Isabel Zapata, the centre manager. "That doesn't mean they didn't exist, we just didn't have any way of identifying them, so they'd fall through the system."
Working with the Pontifical Javierian University, the non-profit medical centre provides outpatient primary care to 10,000 patients monthly, out of a catchment area of 58,000 people. It has no psychiatrists. Between 2018 and 2020, 7,000 patients participated in Diada. One in ten were diagnosed with a mental illness and 1% with an alcohol abuse problem. To date, there have been 16,000 patients screened.
Diada works by directing people – typically visiting the medical centre for a different health matter – toward an interactive screen with a series of questions. Algorithms help identify at-risk patients. "It's a very simple but effective way of screening people," says Zapata.
After the two-minute survey, a ticket is issued, which is given to the doctor and those who register "positive" go to the next phase. Computer software helps guide clinicians towards possible interventions, depending on the patient's score which reflects the severity or likelihood of illness. Treatment can range from the loan of a smartphone with a therapy app that registers mood or alcohol consumption, to regular evaluations or medicines. Practitioners say symptoms significantly improve within three months of diagnosis.
Depression affects 4.7% of Colombians, making it secondonly to cardiovascular disease in prevelance in Colombia, according to the health ministry, and slightly above the global average. Most of those affected (80%) do not have access to specialist care. The rates of women with depression are 5.4% compared with 3.2% of men.
There are only 1,200 psychiatrists to serve a population of 51 million – equivalent to 2.5 psychiatrists for every 100,000 people, a quarter of the WHO recommended 10 for every 100,000. Alcohol is another leading contributor to the disease burden and the two are often linked.
Persistent underinvestment, followed by a global pandemic, has worsened the situation, leaving mental health problems to be a drain on the health system and, with many sufferers unable to work, an economic burden.
Dr Carlos Gómez-Restrepo, who oversaw the national mental health survey, was concerned that despite a significant proportion of the population reporting symptoms of depression, too few were being diagnosed, much less treated. "We realised that primary care doctors in Colombia weren't equipped to deal with this. Only the most severe cases of alcohol abuse or depression were being detected, by which time most people would find themselves in the emergency department," he says.
Diada results from a collaboration between the Pontifical Javerian University (where Gómez-Restrepo is the dean of medicine and the project's lead researcher), and Dartmouth College in the US. With funding from the National Institute of Mental Health, the pilot was launched in six locations across the country. There is a further planned launch in Leticia, the capital of Colombia's Amazonas , later this year.
"Diada has proved its efficacy and cost-effectiveness," says Dr José Miguel Uribe, co-researcher, and director of the department of psychiatry Pontifical Javerian University. For an estimated cost of $2 (£1.65) for each person treated, according to Uribe, Diada offers an economical model of mental health provision. More psychiatrists are not the solution, much less a quick fix, says Uribe. Instead, equipping primary care centres to enable early detection and prevention, such as with the Diada project, is the way forward.
Other Latin American countries, including Peru and Chile, have been watching the Diada project in Colombia and expect to adopt similar programmes. "It's a two-way process, where we all learn from each other," says Uribe. Scaling up will need long-term funding from the government, which last week presented its health reforms, claiming they will expand healthcare access. As part of these reforms, President Gustavo Petro has promised up to 20,000 new primary care teams.
"The pandemic laid bare the importance of our mental wellbeing," says Uribe. "There has never been more interest shown from as many different groups as there is now – not only governments and health authorities, but also schools, universities, families and communities. It is a golden opportunity. Mental health concerns us all."
*Name has been changed
Boris Johnson says 'partygate' untruths were an honest mistake | International
Former U.K. Prime Minister Boris Johnson acknowledged Tuesday that he misled Parliament about rule-breaking government parties during the coronavirus pandemic — but insisted he never intentionally lied. Johnson said it never occurred to him that the gatherings — which variously included cake, wine, cheese and a "secret Santa" festive gift exchange — broke the restrictions his own government had imposed on the country.
Britain's boisterous former leader is set to be grilled by lawmakers on Wednesday over whether he lied when he denied there had been parties in his Downing Street offices in violation of Covid-19 lockdown rules that barred socializing. If found to have lied deliberately, he could be suspended or even lose his seat in Parliament.
In a dossier of written evidence to the House of Commons Committee of Privileges, Johnson acknowledged that "my statements to Parliament that the Rules and Guidance had been followed at all times did not turn out to be correct."
But he said his statements "were made in good faith and on the basis of what I honestly knew and believed at the time. I did not intentionally or recklessly mislead the House."
The committee will quiz Johnson in person on Wednesday afternoon about "partygate," the scandal over a string of gatherings in government offices in 2020 and 2021. Police eventually issued 126 fines over the late-night soirees, boozy parties and "wine time Fridays," including one to Johnson, and the scandal helped hasten the end of his three years in office.
Revelations about the gatherings sparked anger among Britons who had followed rules imposed to curb the spread of the coronavirus, unable to visit friends and family or even say goodbye to dying relatives in hospitals.
Becky Kummer, spokesperson for the group Covid-19 Bereaved Families for Justice, said Johnson's claim to have acted in good faith was "sickening."
"He isn't fit for public office," Kummer said.
When reports of the parties first emerged in late 2021, Johnson initially said that no rules had been broken. He later apologized and said there had been "misjudgments."
But in the 52-page dossier he said he "honestly believed" the five events he attended, including a sendoff for a staffer and his own surprise birthday party, were "lawful work gatherings."
"No cake was eaten, and no one even sang 'Happy Birthday,'" he said of the June 19, 2020, celebration, for which he received a police fine. "The primary topic of conversation was the response to Covid-19."
Johnson said suggestions that people in government considered themselves to be "in a guidance-free bubble where the requirements we imposed on the rest of the country did not apply" could not be further from the truth.
"Drinking wine or exchanging gifts at work and whilst working did not, in my view, turn an otherwise lawful workplace gathering into an unlawful one," he said.
Johnson said he was assured by "trusted advisers" that no rules had been broken — assurances that turned out to be wrong. He said he was later "genuinely shocked" by the rule-breaking uncovered by police and by senior civil servant Sue Gray, who led an investigation into partygate.
Johnson and his supporters have also questioned the impartiality of Gray because she has now accepted a job as chief of staff to the leader of the opposition Labour Party.
If the committee finds Johnson in contempt, it could recommend punishments ranging from an oral apology to suspension or even expulsion from Parliament, or it could recommend no sanction at all. Any punishment would have to be approved by the House of Commons.
Johnson was forced to resign in July after a slew of scandals over money and ethics finally proved too much for Conservative colleagues, dozens of whom quit the government.
For Prime Minister Rishi Sunak, Wednesday's televised hearing will be an unwelcome reminder of the turmoil that engulfed the Conservative government under Johnson — just as the party's poll ratings are starting to edge upward.
Sunak took office in October, replacing Liz Truss, who stepped down within weeks of becoming prime minister after her tax-cutting budget plans caused turmoil on financial markets.
Johnson, once considered a secret weapon with voters, is now a liability, said Robert Hayward, a polling expert and Conservative member of the House of Lords.
"He is a serious negative for most people," Hayward said. "Boris's polling is far worse than is the case for Rishi (Sunak)."
Sign up for our weekly newsletter to get more English-language news coverage from EL PAÍS USA Edition
Drought caused 43,000 'excess deaths' in Somalia last year, half of them young children | Global development
A new report released by the Somalian government suggests that far more children died in the country last year due to the ongoing drought than previously realised.
The study estimates that there were 43,000 excess deaths in 2022 in Somalia due to the deepening drought compared with similar droughts in 2017 and 2018.
Half of the deaths are likely to have been children under five. Up to 34,000 further deaths have been forecast for the first six months of this year.
Released on Monday by Somalia's federal health ministry together with Unicef and the World Health Organization, the report was compiled by researchers at the London School of Hygiene and Tropical Medicine and Imperial College London, who looked at retrospective estimates of mortality across Somalia from January to December 2022.
Accurate statistics are difficult to compile from a population spread across remote areas, and with about three million people displaced from their homes. The highest death rates are thought to be in the regions of south-central Somalia, including Bay, Bakool and Banadir, that are the worst hit by drought.
Somalia's health minister, Dr Ali Hadji Adam Abubakar, found cause for optimism that famine had so far been averted.
"We continue to be concerned about the level and scale of the public health impact of this deepening and protracted food crisis in Somalia," he said.
"At the same time, we are optimistic that if we can sustain our ongoing and scaled-up health and nutrition actions, and humanitarian response to save lives and protect the health of our vulnerable, we can push back the risk of famine for ever."
If this did not happen, he said, "the vulnerable and marginalised will pay the price of this crisis with their lives."
"We therefore urge all our partners and donors to continue to support the health sector in building a resilient health system that works for everyone and not for the few," said Abubakar.
For the first time, a prediction model was developed from the study. A forecast from January to June 2023 estimates that 135 people a day might also die due to the crisis, with total deaths projected at being between 18,100 and 34,200 during this period.
The estimates suggest the crisis in Somalia is far from over and is already more severe than the 2017-18 drought.
Wafaa Saeed, Unicef's representative in Somalia, said he was saddened by the grim picture of the drought's impact on families, but added: "We know there could have been many more deaths had humanitarian assistance not been scaled up to reach affected communities.
"We must continue to save lives by preventing and treating malnutrition, providing safe and clean water, improving access to lifesaving health services, immunising children against deadly diseases such as measles, and providing critical protection services."
There have now been six consecutive failed rainy seasons in the climate crisis-induced drought, which coincides with global food price rises, intensified insecurity in some regions, and the aftermath of the pandemic.
The study is the first in a planned series and was funded by the UK's Foreign, Commonwealth and Development Office.
War crimes committed on all sides in Ethiopia's Tigray conflict, U.S. says | International
The Biden administration announced Monday that it has determined all sides in the brutal conflict in Ethiopia's northern Tigray region committed war crimes and crimes against humanity. The move carries no immediate U.S. policy implications but lends weight to calls for such allegations to be prosecuted.
Secretary of State Antony Blinken announced the determination less than a week after he returned from a visit to Ethiopia during which he met with Ethiopian government and Tigrayan officials as well as victims of the conflict, but said little about the U.S. view of prospects for accountability.
His determination covers members of the Ethiopian and Eritrean national armies as well as the Tigray People's Liberation Front and forces aligned with the Amhara region. Blinken said those responsible for atrocities must be held accountable.
He said after "careful review of the law and facts" he had determined that members of the Ethiopian National Defense Forces, Eritrean Defense Forces, Tigray People's Liberation Front forces and Amhara forces committed war crimes during the conflict in northern Ethiopia.
Members of the Ethiopian, Eritrean and Amhara forces also committed crimes against humanity, "including murder, rape and other forms of sexual violence, and persecution," Blinken said. "Members of the Amhara forces also committed the crime against humanity of deportation or forcible transfer and committed ethnic cleansing in western Tigray."
Blinken announced the determination as he rolled out the State Department's annual global human rights reports, which cover 2022 and also called out Afghanistan, China, Cuba, Iran, Myanmar and Nicaragua for abuses.
"I condemn the unspeakable violence against civilians and destruction that occurred in northern Ethiopia," he said. "Recognizing the atrocities committed by all parties is an essential step to achieving a sustainable peace.Those most responsible for atrocities, including those in positions of command, must be held accountable."
The formal determination is more measured than his assertion early in the two-year conflict that "ethnic cleansing" was taking place in parts of Tigray.
Last year, a United Nations commission of inquiry said it had turned up evidence of war crimes and crimes against humanity by Ethiopian government forces, Tigray forces and Eritrea's military. But the commission also said Ethiopian forces had resorted to "starvation of civilians" as a tool of war and that Ethiopian and Eritrean forces were found to be responsible for "sexual slavery" — while Tigray forces were not.
The conflict, which ended with a peace deal in November, killed an estimated half-million civilians in Tigray alone, according to Ghent University researchers, a death toll echoed by U.S. officials.
Blinken called on all sides to respect the agreement and follow through on pledges "to implement an inclusive and comprehensive transitional justice process."
He said Afghanistan's ruling Taliban, which took power after the U.S. withdrawal from the country two years ago, "relentlessly discriminates against and represses women and girls" and has taken action that threatens humanitarian assistance to all Afghans.
On China, Blinken said Beijing continues abuses, including genocide and crimes against humanity, against Uyghur Muslims in it western Xinjiang area. It also continues the repression of Tibetans and pro-democracy activists in Hong Kong, along with mainland Chinese citizens who have tried to exercise basic freedoms.
In Myanmar, also known as Burma, Blinken said human rights "have further eroded," and in Nicaragua, he said "the authoritarian government continues to detain political prisoners and hold them in appalling prison conditions."
Sign up for our weekly newsletter to get more English-language news coverage from EL PAÍS USA Edition