Sierra Leone abolishes death penalty | Global development
Sierra Leone has become the latest African state to abolish the death penalty after MPs voted unanimously to abandon the punishment.
On Friday the west African state became the 23rd country on the continent to end capital punishment, which is largely a legacy of colonial legal codes. In April, Malawi ruled that the death penalty was unconstitutional, while Chad abolished it in 2020. In 2019, the African human rights court ruled that mandatory imposition of the death penalty by Tanzania was "patently unfair".
Of those countries that retain the death penalty on their statute books, 17 are abolitionist in practice, according to Amnesty International.
A de facto moratorium on the use of the death penalty has existed in Sierra Leone since 1998, after the country controversially executed 24 soldiers for their alleged involvement in a coup attempt the year before.
Under Sierra Leone's 1991 constitution, the death penalty could be prescribed for murder, aggravated robbery, mutiny and treason.
Last year, Sierra Leone handed down 39 death sentences, compared with 21 in 2019, according to Amnesty, and 94 people were on death row in the country at the end of last year.
Rhiannon Davis, director of the women's rights group AdvocAid, said: "It's a huge step forward for this fundamental human right in Sierra Leone.
"This government, and previous governments, haven't chosen to [put convicts to death since 1998], but the next government might have taken a different view," she said.
"They [prisoners] spend their life on death row, which in effect is a form of torture as you have been given a death sentence that will not be carried out because of the moratorium, but you constantly have this threat over you as there's nothing in law to stop that sentence being carried out."
Davis said the abolition would be particularly beneficial to women and girls accused of murdering an abuser.
"Previously, the death penalty was mandatory in Sierra Leone, meaning a judge could not take into account any mitigating circumstances, such as gender-based violence," she said.
Umaru Napoleon Koroma, deputy minister of justice, who has been involved in the abolition efforts, said sentencing people on death row to "life imprisonment with the possibility of them reforming is the way to go".
Across sub-Saharan Africa last year Amnesty researchers recorded a 36% drop in executions compared with 2019 – from 25 to 16. Executions were carried out in Botswana, Somalia and South Sudan.
EU to propose universal phone-charger law
The EU plans to propose laws harmonising mobile-phone, tablet, and headphone chargers and ports on Thursday in a bid to make life easier for consumers, Reuters reports. But Apple, whose iPhones use a special 'Lightning cable' has said the move will lead to piles of waste and deter innovation. Rival Android-based devices use so-called 'USB-C' connectors, but 'USB micro-B' and Lightning connectors account for about a third each of market-share.
Brexit: British Embassy launches survey on key issues affecting UK nationals in Spain | Brexit | International
The British Embassy in Madrid has launched a survey aimed at finding out how UK nationals in Spain have been affected by key issues, in particular, the United Kingdom's exit from the European Union, a process commonly known as Brexit.
The poll is for Britons who are full-time residents in Spain (not those with second homes) and are covered by the Brexit Withdrawal Agreement, i.e. they were officially registered in the country before December 31, 2020, when the so-called Transition Period came to an end.
Questions in the survey address issues such as access to healthcare and the uptake of the TIE residency cards, which were introduced as a replacement for green residency cards (either the credit-card size or the A4 sheet version, officially known as the Certificado de Registro de Ciudadano de la Unión).
The aim of the poll is to gather vital information on the experience of UK nationals living in Spain that will help the British Embassy provide feedback to Spanish authorities. The survey takes around 10 minutes to complete, and all answers are confidential.
Have you heard our Spanish news podcast ¿Qué? Each week we try to explain the curious, the under-reported and sometimes simply bizarre news stories that are often in the headlines in Spain.
'The challenge for us now is drought, not war': livelihoods of millions of Afghans at risk | Global development
The war in Afghanistan might be over but farmers in Kandahar's Arghandab valley face a new enemy: drought.
It has hardly rained for two years, a drought so severe that some farmers are questioning how much longer they can live off the land.
Mohammed Rahim, 30, grew up working on a farm along with his father and grandfather in the Arghandab district of Afghanistan's southern province. Famous for its fruit and vegetables, the area is known as the bread basket of Kandahar.
Like most in the valley, Rahim's family relies solely on farming. "The fighting has just stopped. Peace has returned," Rahim says. "But now we face another war: drought.
"Now we have to dig deep to pump water out of the land. It has been two years, there has been little rain and we have a drought here. I don't know if our coming generations can rely on farming the way our ancestors used to do."
Pir Mohammed, 60, has been a farmer for more than four decades. "Not long ago, there were water channels flowing into the farm and we were providing the remaining water to other farmers," says Mohammed. "Before, the water was running after us, flowing everywhere – but now we are running after water."
The water used to come free from the river but now the daily diesel cost for the water pump is at least 2,500 Afghani (£21).
"We don't make any profit. We are in loss, rather. Instead, we are using our savings. But we don't have any other option as we do it for survival," says Mohammed. "However, the scarcity of water has affected the quality of crops as well."
About 70% of Afghans live in rural areas and are particularly vulnerable to the impacts of drought.
Last week, Rein Paulsen, director of the Food and Agriculture Organization's Office of Emergencies and Resilience, said severe drought was affecting 7.3 million people in 25 of the country's 34 provinces.
He warned: "If agriculture collapses further, it will drive up malnutrition, increase displacement and worsen the humanitarian situation."
Arghandab has been a favourite destination for farming because of the abundance of water and fertile lands. Neikh Mohammed, 40, left the Dand district of Kandahar to work in Arghandab in 2005. When he arrived he was amazed to see the greenery and pomegranate farms.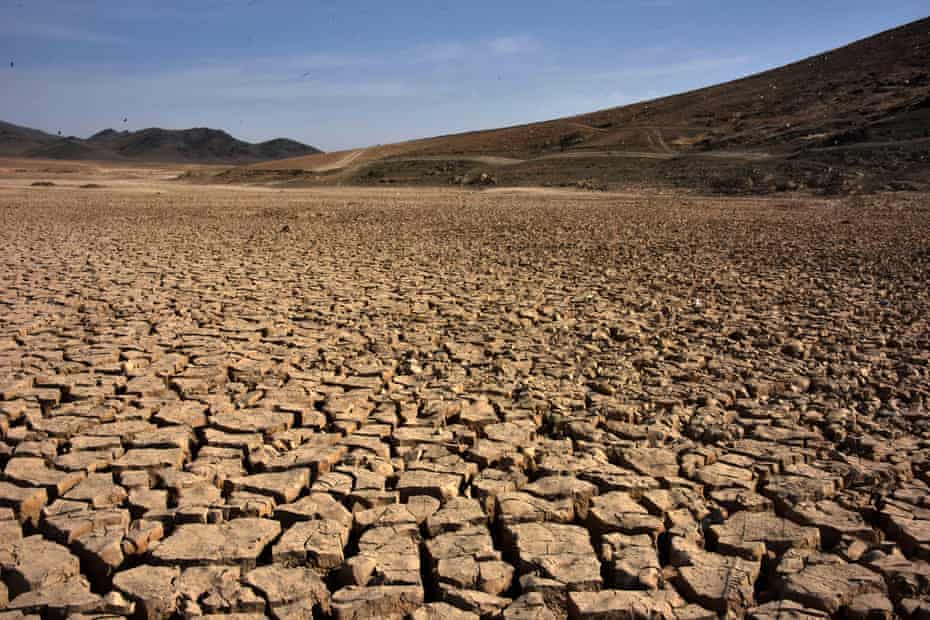 "It used to rain a lot here and we could not cross the river and come into our farms. We had a life with abundant water. But the past is another country now," he says.
According to a report by the UN mission in Afghanistan, many local farmers were caught in the crossfire between the Taliban and the Afghan security forces. The Taliban carried out attacks from thick foliage on the farms, which provided a hiding place, ideal for an ambush.
"For the past 20 years, we did not have peace and could not work after dark in our farms. But now we can stay as long as we want without any fear," says Neikh Mohammed. "Now the challenge is not just restoring peace but the drought and escalating cost of essential commodities."
Farmers say they want support from international aid agencies and assistance from the new government headed by the Taliban to help them survive.
Pir Mohammed says: "The real challenge for us now is drought, not war. We need food, water, dams and infrastructure in our country. The world should invest in us and save us."