Saturday expected to be hottest day of the year with temperatures of 28 degrees
Temperatures are due to reach 28 degrees on Saturday as the country recorded its hottest day of the year so far on Friday.
Met Éireann has said current indications suggest very warm and mostly sunny weather will continue for much of next week.
Temperatures rose to 27.5 degrees at Mount Dillon in Co Roscommon on Friday afternoon, the highest temperature of the year to date.
In Northern Ireland, the 27 degrees mark was also breached in Stormont, Belfast, and Killowen in Co Down which recorded 27.6 degrees.
The previous high for the year was 25.6 degrees recorded at the Phoenix Park in Dublin on June 13th.
The Department of Agriculture, has issued a "condition red' fire danger notice.
The notice means there is a high risk of dry materials such as grass, heather and gorse are at risk of fire.
It comes as Dublin Fire Brigade continues to fight a gorse fire on Howth Head, where they have cleared a fire break, 30 metres from local houses,
The department's notice warned all outdoor use of fires, barbecues and other open ignition sources be avoided on forest lands and in other high risk areas until further notice.
The notice, which is valid until Friday 23rd, continued: "extreme caution is also advised with respect to hay making and the use of machinery and other agricultural activity that may also present a risk of fire in dry vegetation on cultivated land types in current conditions."
Fire danger
Fire danger notices are issued largely based on meteorological factors. Numerical fire risk models, such as the one run by Met Éireann, analyse recent and predicted weather conditions and categorise potential fire risk. The Forest Service uses information such as this, as well as knowledge of potential fuel stocks, human activity and their own experience, to classify and issue fire danger notices.
Saturday will be a mostly sunny and very warm day but cloud will linger near northwestern coasts and there is a slight chance of an isolated shower in the south this evening.
Highest temperatures will be between 24-28 degrees with light variable winds.
Temperatures will only drop to 12 or 13 degrees overnight across Ulster and north Connacht, holding milder elsewhere with lows not falling below 14 degrees. Some mist and fog will form once again in light northerly or variable breezes.
Sunday will be another dry day with good sunny spells. However, there will be a little more cloud about than Saturday bringing the chance of an isolated thundery shower during the evening over the southern half of the country.
Highest temperatures will be between 23-27 degrees generally, but cooler in the northwest and along eastern coasts with highs there of 18 to 22 degrees in a light variable breeze with some sea breezes developing also.
It will be dry, warm and largely clear overnight on Sunday with just isolated mist patches forming overnight in light variable breezes.
Monday will be dry in most areas with a few very localised showers that may break out over the south of the country.
Highest temperatures will be between 22 to 27 degrees, with cooler conditions near northern and eastern coasts due to light easterly breezes.
Clear skies
Monday night will be another mild night with mainly clear skies. Temperatures will not fall below 13 to 16 degrees in most areas.
Tuesday will be another mostly dry and sunny day with light southeasterly or variable breezes. Some cloud will appear in the afternoon and a localised thundery shower or two may break out during the evening with highs of 23 to 27 degrees.
While it will be very warm and sunny on Wednesday, the sunshine may become hazy at times and there is a slight chance of an isolated thundery shower breaking out by evening.
Highest temperatures will be between 24 to 28 degrees generally in mostly light southeasterly breezes.
Most areas will see good clear skies early on Wednesday night, however cloud will increase from the southwest brining the chance of some light rain or drizzle there by morning.
It will remain very warm and humid overnight with temperatures not falling below 15 degrees generally, some parts of the west may not fall below 17 or 18 degrees in light southeast to east breezes.
There will be more cloud about on Thursday, however it will be mostly high cloud making sunshine hazier than previous days. Highest temperatures will be between 22 to 26 degrees in light to moderate southeasterly breezes.
Overnight temperatures will remain very high with most areas not dropping below the high teens.
Sonny Barger, founder of Hells Angels, dies at 83 | USA
Sonny Barger, the founding member of the Hells Angels Motorcycle Club, died on Thursday in California at the age of 83. Barger was the face of the biker gang that became one of the main counterculture movements in the United States in the 1960s. Barger's family confirmed his death in a message on Facebook. "Please know that I passed peacefully after a brief battle with cancer," the message stated.
Sonny Barger – whose real name was Ralph Hubert Barger – was born in northern California, and taught himself to ride a motorcycle when he was 11 years old. It was an American-made Cushman scooter. From that moment on, he tried to only assemble motorbikes with parts made in the US, a task that became increasingly difficult as the world became more open to international trade.
In 1957, he founded the Hells Angels chapter in Oakland, California. This chapter was founded nine years after the first one opened in Fontana, in the same state. Barger was the national president of the Hells Angels, a group that became notorious for its links to violent and organized crime. Barger was arrested more than 20 times and spent 13 years of his life in prison for different crimes. In November 1992, for example, he was released from federal prison after spending four years behind bars for organizing to kill members of the rival Outlaws Motorcycle Club. When his parole came to an end in 1994, 700 bikers came out to celebrate the news.
But the darkest chapter of the Hells Angels took place on December 6, 1969. That night, the biker members were hired as security guards at the Altamont Free Concert in California, where the Rolling Stones performed. Representatives of the band reportedly offered the Hells Angels $500 worth of beer in exchange for providing security. Members of the biker gang had worked without incident as security at concerts for bands such as The Grateful Dead and Jefferson Airplane. But at the Altamont Free Concert, which brought together 300,000 people, the situation became violent. During the Rolling Stones' performance, fights broke out in the audience. Meredith Hunter, an 18-year-old concertgoer, was stabbed to death by a member of the Hells Angels after approaching the stage. The incident was caught on camera and became a central scene in the Maysles Brothers documentary Gimme Shelter, in which Barger admitted the bikers did not have the training to do security work. A few days after the concert, in a call to a local radio station, he said: "I ain't no cop. I ain't never gonna police nothin.'"
The incident stained the image of the Hells Angels and Barger – who had the name Hell's Angels Oakland tattooed on his right shoulder – struggled for several years to change the gang's violent reputation. "Catholics probably commit more crimes than we ever thought of," he told the Los Angeles Times in 1994 after being released from prison on parole. "Probably politicians commit more crimes."
Writer Hunter S. Thompson compared the biker gang to the student protesters of the 1960s, who paved the way for civil rights in America. "The difference between the student radicals and the Hells Angels is that the students are rebelling against the past, while the Angels are fighting the future. Their only common ground is their disdain for the present, or the status quo," he wrote in his book Hell's Angels: The Strange and Terrible Saga of the Outlaw Motorcycle Gangs.
The Hells Angels were one of America's most striking subcultures, and their influence can be seen in many areas of society. In one of his books, Barger claims that Harley-Davidson – the motorcycle brand favored by the group – adopted the gang's ideas into its models. Barger played himself in the 1967 film Hells Angels on Wheels, where he appeared alongside Jack Nicholson. He also had a small role in the TV show Sons of Anarchy.
Barger was a difficult character to define. He got up at 4.30am to feed his dogs and horses, then worked out for three hours, doing weights and going jogging. By 8am, he was on his motorcycle and driving down an off-beaten track. Unlike the stereotypical biker, he wore a helmet that covered his entire face. This was due to the fact that he had his vocal cords removed in 1982 after suffering from throat cancer.
Art fakes: Disputed 'Basquiats' seized by FBI shake the US art world | Culture
While New York surrenders once again to the genius of Jean-Michel Basquiat with an exhibition of unpublished work curated by his family, in Orlando (Florida), there is considerably more controversy over the work of the artist who died at the age of 27. An exhibition at the Orlando Museum of Art dedicated to the former close friend of Andy Warhol, entitled Heroes & Monsters, has cost the head of that gallery his job, while the FBI investigates the authenticity of 25 of the works, not to mention the threats made by the director against an expert who had been commissioned to evaluate the authorship.
Although the scandal began to take shape in February, when the exhibition opened, the FBI raid took place last Friday with the seizure of the paintings with a contested attribution to Basquiat. Aaron De Groft, director and chief executive of the museum, has relentlessly defended that these are genuine works, while emphasizing that it is not a museum's role to certify the authenticity of the works it exhibits. "[The paintings] came to us authenticated by the best Basquiat specialists," he told the local NBC television station in February.
De Groft had for months championed the importance of the paintings, asserting that they are worth millions of dollars, until an expert showed up who'd been hired by the owners of the paintings and she began to question his version of events. The director was fired on Tuesday, just two business days after agents seized the 25 suspicious works. The museum's board of trustees met for hours that day, but not before warning employees that anyone who dared to discuss the matter with journalists would suffer the same fate as De Groft. Hence, it is impossible to know the version not only of the former director, but of any worker at the center. Nor can any information be gleaned at the New York exhibition, a mixture of unpublished work and memorabilia, where organizers are fearful of the devaluation caused by the Orlando scandal.
"It is important to note that there is still nothing that makes us think that the museum has been or is the subject of an investigation," Emilia Bourmas-Free told the local chain on behalf of the art gallery. Cynthia Brumback, chairwoman of the museum's board of trustees, expressed itself in similar terms in a statement, saying that the board of trustees is "extremely concerned about several issues related to the exhibition Heroes & Monsters," including "the recent revelation of an inappropriate e-mail correspondence sent to academia concerning the authentication of some of the artwork in the exhibition," as reported by The New York Times.
The statement refers to a disparaging message sent by De Groft to the specialist hired for the expert opinion, cited in the FBI investigation as "Expert 2″ but who the New York Times has confirmed is Jordana Moore Saggese, an associate professor of art at the University of Maryland. This expert, who received $60,000 for a written report, asked the museum not to have her name associated with the exhibition, according to the FBI affidavit. Angry, De Groft threatened to reveal the amount of the payment and share the details with her employer, the university.
"You want us to put out there you got $60,000 to write this?" wrote De Groft, according to the affidavit. "Ok then. Shut up. You took the money. Stop being holier than thou. Do your academic thing and stay in your limited lane." The board said it has launched an official process to address the matter. The scandal was precipitated a few hours after the closing of the exhibition, which had originally been meant to travel to Italy.
The mystery of the cardboard box
But how did the paintings get to the Orlando Museum? The museum and its owners maintain that the paintings were found in a Los Angeles storage unit in 2012. The New York Times reported that questions arose over one of the paintings, made on the back of a cardboard shipping box with FedEx lettering in a typeface that was not used until 1994, six years after Basquiat's death, according to a designer who worked for the company.
Both De Groft and the owners of the paintings maintain that they were made in 1982 and that Basquiat sold them for $5,000 to a famous television screenwriter, now deceased, who deposited them in a storage unit and forgot about them.
Ramón Estévez regrets his name change to Martin Sheen | Culture
At the beginning of the sixties, Ramón Estévez was desperate. His first steps as a television actor had gone well, but he felt stuck in that medium and wanted to get into theater and film. However, at the time, his name held him back: there were few successful Latinos in the United States. "Whenever I called for a position, whether for work or for an apartment, they answered me hesitantly when I gave my name, and when I arrived, I found the position already filled." He said in 2003. And so, Ramón decided to create an artistic name by merging the name of Robert Dale Martin, the CBS network's casting director, who had helped him in those essential appearances on the small screen, and that of Bishop Fulton J. Sheen, who, as Estévez's little sister Carmen recalls, "regularly appeared on TV."
This is how Martin Sheen came about, and owing to his great talent, he triumphed first in theater and, later as an actor in the movies, notably: Badlands, Apocalypse Now, The Departed, and Wall Street. However, the identity of Ramón Antonio Gerardo Estévez did not disappear: this name remains in all of Sheen's official documents (passport, driver's license and marriage license)… and in the actor's soul. Last week, in an interview with Closer magazine, he confessed that one of the great regrets of his life was his change of name. He speaks with pride of the obstinacy of his son Emilio, who kept it despite "his agent's advice to change it". In relation to his own decision, he reflects: "Sometimes they convince you, when you don't have enough insight or even enough courage to stand up for what you believe in, and you pay for it later."
Over time, Sheen recovered his Galician roots, the land where his father, Francisco Estévez Martínez, was born. His father was an immigrant who left Parderrubias, in Salceda de Caselas (Pontevedra), for Cuba at the age of 18 in 1916. He left with no Spanish, a language he learned on the Caribbean Island. In the early 1930s, he emigrated to the United States to a modest Irish neighborhood in Dayton (Ohio), where he married another immigrant, Mary-Ann Phelan.
Martin Sheen's life has been profoundly marked by his childhood. His father worked at NCR Corporation, an industrial conglomerate that began manufacturing cash registers. Shortly after his marriage, the company sent him to the Bermuda Islands where his first children were born. Sheen was the seventh of ten children (nine boys and one girl), and the first to be born in Dayton, in 1940, after the family moved to the US. His left arm was clasped by forceps during birth, leaving it three inches shorter than his right arm. As a result of this, the character that Sheen interprets in the series The West Wing of the White House, President Josiah Bartlet, puts on his jacket with a strange twist of the body. As a child, he suffered from polio which kept him bedridden for a year, and at the age of 11 his mother died. Thanks to the support of a catholic charity and his own father's efforts, the family remained united against the distribition of children to orphanages or foster homes, a common practice at the time.
He was the eccentric of the family: he decided to go into acting. Against his father's objections, Ramón, the most reserved son only enjoyed the theater and decided to study acting. "You don't know how to sing or dance!", his father told him, to which his son replied: "You love westerns and in those nobody sings or dances". "But you don't ride a horse either!" was his father's comeback. Despite this discouragement, he moved to New York, following in the footsteps of his idol, James Dean.
In the mythical episode Two Cathedrals of The West Wing, he explains how the character President Bartlet reflects the experiences of his own childhood and adolescence. Estévez/Sheen: a practicing Catholic and relentless campaigner against global warming, a man in favor of civil and immigrant rights, he was arrested several times during demonstrations outside the White House. His activism began when he was just 14 years old in a golf club where he worked. He led a strike of caddies, protesting against the club members' use of bad language in front of children.
And then there's the Spanish context. Francisco Estévez did not teach his children Spanish, but the Estévez family went back to their roots. Francisco was able to return to his hometown in Galicia in 1967 (just as Sheen landed his first big role in In the Custody of Strangers), where he began building a house, while making regular trips back to Dayton. He would never see this house finished. He died in Dayton in 1974, and was buried with his wife and son Manuel, who had died in 1968. His only daughter, Carmen, ended up working as an English teacher at a school in Madrid, where she married. For years people in Madrid have bumped into Sheen during his visits to his sister. Carmen finished building her father's house and inaugurated a river promenade dedicated to his memory. Indeed, she has kept the memory of the Estévez alive in Salceda de Caselas.
The Camino de Santiago, a dream come true
In the early years of the 2000s, Sheen, his son Emilio Estévez and his grandson, Taylor, walked the Camino de Santiago. In Burgos, the grandson met a girl, and at the end of the walk he decided not to return to Los Angeles, but to remain in the Castilian city, where he got married. Influenced by that experience, Sheen and Estévez made the film El camino (2010), in which both co-starred and the latter directed. A few months ago, Sheen spoke proudly of El camino, a great success, and a faithful portrayal of his spirituality. During filming, at a lunch under huge pergolas at the back of Burgos cathedral, Sheen explained: "I am a Catholic, and a lot of that spirituality is in this movie. I have had an extremely happy life, with the normal highs and lows of a career. I have survived disease and my family is wonderful [his four children, including Charlie Sheen, are actors]… I believe in a church that does incredible work in the Third World. Other things, like some of the pronouncements from the Pope [at that time, Benedict XVI], are more difficult for me. I live my faith, and it is between God and I." A few meters from Sheen and the journalist, at the long tables, was a strange group that didn't not look like actors: "That's my wife, that's my sister and her husband, that my best childhood friend… I've invited them to come and have a good time with Emilio, Taylor [who worked as an assistant] and me". Taylor Estévez currently works as a stunt coordinator in California.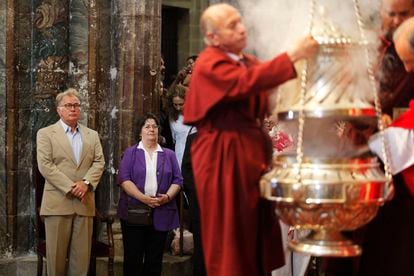 Carmen Estévez says that for decades the family did not understand their father's deeply Galician sense of humor, until they realized that for much of the time he was not being serious. This sarcasm was inherited by his son Ramón/Martin, and he made a display of this in Burgos. In response to a question about his career, he said: "With my resume full of bad movie titles, what can I say. I'm an actor and that's how I've supported my family. But I've been in about 10 films that I can be proud of…" at which point he dropped his cup of coffee and blurted out: "See? For gloating over my career. Divine punishment".