Russia's New Nukes Check-Mate a War-Happy US, Make the World Safer
Orlov is one of our favorite essayists on Russia and all sorts of other things. He moved to the US as a child, and lives in the Boston area.
He is one of the better-known thinkers The New Yorker has dubbed 'The Dystopians' in an excellent 2009 profile, along with James Howard Kunstler, another regular contributor to RI (archive). These theorists believe that modern society is headed for a jarring and painful crack-up.
He is best known for his 2011 book comparing Soviet and American collapse (he thinks America's will be worse). He is a prolific author on a wide array of subjects, and you can see his work by searching him on Amazon.
He has a large following on the web, and on Patreon, and we urge you to support him there, as Russia Insider does.
His current project is organizing the production of affordable house boats for living on. He lives on a boat himself.
If you haven't discovered his work yet, please take a look at his archive of articles on RI. They are a real treasure, full of invaluable insight into both the US and Russia and how they are related.
---
A lot of people seem to have lost the thread when it comes to nuclear weapons. They think that nuclear weapons are like other weapons, and are designed to be used in war. But this is pure mental inertia. According to all the evidence available, nuclear weapons are anti-weapons, designed to prevent weapons, nuclear or otherwise, from being used. In essence, if used correctly, nuclear weapons are war suppression devices. Of course, if used incorrectly, they pose a grave risk to all life on Earth. There are other risks to all life on Earth as well, such as runaway global warming from unconstrained burning of hydrocarbons; perhaps we need to invent a weapon or two to prevent that as well.
Some people feel that the mere existence of nuclear weapons guarantees that they will be used as various nuclear-armed countries find themselves financially, economically and politically in extremis. As "proof" of this, they trot out the dramaturgical principle of Chekhov's Gun. Anton Chekhov wrote: "Если вы говорите в первой главе, что на стене висит ружье, во второй или третьей главе оно должно непременно выстрелить. А если не будет стрелять, не должно и висеть.»" ["If you say in Act I that there is a gun hanging on the wall, then it is a must that in Act II or III it be fired. And if it won't be fired, it shouldn't have been hung there in the first place."]
And if you point out that we are talking about military strategy and geopolitics, not theater, they then quote Shakespeare's "All the world's a stage, And all the men and women merely players; They have their exits and their entrances…" and believe that it is QED. Now, I happen to agree wholeheartedly with Chekhov, when it comes to dramaturgy, and I agree with the Bard as well, provided we define "the world" as "the world of theater," from which the worlds of geopolitics and nuclear physics are both dramatically different. 
Let me explain it in terms that a drama major would understand. If there is a nuclear bomb hanging on the wall in Act I, then, chances are, it will still be hanging on that wall during the final curtain call. In the meantime, no matter how many other weapons are present on stage during the play, you can be sure that none of them would be used. Or maybe they will be, but then the entire audience would be dead, in which case you should definitely ask for your money back because this was billed as a family-friendly show.
Back in the real world, it is hard to argue that nukes haven't been useful as deterrents against both conventional and nuclear war. When the Americans dropped nuclear bombs on Hiroshima and Nagasaki, they only did this because they could do so with complete impunity. Had Japan, or an ally of Japan, possessed nuclear weapons at the time, these attacks would not have taken place. There is a considerable body of opinion that the Americans didn't nuke Japan in order to secure a victory (the Japanese would have surrendered regardless) but to send a message to Joseph Stalin. Stalin got the message, and Soviet scientists and engineers got cracking.
There was an uncomfortable period, before the USSR successfully tested their first atomic bomb, when the Americans were seriously planning to destroy all major Soviet cities using a nuclear strike, but they set these plans aside because they calculated that they didn't have enough nukes at the time to keep the Red Army from conquering all of Western Europe in retaliation. But in August 29, 1949, when the USSR tested its first atomic bomb, these plans were set aside—not quite permanently, it would later turn out—because even a singular nuclear detonation as a result of a Soviet response to an American first strike, wiping out, say, New York or Washington, would have been too high a price to pay for destroying Russia.
Since then—continuously except for a period between 2002 and two days ago—the ability of nuclear weapons to deter military aggression has remained unquestioned. There were some challenges along the way, but they were dealt with. The Americans saw it fit to threaten the USSR by placing nuclear missiles in Turkey; in response, the USSR placed nuclear missiles in Cuba. The Americans didn't think that was fair, and the result was the Cuban Missile Crisis. Eventually the Americans were prevailed upon to stand down in Turkey, and the Soviets stood down in Cuba. Another threat to the deterrent power of nuclear weapons was the development of anti-ballistic weapons that could shoot down nuclear-tipped missiles (just the ballistic ones; more on that later). But this was widely recognized to be a bad thing, and a major breakthrough came in 1972, when the USA and the USSR signed the Anti-Ballistic Missile Treaty.
Over this entire period, the principle that kept the peace was Mutual Assured Destruction: neither side would provoke the other to the point of launching a nuclear strike, because such a move was guaranteed to be suicidal. The two sides were reduced to fighting a series of proxy wars in various countries around the world, which were so much the worse for it, but there was no danger of these proxy conflicts erupting into a full-scale nuclear conflagration.
In the meantime, everybody tried to oppose nuclear proliferation, preventing more countries from obtaining access to nuclear weapons technology—with limited success. The cases where these efforts failed testify to the effective deterrent value of nuclear weapons. Saddam Hussein of Iraq didn't have any "weapons of mass destruction" and ended up hung. Muammar Qaddafi of Libya voluntarily gave up his nuclear program, and ended up tortured to death.
But Pakistan managed to acquire nuclear weapons, and as a result its relations with its traditional nemesis India have become much more polite and cooperative, to the point that in June of 2017 both became full members of Shanghai Cooperation Organization, along with China, Russia and other Eurasian nations. And then North Korea has made some breakthroughs with regard to nuclear bombs and ballistic missiles, and as a result of that the US has been reduced to posturing and futile threats against it while South Korea has expressed some newfound respect for its northern neighbor and is now seeking rapprochement.
In 2002 the prospect of continued nuclear deterrence was set a major setback when the US pulled out of the ABM treaty. Russia protested this move, and promised an asymmetrical response. American officials ignored this protest, incorrectly thinking that Russia was finished as a nuclear power. Since then, the Americans spent prodigious amounts of money—well into the trillions of dollars—building a ballistic missile defense system. Their goal was simple: make it possible to launch a first strike on Russia, destroying much of its nuclear arsenal; then use the new American ABM systems to destroy whatever Russia does manage to launch in response. On February 2, 2018 the Americans decided that they were ready, and issued a Nuclear Posture Review in which they explicitly reserved the right to use nuclear weapons to prevent Russia from using its nuclear deterrent.
And then, two days ago, all of that came to a happy end when Vladimir Putin gave a speech in which he unveiled several new weapons systems that completely negate the value of US missile defense shield—among other things. That was the response the Russians promised to deliver when the US pulled out of the ABM treaty in 2002. Now, 16 years later, they are done. Russia has rearmed with new weapons that have rendered the ABM treaty entirely irrelevant.
The ABM treaty was about ballistic missiles—once that are propelled by rockets that boost the missile to close to escape velocity. After that the missile follows a ballistic trajectory—just like an artillery shell or a bullet. That makes its path easy to calculate and the missile easy to intercept. The US missile defense systems rely on the ability to see the missile on radar, calculate its position, direction and velocity, and to launch a missile in response in such a way that the two trajectories intersect. When they cross, the interceptor missile is detonated, knocking out the attacking missile.
None of the new Russian weapons follow ballistic trajectories. The new Sarmat is an ICBM minus the "B"—it maneuvers throughout its flight path and can fly through the atmosphere rather than popping up above it. It has a short boost phase, making it difficult to intercept after launch. It has the range to fly arbitrary paths around the planet—over the south pole, for instance—to reach any point on Earth. And it carries multiple maneuverable hypersonic nuclear-armed reentry vehicles which no existing or planned missile defense system can intercept.
Among other new weapons unveiled two days ago was a nuclear-powered cruise missile which has virtually unlimited range and goes faster than Mach 10, and a nuclear-powered drone submarine which can descend to much larger depths than any existing submarine and moves faster than any existing vessel. There was also a mobile laser cannon in the show, of which very little is known, but they are likely to come in handy when it comes to frying military satellites. All of these are based on physical principles that have never been used before. All of these have passed testing and are going into production; one of them is already being used on active combat duty in the Russian armed forces.
The Russians are now duly proud of their scientists, engineers and soldiers. Their country is safe again; Americans have been stopped in their tracks, their new Nuclear Posture now looking like a severe case of lordosis. This sort of pride is more important than it would seem. Advanced nuclear weapons systems are a bit like secondary sexual characteristics of animals: like the peacock's tail or the deer's antlers or the lion's mane, they are indicative of the health and vigor of a specimen that has plenty of spare energy to expend on showy accessories.
In order to be able to field a hypersonic nuclear-powered cruise missile with unlimited range, a country has to have a healthy scientific community, lots of high-powered engineers, a highly trained professional military and a competent security establishment that can keep the whole thing secret, along with an industrial economy powerful and diverse enough to supply all of the necessary materials, processes and components with zero reliance on imports. Now that the arms race is over, this new confidence and competence can be turned to civilian purposes.
So far, the Western reaction to Putin's speech has closely followed the illogic of dreams which Sigmund Freud explained using the following joke:
1. I never borrowed a kettle from you
2. I returned it to you unbroken
3. It was already broken when I borrowed it from you.
A more common example is a child's excuse for not having done her homework: I lost it; my dog ate it; I didn't know it was assigned.
In this case, Western commentators have offered us the following:
1. There are no such weapons; Putin is bluffing
2. These weapons exist but they don't really work
3. These weapons work and this is the beginning of a new nuclear arms race
Taking these one at a time:
1. Putin is not known to bluff; he is known for doing exactly what he says he will do. He announced that Russia will deliver an asymmetric response to the US pulling out of the ABM treaty; and now it has.
2. These weapons are a continuation of developments that already existed in the USSR 30 years ago but had been mothballed until 2002. What has changed since then was the development of new materials, which make it possible to build vehicles that fly at above Mach 10, with their skin heating up to 2000ºC, and, of course, dramatic improvements in microelectronics, communications and artificial intelligence. Putin's statement that the new weapons systems are going into production is an order: they are going into production.
3. Most of Putin's speech wasn't about military matters at all. It was about such things as pay increases, roads, hospitals and clinics, kindergartens, nurseries, boosting retirements, providing housing to young families, streamlining the regulation of small businesses, etc. That is the focus of the Russian government for the next six years: dramatically improving the standard of living of the population. The military problem has already been resolved, the arms race has been won, and Russia's defense budget is being reduced, not increased.
Another line of thought in the West was that Putin unveiled these new weapons, which have been in development for 16 years at least, as part of his reelection campaign (the vote is on March 18). This is absurd. Putin is assured of victory because the vast majority of Russians approve of his leadership. The elections have been about jockeying for a second place position between the Liberal Democrats, led by the old war horse Vladimir Zhirinovsky, and the Communists, who have nominated a non-communist oligarch businessman Pavel Grudinin, who has promptly disqualified himself by failing to disclose foreign bank accounts and other improprieties and now appears to have gone into hiding. Thus, the Communists, who were previously slated for second place, have burned themselves down and Zhirinovsky will probably come in second. If Americans don't like Putin, then they definitely wouldn't like Zhirinovsky. Putin is practical and ambivalent about "our Western partners," as he likes to call them. Zhirinovsky, on the other hand, is rather revenge-minded, and seems to want to inflict pain on them.
At the same time, there is now a committee, composed of very serious-looking men and women, who are charged with monitoring and thwarting American meddling in Russian politics. It seems unlikely that the CIA, the US State Department and the usual culprits will be able to get away with much in Russia. The age of color revolutions is over, and the regime change train has sailed… all the way back to Washington, where Trump stands a chance of getting dethroned Ukrainian-style.
Another way to look at the Western reaction to Russia's new weapons is using Elizabeth Kübler-Ross's stages of grief. We already saw denial (Putin is bluffing; weapons don't work) and the start of anger (new arms race). We should expect a bit more anger before moving on to bargaining (you can have the Ukraine if you stop building Sarmat). Once the response comes back ("You broke the Ukraine; you pay to get it fixed") we move on to depression ("The Russians just don't love us any more!") and, finally, acceptance. Once the stage of acceptance is reached, here is what the Americans can usefully do in response to Russia's new weapons systems.
First of all, Americans can scrap their ABM systems because they are now useless. Russia's Defense Minister Sergei Shoigu had this to say about it: «То, что сегодня создаётся в Польше и Румынии, создаётся на Аляске и предполагается к созданию в Южной Корее и Японии — этот "зонтик" противоракетной обороны, получается, "дырявый". И не знаю, зачем за такие деньги теперь этот "зонтик" им приобретать.» ["What is being built in Poland and Romania, and in Alaska, and is planned in South Korea and Japan—this missile defense 'umbrella'—turns out to be riddled with holes. I don't know why they should now buy this 'umbrella' for so much money."]
Secondly, Americans can scrap their aircraft carrier fleet. All it's useful now for now is threatening defenseless nations, but there are much cheaper ways to threaten defenseless nations. If Americans are still planning to use them to dominate sea lanes and control world trade, then the existence of hypersonic cruise missiles with unlimited range and drone submarines that can lurk at great ocean depths for years make the world's oceans off-limits for American navy's battle groups in the event of any major (non-nuclear) escalation because now Russia can destroy them from an arbitrary distance without putting any of their assets or personnel at risk.
Lastly, Americans can pull out of NATO, which has now been shown to be completely useless, dismantle their thousand military bases around the world, and repatriate the troops stationed there. It's not as if, in light of these new developments, American security guarantees are going to be worth much to anyone, and America's "allies" will be quick to realize that. As far as Russian security guarantees, there is a lot on offer: unlike the US, which is increasingly seen as a rogue state—and an ineffectual and blundering one at that—Russia has been scrupulous in adhering to its international agreements and international law. In developing and deploying its new weapons systems, Russia has not violated any international agreements, treaties or laws. And Russia has no aggressive plans towards anyone except terrorists. As Putin put it during his speech, «Мы ни на кого не собираемся нападать и что-то отнимать. У нас у самих всё есть.» ["We are not planning to attack anyone or take over anywhere. We have everything we need."]
I hope that the US doesn't plan to attack anyone either, because, given its recent history, this won't work. Threatening the whole planet and forcing it to use the US dollar in international trade (and destroying countries, such as Iraq and Libya, when they refuse); running huge trade deficits with virtually the entire world and forcing reserve banks around the world to buy up US government debt; leveraging that debt to run up colossal budget deficits (now around a trillion dollars a year); and robbing the entire planet by printing money and spending it on various corrupt schemes—that, my friends, has been America's business plan since around the 1970s. And it is unraveling before our eyes.
I have the audacity to hope that the dismantling of the American Empire will proceed as copacetically as the dismantling of the Soviet Empire did. (This is not to say that it won't be humiliating or impoverishing, or that it won't be accompanied by a huge increase in morbidity and mortality.) One of my greatest fears over the past decade was that Russia wouldn't take the US and NATO seriously enough and just try to wait them out. After all, what is there to really to fear from a nation that has over a 100 trillion dollars in unfunded entitlements, that's full of opioid addicts, with 100 million working-age people permanently out of work, with decrepit infrastructure and poisoned national politics? And as far as NATO, there is, of course, Germany, which is busy rewriting "Deutschland, Deutschland, über alles" to be gender-neutral. What are they supposed to do next? March on Moscow under a rainbow banner and hope that the Russians die laughing? Oh, and there's also NATO's largest Eurasian asset, Turkey, which is currently busy slaughtering America's Kurdish assets in Northern Syria.
But simply waiting them out would have been a gamble, because in its death throes the American Empire could have lashed out in unpredictable ways. I am glad that Russia chose not to gamble with its national security. Now that the US has been safely checkmated using the new Russian weapons systems, I feel that the world is in a much better place. If you like peace, then it seems like your best option is to also like nukes—the best ones possible, ones against which no deterrent exists, and wielded by peaceful, law-abiding nations that have no evil designs on the rest of the planet.
Covid-19 in Spain: Madrid's Teatro Real forced to cancel performance after audience protests lack of social distancing | Culture
Madrid's famous Teatro Real was on Sunday forced to cancel a performance of Verdi's opera Un ballo in maschera due to a protest from audience members over the lack of social-distancing measures. Madrid has once again become the epicenter of the coronavirus pandemic, with the region accounting for more than one third of all new Covid-19 cases.
According to one of the spectators, who had a seat in the upper gallery of the opera house, where tickets are less expensive, up to 15 people were seated side by side in this area with no space between them. The spectator told EL PAÍS that audience members complained to the ushers as soon as they saw that they were seated right next to other theatergoers, with no empty seats between them. In a press release, the Teatro Real maintained that capacity was at 51.5%, meaning 905 seats were occupied.
On the ground floor, some of the seats were closed off, but in the upper galleries, there were entire rows of 15 people side by side

Spectator at Teatro Real
The situation became increasingly tense, and many members of the audience began to stamp their feet and clap to express their anger at the lack of social-distancing measures. The commotion became so great that one of the theater managers decided to announce over the megaphone that the performance would be delayed so that anyone who wished to could leave the theater and ask for a ticket refund. The lobby was then overwhelmed with angry patrons, and the police were called in to control the situation.
"There were no complaint forms, they had to go to the offices to print them. On the ground floor, some of the seats were closed off, but in the upper galleries, where there are lots of people much closer together, there were entire rows of 15 people side by side," said one of the spectators. "It's unacceptable, a lot of elderly people come here and they should take that into account." The Teatro Real has not clarified whether the level of seat occupation was the same in all areas of the theater.
Another audience member, who was seated in one of the front rows on the ground stall, also complained that the theater had not left empty seats. "The entire row was filled, there was not one seat free, we were like fleas. And that's in the most expensive area of the theater. My companion and I went to the back, where there seemed to be more space." According to this spectator, after the theater announced that it would offer refunds, the orchestra entered the pit and started to play. The overture was played and some of the first singers came out onto the stage, but the booing was so loud that Italian conductor Nicola Luisotti left the theater and the performance was cancelled. According to a press release from the Teatro Real, the conductor tried twice to continue with the opera but a "very small group insisted in continuing their protest to boycott the performance, and for this reason it was canceled at around 9.10pm."
Under the regulations of the Madrid regional government, the theater is allowed to be at 75% capacity, a figure that, in practice, does not allow safe distances to be established between all audience members. At a press conference for the presentation of the opera, which opened last Friday, the managing director of the Teatro Real, Ignacio García-Belenguer, said that the theater had decided not to sell more than 65% of available tickets to make the public feel safer.
Many of the theatergoers took to social media to express their outrage at what happened. "The Teatro Real opera was canceled due to the protests over the overcrowding of people," Spanish writer Rosa Montero wrote in a message on Twitter. "I was there and it was shameful. There was a total lack of distancing [measures]. And at this time, with 37 areas restricted! We love opera but not like this," she added, in reference to the new selective lockdowns aimed at curbing contagion in the capital and the Madrid region.
The Teatro Real has said that it will open an investigation "into this regrettable incident and will take the necessary measures so that future performances take place normally." The iconic theater was the first opera house in the world to reopen after its closure due to the coronavirus lockdown and has pioneered the creation of new protocols that allow performances to continue safety while the pandemic continues to affect the country.
English version by Melissa Kitson.
Polish Russophobia is Mostly Artificial, Stoked by Russia's Enemies
Russian Foreign Minister Sergei Lavrov has blasted the Polish government for inculcating anti-Russian attitudes among the population. Speaking to Sputnik, political observer Eduard Popov said that while Warsaw regularly uses Russophobia for political reasons, there's no evidence to suggest that Poles have a sort of natural hostility toward Russia.
Speaking to students and teachers at the Moscow State Institute of International Relations on Friday, the Russian foreign minister lamented that the Polish public is being "brainwashed" into holding "unequivocally anti-Russian" attitudes.
Check out this video at the bottom of the page of Russian and Polish women comparing their beautiful languages.

"I see here an obsession with creating an atmosphere of total resentment by society of anything related to Russia," the diplomat said, answering a question about the reasons behind Warsaw's anti-Russian policy, including the recent decision to demolish hundreds of Soviet-era war monuments."
According to Lavrov, Poland's Russophobia is being whipped up by people who "diligently" rewrite history, who are working to revise Polish nationalism based on ideals of superiority over others, and who would like to "pin the blame for all of Poland's misfortunes on [Russia]."
The West propagates the narrative of an aggressive Russia constantly attacking poor defenses Poland but in reality, Poland was regional power in its day, which often launched aggressive unprovoked invasions against Russia. Poland invaded Russia long before Russia ever invaded Poland. The above painting by Jan Matejko shows Polish King Boleslav the Brave capturing the capitol of ancient Russia, Kiev, in 1018. Legend has it he damaged his sword on the golden gate and since then it was called the notched sword. During the time of troubles in 1600's, Poland even occupied Moscow.
This includes Warsaw's claim that the Molotov-Ribbentrop Pact was the real reason behind World War II, the diplomat said. In Lavrov's view, by focusing on the Nazi-Soviet non-aggression pact, Polish leaders seem to forget that "at the time of the Munich Conspiracy, when Czechoslovakia was divided up, Poland quietly took for itself a very tasty morsel."
"The fact that this was a very serious impetus for creating potential for conflict in Europe is something Poland prefers not to speak about, just as it prefers not to mention that long before the Molotov-Ribbentrop Pact, Great Britain and France concluded their own, similar treaty with Nazi Germany," Lavrov emphasized.
Ultimately, the senior diplomat noted that in this environment of hostility, even elementary communication and diplomacy is difficult.
Asked to comment on Lavrov's remarks, Eduard Popov, a Moscow-based political analyst whose areas of expertise include Russian-Polish relations, said that the idea of Poles' naturally-occurring anti-Russian sentiment is really only one part of the equation.
"Poland's anti-Russian traditions have a long history," the observer said, speaking to Radio Sputnik. "Here we can recall the three divisions of the Polish-Lithuanian Commonwealth," in which Russia took part, "the subsequent participation of the Poles in aggression against Russia on the side of the Napoleonic armies, and so on and so forth."
During their occupation of Moscow, they imprisoned, beat, and starved to death Patriarch Hermogenes of Moscow, the leader of the Russian Orthodox Church, over a century before any Russian army would set foot on Polish Soil, and partition it. One could argue the Poles started the conflict, and Russia merely won.
---
 "But anti-Russian sentiment in Poland is just one side of the coin. The other side is pro-Russian sentiment. This too shouldn't be discounted," Popov stressed.
The world popular Polish video game series, The Witcher, based on the book of the same name, was hugely successful in Russia due to it being based on their common Slavic mythology and culture. Whilst the game was popular enough in America, that Obama was given a copy by the Polish government, it will always be closer to the hearts of Slavic Russians. Below is a character who is clearly inspired by Russian-Ukrainian Cossacks, note the distinctive hairstyle and sabre. Despite Russophobia in Polish culture, Poles and Russians are very close.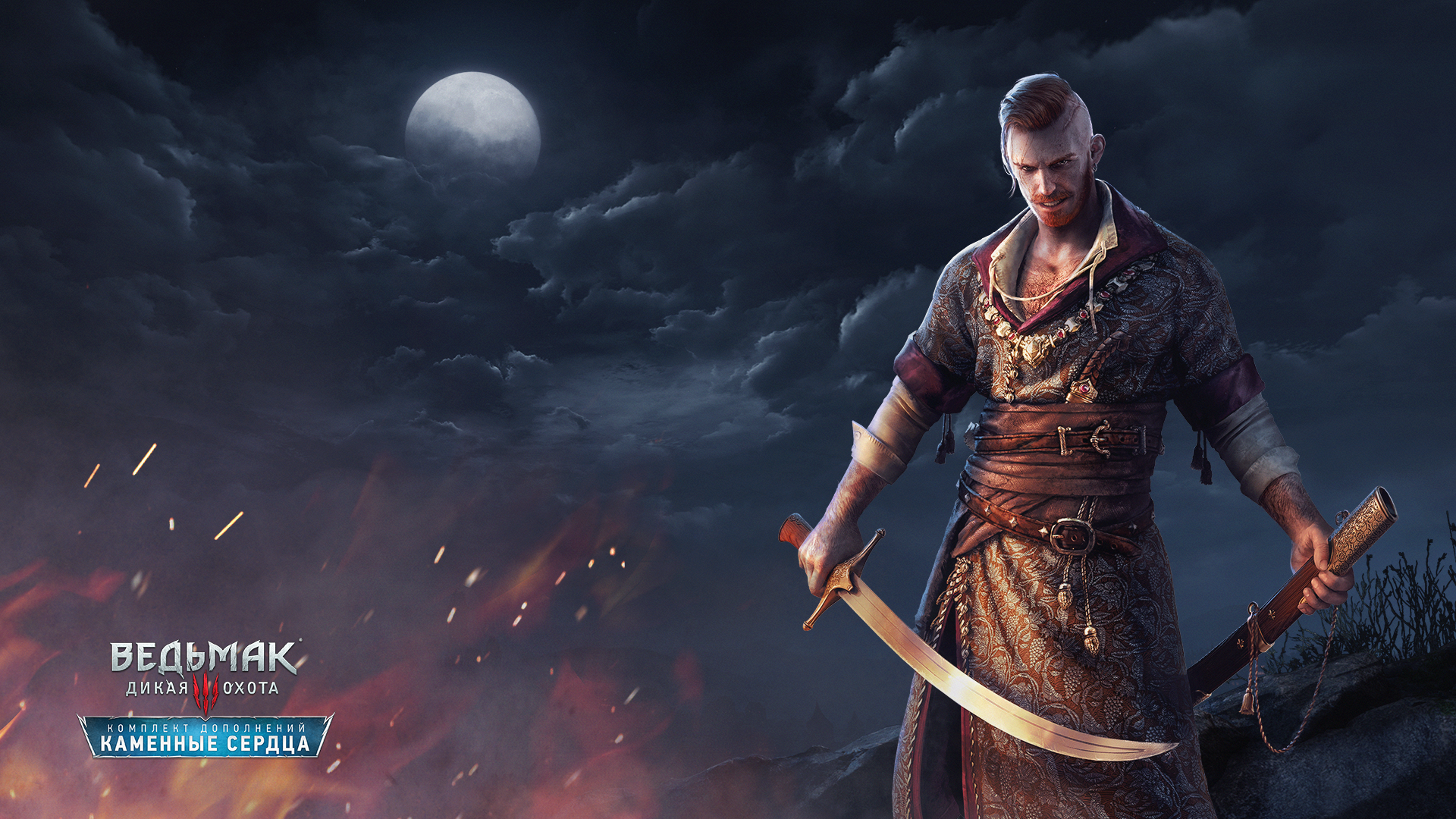 The analyst drew attention to Lavrov's choice of words in saying that Poles were being "brainwashed." This was true, he said, noting that to some extent, anti-Russian views really are being artificially inculcated among the Polish public. 
"Polish Russophobia, even though it has its historical roots, is something that is sufficiently engineered, something artificially imposed on Polish society. I recently spoke to representatives in the Polish opposition, and was told the following fact: about 70% of Polish media is controlled by German media structures, while the remaining 30% is controlled by Americans. Do we really need any more evidence that Polish public opinion is being formed along a deliberately anti-Russian slant?"
Ultimately, Popov said that he was optimistic, and that it wasn't worth getting hung up exclusively on the negative aspects of Russian-Polish relations.
"We must remember that along with official diplomacy there is unofficial diplomacy – people's diplomacy. Not all Poles adhere to the anti-Russian perspective being imposed on them. This is something that manifests itself in personal communication. According to polls, about 35% of Poles have positive attitudes toward Russia. This is a very important factor on which to build the foundation of future relations between Russia and a Poland that's free and independent of the West," Popov concluded.
Despite their political differences, Polish and Russian peoples are both Slavic, and share cultural and linguistic roots. Many Russians and Poles see through the Anti-Slavic agenda imposed on them by foreign powers and see each other as Slavic brothers. Check out this video to see two beautiful women comparing the Polish and Russian languages.
---
Source: Sputnik
Tusla in push to move data from HSE systems after cyberattack
Tusla is seeking to speed up efforts to move its data away from the HSE's computer systems in the wake of the cyberattack that left its staff relying on pen and paper to carry out their work.
More than 90 per cent of the Child and Family Agency's systems are hosted by or dependent on the HSE's network, which was hit by a ransomware attack last month.
Among the Tusla systems affected by the cyberattack are its online portal for people to report child protection concerns, and its National Childcare Information System which contains highly sensitive information about children and their families.
It may be four weeks before the online portal is back in operation, and staff are currently writing down details of suspected abuse or neglect cases being reported over the phone.
Plans to move Tusla's data away from the HSE date back as far as 2017 and the first phase of the project – the building of a new network and associated data centres – was completed last September.
'Long way to go'
However, the project is not due to be completed until the end of 2022. Tusla chief executive Bernard Gloster last week said "there's a long way to go".
A spokeswoman for the agency said the second phase of the project involves moving data historically associated with the HSE to the Tusla-only data centres, and this started in January with the email addresses of some 500 staff.
She added: "However, as part of the recovery process from the recent cyberattack, Tusla will be expediting a significant volume of this work."
Risks relating to cybersecurity were most recently articulated in Tusla's National Corporate Risk Register at the start of 2021, which noted: "the potential failure to protect the availability of information due to Tusla not having control of its ICT infrastructure and ICT assets".
Tusla highlighted weaknesses in the HSE's computer systems including some related to security controls and disaster recovery protocols – particularly older and legacy systems – in its 2019 Annual Report.
The report says: "In the main, the systems utilised by Tusla are more current and less impacted by legacy issues, but where Tusla is dependent on these systems, these weaknesses may have an implication for its internal controls."
It also notes: "The HSE has indicated that it is committed to improving controls in respect of cybersecurity."
The Irish Times previously reported on a series of actions being taken by the HSE to improve the security of its networks, with some completed last year and other with target dates into 2021.
In recent weeks the HSE has not been able to say whether weaknesses identified in internal audits – highlighted in its own annual reports as far back as 2018 – were a factor in the success of the recent cyberattack.
The Tusla spokeswoman said its plans to move its data away from the HSE were not linked to the weaknesses that had been identified in the HSE's system, saying this goal was included in ICT strategies published as far back as 2017.
1,500 referrals
The spokeswoman separately said Tusla normally receives approximately 1,500 referrals via its online portal for reporting child protection concerns each week.
She said: "As all systems are down, we cannot confirm the exact number of weekly referrals, but early indications are that the cyberattack has had marginal impact on our referral rates in most areas and that people are making referrals by phone."
There have been media campaigns to promote phone referrals, including a national radio advertising campaign.
In an interview with RTÉ Radio, Mr Gloster said he does not envisage the portal being back in use until at least the end of June.
He said referrals currently have to be written by hand, adding "It really is back to 1970s/1980s social care service."
Mr Gloster said a "semblance of normality" may return over the next month, but it will be six months for the recovery plan "to get us back to where we'd want to be".
He said a specialist company is monitoring the internet including the dark web for any sign that Tusla's data has been published, but this had not been detected as yet.