Russia's New Nukes Check-Mate a War-Happy US, Make the World Safer
Orlov is one of our favorite essayists on Russia and all sorts of other things. He moved to the US as a child, and lives in the Boston area.
He is one of the better-known thinkers The New Yorker has dubbed 'The Dystopians' in an excellent 2009 profile, along with James Howard Kunstler, another regular contributor to RI (archive). These theorists believe that modern society is headed for a jarring and painful crack-up.
He is best known for his 2011 book comparing Soviet and American collapse (he thinks America's will be worse). He is a prolific author on a wide array of subjects, and you can see his work by searching him on Amazon.
He has a large following on the web, and on Patreon, and we urge you to support him there, as Russia Insider does.
His current project is organizing the production of affordable house boats for living on. He lives on a boat himself.
If you haven't discovered his work yet, please take a look at his archive of articles on RI. They are a real treasure, full of invaluable insight into both the US and Russia and how they are related.
---
A lot of people seem to have lost the thread when it comes to nuclear weapons. They think that nuclear weapons are like other weapons, and are designed to be used in war. But this is pure mental inertia. According to all the evidence available, nuclear weapons are anti-weapons, designed to prevent weapons, nuclear or otherwise, from being used. In essence, if used correctly, nuclear weapons are war suppression devices. Of course, if used incorrectly, they pose a grave risk to all life on Earth. There are other risks to all life on Earth as well, such as runaway global warming from unconstrained burning of hydrocarbons; perhaps we need to invent a weapon or two to prevent that as well.
Some people feel that the mere existence of nuclear weapons guarantees that they will be used as various nuclear-armed countries find themselves financially, economically and politically in extremis. As "proof" of this, they trot out the dramaturgical principle of Chekhov's Gun. Anton Chekhov wrote: "Если вы говорите в первой главе, что на стене висит ружье, во второй или третьей главе оно должно непременно выстрелить. А если не будет стрелять, не должно и висеть.»" ["If you say in Act I that there is a gun hanging on the wall, then it is a must that in Act II or III it be fired. And if it won't be fired, it shouldn't have been hung there in the first place."]
And if you point out that we are talking about military strategy and geopolitics, not theater, they then quote Shakespeare's "All the world's a stage, And all the men and women merely players; They have their exits and their entrances…" and believe that it is QED. Now, I happen to agree wholeheartedly with Chekhov, when it comes to dramaturgy, and I agree with the Bard as well, provided we define "the world" as "the world of theater," from which the worlds of geopolitics and nuclear physics are both dramatically different. 
Let me explain it in terms that a drama major would understand. If there is a nuclear bomb hanging on the wall in Act I, then, chances are, it will still be hanging on that wall during the final curtain call. In the meantime, no matter how many other weapons are present on stage during the play, you can be sure that none of them would be used. Or maybe they will be, but then the entire audience would be dead, in which case you should definitely ask for your money back because this was billed as a family-friendly show.
Back in the real world, it is hard to argue that nukes haven't been useful as deterrents against both conventional and nuclear war. When the Americans dropped nuclear bombs on Hiroshima and Nagasaki, they only did this because they could do so with complete impunity. Had Japan, or an ally of Japan, possessed nuclear weapons at the time, these attacks would not have taken place. There is a considerable body of opinion that the Americans didn't nuke Japan in order to secure a victory (the Japanese would have surrendered regardless) but to send a message to Joseph Stalin. Stalin got the message, and Soviet scientists and engineers got cracking.
There was an uncomfortable period, before the USSR successfully tested their first atomic bomb, when the Americans were seriously planning to destroy all major Soviet cities using a nuclear strike, but they set these plans aside because they calculated that they didn't have enough nukes at the time to keep the Red Army from conquering all of Western Europe in retaliation. But in August 29, 1949, when the USSR tested its first atomic bomb, these plans were set aside—not quite permanently, it would later turn out—because even a singular nuclear detonation as a result of a Soviet response to an American first strike, wiping out, say, New York or Washington, would have been too high a price to pay for destroying Russia.
Since then—continuously except for a period between 2002 and two days ago—the ability of nuclear weapons to deter military aggression has remained unquestioned. There were some challenges along the way, but they were dealt with. The Americans saw it fit to threaten the USSR by placing nuclear missiles in Turkey; in response, the USSR placed nuclear missiles in Cuba. The Americans didn't think that was fair, and the result was the Cuban Missile Crisis. Eventually the Americans were prevailed upon to stand down in Turkey, and the Soviets stood down in Cuba. Another threat to the deterrent power of nuclear weapons was the development of anti-ballistic weapons that could shoot down nuclear-tipped missiles (just the ballistic ones; more on that later). But this was widely recognized to be a bad thing, and a major breakthrough came in 1972, when the USA and the USSR signed the Anti-Ballistic Missile Treaty.
Over this entire period, the principle that kept the peace was Mutual Assured Destruction: neither side would provoke the other to the point of launching a nuclear strike, because such a move was guaranteed to be suicidal. The two sides were reduced to fighting a series of proxy wars in various countries around the world, which were so much the worse for it, but there was no danger of these proxy conflicts erupting into a full-scale nuclear conflagration.
In the meantime, everybody tried to oppose nuclear proliferation, preventing more countries from obtaining access to nuclear weapons technology—with limited success. The cases where these efforts failed testify to the effective deterrent value of nuclear weapons. Saddam Hussein of Iraq didn't have any "weapons of mass destruction" and ended up hung. Muammar Qaddafi of Libya voluntarily gave up his nuclear program, and ended up tortured to death.
But Pakistan managed to acquire nuclear weapons, and as a result its relations with its traditional nemesis India have become much more polite and cooperative, to the point that in June of 2017 both became full members of Shanghai Cooperation Organization, along with China, Russia and other Eurasian nations. And then North Korea has made some breakthroughs with regard to nuclear bombs and ballistic missiles, and as a result of that the US has been reduced to posturing and futile threats against it while South Korea has expressed some newfound respect for its northern neighbor and is now seeking rapprochement.
In 2002 the prospect of continued nuclear deterrence was set a major setback when the US pulled out of the ABM treaty. Russia protested this move, and promised an asymmetrical response. American officials ignored this protest, incorrectly thinking that Russia was finished as a nuclear power. Since then, the Americans spent prodigious amounts of money—well into the trillions of dollars—building a ballistic missile defense system. Their goal was simple: make it possible to launch a first strike on Russia, destroying much of its nuclear arsenal; then use the new American ABM systems to destroy whatever Russia does manage to launch in response. On February 2, 2018 the Americans decided that they were ready, and issued a Nuclear Posture Review in which they explicitly reserved the right to use nuclear weapons to prevent Russia from using its nuclear deterrent.
And then, two days ago, all of that came to a happy end when Vladimir Putin gave a speech in which he unveiled several new weapons systems that completely negate the value of US missile defense shield—among other things. That was the response the Russians promised to deliver when the US pulled out of the ABM treaty in 2002. Now, 16 years later, they are done. Russia has rearmed with new weapons that have rendered the ABM treaty entirely irrelevant.
The ABM treaty was about ballistic missiles—once that are propelled by rockets that boost the missile to close to escape velocity. After that the missile follows a ballistic trajectory—just like an artillery shell or a bullet. That makes its path easy to calculate and the missile easy to intercept. The US missile defense systems rely on the ability to see the missile on radar, calculate its position, direction and velocity, and to launch a missile in response in such a way that the two trajectories intersect. When they cross, the interceptor missile is detonated, knocking out the attacking missile.
None of the new Russian weapons follow ballistic trajectories. The new Sarmat is an ICBM minus the "B"—it maneuvers throughout its flight path and can fly through the atmosphere rather than popping up above it. It has a short boost phase, making it difficult to intercept after launch. It has the range to fly arbitrary paths around the planet—over the south pole, for instance—to reach any point on Earth. And it carries multiple maneuverable hypersonic nuclear-armed reentry vehicles which no existing or planned missile defense system can intercept.
Among other new weapons unveiled two days ago was a nuclear-powered cruise missile which has virtually unlimited range and goes faster than Mach 10, and a nuclear-powered drone submarine which can descend to much larger depths than any existing submarine and moves faster than any existing vessel. There was also a mobile laser cannon in the show, of which very little is known, but they are likely to come in handy when it comes to frying military satellites. All of these are based on physical principles that have never been used before. All of these have passed testing and are going into production; one of them is already being used on active combat duty in the Russian armed forces.
The Russians are now duly proud of their scientists, engineers and soldiers. Their country is safe again; Americans have been stopped in their tracks, their new Nuclear Posture now looking like a severe case of lordosis. This sort of pride is more important than it would seem. Advanced nuclear weapons systems are a bit like secondary sexual characteristics of animals: like the peacock's tail or the deer's antlers or the lion's mane, they are indicative of the health and vigor of a specimen that has plenty of spare energy to expend on showy accessories.
In order to be able to field a hypersonic nuclear-powered cruise missile with unlimited range, a country has to have a healthy scientific community, lots of high-powered engineers, a highly trained professional military and a competent security establishment that can keep the whole thing secret, along with an industrial economy powerful and diverse enough to supply all of the necessary materials, processes and components with zero reliance on imports. Now that the arms race is over, this new confidence and competence can be turned to civilian purposes.
So far, the Western reaction to Putin's speech has closely followed the illogic of dreams which Sigmund Freud explained using the following joke:
1. I never borrowed a kettle from you
2. I returned it to you unbroken
3. It was already broken when I borrowed it from you.
A more common example is a child's excuse for not having done her homework: I lost it; my dog ate it; I didn't know it was assigned.
In this case, Western commentators have offered us the following:
1. There are no such weapons; Putin is bluffing
2. These weapons exist but they don't really work
3. These weapons work and this is the beginning of a new nuclear arms race
Taking these one at a time:
1. Putin is not known to bluff; he is known for doing exactly what he says he will do. He announced that Russia will deliver an asymmetric response to the US pulling out of the ABM treaty; and now it has.
2. These weapons are a continuation of developments that already existed in the USSR 30 years ago but had been mothballed until 2002. What has changed since then was the development of new materials, which make it possible to build vehicles that fly at above Mach 10, with their skin heating up to 2000ºC, and, of course, dramatic improvements in microelectronics, communications and artificial intelligence. Putin's statement that the new weapons systems are going into production is an order: they are going into production.
3. Most of Putin's speech wasn't about military matters at all. It was about such things as pay increases, roads, hospitals and clinics, kindergartens, nurseries, boosting retirements, providing housing to young families, streamlining the regulation of small businesses, etc. That is the focus of the Russian government for the next six years: dramatically improving the standard of living of the population. The military problem has already been resolved, the arms race has been won, and Russia's defense budget is being reduced, not increased.
Another line of thought in the West was that Putin unveiled these new weapons, which have been in development for 16 years at least, as part of his reelection campaign (the vote is on March 18). This is absurd. Putin is assured of victory because the vast majority of Russians approve of his leadership. The elections have been about jockeying for a second place position between the Liberal Democrats, led by the old war horse Vladimir Zhirinovsky, and the Communists, who have nominated a non-communist oligarch businessman Pavel Grudinin, who has promptly disqualified himself by failing to disclose foreign bank accounts and other improprieties and now appears to have gone into hiding. Thus, the Communists, who were previously slated for second place, have burned themselves down and Zhirinovsky will probably come in second. If Americans don't like Putin, then they definitely wouldn't like Zhirinovsky. Putin is practical and ambivalent about "our Western partners," as he likes to call them. Zhirinovsky, on the other hand, is rather revenge-minded, and seems to want to inflict pain on them.
At the same time, there is now a committee, composed of very serious-looking men and women, who are charged with monitoring and thwarting American meddling in Russian politics. It seems unlikely that the CIA, the US State Department and the usual culprits will be able to get away with much in Russia. The age of color revolutions is over, and the regime change train has sailed… all the way back to Washington, where Trump stands a chance of getting dethroned Ukrainian-style.
Another way to look at the Western reaction to Russia's new weapons is using Elizabeth Kübler-Ross's stages of grief. We already saw denial (Putin is bluffing; weapons don't work) and the start of anger (new arms race). We should expect a bit more anger before moving on to bargaining (you can have the Ukraine if you stop building Sarmat). Once the response comes back ("You broke the Ukraine; you pay to get it fixed") we move on to depression ("The Russians just don't love us any more!") and, finally, acceptance. Once the stage of acceptance is reached, here is what the Americans can usefully do in response to Russia's new weapons systems.
First of all, Americans can scrap their ABM systems because they are now useless. Russia's Defense Minister Sergei Shoigu had this to say about it: «То, что сегодня создаётся в Польше и Румынии, создаётся на Аляске и предполагается к созданию в Южной Корее и Японии — этот "зонтик" противоракетной обороны, получается, "дырявый". И не знаю, зачем за такие деньги теперь этот "зонтик" им приобретать.» ["What is being built in Poland and Romania, and in Alaska, and is planned in South Korea and Japan—this missile defense 'umbrella'—turns out to be riddled with holes. I don't know why they should now buy this 'umbrella' for so much money."]
Secondly, Americans can scrap their aircraft carrier fleet. All it's useful now for now is threatening defenseless nations, but there are much cheaper ways to threaten defenseless nations. If Americans are still planning to use them to dominate sea lanes and control world trade, then the existence of hypersonic cruise missiles with unlimited range and drone submarines that can lurk at great ocean depths for years make the world's oceans off-limits for American navy's battle groups in the event of any major (non-nuclear) escalation because now Russia can destroy them from an arbitrary distance without putting any of their assets or personnel at risk.
Lastly, Americans can pull out of NATO, which has now been shown to be completely useless, dismantle their thousand military bases around the world, and repatriate the troops stationed there. It's not as if, in light of these new developments, American security guarantees are going to be worth much to anyone, and America's "allies" will be quick to realize that. As far as Russian security guarantees, there is a lot on offer: unlike the US, which is increasingly seen as a rogue state—and an ineffectual and blundering one at that—Russia has been scrupulous in adhering to its international agreements and international law. In developing and deploying its new weapons systems, Russia has not violated any international agreements, treaties or laws. And Russia has no aggressive plans towards anyone except terrorists. As Putin put it during his speech, «Мы ни на кого не собираемся нападать и что-то отнимать. У нас у самих всё есть.» ["We are not planning to attack anyone or take over anywhere. We have everything we need."]
I hope that the US doesn't plan to attack anyone either, because, given its recent history, this won't work. Threatening the whole planet and forcing it to use the US dollar in international trade (and destroying countries, such as Iraq and Libya, when they refuse); running huge trade deficits with virtually the entire world and forcing reserve banks around the world to buy up US government debt; leveraging that debt to run up colossal budget deficits (now around a trillion dollars a year); and robbing the entire planet by printing money and spending it on various corrupt schemes—that, my friends, has been America's business plan since around the 1970s. And it is unraveling before our eyes.
I have the audacity to hope that the dismantling of the American Empire will proceed as copacetically as the dismantling of the Soviet Empire did. (This is not to say that it won't be humiliating or impoverishing, or that it won't be accompanied by a huge increase in morbidity and mortality.) One of my greatest fears over the past decade was that Russia wouldn't take the US and NATO seriously enough and just try to wait them out. After all, what is there to really to fear from a nation that has over a 100 trillion dollars in unfunded entitlements, that's full of opioid addicts, with 100 million working-age people permanently out of work, with decrepit infrastructure and poisoned national politics? And as far as NATO, there is, of course, Germany, which is busy rewriting "Deutschland, Deutschland, über alles" to be gender-neutral. What are they supposed to do next? March on Moscow under a rainbow banner and hope that the Russians die laughing? Oh, and there's also NATO's largest Eurasian asset, Turkey, which is currently busy slaughtering America's Kurdish assets in Northern Syria.
But simply waiting them out would have been a gamble, because in its death throes the American Empire could have lashed out in unpredictable ways. I am glad that Russia chose not to gamble with its national security. Now that the US has been safely checkmated using the new Russian weapons systems, I feel that the world is in a much better place. If you like peace, then it seems like your best option is to also like nukes—the best ones possible, ones against which no deterrent exists, and wielded by peaceful, law-abiding nations that have no evil designs on the rest of the planet.
Time is running out for Holocaust survivors | Society
Shimon Redlich, an 87-year-old Holocaust survivor and author of the book Together and Apart in Brzezany, said: "As long as the survivors are alive and can remember, their testimonies must be recorded. Every story is unique."
Edith Bruck is a 90-year-old Auschwitz survivor. Hungarian-born, she writes in Italian, and is the author of classics such as Who Loves You Like This? In a recent interview, she said: "Our lives do not belong to us. They belong to history."
The survivors of the Shoah have allowed us to look into the abyss of the incomprehensible. They have brought generations of readers closer to an experience that can be transmitted, but not shared. However, as the years go by, the era of the witnesses is coming to an end. With their passing, something irreplaceable will disappear.
Boris Pahor passed away last May at the age of 108. A Slovenian born in Trieste, Italy, Pahor was deported as an anti-fascist resistance fighter during World War II. He is the author of one of the most prominent books on the Nazi camps, Necropolis. "My every word [was] driven by the fear of slipping into banality," he writes.
The fear of banality and the impossibility of transmitting what was suffered has been a constant in Holocaust literature since the publication of the first great literary testimony of the camps, If This Is a Man by Primo Levi.
Another fear that many witnesses have conveyed is the empty space they will leave behind when the last of them disappears… the incommunicable experience they will take with them.
In an interview with EL PAÍS in 2000, the now-deceased Buchenwald survivor, Spanish writer and politician Jorge Semprún, reflected on the disappearance of those who witnessed the Holocaust: "Do you know what is the most important thing that happened in a concentration camp? Do you know the most terrible thing, the only thing that cannot be explained? The smell of burning meat. What do you do with the memory of the smell of burning meat? For those circumstances, there is, precisely, literature. But how do you talk about it? Do you compare? And what about the obscenity of the comparison? Do you say, for example, that it smells like burnt chicken? Or do you try to reconstruct the general circumstances of the memory, going around the smell, round and round, without facing it? I have inside my head, alive, the most important smell of a concentration camp. And I can't explain it. And that smell is going to go away with me, as it has already gone with others."
"We have been talking about the end of the survivors for almost three decades," says Alejandro Baer, professor of sociology and director of the Center for Holocaust and Genocide Studies at the University of Minnesota. "That concern has spurred memory in the form of the creation of archives of oral and audiovisual history of survivors, documentaries, even virtual reality projects. But whoever has had the opportunity to meet the witnesses knows that nothing will make up for their absence. Because it is not just about the information they provide, but about the nature of the encounter and the transformation it produces: becoming a witness of the witness. If we look for something that approaches that experience, we will not find it in technology, but in testimonial literature."
If This Is a Man was published in 1947. Levi himself explained that the publisher went bankrupt and that the book remained forgotten for more than a decade: the first printing of 2,500 copies went unnoticed. Society was not yet ready to read about those horrors, not only because the stories about the extermination confront us with the idea that anyone can be a victim, but because they force us to consider that we too could have been executioners. That same year, 75 years ago, The Diary of Anne Frank was published in the Netherlands under the title The secret annex. Its translation was rejected by various American publishers until Judith Jones of Knopf insisted on publishing it. The diary became an international success in the 1950s.
In the Federal Republic of Germany, Auschwitz did not become a household name for most of the population until the late-1970s, when the series Holocaust was released. That five-episode telefilm sparked a heated debate between those who saw it as a product of popular culture that trivialized the Holocaust by turning it into a family melodrama, and those who thought it did more than any eyewitness account to make Germans stand up to their dark past.
"It is an insult to those who survived. What appears on the screen has nothing to do with what happened," wrote Nobel Peace Prize winner and Auschwitz survivor Elie Wiesel, the author of Night. However, a survey published after its broadcast revealed that 70% of German young people between the ages of 14 and 19 said that they had learned more about Nazism from the series than at school.
This debate revealed another dimension to the horror of the camps: Is it legitimate to put yourself in the shoes of someone who has suffered something that cannot be explained? Is it possible to use the Holocaust to write fiction?
John Hersey wrote the first American Holocaust novel, The wall, between the 1940s and 1950s. It took place in the Warsaw ghetto; Hersey had met with survivors and visited the ruins of the Polish capital. However, his biographer, Jeremy Treglown, wrote that Hersey was faced with similar questions about authenticity: "Who owns the narrative? Can a young privileged white Anglo-Saxon from New England put himself in the shoes of the suffering of European Jewry under Nazism?"
Since the success of The boy in the striped pajamas, this debate has only grown. Novels with "Auschwitz" in the title have multiplied. The latest one is titled The dressmakers of Auschwitz. Some, such as The librarian of Auschwitz, by Antonio Iturbe, have sold hundreds of thousands of copies and received critical praise. Others, like The tattooist of Auschwitz, have been scrutinized by experts. The Auschwitz Memorial made a resounding statement about this best-seller by Heather Morris: "Because of the number of factual errors, it cannot be recommended as a valuable work for those who wish to understand the history of the camps."
"This popular literature, which is so successful, simplifies the history and reality that is so difficult for us to understand," says Yessica San Román, director of the Education and Holocaust department at Madrid's Centro Sefarad-Israel. "The result is a trivialization of the facts. What should concern us when we read books like these about the Holocaust is that they resort too much to stereotypes, both for the Jews and for the perpetrators. The perpetrators were not all monsters or psychopaths. They were much more normal than we like to admit. The Holocaust was committed by men and women."
"I haven't read The Tattooist of Auschwitz," explains Shimon Redlich. "I don't like kitsch books about the Holocaust. However, I believe that films like Claude Lanzmann's Shoah or Steven Spielberg's Schindler's List have had a significant effect on the dissemination and understanding of the Holocaust." Asked by email about the books he considers essential, the survivor and author cites four: the works of historian and survivor Saul Friedländer, The years of persecution (1933 -1939) and The years of the extermination (1939-1945); An interrupted life, the diaries of Etty Hillesum, who was murdered at Auschwitz; and Anatomy of a genocide: the life and death of a town called Buczacz, by Israeli historian Omer Bartov.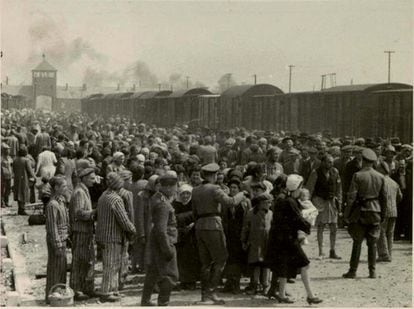 Bartov's book is part of a series of recent essays that are helping to deepen knowledge of the genocide. They mix detective-like investigations with the handling of thousands of documents. In the face of all-encompassing books like Raul Hilberg's The destruction of the European Jews, a new generation of authors is focusing on smaller-scale stories.
"Most of the witnesses have disappeared and the investigators must become indirect witnesses, with the material they handle," Dr. Wendy Lower, Director of the Mgrublian Center for Human Rights in Claremont, California, explains by phone. "We work with the material we have access to… [over] the last decades, we have been compiling documents, testimonies…. such massive archives have been amassed and so many testimonies have been recorded that no historian would be able to listen to them all. When there are no more witnesses, there will be a lot of material to work on: archaeology, forensics, documents, recordings…"
Eyewitness testimonies were not always considered such important material. "In the beginning, when researchers strove to establish the history of the Nazi genocide, they did not always welcome the voices of the survivors," says Dr. Sara R. Horowitz, a professor of literature at York University in Toronto and the author and editor of numerous books on the memory of the Holocaust, including Voicing the void: muteness and memory in Holocaust fiction and Shadows in the city of light. "Historians preferred to rely on documentary evidence and were reluctant to base historical accounts on memory: they saw it as unreliable, fallible, and limited in scope. But relying on documents also has its limitations. In the decades immediately following the war, many survivors expressed frustration that they had not been heard. And the historical record was impoverished by this exclusion."
"More than ever, it will be the power of literature– novels, poems, memoirs– that will preserve and continue to shape the memory of the Holocaust, in the different languages and the memory of each country. Writers like Aharon Appelfeld, Ida Fink, Elie Wiesel, Charlotte Delbo, Jorge Semprún, Sarah Kofman, Imre Kertesz and others," Horowitz notes.
"Literature is essential," advocates Marina Sanfilippo, a professor at Spain's National University of Distance Education. She specializes in female testimonies of the Shoah. "It has never been possible to understand the reason for the Holocaust, as Primo Levi narrated in that famous phrase in which a German guard at Auschwitz blurts out: here there is no why. It is something that only literature can answer."
Sanfilippo maintains that she has studied the literature written by surviving women "because the canon of the Shoah is above all masculine"– Primo Levi, Paul Celan, Kertesz, Elie Wiesel, Victor Klemperer, Viktor Frankl, and so on. She cites authors and works such as Liana Millu's Smoke over Birkenau, Ruth Klüger's Still alive, Charlotte Delbo's None of us will return, or Daniela Padoan's Like a frog in winter.
Padoan's book is a journalistic investigation that collects the testimony of three women – Liliana Segre, Goti Bauer and Giuliana Tedeschi – who survived Auschwitz-Birkenau. "The experience was very different for men and women, because in the camps, people suffered from the body and bodies are different. What did it mean to have your period in the camp? Or to stop having it, or to think that you would never be able to have children? What did it mean to be the subject of medical experiments? The survival strategies were also different," says Sanfilippo.
The survivors' voices are also kept alive through the stories of their relatives. The most famous of these cases remains the comic book Maus, now a classic, in which Art Spiegelman tells the story of his father, an Auschwitz survivor, and at the same time describes the relationship – not always an easy one – between the two. The librarian and author Javier Fernández Aparicio maintained a Holocaust literature reading club in Madrid for eight years with fellow librarian Javier Quevedo Arcos, from which the book The culture of the abyss arose. They assure their readers that no book was as interesting as Maus, perhaps because of its dialogue between the past and the present.
In the house where Primo Levi died in 1987 on a wide avenue in Turin – it will never be known whether he committed suicide or fell down the stairs – no plaque remembers the writer. However, his last name still appears on the intercom, as if he could be called and his voice could emerge from the past to remind us of some of the many lessons contained in his books.
Levi deeply mistrusted charismatic leaders– those who ask us to renounce reason: "Since it is difficult to distinguish true prophets from false, it is as well to regard all prophets with suspicion. It is better to renounce revealed truths, even if they exalt us by their splendor."
The voices of those survivors that are slowly dying out remain essential to understanding what happened… but also to warn us about what may happen.
The Rise and Fall of Victoria's Secret: A dictatorship of perfection and misogyny: a look into Victoria's Secret's angels and demons | Society
For the lingerie brand Victoria's Secret, once the head of an empire, the past decade has been turbulent. Gone are the golden days when the world stood still to watch the brand's annual show. Its carefully chosen models, the so-called angels, represented a beauty standard unattainable to most women, and they paraded the runway in glittering wings and minuscule diamond-cut lingerie.
The shows, which lasted for 23 years, were considered the Super Bowl of fashion. They featured performances by pop singers including Lady Gaga, Bruno Mars, The Weeknd, Taylor Swift and Beyoncé. Until its last edition, held in Paris in 2018, the event represented the fantasy that Victoria's Secret marketed. It launched the careers of models Gisele Bündchen, Adriana Lima, Heidi Klum and Alessandra Ambrossio, among others.
The women showed off almost superhuman physiques, sculpted through rigorous training and starved in the days leading up to the parade. But the brand's image no longer has a place in a #MeToo-era society, now more willing to champion body positive, diversity and inclusivity and to denounce sexual harassment and the hypersexualization of women's bodies.
The new three-part documentary series The Rise and Fall of Victoria's Secret explores the brand's shadows. The production, which premiered on June 18 at the Tribeca Film Festival, combines first-hand accounts with deep investigation to reveal the brand's inner workings. "Truth is not what it seems, as the underworld of fashion, the billionaire class, and Jeffrey Epstein are revealed to all be inextricably intertwined with the fall of this legendary brand," reads the summary of the miniseries, directed by Peter Berg and Matt Tyrnauer. It will be available to stream on Hulu starting July 14.
A culture of misogyny and the descent to hell
The film promises to uncover the lingerie empire's links with sexual predator Jeffrey Epstein. A 2019 New York Times investigation revealed that in the 1990s, a financial adviser close to Leslie H. Wexner, executive director of the company L Brands—Victoria's Secret parent company—worked as a model recruiter for the brand in exchange for sexual favors. This adviser would later be found to be Epstein, a millionaire accused of sex trafficking who later commited suicide in jail while awaiting trial. Subsequently, Wexner has repeatedly claimed to feel "ashamed" by his friendly relationship with the pedophile.
But Victoria's Secret's fall in popularity came before this scandal. In 2018, the company lost almost 50% of its value. That same year, which marked the last parade, the show reached the lowest audience in its history since its start in 1995: 3.3 million viewers compared to the usual 10 million.
That year, the company's marketing director, Ed Razek, made clear his opposition to gender diversity in an interview with Vogue. "Shouldn't you have transsexuals in the show? No, I don't think we should. Well, why not? Because the show is a fantasy. It's a 42-minute entertainment special. That's what it is. It is the only one of its kind in the world," said the 71-year-old manager, who resigned from his position in 2019.
The rampant misogyny and harassment from company higher-ups was the final straw for the brand. In 2021, the New York Times published an extensive investigation entitled "'Angels' in Hell: The Culture of Misogyny Inside Victoria's Secret," in which more than 30 executives, employees, contractors and models denounced the company's practices.
Rebel Angels and a change of direction
The Victoria's Secret bubble ended up bursting with the resignation of several of its most iconic figures: Adriana Lima hung up her wings in 2018, claiming to be fed up with the dictatorship of perfection and the pressures on her physique. "I will not take of [sic] my clothes again for an empty cause," she wrote in an Instagram post.
Gisele Bündchen, who signed her contract with the brand at the age of 19, confessed in her autobiography that after years parading in her underwear, she began to feel uncomfortable. She wrote that she felt "less and less relaxed" when photographed on the catwalk in just a bikini or a thong. In the same book, she wrote of suffering from panic attacks and suicidal thoughts during one of the most successful periods of her career.
Victoria's Secret changed directions in 2020, when L Brands sold the company to the Sycamore Partners fund for just over $1 billion (€953 million), in a last-ditch effort to save the brand.
After Raezk resigned, in a last attempt to save its reputation, the company hired the transgender model Valentina Sampaio. It also included Winnie Harlow, a Canadian model with vitiligo, as an angel, and Lorena Durán became the brand's first plus-size model.
Seeking to adapt to changing social norms, in 2021, the company announced partnerships with influential figures in culture and sports: American soccer player Megan Rapinoe, Indian actress Priyanka Chopra, Chinese skier Eileen Gu and plus-size model Paloma Elsesser. It also announced that it would no longer refer to its models as "angels." With that once-unthinkable gesture, Victoria's Secret finally returned to earth.
Sex education: The creator of CLIMAX: 'Good sex is like cooking, but there aren't recipes for female pleasure on the internet' | Society
Our ways of watching television have changed. No longer do we sit down to see what's on TV, instead subscribing to platforms where we can watch our favorite content. But can that formula translate to content beside series, documentaries and movies? Can it be used to change the way we experience sex education? CLIMAX, a platform of sex education videos, is trying it out.
The platform started as an explicit educational series dedicated to female pleasure. Far from pornography, it was particularly directed towards women and sought to give advice and ideas for greater self-knowledge and sexual enjoyment. But that was just the beginning. As Camille Mariau, CLIMAX's director of projects, explains, they are currently working on "a monthly membership platform dedicated to sexual wellbeing. The users will ahve access to periodic new content, ordered by topic (pleasrue for people with vulvas, for those with penises, tantric sex, oral sex, post-partum sex, etc.). We really want to create the perfect guide to help our users deconstruct their ideas about sexuality." Currently, the platform has partnerships with educational and healthcare institutions, in order to bring education about female sexuality to all parts of society.
Laurène Dorléac is an expert in the technology market and co-creator of CLIMAX. "Not only is female pleasure little understood, but I also realized that taboos around the subject are still very present." That's why, despite her lack of experience in the area, she decided to venture into the topic. "Good sex is like cooking: it's a creative process that requires practice, experimentation and care to have a good flavor. There are plenty of recipes and cooking classes, but we can't find anything satisfactory about female pleasure on the Internet! That's what led me to create the platform, so that we can all have access to better sexual education."
The project brought together international studies, advice from psychologists and sexologists and over 100,000 testimonies. "Pleasure is a very serious thing, and it deserves a very rigorous approach," she says.
CLIMAX comes to Spain
While the project was founded in France, currently, 40 percent of its subscribers are outside of the country, largely in the United States and United Kingdom. The team is optimistic about the Spanish market. "The market seems to be ready for a project like this. More than talking about pleasure, we really want people to have easy access to safe information about sexual education," says Camille Mariau. Since the project launched in Spain just a few months ago, most of its users are between 28 and 45 years old, and, surprisingly, they are divided 50/50 between men and women.
To spread the news about the project, they have the help of Teresa Riott, known for her role as Nerea in the Netflix series Valeria, who narrates the videos. "It seems to me like a new idea in education, and it's very necessary in order to better understand all the possibilities of our pleasure. CLIMAX has also had success in other countries. I've learned a lot about female sexuality in the process," the actress explains.
She emphasizes that "they are videos that you can watch alone, in private, and you can experiment," which "gives people confidence to explore their bodies without concerns."
The platform's content is explicit, but tasteful; obvious, but well-presented. It repeats explanations we have read in plenty of books, but which acquire a new dimension when we can see them on a screen: without drawings, diagrams or taboos, simply showing how to stimulate a vulva. The videos are meant to educate, not to excite, and they have no resemblance to porn. The images are accompanied by Riott's voice, which explains each step in a clear and simple way, adding touches of scientific information. It explains not only how to stimulate the vulva, but also how and why the stimulation works.
We've learned that it's much easier to exercise at home, or even to do home improvement projects, with the help of a Youtube tutorial video that shows us each step. So it makes all the sense in the world that we can use tutorials to learn how to excite our bodies, moving step-by-step over each part of our anatomy.
The platform is also notable for its diversity, not only in the appearances of the vulvas on screen, but also in the techniques proposed. It includes videos of 19 different masturbation techniques. In Spain, female masturbation has experienced a revolution in recent years. The brand Lelo, specialized in clitoral suction toys, increased its sales by 440% in 2019. The Satisfyer toy was even more popular: it registered an increase in sales of 1,300% in 2020, to the point that it had to resort to European countries to restock the toys during one of the busiest months of the year. Those toys finally normalized female masturbation. Vibrators themselves have also experienced their own revolution. Their technology and shapes have become more sophisticated, and they have become more effective and discreet. And Gwyneth Paltrow's website Goop now features Viva la Vulva, an "extra-silent" vibrator model that can be used at any time without making any noise. Such devices are proof that manufacturers have taken pains to innovate their products for female pleasure, until recently a forgotten sector. Gone are the old dildos and penis replicas.
Beyond masturbation, with or without the help of toys, the content of CLIMAX "is like an encyclopedia of ideas that you can choose and use to enrich your sexual life. It can help you be more creative, learn moves that women with vulvas might like, etc. It can also be used as a basis to start a conversation with your partner about what you like, what you want to try or not. We want to give people the opportunity to get to know their own body or the body of their partner better," explains Mariau.
To that end, the first two seasons are entirely scientifically based. To develop the content, 74 international scientific studies, widely referenced and accepted by the scientific community, were consulted. "There is one study that I find special: Shere Hite's 'The New Hite Report,' a bestseller that has sold tens of millions of copies, which describes how women feel during different sexual activities and when they orgasm with greater frequency," Mariau says.
In addition to a surge in vibrator sales, women have been consuming more porn than ever in recent years. According to a study by Pornhub on porn consumption in the pandemic, women increased the amount of porn they consumed by 17.5%. Audio porn, one of the latest developments in the industry, is particularly popular among women. And websites for pornographic content aimed at women, taking into account the tastes and aesthetics that female arousal requires, have proliferated in recent years.
Mission: equality in pleasure
The work of Shere Hite is one of the great sources of inspiration for CLIMAX. The late writer and sexologist was especially interested in the female orgasm. She interviewed some 3,500 American women, from prostitutes to former nuns, to create 'The Hite Report: A Nationwide Study of Female Sexuality' in 1976. Among her conclusions stood out two ideas: first, that few women reached orgasm through intercourse (only 30%), although they did through masturbation. Secondly, the clitoris was the key to climax.
CLIMAX is organized into several themes, which are available in different subscription packs: external pleasure (10 episodes), internal pleasure (11 episodes) and tantra exercises (7 episodes).
"Our mission is to equalize pleasure in a world where women report being less satisfied than men in their sexual activities, feeling less pleasure and having fewer orgasms. Education will make it possible," the expert concludes.