'Revolution dwells in the heart': Myanmar's poets cut down by the military | Myanmar
His words captured the unflinching determination of the Myanmar public in the face of military brutality: "They shoot in the head, but they don't know revolution dwells in the heart."
The poet Khet Thi was taken from his home in Shwebo, in the Sagaing region, last Saturday. The next day, his wife collected his body from a hospital. His organs had been removed, she told BBC Burmese.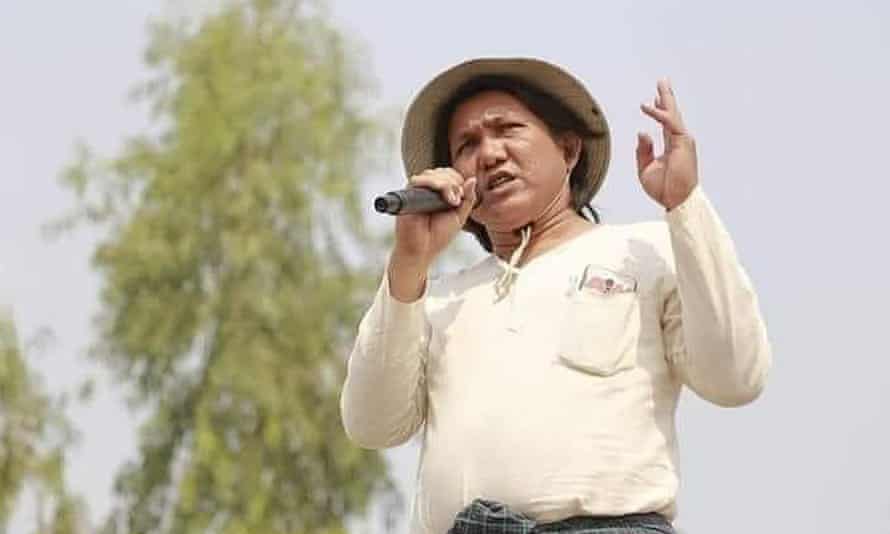 The military has tried to crush any form of dissent over recent months, including writers or celebrities whose words have the power to inspire hope and rebellion.
"Poetry, charisma and courage are a deadly blend against any tyranny," said Ko Ko Thett, a poet, translator and anthologist of contemporary Burmese poetry, who is based in the UK.
At least 32 writers and poets are in detention, according to PEN International, a global association of writers which has been tracking arrests. Others have fallen victim to military violence on the frontlines of rallies. Two poets – K Za Win and Myint Myint Zin – were shot dead when the military opened fire on protesters in March
On Friday, U Sein Win, a poet, politician and philanthropist, was doused in petrol and burned to death in an attack by an unknown perpetrator. He is the fourth poet to be killed in recent months.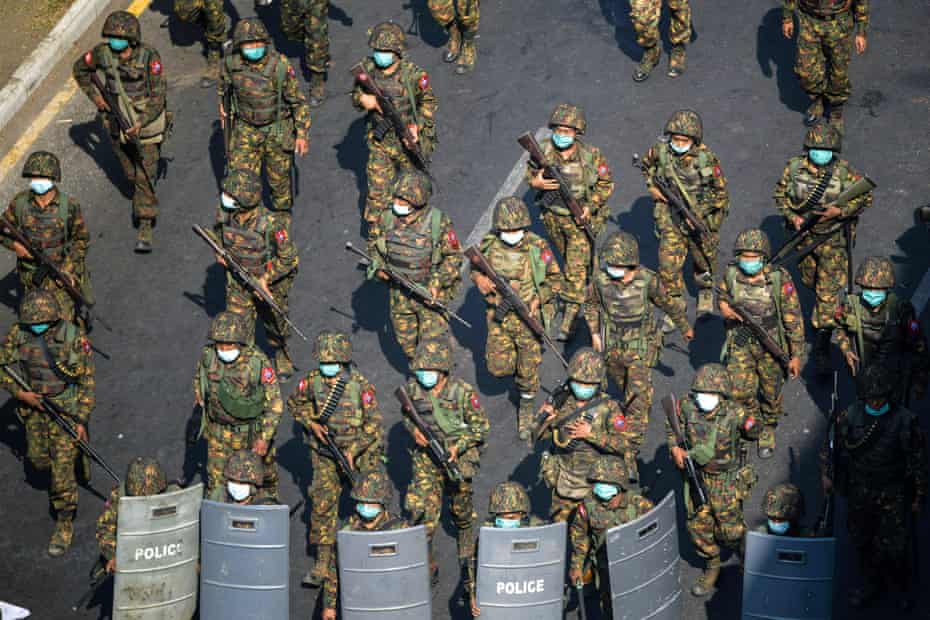 Myanmar's rich poetic heritage is deeply intertwined with politics. Poets used verse to resist British colonial rule, as well as the previous military regime, which censored and imprisoned writers. Poets would meet in tea shops to discuss their works, and use coded language to bypass censorship.
When Aung San Suu Kyi's National League for Democracy was elected to power in 2015's historic election – a breakthrough for democracy after decades of direct military rule – 11 poets were among the candidates who won seats.
Though there were still limitations on expression under Aung San Suu Kyi's government, poets were able to write and publish far more freely.
Khet Thi quit his job as an engineer in 2012 to pursue poetry, selling cakes and ice-creams on the side to support himself. He grew up in Pale township in Monywa, where his parents operated a peanut oil press, and first began writing poetry while at school.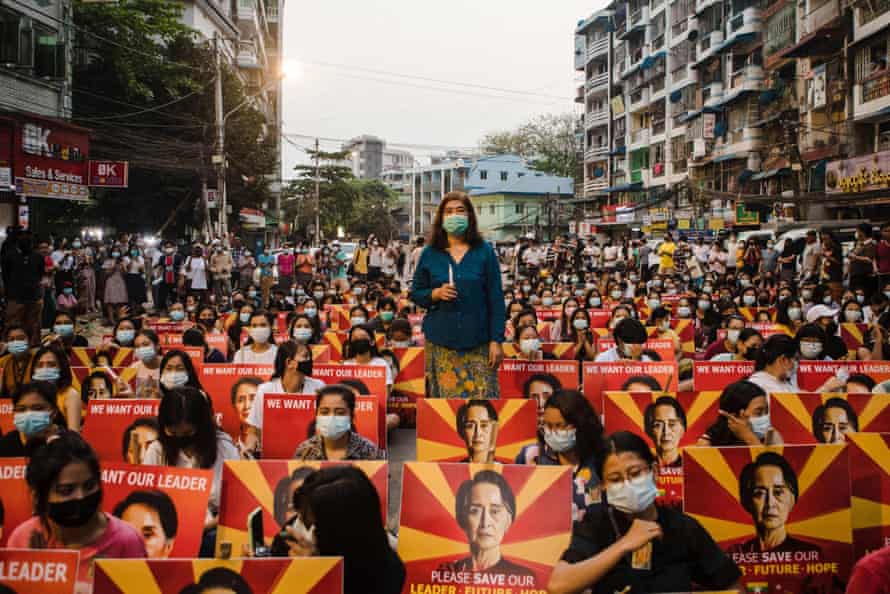 "His poems have always been special and unique because they came from his heart," said a close friend. They had not been able to meet since the coup, and had avoided discussing the political situation on the phone, in case they were being monitored. Many poets were in hiding, fearing arrest, he said.
"Khet Thi's virtue was that he only wanted to be friends with people who see people as people [who do not discriminate]. He was a revolutionary with strong beliefs and someone who never steps back," the friend added.
Khet Thi was possibly the only prominent poet from Myanmar's Bamar majority who wrote about the 2017 Gu Dar Pyin massacre, said Ko Ko Thett. Discussion of such attacks, where hundreds of Rohingya were killed by security forces and buried in mass graves, was highly sensitive.
Before the coup, he would sell printed copies of his books, but over recent months his words were shared mainly on Facebook. He addressed rallies, telling crowds at a march on 27 March that every protester in Myanmar was a Nobel peace prize winner. "Who does the power belong to?" he shouted into a microphone. "The people!" protesters replied.
Though critical of the NLD, K Za Win also appeared at the front line of protests that swept the country in the wake of the coup, defending the party's election victory and right to govern. He grew up in Letpadaung near Monywa, and spoke out about land rights after his family lost their land to a mining project pursued jointly by a Chinese and Myanmar military-backed company.
K Za Win was a Buddhist monk but left the sangha, said Ko Ko Thett, because he believed there was little point in being recognised as a learned monk by the military state.
He spent more than one year in prison after he was arrested for taking part in a rally for education reform in 2015. After his release, he published his most famous work, a collection called My Reply to Ramon.
Prior to his death, K Za Win had written on Facebook: "Though I have different views than you, I'll lay down my life for you all." Myint Myint Zin and K Za Wi were among 38 people killed during crackdowns on protesters on 3 March.
The poets expressed the emotions that were felt by the people, said May, a professor in Japan. "This revolution is led by all of our sheer will power and we need literary people who speak for us."
The Burmese language already has a poetic quality, said Ko Ko Thett. "It features euphonies and rhymes frequently. Most Burmese slogans, by the regime or anti-regime groups, are couplets."
But the verses written by Khet Thi and others are far more than a literary exercise. Security forces have killed 790 people since the coup, according to an advocacy group, including protesters, bystanders and dozens of children. Thousands have been arrested, and are often held in unknown locations. Reports of torture of widespread.
"For many people on the ground in Myanmar, lines such as 'with what grief I will grieve for you, my martyred son' by [the poet] A Phaw Khaing have become daily reality. People who are at a loss for words tend to find answers in poetry," he said.
Many will remember Khet Thi by one of his famous lines, written in response to military violence: "You try so hard to bury us underground, because you don't know that we are the seeds."
Russia's anti-vax campaign backfired, EU says
High numbers of deaths and Covid-vaccine refusals in Russia were linked to the Kremlin's own anti-vaccine propaganda campaign, the EU foreign service said in a report Thursday. "Kremlin media continue spreading lies on Covid-19 and the vaccines, even as the death tolls in Russia are surging," it said, noting 250 anti-vaccination stories on Russian outlet Geopolitica.ru alone. Some 1,035 people a day are now dying of Covid in Russia.
Climate change: Floods, fires, smog: AI delivers images of how climate change could affect your city | USA
The full brunt of the devastating effects of climate change is still a long way off. If we don't experience the impact directly, it's difficult to fully internalize the extreme seriousness of the climate crisis.
That's why a team at the Mila-Quebec Artificial Intelligence Institute, led by Professor Yoshua Bengio, wants to bring it home – right to your doorstep in fact. His team has developed a tool that makes it possible to visualize the effects of floods, wildfires and smog anywhere in the world. Their simulation does this by making use of a generative adversarial network (GAN), a type of machine-learning algorithm. GANs can also produce things such as deepfake images, which are digitally composed of millions of images to create realistic photos of something (or someone) new.
For two years, 30 scientists have worked on the project, which is named after thispersondoesnotexist.com, a website portfolio of deepfake faces. Bengio's version is called "This Climate Does Not Exist." All a user has to do is type in an address or select a marker on Google Street View, and then indicate what kind of catastrophe they want to see: flood, wildfire or smog. The algorithm works its magic and returns the image with the requested effect. These images are not intended to be an accurate portrayal of what would happen at each specific location if no action on climate change is taken, but rather are a recreation of the worst possible effects in the scenario of the user's choice.
The realism is particularly striking in the flooding option, which was the most difficult for Bengio's team to produce. The algorithm takes the location proposed by the user, automatically places a layer of water on it and then adapts it to the environment of the image itself. The result is hyperrealistic.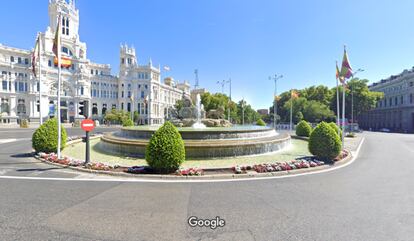 "One of the most important challenges has been getting the algorithm to simulate flooding in a wide variety of images," explains Alex Hernandez-Garcia, one of the project's lead researchers. "One module of the algorithm is in charge of detecting which parts of the image should be covered with water and another module is in charge of generating the water texture by incorporating the context of the image, for example, the reflection of buildings. Finally, these results are combined to generate the final image."
To detect which parts to cover with water and which to leave unscathed, Hernandez-Garcia and his colleagues combined several artificial intelligence (AI) and machine-learning techniques. "We generated a virtual city that allowed us to make a series of images with and without water. We also adjusted an algorithm that was able to make good predictions in that virtual world, detecting the different parts of a scene: the ground, cars, buildings, trees, people and so on," he explained. "However, the algorithm must be able to make good predictions based on real images [those from Google Street View]." For the latter, they used generative adversarial networks.
The process is completed in a few seconds, and before displaying the image to the user some information is provided about the causes and consequences of the selected weather phenomenon, and its relationship to climate change. For example, if a flood is chosen, it indicates that flash floods kill about 5,000 people a year, that sea levels are expected to rise by two meters by the end of the century and that this major disruption to the planet will forever alter the lives of at least one billion people by the end of 2050. "If we do nothing, soon we will face major climate catastrophes," says Professor Bengio, the institute's scientific director. "This website makes the risks of climate change much more real and personal to people," he argues.
Generative adversarial networks
The quality of AI took a giant leap forward about a decade ago with the emergence and consolidation of machine learning and deep learning. These techniques are based on training a machine so that it is capable of performing complex tasks after reaching certain conclusions on its own. For example, if you want the algorithm to distinguish between blueberry muffins and chihuahuas, the programmer will feed it a series of examples of each category, followed by thousands of images that are not pre-sorted. The machine will establish which is which, and when it gets it wrong and is made aware of the error, will refine its criteria.
Bengio won the 2018 Turing Award, considered the Nobel Prize of computer science, along with Geoffrey Hinton and Yann LeCun, for their contribution to the development of neural networks. This is a further step in machine learning that attempts to mimic the functioning of the human brain: applying several simultaneous layers of processing to increase performance. Neural networks are behind the most complex classification systems, such as voice assistants or advanced prediction models.
Generative adversarial networks (GANs) go even further. They were invented at the Mila-Quebec Artificial Intelligence Institute in 2014 and are capable of generating new content that looks faultlessly real to the human eye. GANs are behind the increasingly sophisticated deepfake videos of Tom Cruise or Donald Trump now circulating online, in which politicians or celebrities say or act in whichever way their creator likes. They work thanks to competition between two neural networks: one tries to produce images that are as realistic as possible and the other tries to detect whether they are real or a fabrication. This tension is replicated thousands or millions of times and during this process, the generating network learns to create more and more successful images. When the first network succeeds in fooling the second, we have a winning image. From there, a perfectly rendered image of New York City's Times Square inundated by flooding is just a click away.
The Quebec lab is now using a new type of GAN they have developed to generate the climate change images seen on their website. "In general, the limited availability of images and the need to adapt the algorithm to a multitude of situations have been the main technical challenges we have faced," says Hernandez-Garcia.
Assad regime 'siphons millions in aid' by manipulating Syria's currency | Global development
The Syrian government is siphoning off millions of dollars of foreign aid by forcing UN agencies to use a lower exchange rate, according to new research.
The Central Bank of Syria, which is sanctioned by the UK, US and EU, in effect made $60m (£44m) in 2020 by pocketing $0.51 of every aid dollar sent to Syria, making UN contracts one of the biggest money-making avenues for President Bashar al-Assad and his government, researchers from the Center for Strategic and International Studies (CSIS), the Operations & Policy Center thinktank and the Center for Operational Analysis and Research found.
Hit by new US sanctions and the collapse of the banking system in neighbouring Lebanon, cash-strapped Damascus is relying increasingly on unorthodox methods for raising funds – money either pocketed by officials in Damascus for their own personal wealth, or put towards the 10-year-old war effort.
Researchers analysed hundreds of UN contracts to procure goods and services for people living in government-held areas of Syria, where more than 90% of the population are living in poverty since the Syrian pound, or lira, crashed last year.
While the central bank's official exchange rate has improved this year to SYP2,500 to the US dollar, the black market rate is SYP3,500. Legitimate traders and consumers prefer to use the black market rate, as they receive more Syrian pounds for foreign currency.
Since the UN is forced by the Syrian government to use the official rate, half of foreign aid money exchanged into Syrian pounds in 2020, when the rates were hugely divergent, was lost after being exchanged at the lower, official rate.
"This shows an incredibly systematic way of diverting aid before it even has a chance to be implemented or used on the ground," said Natasha Hall, of the CSIS, a Washington-based thinktank that helped compile the research.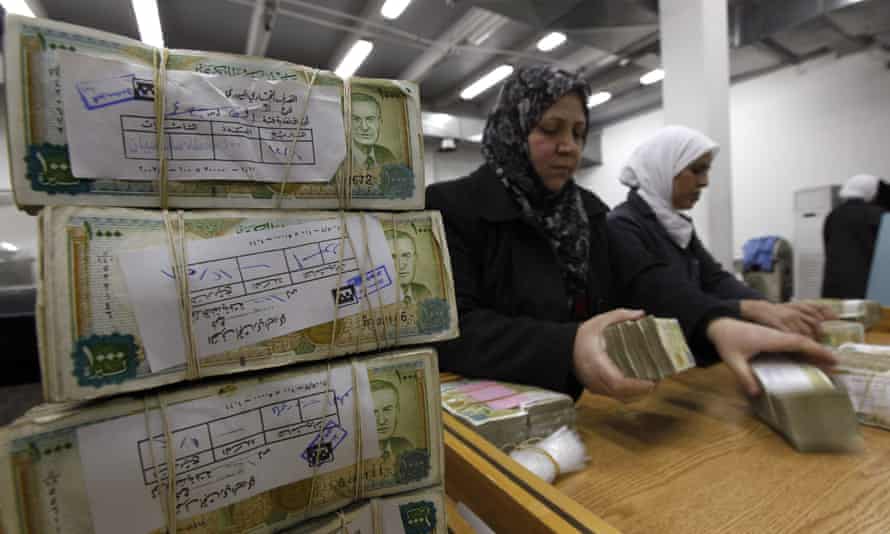 "If the goal of sanctions overall is to deprive the regime of the resources to commit acts of violence against civilians and the goal of humanitarian aid is to reach people in need then we have this instance … where aid is at complete contradiction to those two stated goals."
After 10 years of civil war in Syria, international donor fatigue, already seen in decreasing aid pledges, has turned to more overt political re-engagement with Assad's regime.
Without the US playing a strong role in finding a political solution in Syria, which Washington still publicly advocates, Arab nations – including the US-allied Jordan, the United Arab Emirates, Saudi Arabia and Egypt – have recently restarted diplomatic talks, reopened borders for trade and signalled renewing economic cooperation.
The US allows Damascus to play a major role in funnelling Egyptian gas to Lebanon to power the country's fuel-depleted power plants. Interpol allowed Syria to rejoin its network even as the fate of dissidents captured throughout the war remains unknown.
Examining 779 publicly available procurements for 2019 and 2020, listed on the UN Global Marketplace database, researchers found that up to $100m was lost in the exchange rate.
If salaries, cash-aid programmes and other funding streams not made public were included, the bank could be making hundreds of millions of dollars, according to researchers.
The funding has been channelled through various UN agencies – the Office for the Coordination of Humanitarian Affairs (OCHA); the World Food Programme; the UN Development Programme; the UNHCR; the Food and Agriculture Organisation; and Unicef.
The UN's financial tracking system told the researchers it did not monitor the amount of money exchanged into Syrian pounds as "tracking such information was beyond the scope of their mission".
More than 350,000 people have died in Syria over the past decade, and governments have donated on average $2.5bn a year to the UN's Syria programmes since 2014.
In 2016, the UN was accused of aiding the regime by diverting billions of dollars in aid to government-held regions while leaving besieged areas without food and medicine.
Human Rights Watch (HRW) has warned that UN agencies and governments risked complicity in human rights violations in Syria if they did not ensure transparency and effective oversight.
Last year, the US announced an additional $700m in humanitarian assistance for Syria. The UK government has given £1.59bn in aid to Syria between February 2012 and June 2021.
A Foreign, Commonwealth and Development Office spokesperson said: "The UK does not provide any aid through the Assad regime … Robust processes are in place to ensure that our aid reaches those who need it most."
Hall said there was a "reticence" about investigating how much aid had been diverted. She said donors were well aware of the problem. "I think it is about [them] choosing certain battles to fight. It's just not clear to me that any battles are being fought when it comes to aid in Syrian government-held areas today," she said.
"There's really no way for us, as independent consultants, to know the full extent of how aid is spent inside the country … We just wanted to flag that, even through this limited portal to understanding how much is spent, it's already tens of millions of dollars which is hoarded."
She believes the UN should negotiate a preferential exchange rate with the Syrian government – – to at least reduce the amount siphoned off.
Sara Kayyali, of HRW, said "there was no due diligence in terms of human rights" within UN procurement to avoid bankrolling Syria.
"This should be a wake-up call to the UN … they need to revise the way they provide aid and revise how they consider their obligations to respect human rights in light of this, because it's difficult to justify this idea that hundreds of millions of dollars are going to an abusive state apparatus," she said.
Danielle Moylan, a spokesperson for the UN agencies mentioned, said: "The UN welcomes all independent scrutiny of humanitarian operations in Syria. Our foremost priority has, and always will be, assisting the people in need in Syria, guided by humanitarian principles, accountability to the affected populations, transparency, efficiency and effectiveness.
"The majority of UN's procurement for our humanitarian response in Syria is made in international and regional markets and therefore not affected by the Syrian exchange rate. Otherwise, as is the case in any country, the UN in Syria is required to use the official exchange rate," Moylan said.
"In the past, the UN and humanitarian partners have negotiated a 'preferential' exchange rate for humanitarian operations [and] continues to engage the Central Bank of Syria on the issue of 'preferential' exchange rates."