Putin refuses to talk about military build-up, Ukraine says
Ukraine has accused the Kremlin of ignoring its request for talks between the two countries' presidents over a build-up of Russian troops near its border, but Moscow said its soldiers were on its own territory, unlike US forces in the region, Reuters writes. Kiev and Moscow have traded blame over the worsening situation in the eastern Donbas region, where Ukrainian troops have battled Russian-proxy forces in a conflict since 2014.
UN quizzed over role in prison-like island camp for Rohingya refugees | Global development
The UN's refugee agency (UNHCR) is facing questions over whether it is helping to detain Rohingya refugees in prison-like conditions by providing services on a controversial island camp.
Over the past year, Bangladesh has relocated almost 20,000 refugees to Bhasan Char, an island formed of silt deposits in the Bay of Bengal thought to be vulnerable to cyclones, which the refugees are unable to leave.
About 700 refugees have reportedly attempted to flee the island but Bangladesh hopes that the UNHCR's cooperation will ensure better services for the refugees and is now planning to increase the island's population by 80,000 over the next three months.
Refugees International, a global advocacy organisation, said there were "serious questions" about whether it was safe and possible to move such numbers to the island from the Cox's Bazar refugee camps, which are the world's largest, hosting about 890,000 refugees.
"Most concerning is whether any relocations of Rohingya refugees to the island will be truly voluntary, evidenced by the fact that hundreds of refugees relocated there have already tried to flee," said Daniel Sullivan, Refugees International's senior advocate for human rights.
"As Refugees International has warned in the past, failure to properly assess conditions and inform refugees about the move will result in policies more akin to detention than refuge."
The Geneva-based Global Detention Project tweeted: "In signing a new memorandum of understanding with the Bangladesh government, is the UNHCR assisting in the detention of Rohingya refugees on Bhasan Char island? Are refugees free to move on and off the island? Are they moving there truly voluntarily?"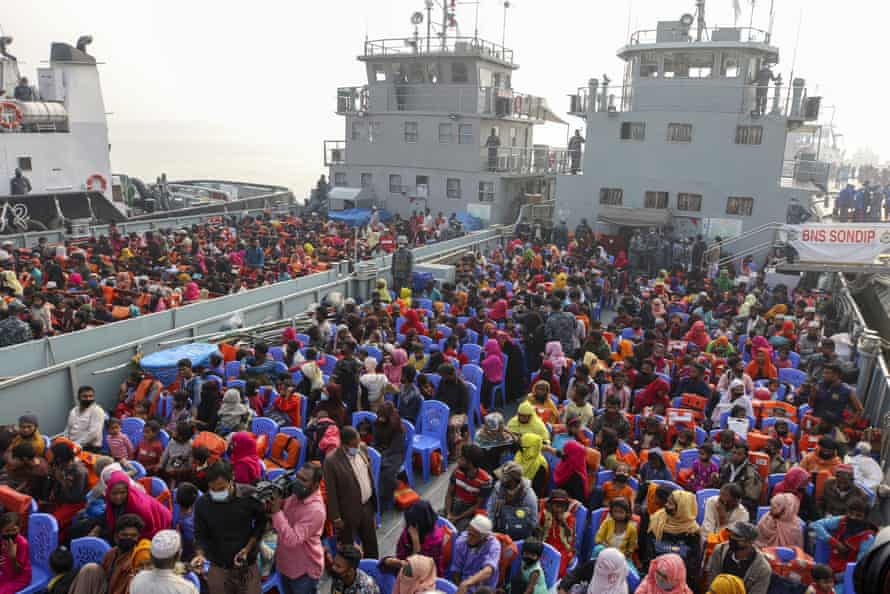 Human Rights Watch reported in June that the government had misled refugees about conditions on the island and that some had been relocated without informed consent. It also reported that, despite promises from the government of good living conditions, they did not have access to work or education and were unable to leave.
In May, during a visit by senior UNHCR officials to inspect the island, thousands of refugees defied orders to remain in their shelters to protest at the living conditions. The UNHCR later said it was "deeply concerned" that refugees were injured during the protest.
A Rohingya teacher living in the Cox's Bazar camps said they opposed the UNHCR's cooperation with the government because they did not believe the island was fit to live on.
"There is not any freedom for the Rohingya people in Bhasan Char. People who have gone there thought life would be comfortable for them, as the government said they would be provided with everything they need," said the teacher, who did not want to be named for fear of repercussions. "There is a lady in Bhasan Char – she sometimes talks with her mother and I heard from her mother that people in Bhasan Char are living as if in prison there.
"At least the government could consider free movement for the people who are in Bhasan Char, so they could travel to see their relatives."
A leaked copy of the agreement offers no guarantee that refugees will be able to move freely to the mainland, Reuters reported on Friday.
Bangladesh has justified relocating refugees to the island by arguing that conditions are better than the overcrowded camps in Cox's Bazar, which have witnessed devastating floods and fires this year.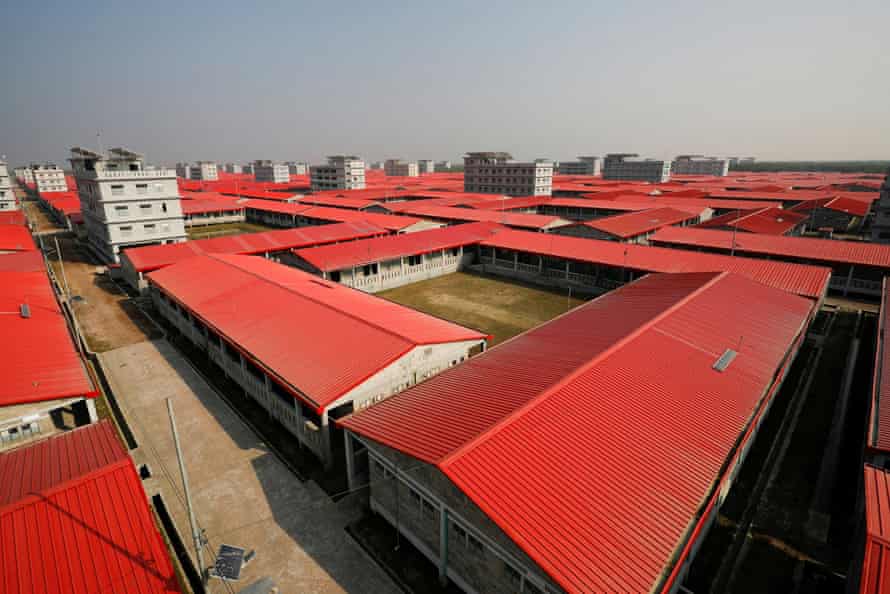 The UN said, after the agreement with the government was announced last weekend, that its presence on Bhasan Char would "help support the refugees to lead decent lives on the island" by ensuring protection, education, healthcare and livelihoods.
Former UNHCR official Jeff Crisp questioned why the agreement between Bangladesh and UNHCR had not been published and whether it failed to ensure freedom of movement for the refugees, which could amount to it becoming a prison island.
He also questioned what the long-term plan was for the island, as little progress had been made towards ensuring the Rohingya can return safely to Myanmar, which several generations of refugees have fled after repeated military operations.
"I don't know what strategy the Bangladeshi government is working on. What is the endgame? Do they assume people can live happily on Bhasan Char?" said Crisp. "They're talking about 80,000 moving in the next three months. Are that number of people going to volunteer to go and, if they do, can you move that many people and give proper attention to settling them properly?"
China's Xi to snub UK climate summit
Chinese prime minister Xi Jinping will not personally attend the 'COP26' climate summit in Scotland, UK prime minister Boris Johnson has been informed, British newspaper The Times reported Thursday. The no-show might mean China would not submit a 'nationally defined contribution' (NDC) on CO2-cuts either, British officials feared. Just half of the world's 'G20' wealthiest countries have filed NDCs so far, amid a supply crunch in oil and gas markets.
'The heaven of film-making': how a Dalit orphan got to tell her own story | Women's rights and gender equality
Belmaya Nepali's life changed for ever when, at 14, she was given a camera.
The British film-maker Sue Carpenter had come to Pokhara, a tourist city in central Nepal, to run a photography project with disadvantaged girls living in an institution. One of those girls was Belmaya.
"When I touched the camera for the first time I was like, 'what is this box?' I was so curious," she says. "Sue taught me how to click pictures. I took hundreds of pictures. I loved it. I thought, I will have better life."
Fifteen years later, the 29-year-old single mother is an award-winning film-maker, with a documentary she co-directed about her life released in cinemas and on-demand from Friday. I am Belmaya charts the past 14 years of Nepali's life. It's a story of poverty and struggle – but also second chances.
Nepali was born into a poor Dalit family (the lowest caste, formerly known as "untouchables") in a remote village in western Nepal. As a Dalit girl, in a patriarchal country facing caste-based and sex discrimination, the odds were already stacked against her. But then both her parents died, when she was nine years old.
"We did not have enough food at home, and no money to buy books, so my brothers sent me to a girls' home in Pokhara," says Nepali.
It was there, in 2006, that she met Carpenter, who co-directed and produced I am Belmaya.
"Belmaya was 14 when we first met. She was one of 20 girls who participated in my photo project and absolutely loved taking photos," says Carpenter. "She was different from the other girls, so feisty and vocal about injustice."
But when Carpenter left the orphanage, Nepali's life fell apart again.
"The behaviour of the orphanage owners was not good. They used to beat us and they did not let us use the camera after Sue left," says Nepali.
When she was 18, with little education and very few job prospects, Nepali says she had no choice but to get married. She gave birth to a daughter a year later.
She discovered her husband was an abusive alcoholic. The family struggled for money and food.
"I had to clean and wash dishes, home to home, while coping as a new mother, just for survival," she says. "Every night he used to come home drunk and beat me, then accused me, saying that my daughter is not from him. That hurt me a lot.
"Those days I often used to think what if I had not got married, and had been given a chance to learn more about cameras?"
Nepali says she felt hopeless.
Then, in 2014, Carpenter met Nepali again. Carpenter, by now a successful film-maker, had co-founded Asha Nepal, an organisation that supports trafficked girls and women in the country.
Carpenter began teaching Nepali about documentary film-making. The pair decided to capture Nepali's life in front of, and behind, the camera. Their footage depicts her struggles for independence in a violent home, while also showing her growing love of film-making.
But her husband did not approve. "The journey to learning film-making was not easy for me. My husband used to accuse me of sleeping with another guy when I was out for training or shooting.
"One night my drunk husband started beating me, saying I am not allowed to use my camera and make films. I could have died that night if I had not called the police," she says.
"However, I did not stop. I kept learning, I kept filming." She left her husband three years ago.
Her perseverance resulted in her first short film, Educate Our Daughters, released in 2017, which highlighted the importance of girls' education. The film won several awards and was selected for seven international film festivals.
"I could not say a word while receiving the award in London but back in my mind I was thinking of thousands of Nepali women like me who do not have any formal education, who got married early and were forced to give birth, then suffered domestic violence, inequality and discrimination," says Nepali. "I wanted to tell this loudly."
I Am Belmaya won best documentary at the UK Asian film festival, an award of excellence at the WRPN Women's International film festival and was nominated for a One World Media award.
"This is not my last film and I'm not going to stop now. I will be making more films on the inequality, injustice and discrimination faced by Nepali women, I will be making more movies on the importance of education on empowerment," says Nepali, who now lives with her nine-year-old daughter.
"My daughter studies in grade 3 now and I feel more proud seeing her going to school, where I did not get a chance, and I'm more proud being able to send her to school.
"My biggest achievement is I feel I've succeeded in making it to the heaven of film-making from the hell of poverty and abusive marriage."