Putin, Macron, Merkel Touch Upon Prospects for Registration of Sputnik V in EU, Kremlin Says
The Dolomites: Rescuers search for missing climbers after deadly glacier collapse in Italian Alps | International
At least six people are dead and eight injured after a glacier collapsed in the Italian Alps on Sunday. The collapse has been blamed on the heatwave gripping Italy, with the warm weather loosening the glacier and causing an avalanche of ice, rock and snow.
Michela Canova, an emergency services spokesperson, told AFP that the avalanche "hit an access path at a time when there were several roped parties, some of whom were swept away." She said the number of injured "remained a provisional count," as rescuers continue to search for as many as 15 climbers who could be missing. "The total number of climbers involved is not yet known," she said. According to Canova, the eight injured climbers have all been transferred to hospital – five to Trento, two to Belluno and one to Treviso.
Four victims were identified on Monday, three of them Italian, including two alpine guides, and another from the Czech Republic, news agency AGI reported, citing rescuers.
The glacier collapsed on the mountain of Marmolada, the highest in the Dolomites, in the eastern Alps, where record high temperatures of 10 degrees Celsius had recently been recorded at an altitude of more than 3,300 meters (10,000 ft).
The situation has caused panic among hikers in the area. According to Italy's rescue services, 18 people have been evacuated from the summit of Punta Rocca and all hikers at the lowest part of the summit have returned to their place of origin. Reinhold Messner, the first climber to ascend all 14 peaks over 8,000 meters (26,000 ft) above sea level, blamed the tragedy on global warming. "The ice is getting thinner and thinner, and when it falls, pieces break off like skyscrapers," he said. "Avalanches have always happened, but in the 1960s the danger of them happening was much, much less. Unfortunately, the mountain is also suffering from the pollution of big cities."
Glaciers and climate change
The Marmolada is the largest glacier in the Dolomites mountain chain and is expected to disappear in 25 to 30 years, or even sooner, if temperatures continue to rise, according to Italy's National Research Council (CNR). The glacier lost 30% of its volume and 22% of its extension between 2004 and 2015, according to a study by CNR's Institute of Marine Sciences, in collaboration with several universities.
And the Marmolada glacier is not the only one at risk in Italy. In September 2019, the front of the Planpincieux glacier on the Mont Blanc peak in the Alps began to break loose, putting the populations of the nearby Courmayeur valley on alert. On September 25, 2019, Giuseppe Conte, then Italian prime minister, spoke about the glacier at a UN Assembly and called for action to prevent its disappearance.
Antonio Fosson, the regional head of Italy's Aosta Valley, which is home to Mont Blanc, has also called for action. He invited all authorities in the country to visit the region and see first hand the effects of global warming. "The Aosta Valley is a laboratory of climate change," he said. The scientific community welcomed the move, but there was little response from the international community.
The crisis facing Mont Blanc and the surrounding mountains is not new. The first warning signs were seen in the mid-19th century, when the Planpincieux and Rochefort glaciers – which were once joined – started to separate due to rising temperatures. If the average temperature continues to rise, the glaciers will continue to retreat and form at higher elevations, where it is colder. Other glaciers in the area, such as the Seracco Whymper and the Gran Croux, face the same risk.
'Cancer care can't stop': flood-hit Assam hospital uses boats to reach patients | Global development
When the flood water roared into her home in Assam, Jyoti Bora* saw the morphine pills she takes for head and neck cancer swept away along with all her belongings. At the relief camp she was evacuated to, Bora, who uses a wheelchair, found a boat to take her to the hospital to get more medication.
But when she got to Cacher cancer hospital and research centre she found the entrance flooded – the water was 1.5 metres high. A hospital orderly and a nurse were dispatched in a raft, made from planks of plywood tied to tyre inner tubes, to collect her.
"Initially, she refused to get on. She was very frightened. As it is she is frail. But she knew she could not manage without her morphine injection," says her doctor, surgical oncologist and deputy director of Cacher, Ritesh Tapkire. "That's how our outpatients have been coming for radiation, chemotherapy and pain relief for the past week."
About 5 million people in Assam, in India's north-east, have been affected by the worst floods in decades, which began in April and show little significant signs of easing. Entire villages have been submerged. More than 114,000 hectares (280,000 acres) of crops have been damaged and 5,000 livestock washed away. The army and relief workers are providing food, medicines and drinking water to 780 camps for those displaced by the flooding.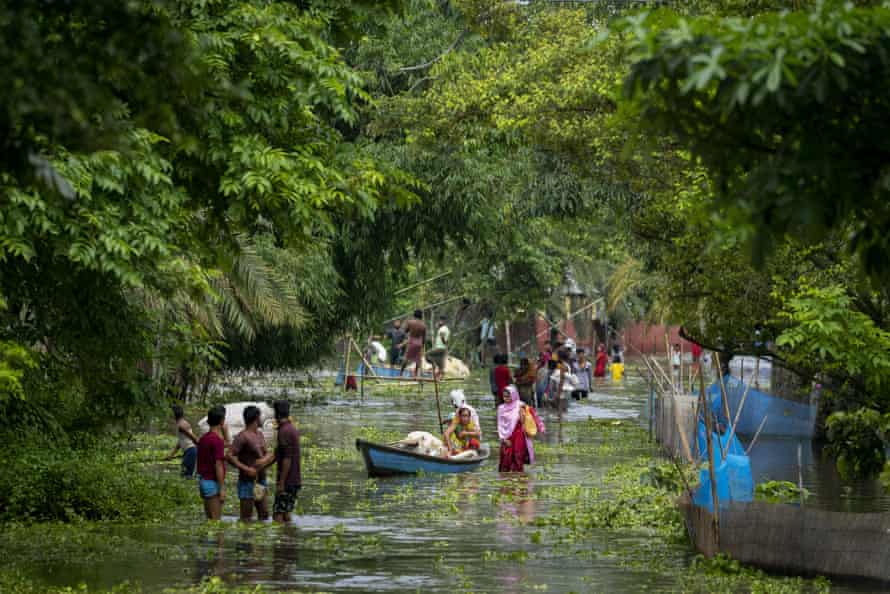 Cacher hospital, which has 150 beds and treats 20,000 patients a year, got off fairly lightly. One building was flooded at the end of June, along with the nurses' hostel, but the wards were spared as they are built on higher ground. Radiation and chemotherapy have continued for the 100 patients admitted to the hospital, although a lack of anaesthesia meant only four operations were carried out in a week, instead of the usual 20.
Since the floods, the big issue for staff has been ensuring patients continue receiving treatment. People travel to Cacher hospital from all over the state. It is run by a non-profit and most patients are on low incomes and receive free or subsidised treatment. The north-east of India is known as the "cancer capital" of the country, and cases are double the national average. Lifestyle is a big factor – high consumption of alcohol, betel nut and tobacco – combined with low awareness of symptoms, late detection and a lack of oncologists and facilities to diagnose and treat cases.
Cacher staff have been calling patients who have not kept appointments to check they have enough medication. They have also got into boats to collect people from their homes and bring them to the hospital, and made rafts to take them inside. They have also set up a makeshift outpatient department (OPD) on a patch of dry land outside the hospital to give out basic medicines and pain killers. Morphine injections given here too, in the middle of swirling flood waters, for patients too scared of the raft ride into the hospital.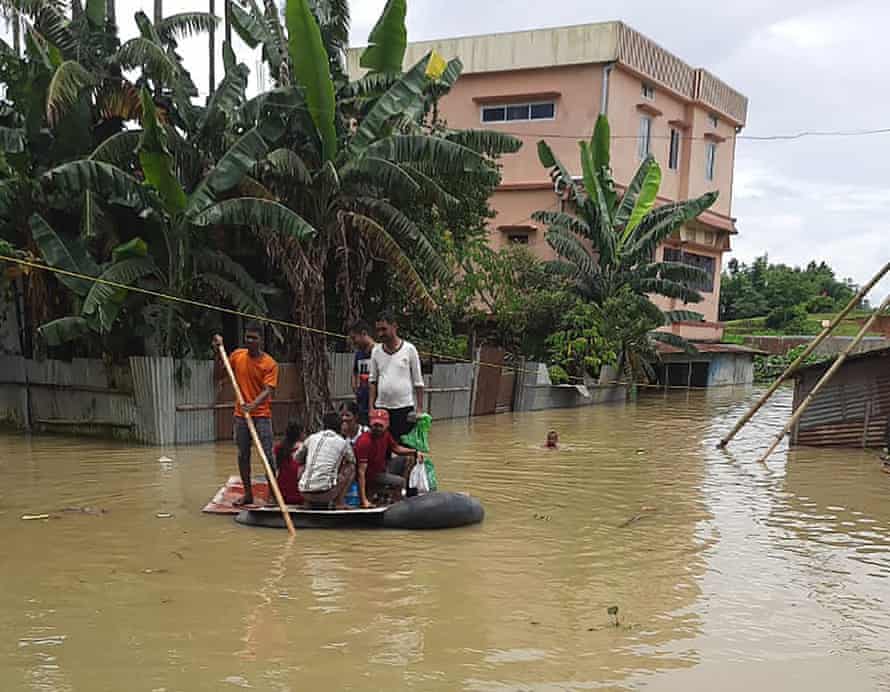 "A patient with multiple myeloma came for her chemotherapy session and she refused to get on to the raft. She was petrified. Fortunately, her chemotherapy was only one hour long, did not need close monitoring or have side-effects, so after checking her vitals, we administered it on the dry patch," says Tapkire.
Last Monday, the niece of an elderly woman with metastatic breast cancer called the hospital in tears, asking for help. The hospital director, Dr Ravi Kannan, dispatched a team from the hospital to collect her. The woman had to be lowered from the second floor of her home, where she and her family had sought safety, into a boat and taken to the hospital.
The State Disaster Response Force has now given the hospital inflatable boats and rafts to make ferrying patients to and from the hospital a little easier.
Kannan is worried people are missing out on treatment. On a normal day, the OPD has between 150 and 200 patients. In the past week, it has seen only 40 people. "We need to reach out to every patient who has not been able to come. Cancer care cannot be interrupted. It bothers us no end," he says.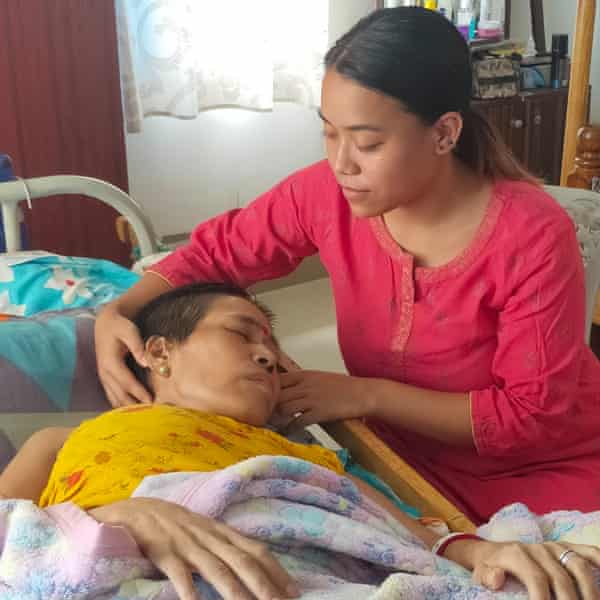 Ranjita Singha, 60, who has cervical cancer, ran out of morphine and was unable to reach the hospital. Her daughter, Babita Singha, is her main carer.
"When the doctor called, I told them that my mother had only one pill left. They arrived here by boat to give me more pills and also gave her a morphine injection for immediate relief," says Babita.
The woman with metastatic breast cancer who was rescued from the second floor of her home died the next day. Kannan says he wondered if bringing her to the hospital was the wrong decision. Until he received a note from her niece.
"For days they had sat by her, dreading her dying, surrounded by water, in the dark in the middle of the night. By bringing her to hospital, where she had light and medical care; the niece said we had spared the family the agony of living with such a painful memory," says Kannan.
* Name changed
Sign up for a different view with our Global Dispatch newsletter – a roundup of our top stories from around the world, recommended reads, and thoughts from our team on key development and human rights issues, delivered to your inbox every two weeks:
Eduardo Zapateiro: Colombian army chief resigns to avoid appearing beside president-elect Petro at inauguration | International
General Eduardo Zapateiro, the commander of the Colombian army, resigned on Tuesday to avoid appearing beside president-elect Gustavo Petro at his inauguration on August 7. "After 40 years in service, I bid farewell to the Colombian people, giving my heartfelt thanks to all my soldiers," he announced.
Zapateiro, who comes from the hardline wing of the armed forces, has been a vocal opponent of the leftist leader. During the presidential election campaign, the army commander controversially spoke out against Petro on Twitter – a move that was condemned as unconstitutional. Incumbent President Iván Duque, however, defended Zapateiro, arguing that the general was sharing his point of view – not taking a political stand.
Zapateiro announced his retirement just one day after Petro told EL PAÍS that he planned to change the leadership of the armed forces. "This leadership was deeply imbued by the political line of the executive [of Iván Duque] now reaching the end of its term. But this path is unsustainable and turns our security forces into a victim, as they have been led to perpetrate grotesque violations of human rights. What we are proposing will make our security forces democratically stronger," he said in the interview.
The Colombian general has often raised eyebrows with his behavior. Following the death of Jhon "Popeye" Jairo Velásquez, a henchman for drug lord Pablo Escobar who had killed dozens of people, Zapateiro sent his condolences to his family and said he was saddened by his loss. To this day, no one has explained why the general made these statements.
In Colombia, the government and the military have a complex relationship. The country has fought for decades against guerrilla groups such as the Revolutionary Armed Forces of Colombia (FARC) and the National Liberation Army (ELN). The ongoing armed struggle placed the military in a position of great power. Indeed until the 1990s, the armed forces controlled the Defense Ministry. As in many other countries, the Colombian armed forces are a conservative group that is highly suspicious of leftist ideas. The peace agreement, for example, that ended five decades of conflict with the FARC, divided Colombia's troops. Zapateiro initially supported the accords, but over time, became an outspoken critic.
What kind of relationship Petro will form with the military remains to be seen. As a politician, he has been very critical of the army's focus on targeting internal enemies. The Colombian armed forces have been fighting against guerrilla groups and drug gangs for decades. During this conflict, they have often overstepped their bounds and violated human rights.
In the early 2000s, a scandal broke in Colombia when it was revealed that military officers were carrying out summary executions of innocent civilians and listing them as guerrillas killed in combat. These so-called "false positives" took place in different regions of the country between 2002 and 2008 and were used as proof of performance by military units and to collect "kill fees" awarded by the government of former president Álvaro Uribe. A total of 6,402 innocent people are estimated to have been killed in these summary executions. Just a few months ago, several civilians also died in suspicious circumstances during an army operation in Putumayo.
With Petro elected as Colombia's first leftist president in modern history, it was no longer tenable to have Zapeteiro leading the armed forces. The Colombian newspaper El Espectador published an editorial to that effect, with the headline: "Isn't it time to retire, General Zapateiro?"
Petro aims to tackle corruption within the army, which he believes is home to extremist factions. "There are currents in the far right that must be eliminated. Some are talking openly about coups and things like that. But look, within the army there are no factions friendly to Petro, there are factions friendly to the Constitution," Petro told EL PAÍS.