Pegasus spyware 'targeted Macron and Michel'
Moroccan intelligence agencies targeted French president Emmanuel Macron with the Israeli-made spyware software Pegasus, according to Le Monde newspaper. Although targeted, it remains unclear if his phone was compromised by the software. They also reportedly went after EU Council president Charles Michel, when he was prime minister of Belgium.
'Huge spike' in global conflict caused record number of displacements in 2021 | Global development
Conflict and violence forced people from their homes a record number of times last year, a report has found, with sub-Saharan Africa bearing the brunt of mass internal displacement caused by "huge spikes" in fighting.
People fleeing violence were internally displaced 14.4m times in 2021, an increase of 4.6m on 2020, according to figures published by the Norwegian Refugee Council's Internal Displacement Monitoring Centre (IDMC).
Most of those displacements – 11.6m, or 80% of the total – took place in sub-Saharan African countries, with the war in northern Ethiopia dwarfing other conflicts in terms of the number of times people were forced from their homes.
Alexandra Bilak, IDMC director, said the geographic concentration of the conflict-related displacement across sub-Saharan Africa, from the Sahel to east Africa, was a huge concern. "These are, of course, countries that have experienced long histories of conflict, but what these numbers show is that the conflicts are far from having been resolved," she said.
"So on top of protracted crises, you get new waves of violence every year. In Ethiopia and Burkina Faso, we're talking huge spikes of new violence that have led to incredibly large numbers being displaced and, at least for now, very little prospect for returns."
New flare-ups of violence often collided with climate pressures such as drought or flooding, and resulting food insecurity, making it even harder for countries to give internally displaced people (IDPs) the help they needed, she said.
"There's absolutely no window during which some kind of stabilisation could happen, and some degree of return or sustainable local integration. These constant shocks to the system mean that the numbers keep increasing."
According to the report, there were 59.1 million IDPs globally in 2021, a cumulative figure, which has grown steadily since the IDMC began documenting in 2003. Every year more displacement is caused by natural disasters than conflict, but last year the number of forced movements due to disasters such as such as storms, floods and volcanic eruptions – 23.7 million – was down considerably on 2020.
The number of times people were forced from their homes by violence was of particular concern to the IDMC. As the report deals with 2021, the figures do not include the huge humanitarian fallout from the Russian invasion of Ukraine, where more than 7 million people are thought to be internally displaced.
The only place to rival that scale of displacement was Ethiopia, where conflict – chiefly war between government forces and Tigrayan rebels in the north of the country – triggered 5.1m internal displacements. Until the invasion of Ukraine, that was the highest annual figure ever recorded for a single country.
The Democratic Republic of the Congo (DRC), which saw 2.7m displacements due to conflict, and Afghanistan, where the Taliban toppled Ashraf Ghani's government, also registered all-time highs. The volatile situation in Myanmar, where the military staged a bloody coup, helped triple the overall figure for east Asia compared with the previous year.
With more than half the global IDP population under 25, and about 25 million under 18, the IDMC called for more targeted interventions to protect children and young people from the particular dangers they face. "The financial difficulties IDPs tend to face may force children to engage in dangerous income-generating activities, including crime, transactional sex or joining armed groups," the report notes. "Strengthening child protection systems that consider these risks is essential."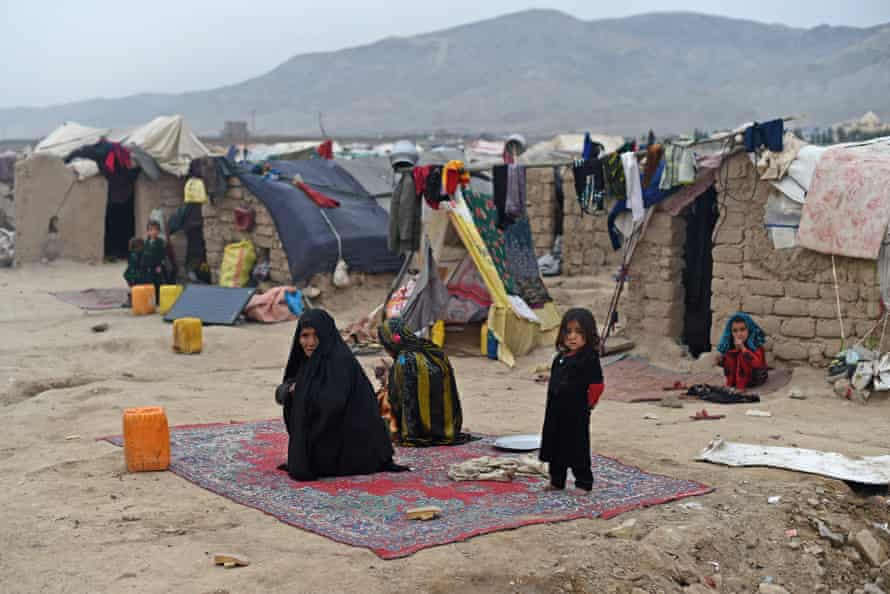 Displaced girls and boys, it adds, confront different risks, with girls at greater risk of sexual violence and child marriage, and boys of recruitment by fighters.
Bilak hoped the report would raise awareness of the worsening plight of IDPs, which historically had received "much less attention" from governments and policymakers than that of refugees or migrants. "This is, first and foremost, a call for acknowledgment of the scale … and the urgency of the issue," she said.
Faced with the stark increase in conflict-related displacement, she added, the IDMC urged greater investment in peace-building, "and in preventing those conflicts from happening in the first place".
Andrés Manuel López Obrador: Mexican president downplays tensions with US over Americas summit | International
Mexican President Andrés Manuel López Obrador sought on Tuesday to downplay the tensions that have risen with the United States over the upcoming Summit of the Americas in Los Angeles. The leftist leader has said he would skip the summit and send a representative instead, if Cuba, Venezuela and Nicaragua were excluded from the meeting. But he argued on Tuesday that this position is not going to harm bilateral relations with the US. "One shouldn't think that, if, in this case, we don't agree on the summit, there is going to be any break [in relations]. That is not going to happen under any circumstance," he said at his morning press conference.
A US delegation was set to arrive in Mexico on Wednesday to discuss the upcoming summit, which will be held from June 6 to 10. The delegation, led by Senator Christopher Dodd, seeks to ensure that López Obrador will participate in the regional meeting. Ahead of the visit, the US ambassador to Mexico, Ken Salazar, said on Monday that "it is very important that Mexico participates" in the summit. If López Obrador boycotts the event, Foreign Minister Marcelo Ebrard will attend in his place.
The White House has not yet made a decision about whether to invite Cuba, Venezuela and Nicaragua, but Assistant Secretary for Western Hemisphere Affairs Brian Nichols told EL PAÍS that the US government is currently leaning toward excluding "countries that disrespect democracy."
López Obrador supported his position to skip the meeting by invoking the Mexican Constitution, which enshrines the principle of non-intervention in foreign policy. "We have to stick to the principles of our foreign policy, of non-intervention and self-determination of the people, and we believe that no one should be excluded and that the independence and sovereignty of the peoples must be asserted," he said on Tuesday. However, by actively supporting Havana, the government has shaken up regional policy and created a separate bloc with countries such as Bolivia, Chile and Argentina, which also want all countries to be included in the summit.
While maintaining his position, the Mexican president was also at pains to highlight Mexico's strong relationship with the US administration of President Joe Biden. "There is a very good relationship. And we are working in a coordinated manner in economic, trade, and of course migration and security matters," he said. "Independently of how it is resolved, we are always going to have a relationship with the US that is based on respect and friendship, and even more so with the people of the United States. The US government has treated us with respect and we also have a lot of respect and admiration for the American people."
Since Biden's arrival at the White House in January 2021, the two leaders have been in frequent contact. While they have had disagreements on issues such as security, migration and energy policy, both want to address the bilateral agenda through negotiation, which marks a change from the threats and intimidation that characterized the Trump administration.
Learn lessons of Rwandan genocide and act now to stop Ethiopian war, UN urged | Global development
African civil society groups have accused the United Nations of inaction over atrocities in Ethiopia, warning in a letter that it had not learned the lessons of the 1994 Rwanda genocide and that the "situation risks repeating itself in Ethiopia today".
Tens of thousands of people are thought to have been killed and millions more displaced since war broke out between Ethiopia's federal government and the Tigray People's Liberation Front (TPLF), the ruling party of the country's northern region, in November 2020.
All of the parties in the war have been accused of crimes including arbitrary killings, mass rape and torture, while ethnic Tigrayans across the country have been subject to mass arrests amid a spike in hate speech, which has seen the prime minister, Abiy Ahmed, refer to the Tigrayan rebels as "weeds" and "cancer".
In the letter to the UN secretary general, António Guterres, 12 African civil society groups including the Kampala-based Atrocities Watch Africa, the Institute for Human Rights and Development in Africa and Nigeria's Centre for Democracy and Development called on him to "provide leadership in ending the ongoing war in Ethiopia".
"Twenty-eight years ago, the security council similarly failed to recognise the warning signs of genocide in Rwanda or act to stop it," the signatories said, adding: "We are concerned that the situation is repeating itself in Ethiopia today. We call on you to learn the lessons from Rwanda and act now."
In November 2021, the UN security council issued a statement expressing concern over the fighting, but it has yet to take any concrete steps towards resolving the conflict.
Last month, a report by Amnesty International and Human Rights Watch accused forces from the Amhara region of waging a campaign of ethnic cleansing against Tigrayans "with the acquiescence and possible participation of Ethiopian federal forces".
Dismas Nkunda, head of Atrocities Watch Africa, said: "With reports of ethnic cleansing coming out of western Tigray, there is real reason for concern that some of these crimes reach the level of genocide, and it's essential that the United Nations grasp the seriousness of the current situation and respond accordingly."
The UN human rights council has appointed a team to investigate abuses committed during the conflict, although the government has vowed not to cooperate.
Tigray has been largely cut off from the rest of Ethiopia since the fighting began, with transport and communications links cut. About 90% of the region's 5.75 million population are in need of aid, and the region's health bureau estimates that at least 1,900 children under the age of five died of starvation in the past year.
In March, the government unilaterally declared a "humanitarian truce" to allow supplies to reach the region, but only a handful of aid trucks have arrived since then.
The letter urges the UN security council to press for "immediate and unimpeded humanitarian access [to Tigray]" and "impose an arms embargo on all parties to the conflict".
The signatories also call for deployment of an international peacekeeping force led by the African Union, which has its headquarters in the Ethiopian capital, Addis Ababa.
"Such action will be vital to assisting the Ethiopian men, women and children who have been suffering both direct hostilities, associated human rights violations and obstructed humanitarian aid," they said.