Oxygen shortages threaten 'total collapse' of dozens of health systems | Global development
Dozens of countries are facing severe oxygen shortages because of surging Covid-19 cases, threatening the "total collapse" of health systems.
The Bureau of Investigative Journalism analysed data provided by the Every Breath Counts Coalition, the NGO Path and the Clinton Health Access Initiative (CHAI) to find the countries most at risk of running out of oxygen. It also studied data on global vaccination rates.
Nineteen countries around the world – including India, Argentina, Iran, Nepal, the Philippines, Malaysia, Pakistan, Argentina, Costa Rica, Ecuador and South Africa – are deemed most at risk after recording huge increases in demand since March – at least a 20% rise – while having vaccinated less than 20% of their populations.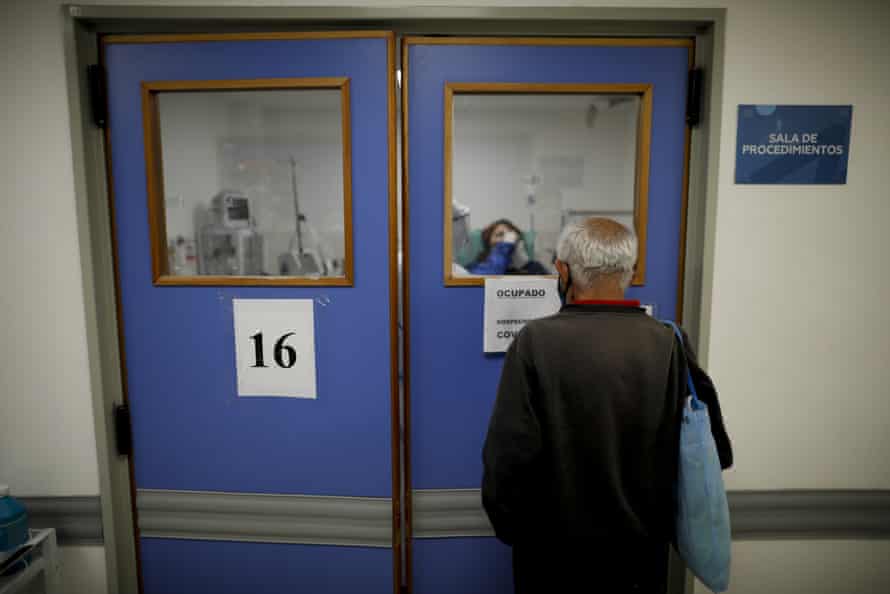 There are concerns that other Asian countries like Laos are at risk, and African countries including Nigeria, Ethiopia, Malawi and Zimbabwe, which have less mature oxygen delivery systems, meaning a small increase in need could create big problems.
Many of these countries faced oxygen shortages before the pandemic, said Leith Greenslade, coordinator of the Every Breath Counts Coalition. The extra need is pushing health systems to the brink.
"The situation last year, and again in January this year in Brazil and Peru, should have been the wake up call," she said. "But the world did not wake up. We should have known India would happen after seeing what happened in Latin America. And now looking at Asia, we should know this will happen in some of the big cities in Africa."
Robert Matiru, who chairs the Covid-19 Oxygen Emergency Taskforce, told the bureau: "We could see the total collapse of health systems, especially in countries with very fragile systems."
Hospitals in India have reported significant shortages of oxygen as the country battles its second wave. By the middle of May, India needed an extra 15.5m cubic metres of oxygen a day just for Covid-19 patients, more than 14 times what it needed in March, according to the bureau's analysis.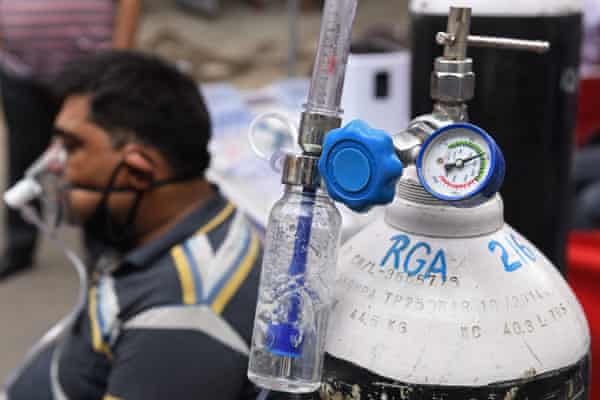 In response, India has banned all exports of liquid and cylinder oxygen.
But experts are worried about India's neighbours – Pakistan, Nepal, Bangladesh, Sri Lanka and Myanmar – some of which rely on Indian-made oxygen and equipment.
"You'd imagine if they start to see peaks of the same degree, then it could be even worse, because India needs all the supply," said Zachary Katz, vice-president of essential medicines at CHAI.
The bureau's data shows that Nepal now needs more than 100 times as much oxygen as it did in March.
Demand for oxygen in Sri Lanka has risen sevenfold since mid-March. In Pakistan, which is suffering its third wave of cases, almost 60% more patients are on oxygen in hospital than during the country's previous peak last summer, according to a government minister, who warned in late April that pressure on the oxygen supply was reaching dangerous levels.
"The mood is extremely grim," says Dr Fyezah Jehan, a doctor in Karachi. "I think we are very scared of an India-like situation. We're hoping that some magic happens, and this [current] lockdown can prevent a new onslaught of cases."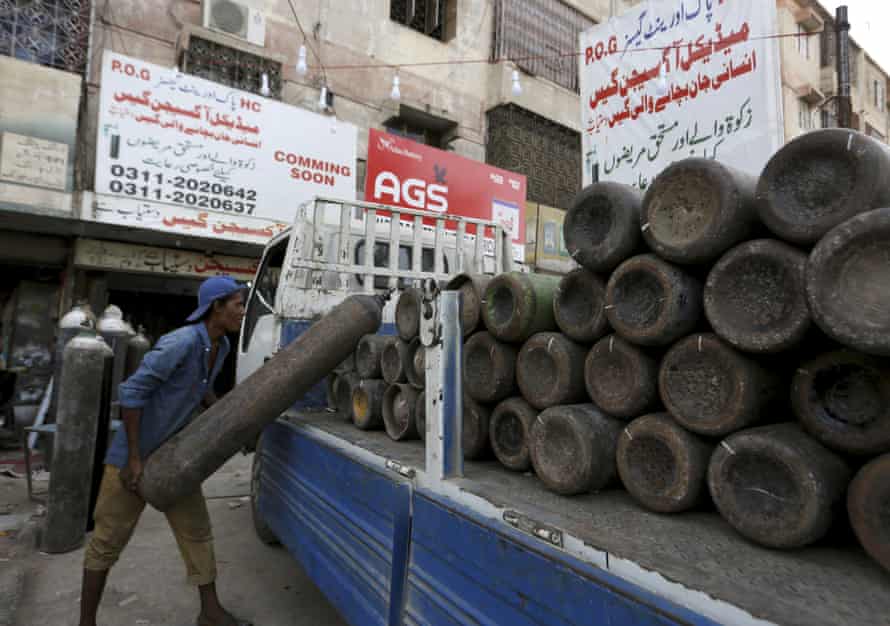 "Rapidly rising need for oxygen puts pressure on the health system, which it can't meet, and we see patient deaths," said Greenslade. "And that will keep happening week after week, month after month, if the vaccine rollout is slow, because at this point, in many of these countries, it's only increases in vaccine coverage that will bend the curve on transmission."
The health systems of many poorer countries "could not be more ill-prepared", Greenslade said. "From the head of state, the health minister, the finance minister … these countries haven't prioritised oxygen as an essential medicine. As we see in India, many, many people have died and continue to die every day for lack of oxygen."
Several countries have demanded that companies which produce liquid oxygen divert products from their industrial clients to hospitals. Medical oxygen makes up just 1% of global liquid oxygen production.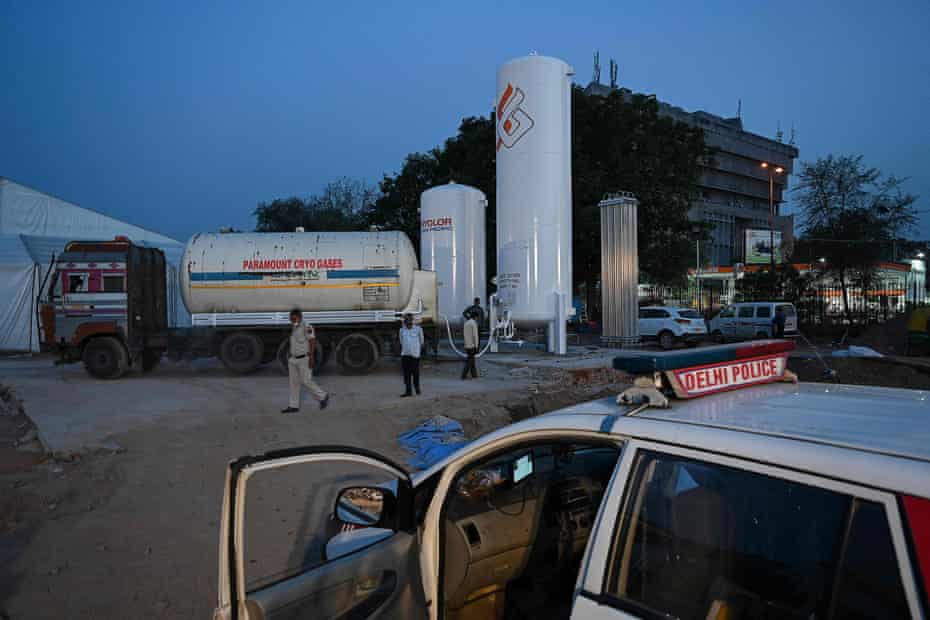 However, data from Gasworld Business Intelligence, which analyses the global industrial gases market, shows that many of the countries most in need would still see shortages even if all local oxygen production was diverted to hospitals.
In Iraq, gas companies can produce about 64,000 cubic metres of liquid oxygen a day, a third of what the country's Covid-19 patients need. In Colombia, the industry can only provide 450,000 cubic metres a day, less than two-thirds of what is needed.
In Peru, gas companies can only reach 80% of the oxygen it needs if all oxygen was diverted to healthcare. "Currently, Peru is registering a drop in [Covid] cases," said Dr Jesús Valverde Huamán, who works in an ICU in Lima. "However, we are still in need of medical oxygen, especially for hospitals." It has been a constant struggle to find enough oxygen for patients, he said, apart from a short stretch in November and December last year, when cases dipped.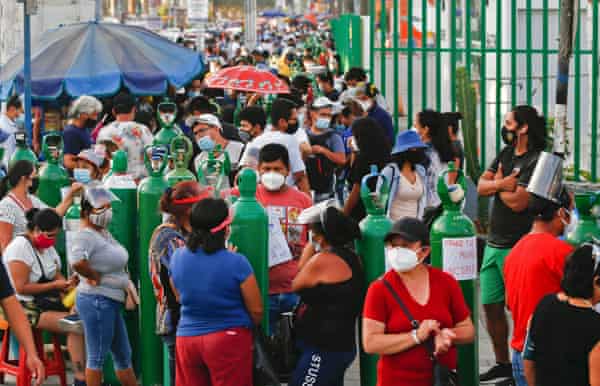 Greenslade said: "We have to ask a very critical question: why such an essential resource as oxygen is locked up in mining, steel, oil and gas when the poor public hospital system can't provide enough to keep babies, adults and the elderly alive.
"These countries have to take a good look at how they're investing in medical oxygen in the health system. If oxygen capacity is there for mining companies to extract, the capacity must be there for the health system to save lives."
While liquid oxygen is a major source for medics in many countries, it does not account for all of the supply. Hospitals can also obtain oxygen from on-site factories that turn ambient air into oxygen, and from portable concentrator machines.
The World Health Organization, Unicef, the World Bank and other donors and NGOs have shipped hundreds of thousands of concentrators to countries to help them deal with rises in oxygen needs, but manufacturers are running short of parts.
The World Bank has warned that many countries have not applied for emergency loans available to help them upgrade oxygen systems. Last year the World Bank made $160bn (£113bn) available for countries to prepare for Covid-19 and added an additional $12bn this month. The cash can be used to import oxygen or shore up production.
Unitaid and Wellcome have donated $20m in emergency funding for oxygen in low-income countries. The Global Fund has also made $13.7bn in grants available for countries to use on Covid-19 response programmes, including to buy oxygen concentrators and build public oxygen plants.
Campaigners want emergency, fast-tracked funding for oxygen supplies anywhere in the world.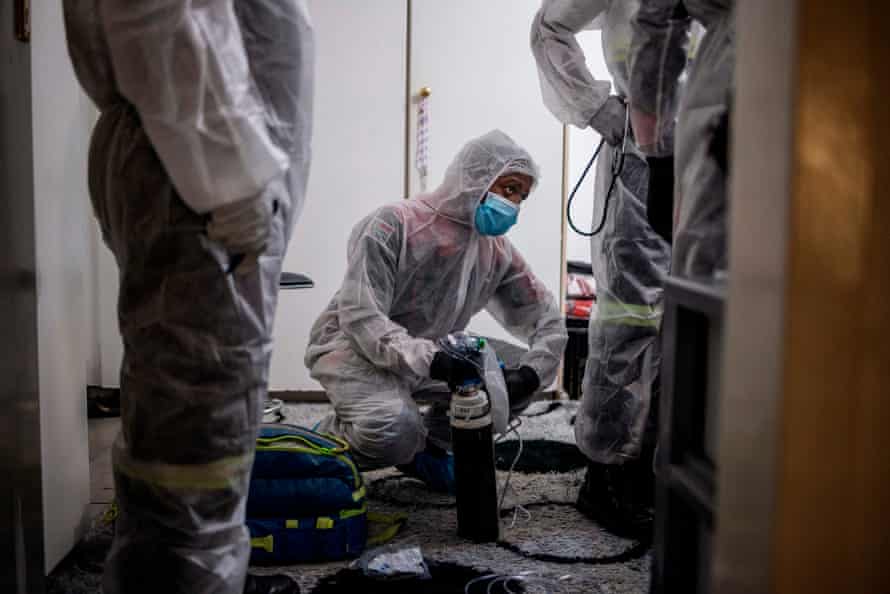 But Mickey Chopra, a senior official at the World Bank, said countries had applied for loans for ventilators and PPE but not for oxygen supplies. "The variants and the sudden spikes that we've seen now have caught people by surprise, to a large extent, and the weakest point in the system has turned out to be the oxygen supply system."
Looking ahead, Greenslade would like to see governments create comprehensive national medical oxygen strategies, with workers trained to give patients oxygen safely and maintain and fix equipment.
Countries need to have plans in place for unexpected rises in demand, she said. "What they're doing at the moment is when a crisis hits, [governments] scramble to bring a group together to come up with some way of managing it. But they need to get ahead of the game."
Additional reporting by Oksana Grytsenko, Anmol Irfan, Ivan Ruiz, Rizwan Shehzad, Natalie Vikhrov, Claudia Chavez and Ralph Zapata
Russia to lose Swift access, pipeline if it invades Ukraine
"Work is already underway for … disconnection of Russia from the Swift banking system, sanctions on the Russian gas pipeline Nord Stream 2 [to Germany]," if it invades Ukraine, Latvian foreign minister Edgars Rinkēvičs said in The Guardian Tuesday. "If [Russian president] Vladimir Putin wants to see gas flow through that pipeline, he may not want to take the risk of invading Ukraine," US national-security adviser Jake Sullivan told Reuters.
Can artistic freedom survive in Sudan? The writing's on the wall… | Global development
In the new dawn of a heady post-revolutionary era, Suzannah Mirghani returned in 2019 to the country of her birth for the first time in years. Her mission was to shoot a short film on Sudanese soil. It proved unexpectedly straightforward.
"When the revolution happened, there was this exuberance," she says, from her Qatari home. "When we came to make our film, we were given the green light. We were told: 'Anything you want'.
"Nobody harassed us. Nobody told us what to do. Nobody asked us for the script. I call this time in the history of Sudan 'the honeymoon'," says Mirghani.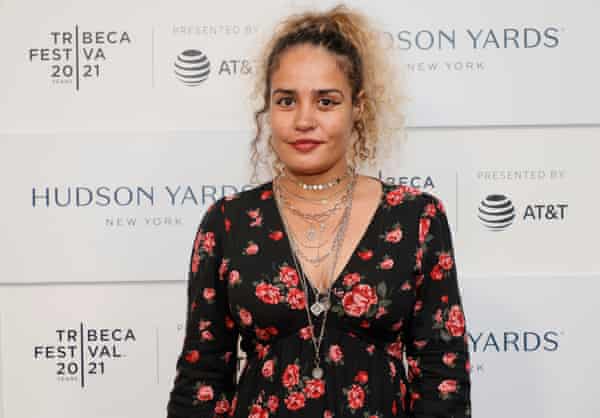 More than two and a half years after the toppling of the longtime dictator Omar al-Bashir, Mirghani fears the honeymoon is over, at least for her. The turmoil into which Sudan has again been plunged means she feels unable to return safely.
On 31 October, as her film, Al-Sit, won the latest of many awards, Mirghani had to give an acceptance speech that was anything but celebratory.
Six days before, the military had seized power in a coup, detaining the civilian prime minister and bringing the country's fragile transition to democracy to an abrupt halt.
In a video address from Qatar to the Africa in Motion film festival in Scotland, Mirghani said "the only reason" she and her crew had been able to make Al-Sit was the active encouragement given by the civilian-military partnership government. "Now," she added, "we're in very serious danger of going back to the bad old days of military rule and stifling creative expression."
Since the coup, a lot has happened: huge pro-democracy protests thronged through Khartoum and other cities, with at least 40 demonstrators killed.
After almost a month, the prime minister, Abdalla Hamdok, was released as part of a deal struck with the coup leader, Gen Abdel Fattah al-Burhan.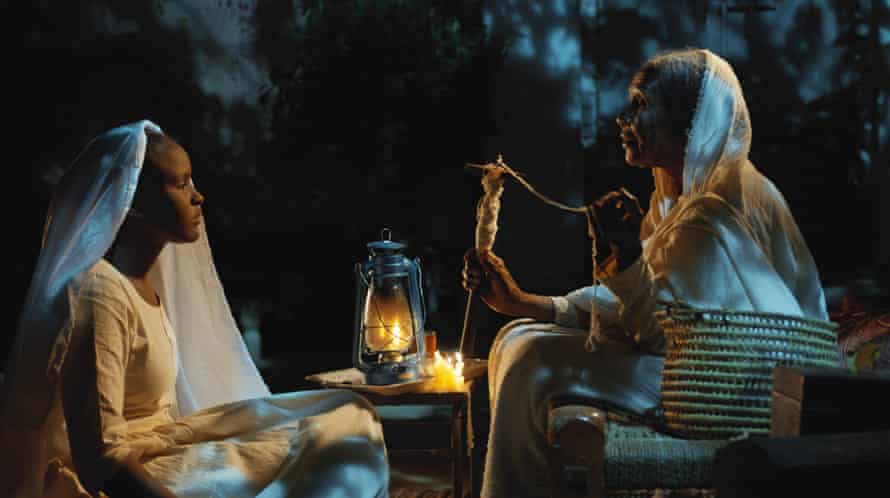 But the protesters, who want the military out of politics for good, are not convinced, and even less so as security forces fire teargas into the crowds that continue to gather despite Hamdok's return. With the creative gains made after the revolution now hanging in the balance, Sudanese artists feel they have to speak out.
"We artists will be the first to be targeted if the military government continues in power," writes Aamira*, a painter, in an email from Khartoum. "We are demonstrating in the streets, facing guns, unarmed. There is nothing to fear any more."
In an interview with the Financial Times last week, Hamdok defended his decision to strike a deal with the military, saying it was essential to stop the bloodshed and "preserve the achievements of the last few years".
It may not have been uppermost in his mind, but one of those achievements was the flowering of an artistic community that had long been harassed, censored and forced into the shadows. Assil Diab, a street artist, says: "I painted Omar al-Bashir as the [face of] coronavirus in a stadium in Bahri during the daytime, which would have been just impossible; my whole family could have been killed two years ago."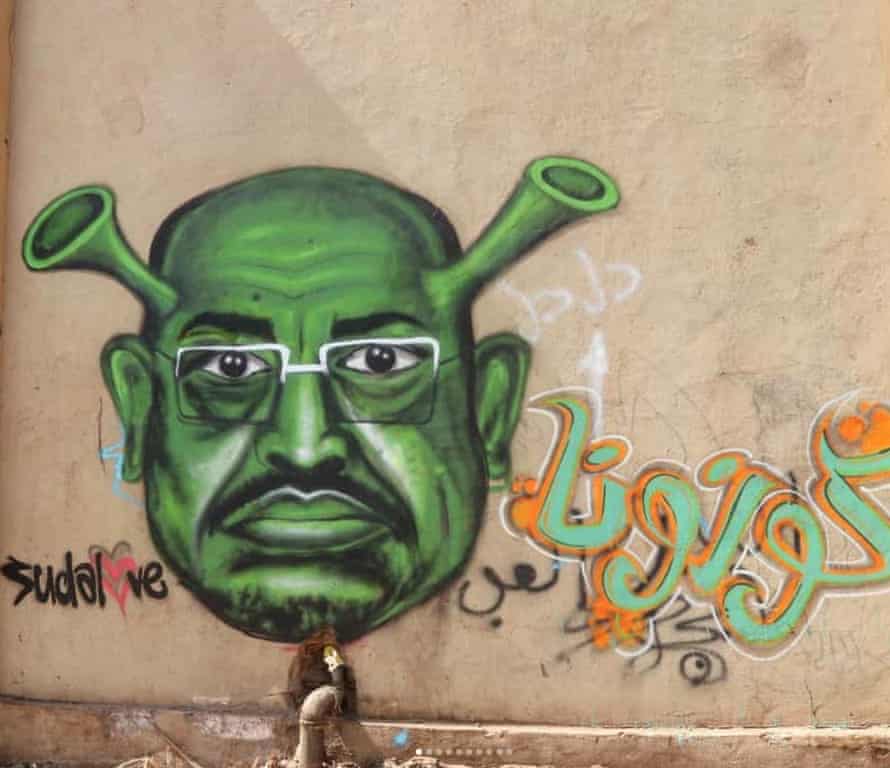 Feeling compelled to return amid the revolutionary fervour, Diab returned to Sudan in 2019 and made her name painting the faces of the revolution's "martyrs" on the outside of their families' homes, with a getaway car close by in case the notorious paramilitary Rapid Support Forces saw her.
For Mirghani, the "absolute elation" of the revolution yielded creative results. Al-Sit is the beautifully observed story of a Sudanese village girl whose parents want her to marry the sharp-suited son of a wealthy cotton trader in Qatar. "To finally be able to express yourself, to say what you had wanted to say to these people for 30 years: it's amazing.
"My film is about women's rights. It's social commentary on arranged marriage. I don't think we could have said that a few years ago," says Mirghani.
The "honeymoon" was not without its challenges. The dictator was gone, but social and religious conservatism – and a reluctance to champion the arts – remained. Artistic freedom was patchy: in 2020, the renowned film-maker Hajooj Kuka and several others were detained during a theatre workshop.
Asim*, a documentary film-maker in Khartoum, says that, although in the capital the "direct censorship" of the Bashir era has eased, the rest of Sudan is not as relaxed. "It's partially freedom and partially censorship," he says. "It is a battle about 10% won."
Khalid Albaih, a political cartoonist based in Qatar, returned after the revolution to launch the Sudan Artist Fund (SAF), to provide budding creatives with money and mentors, and with an ambitious plan to create a public art and design library. He says: "I thought: this is it. All doors were open and this is what we were going to do.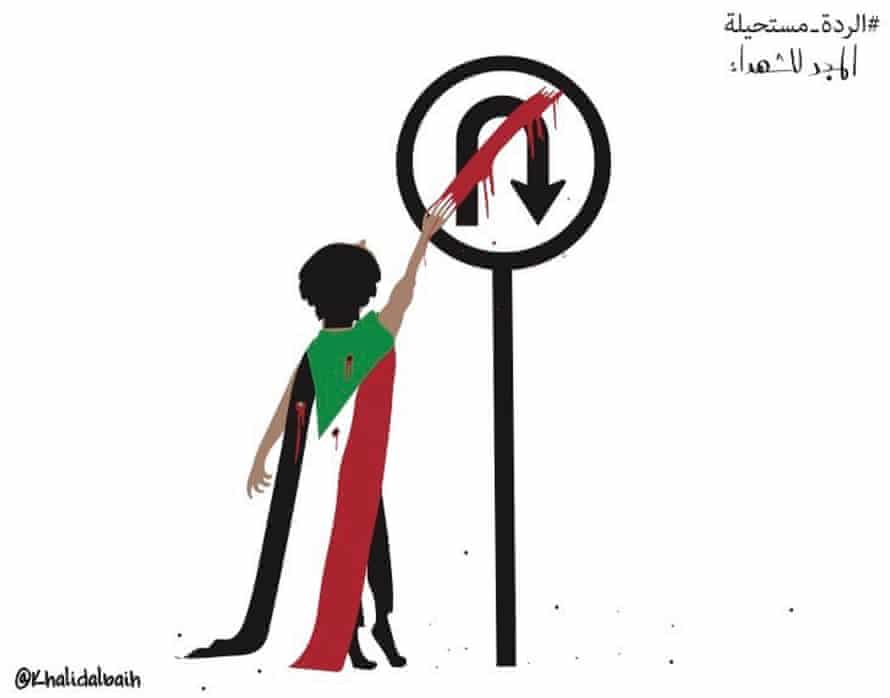 "I took all my papers, and for the first time in 10 years I'm in Sudan walking around, not scared of any police, or secret police, or anything. I went to every business owner in Sudan and everyone that can donate money to these causes. And I got nothing but rejection – for a library and for an artists' fund."
Finally, Albaih secured $7,000 (£5,300) from CultuRunners, a cultural exchange organisation, and the SAF awarded its first grant of $500 in October – just before the coup. "It was incredible because the internet cut out [after the coup leaders imposed a nationwide online blackout] so the artist didn't even know he had won. We had to call him. It took two or three weeks to send the money to him," says Albaih.
The cartoonist knows there will not be any more funding for a while. "Now everything is rocky. No one knows how things will go. It's going to be really hard for artists and these kinds of initiatives to move forward.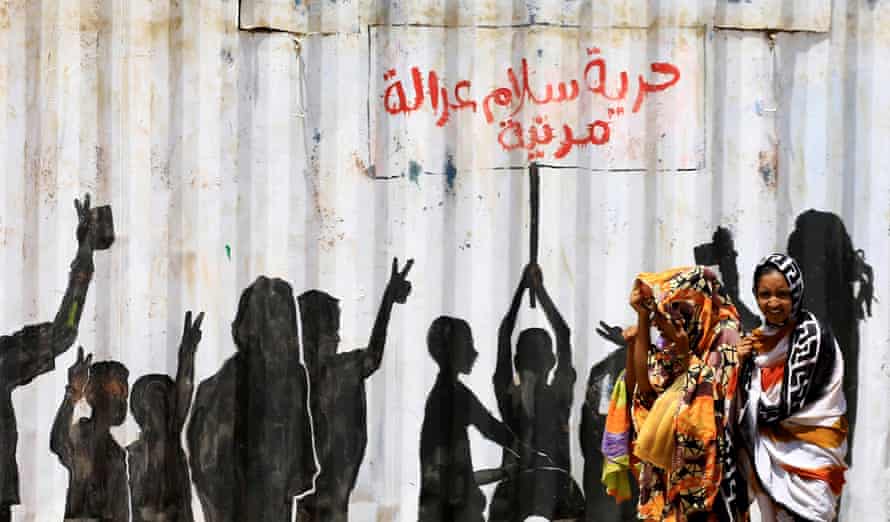 The coup, says Diab, left the creative community feeling "disappointed and just broken down … because we finally thought we were free and then this happened." She intends to apply for political asylum in the US, where she is studying, feeling she "can be of better use to Sudan" from overseas.
Those in the thick of it cannot afford to give up hope. Asim was at a protest in Khartoum against the post-coup deal last week and was "teargassed the entire afternoon" amid chants of "no partnership, no negotiation, no legitimacy". He is realistic about future challenges but knows that people have made up their minds.
"I feel like there is a grip on power and it will not end today; it will not end tomorrow. Whether those power-hungry authoritarians will roll with democratic transition and allow people to express their freedoms, allow journalists and film-makers to operate or not, that is something that is still [up in] the air, because you never know with the ever-changing dynamic of power in this country," he says.
The momentum towards democracy is undeniable, he says. "I believe that is possible and I believe there is hope. The people will not stop asking for what they really want. [Will] that future come tomorrow? The day after? In two years? In five? We never know. But it seems like the consensus is that people agree it has to happen."
*Names have been changed to protect their identity
Sign up for a different view with our Global Dispatch newsletter – a roundup of our top stories from around the world, recommended reads, and thoughts from our team on key development and human rights issues, delivered to your inbox every two weeks:
EU agrees to sanction Russian mercenaries
EU diplomats have provisionally agreed to blacklist three Russian nationals and one entity, the 'Wagner Group' mercenary outfit, on grounds of human rights abuses in Africa and the Middle East, diplomatic sources said. The decision will be formalised by foreign ministers next Monday. The move comes amid Wagner's increasing presence in Mali, threatening French interests in the region. Europe earlier sanctioned a Russian oligarch, Yevgeny Prigozhin, said to fund Wagner.