New York's jazz clubs improvise to the strains of Omicron | Culture
The walls of the Village Vanguard, surely the most famous jazz club in the world, have heard many things in their 87 years (the club's birthday was last Tuesday). But until now, they probably hadn't heard a star pianist making reference to the Centers for Disease Control and Prevention (CDC). The Sunday after a snowstorm, Vijay Iyer, the head of his jazz trio, told the audience: "My sister works for the CDC. That's why I'm suggesting you don't take off your mask during the concert. We will play masked. Let's all take care of each other." Iyer and the double bass player Linda May Han Oh were double masked. Percussionist Tyshawn Sorey's mask broke in the middle of one of his volcanic solos. During the intermission, Iyer crossed the room looking for Sorey, who was seated at the back, to hand him a replacement.
This is the everyday life of the world's jazz capital in the time of Omicron, which has once again set back the return of New York's experimental musical scene. Before the pandemic, it would have been difficult to get tickets for a band of this caliber at the Village Vanguard, which seats only 120 people. One of the waiters explained that the return had been difficult, "more than anything due to the lack of foreign tourists." Seated at a table, Tom and Bert, two local fans in their sixties, said that it was their first time back at the mythic location "since this nightmare began."
At another table, the pianist Marta Sánchez, of Madrid, who has lived in New York for more than a decade, seemed more optimistic. She kept going during lockdown thanks to the classes she gave on Zoom as a professor in a Brooklyn conservatory, and to "help from music associations." She is now being signed up to perform again, and weekly concerts are becoming the norm. She has two on her books, at the Barbès and at the Bayeux, both on the other side of the river.
"The pandemic has demonstrated the enormous resilience of the players and of the clubs," Nate Chinen, the author of Playing Changes (Alpha Decay), a book about jazz in the 21st century, said in a phone conversation from Philadelphia. Chinen, who was a critic for The New York Times and now works for the specialized radio station WBGO, believes that the pandemic has been "a productive time for musicians," during which they have at least had time to work on new material, which will now see the light of day. He gave the example of Immanuel Wilkins, the promising young saxophonist. At 24, he's already released two albums with the influential label Blue Note, but "he still hasn't done his own tour," a project he's embarking on now.
That Sunday in New York, Sorey, one of the most interesting contemporary composers, confirmed Chinen's suspicions, and explained that he had taken advantage of the downtime "to compose more than ever." This week, the fruit of that concentration debuted in Houston with a piece which, inspired by Morton Feldman, celebrates the 50th anniversary of the inauguration of Mark Rothko's chapel.
A few blocks from the Village Vanguard is the Smalls, which is run by pianist Spike Wilner, who's also the manager of the Mezzrow. These two clubs are as exciting as they are intimate. Before sitting down to his instrument to offer a recital of standards arranged for a trio, Wilner recalled that in November, around Thanksgiving, business was once more at its peak. "People were relaxed," he said. "We made money just as in other times. We thought that at last we were being compensated for having been able to withstand such a difficult time, the biggest threat we've lived through until now. Omicron arrived and people who were already vaccinated, and even those with a booster shot, began to get sick. We all got it. Omicron stopped us once again, and anxiety returned to the streets." It also carried away the Christmas season. "Those are crucial weeks," according to Wilner. "It's when you harvest what you've sowed during the rest of the year. The concerts fill up, the streets are full of tourists, the whole world drinks without stopping…"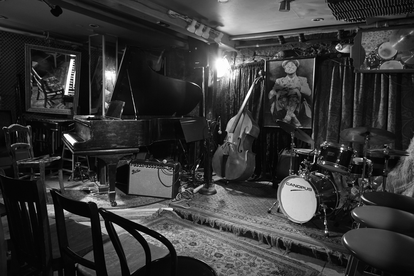 The odyssey of his clubs exemplifies what the scene has suffered already these past two years. They closed a few days before lockdown. And they were wrong when they thought the wait wouldn't be too long. Programs restarted last April, with a third of audience capacity. In September, they could host at half capacity. Finally, permission arrived for full occupancy, which they haven't taken advantage of yet: a maximum of 56 people fit in the Smalls and 40 in the Mezzrow (before, they fit 70 and 65, respectively) and one can only buy tickets on the internet, which has "taken away a certain excitement from the thing." Both used to be the kind of tumultuous joints where one entered just by walking through the door. During the pandemic they survived by programming a daily livestreamed concert as a way to "spur donations, which arrived from all around the world."
The Smoke, in northern Manhattan, reopened before Wilner's clubs because they had an idea: they mounted what Paul Stache, the owner, calls "mini greenhouses." Bands would play inside the club with all the doors and windows open. "It wasn't the ideal musical format or sound, but people wanted it so much that it didn't matter. So much so that sometimes it created a traffic jam in the street." The experience that they acquired during the pandemic, when they began livstreaming on the internet, is helping to keep the flame alive now that the club is closed for renovations; they have taken the adjoining space, because "even if the virus ends," Stache doesn't think that "people will want to pile into a tiny joint like before."
He's also taken advantage of this time to record "more than ever" for his label, Smoke Sessions Records.
There were other clubs that didn't have as much luck, and simply didn't survive lockdown. The most tender loss has been, without a doubt, that of the Jazz Standard. It closed in December of 2020 due to "the pandemic and to so many months without income, as well as a long negotiation about rent which has stalled," it was said at the time. In New York there are some 80 stages where one can listen to live music, according to the list that the newspaper The New York City Jazz Record prints on its last page every month. Here there are basement joints, clubs with varied programs and not just jazz, others which are the reincarnation of legendary places (Minton's, Birdland), hotels and restaurants with music, experimental refuges in progressive universities (The Stone) and institutional spaces, like Dizzy's, in the Lincoln Center complex. But the Standard had something special. Maybe it was the music, or the fact that you could see well from any table, or "the sensational food," an advantage highlighted by Fred Cohen, the owner of the Jazz Record Center, the only shop dedicated exclusively to the genre in the city.
"The news of that closure was terrible," Cohen says from behind the counter of his establishment, on the eighth floor of an anodyne office building in Chelsea. Wilner is harsher on the competition: "The owners [of the Jazz Standard] are dedicated to the barbeque business [the club was in the basement of a restaurant of the famous businessmen Danny Meyer]. The programming, which was done by a man named Seth Abramson [who didn't respond to this newspaper's interview request], was stupendous, but when the hospitality business failed, the music ended." Chinen advises that there are plans to reopen soon. If that were to happen, the Standard would return to a completely different scene than that which provoked its closure. Some 77% of New Yorkers are completely vaccinated. Leaving the worst of Omicron behind, coronavirus cases have fallen 62% in the last two weeks, and hospital admissions have been reduced by half. Now the use of masks isn't obligatory in the clubs, although it is up to the discretion of owners to demand it. Still, to get inside the majority of these places, they ask you to show a completed vaccination card (and there are even clubs that ask for proof you have received the booster).
"What we need," thinks Wilner, "is for people to relax, to return to New York and to enjoy what we still have, even though it's not much after two years. It's still possible to get our lives back. It worries me that this won't happen, because I've realized that I don't love this city where I was born the way I used to love it," he concludes. These wishes could take a while to come true. For many New Yorkers, what good news there has been still isn't sufficient to prompt an adventure inside a club, as seen in the tables that the restaurants have scattered across the city's sidewalks. They look full in the second winter of the pandemic, including when the temperatures drop to various degrees below freezing.
Mexico City, the scene of revenge, blood and torture in the new installment of 'Saw' | Culture
Screenwriter Leigh Whannell was unhappy with the work he was doing and began to suffer from migraines. He was convinced he might have a brain tumor and went to a neurologist for an MRI. Sitting in the office, he thought, what if you were to receive the news that you had a brain tumor and were going to die soon? How would you react to that? Those thoughts led him to create the character of John Kramer, a cancer-stricken sociopath whose resentment and inordinate attachment to life turn him into a merciless judge, jury and executioner, allowing his victims to decide their lives and the lives of others through twisted games.
Along with his colleague filmmaker James Wan, Whannel thought outside the box. Both are avid consumers of horror films, and they came up with the idea of starting a movie with two men chained in a bathroom, with a corpse in between them, not knowing what the hell had happened; Kramer is behind them, pulling the strings that decide their fate. Thus, Saw was born in 2004. The movie was well received at Sundance and the Toronto Film Festival. Lionsgate invested a budget of barely $1 million in the project and ended up making over $100 million at the box office.
Eight sequels and $1 billion in revenues at the box office later, Saw is back with a new installment. This is the franchise's tenth movie, its first in over seven years. This time, the action takes place in Mexico City, where Kramer—better known as serial killer Jigsaw—unleashes his revenge and bloody torture games once again.
Saw X takes place between the events of Saw (2004) and Saw II (2005). Desperate and sick, John Kramer (Tobin Bell) travels to Mexico to undergo an experimental and very risky treatment in the hopes of curing his deadly cancer. However, the entire operation turns out to be a fraud to deceive the most vulnerable. Filled with rage and a lurid new purpose, his new victims will face the most ingenious, deadly and torturous traps in a visceral and ruthless game.
Actresses Renata Vaca, Paulette Hernández and actors Octavio Hinojosa and Joshua Okamoto are part of the Mexican cast who will try to survive the games that Jigsaw has in store for them in Mexico City. Saw X director Kevin Greutert, who was the editor of six Saw films and also directed Saw VI and Saw VII 3D, says that the idea in the original script was initially for the movie to be filmed in Prague and Bulgaria, but ultimately Mexico was a "great choice," and he could not imagine another version of the film without Mexican actors.
"There's such mythology, the city is so amazing, and we can't say enough about it. There's something creepy about it, a certain history; it absolutely worked for us. I'm sure everyone knows that, but it's the first time we've ever said where we are in a movie [in the Saw franchise]. And we really stand behind that," Greutert says.
Renata Vaca, 24, who is also a musician, says she was 9 years old when she first watched Saw in the U.S. She saw it with her uncle, a fan of horror movies. Billy, the puppet, Jigsaw's avatar in the films, caught her attention. "My uncle told me, 'Dude, don't wuss out on me.' So, we saw it, and I was really scared. But look, it's intense, and now here we are." The actress, who will soon appear with Yalitza Aparicio and Diego Calva in Midnight Family, emphasizes that the film is like a trip back to the Mexico of 20 years ago, which can be seen in certain details like the clothing and yesteryear's green and white cabs. "I had to do a lot of research for the role. It's cool because you'll feel like you're in 2000s-era Mexico," she says.
Okamoto, who was in the sequel to Sexo, pudor y lágrimas (Sex, Shame & Tears) and has Netflix and HBO Max projects in the works, admits that he hadn't had a chance to see Saw before he was cast in the film. However, he does remember the Saw promotional poster and how it was illustrated: it had the piece of a calf with a foot and the fragment of a hand. "I felt very frightened when I saw the poster, and it left a very unpleasant feeling in my chest and stomach," he recalls.
The first Saw film began with touches of gore and, according to several specialists, it later evolved into torture porn, because it uses violence to titillate the audience as if they were experiencing a sexual act.
In Saw X, Mexico becomes another character and influences different aspects of the narrative. "One of the great successes of this latest installment is that they manage to portray Mexico as another character. You can feel the city in the background, the textures, the colors. We are not only a country…there is a very folkloric culture, from the rituals of the Aztecs onward [and] some elements naturally sneak into the plot. In the traps, there are also, let's say mythological, references that are part of urban legends, iconography, evidence of pre-Hispanic influences," Okamoto explains.
With the exception of Octavio Hinojosa, none of the actors had ever been in a horror film before. All three agree that the biggest challenge in this film was keeping their emotions at full throttle during the 12-hour call. "That's screaming, running, sweating, hyperventilating. The most difficult thing was to sustain those states," says Okamoto. Vaca agrees with him: "You have to be all in, with your entire body, [and be] very open to what is happening in the moment, because sometimes what happens goes beyond what you had thought."
"It was like doing theater… being there all the time, being seen all the time. It was very tiring, very exhausting. Emotions become real when they go through one's body. There's a part of you that says, 'I'm in a [fictional story],' but you do get upset. You do get scared. You do cry and you do experience it. That is very, very exhausting, but we actors are a little masochistic; we enjoy being on the edge of emotions, and at the end of a call, when you do things right you say: 'Very good, I did it. That's great,'" Hinojosa concludes.
Sign up for our weekly newsletter to get more English-language news coverage from EL PAÍS USA Edition
"The Creator": A Glimpse Into A Future Defined By Artificial Intelligence (AI) Warfare
By Cindy Porter
In "The Creator" visionary director Gareth Edwards thrusts us into the heart of a dystopian future, where the battle lines are drawn between artificial intelligence and the free Western world.
Set against the backdrop of a post-rebellion Los Angeles, the film grapples with pressing questions about the role of AI in our society.
While the narrative treads familiar ground, it is timely, given the rising prominence of artificial intelligence in our daily lives.
A Fusion of Genres
Edwards embarks on an ambitious endeavor, blending elements of science fiction classics with contemporary themes.
The result is a cinematic stew reminiscent of James Cameron's "Aliens" tinged with shades of "Blade Runner" a dash of "Children of Men," and a sprinkle of "Akira" This concoction, while intriguing, occasionally veers toward familiarity rather than forging its own distinct identity.
Edwards' Cinematic Journey
The British filmmaker, known for his foray into doomsday scenarios with the BBC docudrama "End Day" in 2005, has traversed a path from indie gem "Monsters" (2010) to the expansive Star Wars universe with "Rogue One" (2016).
"The Creator" marks another bold step in his repertoire. The film introduces compelling concepts like the posthumous donation of personality traits, punctuated by impactful visuals, and raises pertinent ethical dilemmas. It stands as a commendable endeavor, even if it occasionally falters in execution.
Navigating Complexity
In his pursuit of depth, Edwards at times stumbles into the realm of convolution, leaving the audience grappling with intricacies rather than immersing in the narrative.
While adept at crafting visual spectacles and orchestrating soundscapes, the film occasionally falters in the art of storytelling.
In an era where classic storytelling is seemingly on the wane, some may argue that this approach is emblematic of the times.
AI: Savior or Peril?
"The Creator" leaves us with a question that resonates long after the credits roll: Will artificial intelligence be humanity's salvation or its undoing? The film's take on machine ethics leans toward simplicity, attributing AI emotions to programmed responses.
This portrayal encapsulates the film's stance on the subject – a theme as enigmatic as the AI it grapples with.
"The Creator"
Director: Gareth Edwards.
Starring: John David Washington, Gemma Chan, Madeleine Yuna Boyles, Ken Watanabe.
Genre: Science fiction.
Release Year: 2023.
Duration: 133 minutes.
Premiere Date: September 29.
WATCH: TRAILER
Top 5 Movies by Gareth Edwards:
1. "Monsters" (2010)
– A breakout hit, "Monsters" showcases Edwards' talent for blending intimate human drama with towering sci-fi spectacles. Set in a world recovering from an alien invasion, it's a poignant tale of love amidst chaos.
2. "Rogue One" (2016)
– Edwards helms this epic Star Wars installment, seamlessly integrating new characters with the beloved original trilogy. It's a testament to his ability to navigate complex narratives on a grand scale.
3. "End Day" (2005)
– This BBC docudrama marked Edwards' entry into the world of speculative storytelling. Presenting five doomsday scenarios, it set the stage for his later exploration of dystopian futures.
4. "The Creator" (2023)
– Edwards' latest venture, "The Creator," immerses audiences in a future fraught with AI warfare. While not without its challenges, it boldly tackles pertinent questions about the role of artificial intelligence in our lives.
5. Potential Future Project
– As Edwards continues to push the boundaries of speculative cinema, audiences eagerly anticipate his next cinematic endeavor, poised to be another thought-provoking addition to his illustrious filmography.
"The Creator" stands as a testament to Gareth Edwards' unyielding vision and his penchant for exploring the frontiers of speculative cinema.
While it doesn't shy away from the complexities of AI, it occasionally falters in navigating its intricate narrative.
As we peer into this cinematic crystal ball, we're left with a stark question: Will artificial intelligence be our beacon of hope, or will it cast a shadow over humanity's future? Only time will unveil the answer.
---
We Can't Thank You Enough For Your Support!
— By Cindy Porter
— For more information & news submissions: info@VoiceOfEU.com
— Anonymous news submissions: press@VoiceOfEU.com
---
Why Most Men Don't Carry A Purse
Men do not carry purses; that much is clear. In the last century or two they have carried wallets, briefcases, satchels or backpacks, always associated with their activity or profession, but never a purse, a bag with straps or handles full of their personal effects. Perhaps that is why, nowadays, a man hanging a purse from his shoulder unleashes some kind of physical phenomenon, a whirlwind of comments, raised eyebrows and criticism that, depending on the protagonist's profile, can become more or less violent.
The case of some celebrities is different (just take a look at examples like actor Jacob Elordi and his Bottega Veneta Cassette Bag, or singer Harry Styles with his Gucci Jackie); after all, they live in another plane of existence and can do whatever they want. But why can they carry a purse and regular people can't? Why is it so difficult to find an ordinary citizen who has incorporated a handbag into their daily life? Don't they need to carry Kleenex, glasses, a charger, eye drops or any personal items?
The fact is that men's bags went out of fashion more than 300 years ago, right around the time when pants began to become tight and one of the most practical inventions in the history of clothing became a regular feature: pockets. Up until then, men did carry bags, as ornate and spectacular as their social position demanded. "From classical antiquity to the Renaissance, small bags were a common accessory for men and women to carry coins," explains Rosa Moreno Laorga, trend analyst, fashion consultant, teacher of art and fashion and sociology of fashion at the European Institute of Design in Madrid, Spain and author of Hacer de lo cotidiano un ritual contemporáneo: Ensayo sobre el origen de las tendencias (Turning the Everyday into a Contemporary Ritual, An Essay on the Origin of Trends). In fact, for much of history men were the ones who carried the purse, as they were the ones who carried the money. Women did not need one because they did not venture too far from home.
An independent accessory
At the end of the 19th century, the Rational Dress Society was founded in London. Along with the burgeoning women's suffrage movement, it argued that women's independence could not be achieved in a tight-fitting, pocketless dress. True liberation required loose clothing that allowed freedom of movement and pockets to keep necessities close at hand — including a revolver, if necessary. The movement did not address the matter of purses, but fashion knew how to read the times and when at the end of the century women were allowed to travel alone, Louis Vuitton began to sell large bags for women, positioning their products as a sign of female independence. They had compartments and zippers and radiated luxury.
The 20th century gave an important boost to the purse as a feminine accessory. In February 1955, Gabrielle Chanel created the 2.55 (a name inspired by the date of its creation). The bag, merely 7.5 inches long, was made of black padded leather with three pockets inside, two at both ends and a smaller one in the middle to store lipstick. That was the first modern handbag, a pioneer that included a revolutionary detail: two chains made of flat metal links that freed up the hands. That model, which continues to be reinvented today in different finishes, colors and materials, is still the French firm's best-seller.
In the 1980s, when women entered the workplace en masse, they adopted men's clothing (blazers, suits, pants). That was not only a practical decision, but also a reflection of the time (there were hardly any models of female leadership to draw inspiration from, or any corporate uniform comparable to the men's suit). Work-related films of that era clearly reflect this aesthetic: while Melanie Griffith carried a huge brown leather bag all the way to the office in Working Girl (she needed something to carry the high heels she would wear at the office instead of the Reebok sneakers she arrived in), none of Tom Cruise's bosses in The Firm had to carry anything in their hands. They simply did not need it: they had assistants — all women — to carry things for them.
The image of a man in a suit with nothing in his hands became the picture of success. Will we have to wait for the balance of power to shift for good before they are the ones to adopt feminine clothing as a symbol of power? Will those feminine items remain imbued with a certain disempowerment until then? Ana Velasco Molpeceres, journalist, professor at the Complutense University of Madrid and historian specialized in communication and fashion, who recently published Ropa vieja: Historia de las prendas que vestimos (Old Clothes: The History of the Clothes We Wear) finds in history the answers to why men still do not use purses: "Since the 19th century, bags have been associated with women. Therefore, they are categorized as a feminine accessory. For women, carrying a bag simply means being dressed like a woman and being able to carry their things comfortably. For men, carrying a bag means adopting a garment that is 'problematic,' because it is gendered."
A symbol of male liberation?
Today, the big luxury brands are determined to get men to carry bags. Could this accessory become a symbol of male liberation, overcoming some stereotypes about how a man is supposed to act, dress and present himself to the world? Many young men, men involved in fashion and men who do not dress according to gender conventions do use it, but it is a minority.
"Without a doubt, breaking the norm regarding what is traditionally feminine or masculine always entails a new vision and a clear evolution in terms of the perception of conventional roles. These changes help to get rid of many limiting, harmful stereotypes, and I think using fashion as a tool that helps us be free is always commendable. A purse can be a symbol that helps us break the molds instead of fitting into them; don't forget that Chanel and Yves Saint Laurent were the first to break sexual dimorphism by migrating garments from the male to the female wardrobe, thus creating new ways of being in the world for the women who took part in this transformation," reflects Moreno Laorga.
Fashion is considered a language within an evolving culture; perhaps that is why it has been championing genderless styles and garments for several years now. We see artists, music stars and models carrying handbags at events and red carpets. Still, the reactions we see on social media reveal that, in some particularly conservative sectors, a man walking around with a bag is still not widely accepted.
"Gender roles continue to have a key and important weight in the media, advertising, movies and more. At first, an image whose pieces are not as expected is always disruptive, in this case a handbag (which is traditionally associated with the female universe) in the hands of a straight, cis man, but time will normalize the use of this accessory, in case it becomes popular and enters the norm," says Moreno Laorga.
"Soccer players and other men wear sling bags, because they are part of the culture of luxury and opulence. In their case, carrying a bag is masculine because, in their iconography, it is something expensive and branded. It is associated with power. Just like jewelry or exaggerated hairstyles and aesthetics [tattoos]," explains Velasco Molpeceres.
"Currently, the trend towards genderless fashion leads us to think that whether it is a woman or a man, the symbolic weight of this accessory will be associated with its appearance, the value of the materials, the design style… aspects related to the object itself, more than the gender of the person who wears it. A good example of this is Telfar, the New York fashion brand that has managed to elevate its unisex bags to the category of icons by using this discourse," says this expert.
Handbags belong to a category of accessories that respond to a certain functionality; a functionality that, in certain cases (as in the example of JW Anderson's viral clutch bags that look like pigeons, cushions and more), evolves to the point of becoming decoration, points out Moreno Laorga. "Perhaps in the future, the handbag will go from being a container of belongings to a container of identities; a non-verbal language tool that serves to express aspects about the person who carries it and how they decide to carry it," she says. Maybe, in the future, a bag will not aggravate people so much.
---