Neolithic settlement in Cádiz: Dig in southern Spain reveals decapitation, trepanation and other extraordinary burial rituals | USA
The woman was trephined while still alive and then decapitated. Her skull was deposited next to that of a man 25 years older than her and, possibly, of a high social standing. A lamb or goat was slaughtered as well and painstakingly decorated ceramic vases laid alongside them. The scene took place between 4,800 BC and 4,500 BC in the Dehesilla caves in the mountains of Cádiz in southern Spain at a time when burials were commonly individual or multiple and performed outside or in simple cavities in the rock. The mix of ritual elements, including stone tools, plant residues and stones arranged as a type of altar make Dehesilla a unique place for studying the culture of the mid-Neolithic age. Excavations at the site, led by University of Seville archeologist Daniel García Rivero, will continue when the coronavirus pandemic permits. "The cave has been social distancing," jokes Rivera, who is putting the finishing touches on a batch of new findings.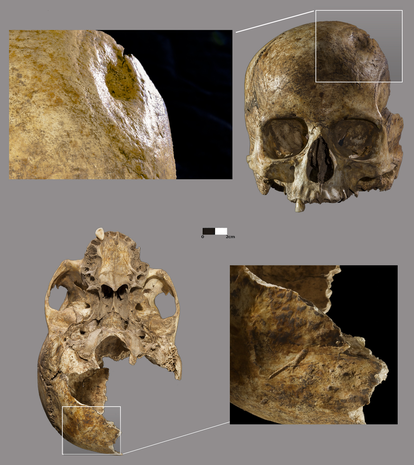 The community that lived at Dehesilla was ahead of its time. A paper on the most important discoveries to date, published in the scientific journal Plos One, notes that "the monumental nature of some of the earth and stone funerary structures is a distinctive trait of the Late Neolithic and the appearance of megalithic elements is generally associated with this period," which is dated to between the third and fourth millenniums BC. However, centuries beforehand in the mountains around Cádiz, a group of men were already performing extraordinary burial rituals as confirmed by the discoveries at Dehesilla.
Determining the age and gender of the Dehesilla couple has not been easy, due to a lack of teeth and pelvic bones, but detailed examinations of the morphology of the remains have allowed researchers to conclude they belong to a man and a woman. Estimates of their ages vary between the different models employed but based on dental decay on a canine and a molar and other dating methods, the woman is believed to be between 24 and 40 years old and the man between 30 and 50.
Their skulls were deposited within 20 centimeters of each other with both facing to the west. García Rivero – who has been researching the site for five years – explains that the remains of the woman display a "fissure from an unfinished trephination, but one that is very deep and reached to within a few millimeters of the brain." Initially, it was thought that this could have been the cause of her death but further investigation revealed signs of healing in the bone, meaning that the procedure, possibly with surgical intent, was performed before she died. Both sets of remains show signs of "physiological stress," which the researchers have attributed to anemia. The woman's remains show three indications compatible with a benign tumor.
Decapitation
Based on the cut marks on the occipital of the woman's skull, the researchers believe that decapitation occurred shortly before her death. "Although it cannot be stated categorically, it is quite possible that death was chronologically close to the time of deposition of the skull (if not at the time of death itself, before complete tissue decomposition)." The male skull showed no evidence of similar cuts. "The stratigraphic information guarantees the contemporaneous deposition of both skulls and several other elements of the context. Although the simultaneous natural death of both individuals (or the secondary burial of one of them) cannot be ruled out, the natural death [of] one and the ritual sacrifice of the other, or the sacrifice of both, may be equally likely," the report concludes.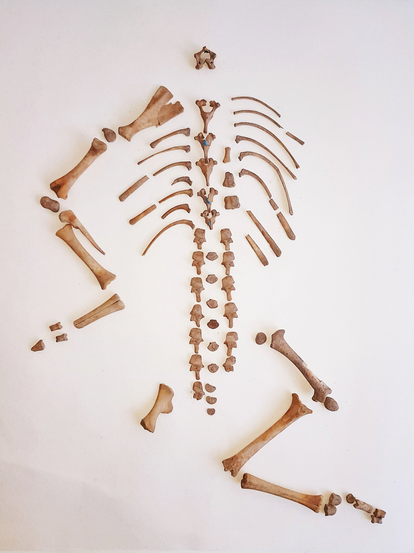 Among these "elements" was the striking discovery of the headless remains of an infant sheep or goat. "It is possible that it was also decapitated," says García Rivero. This find, the paper states, lends weight to the theory of "new anthropological scenarios, perhaps sacrifices (human and animal) related to propitiatory activities, divine prayers and/or commemorative festivities (cosmogonic, seasonal rites…)."
These festivities, the study suggests, may have been linked to the arrival of spring due to the youth of the discovered animal. Its ritualistic nature is supported by the stone platform situated in a natural alcove in the wall of the cave, which the researchers believe could have been used as a form of altar. What's more, researchers also discovered ceramic vases featuring a ramiform design common in the schematic rock art of the era, but with a very unique design. Along with these finds, objects and tools made of flint, carbonized seeds and branches and carved bones were also uncovered. "It's a unique combination," notes García Rivero.
The archeologist explains that the presence of skulls at similar sites can usually be attributed to the remains of enemies, placed there as trophies of war, or if the location was considered to possess magical properties. But in the case of Locus 2, as the Dehesilla site has been named, the hypothesis is that this was a place of ritual significance that was maintained for a long time and held special significance. "The sacrifice discovered in Cádiz doesn't appear to have taken place as the result of a punishment based on the time invested in the ritual, in the putting together of the stone structures and given the characteristics of the objects uncovered," explains García Rivero. "Everything points to the two skulls belonging to people who had religious or social relevance in the population. The age of the man could indicate a prestigious elder in the community."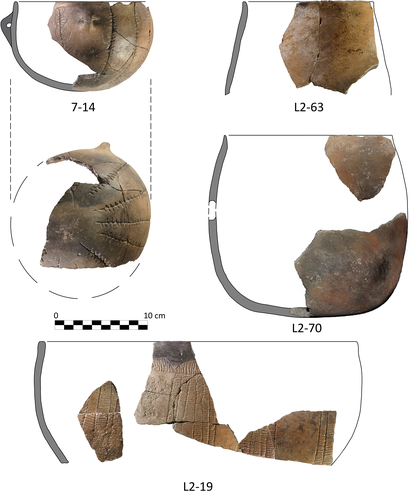 The exceptional preservation of the remains – which have survived the passing of millennia and the actions of water, animals and humans – the accumulation of objects and the age of the site make Dehesilla a unique location. The presence of human skulls has been documented at other settlements but these are much more recent. Maria Giovanna Belcastro, an archeologist at the University of Bologna, has unraveled the mystery of one belonging to a woman who died between the ages of 24 and 35 sometime between 3,630 BC and 3,380 BC. In an article also published in Plos One, Belcastro says that the find, made in 2015 in an indentation in the wall 12 meters off the ground in the Marcel Loubens cave in France, showed signs of mutilation that took place after a funerary ritual. The location of the skull had perplexed researchers but Belcastro believes that it was probably pushed to its eventual resting place by the movement of water and earth in the cave. Another study by a team at the Autonomous University of Barcelona, published in the Journal of Archaeological Science: Reports, notes the presence of sacrificial dogs in ceremonies dated to between 4,200 BC and 3,600 BC.
But the discovery of a combination of ritual elements on the Iberian peninsula, where they are most documented, as well as the date of the find, make the Dehesilla cave a unique site that could rewrite the pages of prehistory.
English version by Rob Train.
Brendan Kennelly, one the country's most popular poets, dies aged 85
Brendan Kennelly, one the country's most popular poets and a former professor of English at Trinity College Dublin, has died. He was 85.
Family members confirmed his death on Sunday evening at Áras Mhuire nursing home, Listowel, in his native Co Kerry.
Mr Kennelly was born in Ballylongford, Co Kerry, in 1936, the son of Tim Kennelly, publican and garage proprietor, and his wife Bridie Ahern, a nurse.
He graduated from Trinity College, wrote his PhD thesis there, and went on to become professor of modern literature at the university.
Mr Kennelly had more than 30 poetry collections published, which captured the many shades and moods of his home county as well as his adopted Dublin home.
He was also a popular broadcaster and made many appearances on radio and television programmes, such as The Late Late Show.
[His poetry is] infused with the details and texture of life, its contradictions and moments of celebration including the wry experiences of football and politics
President Michael D Higgins, a friend of Mr Kennelly's, said his poetry held "a special place in the affections of the Irish people".
"As one of those who had the great fortune of enjoying the gift of friendship with Brendan Kennelly for many years, it is with great sadness that I have heard of his passing," he said.
"As a poet, Brendan Kennelly had forged a special place in the affections of the Irish people. He brought so much resonance, insight, and the revelation of the joy of intimacy to the performance of his poems and to gatherings in so many parts of Ireland. He did so with a special charm, wit, energy and passion."
He added that Mr Kennelly's poetry is "infused with the details and texture of life, its contradictions and moments of celebration including the wry experiences of football and politics".
Taoiseach Micheál Martin said the country has lost a "great teacher, poet, raconteur; a man of great intelligence and wit".
He added: "The Irish people loved hearing his voice and reading his poetry."
He spoke the language of the people. We loved his writing. His eloquence was masterful
Trinity College Dublin's provost, Prof Linda Doyle, said Mr Kennelly was known to generations of Trinity students as a great teacher and as a warm and encouraging presence on campus.
"His talent for, and love of, poetry came through in every conversation as did his good humour. We have all missed him on campus in recent years as illness often kept him in his beloved Kerry. He is a loss to his much loved family, Trinity and the country," she said.
Tony Guerin, a close friend of Kennelly's, and a playwright, said he will be remembered in Kerry and elsewhere as "the people's poet".
"My relation with Brendan was one of friendship. There are more scholarly people who will assess his contribution and discuss those matters. But he spoke the language of the people. We loved his writing. His eloquence was masterful, whether it was the written word or being interviewed by Gay Byrne," he said.
Mr Kennelly is survived by his brothers, Alan, Paddy and Kevin, by his sisters, Mary Kenny and Nancy McAuliffe, and his three grandchildren.
His daughter Doodle Kennelly died earlier this year.
Arrangements for a family funeral are expected to be announced shortly.
New skeleton find could reveal more about Vesuvius eruption
The remains of a man presumed to be aged 40-45 were found under metres of volcanic rock roughly where Herculaneum's shoreline used to be, before Vesuvius' explosion in 79 AD pushed it back by 500 metres (1,640 feet).   
He was lying down, facing inland, and probably saw death in the face as he was overwhelmed by the molten lava that buried his city, the head of the Herculaneum archaeological park, Francesco Sirano, told the ANSA news agency.

"He could have been a rescuer", Sirano suggested.

As Vesuvius erupted, a naval fleet came to the rescue, led by the ancient Roman scholar and commander Pliny the Elder. He died on the shore, but it is believed that his officers managed to evacuate hundreds of survivors.

The skeleton might have otherwise belonged to "one of the fugitives" who was trying to get on one of the lifeboats, "perhaps the unlucky last one of a group that had managed to sail off," Sirano suggested.

It was found covered by charred wood remains, including a beam from a building that may have smashed his skull, while his bones appear bright red, possibly blood markings left as the victim was engulfed in the volcanic discharge.

Archaeologists also found traces of tissue and metal objects — likely the remains of personal belongings he was fleeing with: maybe a bag, work tools, or even weapons or coins, the head of the archaeological park said.

Other human remains have been found in and around Herculaneum in the past decades — including a skull held in a Rome museum that some attribute to Pliny — but the latest discovery can be investigated with more modern techniques.
READ ALSO: Study finds 2,000-year-old brain cells of man killed in Vesuvius eruption
"Today we have the possibility of understanding more", Sirano said.

Researchers believe that in Herculaneum temperatures rose up to 500 degrees — enough to vaporise soft tissues. In a phenomenon that is poorly understood, a rapid drop in temperature ensued, helping preserve what remained.

Although much smaller than Pompeii, its better-known neighbour outside the southern city of Naples, Herculaneum was a wealthier town with more exquisite architecture, much of which is still to be uncovered.
READ ALSO: Where are Italy's active volcanoes?
Lou Reed: The Velvet Underground: an inside look at the band that gave a voice to the outsiders | USA
The importance of The Velvet Underground has been endlessly discussed. They are, with a nod to The Beatles, the modern rock group par excellence. Formed by Lou Reed and John Cale in New York in 1965, the band was immediately endorsed by Andy Warhol, with whom they would collaborate until 1967, although his influence would never leave them. The Velvet Underground were a sixties group that, during its five years of existence, failed to fit into their era for a single day. While others sung of love and good vibrations, they designed a revolutionary and perverse alternative for rock.
It was an alternative that remains valid to this day, half a century after the group was mortally wounded by the departure of Reed in August 1970. To corroborate this, Apple TV will premiere The Velvet Underground in October. Directed by Todd Haynes, the documentary is full of never-before-seen footage and interviews with people who were in the thick of it at the time, more than compensating for a dearth of movies about a band that can be described as legendary without fear of slipping into musical nepotism.
The documentary arrives in good company. At the end of September I'll be your mirror: A tribute to The Velvet Underground & Nico was released, an album of cover versions of the group's influential debut album when the line-up consisted of Reed, Cale, Sterling Morrison and Moe Tucker. A posthumous work by producer Hal Willner, who died of Covid-19 in 2020, it features contributions by Thurston Moore, Sharon van Etten, Iggy Pop, Kurt Vile, Courtney Barnett and Michael Stipe, among others.
Speaking about the original The Velvet Underground & Nico, released in 1967, Haynes said in an interview with Uncut magazine earlier this year that it is music that makes you think about how fragile identity is, and also about life. The journalist Susana Monteagudo concurs with Haynes. "The Velvet Underground were the first punk group in terms of transgression of codes and creative freedom," says the author of books including Illustrated History of Rock and Amy Winehouse. Stranger than her. "As well as practicing the philosophy of do-it-yourself and rejecting the commercial course of the music industry, they subverted the establishment by making dissidence visible on every level, not just in artistic terms. They embraced the marginal and they were too nihilistic, cynical and sinister for the Flower Power era."
The Velvet Underground did not belong to their time, but to the future. Cale wanted to fuse rock and roll with experimental music. Reed's lyrics were open to the influence of writers like Burroughs, Delmore Schwartz and John Rechy. They were a loud and screeching band, but they also composed melodic songs. This contrast is most evident on The Velvet Underground & Nico, which contains some of the group's most beautiful songs. I'll be your mirror and Femme Fatale are sung by Nico (who also provides vocals on the chorus of Sunday morning, originally written for her but eventually sung by Reed), one of the most conflicting elements of the band.
For trans artist Roberta Marrero, Nico, the German model and singer who died in 1988, was an "icon of undisputable beauty, as well as being a pioneer who opened the door for other greats like Siouxsie." In spite of her beauty, Nico did not fit the prevailing pop girl model of the time. Her singing style was far removed from traditional rock and openly reflected her Germanic and Gothic roots. Her inscrutable personality was married to a talent that after she left the Velvet Underground would manifest itself in unclassifiable works such as The marble index (1969), whose idiosyncrasy – tearing up the blueprint of pop music and exploring musical latitudes reserved for men – would inspire Kate Bush and Björk, as well as more contemporary artists such as Julia Holter, St Vincent and Anohni.
The Velvet Underground also broke with the heterosexual tradition of rock music. In Monteagudo's view, in addition to creating a literary imagery "where there was room for homosexuals, trans women, prostitutes, junkies and outsiders in general," they were also "a band not exclusively made up of males, and men who at the same time did not identify with a heteronormative masculinity, especially in the case of Lou Reed. They integrated and normalized diversity in their sphere because their way of life was linked to this concept. It was also the dawning of the ambiguous, the queer." Marrero believes that "they brought non-normative sexualities to the forefront, such as sadism, more so than homosexuality. Although when I think about it, I'm waiting for my man could be talking about a gigolo and not a drug-dealer. In reality, it's very ambiguous."
This divorce from the prevailing canons also had a lot do with the presence of Maureen "Moe" Tucker. Her drum work with the band anticipated a trend that would not take hold until 1977, with the explosion of punk. From that point on, the female role in groups ceased to be principally pigeon-holed into certain instruments and roles. In Monteagudo's opinion, Tucker is "a key element of this breaking of stereotypes and, as such, a figure to be held up by feminism. Her playing style, as unorthodox as it was influential, is one of those achievements that should be emphasized by the movement. Furthermore, her androgynous image and her discretion made her a counterpoint to Nico's glamour."
Revered by bands such as The Jesus and Mary Chain, who dedicated a song to her, and as Marrero asserts, a precursor to drummers such as Hannah Billie, formerly of Gossip, Tucker is, along with Cale, one of the survivors of the Velvet Underground's original line-up. Due to her social media stance on Donald Trump and gun ownership, Tucker has also become the band's least popular member.
Warhol's influence was a determining factor behind The Velvet Underground developing such a peculiar personality. In the strictly musical sense, the band projected through their instruments some of the ideas on repetition, improvisation and saturation that the artist applied to his experimental movies. On the literary side, the people who frequented Warhol's Factory left their mark on songs including That's the story of my life (inspired by Billy Name, the Factory's archivist) Femme fatale (inspired by the 'it' girl Edie Sedgwick) or the Reed-penned Candy says, which is about Candy Darling, an icon of the trans community.
"When Candy says was released in 1969 nothing changed," says Marrero, "but I think it was a marvelous celebration of trans culture on the part of the group. It is one of my favorite songs. You have to read the lyrics in a historical context because all that stuff about being trans and hating your body is a discourse that is now quite outdated in our community." Marrero also notes that, years later, Reed was in a relationship with a trans colleague, Rachel Humphries, the two sharing a "romantic relationship that was utterly silenced by the hetero-ciscentric music press."
When he started his solo career Reed would again talk about Candy Darling and other trans actresses on Walk on the wild side, one of the hits on his acclaimed 1972 album Transformer, a record that finally delivered many of The Velvet Underground's artistic ideas to a wider audience. By that time, David Bowie, Patti Smith, Suicide, Modern Lovers and New York Dolls we ready to do the group's legacy justice.