'Narcos are looking for me': deadly threats to Peru's indigenous leaders | Human rights
"We're looking for you, dead or alive," is one of the daily threats that Herlín Odicio receives on his mobile phone.
The leader of the indigenous Cacataibo people in Peru's central Amazon has been forced into hiding for standing up to drug traffickers trying to steal his land. "We've reported coca plantations on our land so many times and nothing has been done," Odicio said.
He said the threats against his life spiralled after he turned down an offer of 500,000 Peruvian soles (£96,500) for every drug flight leaving from a secret airstrip on his territory. "They're coming after me," he said by phone from a secret location in Peru. "I can't walk freely in my community. [The narcos] are looking for me."
Indigenous communities in Peru's central Amazon are experiencing an increase in violence, threats and harassment as drug gangs target their land to grow coca, the plant used to make cocaine. Covid-19 restrictions have made the remote region even more vulnerable by slowing state efforts to protect land and eradicate illegal coca cultivation.
This boom in coca-growing – Peru is the world's second biggest producer of cocaine after Colombia, according to the UN – has come at the cost of indigenous lives. In February, two Cacataibo leaders, 30-year-old Yénser Ríos and 28-year-old Herasmo García, were found shot dead 12 days apart in the Padre Abad province of Ucayali, an area riddled with coca plantations and clandestine airstrips for transporting cocaine into Bolivia.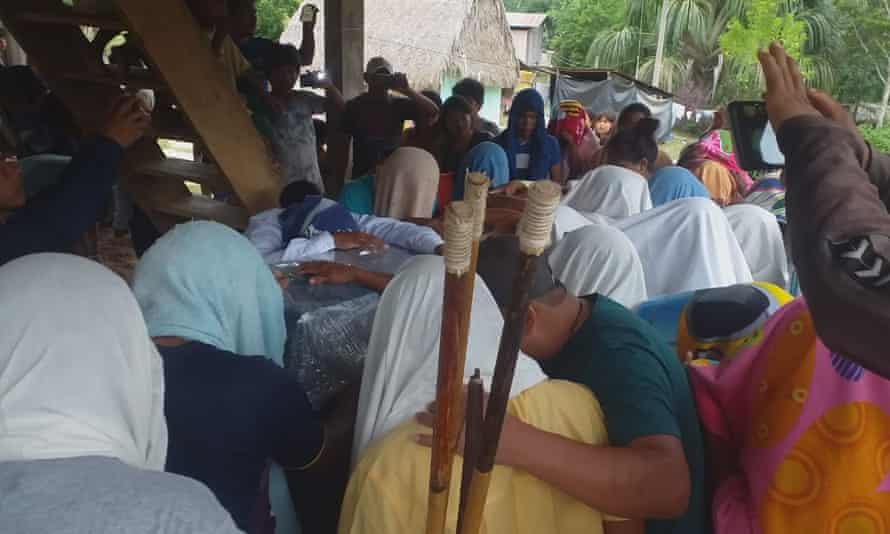 The head of police criminal investigations in Peru, General Vicente Tiburcio, said police were investigating if the men's deaths were revenge killings by coca-growers. Tiburcio said Ríos had been responsible for patrolling his community's territory and was known to have taken part in coca eradication.
In April 2020, Arbildo Meléndez, a leader from the same Cacataibo indigenous group, was shot dead near the village of Unipacuyacu. He had reported the presence of drug gangs and secret airstrips to the authorities, and had asked the Inter-American commission on human rights to demand the Peruvian state protect him.
These men are three of the seven Amazonians in Peru killed during the pandemic as land grabbers exploit the crisis to seize land to grow coca, as well as for logging and cash crops such as palm oil.
The most recent victim is Estela Casanto, 55, an indigenous Asháninka, who was found dead on 12 March. "Her family found bloodstains in her bed," said Teddy Sinacay, president of Ceconsec, an organisation of 120 Asháninka communities in Peru's central Amazon. "She had been beaten, dragged from her house. They took her about 40 metres and threw her in a gully. They then dragged her further, hitting her on the head with a stone."
Police are still investigating the circumstances, but her death provides yet more evidence of the precariousness of indigenous land claims, and the often deadly consequences of trying to assert them.
Indigenous Amazonians say police and prosecutors are failing to follow up their warnings, and are allowing killers to operate with impunity. In total, nine environmental campaigners have been killed in Peru since the start of the pandemic, but there has been no murder conviction in any case.
Meléndez's alleged killer was arrested but released on bail on a manslaughter charge after judges and prosecutors accepted his plea that his gun had gone off by accident.
"For the state, we don't exist," said Berlín Diques, a native leader in Ucayali. "We are constantly harassed and threatened," he said.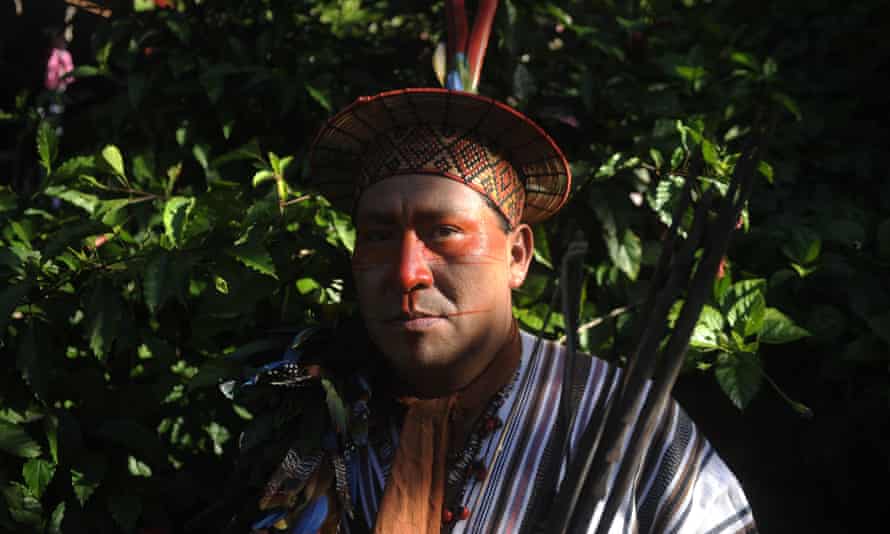 "We've lost trust in the prosecutor's office and the police," said Odicio, who received police protection for a few days last year but now has none.
Álvaro Másquez, a lawyer specialising in indigenous rights at Lima's Legal Defence Institute, said the scales are tipped in favour of outsiders seeking to buy land in indigenous territories. For the ancestral inhabitants, however, acquiring a land title can take decades.
"It's common practice for drug traffickers, land traffickers and illegal loggers to end up bribing the officials who authorise forestry or agricultural concessions and land titles," said Másquez.
At the same time, "structural racism in the judiciary and prosecutor's office" means impunity is the norm for land grabbers, he said.
The territorial insecurity of indigenous people has made them easy targets for drug traffickers who use "established organised crime networks" to exploit their weakness, said Vladimir Pinto from Amazon Watch, which works to protect the rainforest and indigenous people's rights.
As coronavirus restrictions ease in Peru, coca eradication – which dropped from an average of 25,000 hectares (61,000 acres) of coca a year pre-pandemic to about 6,000 hectares in 2020 – has just resumed in Cacataibo indigenous territory.
This worries Diques, who expects there will be reprisals by drug gangs. "The cannon fodder will be us indigenous [people]," he said. "The authorities leave and we will be blamed. We don't want to cry over more deaths."
El Salvador 'responsible for death of woman jailed after miscarriage' | Global development
The Inter-American court of human rights has ruled that El Salvador was responsible for the death of Manuela, a woman who was jailed in 2008 for killing her baby when she suffered a miscarriage.
The court has ordered the Central American country to reform its draconian policies on reproductive health.
The decision on Tuesday marked the first time an international court has ruled on El Salvador's extreme abortion laws and was celebrated by women's rights activists, who believe it could open doors for change across the region.
Since 1998, abortion in El Salvador has been banned without exception, even in cases of rape and incest. Over the past two decades, more than 180 women have been jailed for murder for having an abortion after suffering obstetric emergencies, according to rights groups.
The case of Manuela v El Salvador was brought after the 33-year-old mother of two from the countryside died from cancer after receiving inadequate medical diagnosis and treatment, leaving her two children orphaned. She had been serving a 30-year prison sentence for aggravated homicide after a miscarriage.
When Manuela – whose full name has never been made public in El Salvador – went to the hospital after miscarrying, staff failed to provide her with timely treatment and instead subjected her to verbal abuse and accused her of having an abortion, according to the Center for Reproductive Rights. Manuela was handcuffed to her bed and denied access to a lawyer while police interrogated her.
"There is no doubt that Manuela suffered an obstetric emergency," the landmark court ruling stated. "Such situations, as they are medical conditions, cannot lead to a criminal sanction."
The court also ruled that the state must pay reparations to Manuela's family, and should develop comprehensive sexual education policies and guarantee doctor-patient confidentiality.
"The Inter-American court has done justice by recognising Manuela was another victim of an unjust legal context that originates in the absolute prohibition of abortion," said Morena Herrera, at the Feminist Collective for Local Development, one of the parties in the case supporting Manuela's family.
"Manuela's story is a sad one, but it represents a change and becomes a path of justice and hope for all women in Latin America and the Caribbean who are criminalised for obstetric events."
Most countries in the region respect the Inter-American court's jurisdiction, opening the door for sweeping change, activists said.
"This is a huge advance for reproductive rights, not only in El Salvador but across Latin America," said Catalina Martínez Coral, regional director for Latin America and the Caribbean at the Center for Reproductive Rights, another party in the case. "This is a standard we can apply to the constitutions and states across the region."
Martínez Coral added that while the ruling was to be celebrated, the issue of poverty affecting access to reproductive rights remained a challenge.
"There are over 180 cases of women in jail, or that have been jailed, over these issues," said Martínez Coral, who also worked as a litigator on the case against the Salvadorean state.
"What that means is we're dealing with a state that criminalises women and, above all, criminalises poor women in the most rural and impoverished areas," she said.
EU commission unveils proposal to digitalise justice systems
The European Commission unveiled on Wednesday a proposal to digitalise EU cross-border justice systems, aiming at making them more accessible and effective. Under the new draft law, the EU executive wants to tackle inefficiencies affecting cross-border judicial cooperation and barriers to access to justice in cross-border cases. Shifting paper-based communications to electronic formats would save up to €25m per year across the EU in postage and paper costs.
Covid limits migration despite more people displaced by war and disasters | Global development
The coronavirus pandemic had a radical effect on migration, limiting movement despite increasing levels of internal displacement from conflict and climate disasters, the UN's International Organization for Migration said in a report on Wednesday.
Though the number of people who migrated internationally increased to 281 million in 2020 – 9 million more than before Covid-19 – the number was 2 million lower than expected without a pandemic, according to the report.
"We are witnessing a paradox not seen before in human history," said IOM director general, António Vitorino. "While billions of people have been effectively grounded by Covid-19, tens of millions of others have been displaced within their own countries."
Internal displacement caused by violence, conflict and disasters increased to 40.5 million from 31.5 million. Globally, the IOM said governments implemented a total of 108,000 restrictions on international travel, alongside internal restrictions on movement, disrupting migration during the pandemic.
Prior to the report's release, Vitorino told IOM member states on Monday that international cooperation was needed to ensure people were not stripped of the option of migrating when they needed to.
He also pointed out that people from countries with low levels of vaccination could be excluded from emigrating. "We must acknowledge the deep impacts the Covid-19 pandemic has had for people on the move: people stranded in transit, families separated across borders, migrants left unemployed but unable to afford the return home," said Vitorino.
"The resulting complex patchwork of measures, frequently changing in scope and application, has placed a chilling effect on cross-border mobility, particularly for those unvaccinated."
The report said conditions were particularly harsh for people from developing countries working in the Middle East and south-east Asia, with the pandemic affecting their incomes and housing, while they were also often excluded from access to healthcare and welfare.
However, the feared 20% drop in remittances – which can be a key lifeline to poor families during crises – that was predicted by the World Bank in April 2020 did not materialise and had been much lower, at 2.4%. This might be partly related to people being forced to send money to their families through formal routes, the report suggested, because options such as carrying cash were blocked off, as well as many working in jobs on the frontline of the pandemic that continued despite lockdowns.