Music: From Beyoncé to Rosalía, what's behind the eccentric use of capital letters in pop music? | Culture
If you go to your favorite music streaming platform and play either of this summer's two most played albums—Beyoncé's Renaissance and Rosalía's Motomami—you'll notice a significant detail: the titles of all the songs are written in capital letters. The chart's aesthetics have mutated over the years. The official listings maintain their own writing and capitalization rules, but the titles on Spotify's global top 50 are enough to make the eyes spin in orbit. The titles are as varied as the world's people. Neither song titles nor artist names follow the strict stylization rules of institutions or record companies.
Historically, Spanish and English have used capital letters in contrasting ways. In Spanish, the first letter of song titles is capitalized, but the rest of the letters are lowercase. English, meanwhile, capitalizes the first letter of every word, especially nouns, adjectives and verbs, a practice that apparently comes from the first version of the US Constitution. That is, where the Anglos write "Don't Cry For Me Argentina," Spanish uses "No llores por mi Argentina." In Spain, the Anglo-Saxon style is sometimes emulated, as with "Santos Que Yo Te Pinté" by Los Planetas. But it is visually exaggerated and looks artificial. The music industry has almost always followed rules and conventions of writing names and titles, whether for the physical versions of albums –CDs and vinyls– or in their digital versions.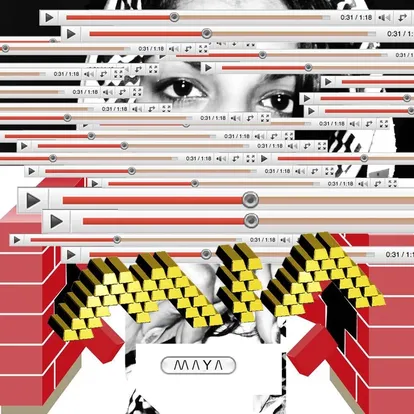 In the context of streaming platforms, however, those rules no longer dominate. On illegal download programs, such as Soulseek, users write as they please. On iTunes, where each person can modify an album's content, adding and deleting songs and titling them however you want. Most significantly, though, the platforms that allow artists to upload their own music, have changed the way artists present their songs to the world. Rappers like Travis Scott have made themselves known by uploading mixtapes to Soundcloud, a streaming platform that, unlike Spotify, has the option of being able to upload songs directly, without the need for external distributors. There, the usual capitalization conventions no longer have any relevance: the music is usually amateur work created at home without the help of record labels or professionals. Francisco Nixon, musician and content editor for the streaming platform Deezer, associates the use of capital letters specifically "with the subculture of hip hop and mixtapes. I mean CDs burnt at home, with crappy Photoshop typography and all. Its current use, I think, comes from that subculture."
That amateurism, detached from any formal convention, as often the artist does not know if their work will reach an audience, is also reflected in the writing of titles. It is often done in a hurry, without attention to grammar, spelling or aesthetics, because what counts is immediacy: the more spontaneous, the more authentic.
What was once a spontaneous practice has now become an industry standard, a marketing strategy that allows musicians to display their personality on the market. Artists like the aforementioned Rosalía (or ROSALÍA on Spotify), Beyoncé, Bad Bunny and Lil Nas X, present the titles of their songs in capital letters ("DESPECHÁ," "BREAK MY SOUL"), while others like Billie Eilish, Olivia Rodrigo, FKA twigs and, in Spain, Alba Reche or daniel sabater (as written) opt for lowercase. Sometimes these same artists use capital letters to title their albums but lowercase to name the songs, as with Billie Eilish's debut. Others choose both options at the same time, like Belén Aguilera. On his SUPERPOP, album, each track written in uppercase is followed by another written in lowercase. And British rapper Slowthai divides his double album TYRON into two halves, the first of which features titles in uppercase, the second in lowercase. The first represents, in his words, the "mask" that he puts on in front of others, while the second denotes his "true self."
Some artists choose an even more experimental method. All the songs in DAMN., by Kendrick Lamar are titled in capital letters followed by a period. However, others by J. Cole or Willow (daughter of Will Smith) are not only written entirely in lowercase but also with spaces between letters, such as "m y l i f e" or "t r a n s p a r e n t s o u l." The method seems to gesture towards something so transcendent that it doesn't fit within a song, much less within its title. (Special mention should be made of the use of emojis by groups such as Axolotes Mexicanos and even Coldplay.)
Uppercase and lowercase letters have become one more form of expression for artists, in addition to lyrics, melodies or graphic art. These artists have grown up with the Internet, sending and receiving text messages via mobile phones or computers. Playing with forms of writing has become natural to them. It is also no coincidence that artists who are presumed to be more "extroverted," flashy or explosive, such as Rosalía or Lil Nas X, use capital letters to stand out (the titles of MOTOMAMI and MONTERO are almost hysterical). Others like girl in red or mori, who create more introspective music, opt for lowercase to create a sense of intimacy, a space where you can listen carefully to all their secrets. All of them send a clear message of what they want to convey with their art and how they want the public to perceive them. Their use of writing conventions allows them to do so. Graphic designer and art director André Gianzo believes that "on Spotify, where most of the lyrics are written in lowercase, using uppercase can be a way to attract attention, to break with the establishment. Historically, the capital letter means shouting," so the use of lower case means the exact opposite. However, Gianzo points out that the standardization of this practice in the industry means that using capital letters "is no longer going to be a factor that is taken into account to attract attention" because the "eye gets used to absolutely everything."
Precedents for this phenomenon go beyond rap mixtapes published on platforms like Soundcloud. In 2010, M.I.A. released the album Maya, whose title is actually written with forward slashes, // / Y /, and which can only exist thanks to a modern keyboard. (Interestingly, one of the album's tracks is titled "CAPS LOCK.") Long before, Japanese pop artists such as Capsule and Ayumi Hamasaki were already messing around with uppercase and lowercase letters in song titles. It was then a purely aesthetic practice that denoted a desire to play with the norm or even transgress it. Nowadays it is common for Japanese or Korean artists to alternate between different alphabets in their song titles. This is the case of Utada Hikaru and her 2021 single "BADモード." Further back we find the precedent of e.e. cummings, the 1940s poet who wrote in lowercase for reasons of poetic expression. In her recent folk-music stage, Taylor Swift has titled all her compositions in lowercase, presumably with the intention of projecting a sense of intimacy.
Even more curious is the so-called lowercase genre, minimalist ambient music composed of practically imperceptible sounds and noises are amplified in the recording. One of its inventors, Steve Roden, released a record featuring different ways of manipulating sheets of paper. He stated that lowercase music "carries a certain sense of calm and humility, doesn't demand attention, must be discovered. It's the complete opposite of capital letters, which are loud and draw attention to themselves"– a good summary of what the strategic use of upper and lowercase means today in the world of pop music.
Greasy, but satisfying: Three Mexican street foods among the 50 worst in the world | Culture
As he hands a client a freshly made torta de chilaquiles (a bread roll stuffed with salsa-coated fried tortilla chips), Giovanni Aguilar says, affably: "The fact that Mexican food can be bad for you because it's so greasy is nothing new, but the way it tastes, you just have to have it." This is the food vendor's response to a ranking published by the gastronomic website Taste Atlas, which placed three Mexican street foods among the worst in the world.
Tripe (ranked 17th) and torta cubana (a bread roll stuffed with many kinds of meat and seasonings, ranked 14th) achieved a more favorable position than the torta de tamal (a tamal inside a roll, ranked 13th), but the three dishes share the same score: 3.5 out of five stars. Nonetheless, they still remain almost one point above that which Taste Atlas considers to be the absolute worst: kuzu kelle, a Turkish dish prepared with baked sheep's head.
In Mexico City, the ranking doesn't appear to have affected business. Aguilar's stand is small and located on Reforma Avenue. According to his calculations, he can sell up to 100 tortas de tamal a day, on top of all the bare tamales and the other kinds of tortas that he sells. "It's quite a convenient dish; one is enough to keep you going all day long," he says.
🇲🇽 #Chalupas are small corn tortillas fried in lard, and topped with a wide array of savory ingredients – red or green salsa, shredded pork, chicken or beef, chopped onion and sometimes even fresh cheese.https://t.co/DqRtsPe4VD

— TasteAtlas (@TasteAtlas) September 13, 2022
'One is enough to keep you going all day'
Aguilar pays no attention to these kinds of rankings and claims that those who criticize these popular dishes don't know what it is like to live in Mexico. "Habit has a lot to do with it; there are differences even among Mexicans from the south and those from the north, where the food is not as spicy. In the south, it's nothing but pozole [a traditional soup made with corn and pork meat]. The advantage of Mexico City is that you can find it all."
The stand is surrounded by customers and more keep arriving to place their orders. Aside from the tortas, other dishes like chilaquiles, fried tortillas covered in spicy salsa that can be complemented with a number of toppings like cream, cheese, chopped onion and meat, are proving popular. Aguilar says that people's eating habits have changed a lot. "Nowadays, they order more sandwiches, more chilaquiles and less tortas de tamal, but when the cold season arrives… what you crave is a tamal."
The tamal that Aguilar makes consists of corn flour, vegetable shortening and, depending on the type of tamal, either salt or sugar. It is a simple dish, which he considers to be a sort of steamed bread. Customers choose their own toppings: "Some want cream or salsa; everyone has their own preferences. You want beans? Go ahead, eat it all, don't waste it, bro."
The vendor serves a cup of coffee from an orange container as he reflects that, in the modern world, basically all food is unhealthy. "Long ago everything was better, everything was homemade. Nothing beats what you get at the farm, but it comes at a price," he concludes as he hands a customer her change.
Italy's Meloni begins tricky government talks after election win
Readers have been in touch over the past few days to express concern at the result of Italy's elections, with many asking how Italian voters could hand a landslide victory to Brothers of Italy (Fratelli d'Italia or FDI) a far-right party with roots in the post-fascist movement.
"I'm trying to understand why most voters in Italy would be in favour of this party? Has nothing been learned from history?" asked one Italian-American reader in the US.
EXPLAINED: What will a far-right government mean for Italy?
But, though it might not seem like it from some newspaper headlines, or even from the election results at first glance, the majority of voters did not actually choose Meloni's party – and a large number of people in Italy didn't vote at all.
Political analysts also say there hasn't really been any evidence of the "sharp turn to the right" described in many international media reports. The views of voters in Italy overall aren't necessarily shifting to the right or getting more extreme: Meloni has however been very successful in uniting the existing right-wing vote.
Her strong right-wing alliance, the lack of any credible opposition, and an electoral system that favours coalitions all worked in Meloni's favour. Here's a brief look at what this means:
FdI took the right-wing vote from other parties
While it may look a lot like Italy has taken a sharp turn to the right – particularly from a glance at these overwhelmingly blue maps – political analysts say strong support for the right in Italy has long been at around the same level, but was previously split.
As Dr Daniele Albertazzi, Politics professor at the University of Birmingham, put it in his analysis: "Brothers of Italy has attracted negligible support from outside the right."
Data shows Meloni likely drew much of her recent surge in support from Italy's other right-wing parties, particularly the League and small hard-right parties, while right-leaning supporters of Italy's populist Five Star Movement likely also voted for the right-wing coalition this time.
Even those voters coming from M5S (not huge amount) are likely to be from its right flank (we know from past studies there were many within M5S. You can think of them as voters M5S BORROWED from the right – for as long as they were credible in their eyes).

— Daniele Albertazzi (@DrAlbertazziUK) September 27, 2022
FdI's success came from it being the biggest party in a strong right-wing coalition able to appeal to voters all the way from the more moderate centre-right to the extreme right.
Many moderate voters said they were giving Meloni a chance because other party leaders were almost all familiar faces who've already had a shot at running the country – Enrico Letta, Giuseppe Conte, Matteo Renzi and Silvio Berlusconi have all previously served as prime minister at least once.
While Meloni has been involved in politics for many years, she was previously unknown to most of the electorate. Her profile has risen astronomically over the past 18 months after she chose to make FdI the only party in opposition to Mario Draghi's broad 'national unity' government, attracting the protest vote (which last time went to the populist M5S and League) by presenting it as the only alternative to the status quo.
Voter turnout was historically low
A poor turnout, particularly in the south, is also thought to have contributed to the election result.
Voter turnout fell to a low of around 64 percent, about nine points lower than the last elections in 2018, and the lowest-ever turnout at an Italian general election.
The rate of voter participation was markedly lower in southern regions, with the lowest turnout of all in the region of Calabria at 50.8 percent.
Meanwhile the highest turnout was recorded in the northern regions of Lombardy and Veneto, both at around 70 percent. This area happens to be the heartland of hard-right parties including Brothers of Italy and the League (previously called the Northern League).
La mappa per provincia dell'affluenza alle 12 (Camera) mostra un'affluenza più alta al Centro-Nord rispetto al Mezzogiorno.#MaratonaYouTrend#ElezioniPolitiche2022 pic.twitter.com/IvC70dgP9f

— YouTrend (@you_trend) September 25, 2022
Around one in four of those who voted in Sunday's election backed Meloni's Brothers of Italy.
At the last elections in 2018 the south of Italy voted overwhelmingly for the Five Star Movement, which promised to tackle poverty, inequality, and other issues primarily affecting southern regions while railing against the political establishment.
But the party seemingly failed to impress once it got into government, and has since lost a lot of support. It also chose to run alone rather than allying with any other parties, which put it at a disadvantage.
Italy's electoral system favours coalitions
The centre-left's complete failure to form a strong coalition in order to fight the election is also thought to have contributed to the right's landslide win.
Such alliances are paramount in Italy due to the way the electoral system works. About 37 percent of seats in both houses of parliament are allocated on a first-past-the-post basis in single-member constituencies, and this works to the advantage of parties who run as part of coalitions. (You can find an explanation of how Italy's particularly complicated hybrid voting system works here.)
Disastrous effect of Italian left failing to form an alliance reflected in number of FPTP seats won:
Chamber of Deputies
Fratelli d'Italia-Lega-Forza Italia 121
PD-Greens/Left-+Europa 12
Movimento Cinque Stelle 10
Südtiroler Volkspartei 2
Union Valdôtaine 1
Sicilia Vera 1 >>cont.

— Nicholas Whithorn (@NickWhithorn) September 27, 2022
As a result, the right-wing bloc with 44 percent of the vote was able to take more seats in parliament than all the centre and centre-left parties on 49 percent, basically because of the fact it joined together and they didn't.
Nazi Germany: The horror of discovering that your grandfather was an SS officer who personally murdered Jews during the Holocaust | Culture
After a long conversation about horrors, the writer and filmmaker Chris Kraus finally breaks down. He is a lively and robust man who is accustomed to dealing with terrible things, but something inside him has broken. When he's asked to explain his grandfather's role in the Nazi regime and the mass murder of Jews, he turns pale and his blue eyes tear up. "My grandfather, Otto Kraus, was part of the Baltic German minority in Latvia. Reinhard Heydrich recruited him for the SD [Sicherheitsdienst], the SS agency that served as an intelligence service and was central to the Holocaust. In 1941, he participated in the invasion of the USSR as a member of Einsatzgruppen A, one of the roving execution squads that followed the troops and killed mainly Jews. He later became the head of the SD in Riga. He rose to the rank of Sturmbannführer, an SS major. He was personally involved in at least two mass executions." In his novel The Bastard Factory, Chris Kraus recreates one of those horrific episodes. The main character is based heavily on Kraus's grandfather, and the novel faithfully follows his journey as an SS major.
In the book, on a summer day on the outskirts of Riga, the SS and their Latvian henchmen give a group of Jews the "special treatment." The scene closely resembles one of the massacres perpetrated in the Bikernieki (Bickern) forest, the main site of Latvia's massacres (out of a population of 90,000 Jews, 70,000 were murdered). They are forced to undress next to a ditch and then shot in groups. Kraus writes: "Executing someone at point-blank range often means that the victims' brain matter and blood splashes in all directions, and it did. Skull shards flew like shrapnel to where I was standing, 20 meters away. There was screaming, blood soaked the ground and the air smelled of wet iron mixed with cold sweat, excrement and urine." The scene continues as the main character approaches to shoot a young woman and peers into the pit with his Luger in hand: "In the midst of that jumble of bodies I discerned some feet that kept shaking. It was a girl whose skull cap had been blown off and landed beside her. She was looking at me with wide eyes, still hugging her baby, who seemed intact, just asleep […] Before I couldn't hold back the vomit any longer, I fired my pistol at them both."
The passage offers a glimpse into the world in which Otto Kraus (in the novel, Konstantin Koja Solm) moved, and the legacy with which his descendants grapple. "Finding out my grandfather's story was horrible, very disturbing," a distraught Chris Kraus explains. "I loved my grandfather." In 1985, as a student, he became interested in the stories Otto Kraus told him. "He talked about shootings, but he never said precise words; he used terms like 'special treatment,' and you could think that they did something else, like going into the forest to chop wood. But then I read a book about General Vlasov [the Russian defector who commanded Nazi troops], and it contained details about my grandfather and his connection to mass murder. It was horrifying. Nobody in my family knew about it. So, I went to the archives to look for information and to find out what had happened."
A dark legacy
He uncovered the whole truth, but none of his family members wanted to believe him, except his cousin Sigrid Kraus, a publisher. "I wrote an essay, Das Kalte Blut [or, Cold Blood], based on my research; it was published in 2014 in a small print run and meant for my family and our circle. I recounted everything to show that I wasn't making things up and to demonstrate how incompatible everything was with my family's memory. It didn't help…Throughout Germany, it's like the Nazis came down from Mars: most people say that their grandparents were excellent people, anti-Nazis, and that Hitler, Himmler and four psychopaths were to blame for everything."
The Kraus family's dark heritage isn't limited to Chris's grandfather. "[Otto's] two brothers also belonged to the SS and were part of the killing squads, it's an extraordinary case…madness. The elder brother, Hans, was even more involved in the atrocities, while the younger one, Lorenz, was a wartime correspondent for the SS; he was a gifted artist and drew anti-Semitic pictures."
How does Chris Kraus bear such a heavy burden? He thinks for a long time before answering. "It's hard to explain. I try to understand, to investigate what really happened, it's very difficult. I try to set things right with the truth. Of all of Otto's children and grandchildren, it has fallen to me to do it. I don't want to be a passive accomplice, I won't accept silence, even if the process is unpleasant for me." Did you ever confront your grandfather with the truth? "No, never; he died in 1989, and I didn't know his real story until 10 years later." Would you have liked to have talked to him about it? "Yes, but he commanded so much respect… I don't know if I would have dared, and I was the one who got along best with my grandfather. The others reproach me and say that he can no longer defend himself. To them, he was a good man, period. The truth is that he died without having to account for his crimes, like so many other SS elites, because Germany didn't dare to bring them to justice." Where is he buried? In Latvia? "In Nuremberg; how ironic," Chris Kraus laughs bitterly. "Although that city came to symbolize Nazi punishment after the war, it was once very anti-Semitic and quite fond of my grandfather, and of Hitler."
The Bastard Factory turns Otto Kraus's life into a nearly 1,000-page novel. He participated in secret SS missions, such as the Zeppelin operation to kill Russian leader Joseph Stalin (where he met Otto Skorzeny, famous for his daring military actions, including the rescue of Benito Mussolini). Then Otto became an agent for the CIA, the Federal Republic of Germany's new intelligence service, Org-BND, and even the KGB and the Mossad. "It's a fictionalization of his story, based on years of research and the essay I wrote for my family." Chris recounts the origins of the Krauses (in the novel, the Solms), their life in Latvia and the increasing involvement of Koja and his older brother Hub in the Nazi apparatus. The novel opens in 1974 in a Munich hospital. Hospitalized with a bullet wound, the main character tells his life story to the person in the next bed, an innocent, well-meaning, Buddhist, stoner hippie who can't believe what he's hearing.
Otto Kraus informs more than one of the novel's characters. "Both Koja and Hub reflect aspects of my grandfather. The older one is more brutal and the younger one is seemingly more sensitive and introspective, but you like him less and less. They both have evil in them. Hub at least has a coherent stance, but Koja has that personality of agents and spies who lack core convictions and navigate a universe of falsehood and lies like a fish in water. Ambiguity is the most disturbing element in the novel."
Given its subject, The Bastard Factory has a surprising sense of humor – Koja's irony; the Black lover who sings Horst Wessel; the ban on playing Monopoly because it's "a Jewish game"; the harelipped SS officer; Himmler's car stopping to let toads cross the road; the main character's circumcision so he can go undercover in postwar Israel as a Hebrew teacher named Himmelreich. "I've been harshly criticized in Germany [because of the novel's humor]. I knew that it would happen. Actually, I think the humor makes the story even more unbearable."
The novel also tells a love story. "The terrible thing is that Nazis like my grandfather were people. I didn't want to depict them as demons but rather as human beings in an inhuman regime. In Germany, people prefer to see the Nazis as monsters who were nothing like the rest of the population… humor and love are incompatible with demonizing them, which is why it's so disturbing." Can't it be seen as a form of justification? "No, they are stylistic devices, to help people understand that the human abysses I'm describing are not fiction. The key theme is morality, the character's amorality. He is despicable; humor and love draw him closer to us, but they do not excuse him. We cannot distance ourselves from evil, which is part of the human condition. My grandfather was capable of loving and being loved. How could a person I knew and loved be like that in another context? I wanted to make that experience accessible to readers. It could happen to all of us."
Kraus also portrays the world of intelligence services in which his grandfather moved following the war. The novel includes the stories of General Gehlen, Otto John, Isser Harel, the hunt for Eichmann… "It's all true, the events during the war and after. When I discovered that my grandfather was also a spy…how do you reconcile that with the importance that my family has always attached to honesty?"
The Bastard Factory has much in common with Jonathan Littell's great novel The Kindly Ones. The latter is also narrated by a Nazi criminal, and it describes the atrocities in detail. "I consider the comparison a compliment. It's an extraordinary book; I loved it. We did our research at the same time: during the 15 years that I was researching information about my grandfather, we visited the same archives and consulted the same documents, I saw his name. [Littell's] perspective is also that of the executioner. His main character, Max Aue, is a member of the SD and part of the Einsatzgruppen. But Littell worked more on the eroticism than the horror. It's a very literary book, with…all its homoerotic and perverse fantasies. It was an inspiration, but I take a different, harsher approach."
In Kraus's novel, the main characters' relationship also includes many perverse and scatological elements: Koja and Ev, his adopted sister and romantic interest, are influenced by sharing a potty as children; there's masturbation as well. "It's true, but I do that seeking the primitive, the elemental. There's also excrement, and blood, and the process of turning people into corpses in acts of mass murder. My grandfather saw all that. He smelled the excrement, the blood and the fear of the people who were murdered. What did he think then? How did he handle that experience? Some of my grandfather's comrades confessed that they enjoyed killing. Others said something that I find grotesque: they participated in the killings, yes, but in a charitable way, to avoid the unnecessary suffering of the victims."