Most organizations hit by ransomware would pay if hit again • The Register
Almost nine in 10 organizations that have suffered a ransomware attack would choose to pay the ransom if hit again, according to a new report, compared with two-thirds of those that have not experienced an attack.
The findings come from a report titled "How business executives perceive ransomware threat" by security company Kaspersky, which states that ransomware has become an ever-present threat, with 64 percent of companies surveyed already having suffered an attack, but more worryingly, that executives seem to believe that paying the ransom is a reliable way of addressing the issue.
The report, available here, is based on research involving 900 respondents across North America, South America, Africa, Russia, Europe, and Asia-Pacific. The respondents were in senior non-IT management roles at companies between 50 and 1,000 employees.
Kaspersky claims that in 88 percent of organizations that have had to deal with a ransomware incident, business leaders said they would choose to pay the money if faced with another attack. In contrast, among those that have not so far suffered a ransomware attack, only 67 percent would be willing to pay, and they would be less inclined to do so immediately.
The report also found that those companies that have been the victim of an attack are also more likely to pay up as early as possible in order to regain access to data, or will pay after just a brief period of time spent attempting to recover their encrypted data.
This willingness for companies to stump up the cash could be attributed to managers having little awareness of how to respond to such threats, according to Kaspersky. Management may also be unprepared for how long it may take to restore data, with some businesses losing more revenue while their data is being recovered than by just paying the ransom.
However, security experts and government agencies strongly recommend that organizations do not pay up for ransomware attacks as this simply validates this kind of activity as a viable business model for criminals. But this does not help much if your organization is affected, as Kaspersky acknowledges.
"Because it's about the business continuity, executives are forced to make tough decisions about paying the ransom. Giving money to criminals is never recommended, though, as this doesn't guarantee that the encrypted data will be returned and it encourages these cybercriminals to do it again," said Kaspersky VP for Corporate Product Marketing Sergey Martsynkyan.
Paying up might also not be enough to save an organization. One university in the US has recently been forced to close down following a ransomware attack, despite paying the ransom and having access to its systems restored.
Kaspersky offers some recommendations to help protect against malware. These include some obvious steps such as keeping software updated to minimize the risk from vulnerabilities, setting up offline backups that the ransomware cannot touch, and deploying security tools for advanced threat discovery and detection.
Cyber insurance model is broken, consider banning ransomware payments, says think tank
The security outfit also highlights the No More Ransom website, an initiative by the National High Tech Crime Unit of the Netherlands police, Europol's European Cybercrime Centre, Kaspersky, and McAfee. This offers advice for those affected by ransomware, plus decryption tools that may be able to recover data.
Meanwhile, Kaspersky itself has been the target of suspicions over the company's ownership and possible ties to the Russian government, with the German federal cybersecurity agency recently warning citizens not to install Kaspersky security tools. For its part, Kaspersky maintains that these suspicions are politically motivated and states that it is a private company with no ties to the Russian government. ®
Microsoft Drops Windows Cortana App, Increases Advertisements
Microsoft on Friday disclosed it will drop support for Cortana as a standalone app in Windows 10 and 11.
In a note to users, the IT giant said this doesn't mean the voice-controlled digital assistant is going away completely, and will still be found in some other Redmond products – just not in Windows 10 and 11 as a standalone application.
"This change only impacts Cortana in Windows, and your productivity assistant, Cortana, will continue to be available in Outlook mobile, Teams mobile, Microsoft Teams display, and Microsoft Teams rooms," the biz explained.
This isn't a surprise at all, in a way, because Microsoft has been cramming Copilot-branded AI-powered functionality into every corner of its empire lately. With Cortana, you can open its app and tell it to run programs, find information, update your calendar… all things that these incoming AI features should be able to handle, making the Smurfette-blue digital assistant a little redundant.
"We know that this change may affect some of the ways you work in Windows," Microsoft continued, "so we want to help you transition smoothly to the new options. Instead of clicking the Cortana icon and launching the app to begin using voice, now you can use voice and satisfy your productivity needs through different tools."
And those tools are: voice-controlled functionality in Windows 11; the updated Bing search engine with its interactive chat-based interface for looking up info; all that Copilot stuff in Microsoft 365, allowing users to create and edit documents among other things using natural-language instructions; and most importantly Windows Copilot, a chat-based interface for controlling the OS and applications.
As we said, all of which makes the Cortana app redundant and ripe for replacement as Microsoft injects OpenAI's GPT family of large language models into its products.
We're told the standalone app support will be ditched in the latter end of this year. Cortana as a personal assistant arrived in 2014 as an answer to Apple's voice-controlled Siri and Google's Google Now, having been plucked from the Halo video game franchise.
Cortana fired and ads hired?
Early last month, Twitter user Albacore, perhaps a persistent pain in Microsoft's side, reported that Redmond was toying with putting in-house ads in Windows 11's Settings panel – and shared screenshots of test builds featuring those very pitches for Microsoft 365 and storage products in the UI.
And now, as documented by GHacks on Friday, some users who go to the Windows 11 Get Help app will see an in-house ad for the software giant's Teams Essentials collaboration suite.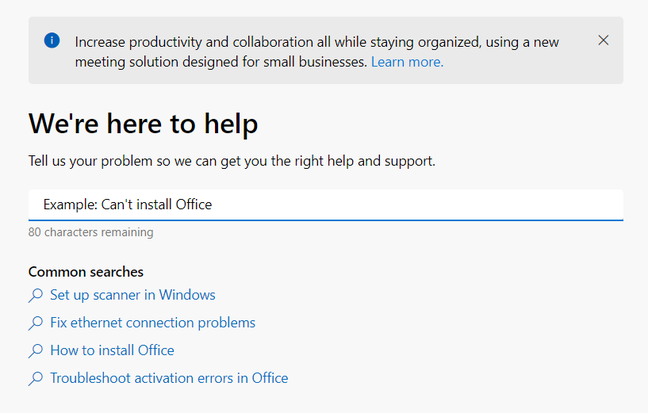 I came here for help, not a sales pitch … Screenshot of Windows 11. Hat tip: Ghacks
The Get Help support tool is there to help users who are having problems with or questions about the operating system, such as setting up a scanner or fixing Ethernet connections. At the top of the Get Help app interface – above the heading "We're here to help" – is the sentence: "Increase productivity and collaboration all while staying organized, using a new meeting solution designed for small businesses."
Clicking on the "Learn more" link brings the user to the Microsoft Teams Essentials webpage. ($4 per user per month!) Users can thankfully close the ad.
Again, we're not surprised by this development. Redmond has for months been spamming its own banners and promos here and there throughout Windows in hopes of getting more people to subscribe to Microsoft 365 or sign up for various products and services.
In March 2022 it began testing ads in File Explorer, and there were reports eight months later that they could begin showing up in the Windows 11 sign-out menu. In April this year, there was talk from Microsoft of more ads coming to the Start Menu.
In addition, Microsoft in April updated its Weather app to show ads – as well as the MSN news feed – but removed most of that a month later after users revolted.
Reports in early May based on Albacore's tweet about ads coming to the Settings page drew similar derision.
"It's sad and hilarious at the same time," one netizen opined. "The Settings app is what, 10 years old at this point? It STILL is an incoherent mess that barely replaces the good old Control Panel. Shoving ads in there just shows where their priorities are."
Another user wondered whether Microsoft, which has invested billions of dollars in OpenAI to integrate the upstart's GPT technologies into its ecosystem, would use this AI muscle to pick and display third-party ads in the operating system.
"Are GPTs going to devolve into the used car salesman of the tech world?" they asked. "I am sure [Amazon's] Alexa and Google and others are in the same opportunity position."
Users may not like the ads, but don't expect Microsoft to pull them if they help bring in more money.
Microsoft declined to comment.
Making Technology Consulting More Accessible To SMEs
By Clint Bailey – Editor 'Voice of EU'
Vibertron Consulting, based in California, emerged on the scene just a year ago, as a subsidiary of Vibertron, and is rapidly gaining momentum as the preferred integrated technology and strategic consultancy platform in the United States and beyond.
At the helm of Vibertron Consulting is Raza H. Qadri (Ali), a highly accomplished individual with a diverse range of qualifications. With an MBA, a B.Sc. degree in Electrical Engineering, and a third degree in Computer Science, Qadri firmly believes in the importance of formal education as a cornerstone for building a robust and sustainable business.
Having amassed valuable experience across various industries including engineering, media, finance, and technology, as well as successfully founding three startups, Qadri is now putting his theories into practice. He has established a global business-to-business (B2B) remote work platform that offers integrated technology, marketing, and sales consultancy solutions specifically designed for small and medium-sized businesses.

With his expertise and a strong background in multiple fields, Qadri aims to empower businesses by providing comprehensive solutions tailored to their specific needs. The integrated approach of Vibertron Consulting allows clients to leverage technology, strategic marketing, and sales expertise to expand their operations and drive growth.
"An integrated platform is more of a complex business and go-to-market challenge rather than a technical one" Qadri explained, a Pakistani Canadian who moved to Canada 22 years ago.
"There are complexities associated with technical scale and optimization, but with today's technology we can build a diverse platform using pre-existing components such as integrated services, even though the new technology trend is shifting back to data centre-based digital architecture."

A Blend Between Marketplace & Integrated Managed Solutions
Founded in 2019, Vibertron presents itself as a hybrid technology company, providing clients with the opportunity to acquire comprehensive remote work, and consulting solutions. Facilitated by an internal database comprising approximately 1,500 thoroughly vetted specialists from the marketing, sales, and technology consulting industries, Vibertron ensures a high level of expertise and professionalism among its professionals. Notably, the specialists within the database possess a minimum requirement of a Master's degree or 5-7 years of work experience in their respective fields. This stringent selection process ensures that clients can confidently engage with skilled professionals who possess the necessary qualifications and industry knowledge to deliver exceptional results.
"At Vibertron, we pride ourselves on working with top-tier professionals who exemplify integrity and professionalism. We prioritize building a team that upholds these values and ensures a positive client experience. Trust and excellence are at the core of our interactions, guaranteeing that our clients receive exceptional service every step of the way." Qadri explained.
"To achieve this, we have created a B2B platform that is a blend between a marketplace and a managed professional solutions with two distinct models – one for one-time service buyers and one for clients looking for managed 360° marketing, sales, and technology solutions."
Keeping It Simple
As stated on Vibertron's official website, clients seeking integrated technology, marketing, and sales consultancy services can choose from three distinct plans: MCiHT™ (Technology), MCiM™ (Marketing), and MCiS (Sales). Each plan offers tailored solutions to cater to the specific needs and requirements of businesses in these domains.
"In addition to essential features like a social feed, messaging capabilities, and secure payment infrastructure (currently leveraging Stripe and Bank of America), Vibertron recognizes the importance of embracing emerging technologies such as AI and blockchain. By integrating these cutting-edge technologies, we aim to enhance our platform and deliver innovative solutions that meet the evolving needs of our clients." Qadri said.
Artificial Intelligence (AI) & Hybrid Consulting Model
In line with its core objective, Vibertron is strategically preparing to implement an AI-based hybrid co-pilot. This advanced technology will assist clients in acquiring integrated solutions and conducting thorough due diligence. By leveraging blockchain technology, Vibertron aims to validate project credentials, enabling clients to confidently engage with top-tier professionals who possess a proven track record of successfully delivering similar work. Throughout the entire process, Vibertron remains fully committed to supporting clients every step of the way, ensuring a seamless and reliable experience.
"Our ultimate objective is to enhance trust within the consulting industry, recognizing the significant value consultants bring in accelerating progress. However, we have observed numerous distortions arising from market inefficiencies, resulting in a widespread lack of confidence in the role of consultants. By addressing these challenges and fostering transparency and reliability, we aim to rebuild trust and establish consultants as valuable assets for achieving business goals." Qadri explained.
"We firmly believe that an improved consulting industry, potentially operating on a smaller scale, has the potential to serve as an economic engine, fostering accelerated growth within the global economy. By addressing the challenges and enhancing the efficiency of the consulting sector, we can create a conducive environment for rapid economic advancement on a global scale."
A Unique Niche Between Consulting & Remote Working
Vibertron Consulting adopts a distinctive business model in which internal Project Managers, acting as Client liaisons, oversee and manage the complete technology, marketing, and sales operations of small and medium-sized businesses (SMBs). These dedicated Project Managers provide real-time monitoring of teams and deliver the utmost level of consulting service in their respective domains, ensuring that businesses receive exceptional support and guidance.
"We have developed our business suites with SMBs in mind. Consider the expenses and commitment involved in hiring full-time staff for technology or marketing roles. We have revolutionized this dynamic by offering business solutions that cost less than employing even a single full-time professional in these fields. This is a key factor that attracts SMB owners to choose our services for managing their entire technology, marketing, or sales operations. Furthermore, our team comprises highly skilled professionals, and the scope of our services is unmatched by any standard, adding to our appeal in the market." Qadri added.
Sustainable Growth
Presently, Vibertron operates in Europe, the UK, and the US and is actively engaged in securing seed funding for the consulting segment. Furthermore, the company intends to expand its products and workforce in the US, aiming to hire ten new employees by the end of this year, effectively doubling its team size.
Since its inception, the startup has experienced significant growth, progressing from a team of two to fourteen individuals, successfully completing over 650 projects. Additionally, Vibertron has served 75 LCE clients seeking consulting services in the domains of technology, marketing, and sales. Embracing the age-old adage that "cash is king," Qadri, a staunch proponent, emphasizes the importance of generating revenue at the earliest stages of the business, fostering sustainability and facilitating further development.
"By prioritizing revenue generation, we aim to deliver enhanced value to customers, provide a better quality of life to our employees, and enable investors to recognize the long-term viability and sustainability of our business model." he said.
"In the current business landscape, startups driven by growth objectives must adhere to fundamental principles such as maintaining healthy cash flow, establishing stable operational and burn rates, and relying on revenue-backed valuations. These foundational principles serve as crucial guidelines for us towards ensuring the long-term viability and success."
Funding & Growth
Qadri added, "While securing funding remains an ongoing process for us, as it does for many startups, our position as a profitable business enables us to effectively navigate the transitional period between being considered "too early" and reaching the ideal stage of development. This financial stability provides us with the necessary resilience and flexibility to sustain growth and seize opportunities as they arise.".

---
Photo credits: Vibertron.
Clint Bailey a Senior News Editor at 'Voice of EU' as well as co-editor of EU-20 magazine. Have a tip? Send him a DM at info@voiceofeu.com.
New French Legislation Cracks Down on Undeclared Advertising: Influencers Face Prison Sentences and Hefty Fines
In a bid to tackle undeclared advertising and fraudulent practices, influencers in France are now confronted with the risk of severe penalties, including imprisonment and substantial fines. This new legislation, which has received bipartisan support and recently passed in the French parliament, aims to establish equitable advertising regulations for online personalities, aligning them with the standards applicable to traditional media.
The legislation addresses a long-standing issue in France, where the commercial activities of influencers—such as receiving payments for promoting products—often go unreported. Until now, influencers lacked a specific legal framework in the country. However, the new bill introduces stringent measures to rectify this situation.
Under the legislation, influencers will be required to clearly indicate the nature of their posts by including terms like "advertising" or "commercial partnership" when promoting products for which they have received compensation. Additionally, influencers will be obliged to establish formal contracts with brands they collaborate with.
The legislation also prohibits the promotion of certain products and services, including cosmetic surgery, tobacco, specific financial products, and medical devices. Moreover, it tightens the rules governing the promotion of sports betting and lottery games, restricting these activities to platforms that can effectively prevent minors from accessing such content, such as YouTube.
Violators of these rules could face severe consequences, including imprisonment for up to two years and fines of up to €300,000. The significance of this legislation was underscored by Arthur Delaporte of the opposition Socialist Party and Stephane Vojetta from the ruling Renaissance party, who jointly sponsored the bill. Senator Amel Gacquerre, responsible for piloting the legislation in the senate, expressed pride in the unprecedented agreement reached.
With an estimated 150,000 influencers in France, their impact ranges from niche audiences to millions of subscribers, influencing trends across sectors like fashion and video games. While many influencers have a positive impact on the economy, promoting creativity and job creation, a small minority engage in deceptive practices that harm consumers. Economy Minister Bruno Le Maire highlighted the need to combat these abuses, emphasizing that influencers must not manipulate their roles or deceive consumers. He acknowledged the creative contributions and economic value influencers bring to France while holding troublemakers accountable.
Enforcing these regulations on a significant number of online creators, particularly those based in different jurisdictions, poses challenges for police and prosecutors. Many influencers operate from overseas locations but are accessible in France, complicating enforcement efforts. French rapper Booba has spearheaded a high-profile campaign against fraudulent influencers, exposing their misconduct to his millions of social media followers. Notably, he referred to them as "Influ-stealers." Booba's campaign has drawn attention to specific individuals, including Magali Berdah, the CEO of influencer agency Shauna Events, who faced allegations of fraudulent activities. Berdah denies any wrongdoing and has initiated legal action to defend herself.
Supporting those affected by online financial fraud, a collective named AVI (Help for the Victims of Influencers) has launched legal actions on behalf of individuals who consider themselves victims. One of their targets is a well-known French couple, Marc and Nade Blata, who offer investment advice while flaunting their luxurious lifestyle in Dubai. The couple also denies any wrongdoing.
The legislation has received mixed responses within the influencer community. The recently established Union of Influencers and Content Creators, which represents the sector, has acknowledged the necessity of regulating the industry to ensure commendable and essential practices. However, they have cautioned against discriminatory or excessive overregulation that may hinder certain players.
While the new legislation aims to establish a fair and transparent environment for influencers and protect consumers from deceptive practices, its effective implementation and enforcement remain key challenges. As influencers operate globally and across various jurisdictions, coordination and cooperation among law enforcement agencies will be crucial in ensuring compliance.
The initiative to regulate influencers in France has sparked discussions beyond its borders, as other countries and jurisdictions grapple with similar issues. The French legislation sets a precedent and serves as a case study for lawmakers and regulators worldwide who are seeking to address the growing influence of online personalities and the need for clear advertising guidelines.
Critics argue that the scale of the task, given the sheer number of online creators, poses practical difficulties in enforcing the regulations effectively. With many influencers operating from overseas locations, cooperation between different legal systems will be necessary to hold individuals accountable for their actions.
Nevertheless, the introduction of this legislation signals a shift toward greater accountability and transparency in the influencer industry. It aims to protect consumers from deceptive practices while ensuring fair competition among influencers and traditional media outlets.
As the French government takes a strong stance against undeclared advertising and fraudulent influencer practices, it remains to be seen how other countries will respond to this evolving landscape. The regulation of influencers is a complex and multifaceted issue that requires ongoing dialogue and collaboration between governments, industry stakeholders, and content creators themselves.
In the coming months, the impact of the legislation on the influencer ecosystem in France will become clearer. Influencers and brands will need to adapt their practices to comply with the new rules, ensuring transparent communication and disclosure of sponsored content. As the influencer industry continues to evolve, the balance between creativity, authenticity, and compliance with advertising regulations will be a critical factor for influencers' success and the trust they garner from their audiences.
Overall, the introduction of this legislation represents a significant step toward establishing a more regulated and accountable influencer landscape in France. It serves as a reminder that with influence comes responsibility, and the era of unchecked advertising practices in the digital realm is coming to an end.
---
By Marion Moreau
We Can't Thank You Enough For Your Support!
— Compiled by Team VoiceOfEU.com
— For More Info. & News Submissions: info@VoiceOfEU.com
— For Anonymous News Submissions: press@VoiceOfEU.com
---