Mexico elections 2021: The battle for northern Mexico: border states check president's electoral power | USA
The symbol of an eagle devouring a snake is familiar from Mexico's national flag, but at this rally it sits on a version that is bright orange, bearing the legend Movimiento del norte (Movement of the north). Standing next to the poster, five candidates declare what makes northern Mexico different to the rest of the country.
We are standing on the terrace of a convention center in San Pedro Garza García, an upscale area of Mexico's third-largest city, Monterrey, from where a row of skyscrapers stretches into the horizon. This area is the richest in Latin America, according to the credit rating agency Fitch, with a GDP per capita of US$90,000 from figures published in 2019.
"We will never allow those in the center [of the country] to mistreat us, for those in the center to tell us what to do, and we will certainly not allow them to interfere with our land," said Samuel García, a gubernatorial candidate for the state of Nuevo Léon, a powerhouse of the Mexican economy. At 33, García is a key face in Movimiento Ciudadano (Citizens' Movement), which has spent the last decade trying to break apart Mexico's traditional party system. His wife is the popular influencer and businesswoman Mariana Rodríguez, pushing his message on social media and making him a minor sensation ahead of June 6 legislative elections. Half of the country's governorships, its parliament and thousands of local officials will be elected.
Although García has made a splash, his success also has much to do with revelations that Clara Luz Flores, the candidate of the ruling National Regeneration Movement (Morena), was caught on video speaking to the leader of the NXIVM sect, Keith Raniere, five years ago. Raniere was sentenced last year to 120 years in jail on charges of racketeering, sex trafficking and child pornography offenses. She had always denied the conversation ever took place, and the release of the tape caused her popularity to nosedive after leading the polls for weeks.
Flores was previously a member of the opposition Institutional Revolutionary Party (PRI), but broke with the formation after Mexican President Andrés Manuel López Obrador reached out to offer her the nomination, noting her success as the former mayor of General Escobedo, also in the Monterrey metropolitan area.
Nuevo León state contributes the most to Mexico's GDP after Mexico City, but the president has long been seen as distant and cold towards the north. This, combined with the cult leader scandal means that Morena's chances now seem slim in Nuevo Léon. It is not the only border state haemorrhaging support for the ruling party. In the state of Sonora, in northwest Mexico, a local Movimiento Ciudadano candidate was recently murdered in a hail of gunfire. The death opened a conversation about electoral violence that threatens the once assured candidacy of Alfonso Durazo, a former security minister in the current government. Opinion polls in Chihuahua, a third border state in contention, do not show a convincing victory for the ruling party, leaving Baja California the only northern state that Morena seems certain to win.
"Today, Movimiento Ciudadano is becoming the pre-eminent political force in Nuevo León. We have an irreversible lead," said Clemente Castañeda, the party's leader, referring to García and Luis Donaldo Colosio, the party's mayoral candidate for Monterrey. These claims remain to be seen, as the PRI, headed by Adrián de la Garza, remains a force to be reckoned with. Movimiento Ciudadano, which only governs in Jalisco state, lacks the grassroots structures of the older opposition group. Meanwhile, both De la Garza and García are being investigated by the Attorney General's office for separate alleged offenses. De la Garza is accused of vote buying, while García allegedly received illicit contributions to his campaign. Whoever may win the north, what is clear is that regionalism has become a hot-button issue, and it works in both directions. While voters in border states may feel that Mexico City and López Obrador have turned their backs on them, those from further south sometimes see the north as offering an alternative to the lure of the capital.
Elber Martínez was born in the central state of Hidalgo 30 years ago. He tried to find a job in Mexico City at the end of 2019, but failed to do so and moved to Monterrey instead. Within two days he had found a job as a substitute teacher for third grade children, and is now finishing his studies while also working as a waiter. "This is the best of Mexico. It's either here or the United States," said Martínez. He cannot vote as he is still registered back home, but if he had the option his ballot would be cast for García, he said, owing to his image as a reform candidate who understands young people.
López Obrador has not yet reached the halfway point of his six-year term but he has succeeded in becoming the center of all political attention
Just as the north drifts away from the rest of the country, Morena has redoubled its popularity elsewhere. Even a rape accusation did not stop a ruling party candidate in Guerrero state from receiving the president's full backing and maintaining his popularity. He was later disqualified from running on other grounds. That said, the hypothetical triumph of Movimiento Ciudadano in Nuevo León would have an impact on a national scale, as a major secondary opposition looming over the remainder of the current government's term. If PRI achieves victory with Adrián de la Garza, however, he would become the de facto leader of a disjointed opposition without some of the figures who have made the president's life difficult since being elected in 2018.
López Obrador has not yet reached the halfway point of his six-year term but he has succeeded in becoming the center of all political attention, and free to set the agenda. From the pulpit of his morning press conferences, the president has always delivered a vision of a Mexico divided into "conservative party" adversaries, used to describe all critical voices, and his allies. To the list of conservatives can now be added northern Mexico. "I hope Morena wins absolutely nothing here to send the message that the north has woken up," said García.
The bickering between Mexico City and the north is also on full display in the border state of Tamaulipas, where the national leader of the ruling party was intimidated by an armed group in the city of Matamoros. Federal and state authorities have clashed over the fate of Tamaulipas governor Francisco García Cabeza de Vaca, a member of the opposition National Action Party (PAN). García Cabeza de Vaca was stripped of his official immunity from prosecution weeks ago by Mexico's parliament so that the Attorney General's Office could proceed with an investigation into an alleged money laundering scandal. The Tamaulipas state legislature responded by rejecting that decision until a judge ordered his arrest. That decision was then suspended by another judge. The PAN describes the investigation of the governor as political persecution, while the president has urged the judicial system to resolve the case as soon as possible.
The accusations center on whether Cabeza de Vaca amassed undeclared properties in Mexico and the United States, and despite evidence gathered by the Mexican authorities, other opposition parties have also rejected the investigation as "political lynching orchestrated by the government." For Mexico's president, however, it's another case of corruption of the kind he was elected to root out.
Teenager saves baby from shipwreck during Mediterranean crossing | Global development
The actions of a teenager from Togo have been lauded after video footage was published of him supporting a baby he saved from a shipwreck in the Mediterranean Sea last week in which at least 30 people died.
The 17-year-old, whose identity has not been disclosed, swam to save the child, whom he was holding above water when a rescue team arrived, in footage published by the French media group Brut.
"I am a good swimmer and I went to help people," the teenager said, according to Médecins Sans Frontières (MSF), whose Geo Barents rescue ship arrived at the site of the shipwreck.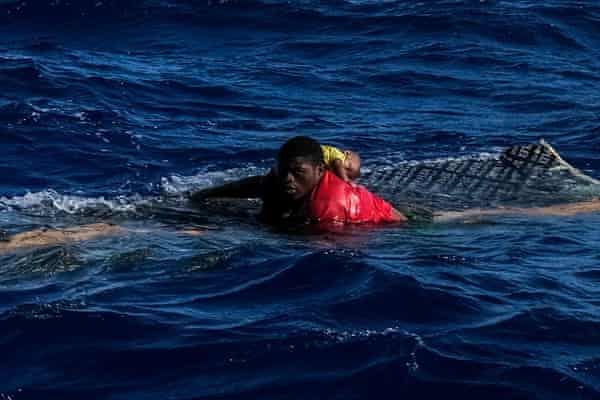 Michael Bunel, a French photojournalist who was onboard the rescue ship, told Brut that when they arrived they could hear the teenager shouting: "There's a baby. There's a baby."
The crew threw the teenager a flotation device to pull him and another survivor in, and gave urgent treatment to the four-month-old baby, who at first was not breathing. The baby and her mother were evacuated to Malta, according to MSF.
The rubber dinghy was detected only after nine days at sea, said Safa Mselhi, a spokesperson for the UN's International Organization for Migration. A pregnant woman who could not be resuscitated died onboard the rescue ship.
The Geo Barents rescued 71 people from the shipwreck, some of them with fuel burns, caused when skin comes into contact with petrol that has mixed with seawater.
The survivors on the Geo Barents had to wait almost five days to get to land, only being allowed to disembark at the Italian town of Taranto on Saturday. The ship had been carrying the body of the pregnant woman during this time.
Juan Matías Gil, MSF's search and rescue representative, said: "This traumatic event is a deadly consequence of the growing inaction and disengagement of European and other border states, including Italy and Malta, in the Mediterranean Sea.
"Tragedies at sea continue to cost thousands of lives, and these people are being lost on Europe's doorstep, with absolute silence and indifference from EU states."
Sea rescue charities have repeatedly accused the European Union of failing to save refugees trying to cross the Mediterranean by requesting that Libya's so-called coastguard intercept any boats attempting the crossing, despite allegations of abuse in Libya's militia-run detention centres.
According to MSF, at least 8,500 people died or went missing, and 95,000 were returned to Libya, in attempting crossings of the Mediterranean between 2017 and 2021.
On Wednesday morning 306 people disembarked in Sicily from SOS Méditerranée's rescue ship Ocean Viking. Some of the survivors had been onboard for 12 days. The ship carried out eight rescues in less than two weeks – the most recent, on Monday, of 15 people who had been adrift for two days.
Environment: Colombia and the new Latin American left | Opinion
After the victory of president-elect Gustavo Petro and vice-president-elect Francia Márquez in Colombia, many have concluded that we are entering a new leftist wave in Latin America. But simply announcing the rise of a new left is more confusing than it is illuminating. New in what sense? In comparison to what? What distinguishes it from others? Who are its members? Without answers to these questions, Latin America's political moment cannot be understood, and one risks stating the obvious (that the left is new because it is recent) or randomly grouping together very different movements and governments.
"What is new about the new left?" is a question that surfaces from time to time. The last "new left" (which, of course, it is no longer) was the pink wave at the beginning of the century. As I wrote at the time in a book entitled, predictably, The New Latin American Left, it was the wave led by Lula's Brazil and swelled by other governments that would follow very different paths, from the progressive democracy of Tabaré Vásquez and Pepe Mujica in Uruguay to the authoritarian disaster of Hugo Chávez and Nicolás Maduro in Venezuela, as well as governments as diverse as those of the Kirchners in Argentina, Evo Morales in Bolivia, and Rafael Correa in Ecuador.
I think that what is new and distinctive of the progressivism that won this year in Colombia and Chile is precisely what all those left-wing governments lacked: an environmental agenda and economic policies that understand that fossil fuels and extractive industries are the past. And that there is no future, neither for the left nor for anyone else, on an uninhabitable planet. Despite the profound differences among the leftist governments of the last two decades, all of them shared with right-wing governments the enthusiastic promotion of extractive industries, from oil and coal to mining and agribusiness.
In Brazil, Lula and Dilma Rousseff ended up fulfilling the military dictatorship's dreams of opening up the Amazon to monumental hydroelectric dams like Belo Monte, to feed energy to mining projects throughout the region. In Bolivia, former vice-president Alvaro García Linera went so far as to publish a defense of extractivism in the Amazon. Rafael Correa was even more explicit: he referred to Indigenous peoples and environmentalists who opposed his policies of aggressive expansion of oil and mining in Ecuador as the "infantile left." The aberrant case of Venezuela belongs to a different category: "21st century socialism" not only maintained oil dependence, but used it to finance what ended up being a "dictatorship of the 21st century," as Provea, the well-known Venezuelan NGO, has called it.
The extractivism of the left was due, in part, to reasons of convenience. The pink wave overlapped with a period of record prices for commodities. The resulting hard currency financed exemplary social policies in several countries, such as the Zero Hunger and Bolsa Familia programs in Brazil. In part, however, it was due to sheer conviction. Even today, important sectors of the left, such as the López Obrador government in Mexico, tend to see oil and mining exploitation as indisputable pillars of national development and sovereignty—and environmentalism as a naïve movement, at best, or as an instrument of the rich countries, at worst.
But much has changed in the last twenty years. Today we are living the reality of climate change and know that we have less than a decade left for governments to take urgent action to avoid the most catastrophic scenarios of global warming and the irreversible destruction of vital ecosystems such as the Amazon. We understand that human health and the health of the planet depend on national policies and international agreements to protect biodiversity in at least 30% of the Earth by 2030. Finally, we know that Latin America would suffer disproportionately from the effects of environmental collapse, such as forced migrations, economic and food crises, and social conflicts.
If it is to deserve the label "new," the left in power would have to rise to this new planetary moment. And follow the momentum of the progressive movements that embody it and that were essential to the electoral outcome in Colombia, as shown by the iconic figure of vice-president-elect Francia Márquez: the Black and Indigenous movements, the urban environmentalism of young people, ecofeminism, the small farmers' movements.
At a time when the global right seems to bet on the destruction of the planet (Bolsonaro, Modi, Putin, etc.), the left should distinguish itself not only by its social agenda but also by its environmental agenda. Abandoning extractivism and moving towards clean economies is not irresponsible, as critics suggest, but indispensable. This seems to be the view of the environmental progressivism that is emerging in Colombia and Chile. Petro and Márquez's proposals contemplate a gradual and fair transition to reduce the historic dependence on oil and coal, among other measures. Chilean President Gabriel Boric's government promised a "just socio-ecological transition" and has just shut down the Ventanas copper smelter, an emblem of mining pollution.
Thus, the first leftist government in Colombia may have regional and global repercussions. An initial sign of this turn was the first conversation between Petro and President Biden, which included a possible alliance on climate change and Amazon conservation. If accompanied by a shift to the left in Brazil (where it remains to be seen whether a possible Lula government would abandon the extractivist tradition) and adequate funding from wealthy countries that have polluted the most, the proposal of Latin American environmental progressivism could contribute not only to the consolidation of a new left, but also to the preservation of life on the planet.
More than 5,000 people are missing in Balochistan. I want my father back | Sammi Deen Baloch
I started protesting after my father, Dr Deen Mohammed Baloch, was abducted from his hospital in Khuzdar, Balochistan, on 28 June 2009. I became an activist, raising my voice against the heinous crime of enforced disappearances: more than 5,000 people are missing in Balochistan.
In the 13 years since my father was taken, I have spent most of my time on roads, in front of journalists' press clubs across Pakistan – with a photograph in my hand, asking a simple question: "Where is my father? What is his crime?"
Enforced disappearances in my home province is a decades-old issue, from when the Balochistan nationalist movement began in the early 2000s.
In 2014, I, along with other relatives of missing people, marched 2,000km (1,200 miles) over 116 days from Quetta to the capital, Islamabad. As a 15-year-old, with my swollen feet, I thought going to the capital would make those in power have some mercy. I was wrong.
My mother does not know whether she is a widow or still married. We deserve to know the truth – whether my father is alive or dead.
If my father is alive, he should be released or brought to a court of law. If he has been killed, we should be given proof.
I have spent 13 years in this struggle to know the truth but I have never been as humiliated, harassed, beaten and verbally abused as I was at our recent peaceful protest in Karachi.
One police man grasped my hand forcefully and another held me by the neck. I felt as if my bones were going to be fractured.
My sister, Mehlab Baloch, was slapped three times. Bakhtawar, a fellow activist who was filming, had her phone snatched by the police. She was dragged along the road. This was all caught on camera and the video widely shared.
Police mocked us after throwing us in their van. We were warned not to protest or else they would "drag and beat us" more.
The police told me: "You think you are a leader and are at the forefront. We will teach you a lesson."
Our headscarves were removed. The officers threatened us by saying to each other: "Once their shalwars [trousers] are removed, then they will stop protesting."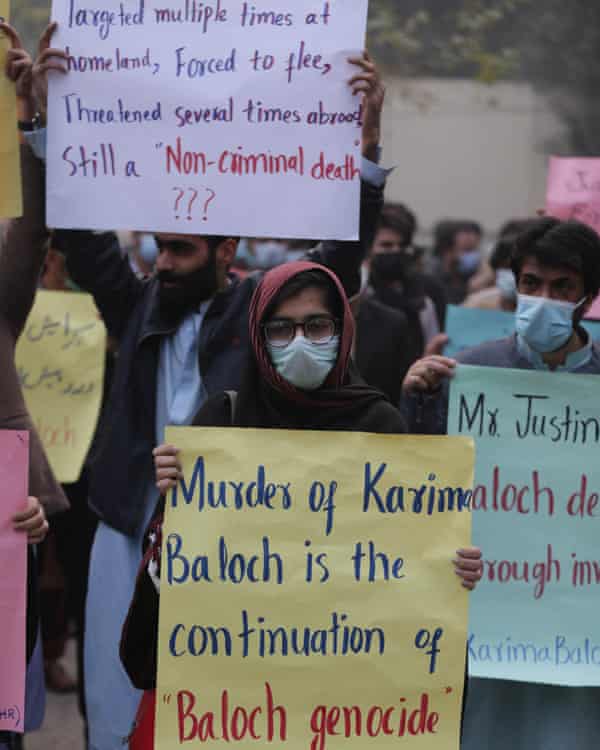 They called us disgraced women, accusing us of protesting to win fame and to appear in the media.
We were released at about 2am.
The state and its security agencies have responded to the separatist movement with a "kill and dump" policy and are forcefully disappearing students, lawyers, doctors, political activists and their sympathisers.
Last year, I, along with other representatives of missing persons' families, met the former prime minister Imran Khan, who was a critical voice on the issue before coming to power. Khan now seems to be a toothless tiger.
His human rights minister, Shireen Mazari, introduced a bill against enforced disappearances. The irony was that the bill itself went missing.
Now, after losing power, Khan's party is once again denouncing enforced disappearances.
In the same way, Maryam Nawaz, [vice-president of the Pakistan Muslim League-Nawaz, then the main opposition party], visited us last year and criticised Imran Khan for his false promises. She assured us that action would be taken if her party came to power.
Nawaz's uncle, Shehbaz Nawaz, is prime minister now but they seem helpless before the security agencies.
Women's organisations in Pakistan do not raise their voices for Baloch women and the violence against us. This is saddening.
We come from respectable families and we are not happy to be demonstrating on the streets. Our men have disappeared – that's why Baloch women, from a conservative province, are coming out of their homes to protest.
I would rather focus on my career like other young women. But how can one if your father, husband or brother is missing?
In April, there was a female suicide bomber, Shari Baloch. Since then the state has cracked down against activists, students and women, saying that we are all terrorists.
We have nothing to do with such violent activities. We don't support violence.
I am not demanding anything unlawful – enforced disappearance is unlawful. I just want my father back.
Am I asking for something illegal? The state may portray us as terrorists after Shari's attack but we are not. We are peaceful protesters. We suffer every moment of every day.
Sammi Deen Baloch is general secretary of the Voice for Baloch Missing Persons (VBMP), a group that formed alongside the separatist movement in Pakistan
Sign up for Her Stage to hear directly from incredible women in the developing world on the issues that matter to them, delivered to your inbox monthly: