Mexico elections 2021: The battle for northern Mexico: border states check president's electoral power | USA
The symbol of an eagle devouring a snake is familiar from Mexico's national flag, but at this rally it sits on a version that is bright orange, bearing the legend Movimiento del norte (Movement of the north). Standing next to the poster, five candidates declare what makes northern Mexico different to the rest of the country.
We are standing on the terrace of a convention center in San Pedro Garza García, an upscale area of Mexico's third-largest city, Monterrey, from where a row of skyscrapers stretches into the horizon. This area is the richest in Latin America, according to the credit rating agency Fitch, with a GDP per capita of US$90,000 from figures published in 2019.
"We will never allow those in the center [of the country] to mistreat us, for those in the center to tell us what to do, and we will certainly not allow them to interfere with our land," said Samuel García, a gubernatorial candidate for the state of Nuevo Léon, a powerhouse of the Mexican economy. At 33, García is a key face in Movimiento Ciudadano (Citizens' Movement), which has spent the last decade trying to break apart Mexico's traditional party system. His wife is the popular influencer and businesswoman Mariana Rodríguez, pushing his message on social media and making him a minor sensation ahead of June 6 legislative elections. Half of the country's governorships, its parliament and thousands of local officials will be elected.
Although García has made a splash, his success also has much to do with revelations that Clara Luz Flores, the candidate of the ruling National Regeneration Movement (Morena), was caught on video speaking to the leader of the NXIVM sect, Keith Raniere, five years ago. Raniere was sentenced last year to 120 years in jail on charges of racketeering, sex trafficking and child pornography offenses. She had always denied the conversation ever took place, and the release of the tape caused her popularity to nosedive after leading the polls for weeks.
Flores was previously a member of the opposition Institutional Revolutionary Party (PRI), but broke with the formation after Mexican President Andrés Manuel López Obrador reached out to offer her the nomination, noting her success as the former mayor of General Escobedo, also in the Monterrey metropolitan area.
Nuevo León state contributes the most to Mexico's GDP after Mexico City, but the president has long been seen as distant and cold towards the north. This, combined with the cult leader scandal means that Morena's chances now seem slim in Nuevo Léon. It is not the only border state haemorrhaging support for the ruling party. In the state of Sonora, in northwest Mexico, a local Movimiento Ciudadano candidate was recently murdered in a hail of gunfire. The death opened a conversation about electoral violence that threatens the once assured candidacy of Alfonso Durazo, a former security minister in the current government. Opinion polls in Chihuahua, a third border state in contention, do not show a convincing victory for the ruling party, leaving Baja California the only northern state that Morena seems certain to win.
"Today, Movimiento Ciudadano is becoming the pre-eminent political force in Nuevo León. We have an irreversible lead," said Clemente Castañeda, the party's leader, referring to García and Luis Donaldo Colosio, the party's mayoral candidate for Monterrey. These claims remain to be seen, as the PRI, headed by Adrián de la Garza, remains a force to be reckoned with. Movimiento Ciudadano, which only governs in Jalisco state, lacks the grassroots structures of the older opposition group. Meanwhile, both De la Garza and García are being investigated by the Attorney General's office for separate alleged offenses. De la Garza is accused of vote buying, while García allegedly received illicit contributions to his campaign. Whoever may win the north, what is clear is that regionalism has become a hot-button issue, and it works in both directions. While voters in border states may feel that Mexico City and López Obrador have turned their backs on them, those from further south sometimes see the north as offering an alternative to the lure of the capital.
Elber Martínez was born in the central state of Hidalgo 30 years ago. He tried to find a job in Mexico City at the end of 2019, but failed to do so and moved to Monterrey instead. Within two days he had found a job as a substitute teacher for third grade children, and is now finishing his studies while also working as a waiter. "This is the best of Mexico. It's either here or the United States," said Martínez. He cannot vote as he is still registered back home, but if he had the option his ballot would be cast for García, he said, owing to his image as a reform candidate who understands young people.
López Obrador has not yet reached the halfway point of his six-year term but he has succeeded in becoming the center of all political attention
Just as the north drifts away from the rest of the country, Morena has redoubled its popularity elsewhere. Even a rape accusation did not stop a ruling party candidate in Guerrero state from receiving the president's full backing and maintaining his popularity. He was later disqualified from running on other grounds. That said, the hypothetical triumph of Movimiento Ciudadano in Nuevo León would have an impact on a national scale, as a major secondary opposition looming over the remainder of the current government's term. If PRI achieves victory with Adrián de la Garza, however, he would become the de facto leader of a disjointed opposition without some of the figures who have made the president's life difficult since being elected in 2018.
López Obrador has not yet reached the halfway point of his six-year term but he has succeeded in becoming the center of all political attention, and free to set the agenda. From the pulpit of his morning press conferences, the president has always delivered a vision of a Mexico divided into "conservative party" adversaries, used to describe all critical voices, and his allies. To the list of conservatives can now be added northern Mexico. "I hope Morena wins absolutely nothing here to send the message that the north has woken up," said García.
The bickering between Mexico City and the north is also on full display in the border state of Tamaulipas, where the national leader of the ruling party was intimidated by an armed group in the city of Matamoros. Federal and state authorities have clashed over the fate of Tamaulipas governor Francisco García Cabeza de Vaca, a member of the opposition National Action Party (PAN). García Cabeza de Vaca was stripped of his official immunity from prosecution weeks ago by Mexico's parliament so that the Attorney General's Office could proceed with an investigation into an alleged money laundering scandal. The Tamaulipas state legislature responded by rejecting that decision until a judge ordered his arrest. That decision was then suspended by another judge. The PAN describes the investigation of the governor as political persecution, while the president has urged the judicial system to resolve the case as soon as possible.
The accusations center on whether Cabeza de Vaca amassed undeclared properties in Mexico and the United States, and despite evidence gathered by the Mexican authorities, other opposition parties have also rejected the investigation as "political lynching orchestrated by the government." For Mexico's president, however, it's another case of corruption of the kind he was elected to root out.
'The Taliban killed a midwife who refused to leave a woman in labour' | Afghanistan
When Afghanistan's first midwife-led birth centre opened in the impoverished district of Dasht-e-Barchi in western Kabul this year it was a symbol of hope and defiance.
It began receiving expectant mothers in June, just over a year after a devastating attack by gunmen on the maternity wing at the local hospital left 24 people dead, including 16 mothers, a midwife and two young children.
For Zahra Mirzaei, its launch – along with a second birth centre in the east of the capital – marked the culmination of a decade advocating for women's birth rights.
As president of the Afghan Midwives Association (AMA), Mirzaei was instrumental in establishing the midwife-led units promoting an ethos of respectful, bespoke care away from an over-medicalised setting.
"In our country this approach to pregnant women is groundbreaking and there was a great feeling of hope when we opened our doors," she says.
"Women who had previously experienced undignified, low quality care in poorly staffed hospitals were pleasantly surprised to discover there is another way of doing things."
The units in Dasht-e-Barchi and Arzan Qimat were established with technical support and training from the Europe-based Midwifery Unit Network (MUNet) and funding from two NGOs which we cannot name for security reasons.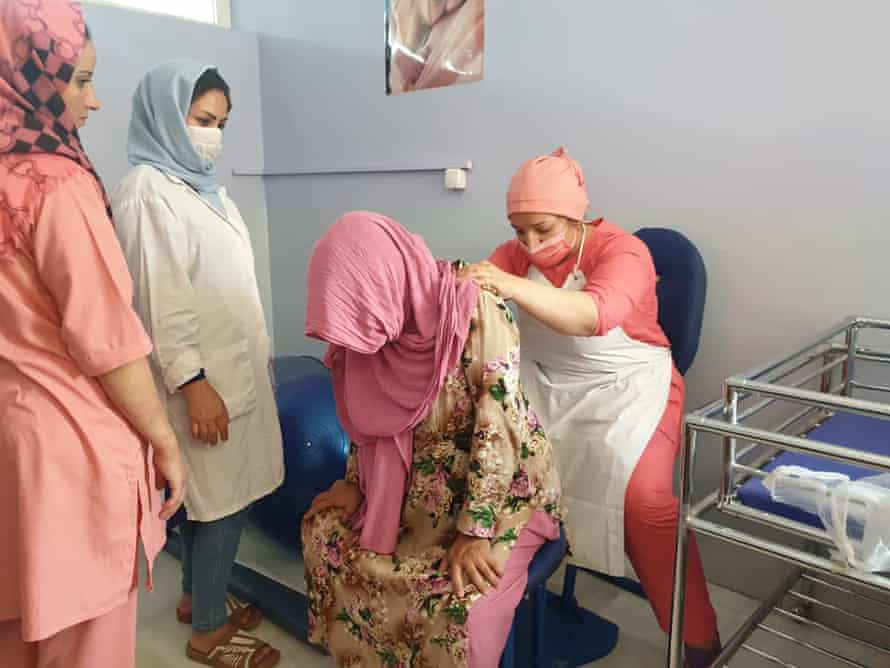 In the initial weeks the centres, staffed with a total of 75 midwives, were each welcoming 10 to 13 newborns a day. But as word spread, increasing numbers arrived and this soon climbed to 25 to 30.
By late July, Mirzaei was preoccupied with how to manage the rise in cases. But her work was overshadowed by a growing awareness of the Taliban's military offensive, which had gathered unexpected pace.
News of the Afghan government's imminent collapse amid the withdrawal of US troops was, to Mirzaei, personally and professionally shattering.
"Suddenly everything I had worked tirelessly for was under threat," she says. As a Hazara Shia and a longstanding campaigner for women's rights, the 33-year-old knew she and her three children were at risk.
"Previous Taliban governments have killed thousands of Hazara people without any reason. Also I knew my feminist work and belief in women's equality would never be accepted by the Taliban regime," says Mirzaei, who in 2020 was named one of 100 outstanding female nurses, midwives and leaders providing health services in difficult times by Women in Global Health.
As the US and its coalition partners scrambled to airlift thousands of people from the country, warnings were filtering through from Mirzaei's home town that she was a potential Taliban target.
On the day Kabul fell, plunging the country into turmoil, she left her office for the last time, fleeing in such a hurry she was unable to collect her shoes. "We didn't expect the situation to escalate so fast," she says.
Later that night she was woken by the sound of her eight-year-old daughter sobbing: "I went to her and she said: 'Mummy, I'm scared that when I'm 12 the Taliban will come and take me to get married and I won't be able to go to school.' That was so painful to hear that I promised there and then to get us out."
After calling every contact she could think of, she heard from a friend in the US who could help. Mirzaei left home with her family at 1am on 23 August, still wearing the flimsy slippers in which she'd fled her office.
They spent a harrowing 12 hours waiting in a sewer near the airport before being rescued by US troops and airlifted to Qatar. From there they were transferred to a refugee camp in southern Spain.
Speaking from the Spanish naval base in Rota, Mirzaei explains how leaving Afghanistan also meant, regrettably, stepping down as president of the AMA.
While she was heartbroken to give up the role, she remains a member of the advisory board and is working remotely to support the organisation including her successor – a woman from a different ethnic group who is more likely to be accepted by the regime.
---
As the eighth girl of 10 siblings, Mirzaei understood from a young age that boys and girls were not seen as equal. "I had two brothers but my father wanted more boys and it made me sad girls were not allowed to reach their full potential in our community."
Growing up in the province of Sar-e Pol, where poverty was widespread and literacy rates were poor, 16-year-old Mirzaei found education opportunities were limited.
An encounter at the local hospital set her on the path to becoming a midwife. In the waiting room she witnessed a woman desperately searching for a midwife only to be abused by a health worker.
"This incident really affected me – the way they treated her was shameful. When I saw the doctor I asked her what a midwife was and why it was so important.
"I liked the sound of midwifery – it spoke to the feminist in me. That kind doctor changed my life by explaining how I could enrol on a community education midwife programme."
A year later Mirzaei graduated with a diploma having already joined the AMA as a student. "I was inspired by its plans for improving the profession. For me the most important thing was for women to receive evidence-based, respectful maternity care."
But starting out as a hospital midwife in 2006 she was concerned by what she saw.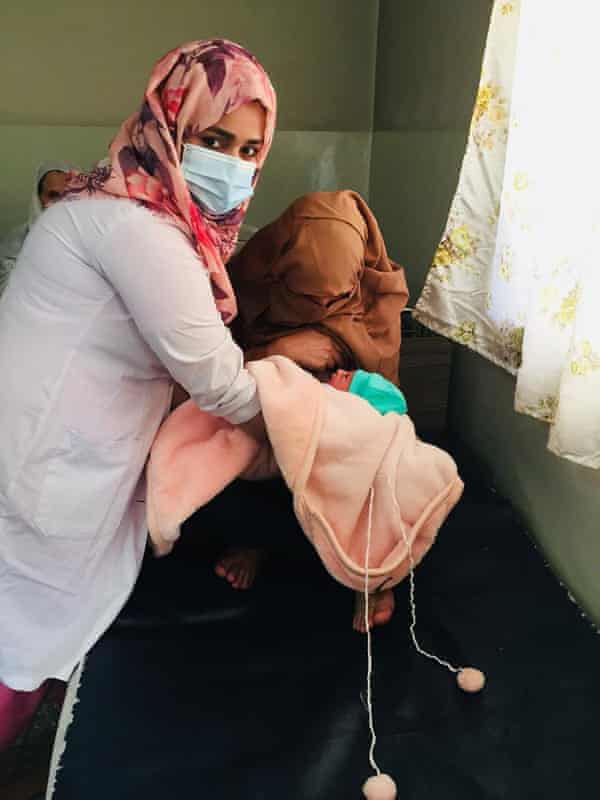 "There would be 150 deliveries a day in a hospital with only four or five midwives. Women would be left to give birth in the corner or in the toilet. The most painful thing was seeing how exhausted the midwives were – they couldn't support pregnant women emotionally and there was even physical abuse."
While women in remote areas typically give birth without medical assistance, or sometimes with a midwife, childbirth in urban hospital settings is highly medicalised.
"These facilities are staffed by doctors who don't seem to know their job description because they are overrun dealing with straightforward births," says Mirzaei. "The care is dehumanised and the use of hormone drips and episiotomies is routine practice."
Afghanistan has one of the highest maternal mortality rates in the world, although the number of women dying in childbirth has slowed from 1,450 per 100,000 live births in 2000 to 638 in 2017, according to UN data.
In 2012 Mirzaei became a provincial director for the AMA and later moved to Kabul to coordinate a midwives' mentorship programme for the organisation.
She joined a small but growing cohort to achieve a BA in midwifery after graduating from Zawul Institute of Higher Education in 2016. Two years later she was elected president of the AMA and made it her mission to establish midwife-led units.
The model would move away from medical interventions towards a focus on active birth, skin-to-skin contact and early breastfeeding.
In 2003 there were just 467 midwives operating in Afghanistan – the severe shortage brought about by the Taliban's ban on educating girls and women during the preceding years. This figure has since grown to 6,376 currently in clinical practice.
A 2018 Afghanistan Health Survey found just a fifth of pregnant women had received the recommended four antenatal care visits and fewer than 60% of births were overseen by a skilled healthcare professional.
There were 119 attacks by terrorist groups on healthcare facilities in Afghanistan in 2019, according to the World Health Organization. Then in May 2020 came the massacre at the maternity ward of the Dasht-e-Barchi hospital.
Among the dead was a midwife colleague of Mirzaei, Maryam Noorzad. "She was killed because she refused to leave a woman alone in labour. The baby was coming and after it was born a gunman entered and killed all three of them."
Not only was the attack a horrific crime against pregnant women, babies and hospital staff – it was also a devastating assault on decades of work to reduce maternal and newborn mortality in Afghanistan.
Despite the security fears, the AMA wanted to establish one of the midwife-led units in the same district to plug the gap left by the attack on the hospital, where there had been 16,000 babies born in 2019. Many of the midwives who survived the 2020 attack were among the highly trained staff taken on by the AMA to run the new centres.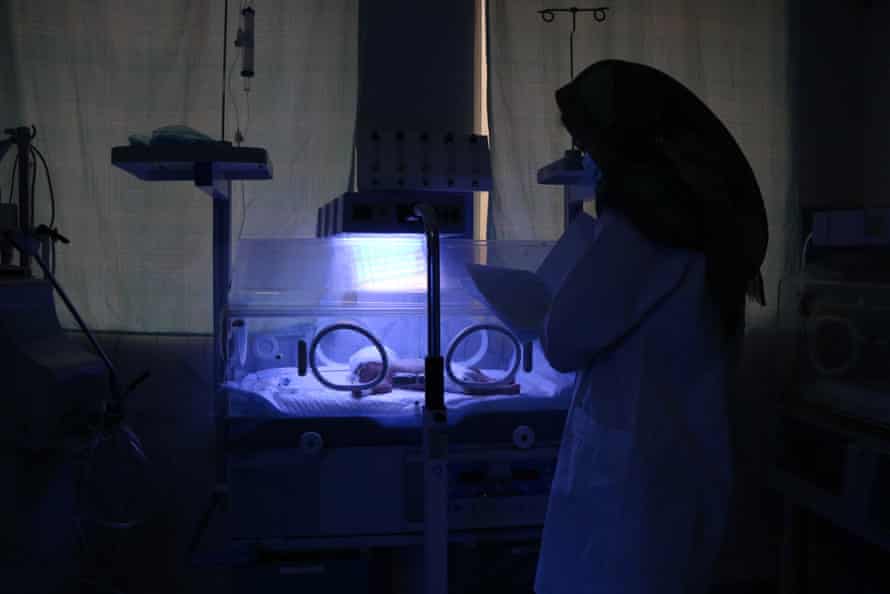 The success of the centres relies on one-to-one care and requires numbers to be kept at a manageable level. To meet the demand it was Mirzaei's ambition to open more units across Kabul and beyond.
But for now, at best, her dream is on hold. The centres closed after the Taliban takeover and while one has recently reopened many staff remain too fearful to go to work. Some midwives have already been interrogated by the Taliban for moving around without a chaperone.
The UN Population Fund (UNFPA) has estimated that without immediate support there could be 51,000 additional maternal deaths between now and 2025.
In Spain, Mirzaei is preparing to fly to the US to start the next chapter of her life. Her immediate future is uncertain but she has accepted an offer to study global maternal health at City, University of London, which she's had to defer until she can arrange a visa.
"Every day I open my phone and look at photos that were taken at our birth centres. It gives me hope. Their immediate success rests on the wider political situation but we will not cease our efforts to do everything we can for girls and women in Afghanistan."
Many midwives who have campaigned for women's rights in Afghanistan now find themselves targeted by the Taliban and have been forced into hiding, while others are at risk because of their ethnicity. The Association of Radical Midwives is raising funds to help those seeking to settle in the UK. To donate please visit this crowdfunding page.
EU to open new mission in Kabul
The EU foreign service is to open a mission in Kabul by the end of November, the FT reported Sunday, citing sources. The representation would not be an embassy, as the EU has not recognised the Taliban government. The EU office is also to be used by member states' diplomats. "There's only so much you can do from Doha," a source said. China, Russia, and Turkey never closed their embassies.
'Countdown to catastrophe': half of Afghans face hunger this winter – UN | Hunger
More than half of Afghanistan's population is facing acute hunger as the country has been thrown into one of the world's largest food crises.
Almost 23 million Afghans will be hungry due to conflict, drought and an economic downturn that is severely affecting livelihoods and people's access to food as a harsh winter looms, the UN has warned; an increase of nearly 35% compared with last year.
"Afghanistan is now among the world's worst humanitarian crises – if not the worst – and food security has all but collapsed. This winter, millions of Afghans will be forced to choose between migration and starvation," the World Food Programme's executive director David Beasley said, adding that "we are on a countdown to catastrophe".
The Taliban takeover in August has contributed to the economic upheaval as billions of dollars in foreign aid payments – 40% of the country's gross domestic product – have ceased and almost $10bn (£7.3bn) of Afghan central bank assets have been frozen.
Half of all Afghans will be facing crisis or emergency levels of acute food insecurity between this November and March next year, the UN report said.
As desperation grows, the number of beggars throughout Afghanistan's major cities – including children – has risen as urban residents, for the first time, suffer similar rates of food insecurity to rural communities; a shifting pattern of hunger in the country.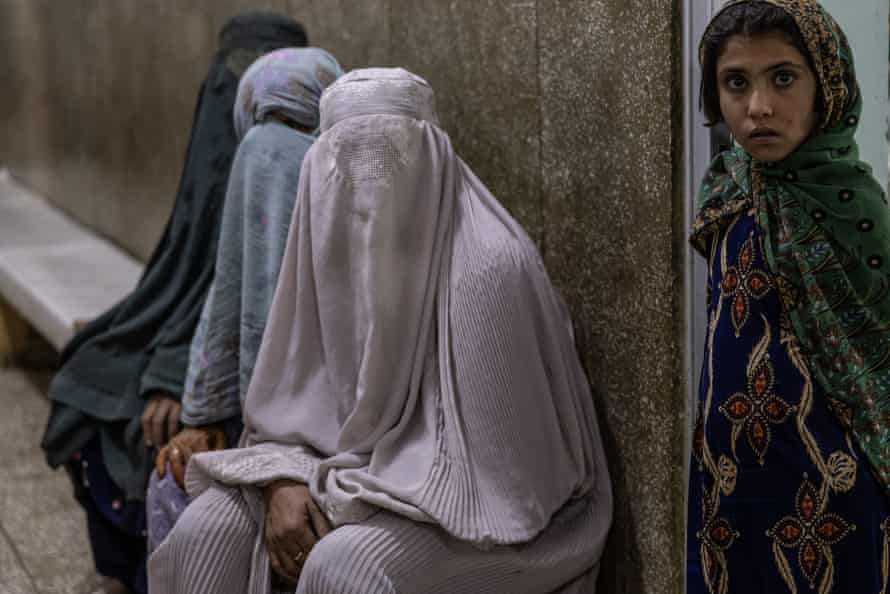 In the southern city of Kandahar, a traditional Taliban heartland, the malnutrition ward at Mirwais hospital was packed with women and children, most of them sharing beds with several others. The ward was stuffy and crammed. Mothers sat with their children while fathers or other male relatives – usually not allowed to enter – waited outside. Although the hospital is the biggest health facility in southern Afghanistan, it is poorly equipped.
"We have more than 70 children here and numbers are increasing," said paediatrician Zainullah Zermal, adding that although malnutrition cases usually rise with the approach of winter, this year's cases were alarming and the hospital was struggling to cope.
Many families had travelled significant distances to reach Kandahar, unable to access adequate healthcare nearer home. More than 2,000 clinics across the country have closed due to lack of funds.
Eighteen-month-old Memala shared her bed with another patient at Mirwais hospital, her body thin and frail, her gaze absent.
"We have travelled from Kandahar's Zhari district," her mother, who didn't want to give her name, said; about an hour's drive away. Zermal explained that, so far, most children had a good chance of survival, but he was worried about the coming weeks.
"We're now seeing more families arriving from far away. Some of them travel for days to seek medical care as there are no hospitals near them. Winter is coming and that's when malnutrition usually spikes."
In Kabul's Indira Gandhi children's hospital, the biggest paediatric clinic in the country, doctors said about a dozen children were arriving each day, even though the city's markets were still stocked with food.
"We don't have money to afford it," said Fereshta, a 30-year-old mother. Her six-month-old daughter Zahaba was underweight. Fereshta, who has five children, said that between worrying about money and not having enough to eat, she hadn't been able to breastfeed her daughter properly.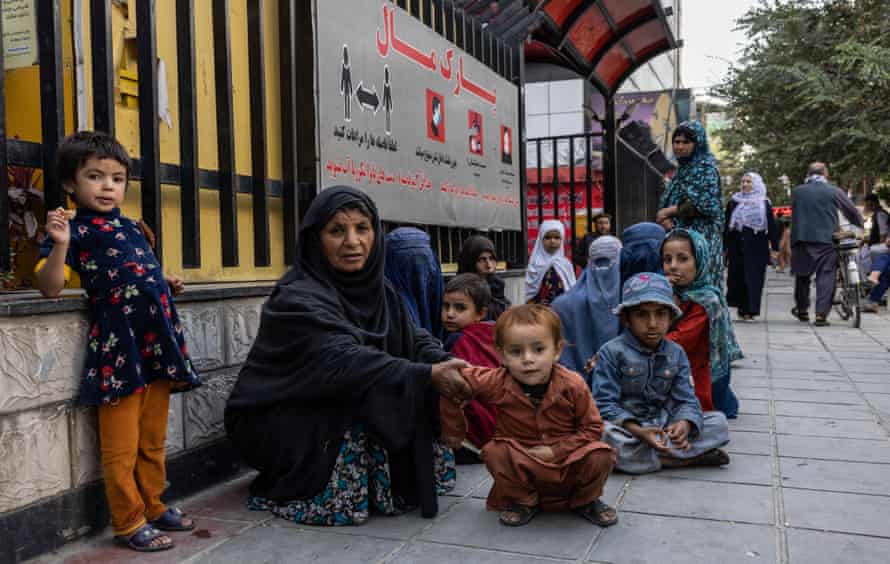 Only 5% of households have enough to eat every day, the UN said. Many families who fled fighting before the Taliban takeover can't afford to go back home, instead remaining in makeshift camps with no source of income. About 3.5 million people remain displaced within the country.
During the Taliban regime between 1996 and 2001, millions of Afghans lived in poverty and on the brink of starvation, and fears are mounting that a similar situation could arise.
The "Islamic Emirate" on Sunday launched a wheat-for-work scheme, saying it would employ 40,000 casual labourers in Kabul who would be paid in wheat instead of cash. During the initiative, set to last for two months, the Taliban pledged to distribute 11,600 tonnes of wheat in the capital.
Cash is largely unavailable, and many government employees are waiting for unpaid salaries.
In Kabul, beggars are visible on almost every street corner. In the city centre, small children chase after shoppers, hoping for a piece of bread.
Setara Amiri, 43, has been begging for the past month. Her husband, who worked as a driver for the previous government, is unemployed. "My children are begging too," she said, sitting on a busy Kabul pavement. The family used to get by, she said, but not now.
"Each morning I wake up, I worry that we won't have food at night. I'm begging so my children won't starve."